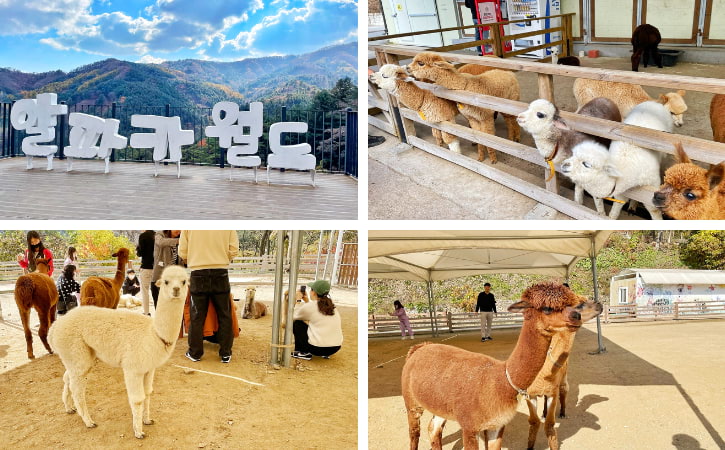 Alpaca World is dubbed as the largest animal farm in Korea with a size of 110,000 sq. ft.
It is set within the green forest of Hongcheon, Gangwon-do, featuring a total of 17 zones. There are over 10 kinds of animal species here that will truly make your trip more exceptional.
And in this guide, I'll provide you with the most detailed instructions on how to go to Alpaca World Korea from Seoul.
So, when planning your Seoul itinerary, you shouldn't miss Alpaca World Korea. It's the best spot to visit if you want to interact with the adorable alpacas and other animals like rabbits, birds, and ponies.
Since the animal farm has 17 zones, I will walk you through each section for a better understanding. For sure, you won't be disappointed with such an amazing place! 😊
1. Alpaca Playground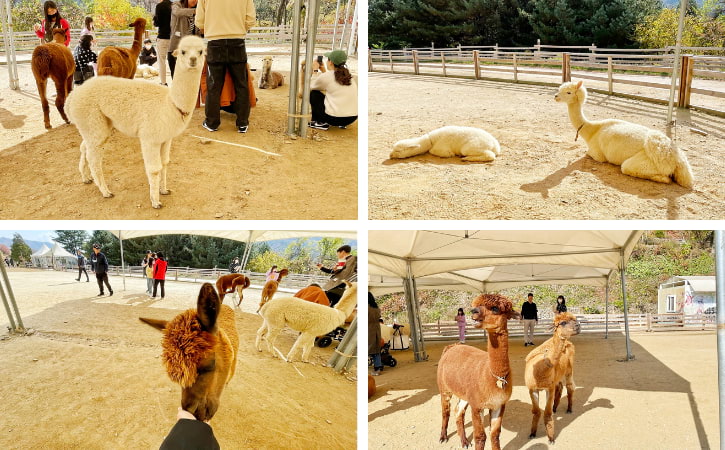 Alpaca Playground welcomes you to the home of the alpacas. Get ready for a nice encounter with these adorable creatures.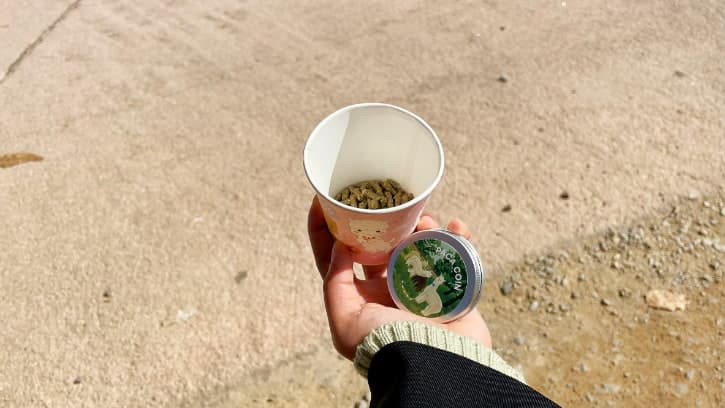 Before you meet the alpacas, don't forget to buy "Paca Coins" at the ticket office.
You may also purchase them from the vending machine (pacacoin changer) located in the experience zone. Do take note that the vending machine only accepts cash.
The Paca Coin cost 5,000 won for 1 set and each set already comes with 5 Paca Coins. For each Paca Coin, you get a cup of alpaca food.
Feeding the alpacas is definitely a great way to start off your adventure.
2. Andes Ecological Ranch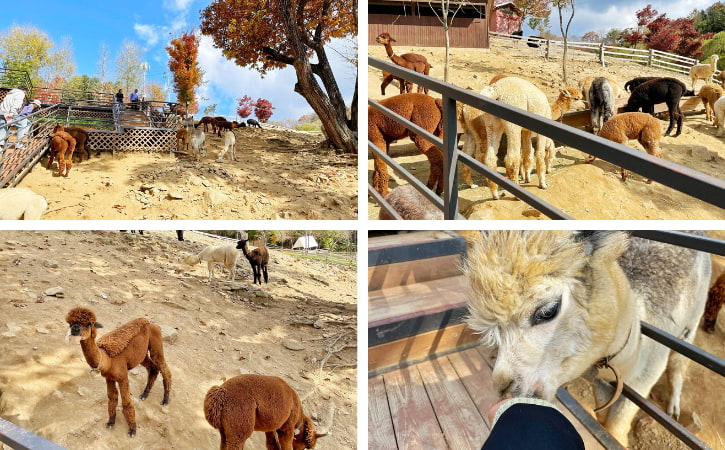 Alpaca World Korea has its own Andes, an expansive mountain range that serves as the habitat of the alpacas.
Enter the Andes Ecological Ranch and get a glimpse of the daily lives of these shy and gentle creatures.
As the optimal environment for the alpacas, this section is very huge so the alpacas can freely move around.
Watch them stroll and interact with humans. You can see them in various colors, from beige to brown to black.
3. Coloring Land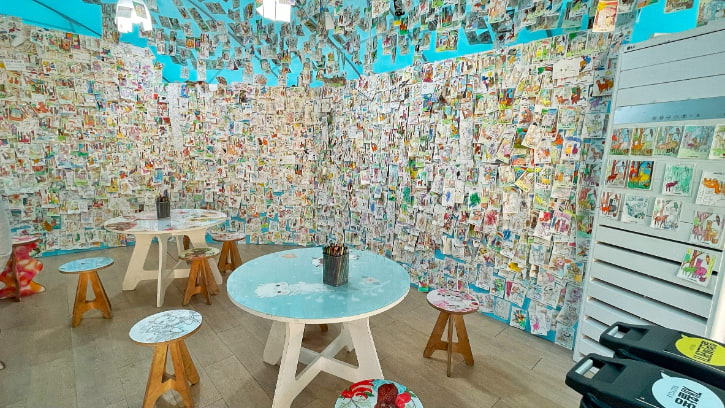 Take a short break at the Coloring Land. This is the perfect spot to relax after a fun experience with the alpacas.
There are seating areas here for you to do some coloring activities.
And at the walls of the rooms are the beautiful creations of travellers from different corners of the world.
So, make sure to include your painting together with the other lovely canvasses.
4. Rabbit Land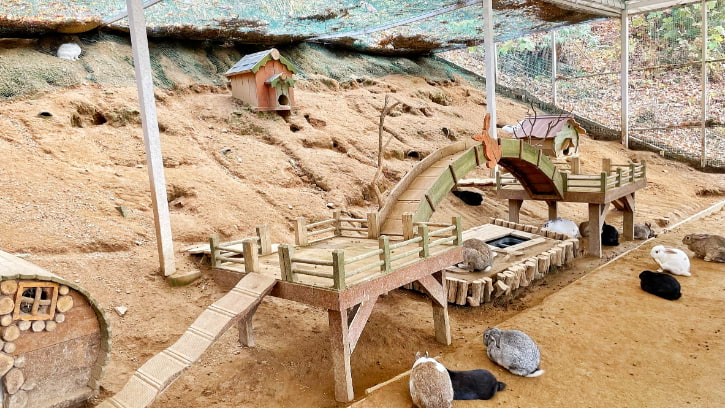 Rabbit Land is another must-visit destination on the farm. It's a place dedicated to some cute rabbits.
So, be sure to explore their habitat and meet all kinds of rabbits with unique colors.
And since there's a huge number of rabbits in the area, you'll have a lot of opportunities to play with them.
Meet these creatures around the miniature playgrounds. Or you may also catch them munching some treats.
5. Pony Land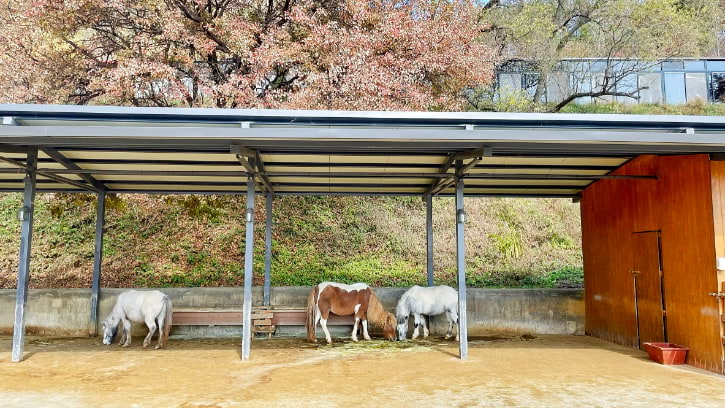 Pony Land is also a crowd favorite to be added to your itinerary. The section is loaded with ponies that are too endearing to miss.
Unlike normal horses with a bigger build, these ponies are smaller, making them more charming. Plus, they are very sociable and highly intelligent.
Witness them up close and take a lot of pictures with these cuties!
6. Healing Walk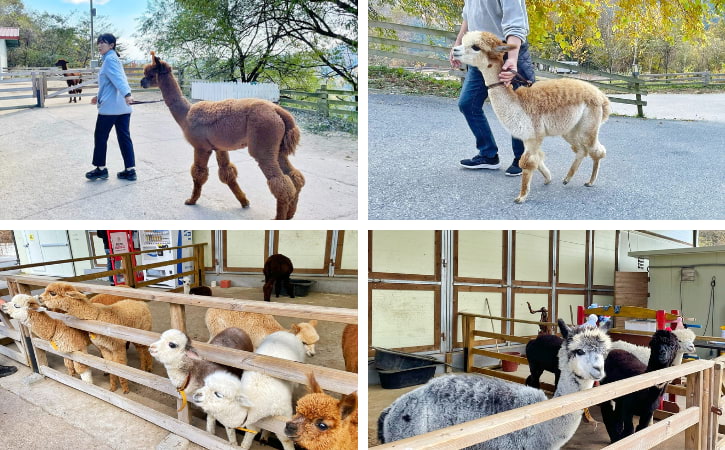 When you go to Alpaca World Korea, make sure you don't miss the Healing Walk area.
This is a once-in-a-lifetime experience to walk with these adorable animals.
You just pay an additional 10,000 won so you can stride with an Alpaca.
And don't worry because these mammals are so kind and they love to wander around with no limitations. So, guide them the way and have fun with your cute Alpaca.
7. Gallery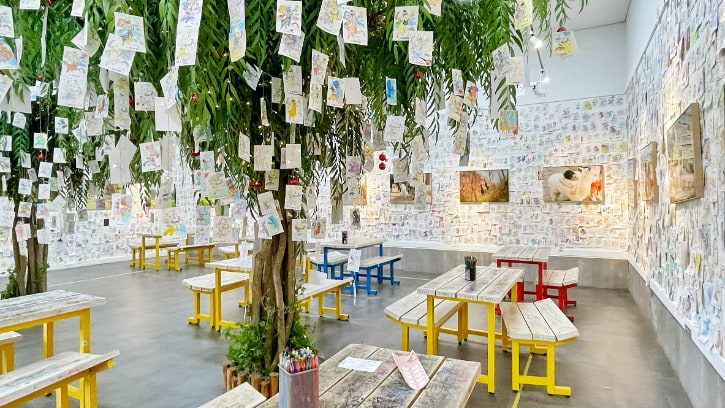 After your walking adventure with the Alpaca, head to the Gallery. Here, you get to see a lot of beautiful pictures displayed in the room.
It is also a nice location to unwind while enjoying the photo collection.
The design of the gallery is immaculate in white with some bright colors. So, you may capture some pictures here as well before you head to your next destination.
8. Starlight Square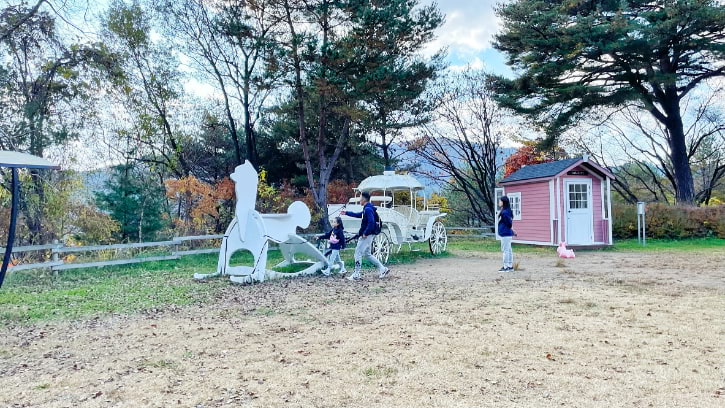 Starlight Square is an outdoor relaxation spot that is ideal for families and even groups of friends.
If you have kids, let them hop aboard the carriage stationed near the pink house.
Some people also use this as a picnic spot because of its cosy surroundings.
So, grab your picnic mat and enjoy the cool breeze in the area. And of course, don't forget to snap as many photos as you want!
9. Deer Land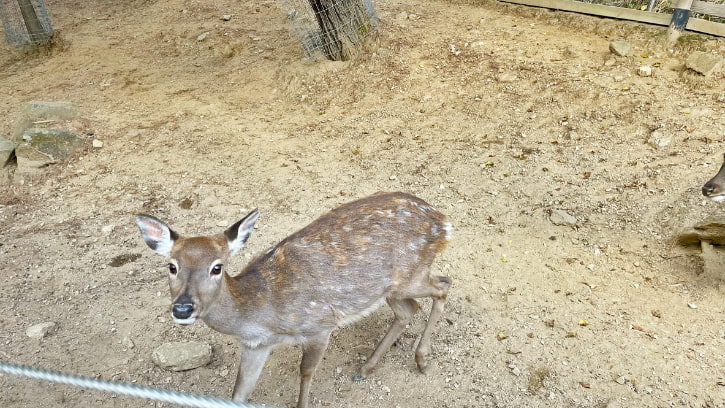 Deer Land serves as the home of these cute animals. Explore this area and get to know more about deer in general.
There are several deer species in this place, featuring different colors and characteristics.
As make your way to the area, you'd be sure to meet a lot of them. You may catch them eating some food or freely roaming around their environment.
10. Alpaca Observation Deck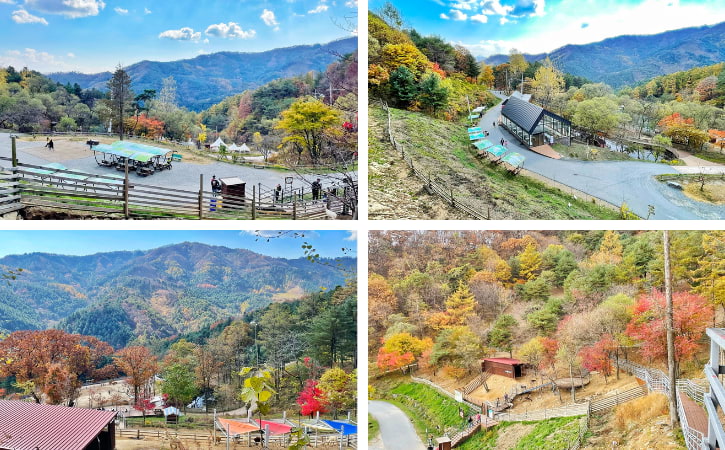 Alpaca Observation Deck is such a nice section to unwind.
Surrounded by the vast nature scene, you'd totally appreciate the beautiful sights from the top. Catch a glimpse of the park's different areas here.
What makes this area more spectacular is that you can just chill around.
So, if you're looking for a place with gorgeous views from an elevated height, this one is surely highly recommended.
11. Playground of Goat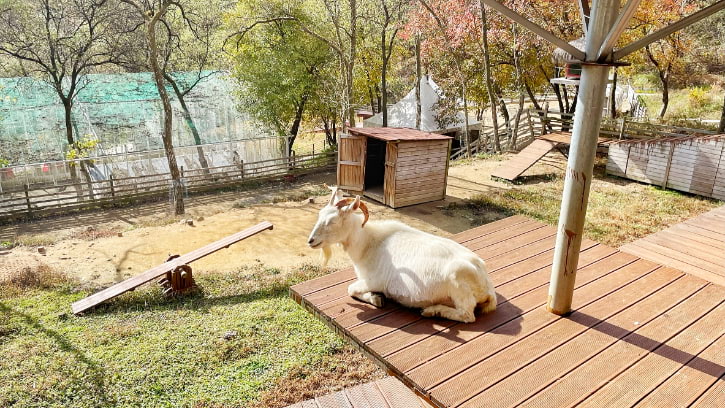 There's more to uncover when you visit Playground of Goat.
As you enter this area, you'll take notice of these goats just chilling out in the wild. Some of these are busy roving around and doing sorts of acts.
Get a lot of photographs of these laidback animals in their natural habitat. And, don't miss to wave your hand to let them know your presence!
12. Peacock Forest/Rabbit

Aside from the Alpacas and other mammals, you'd also love the animals in Peacock Forest and Rabbit.
This is where you'll find a number of peacock species that stroll around majestically. These birds have vivid colors that make them easy to spot.
After seeing the peacocks, drop by the habitat of the rabbits. These creatures are too cute to ignore with their big ears and fluffy physique.
13. Baby Animal Playground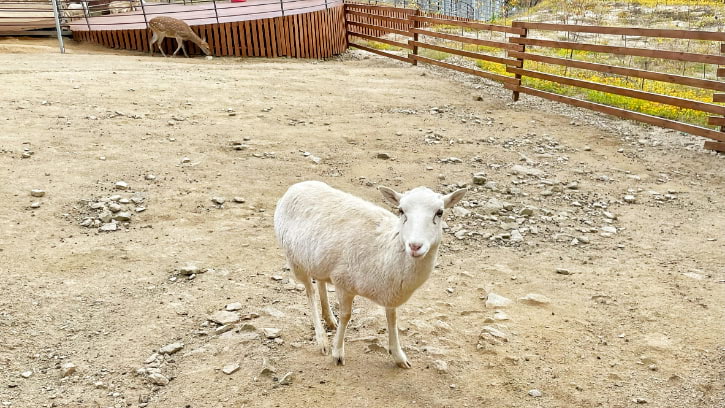 One of the best spots you shouldn't miss when visiting the Alpaca World Korea is the Baby Animal Playground.
In this section, you'll be able to capture these little cuties in their most adorable state.
Set your eyes on these baby animals as they fascinate guests with their charming size and features. Just be gentle with them because they are still too young and maybe a bit sensitive.
14. Owl Land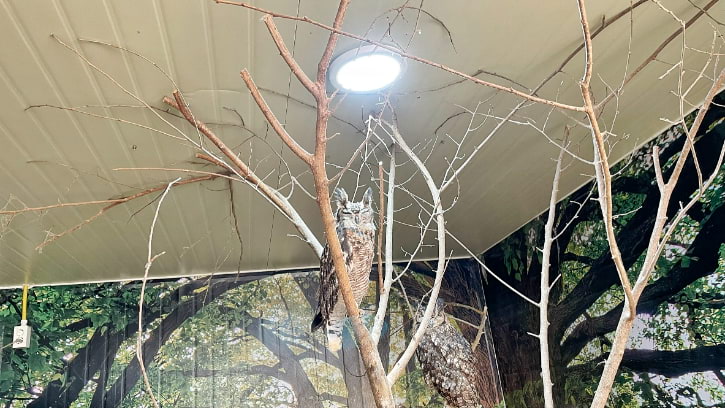 Owl Land houses some bird species on the farm. Catch these animals lurking around the tree branches.
And since owls are generally nocturnal, there's a great possibility of seeing them asleep during your visit.
But don't worry because there are also those who are naturally diurnal. This means you'd see them flying within their habitat.
So, ready your camera as they jet over the trees and perfectly land on the twigs.
15. Squirrel/Fennec Fox/Capybara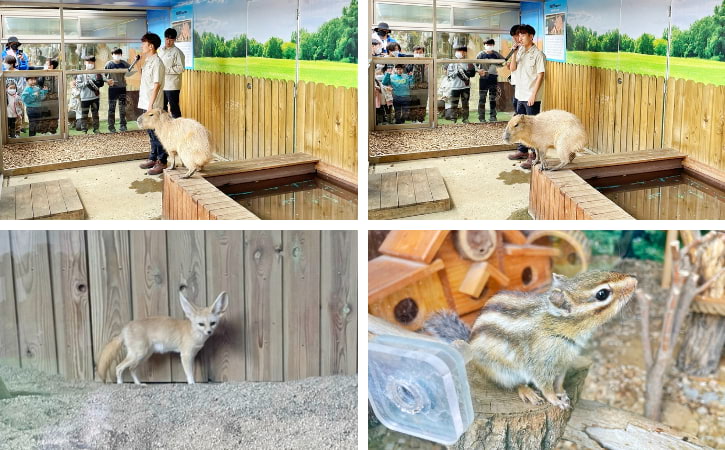 As you continue with your trip, you'd get the chance to see some Capybara, Fennec Fox, and Squirrel. These adorable animals are quite popular because of their loveable features.
For instance, the capybara is like an oversized guinea pig that loves to eat all day long.
There's also the fennec fox, which is very active and playful during the day. And of course, you'd come across some charming squirrels as well.
16. Eagle Land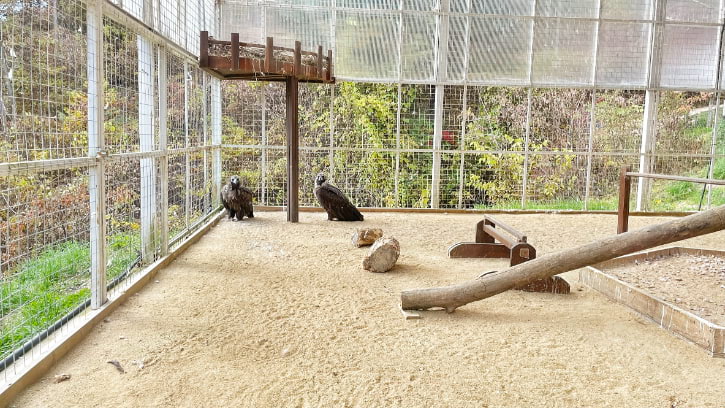 Eagle Land allows you to meet up-close a group of homegrown eagles.
These birds are known for their slender build with piercing eyes and sharp talons. They exude that powerful and commanding aura that makes them more enthralling.
So, when you stumble upon these species, focus on how strong yet gracious they fly. And for sure, you'd be amazed by their remarkable characteristics and skills.
17. Bird's Garden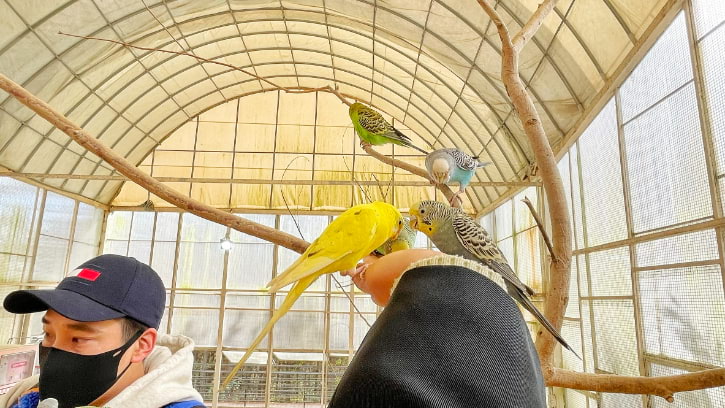 Cap off your animal tour at Alpaca World Korea by heading to Bird's Garden. This is considered a paradise for bird lovers as it is filled with all kinds of bird species.
Be entertained by the variety of flying creatures around, from parrots to cockatoos and a lot more.
Surprisingly, there are some breeds that can talk. So, try to communicate with them and who knows they'll reply back to you!
Alpaca World Korea Map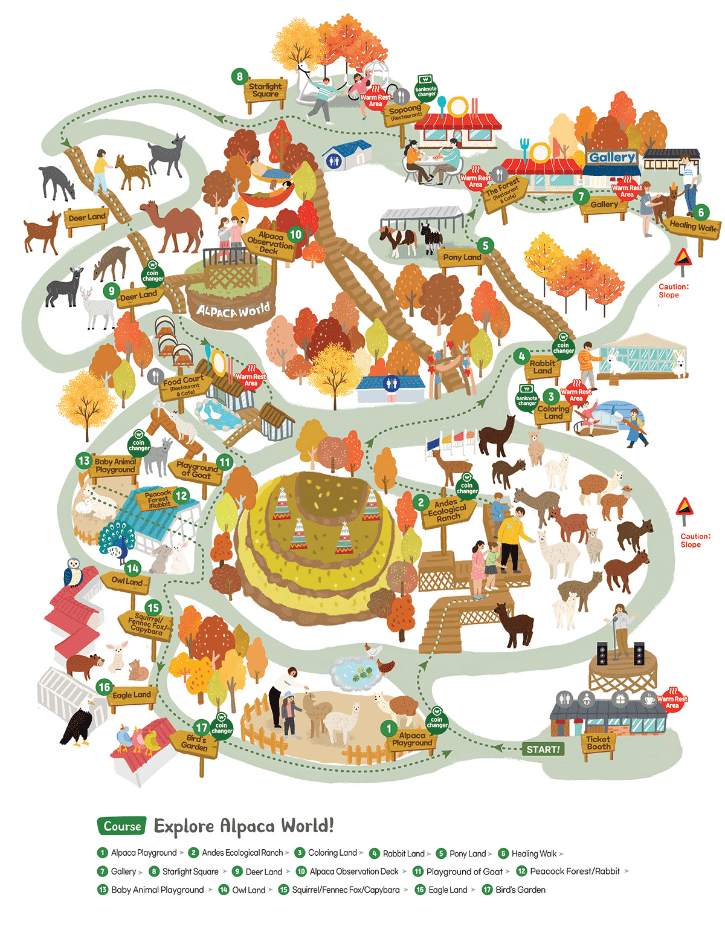 How to Go to Alpaca World Korea from Seoul
1. By Intercity Bus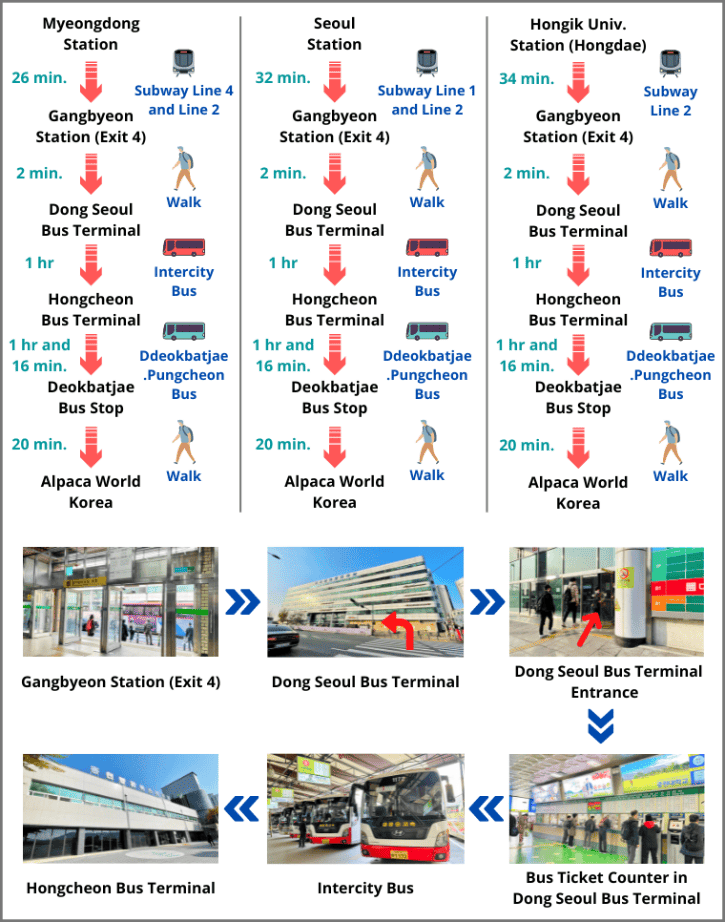 To reach Alpaca World Korea, take the intercity bus from Dong Seoul Bus Terminal or also referred to as East Seoul Terminal. This transports you to Hongcheon Bus Terminal with a travel duration of about 1 hour. The bus fare for an adult is 7,400 won.
Then, hop aboard the Ddeokbatjae.Pungcheon bus to Deokbatjae bus stop. There are 38 stops before you reach your destination. Meanwhile, the rate is 1,330 won and the duration lasts 1 hour and 16 minutes.
From there, you need to walk up the mountain to Alpaca World. This takes an additional 20 minutes.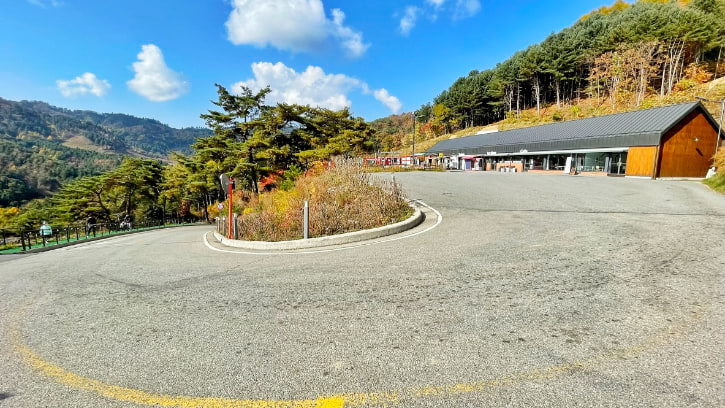 Please be careful when walking up the mountain heading to the animal farm as there are cars passing by.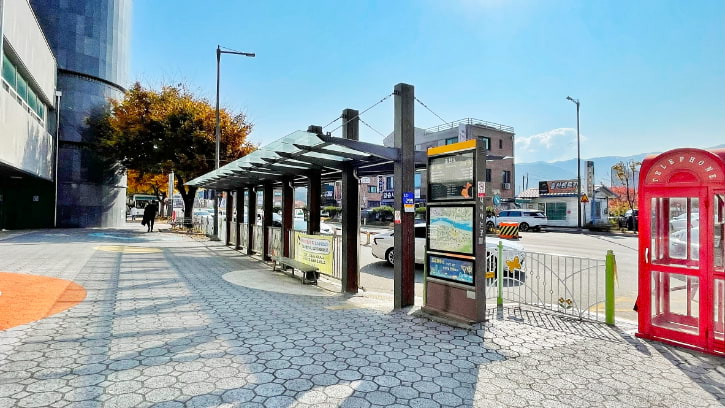 Ideally, it's better to take a taxi from Hongcheon Bus Terminal to Alpaca World Korea.
The one-way trip only costs 40,000 won and the travel time is around 30 minutes.
You can easily find the taxi stand at the front of the bus terminal.
Taxis can take you directly to the animal farm, so you don't have to walk up the hill.
2. By Shuttle Bus (Bus Tours)

– Best Option
For first-time travellers, the best and easiest way to go to Alpaca World Korea is to simply take a shuttle bus from downtown Seoul.
Don't worry because there are a total of 3 shuttle bus options for you to pick on.
So, you can just select one of buses to reach the place. For more details and prices, you may check them out here > Shuttle Bus 1 | Shuttle Bus 2 | Shuttle Bus 3.
One of the advantages of riding the shuttle bus is that it takes you directly to the animal farm. Thus, you won't have to deal with stressful public transportation.
Another remarkable feature is the fact that you can take these buses in Myeongdong and Hongdae. This makes the bus option very convenient and safe.
3. By Private Car or Van
The last option would be hiring a private car charter. This is suitable for families and groups of friends who are looking for a seamless trip while also saving travel time.
If you pick this one, you'd get an English-speaking driver who will fetch you from the hotel to Alpaca World.
The vehicle also comes with spacious and comfy seats so you'll be more comfortable during the travel. You can check prices and book private car transfers here.
Art Shop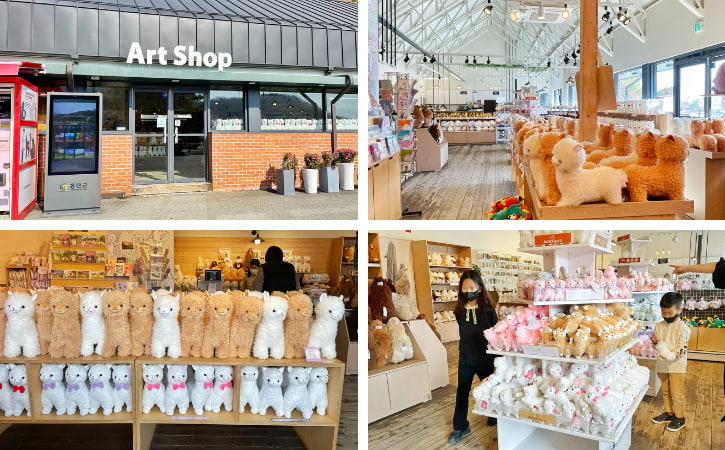 But of course, your trip won't be complete if you don't visit the Art Shop. This is where you can buy souvenirs to conclude your adventure.
There are several things to look forward here such as Alpaca plushies, key chains, and wallets.
Continue exploring the shop and you'll find a display filled with official snapshots and art stuff. These beautiful pieces are perfect as keepsakes for every tourist.
Restaurants
There are 3 restaurants in Alpaca World that you can choose from.
For easy reference, I will share the foods served in each restaurant so you can plan out your trip in advance.
1. The Forest Restaurant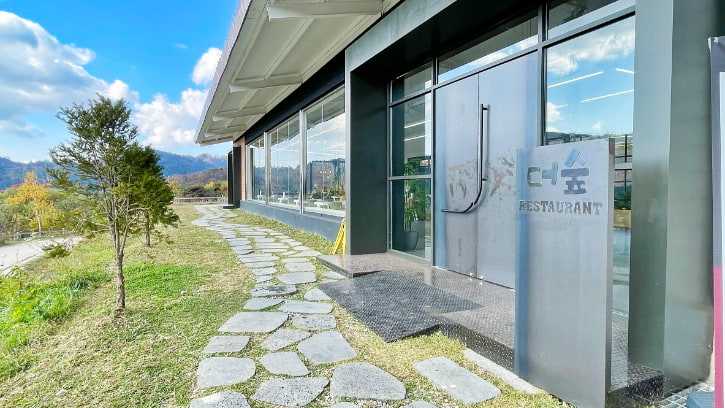 One of the best places to dine in the park is The Forest Restaurant. Try their tasty pizza selection such as Rucola Pizza and Gorgonzola Pizza.
They also have pasta options like Carbonara, Aglio Olio, Seafood Tomato Pasta, and Seafood Cream Pasta. Each of these is priced at 15,000 won, which is pretty much affordable.
2. Sopoong Restaurant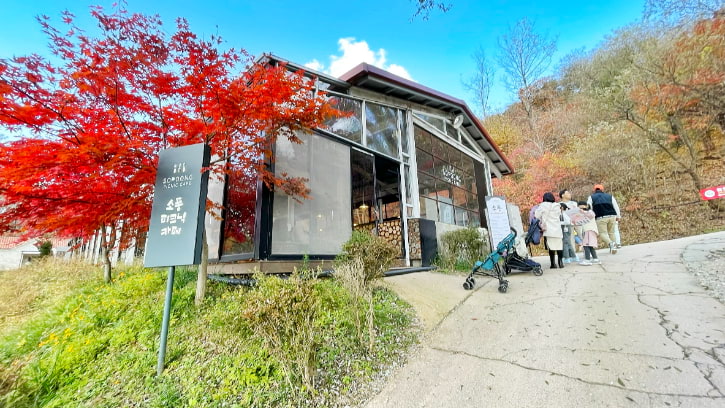 Another option is the Sopoong Restaurant. This is a great recommendation for those who want some local dishes. They offer Pork Cutlet for 10,900 won and Bulgogi with Rice for 9,900 won.
You may also order their Omelet Rice, Alpaca Shrimp Fried Rice, and Alpaca Crab Meat Fried Rice. These are 9,900 won each.
3. Food Court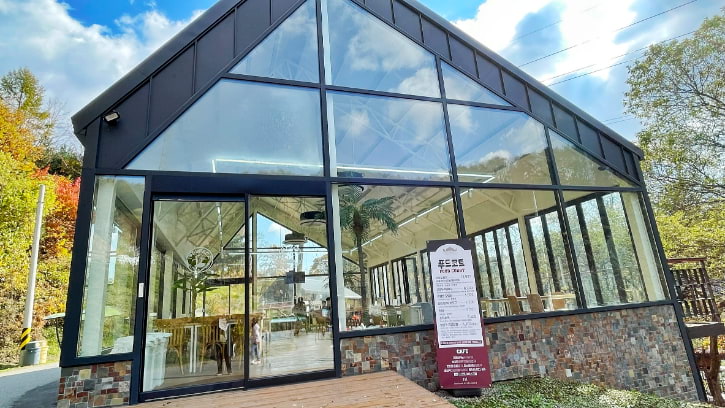 Last on the list is the Food Court. Check out their menu and enjoy a hearty meal.
Some of the best choices are Boneless Chicken and French fried (12,000 won each) as well as Fried Dumpling & Tteokbokki (8,000 won). The Johnsonville Big Hot-dog (4,000 won) is also highly suggested.
Uniquely, this restaurant comes with fascinating exterior charms. So, while munching your food, you get to appreciate the glass design as well.
Alpaca World Korea Experience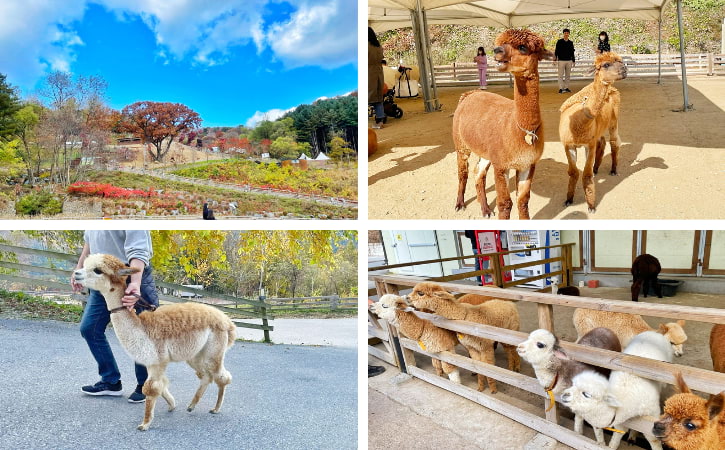 Alpaca World Korea offers you a one-of-a-kind experience with the alpacas and other cute animals.
The place itself is very picturesque, making it very popular. Without a doubt, you won't regret visiting the animal farm with your family and friends.
And for a smooth-sailing trip, don't forget to book one of the bus tours to Alpaca World, which are Bus Tour 1/ Bus Tour 2/ Bus Tour 3.
All these bus tours offer direct transport from Seoul to the park. Also, remember to reserve your seat in advance.
Other Recommended Attractions in Korea
When you go to Seoul for vacation, be sure to visit Nami Island and Lotte World. These two are very popular in Korea and are visited by many tourists every year. You may read my Nami Island page and Lotte World Seoul page to learn more about what you can do and see in these places.
Read also: Everland Theme Park Guide (A very nice theme park in Seoul that offers many rides and attractions for tourists.)
Visitor Information
Opening Hours:
10:00 AM to 6:00 PM
Ticket Prices:
– Aged 3 to 64: 15,000 won
– Aged 65 and above: 12,000 won
– Below 3: Free
Official Website:
https://www.alpacaworld.co.kr/global/e_alpacaworld.php
Address:
310, Pungcheon-ri, Hwachon-myeon, Hongcheon-gun, Gangwon-do, Korea
Related Posts