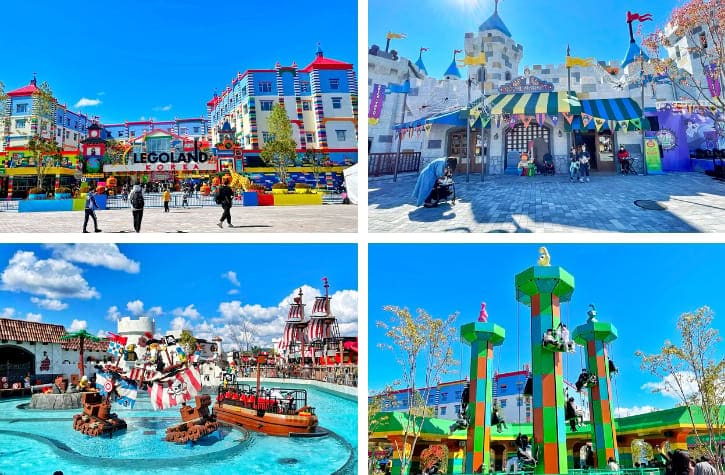 LEGOLAND Korea Resort is packed with fun rides and attractions for all ages. As Asia's largest Legoland theme park, there are lots of amazing things to look forward to in this place.
In this article, I will provide you with a detailed guide on how to get to LEGOLAND Korea from Seoul using the ITX train, Subway, Shuttle Bus, or Private Car Service.
You can simply choose one of these modes of transportation to reach your destination.
Before diving into the details of getting there, allow me to highlight the 22 best rides at LEGOLAND Korea Resort. The following list is sure to make your visit unforgettable. 🙂
1. The Dragon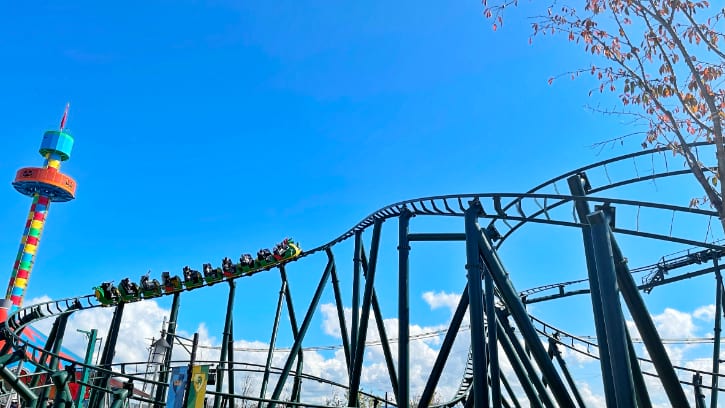 The Dragon is undeniably one of the most famous rides in LEGOLAND Korea that should be on your bucket list.
Experience the thrill as you journey through an elevated track with lots of twists and turns.
The magnificent views from your seat also add up to your sensation. So, if you're looking for the best way to pump up your senses, take this ride and enjoy!
2. Coast Guard Academy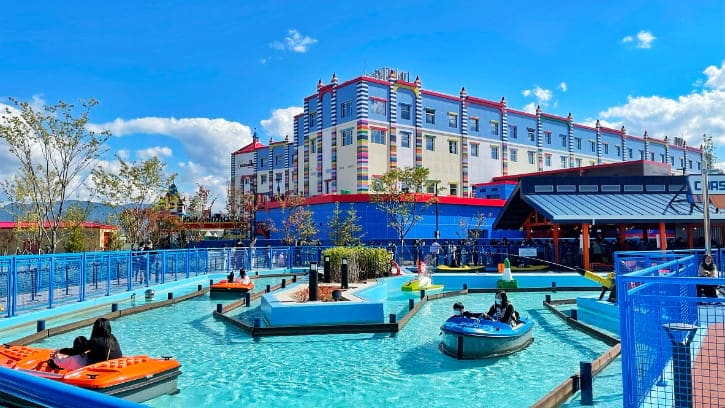 Follow up the fun and head to Coast Guard Academy. This is a fantastic ride for you and your kids as you voyage a water course.
As you step into the battery-powered boat, ready yourself for a fun water adventure.
Along the way, you'd come across a series of hindrances. Thus, be prepared and succeed on your water journey!
3. Splash Battle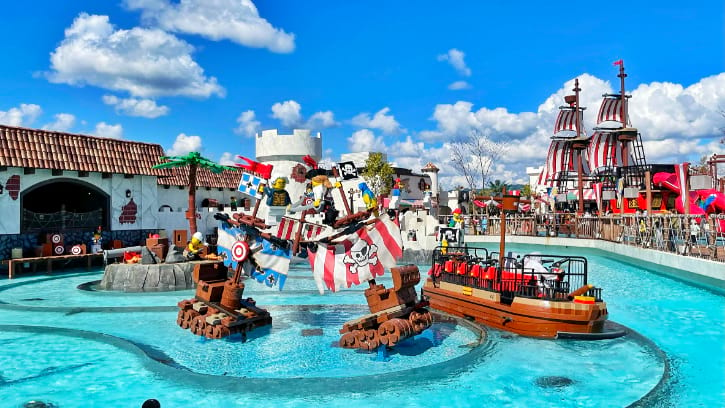 No list of top things to do in LEGOLAND Korea would be accomplished without the popular Splash Battle. From the name itself, this ride lets you navigate through the waters and battle out the spectators.
Make use of your cannonball and take your aim toward other riders. And, don't forget to focus on completing the voyage despite the obstacles!
4. Anchors Away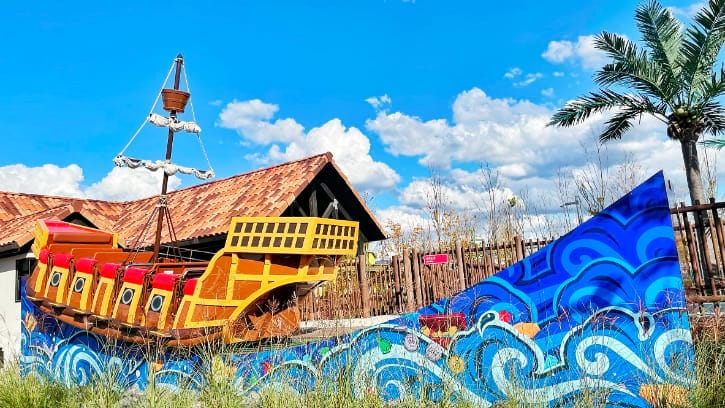 Get on with the fun as you hop aboard the Anchors Away. Featuring some exhilarating tosses and spins, this is definitely a great way to level up the thrill.
The wave-like motions are downright gripping and entertaining. So, check out this ride and see if you are ready to manage the unexpected movements!
5. LEGOLAND Lookout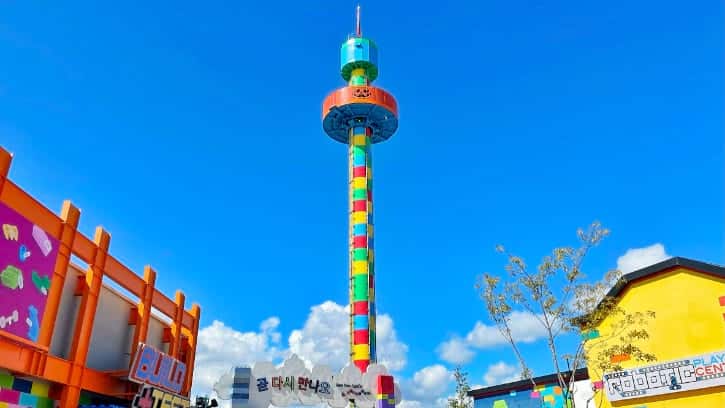 Don't miss the best LEGOLAND Korea rides, which definitely includes the LEGOLAND Lookout. At 43 meters high, this is the most recommended spot to get a bird's eye view of the park.
Catch a glimpse of fantastic structures below and be in awe of the scenic views.
From the top, you'll also capture the beautiful lake surrounding the entire area.
6. Driving School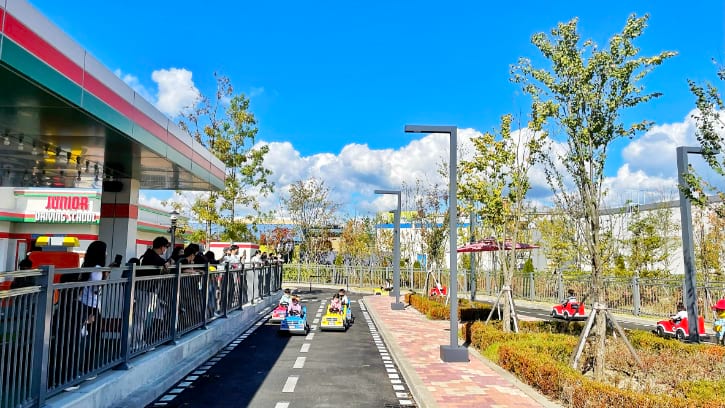 Let your kids drive their own car at Driving School. This is such a nice place for them to put their basic driving skills to the test.
And don't worry because the cars are all designed for children's use! So, cheer them as they maneuver the vehicle and get past the tracks.
7. Royal Joust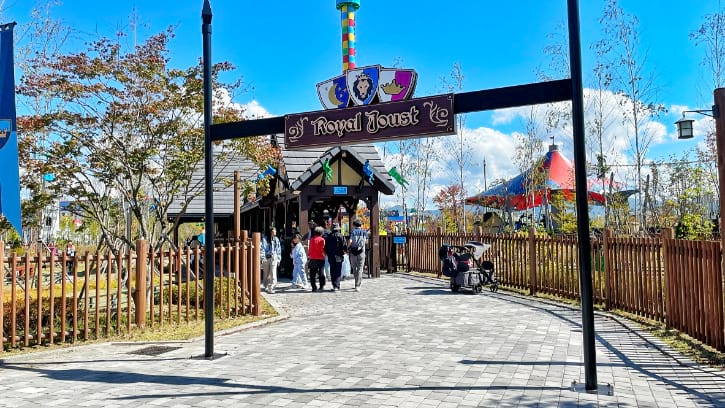 Royal Joust welcomes you to a whimsical battle forest.
This is a great chance for your kids to experience how it is to be a royal knight, riding their own LEGO horse. Let them complete the whole track and enjoy the views around the place.
8. See the Replicas of Korea's Iconic Landmarks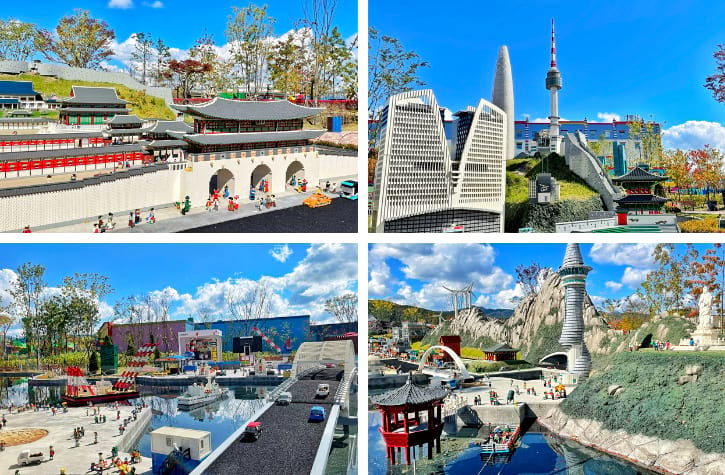 Do you want to see some popular landmarks in Korea but you're running out of time?
Fret not because the park gathers the replicas of Gyeongbokgung Palace, Namsan Seoul Tower, Busan, and more into one spot.
This is truly a must-visit attraction in LEGOLAND Korea theme park for all ages. Watch the beautiful creations and be captivated by the miniature versions of the top landmarks in the country.
9. LEGO City Police Building Experience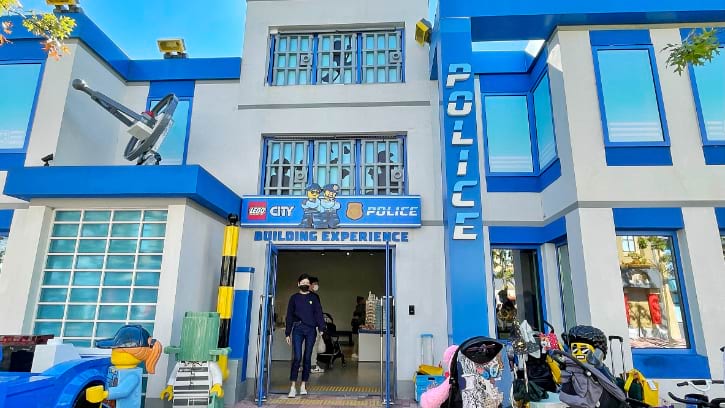 LEGO City Police Building Experience is a once-in-a-lifetime opportunity that you shouldn't miss.
Spend some time inside this expansive indoor play and build LEGO creations on your own!
As the place mimics a police building, it surely elevates the fun. Here, you get to work on different police obstacles and adventurous chases.
10. Merlin's Flying Machines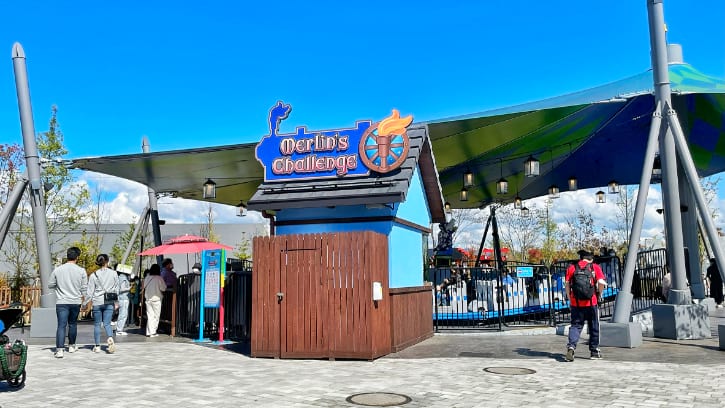 Fly above the fantastical kingdom with the aid of Merlin's Flying Machines.
Although these magical machines are meant for wizards, you can hop aboard the seats for some hovering moments!
So, bring your kids and have fun with the flying rides!
11. DJ's Dizzy Disco Spin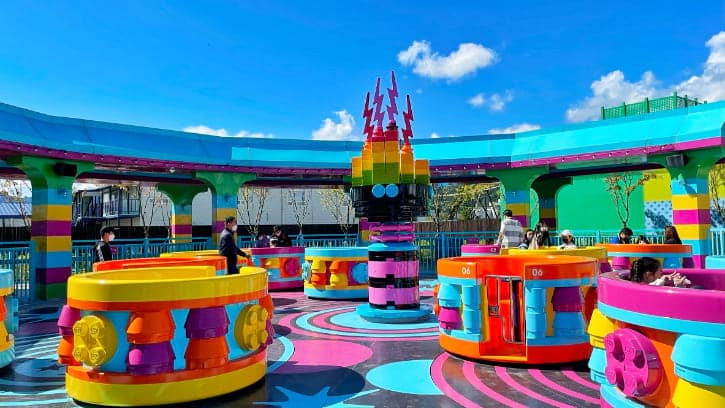 Enjoy some circling moments as you step onboard the famous DJ's Dizzy Disco Spin.
With fun LEGO structures and mini-figures, you'd be amazed by how the designs upgrade your spinning experience. What's even better is the fact that you can control the speed according to your liking!
12. LEGOLAND Express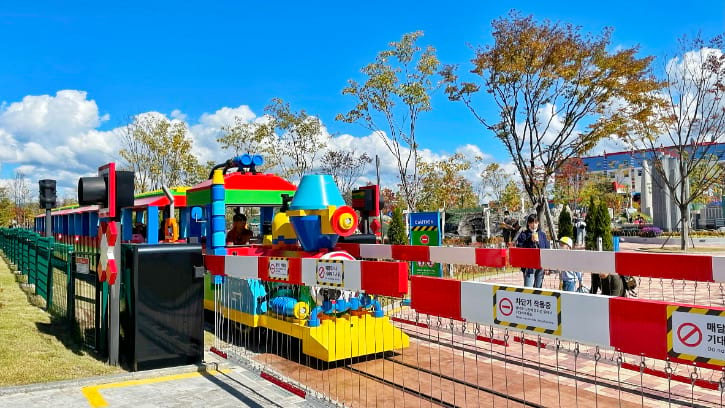 LEGOLAND Express is another crowd favorite in the theme park, especially for those with kids.
Take your toddlers with you and explore the beautiful resort via train. The vehicle itself is a sight to see because it's like a life-sized LEGO train!
13. Wave Racers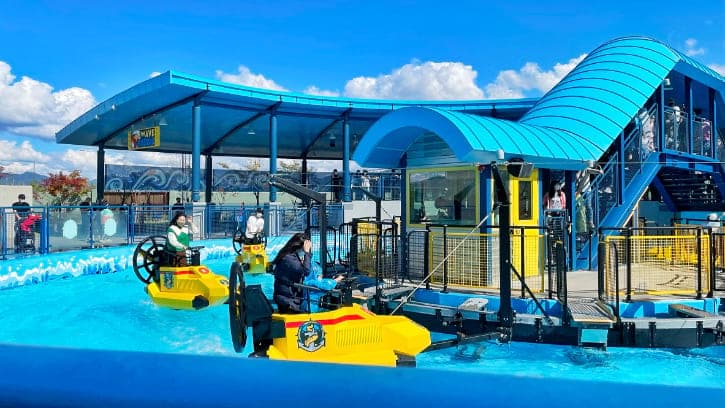 Wave Racers gives you the opportunity to showcase your steering skills while in a rotating position.
Plus, the waves make it difficult to maneuver the wheel. So, take your kids with you as you escape the water blasts like a pro!
14. Monkey Climb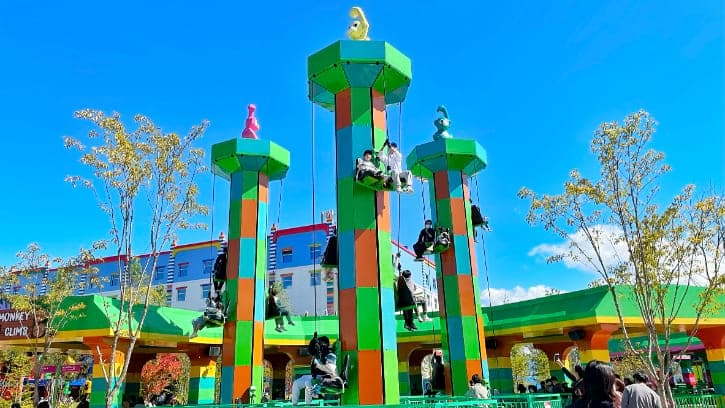 Carry on with the adventure at Monkey Climb. Aside from pumping your senses, this exhilarating attraction focuses on teamwork.
Together, push the ropes down so that your seat will go up. Then, from the top, enjoy a freefall to the ground!
15. LEGO Factory Adventure Ride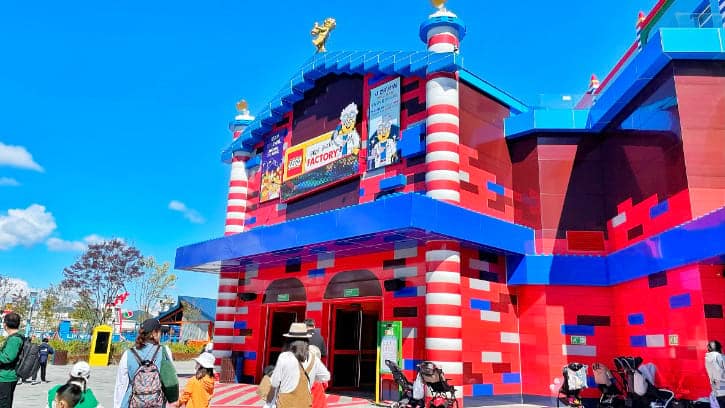 One of the must-try attractions in LEGOLAND Korea theme park is none other than the LEGO Factory Adventure Ride.
Through this ride, you get to experience how it feels to be like mini LEGO figures. Enjoy the realistic simulation that also gives you a glimpse of how LEGO bricks are created.
16. LEGO NINJAGO The Ride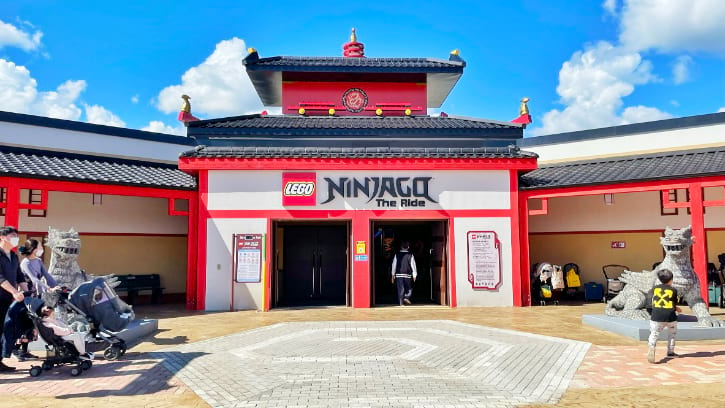 LEGO NINJAGO The Ride welcomes you to a one-of-a-kind adventure.
Ready your 4D glasses as you unleash your imaginary elements, from fire to ice and lightning to earth, with just your hands.
The realistic effects definitely make this ride more memorable!
17. Castaway Camp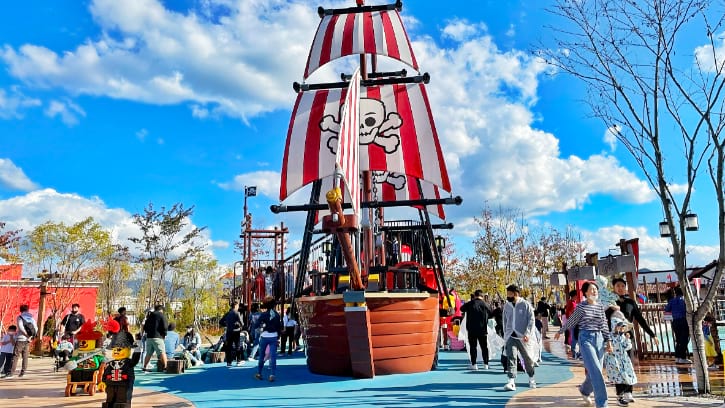 Get into the massive Castaway Camp and let the kids play their hearts out.
This gigantic play area encompasses a number of exciting quests for all visitors
Complete the ropewalks or go on an epic slide with some new-found friends. There are also nets to add up to the challenge!
18. Take Photos of the Creations Made from Legos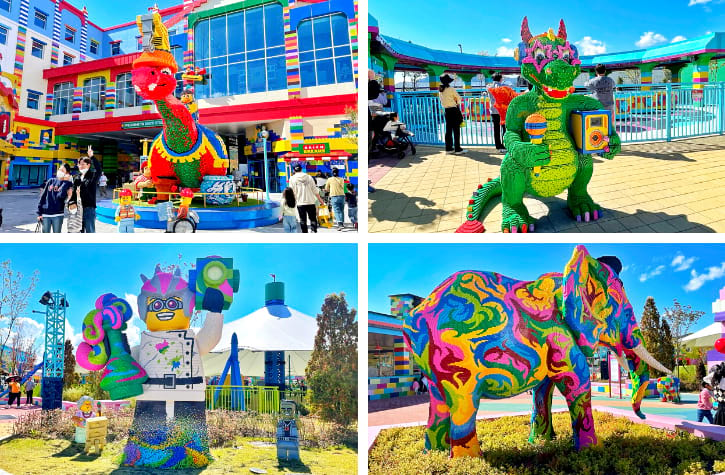 As you explore the park premises, you'll come across towering LEGO creations that will surely fascinate you.
Be captivated by the creativity showcased through the impressive structures. And, don't forget to take a photo with these gigantic designs!
19. Merlin's Challenge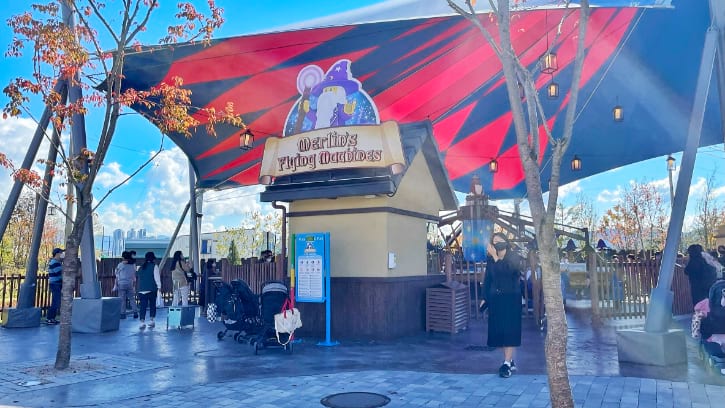 Go round and round with Merlin's Challenge. This is like a merry-go-round with a twist.
Choose your seat and brace yourself for a fast-paced circling. More than that, you'd be surprised by the up-and-down motions that would definitely keep you energized.
20. LEGO CITY Airport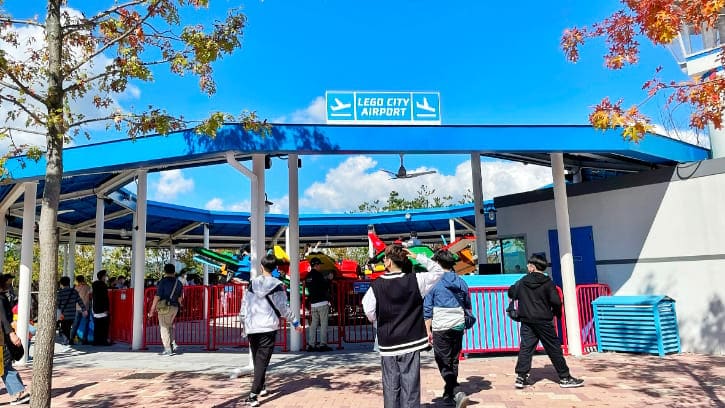 LEGO CITY Airport presents a fun ride on your own LEGO plane. The bright plane colors are more than enough to attract you and your loved ones.
So, embark on a fantastic journey up in the air and get to experience how it feels to be driving your own plane!
21. Fire Academy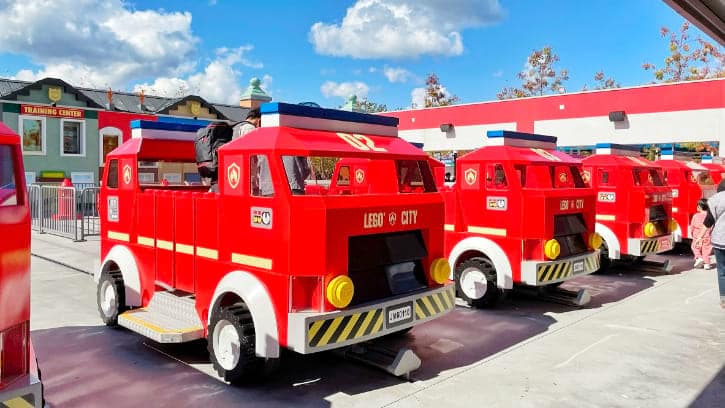 Fire Academy is another top-notch attraction for kids. Give your children permission to highlight their skills, from fitness to teamwork.
Here, your children can play with other kids and work hard to power a fire engine. This is definitely an interactive way to improve their technical and interpersonal skills.
22. Brick Party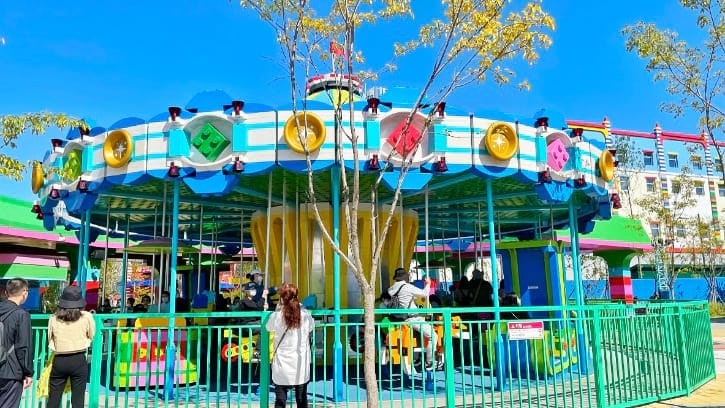 Brick Party is an upgrade to the typical carousel. Instead of the usual fantastical horses, this one offers you a variety of LEGO creations.
So, choose from the unique options at hand, from fancy motorcycles to animal-based LEGOs. For sure, there's something that would catch your attention.
Must-See Shows and Meet & Greet
1. LEGO NINJAGO Live Show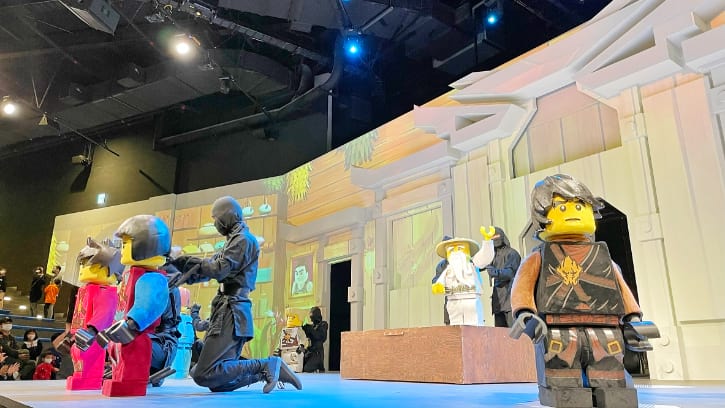 LEGO NINJAGO Live Show is dubbed to be the most popular LEGOLAND Korea show for all first-time visitors.
Watch this remarkable puppet performance live with your family and friends, and be fascinated by their brilliant acts!
Along with the remarkable talents, the 4D special effects add more depth to the show. So, make sure to add this to your priority list!
2. LEGO CITY 4D: Officer in Pursuit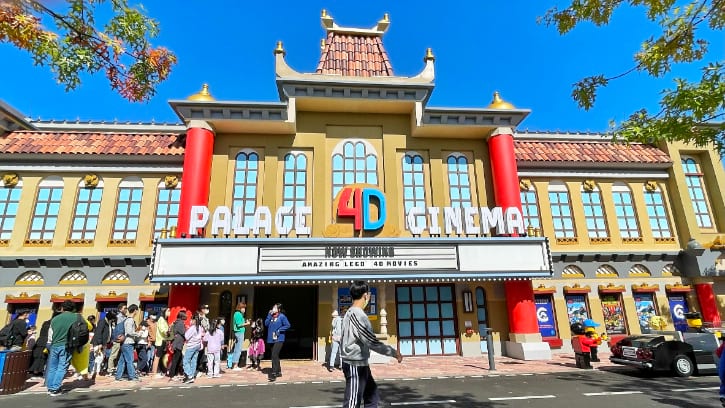 LEGO CITY 4D: Officer in Pursuit takes you on a realistic chase across the town filled with skyscrapers.
This 4D film is no doubt a great spectacle that feels like a true-to-life escapade through the streets. Thus, you shouldn't miss this show during your visit to the park.
3. LEGO Castle Meet & Greet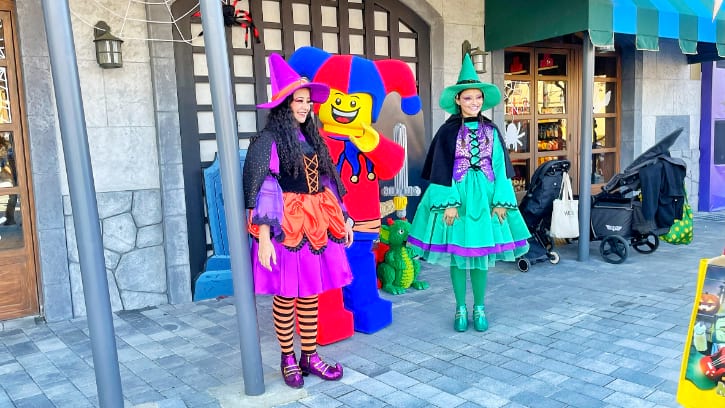 Catch some adorable characters through the famous LEGO Castle Meet & Greet.
This is a lovely opportunity to take some photos with people in unique costumes.
So, ready your camera and snap some pictures. And, don't forget to interact with them!
4. BRICKTOPIA Meet & Greet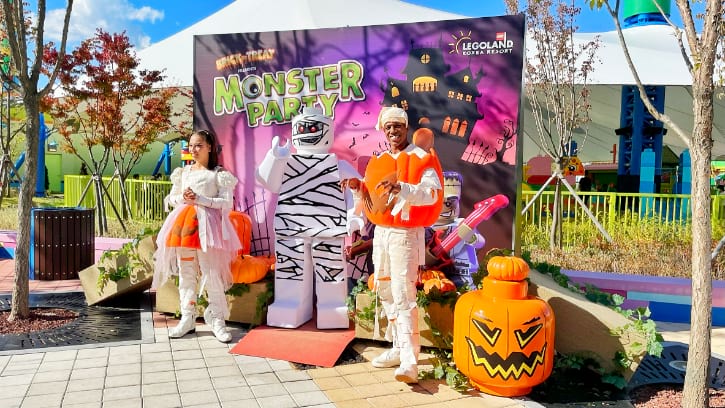 If you're a fan of LEGOLAND, drop by the BRICKTOPIA Meet & Greet!
Here's your chance to see some Bricktopia friends, from Professor Brick​ to Technica! Often than not, you can find them just outside the Build and Test section.
Where to Buy Admission Tickets
Do take note that when buying tickets on-site, only card payments are accepted. Therefore, if your preferred method of payment is via cash, then you need to buy in advance.
Meanwhile, it's highly suggested that you book the LEGOLAND Korea tickets here so you get direct access to the theme park. Plus, you can enjoy a discount of up to 45% if you buy the tickets online!
You simply show the e-tickets from your phone at the entry gate, and ta-da, you can enter the park with ease!
How to Go to LEGOLAND Korea from Seoul
1. By ITX-Cheongchun Train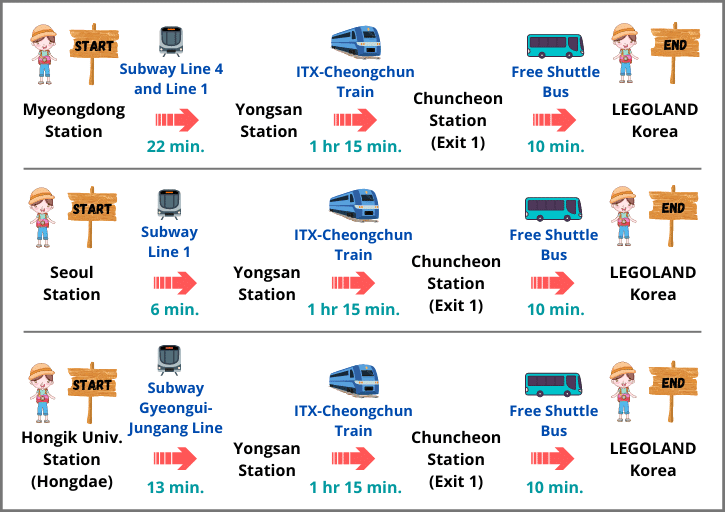 To get to LEGOLAND Korea, first take the ITX-Cheongchun train from Yongsan Station (Seoul) to Chuncheon Station. The one-way trip costs 9,800 won while the travel time is about 1 hour and 15 minutes. Upon arrival at Exit 1 of Chuncheon Station, ride the free shuttle bus to the theme park, which is around 10 minutes.
Alternatively, you can take a taxi to LEGOLAND Korea from the taxi stand at Chuncheon Station. The fare is around 5,600 won, and the journey takes roughly 7 minutes.
If you plan to depart from Myeongdong, Seoul Station, and Hongdae, you just need to take the subway to Yongsan Station. Afterward, ride the ITX-Cheongchun train to Chuncheon Station.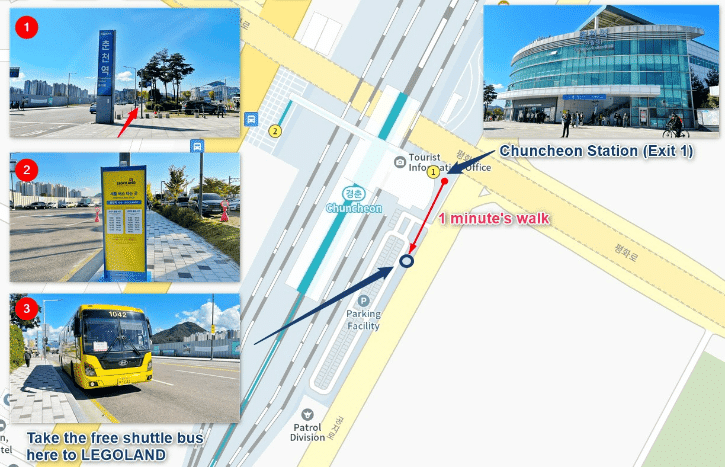 First bus departs from Chuncheon Station: 9:30 AM
Last bus leaves from LEGOLAND: 7:30 PM
Depart every 45 minutes
Return trip: Take the free shuttle back to Chuncheon Station. Then, ride the ITX-Cheongchun train going to Yongsan Station.
2. By Subway
The slowest but cheapest way to go from Seoul to LEGOLAND Korea is by subway. You just ride the subway to Chuncheon Station. From that, you take the free shuttle bus at Exit 1 of the station to the theme park.
However, the journey time can take up to 2 hours and 30 minutes, or even more. Check out the detailed guide below on how to ride the subway.
Myeongdong to LEGOLAND Korea
Take the Subway Line 4 from Myeongdong Station to Dongdaemun Station.
From Dongdaemun, you transfer to Subway Line 1 and go to Hoegi Station.
At Hoegi Station, board the Gyeongchun Line to Chuncheon Station.
The one-way trip takes about 2 hours and 2 minutes, and the subway fare is 3,050 won.
Seoul Station to LEGOLAND Korea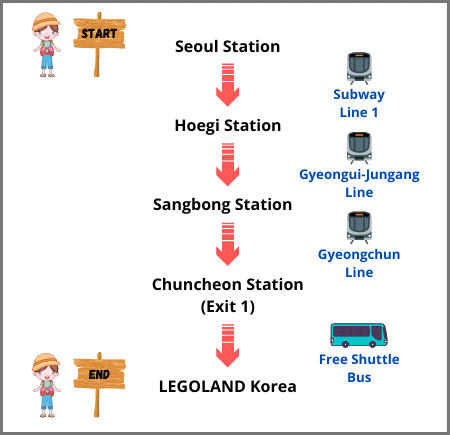 Board the Subway Line 1 from Seoul Station to Hoegi Station.
From Hoegi Station, you switch to Gyeongui-Jungang Line and go to Sangbong Station.
From there, you take the Gyeongchun Line to Chuncheon Station.
The journey takes about 2 hours and 30 minutes. It costs 3,050 won.
Hongdae to LEGOLAND Korea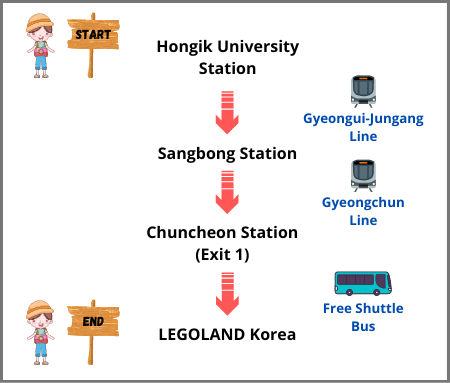 Take the Gyeongui-Jungang Line from Hongik University Station to Sangbong Station.
At Sangbong Station, transfer to Gyeongchun Line and go to Chuncheon Station.
The travel time is around 2 hours and 25 minutes, and the single trip fare is 3,150 won.
3. By Shuttle Bus
Taking a shuttle bus to LEGOLAND Korea Resort is the best option if you want a direct and hassle-free journey.
There are 3 types of shuttle buses you can choose from to go to LEGOLAND. See the details here: Bus 1 | Bus 2 | Bus 3. Advance online reservations are required.
All these buses can be boarded at either Myeongdong Station or Hongdae (Hongik University Station). Choose the one most convenient for you.
4. By Private Car Charter
The last option is to take a private car or van to the LEGOLAND Korea Resort. This is the fastest one since the driver can take you directly to the theme park.
Plus, it comes with a professional English-speaking driver, so you can ask questions freely. The hotel pick-up and drop-off services also make this option more convenient.
Accordingly, this is suitable for those travelling with a family or a group of friends.
Simply check out the private car charter here for reservations and its costs.
How to Book ITX-Cheongchun Train Tickets to LEGOLAND Korea
Step 1: Go to KORAIL ticket reservation website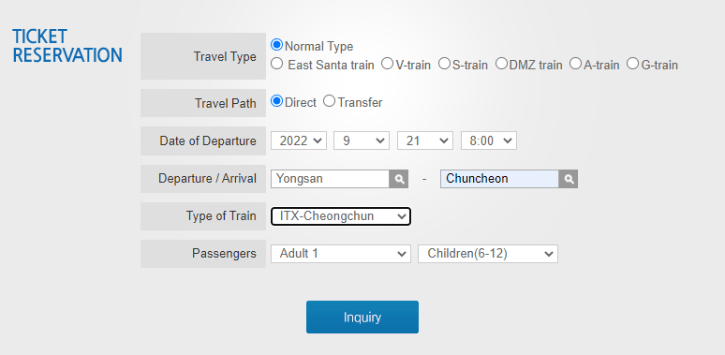 Visit Korail website and just follow the instructions from the above picture. Complete all the needed information to proceed to the next step.
Step 2: Check ITX-Cheongchun departure time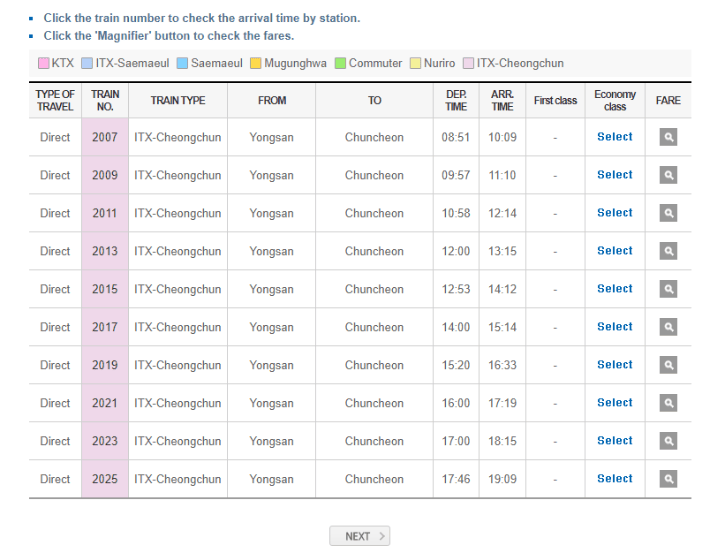 Click the "Select" link after confirming the departure time that you prefer. It's highly recommended to select an earlier departure time.
This way, you have sufficient time to play around in LEGOLAND Korea Resort. As to the prices, the economy class for an adult is 9,800 won while a child is priced at 4,900 won.
Step 3: Fill in your personal information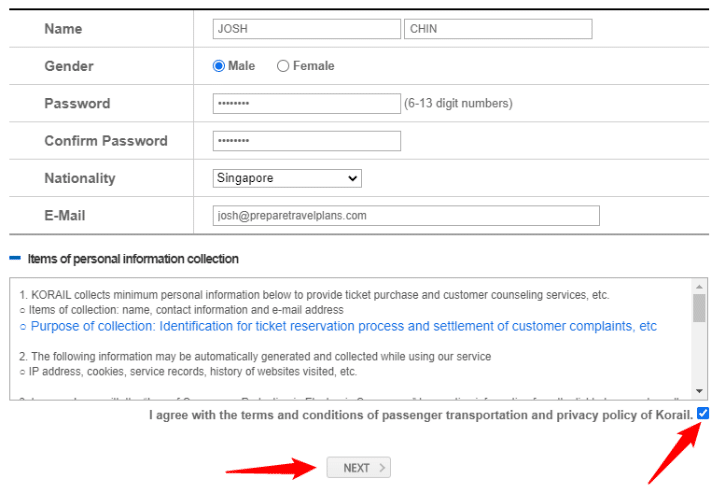 You need to create a password so you can easily cancel or re-print the train ticket. After completing the details, click the next button.
Step 4: Settle payment and print train ticket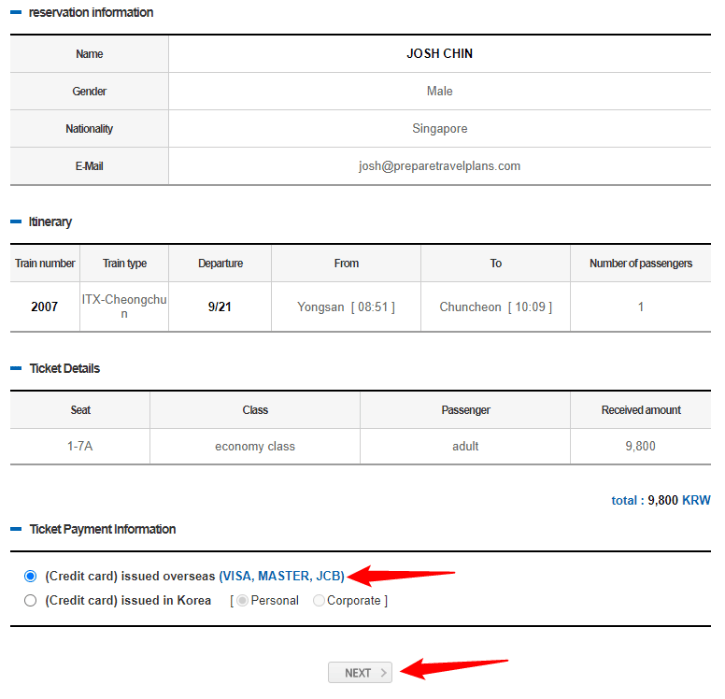 Now, you are directed to a summary of your personal details and itinerary. Be sure to check everything and then pick your payment option. Once done, don't forget to print out your tickets.
You can then present your ticket and passport upon entry and board the train directly.
This means you won't have to claim the physical tickets from Yongsan Station. And, make sure you buy the return trip tickets as well.
LEGOLAND Korea Theme Park Overview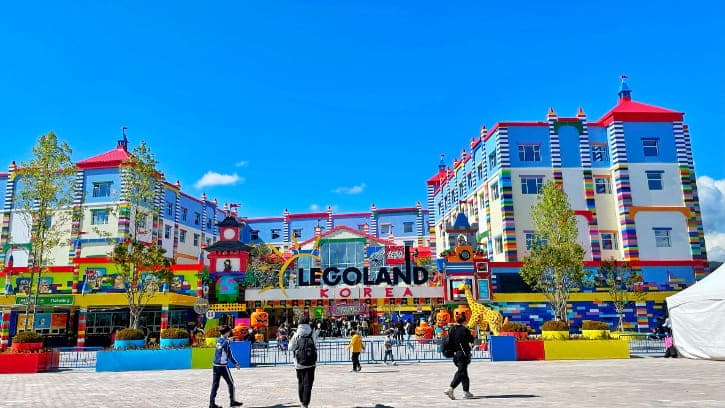 LEGOLAND Korea Resort features a total of 7 themes. These are LEGO CASTLE, BRICKTOPIA, PIRATE SHORES, LEGO City, BRICK STREET, LEGO NINJAGO WORLD, and MINILAND.
Wander around the amusement park and be fascinated by the collection of 40 rides and more! There are also lots of amazing shows to see. Surely, this is not just a great place for children but adults as well.
After all the fun, you can choose from the wide food selections. And to top it all, you can go shopping in the theme park!
So, plan the best day trip to LEGOLAND Korea from Seoul in advance. If you have no idea how to include this place in your holiday plan, don't worry! Just read my 7-day itinerary in Seoul post for reference.
For further guidance, I will walk you through the 7 zones of the theme park.
1. LEGO CASTLE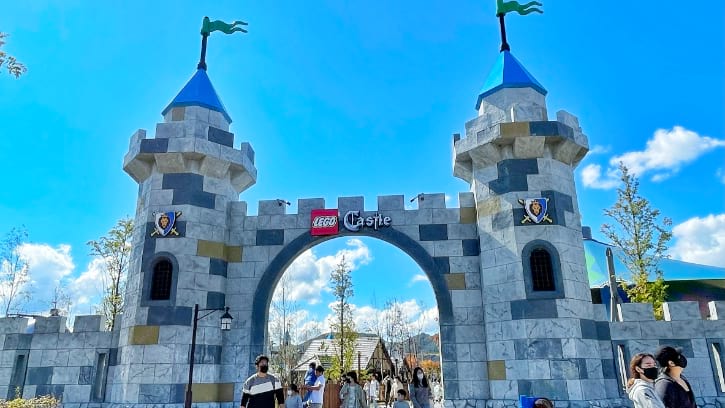 LEGO CASTLE shelters some of the park's most electrifying and magical rides. Hop on the rollercoaster or simply relax onboard the wooden train.
There are also a couple of interactive activities here, especially for kids.
2. BRICKTOPIA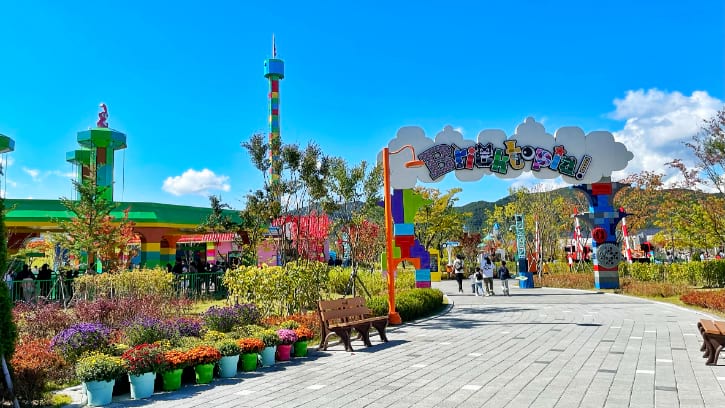 BRICKTOPIA, on the other hand, is the place to put your imagination into life. From creative workshops to play centers, there are a lot of amazing things to do in this area.
And of course, the exciting rides are not to miss!
3. PIRATE SHORES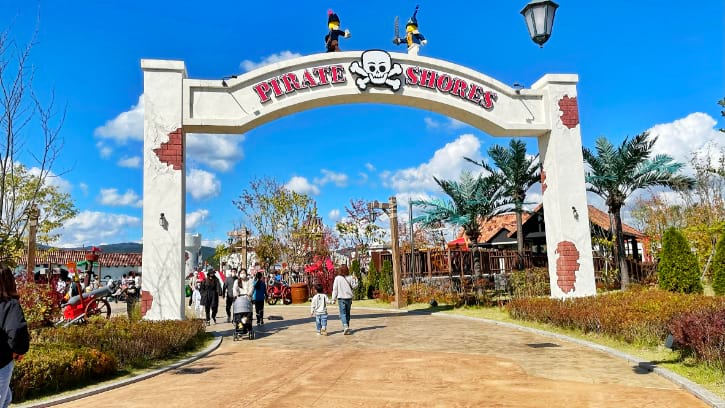 PIRATE SHORES is the best spot if you love anything related to pirates or treasure hunting!
Loaded with all kinds of ship-themed vehicles and designs, this place is truly a pirate's haven. Go around the expanse and have fun under the sun!
4. LEGO CITY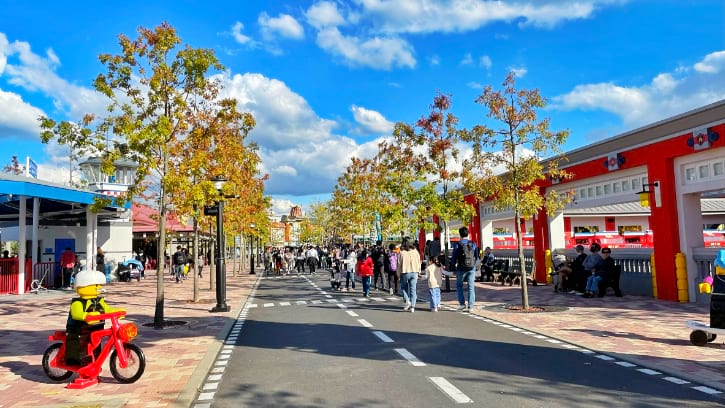 LEGO CITY is the ultimate destination to test your creativity and skills! Try one of the interactive activities, from water courses to driving schools.
Plus, you'd get plenty of adventurous spots within the area to boost your adrenaline.
5. BRICK STREET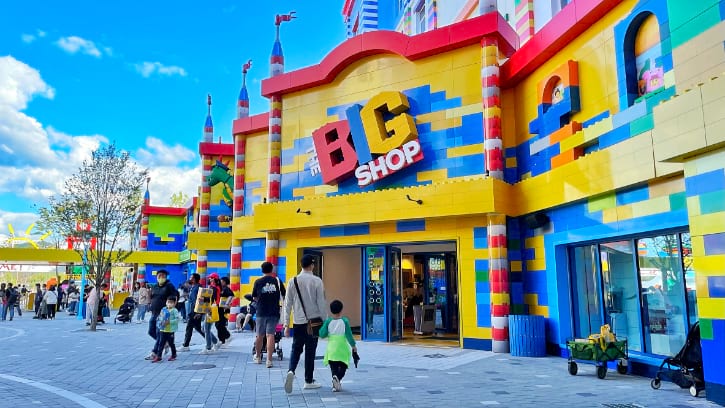 Continue the adventure at BRICK STREET and see the ever-popular LEGO Factory Adventure Ride. This is the only attraction in the area, but fret not because it's a remarkable place!
6. LEGO NINJAGO WORLD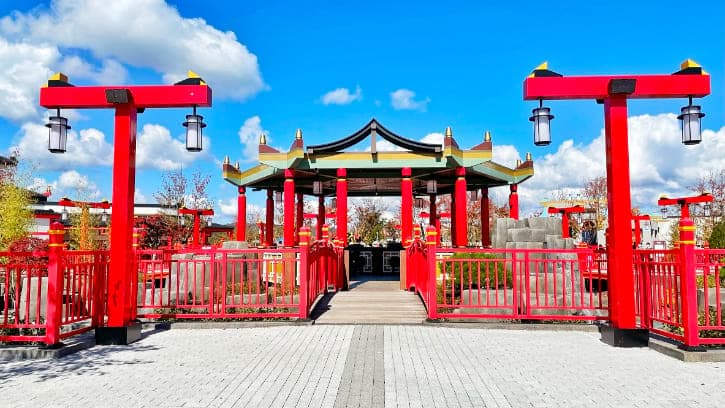 LEGO NINJAGO WORLD is certainly a top choice among kids who want to have fun. Let them enjoy the 4D ride or keep them energized at one of the many outdoor challenges.
7. MINILAND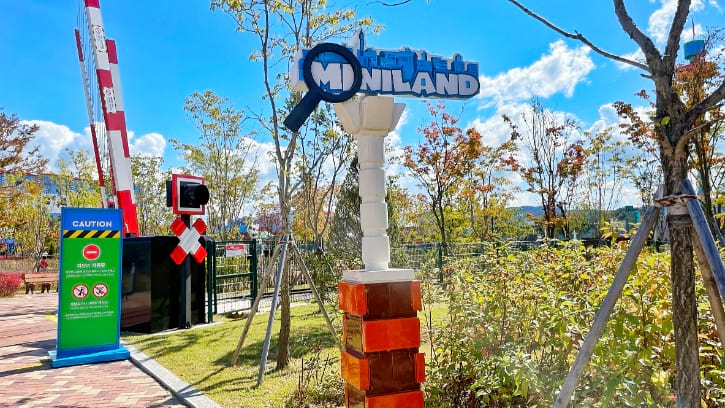 Now, the last zone is none other than MINILAND. This place puts on an impressive display of animated LEGO cities and landmarks that would surely make captivate your eyes.
So, take your time as you explore the massive presentation of famous spots in their miniature size.
LEGOLAND Korea Map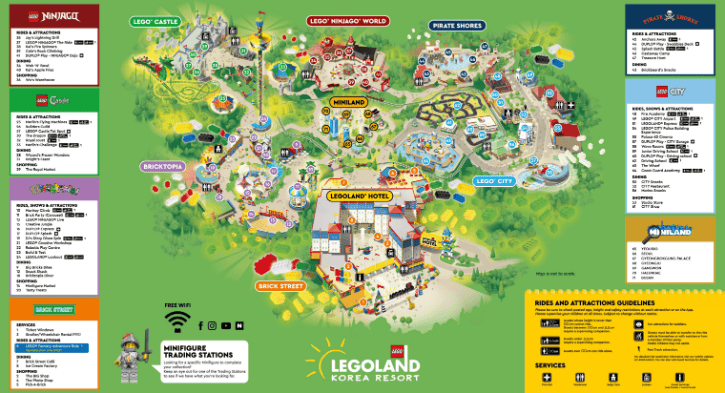 Before you begin the adventure, try to download the LEGOLAND Korea theme park map here.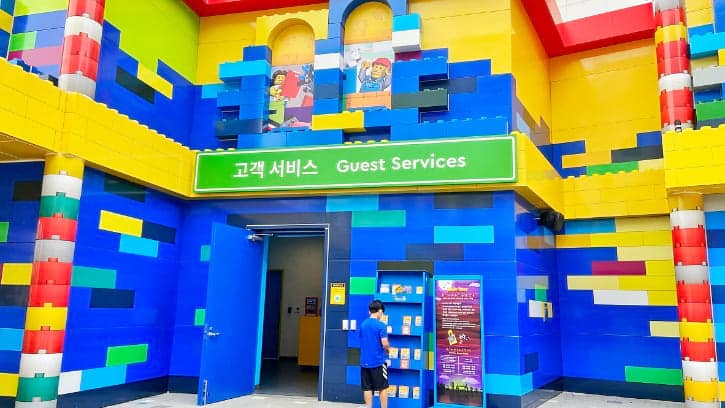 You may also get a hardcopy map in English from the Guest Services Center in the BRICK STREET zone. You can find the counter on the left side in front of the entrance gate.
Dining Options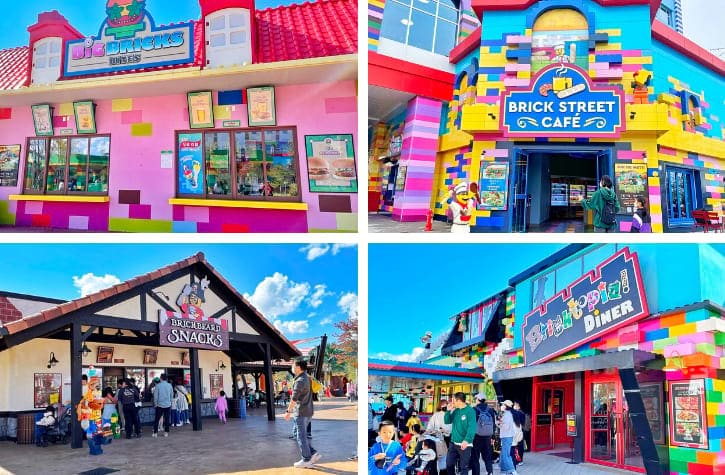 Big Bricks Bites: For some tasty burgers and fries, head to this snack shop and have a hearty meal! They've also got combos to expand your food options!
Brick Street Café: Take a quick break and sip some coffee. They have Espresso (3,500 won), Latte (4,500 won), Cappuccino (4,500 won), and more!
Brickbeard Snacks: This is another spot for delicious snacks. Some of their classics are Hot Dogs (4,000 won) and Cold Drinks (2,000 won). They also serve pizzas, burgers, and salads.
Bricktopia Diner: If you're looking for a buffet-style restaurant, make your way to this restaurant. The price per person is 25,000 won (adults) and 15,000 won(kids) while those below 3 years old are free.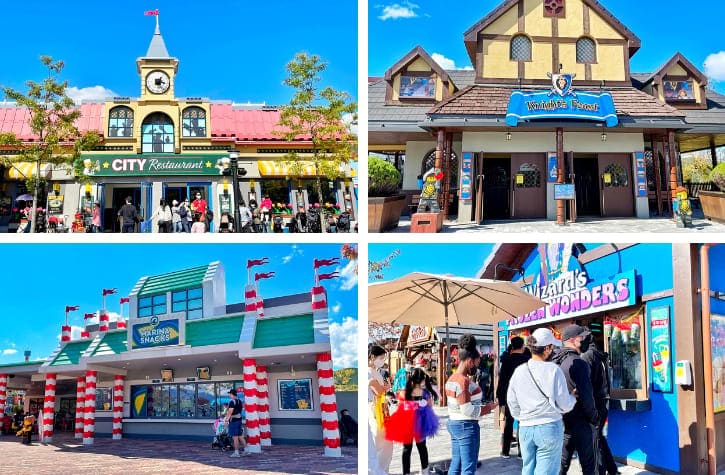 City Restaurant: Take your lunch in this dining spot and check out their variety of food options. One of their must-haves is the Fish and Chips (12,000 won), though their menu prices differ booth by booth.
Knight's Feast: If you are craving crispy fried chicken, this is highly recommended. Don't miss their Crispy Chicken Burger (9,000 won), French Fries (2,500 won), and Onion Rings (3,000 won).
Marina Snacks: Grab some Fish and Chips (12,000 won) before you continue the adventure. Their Deep-Fried Squid (10,000 won) and Hot Bar (3,000 won) are also commendable.
Wizard's Frozen Wonders: From Sundae Ice Cream (3,500 won) to Haagen-Dazs Bar (6,000 won), this place offers lots of ice cream variations. On top of that, they have cotton candy and popcorn!
Souvenir Shops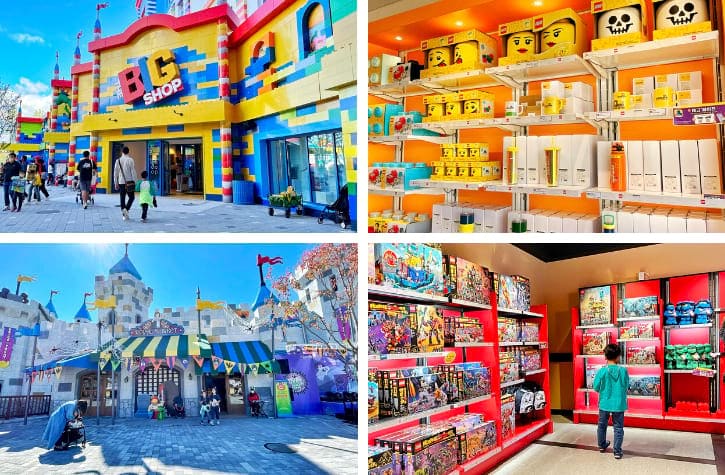 The Big Shop: Get started with your shopping adventure in this massive LEGO store. Go around the aisles full of unique LEGO toys and stuff that are perfect as souvenirs!
Pick A Brick: Make your personalized key chain using different LEGO bricks. In this place, you can customize over 100 LEGO designs and parts according to your preference.
Minifigure Market: If you want to highlight your creativity, build your own mini-figure. You've got an extensive variety of LEGO pieces here to make your dreams into reality!
Royal Market: Grab this opportunity to transform yourself into a monarch. This shop is loaded with fantastic medieval costumes perfect for roleplays!
Wu's Warehouse: Shop all the LEGO gears that you want inside this store. They offer plenty of LEGO designs to satisfy your heart!
Theme Park Facilities
1. Lockers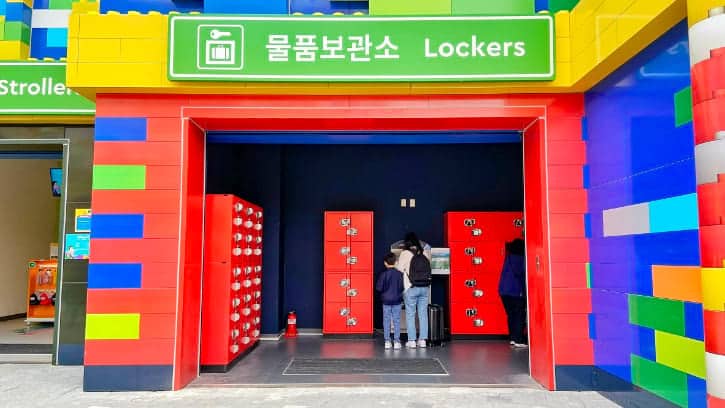 Keep your belongings safe while exploring LEGOLAND Korea. These are located in BRICK STREET and LEGO CASTLE zones and are given for free (one-time use).
Meanwhile, there are all-day lockers available in LEGO Castle. You can find one inside the Dragon and the other between the Dragon and Knight's Feast restaurant.
2. Renting Strollers or Wheelchairs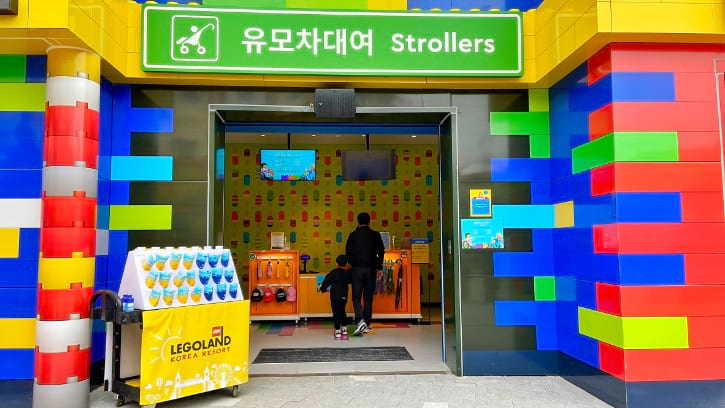 Another remarkable facility offered is the stroller and wheelchair services. This is located on the right side, after the entry gate of the theme park.
The Stroller rental fee is 6,000 won, with a deposit of 10,000 won. On the other hand, the wheelchair rental fee is 4,000 won, with a deposit of 10,000 won.
3. Smart Bench & Free Mobile Charging Station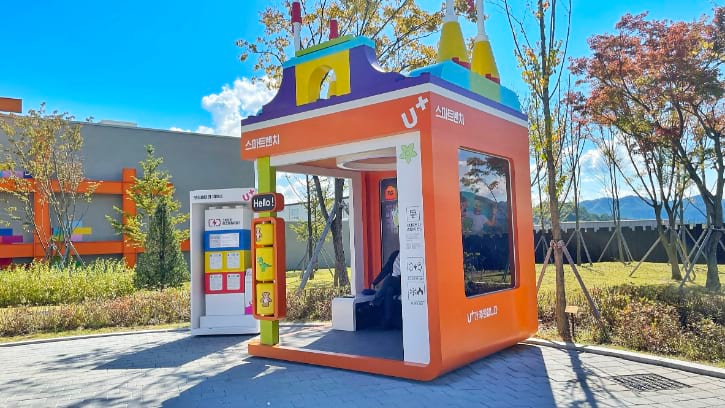 Surprisingly, the park has its own Smart Bench, which allows you to relax while charging your phone. Each playground comes with this facility to make your visit more convenient.
This one is located just outside The Photo Shop in BRICKS TREET. From there, you can borrow a charger at no additional charge.
However, there is a deposit of 1,000 KRW as collateral. You can get the deposit back minus other fees as soon as you return the device.
LEGOLAND Korea Hotel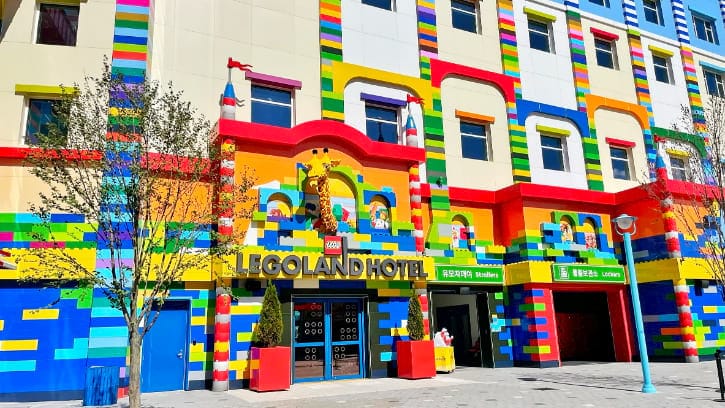 LEGOLAND Korea Hotel is located just beside the entry gate of the theme park. So, if you want to be close to the park, this is the best option.
The hotel offers a total of 154 rooms, featuring 4 themes―Kingdom, LEGO Friends, Pirate, and LEGO NINJAGO.
You may refer to more information about room types and pricing here.
Money Saving Tip:
Remember to
buy your Legoland tickets online
and
receive up to 45% OFF
! This could
save you a significant amount compared to buying tickets on-site
.
I am optimistic that this guide to LEGOLAND Korea theme park can give you a lot of ideas on what to do in the park. And, I do hope that you'll be able to get an idea of how to get to the place easily.
Related Posts