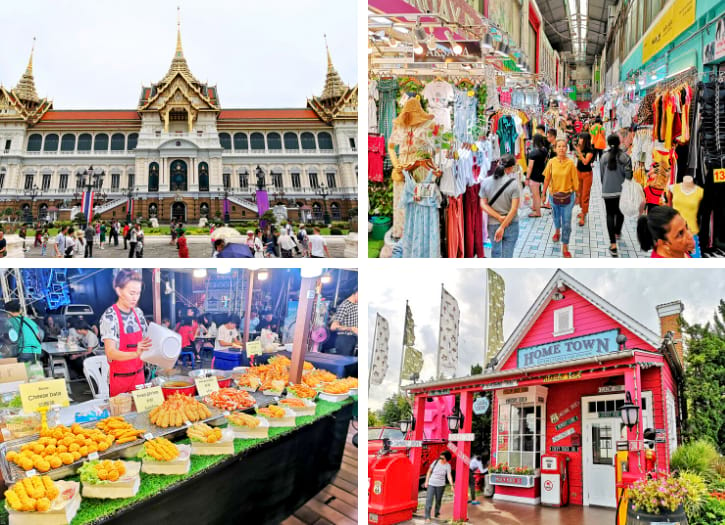 Planning on your Bangkok itinerary for 5-day can be difficult if you're a first-time traveller. But don't worry because I'll give you my personalized itinerary here for a perfect and memorable trip.
When you travel to Bangkok, make sure you explore the world's best street food markets. Go shopping and discover unique historical landmarks. All these activities should be part of your plan.
And of course, you won't run out of photo opportunities in Thailand's capital because there are many beautiful spots to capture. And there's nothing to worry about because all these will be detailed out later on.
So, let me share my personal 5 days in Bangkok itinerary below. This covers all of Bangkok's most iconic attractions, including where to eat, where to shop, and where to stay. Likewise, this will provide you on how to tour around the city efficiently! 😊
Day 1: Grand Palace, Wat Pho, Wat Arun, Asiatique and Dinner Cruise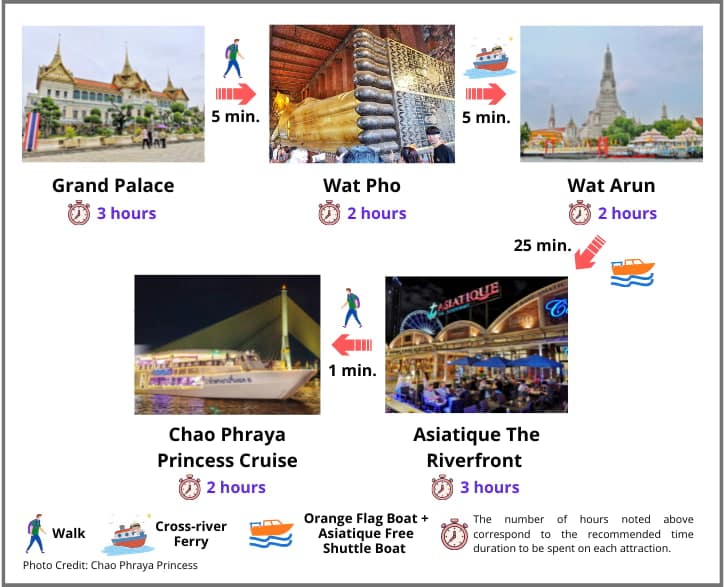 Start day 1 of your Bangkok itinerary with some of the city's beautiful temples.
Then, carry on with the adventure by exploring the famous open-air mall and its abundant shopping options.
And to cap off the first day, take the river cruise and enjoy the night views.
1. Grand Palace – 3 hours (9:00 AM to 12:00 PM)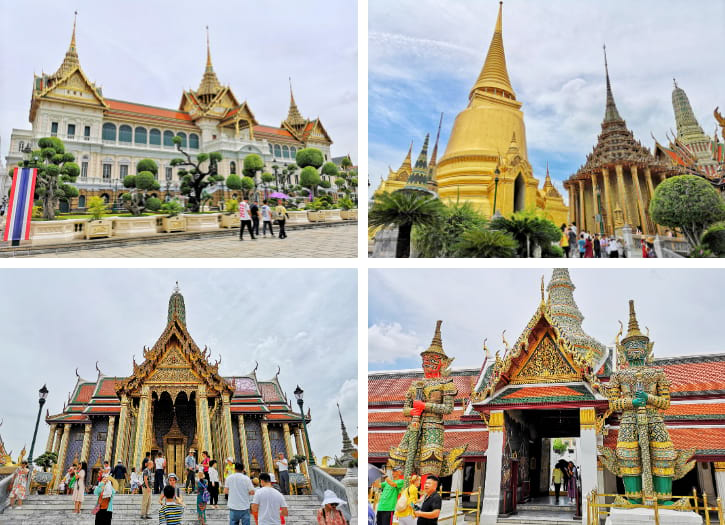 In the morning of your first-day itinerary, kick it off at the Grand Palace Bangkok.
This site was built way back in 1782 and used to be the home of the Thai King. Now, it is considered a major Bangkok tourist destination.
The architectural designs here are totally impressive. In fact, it's very unique and majestic.
I've created a complete article on Grand Palace in Bangkok to give you insights on what to see and how to reach the place conveniently.
During your visit, make sure to take as many pictures as you want. There are plenty of amazing spots within the temple complex for different photo opportunities.
Lunch:
For your lunch, you can take it at Baan Tha Tien Cafe. This a well-known dining spot located near Grand Palace and Wat Pho. It offers an amazing food selection for different travellers.
Don't miss their tasty Pad Thai, Tom Yam Kung, Thai-style fried rice, and many more.
The food choices are not just delicious but also cheap. The prices cost between 50 Baht and 120 Baht, which is very affordable.
2. Wat Pho – 2 hours (12:00 PM to 2:00 PM)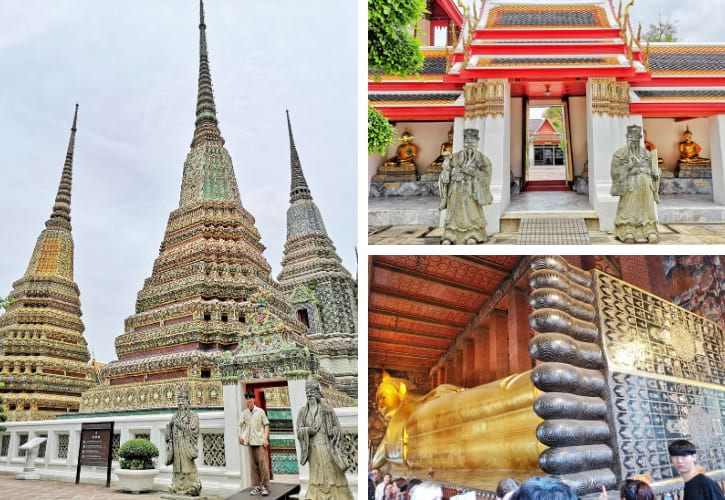 After taking your lunch, walk your way to Wat Pho, which is a very famous Buddhist temple in Bangkok.
This temple is visited by many travellers every year because of its unique features. Read my detailed guide to Wat Pho here!
One of the highlights here is the huge reclining Buddha that is 46 metres long. It's literally a gigantic golden figure, making it the largest Buddha statue in Thailand.
So, if you want to visit the highest grade among all other first-class temples, this should be part of your list.
Next Stop – Wat Arun:
To reach Wat Arun, you just need to walk from Wat Pho to Tha Tien pier. This will take around 4 minutes. From the pier, you have to take a cross-river ferry to get to Wat Arun within 5 minutes. The fare is 4 Baht per person for a one-way trip.
3. Wat Arun – 2 hours (2:00 PM to 4:00 PM)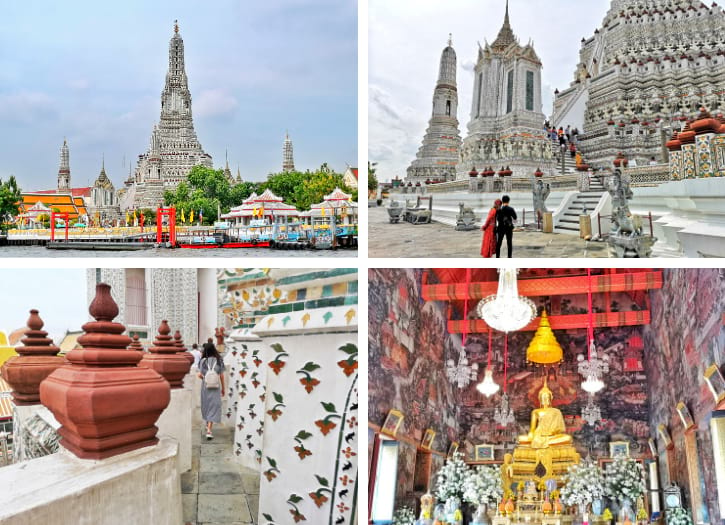 In the afternoon, start your exploration at Wat Arun. This is a very beautiful temple situated along the riverside. Find out more details and photos here for the Wat Arun in Bangkok.
There are plenty of gorgeous spots here, including the colourful spires that complement the water scenery. The religious items inside are also very impressive.
And of course, the architectural beauty of the temple is totally unique.
So, take your time and capture many picturesque photos. For sure, you will be in awe of the amazing photo choices.
Next Stop – Asiatique:
To get to Asiatique from Wat Arun, you have to take the cross-river ferry first back to Tha Tien pier. From there, you need to ride the orange flag boat going to Sathorn pier. The boat rate costs 15 Baht. Once you reach Sathorn pier, change to Asiatique free shuttle boat. This will bring you to the market directly for a span of 10 minutes.
4. Asiatique The Riverfront – 3 hours (4:00 PM to 7:00 PM)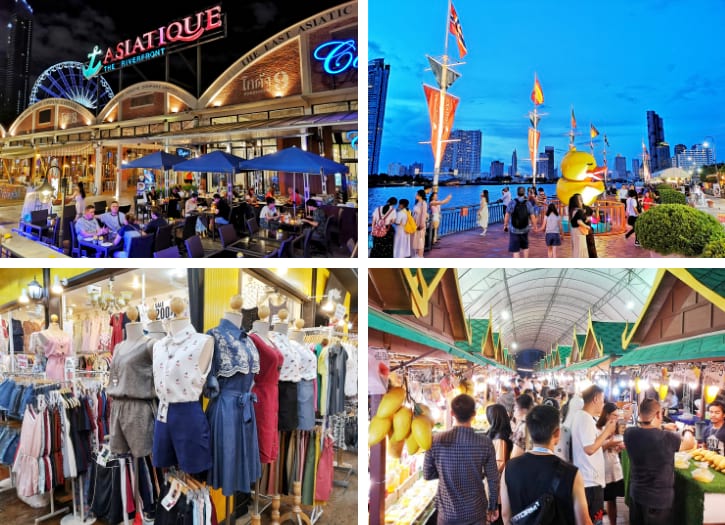 The next stop of today's itinerary is the Asiatique, which is a top-rated marketplace with over 1,500 stalls and 40 restaurants.
To be honest, this is one of my favourite markets to go in Bangkok because of its incredible array of activities.
This place is full of local shops with all kinds of fashion items and handicrafts. There are also cosy bars and street food stalls to enjoy too.
And course, the lovely river views are absolute satisfying. So, before you head to this spot, read my full article on Asiatique Bangkok for lots of helpful info and tips.
Dinner:
You have two options to take your dinner, either at Asiatique or Chao Phraya Princess Cruise. The latter offers an amazing buffet (see below, No. 5).
If you prefer to dine at Asiatique, here are some restaurants that you shouldn't miss.
Happy Fish Restaurant. For seafood and international dishes like grilled chicken, pizza, burgers, and spaghetti, check out this place. The prices range between 200 Baht and 500 Baht. Aside from good food, there's also a nice array of cocktails and beers to better enjoy the live music.
Kodang Talay. If you want fine dining with scenic river views, this is highly recommended. The restaurant serves delectable Thai seafood, with prices around 1,000 Baht.
Kacha Kacha. This Japanese restaurant is best known for its fresh sashimi and sushi. They also have tasty ramen and a lot more. The food rates are between 200 Baht and 500 Baht.
KFC. Surely, this is a great choice for budget travellers because the prices just start from 60 Baht.
5. Chao Phraya Princess Cruise – 2 hours (7:00 PM to 9:00 PM)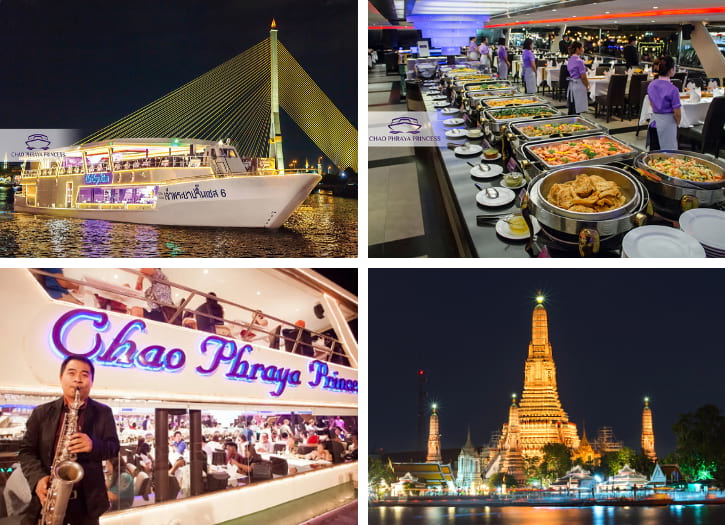 As mentioned earlier, this is another great option to eat your dinner. And don't worry because it's very easy to avail of the cruise at Asiatique pier.
You can get more information about this trip by checking the cruise menu and prices here.
The cruise itself is such a lovely way to see Bangkok's scenic night landscape and relish in the cool river breeze.
You are given 2 hours to savour the overloaded buffet of local and international dishes.
While enjoying your food, there's a live band to serenade you for a night full of entertainment.
Day 2: Platinum Mall, Pratunam Market, Bangkok Aquarium, and Sky Restaurant Buffet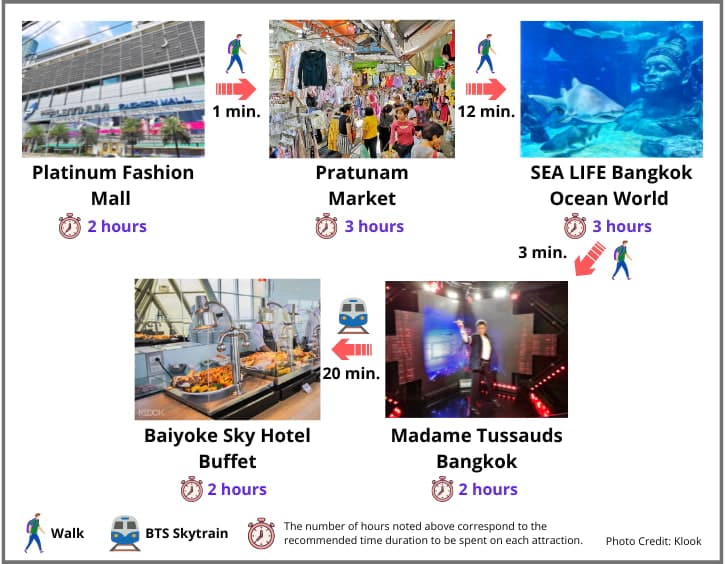 Let's get ready for day 2 of your Bangkok exploration. This day of itinerary will be full of shopping, museum hopping, and food hunting.
You will go around some of the top marketplaces in the Thailand, along with the best family-friendly destinations. And of course, there will be a lot of food opportunities in between.
1. Platinum Fashion Mall – 2 hours (9:00 AM to 11:00 AM)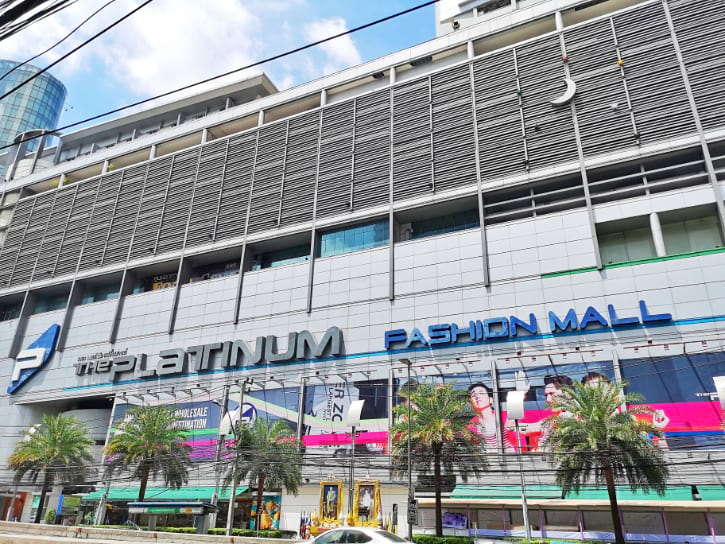 Commence with your morning adventure at Platinum Fashion Mall. Without a doubt, this is a very popular shopping mall in Pratunam, Bangkok.
It's an indoor mall that has all kinds of fashion items and accessories.
There are over 1000 outlets inside the mall, offering trendy clothing, underwear, and kids' wear.
You'll also find different belts, handbags, shoes, wigs, and even cosmetic products.
The best part of the Platinum Fashion Mall is that it is air-conditioned. Plus, it comes with a huge food court with plenty of fast-food chains and cafes.
2. Pratunam Market – 3 hours (11:00 AM to 2:00 PM)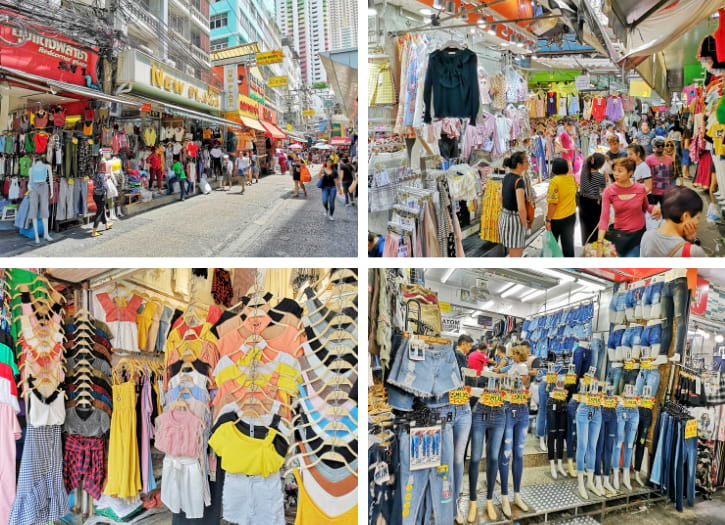 No Bangkok itinerary would be complete without going to the Pratunam Market and exploring its vibrant shops.
This busy marketplace is just situated on the opposite side of Platinum Fashion Mall.
Most of the stalls sell fashion stuffs at a wholesale price, ranging between 50 Baht and 400 Baht per piece of cloth. This means the clothes here are really cheap.
So, if you're in need of new dresses, pants, shoes, and accessories, this is the best place to get your money's worth.
Lunch:
After all the shopping, enjoy your lunch at one of the recommended spots below. These places are very close to Pratunam Market.
Lung Pratunam Boat Noodle. With over 40 years in the business, this is definitely one of the best places in terms of boat noodles. They have plenty of soup flavors to choose from such as Yong Tau Fu, Tom Yum, beef, and more. And, the noodles come with meatballs and even minced meat to enhance its taste. The price here is around 30 Baht.
Go-Ang Pratunam Chicken Rice. This restaurant is very popular among tourists. It's because this has been around for more than 5 decades and has even been awarded the Michelin Bib Gourmand. Their must-order dish is no other than the Hainanese Chicken Rice, which is around 40 Baht.
3. SEA LIFE Bangkok Ocean World – 3 hours (2:00 PM to 5:00 PM)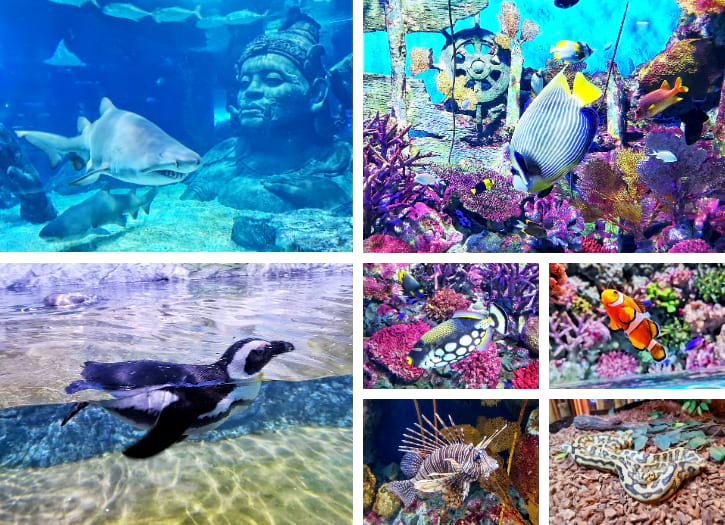 In the afternoon, go to SEA LIFE Bangkok and explore the largest aquarium in South East Asia. This massive attraction houses more than 30,000 fish and other marine creatures.
I have personally visited this place and seen a lot of colourful sea animals. For more information, just read my SEA LIFE Bangkok Ocean World post and discover more about this remarkable aquarium.
Some of the things to look forward to are the sand tiger sharks, giant eagle rays, sea turtles, and spider crabs.
There are also attractive coral reef fishes, seahorses, frogs, and penguins. And of course, you can't miss the 4D movie.
I encourage you to book your admission tickets online here if you want to save almost half of the original ticket price.
4. Madame Tussauds Bangkok – 2 hours (5:00 PM to 7:00 PM)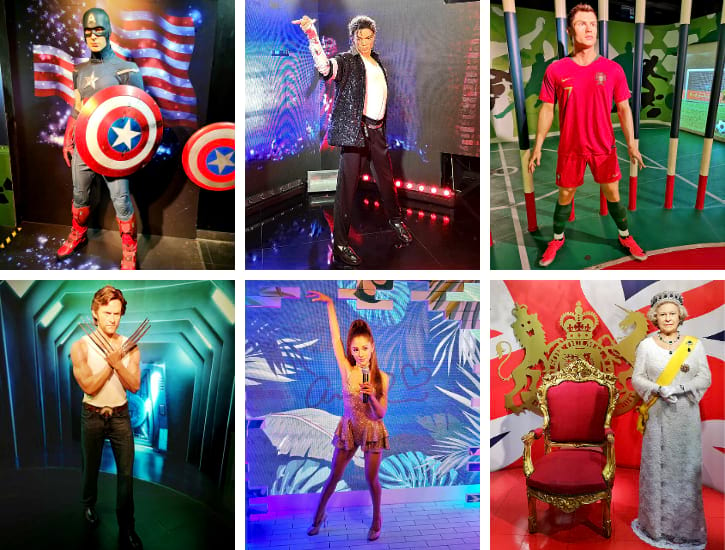 Spend your evening at Madame Tussauds. This is such a nice spot to run into your favourite stars. Find out more in this Madame Tussauds Bangkok article.
In this museum, you'll get to meet the wax figures of best-known movie actors such as Jackie Chan, Captain America, Will Smith, and Hugh Jackman.
Musical stars like Michael Jackson, Lady Gaga, and Ariana Grande are also present.
For the sports category, there's David Beckham, Cristiano Ronaldo, Serena Williams, and more. In addition, there's a display for the world's top leaders.
During your visit, try to watch the Ice Age 4D movie.
5. Baiyoke Sky Hotel Buffet – 2 hours (7:00 PM to 9:00 PM)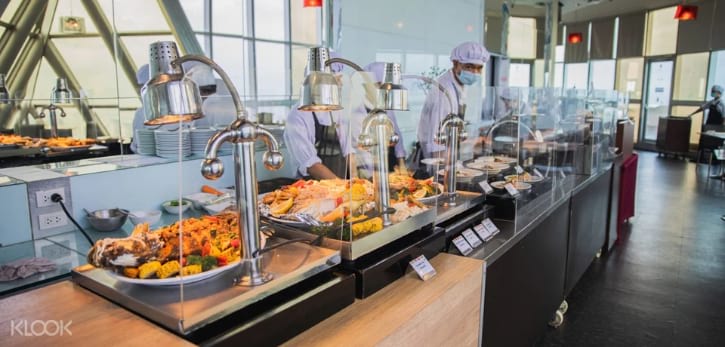 After your museum expedition, it's time to enjoy your dinner (buffet) on the 81st floor of the Baiyoke Sky Hotel.
Dining at Thailand's tallest hotel is definitely a scenic way to cap off your night.
The hotel offers a wide range of food options. These include seafood, Thai dishes, international cuisines, and desserts.
For a more relaxed ambience, you can seat near the window and catch the breathtaking views of Bangkok's city while enjoying your meal.
Dinner:
Because of its scenic location, it's recommended to take your dinner at Baiyoke Sky Hotel. The extensive and delicious food selection also makes it more fascinating. See here for the buffet menu.
Day 3: Bangkok's Chatuchak, Massage, Mahanakhon SkyWalk, and More!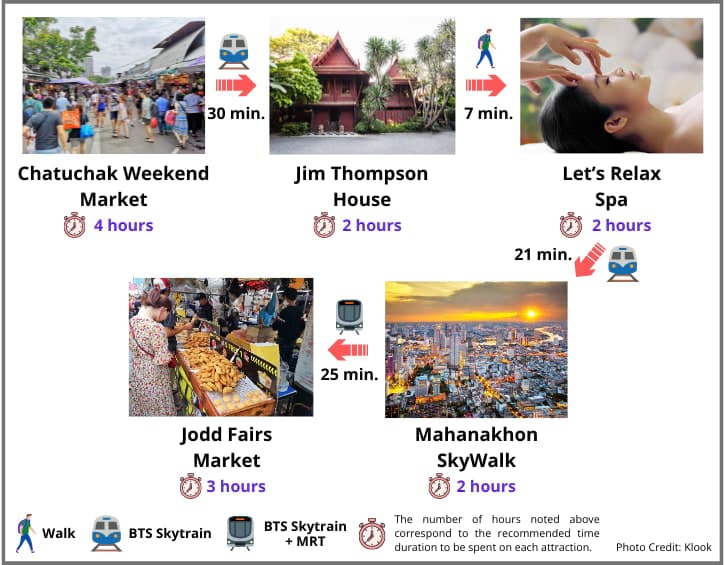 On day 3 of this Bangkok travel itinerary, you will wander around the country's largest market.
You'll also drop by an ancient house that shelters a variety of beautiful and artistic items.
In between your trip, you can relax and take a massage. And then, you will carry on with your trip and visit other top-rated spots.
1. Chatuchak Weekend Market – 4 hours (9:00 AM to 1:00 PM)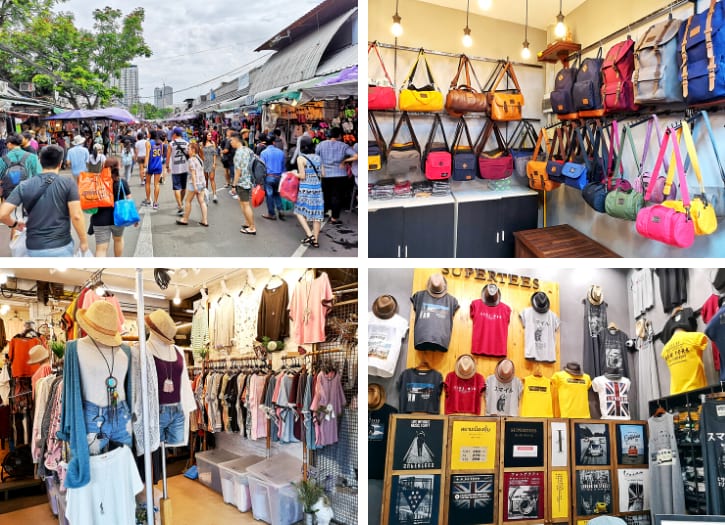 Have a fun morning of your third day's itinerary at Chatuchak Market Bangkok. As the largest market in Thailand, you surely will have a lot of shopping options here.
This particular market in Bangkok is known for its trendy clothing at super cheap price.
Since the market is very big, I highly suggest that you check out my post on Chatuchak Weekend Market here. This guide will give you tips on where to buy fashionable clothes and where to eat the best foods in the market.
Most of the items available on display are fashionable tops, comfy shirts, formal wear, and sports attire.
There are also colorful headbands, cute footwear, beautiful bags, and a lot more!
Lunch:
It's best that you take your lunch at Chatuchak Weekend Market. It's because the market is not just filled with fashion stuff but also with many food stalls. These shops serve different and delicious foods, drink, and desserts.
Some of the must-try foods are fried chicken, grilled river shrimp, chicken skewers, and coconut ice cream. Most of these are priced from 20 Baht.
2. Jim Thompson House – 2 hours (1:00 PM to 3:00 PM)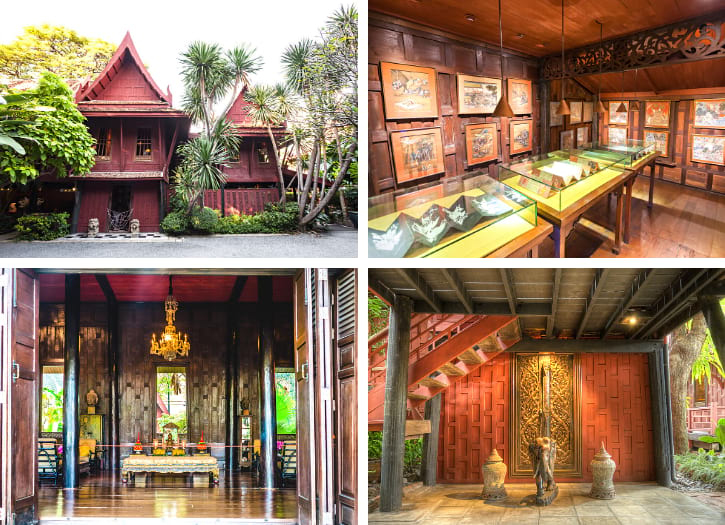 The next stop is to visit Jim Thompson House and search around its connecting houses. This traditional museum is known for its ancient and personalized exhibits.
Some of the things featured here are silk scarves, handbags, accessories, and clothing. Each of these comes with unique and beautiful designs that make it very eye-catching.
There's also a cosy restaurant and gift shop inside the museum.
So, if you want an old-style tourist site in Bangkok with eye-catching display, make sure to pop by the museum.
3. Let's Relax Spa – 2 hours (3:00 PM to 5:00 PM)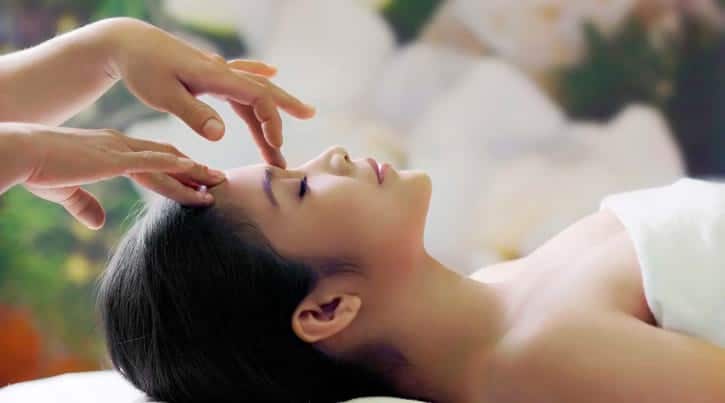 The morning and afternoon adventure might have stressed you out. So, experience ultimate relaxation at Let's Relax Spa, the most visited massage and spa centre in Bangkok.
It has been offering services for more than 20 years!
As a well-liked spa in the city, their services are always top-notch.
Their treatment options include foot massage, hot stone massage, back & shoulder massage, and many more. And to know their cheap package rates and treatments, see the prices here.
Conveniently, they have many branches in the city to give you options. These include Terminal 21, Sukhumvit 31, Siam Square 1, and more! Just choose the most convenient place for you.
Me and my wife visited their branch in Siam Square 1 because this is the closest to Jim Thompson House.
4. Mahanakhon SkyWalk (Thailand's Highest Observation Deck) – 2 hours (5:00 PM to 7:00 PM)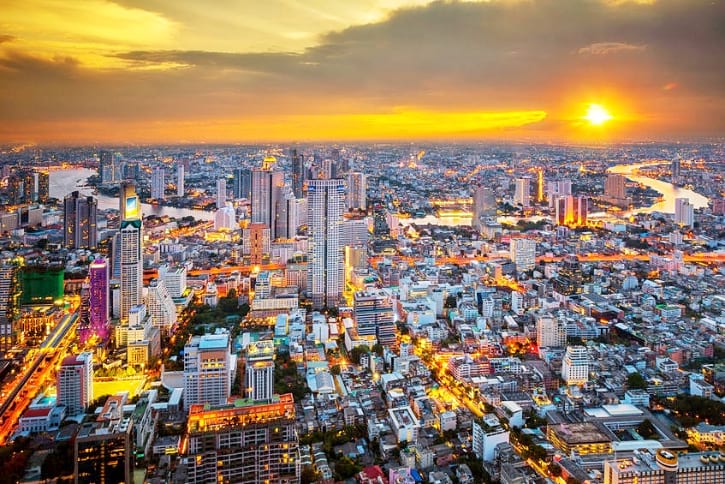 Before the evening kicks in, go to Mahanakhon SkyWalk and catch the sunset. This spot is the best place to see the entire view of Bangkok and its magical cityscape.
Once you reach the glass skywalk, you'll be surrounded by the beautiful scenery of tall buildings and busy streets. All these complement the glowing scenery of the golden skyline.
To get up to 10% off, it's suggested that you book your tickets in advance online. This will also help you save time in lining up at the ticketing counter.
5. Jodd Fairs Market – 3 hours (7:00 PM to 10:00 PM)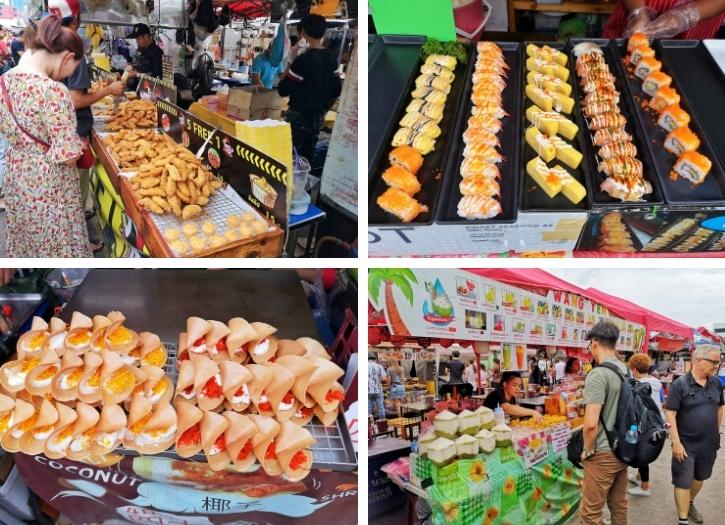 Continue the night expedition at Bangkok's Jodd Fairs Market. Go around the stalls and discover a whole array of street food, from crispy fried chickens to tasty chicken skewers.
There are also mouth-watering sushi, fruit smoothies, fresh coconuts, and many more.
For some seafood delights, try the grilled crabs, prawns, lobsters, and scallops. This vibrant marketplace is such a fun destination for food lovers.
And of course, this is a great spot for those looking for cool bars with cheap drinks and live music.
Dinner:
For your dinner, you can eat at one of the Jodd Fairs restaurants. These dining spots offer delicious foods.
Crazy Shrimp. If you're craving seafood, this is the best option. They have a seafood bucket that comes with shrimps, mussels, baby octopus, potatoes, and corns. The price is around 259 Baht.
Leng Saap. For appetizing local dishes, visit this place and try their gigantic dish of pork spine soup topped with chilies and herbs. You can then pair it either with the Thai fluffy omelet or a hot plate of rice. Their rates start from 150 Baht onward.
Day 4: Safari World Bangkok and Chocolate Ville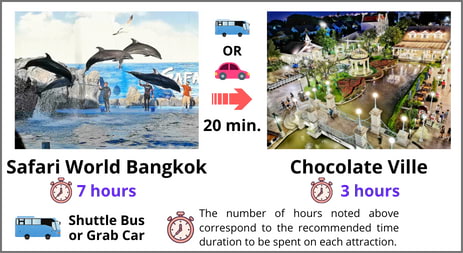 Day 4 of your Bangkok trip is divided into two main places.
The first one is a well-known Bangkok zoo that houses thousands of wild animals and even sea creatures.
The second spot, on the other hand, is a vibrant park filled with beautiful photo opportunities. It's also known for its scenic dining.
1. Safari World Bangkok – 7 hours (9:00 AM to 4:00 PM)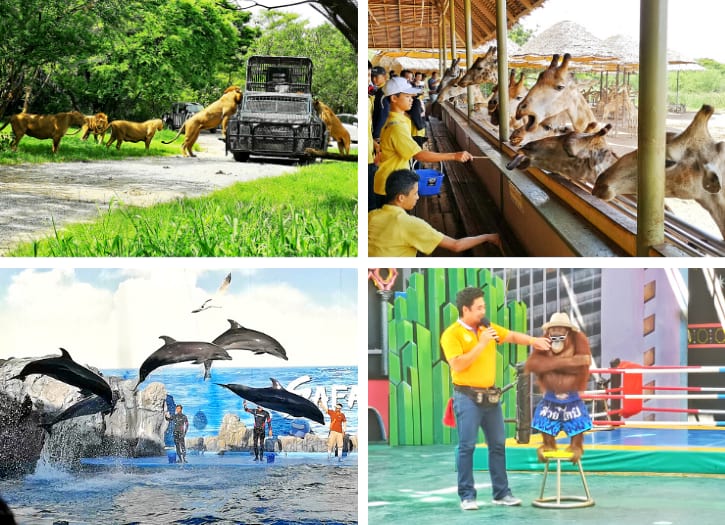 Get yourself ready as you visit the Safari World in the morning. Home to thousands of different animals, this park is undeniably entertaining.
Here, you will encounter bears, crocodiles, deers, lions, parrots, orangutans, tigers, and many more!
There are also remarkable shows to look forward to such as the tiger and lion feeding shows, dolphin show, orangutan show, and sea lion show.
Giraffe feeding is another captivating activity for all ages. During our trip, I've taken many beautiful photos of the animals and shows in the park. If you want to check it out, just read my full guide to Safari World Bangkok here.
I highly suggested that you book the zoo tickets online to save around 40% compared to buying the tickets on-site.
Getting There:
Unfortunately, there is no BTS or MRT station close to the Safari World. So, the best and easiest way to reach the zoo is to take this shuttle bus.
Lunch:
You should know that outside food is not allowed during your Safari World trip. But no worries because there a lot of restaurants inside the park.
Aviary Restaurant. This buffet restaurant serves world-class Thai dishes for everyone. Aside from that, you'll be surrounded by a wide selection of international cuisines. The price is 500 Baht per person.
Tiger Burger Restaurant. If you prefer easy-to-eat foods, this is a great option. They have cheeseburger (165 Baht), beef burger (155 Baht), fish cutlet burger (155 Baht), chicken burger (145 Baht), and more.
Animal Café. For delectable desserts like ice cream, cookies, and cakes, you'll find plenty of options here. Not only that but they also have tasty dishes like salmon fried rice, curry chicken with rice, and spaghetti carbonara. The prices range between 120 Baht and 250 Baht.
2. Chocolate Ville – 3 hours (5:00 PM to 8:00 PM)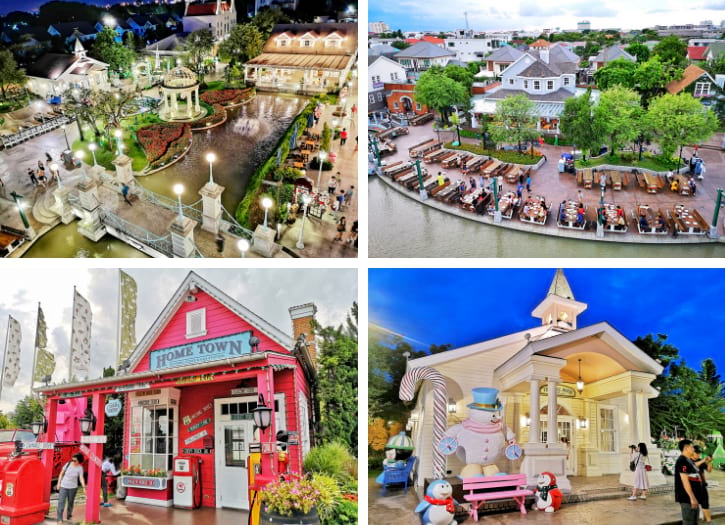 Come evening, proceed to the ever-colorful Chocolate Ville. This is a beautiful European-themed village that is filled with gorgeous photography spots.
Aside from being a romantic and relaxing place, this also has a huge restaurant. Go over the variety of delicious foods, from Thai foods to western foods. All these are available to satisfy different appetites!
So, if you are in Bangkok, don't forget to add this to your itinerary. I also suggest that you see this Bangkok Chocolate Ville post to learn more about how to spend a great time in the park.
Getting There:
If you're planning to go to Safari World Bangkok and Chocolate Ville on the same day, simply reserve this shuttle bus. Choosing this service takes you to both places directly and conveniently.
This is definitely a wise move because these 2 attractions can't be accessed by train. So, if you want to save time and effort, just opt for this one.
Dinner:
You can take your dinner at Chocolate Ville. For a more picturesque dining experience, it's recommended to seat at the riverside.
Also, the restaurant has a wide selection of food to choose from. So, it's best that you know the options beforehand. Here's the food menu that you can check out ahead to give you an idea of the things you can eat there.
Day 5: Take a Day Trip to Thailand's Popular Floating Markets and Train Market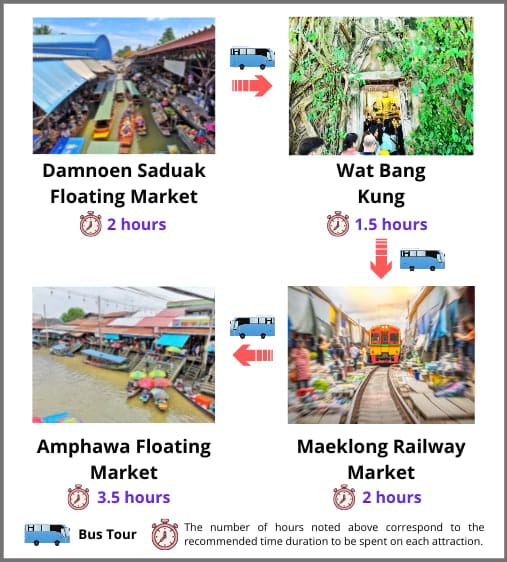 Day 5 of the Bangkok itinerary is more on a traditional shopping experience. This day brings you to some of Thailand's best floating markets and other unique tourist spots.
During our personal trip, we took a bus tour from the city centre of Bangkok to the markets.
It's because most of these places are not easily accessible by public transports. If you want to follow what we did, just book the bus tour here.
On a personal note, I am very satisfied with the bus tour service. We had enough time to tour around and we were given recommendations of the best local foods to try.
So, let me share with you the places that we traveled to on our last day.
1. Damnoen Saduak Floating Market – 2 hours (10:30 AM to 12:30 PM)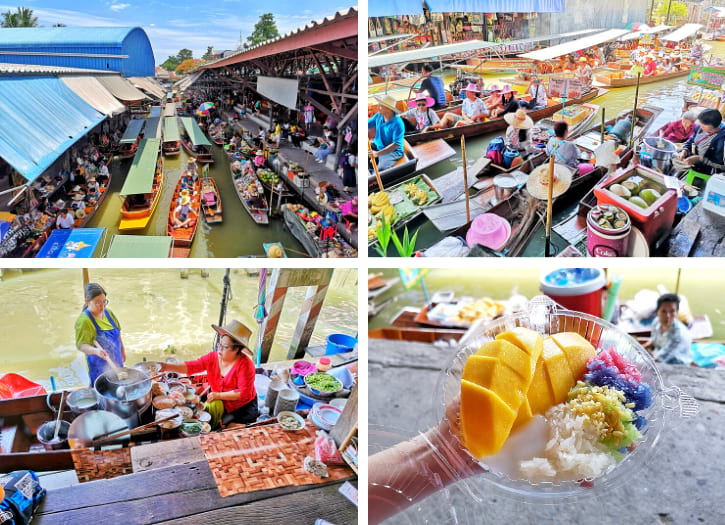 Commence your morning with a trip to Damnoen Saduak. This is the most famous floating market in Thailand that is great for photo shooting.
So, if you want the best day trip from Bangkok, this should be on your itinerary.
Surely, the market is very lively and beautiful. For more insights, read my guide to Damnoen Saduak Floating Market and discover more about this market.
Aside from the gorgeous photo opportunities, this place also serves a wide range of yummy foods. Try as many dishes and snacks as you can when you stroll around the market.
Lunch:
For your lunch, you can opt for the boat noodle, which is priced at 60 Baht. Then, pair it with the delicious mango sticky rice at 50 Baht. These two are very popular in the market, so make sure not to miss them.
And, you can try coconut ice cream, which is also a favourite among locals and even tourists. The price for this kind of dessert is normally 40 Baht.
2. Wat Bang Kung (The Temple in a Tree) – 1.5 hours (12:30 PM to 2:00 PM)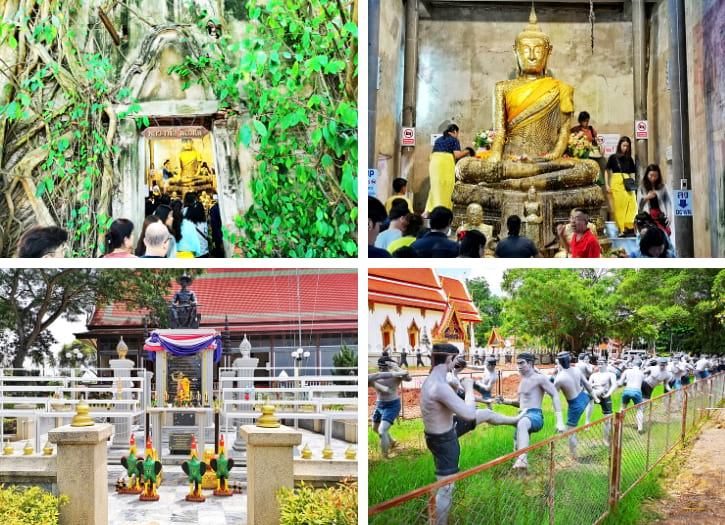 Go on with your quest and drop by this ancient temple. Wat Bang Kung is a special temple located under the branches and roots of trees.
And inside this sacred site is the famous seated Buddha covered with golden leaves.
Because of its very peaceful ambience, many locals visit the place to say their prayers. And if you want, you can stick the gold sheets onto the Buddha statue for good luck.
3. Maeklong Railway Market – 2 hours (2:00 PM to 4:00 PM)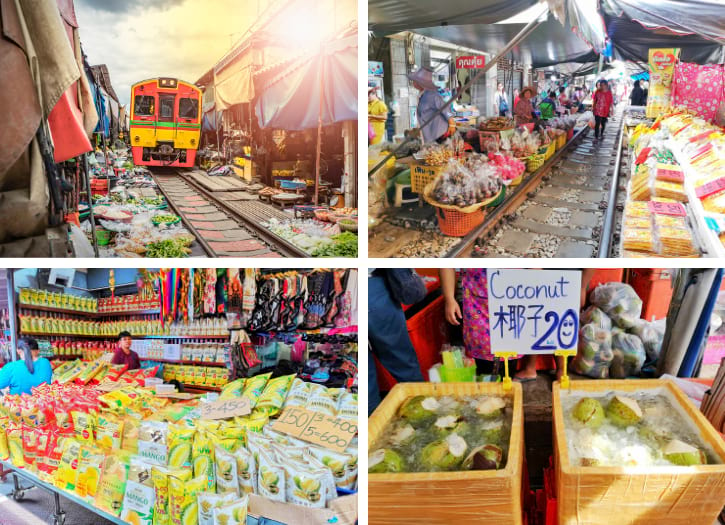 In the afternoon, make your way to the Maeklong Railway Market and capture the moving train. This is definitely the main reason why travellers want to visit this popular market when they're in Bangkok.
Aside from that, this place is also a fun spot to buy some dried fruit snacks. Most of these are sold for as low as 50 Baht.
So, if you're looking for delicious and affordable treats, you can buy them here.
And to energize you, try the fresh coconut in the market, which is also very cheap. It's only 20 Baht! You really can't find this kind of price anywhere in Bangkok, so don't miss them out.
4. Amphawa Floating Market – 3.5 hours (4:00 PM to 7:30 PM)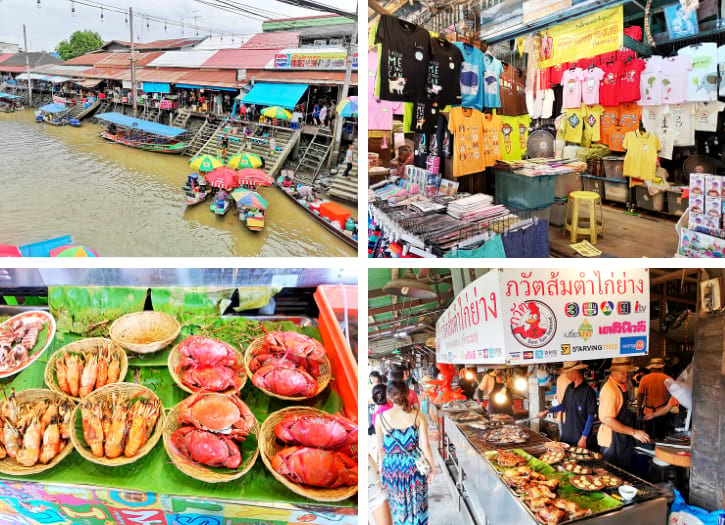 Next in line is the Amphawa Floating Market, another favourite marketplace in the Thailand. This place is celebrated for its seafood goodness and relaxing ambience.
During our trip, we strolled around the market and tried all sorts of local foods and snacks.
Some of the must-try are honey roasted satay fish, crispy crablets, and grilled fish, squid, and prawn. Banana chips are also great!
Along with the food stalls are many clothing and souvenir shops. So, if you want to enjoy the local dishes and shop around, this place should be added to your Bangkok travel plan.
Dinner:
For a memorable dinner, head to Som Tum Seafood restaurant in the market and try their grilled chicken. You can also order their roasted fish, mussel, and squid. As to the price, their food ranges from 60 Baht to 500 Baht.
Smart Ways to Save on Bangkok Attraction Tickets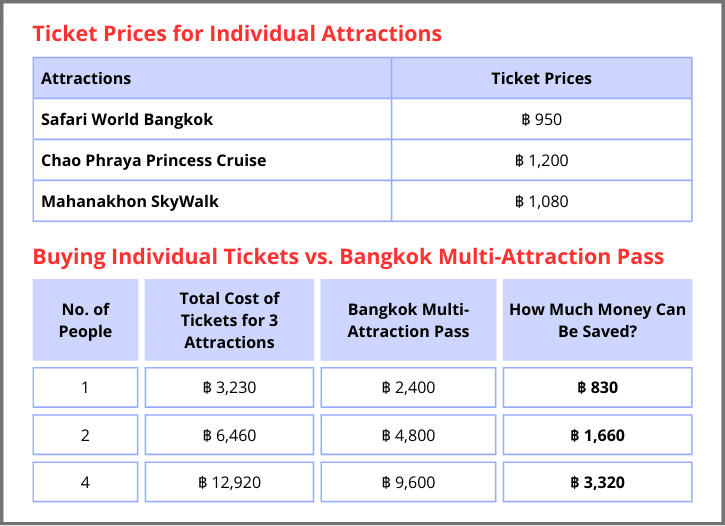 If you are planning to visit attractions in Bangkok, consider purchasing a Bangkok Multi-Attraction Pass instead of buying individual tickets.
Let's say you plan to visit Safari World Bangkok, Chao Phraya Princess Cruise, and Mahanakhon SkyWalk. The total cost for these attractions would be 3,230 Baht if you buy the tickets separately.
However, if you purchase the multi-attraction pass, the price will be 2,400 Baht, and it covers all these attractions, helping you save 830 Baht.
If you are traveling with 2 persons, it will help you save even more, a total of 1,660 Baht!
Additionally, this pass grants access to up to 23 attractions, and you can find more detailed information about these spots by clicking on the link provided below.
Bangkok Itinerary 5 Days Map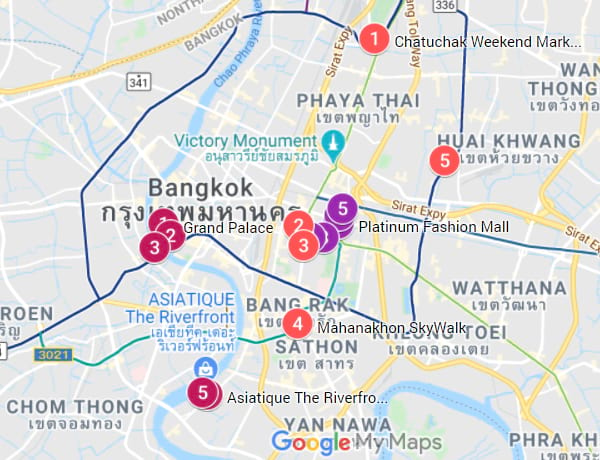 The above map highlights the places in Bangkok that are featured from day 1 to day 5 itinerary. It also covers the nearby BTS and MRT stations for all mentioned tourist sites.
Take Note: I've created a detailed document here to help you easily understand how to get to Bangkok's tourist attractions on this 5 day trip. Be sure to download it! 😉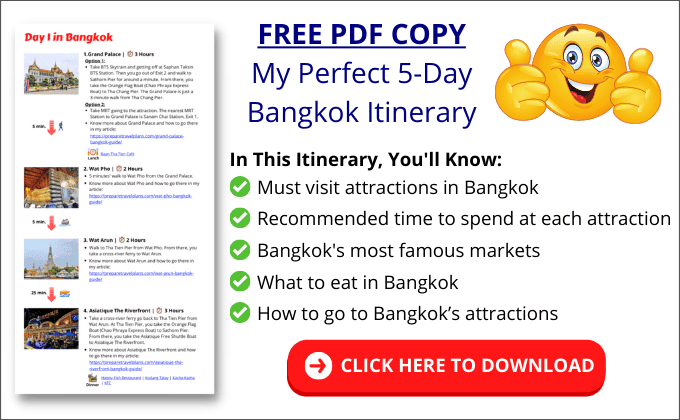 Extra Days in Bangkok
If you have more days to spend in Bangkok, I highly encourage you to check out my handy list of top 30 things to do in Bangkok here. This article covers more places to visit in the city to make your itinerary more meaningful.
For instance, you can visit Ayutthaya and enjoy its laid-back atmosphere. This place is recognized for its breath-taking, ancient ruins, making it a UNESCO World Heritage Site.
So, if want to explore this historical city, read this guide for getting to Ayutthaya from Bangkok that covers all things you can do there. It also records the ways on how to reach the site easily.
Where to Stay in Bangkok
For the best accommodation, below are my most recommended hotels to stay in Bangkok. These hotels are situated near BTS stations, shopping malls, and eateries.
Holiday Inn Bangkok: For those who want to be near Chit Lom and Siam BTS stations, this hotel is a great choice. Not only that but this is also 5 minutes away from the top shopping malls such as Central World and Siam Paragon.
Centara Watergate Pavillion Hotel: This hotel is very near to Pratunam Market and Platinum Fashion Mall. Just a 5-minute walk to Siam Paragon Mall and Central World Shopping Complex.
ibis Bangkok Siam: This hotel is very close to MBK and Siam Paragon shopping mall. It's also located next to the National Stadium station. This BTS station allows you to easily ride BTS Skytrain to visit other places in the city.
Thailand SIM Card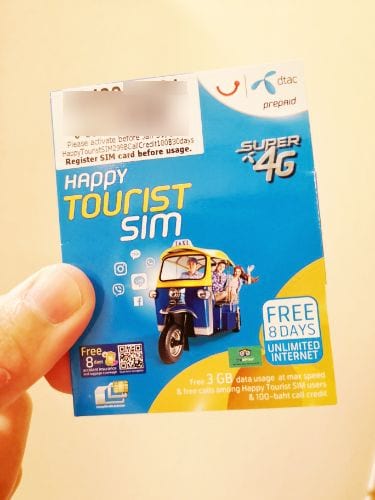 Just in case you do not know, it's quite difficult to get a free Wi-Fi connection in Bangkok. That's why it's advisable that you get a Thailand prepaid SIM card ahead of time.
You can book here for the prepaid SIM card before you kick-start your vacation. This is actually what we did during our trip to the city.
Why Use Local Prepaid SIM Card
It allows you to navigate around the city via Google Maps easily.
It lets you check the precise train route from time to time while travelling.
It gives you the chance to use Grab. Having a local SIM card is needed because the driver needs to call you beforehand to confirm the pickup location. This is something that you should take note of when planning out your itinerary for Bangkok.
Why Book the SIM Card Online
Online reservation offers you up to 50% discount compared to buying it directly at the airport.
It's easy for you to pick up the SIM card at the counter of Suvarnabhumi Airport or Don Muang Airport.
Bangkok Transportation Guide

1. BTS Skytrain and Metro (MRT)
The best way to get around Bangkok is by taking the BTS Skytrain and Metro (MRT). This transport option lets you skip the traffic jam and save your travel time.
You can purchase the train ticket from the ticket vending machines located in each station. Hence, you just buy the tickets every time you need to ride a train.
If you have a BTS Skytrain Rabbit Card, you can also use this. However, this is only applicable for BTS Skytrain. It can't be utilized when riding the MRT. On the good side, this particular card comes with pre-loaded 200 Baht.
To check the train route, I recommend that you utilize Google Maps. This gives you the shortest route to reach your preferred destination.
2. Grab
Unfortunately, taxi scams in Bangkok are quite common. Some drivers do not use their taxi meter so they charge tourists a higher, fixed price.
Because of this, I encourage you to use Grab for safety purposes. The rates of this transport service are also reasonable, so nothing to worry about.
3. Airport Transfers
My most recommended choice when it comes to travelling from the airport to a hotel is via private airport transfer. It's because this option offers stress-free transportation.
There's no need to drag your luggage during train transfers. All you have to do is relax and wait for your destination.
I booked a private airport transfer during my Bangkok trip and their service was truly excellent. Plus, the driver was very friendly. They can even send you directly to any hotel in Bangkok.
Check out the prices at the below links.
| Airports | Latest Prices |
| --- | --- |
| Private Don Muang Airport Transfer | Check Price |
| Private Suvarnabhumi Airport Transfer | Check Price |
And if you're planning to go to Pratunam, don't forget to consult my Don Muang Airport or Suvarnabhumi Airport article. This will show you the several ways to reach the place from the airports.
More so, my top pick in terms of transportation service is still is the private airport transfer. Simply because it's very convenient.
So, we have reached the end part of my itinerary. Thank you so much for taking your time to read my entire guide.
And I do hope that this detailed Bangkok 5 day itinerary assists you in your future plans. Wishing you a fun and stress-free trip to the city! 😊
Related Posts
Photo Credits:
Klook