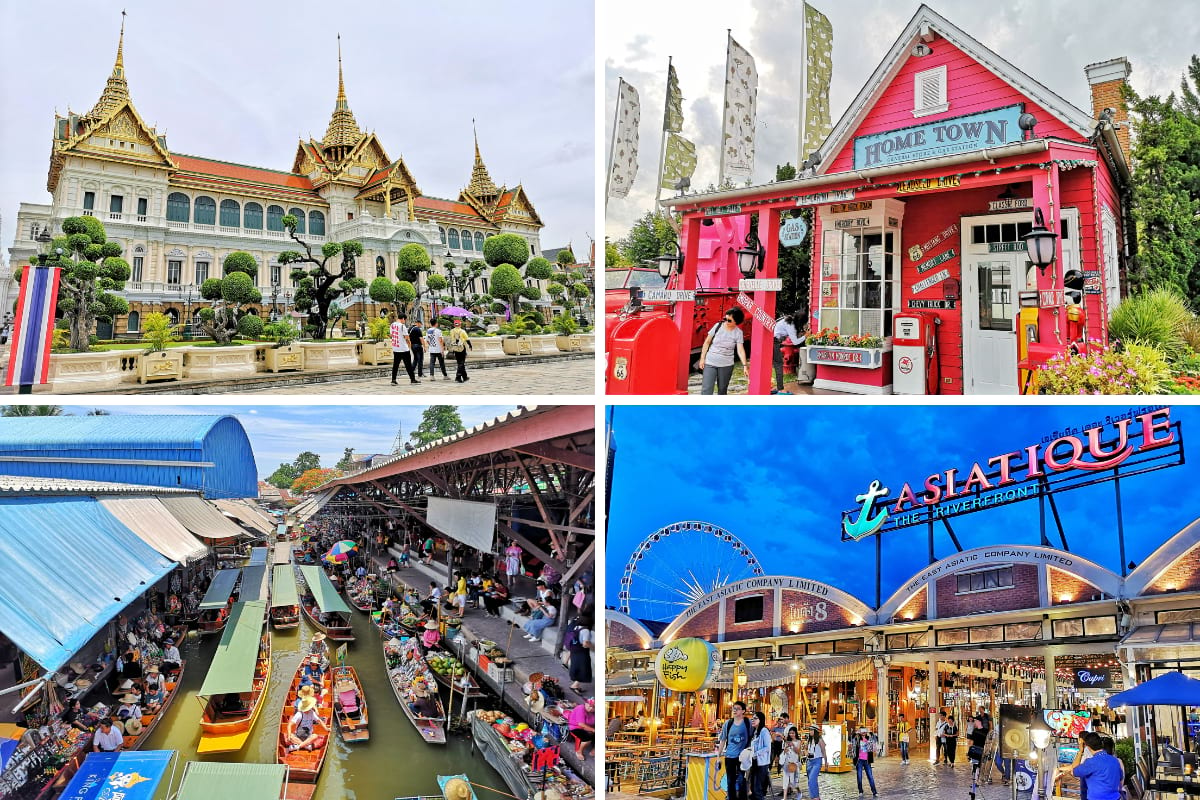 This Bangkok itinerary for 5 days is a collection of my favorite spots in Thailand's capital, designed to give you a memorable trip in the city.
The itinerary I'm going to share with you is very clear and easy to follow. It highlights the best markets and must-see attractions in Bangkok.
Additionally, I'll recommend the best routes to navigate this vibrant city. Trust me, with this guide, you'll save time and avoid headaches when planning your journey.
So, are you ready? Let's dive into my 5-day Bangkok plan to make your trip awesome. 😊
Explore the Best of Bangkok: Your Go-To Itinerary for a Wonderful Trip!
Day 1: Grand Palace, Wat Pho, Wat Arun, Asiatique and Cruise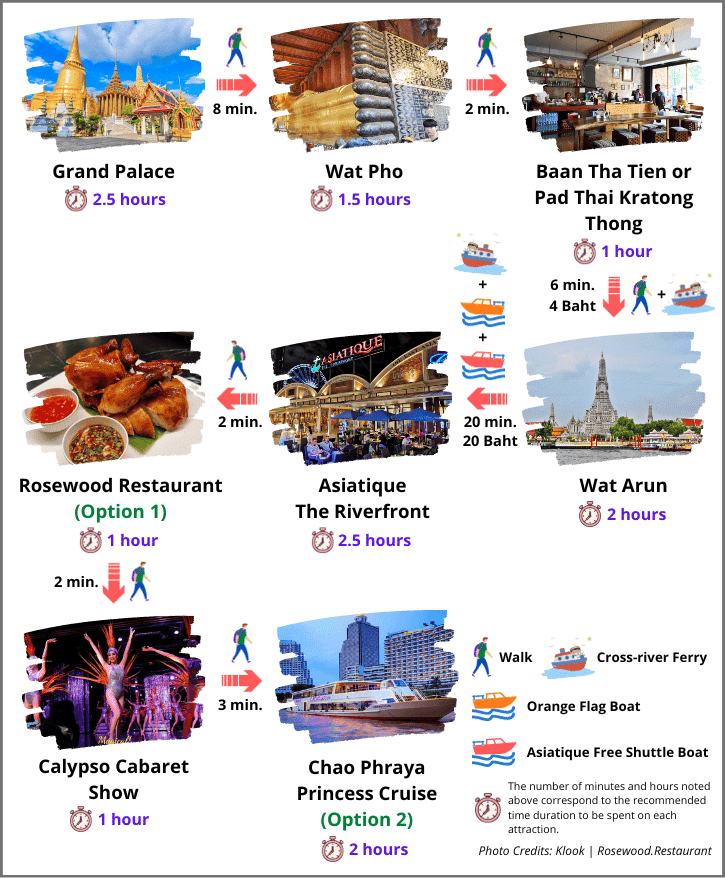 Start day 1 of your Bangkok itinerary by visiting the city's stunning temples. Continue the excitement with a trip to a well-known open-air mall for a shopping spree.
Finish your day with a scenic river cruise, taking in the beautiful nighttime skyline.
9:00 AM: Grand Palace
11:30 AM: Wat Pho
1:00 PM: Lunch at Baan Tha Tien or Pad Thai Kratong Thong
2:00 PM: Wat Arun
4:00 PM: Asiatique The Riverfront
6:30 PM: Having dinner at Rosewood Restaurant (Option 1)
7:45 PM: Calypso Cabaret Show
7:30 PM: Take the Chao Phraya Princess Cruise for your dinner (Option 2)
1. Grand Palace Bangkok – 2.5 hours (9:00 AM to 11:30 AM)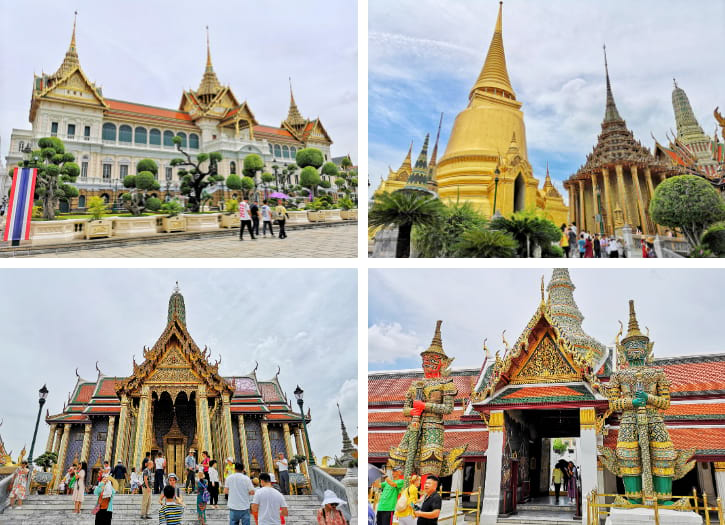 On the first morning of your itinerary, I'd suggest starting with the Grand Palace Bangkok.
This site was built way back in 1782 and used to be the home of the Thai King. Now, it is considered a major Bangkok tourist destination.
The architectural designs here are totally impressive. In fact, it's very unique and majestic.
Take a stroll through its beautiful halls and gardens, and be sure to see the Emerald Buddha. As you explore, capture the many photo-worthy spots within the temple complex.
Take Note: To enter the palace, you need to wear a shirt with sleeves and pants that go down to your ankles. If you're thinking of wearing a dress, just make sure it covers your shoulders and is ankle-length.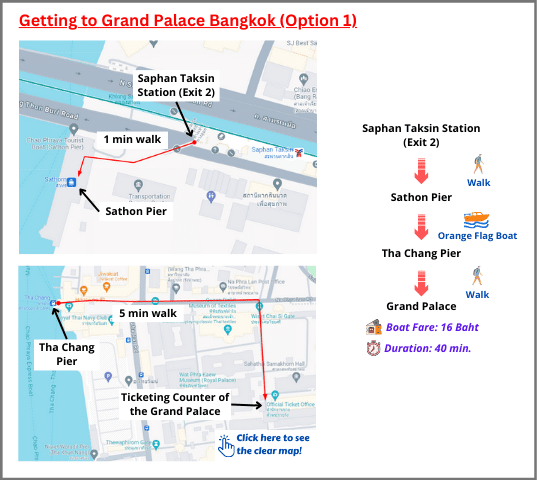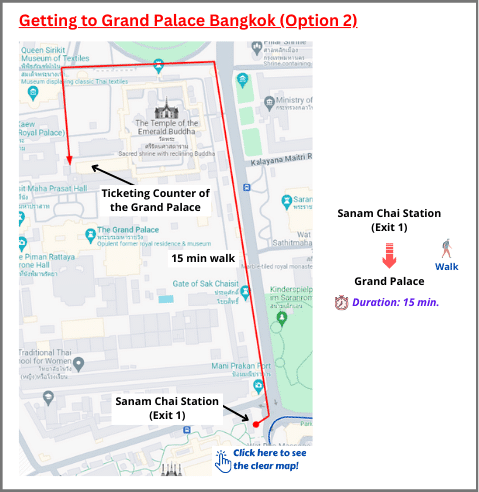 2. Wat Pho – 1.5 hours (11:30 AM to 1:00 PM)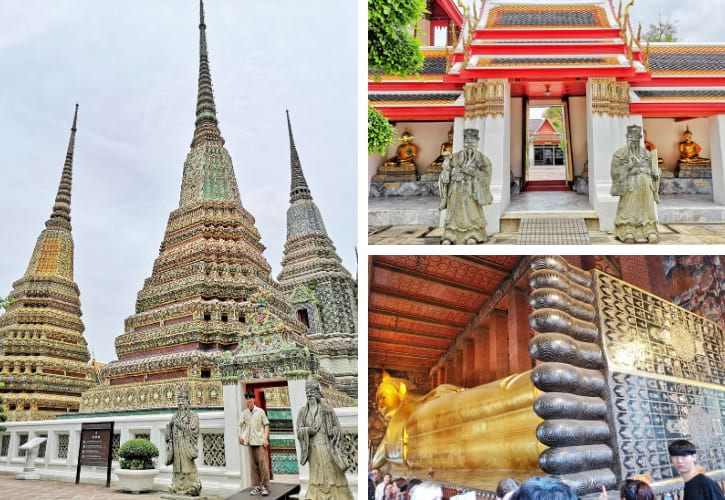 Next, head over to Wat Pho, a renowned Buddhist temple of Bangkok.
This temple is visited by many travellers every year because of its unique features.
One of the highlights here is the huge reclining Buddha that is 46 metres long. It's literally a gigantic golden figure, making it the largest Buddha statue in Thailand.
So, if you want to visit the highest grade among all other first-class temples, this should be part of your list.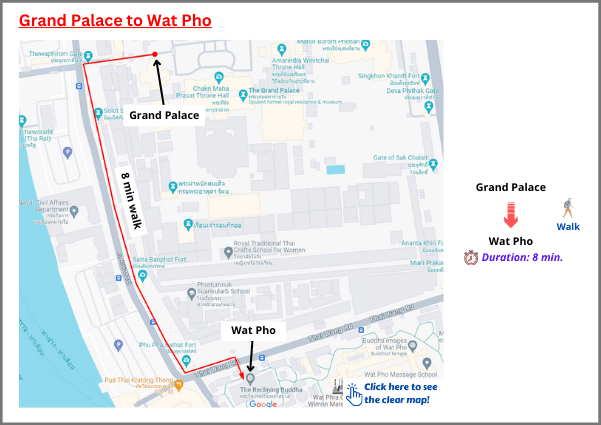 3. Lunch at Baan Tha Tien or Pad Thai Kratong Thong – 1 hour (1:00 PM to 2:00 PM)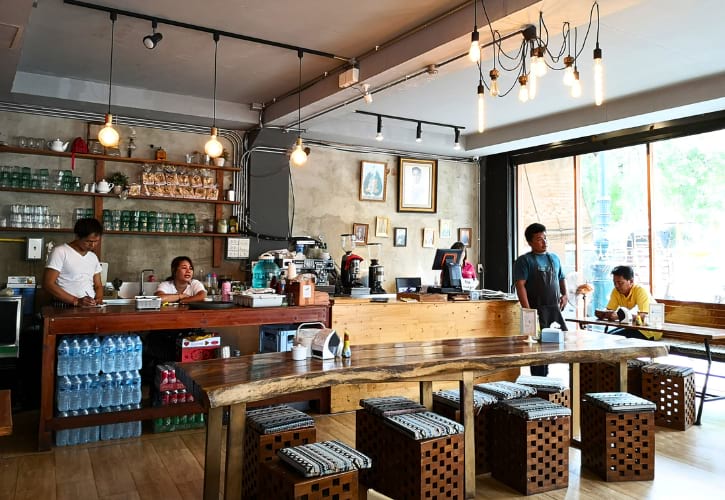 After visiting Wat Pho, a tasty lunch is just a short walk away. Both recommended restaurants are just around a 2-minute walk from the temple.
Baan Tha Tien: This place offers a true taste of Thai cuisine in a cozy setting. Here, you can savor dishes like Tom Yam Kung and Thai-style fried rice. The prices range between 50 Baht and 120 Baht, making it very affordable.
Pad Thai Kratong Thong: This spot is a haven for Thai food lovers. Dive into their signature Pad Thai priced at just 109 Baht. If you're in the mood for something spicy and flavorful, the Tomyum Soup with Shrimp is a steal at 159 Baht. Also, don't miss out on their Green Curry Soup with Chicken for 129 Baht.
Trust me, these nearby eateries will not only save you time but also provide a delicious culinary experience.
4. Wat Arun Bangkok – 2 hours (2:00 PM to 4:00 PM)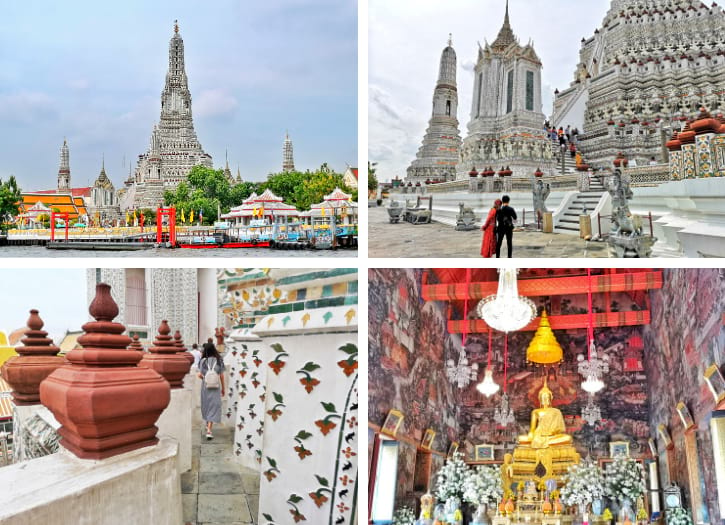 After enjoying your lunch, continue your Bangkok trip by exploring Wat Arun, often known as the "Temple of Dawn". This is a very beautiful temple situated along the riverside.
There are plenty of gorgeous spots here, including the colourful spires that complement the water scenery. The religious items inside are also very impressive.
And of course, the architectural beauty of the temple is totally unique.
So, take your time and capture many picturesque photos. For sure, you will be in awe of the amazing photo choices.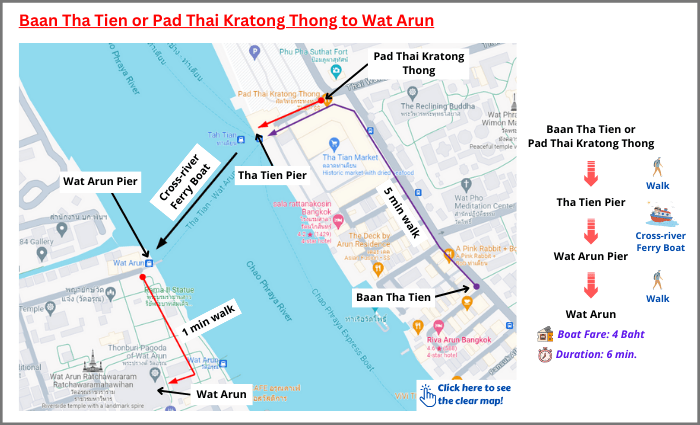 5. Asiatique The Riverfront – 2.5 hours (4:00 PM to 6:30 PM)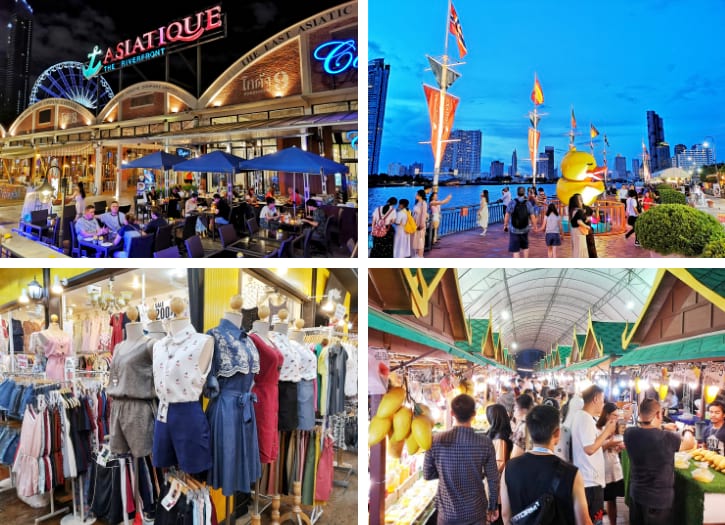 Next on the itinerary is Asiatique Bangkok, a lively night market and entertainment spot by the river.
To be honest, this is one of my favourite night markets to go in Bangkok because of its incredible array of activities.
Start with some shopping; there are hundreds of boutique stalls selling unique items.
Don't forget to take a ride on the big Ferris wheel – the view from the top is breathtaking, especially at sunset.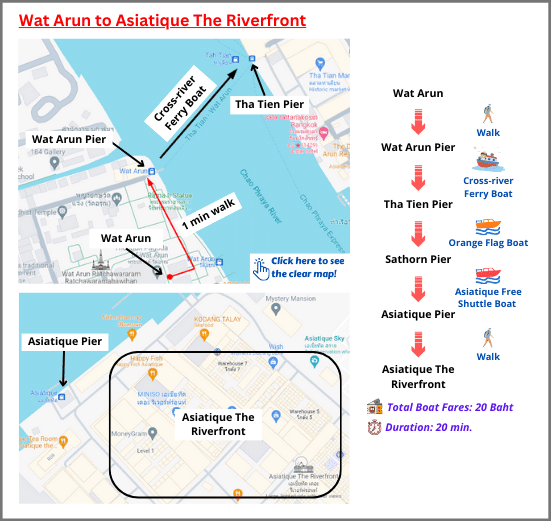 6. Rosewood Restaurant or Happy Fish (

Dinner Option 1)

– 1 hour (6:30 PM to 7:30 PM)
For a delightful dinner in Asiatique, you've got two popular choices: Rosewood Restaurant and Happy Fish. Here's a quick intro to help you decide:
i. Rosewood Restaurant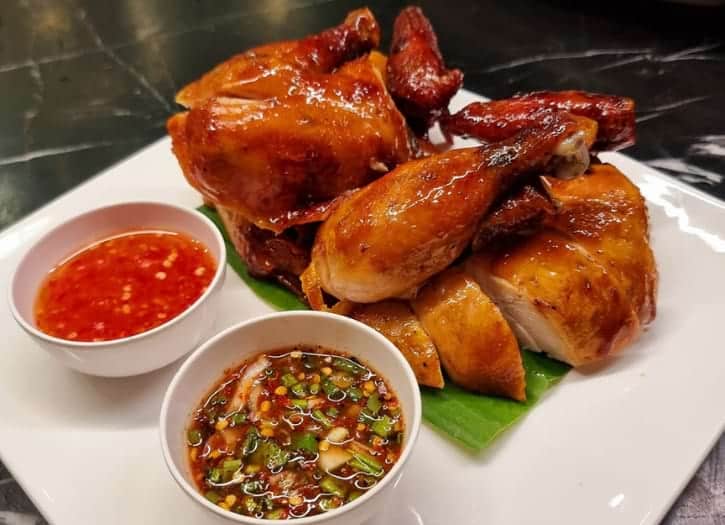 Rosewood Restaurant is truly a gem! Nestled in a serene setting with beautiful wooden decor, this spot offers the perfect ambiance for a quiet, romantic dinner.
For a start, their roasted chicken, brimming with traditional Thai flavors, is a must-try. Their steaks won't disappoint either. Many visitors highly recommend the Grilled Chicken, so it might be worth a taste.
And as the evening deepens with live music, it's the perfect setting to round off your meal with a cold beer, immersing yourself fully in the relaxed atmosphere.
ii. Happy Fish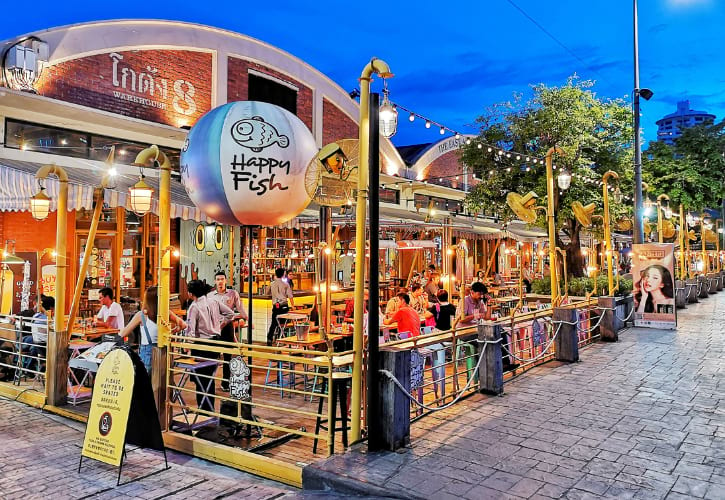 For a lively dining experience, head to Happy Fish.
Not only do they serve mouth-watering seafood, but they also have a variety of international dishes, like grilled chicken, pizza, burgers, and spaghetti. With prices ranging from 200 Baht to 500 Baht, it's affordable too.
Fancy a drink? They have a nice selection of cocktails and beers to complement the live music. The riverside view, combined with the tunes, makes it a memorable spot.
7. Watch the Calypso Cabaret Show – 1 hour (7:45 PM to 8:45 PM)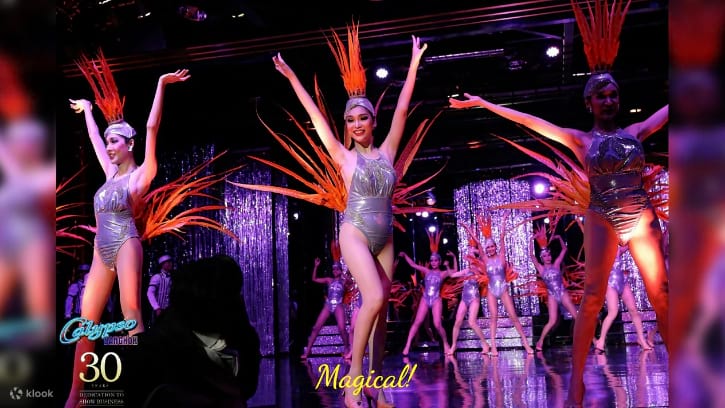 Be sure to catch a live performance of Calypso Cabaret after dinner. It's a famous ladyboy show with vibrant dances, stunning costumes, and impressive performances.
The combination of glittering costumes, lively music, and talented performers make this a highlight of any Bangkok visit.
The original ticket price for the show is 1200 Baht, but if you purchase online, you can gain a 25% discount! The show has two time slots: 7:45 PM and 9:30 PM. For updated show times, please check their website.
8. Chao Phraya Princess Cruise (Dinner Option 2) – 2 hours (7:30 PM to 9:30 PM)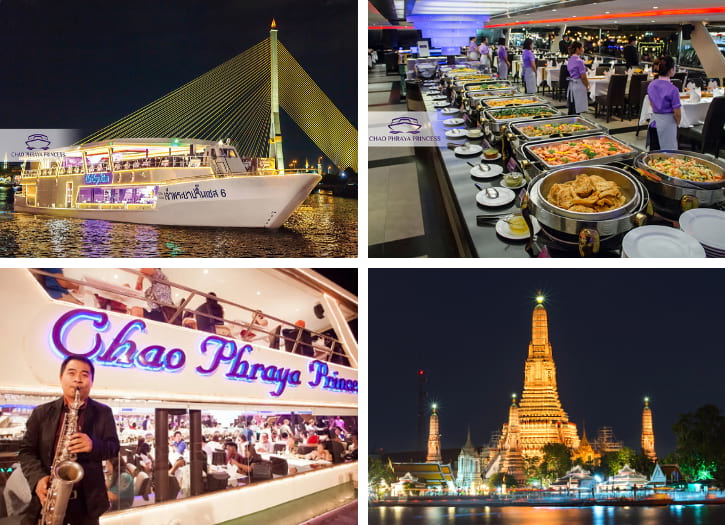 Another great dinner option is to hop aboard the Chao Phraya Princess Cruise, which you can easily board at Asiatique Pier.
You can get more information about this trip by checking the cruise menu and prices here.
The cruise itself is such a lovely way to see Bangkok's scenic night landscape and relish in the cool river breeze.
You are given 2 hours to savour the overloaded buffet of local and international dishes.
While enjoying your food, there's a live band to serenade you for a night full of entertainment.
Day 2: Platinum Mall, Pratunam Market, Bangkok Aquarium, and Jeh O Chula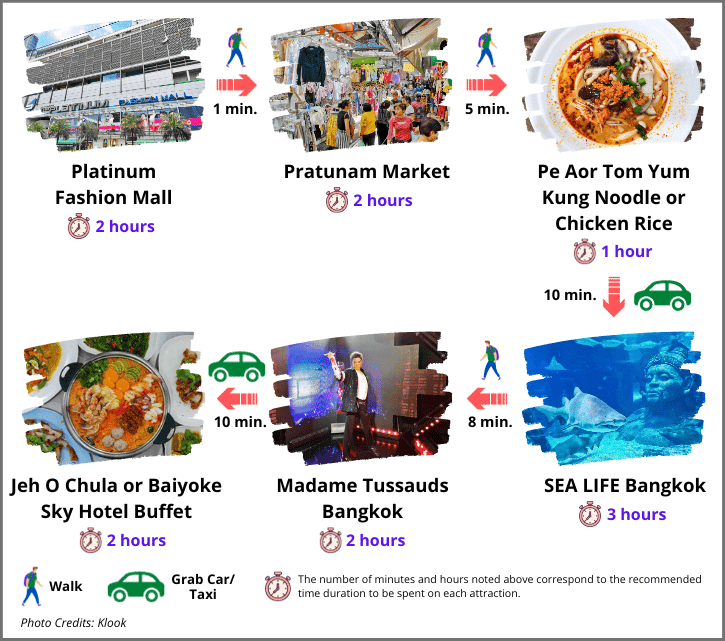 Let's get ready for day 2 of your exploration in Bangkok. The itinerary for today takes you through Thailand's vibrant marketplaces, top family destinations, and a feast of local culinary delights.
9:00 AM: Platinum Fashion Mall
11:00 AM: Pratunam Market
1:00 PM: Have lunch at either Pe Aor Tom Yum Kung Noodle or Go-Ang Pratunam Chicken Rice
2:00 PM: SEA LIFE Bangkok Ocean World
5:00 PM: Madame Tussauds Bangkok
7:00 PM: Enjoy your dinner at Jeh O Chula or the Baiyoke Sky Hotel Buffet
1. Platinum Fashion Mall – 2 hours (9:00 AM to 11:00 AM)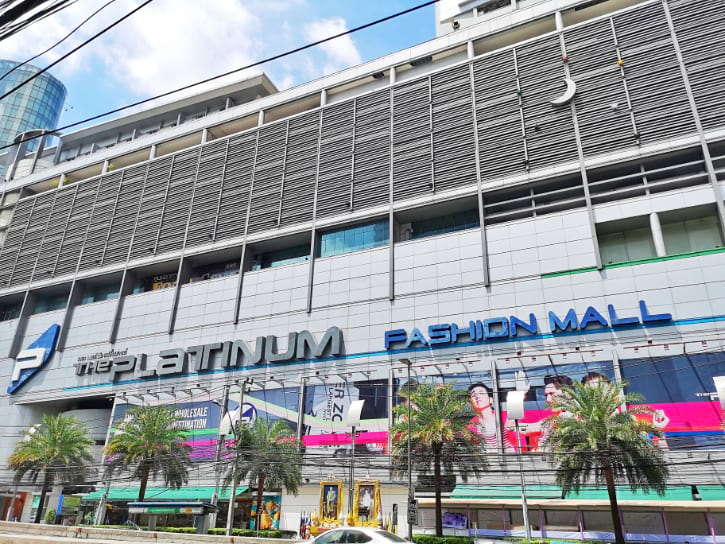 Commence with your morning adventure at Platinum Fashion Mall. Without a doubt, this is a very popular shopping mall in Pratunam, Bangkok.
It's an indoor mall that has all kinds of fashion items and accessories.
There are over 1000 outlets inside the mall, offering trendy clothing, underwear, and kids' wear.
You'll also find different belts, handbags, shoes, wigs, and even cosmetic products. The best part of the mall is that it is air-conditioned.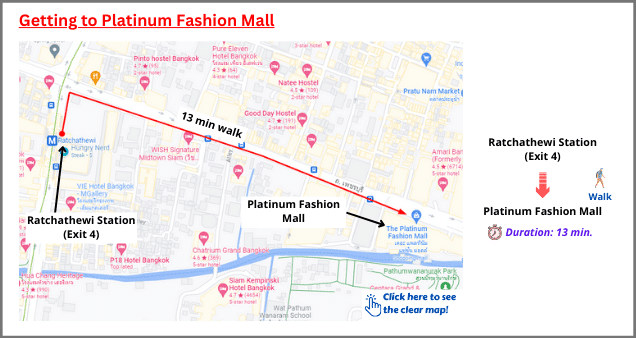 2. Pratunam Market – 2 hours (11:00 AM to 1:00 PM)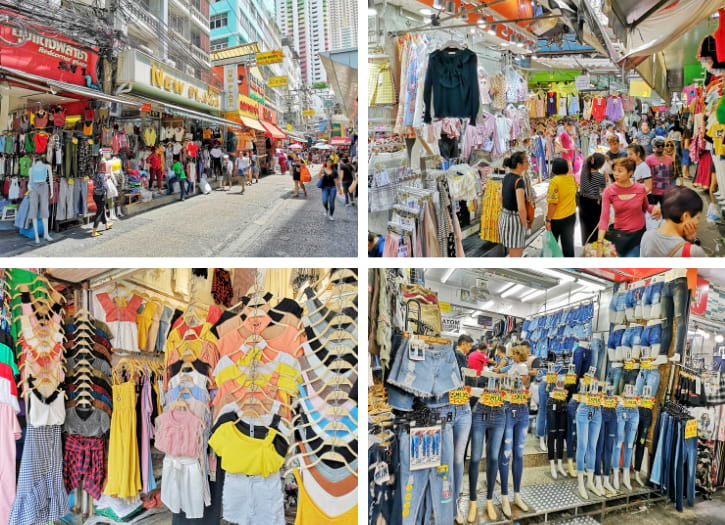 No Bangkok itinerary would be complete without going to the Pratunam Market and exploring its vibrant shops.
This busy marketplace is just situated on the opposite side of Platinum Fashion Mall.
Most of the stalls sell fashion stuffs at a wholesale price, ranging between 50 Baht and 400 Baht per piece of cloth. This means the clothes here are really cheap.
So, if you're in need of new dresses, pants, shoes, and accessories, this is the best place to get your money's worth.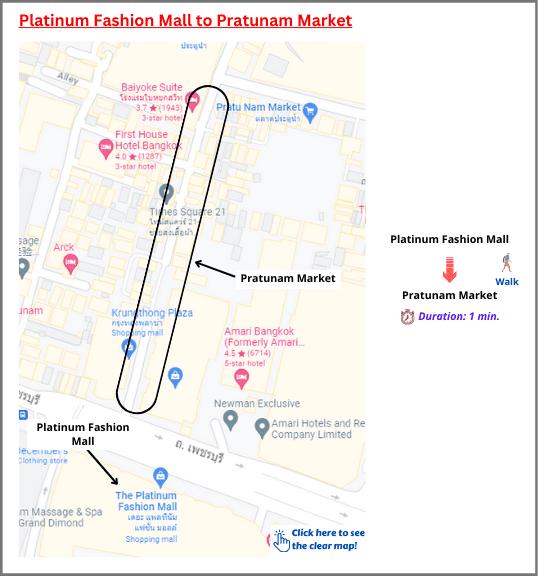 3. Lunch at Pe Aor Tom Yum Kung Noodle or Chicken Rice – 1 hour (1:00 PM to 2:00 PM)
After all the shopping, enjoy your lunch at one of the recommended spots below, which are close to Pratunam Market. Both places offer some of the best tastes of Bangkok. Enjoy your meal.
i. Pe Aor Tom Yum Kung Noodle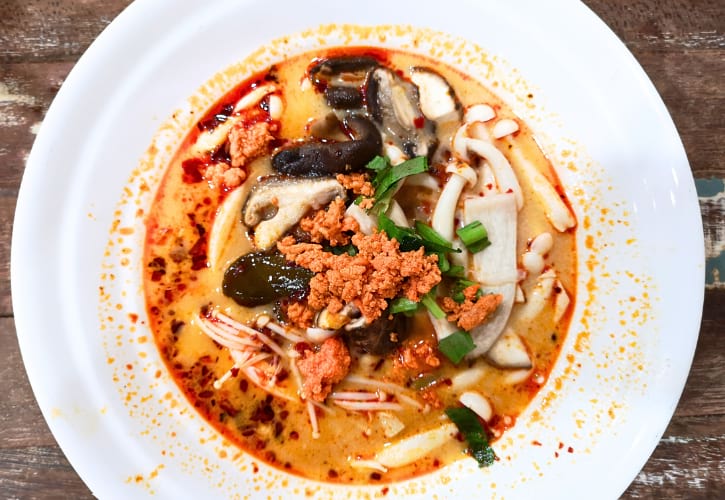 For just around 100 Baht, you can enjoy a rich and creamy noodle soup made with a fragrant broth, large prawns (Kung), and often served with noodles.
The soup is tangy, spicy, and a tad creamy from coconut milk, making it an unforgettable dish.
Access: Pe Aor Tom Yum Kung Noodle shop is not close to Pratunam Market. You can take a Grab car for about 150 Baht, and it takes 15 minutes to get there.
ii. Go-Ang Pratunam Chicken Rice
If you're a fan of chicken dishes, you must visit Go-Ang Pratunam. For only 50 Baht per plate, you can savor their famous tender Hainanese chicken paired with fragrant rice.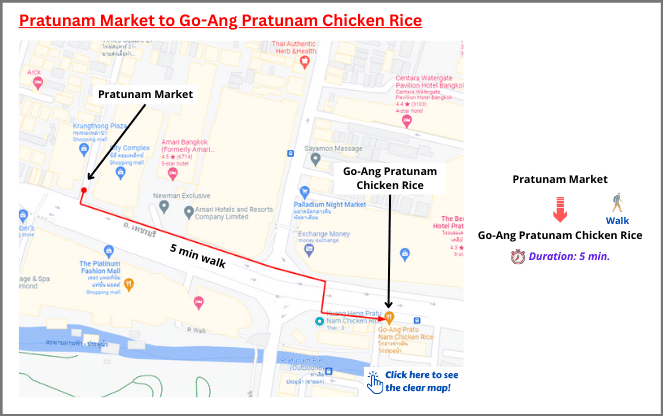 4. SEA LIFE Bangkok Ocean World – 3 hours (2:00 PM to 5:00 PM)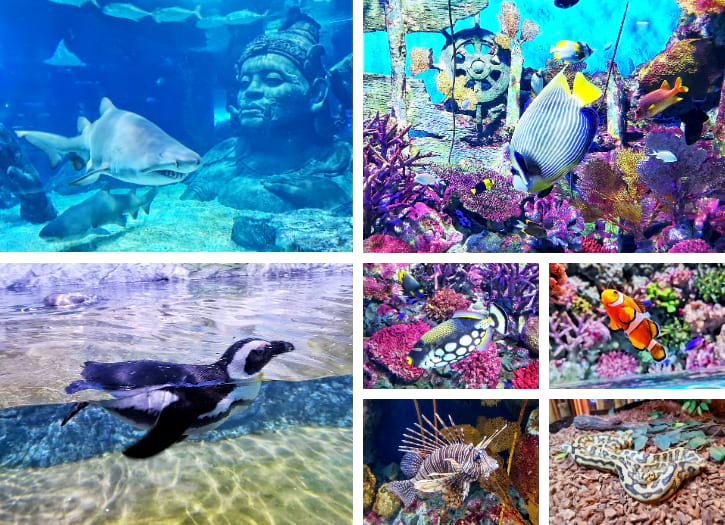 In the afternoon, consider a visit to SEA LIFE Bangkok Ocean World, the largest aquarium in South East Asia. It's a spectacular place with over 30,000 marine creatures.
I've been there, and it's a sight to behold. The highlights for me were the sand tiger sharks, giant eagle rays, and the vibrant coral reef fishes.
Plus, you shouldn't miss the playful penguins and giant spider crabs. I truly love this place for its mesmerizing marine displays.
A little tip: consider booking your aquarium admission tickets online. I found out you can save some money off the original ticket price this way!
Access: If you're coming from Pe Aor Tom Yum Kung Noodle shop, you may opt for a Grab car to SEA Life Bangkok Ocean World, which costs about 120 Baht and will take roughly 10 minutes.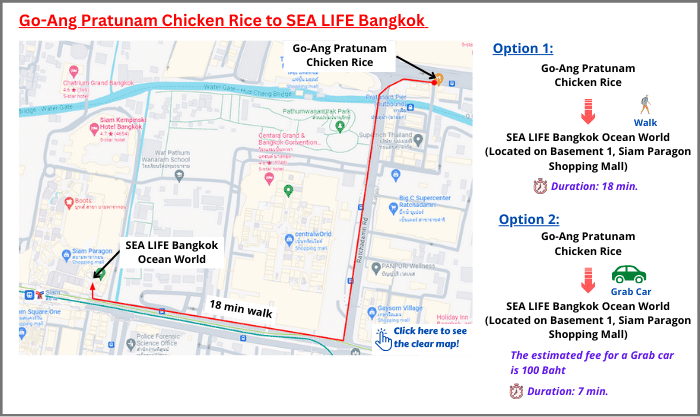 5. Madame Tussauds Bangkok – 2 hours (5:00 PM to 7:00 PM)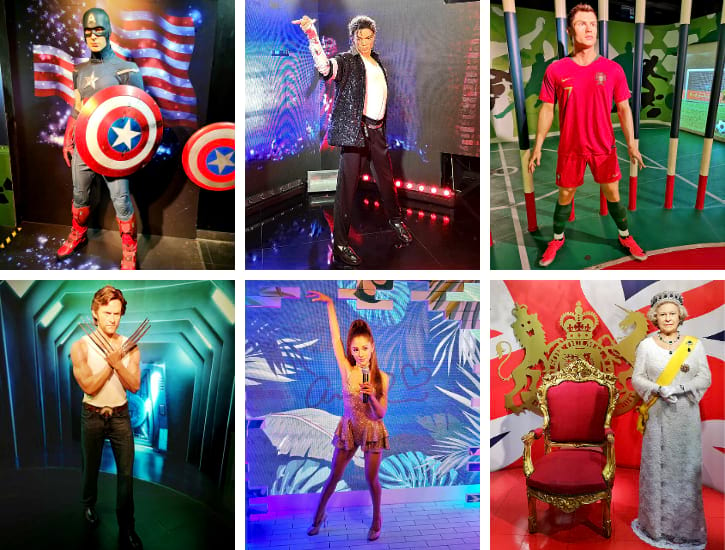 Spend your evening at Madame Tussauds Bangkok. This is such a nice spot to run into your favourite stars.
In this museum, you'll get to meet the wax figures of best-known movie actors such as Jackie Chan, Captain America, Will Smith, and Hugh Jackman.
Musical stars like Michael Jackson, Lady Gaga, and Ariana Grande are also present.
For the sports category, there's David Beckham, Cristiano Ronaldo, Serena Williams, and more. In addition, there's a display for the world's top leaders.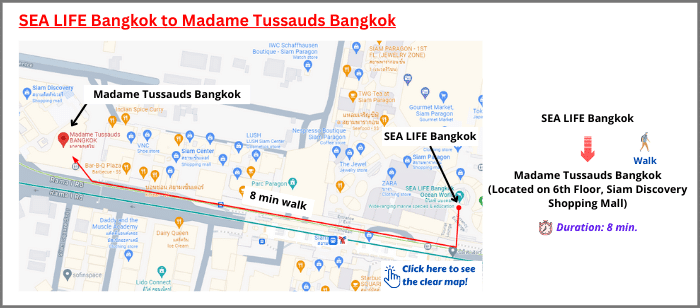 6. Dinner at Jeh O Chula or Baiyoke Sky Hotel Buffet – 2 hours (7:00 PM to 9:00 PM)
If you're looking to indulge in a memorable dining experience in Bangkok, you can't miss out on Dinner at Jeh O Chula or the Baiyoke Sky Hotel Buffet. I've had the pleasure of dining at both, and believe me, they're truly special.
i. Jeh O Chula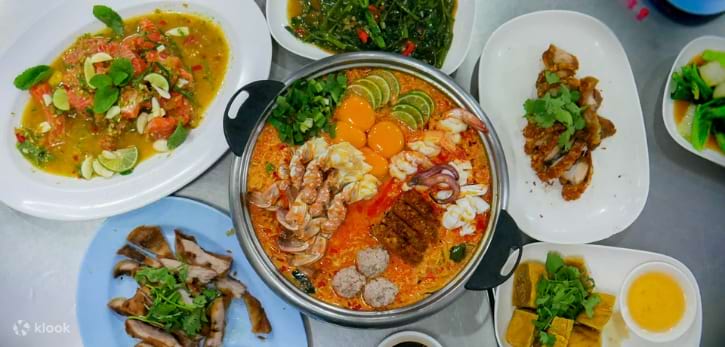 At Jeh O Chula, the star dish is their famous Mama Instant Noodles. It's called Jeh O's Famous Mama Tom Yum.
This isn't just any bowl of noodles. It's a small pot comes with Mama Noodles mixed with flavorful seafood like prawns and squid, eggs, and juicy pork meatballs.
They even add their signature crispy pork belly, giving it an upscale twist. Though it might sound simple, take my word for it, the dish offers a burst of unexpected flavors.
Just a heads up, the queue at Jeh O Chula can be quite long, sometimes stretching over an hour. If you'd like to skip the wait, I suggest you reserve a seat online.
Access: Jeh O Chula is a bit far from Madame Tussauds Bangkok, so I suggest taking a Grab car to get there. It will cost around 100 Baht and take about 10 minutes.
ii. Baiyoke Sky Hotel Buffet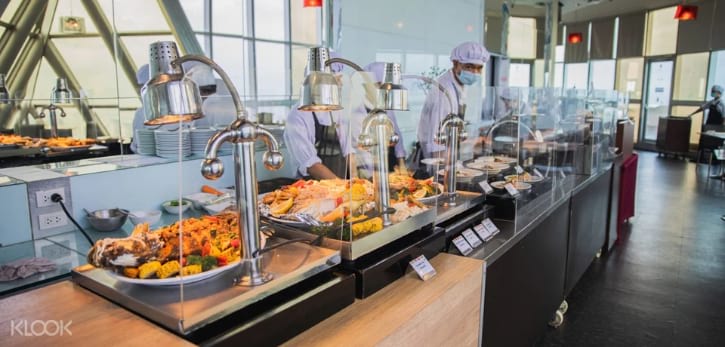 The Baiyoke Sky Hotel Buffet is on the 81st floor. It's in Thailand's tallest hotel!
They have lots of food like sushi, grilled meats, seafood, Thai dishes, and desserts. Want to see all the food choices? Simply check the buffet menu here.
And the best part? While eating, you can see the whole city of Bangkok from high up. It's a beautiful view!
Access: Catch a Grab car from Madame Tussauds Bangkok to Baiyoke Sky Hotel will cost about 100 Baht and is expected to take approximately 10 minutes.
Day 3: Bangkok's Chatuchak, Massage, Mahanakhon SkyWalk, and More!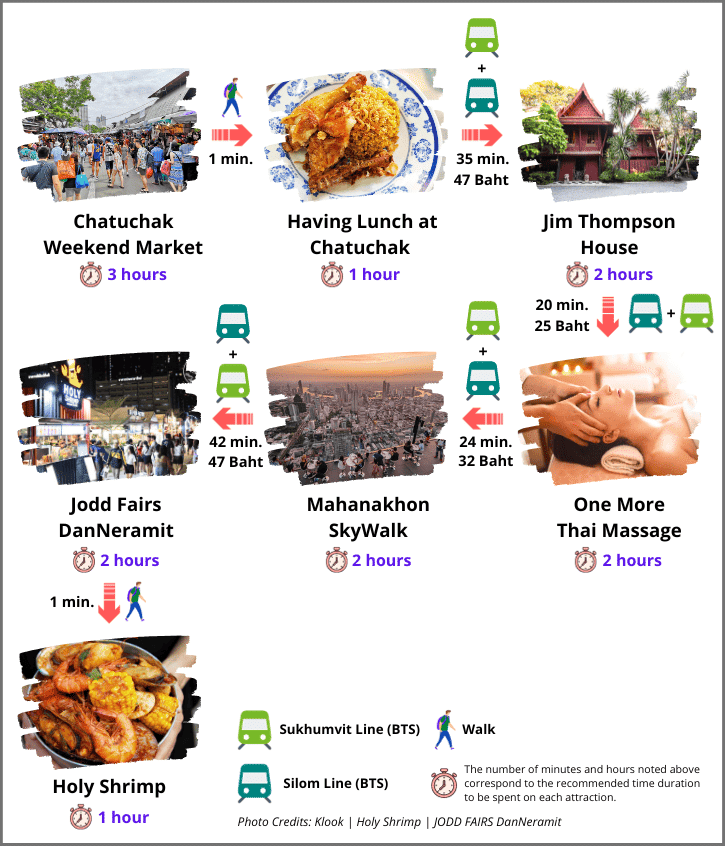 On day 3 of this Bangkok travel itinerary, start with a visit to Thailand's largest market for an immersive shopping experience.
Afterwards, explore the art and history at a heritage house. Then enjoy a leisurely massage to relax before continuing your adventure.
9:00 AM: Chatuchak Weekend Market
12:00 PM: Lunch at Chatuchak Market
1:00 PM: Jim Thompson House
3:00 PM: One More Thai Massage
5:00 PM: Mahanakhon SkyWalk
7:00 PM: Jodd Fairs Dan Neramit
9:00 PM: Dinner at Holy Shrimp
1. Chatuchak Weekend Market – 3 hours (9:00 AM to 12:00 PM)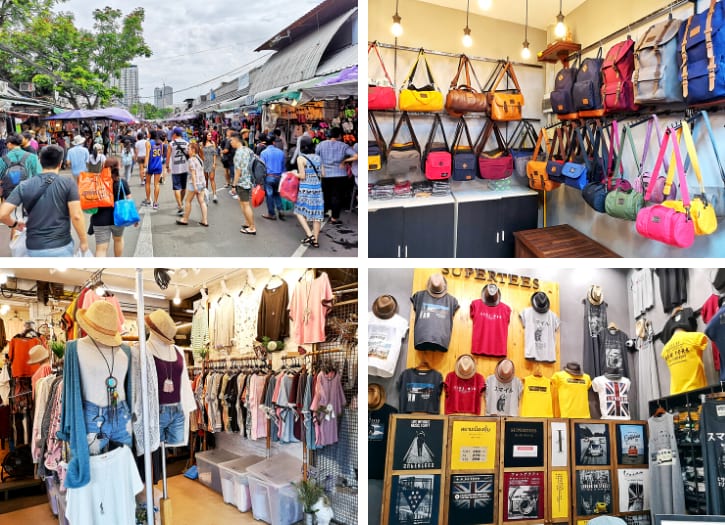 Have a fun morning visiting Chatuchak Weekend Market Bangkok. As the largest market in the country, you surely will have a lot of shopping options here.
This particular market is known for its trendy clothing at super cheap price.
Most of the items available on display are fashionable tops, comfy shirts, formal wear, and sports attire.
There are also colorful headbands, cute footwear, beautiful bags, and a lot more!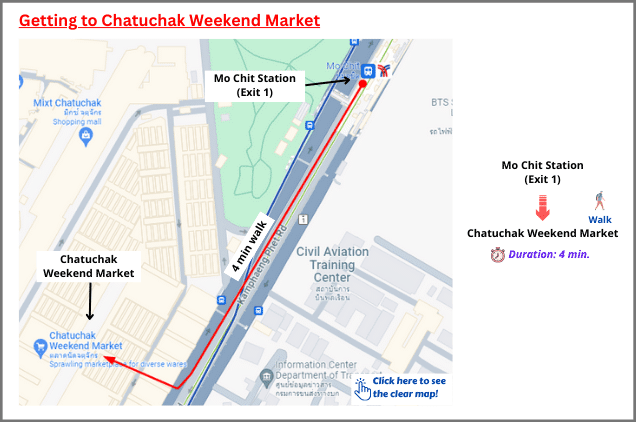 2. Having Lunch at Chatuchak – 1 hour (12:00 PM to 1:00 PM)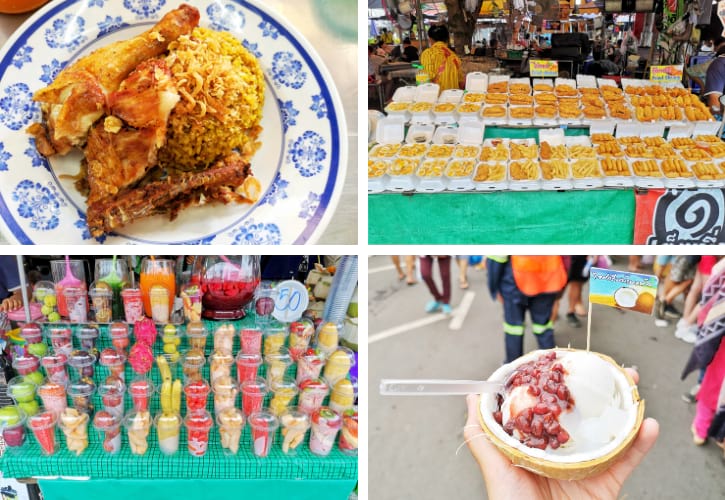 After shopping at Chatuchak Market, you don't need to venture far for lunch.
The market isn't only about fashion; it's also a culinary hotspot with numerous food stalls serving a range of delicious foods, drinks, and desserts.
Don't miss out on dishes like fried chicken, grilled river shrimp, chicken skewers, and coconut ice cream. Many of these mouthwatering items start at just 20 Baht.
3. Jim Thompson House – 2 hours (1:00 PM to 3:00 PM)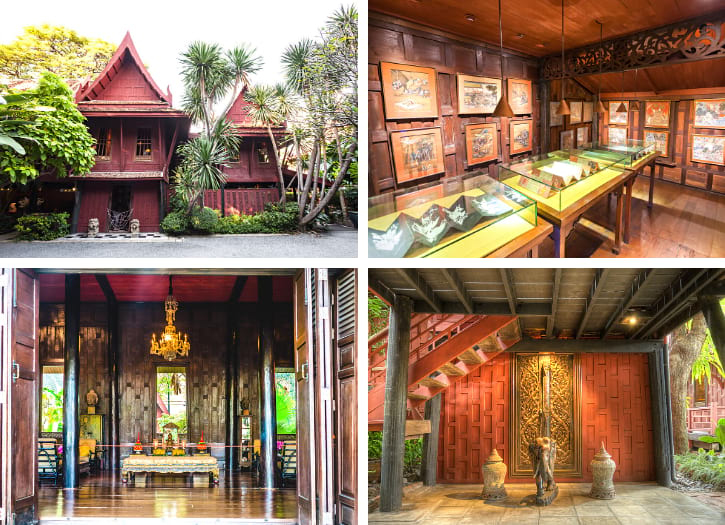 The next stop is to visit Jim Thompson House and search around its connecting houses. This traditional museum is known for its ancient and personalized exhibits.
Some of the things featured here are silk scarves, handbags, accessories, and clothing. Each of these comes with unique and beautiful designs that make it very eye-catching.
There's also a cosy restaurant and gift shop inside the museum.
So, if you want an old-style tourist site in Bangkok with eye-catching display, make sure to pop by the museum.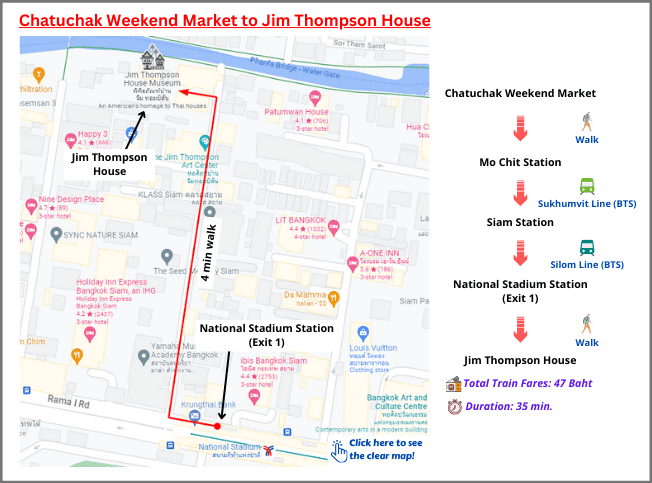 4. One More Thai Massage (Chit Lom) – 2 hours (3:00 PM to 5:00 PM)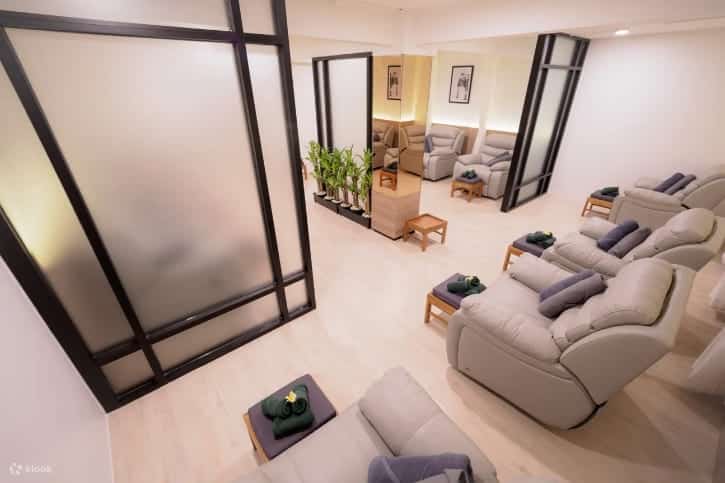 For those seeking to unwind and relax in Bangkok, One More Thai Massage is a spot you shouldn't miss.
Located in the heart of the city, this massage haven offers an authentic Thai massage experience.
When you're there, I'd recommend trying their traditional Thai massage or perhaps a soothing foot massage.
It's not just about the massage, though; the ambiance and the skilled therapists make the whole experience truly rejuvenating.
For a detailed look at their packages and treatment options, simply see their prices here.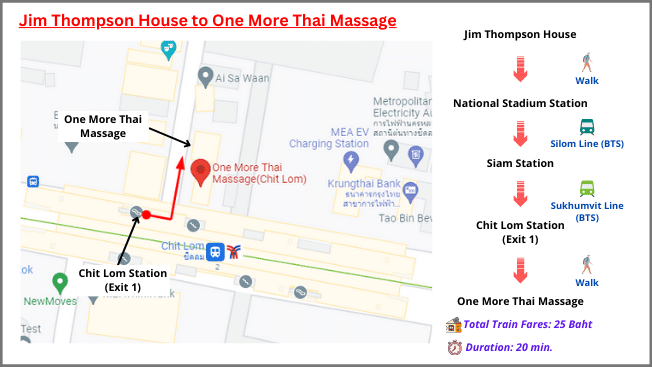 5. Mahanakhon SkyWalk (Thailand's Highest Observation Deck) – 2 hours (5:00 PM to 7:00 PM)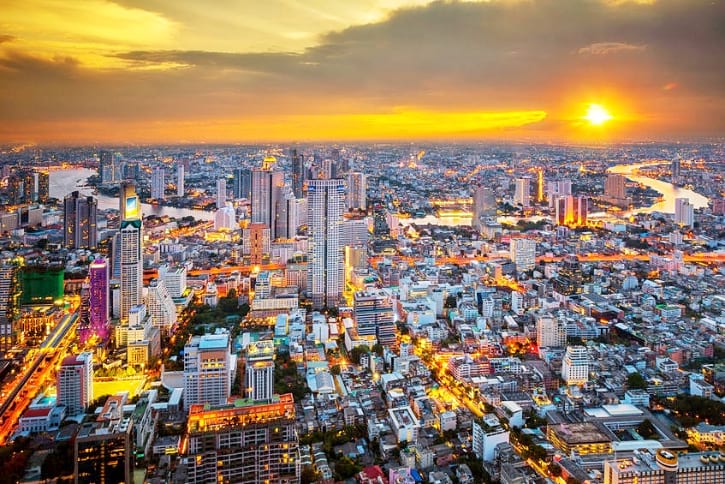 Before the evening kicks in, go to Mahanakhon SkyWalk and catch the sunset. This spot is the best place to see the entire view of Bangkok and its magical cityscape.
The moment you step onto the glass skywalk, you'll find yourself immersed in a stunning landscape of soaring buildings and lively streets below.
It's like the whole place is lit up with the warm glow of the sunset. Believe me, you'll want to take it all in. It's a view you'll never forget.
Tip: Be aware that evening lines can be long, so it's best to book your Mahanakhon SkyWalk tickets online beforehand to save time and ensure your spot.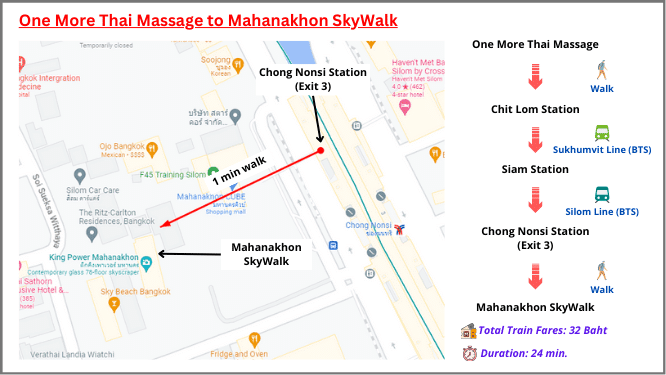 6. Jodd Fairs DanNeramit – 2 hours (7:00 PM to 9:00 PM)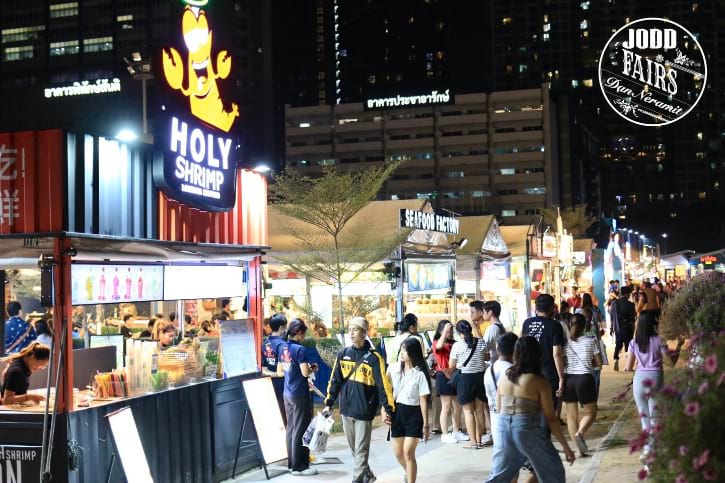 If Jodd Fairs DanNeramit isn't on your itinerary yet, it should be! It's a special market in Bangkok with a fairytale castle, cool vintage cars, and lots of food stalls.
And if you like taking photos, this market is perfect. There are so many great spots for pictures!
Shopping here is fun too. You can find stylish clothes, cool accessories, old-school items, and gifts to take home.
And if you get hungry, there's plenty of food. From tasty Thai snacks to Japanese food, BBQ skewers, drinks, and more. Plus, there are nice places to sit and eat.
I recommend trying the spring rolls, pad Thai, chicken skewers, and the sweet mango rice. They're all delicious.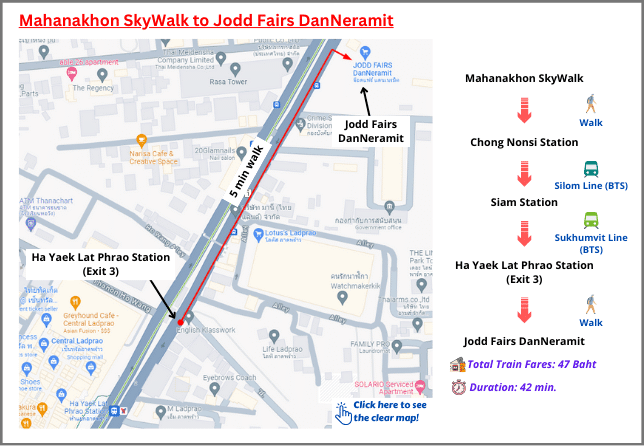 7. Savor Holy Shrimp – 1 hour (9:00 PM to 10:00 PM)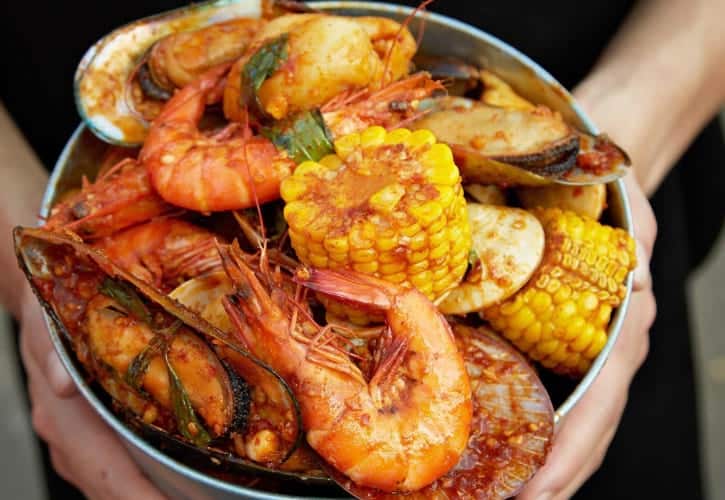 For dinner, I'd recommend trying Holy Shrimp at Jodd Fairs DanNeramit.
They serve amazing seafood dishes. You can enjoy tasty shrimps, mussels, and scallops, all cooked just right in a yummy sauce.
The mix of herbs and a splash of lemon make everything taste even better. Don't forget the sweet corn—it adds a nice touch to the meal.
If Holy Shrimp isn't to your liking, don't worry! Jodd Fairs DanNeramit has plenty of other food options to explore.
From crispy fried chicken and cheesy pizza to juicy burgers and spicy tomyum, you won't have any trouble finding a delicious dinner here. There's something for everyone's taste!
Day 4: Safari World Bangkok and Chocolate Ville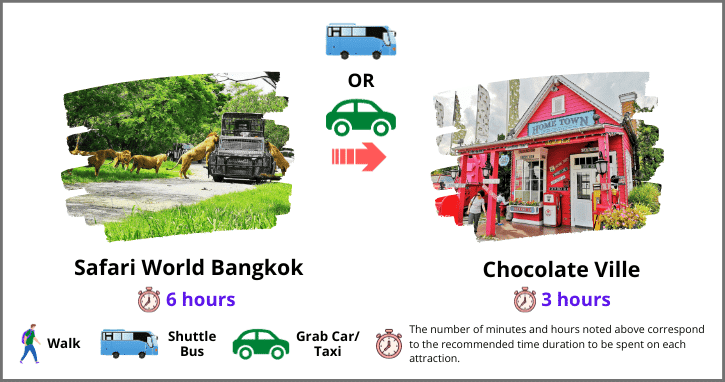 The next stop on your Bangkok adventure takes you first to a popular zoo, home to a diverse array of animals and marine life.
Following that, you'll visit a vibrant park offering stunning photo spots and picturesque dining experiences.
9:30 AM: Safari World Bangkok + Lunch
4:30 PM: Chocolate Ville + Dinner
1. Safari World Bangkok – 6 hours (9:30 AM to 3:30 PM)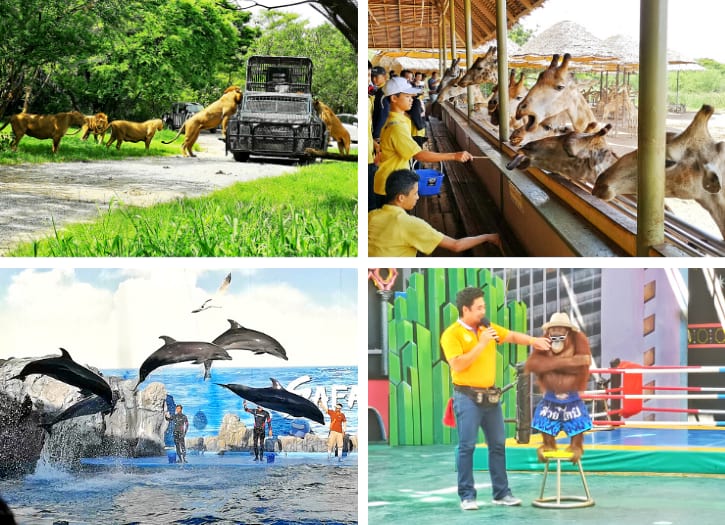 Get yourself ready as you visit the Safari World Bangkok in the morning. Home to thousands of different animals, this park is undeniably entertaining.
Here, you will encounter bears, crocodiles, deers, lions, parrots, orangutans, tigers, and many more!
There are also remarkable shows to look forward to such as the tiger and lion feeding shows, dolphin show, orangutan show, and sea lion show.
Giraffe feeding is another captivating activity for all ages.
I highly suggested that you book the zoo tickets online to save around 40% compared to buying the tickets on-site.
Getting There:
Unfortunately, there isn't a BTS or MRT station near Safari World. The best and easiest way to get there is by taking this shuttle bus from Central World shopping mall. This is how we did it during our visit. However, it's required to reserve your seat online in advance.
Lunch:
Please be aware that outside food is not permitted at Safari World. However, there's no need to worry! The park has numerous restaurants offering a variety of dishes, from Thai and Asian cuisines to Western favorites like burgers.
2. Chocolate Ville – 3 hours (4:30 PM to 7:30 PM)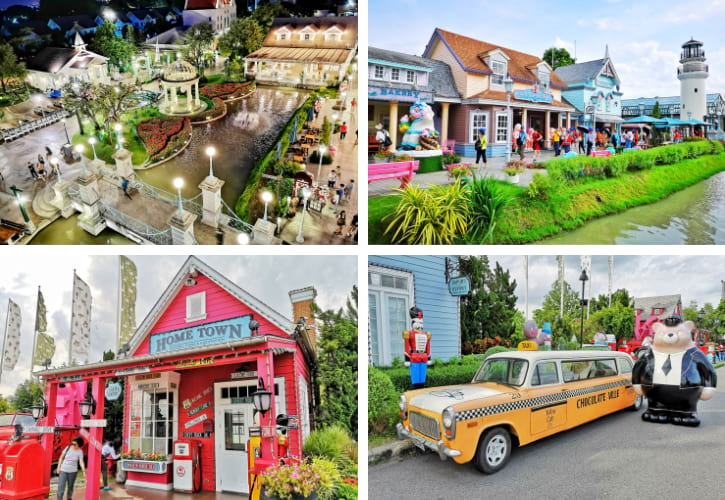 Come evening, proceed to the ever-colorful Chocolate Ville Bangkok. This is a beautiful European-themed village that is filled with gorgeous photography spots.
Walk around and you'll see pretty streets everywhere, perfect for photos. There are fountains, old-style buildings, and even a calm lake.
Getting There:
If you're visiting Safari World Bangkok and Chocolate Ville in one day, consider booking this shuttle bus. It's a time-saving choice since neither attraction is train-accessible.
Alternatively, you can take a Grab car from Safari World to Chocolate Ville, which will cost around 160 Baht and take about 30 minutes.
When you're ready to head back to your hotel, getting a Grab car from Chocolate Ville is also simple.
Dinner: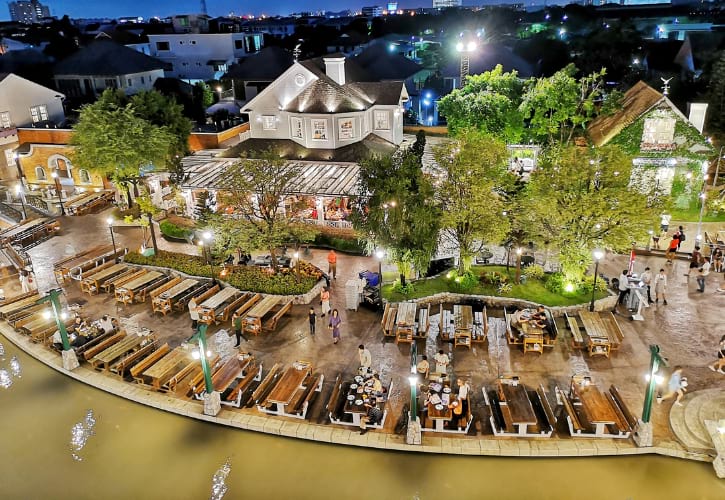 You can take your dinner at Chocolate Ville. It offers lots of yummy food choices, from local Thai dishes to tasty Western meals. I believe you'll enjoy it!
For a scenic dining view, I'd suggest grabbing a seat by the riverside.
Day 5: Discover Thailand's Top Markets and Visit The One Ratchada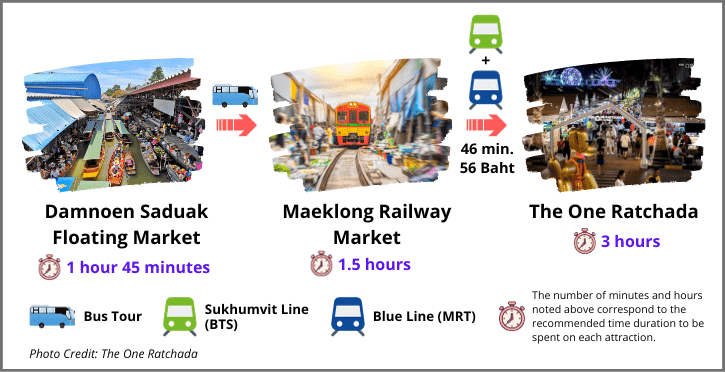 Day 5 of the Bangkok itinerary will bring you to the best Thailand floating market and other unique tourist spots.
During our recent trip, we took a bus tour from the city centre of Bangkok to the markets. We chose this method because these places aren't easily accessible by public transport.
If you want to follow what we did, just book the top-rated bus tour here.
Personally, I was very satisfied with the bus tour service. We had enough time to explore, and the guides offered recommendations on the best local foods to try.
Now, I'd love to share with you the destinations we visited on this day.
11:45 AM: Damnoen Saduak Floating Market
1:50 PM: Maeklong Railway Market
6:00 PM: The One Ratchada + Dinner
1. Damnoen Saduak Floating Market – 1 hours 45 minutes (11:45 AM to 1:30 PM)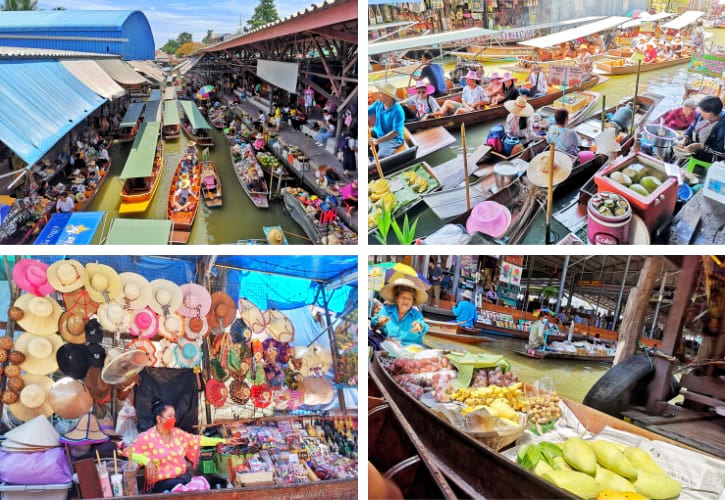 Commence your morning with a visit to Damnoen Saduak Floating Market, the most famous floating market in Thailand.
This destination is not just a top day trip from Bangkok but also a haven for photography enthusiasts. So, make sure to include this place in your itinerary.
As you wander, hop on a boat ride for an up-close view of the market. You'll find delicious local snacks being sold by boat vendors – make sure to taste a few!
If you join the tour like we did, the tour guide will arrange a boat ride for you, so there's no need to worry about it.
Lunch: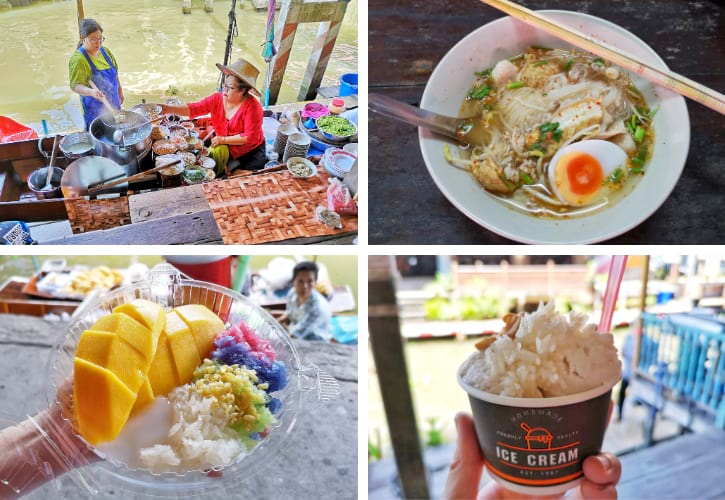 While exploring the market along the canal, you'll discover a wide range of delicious foods. Make sure to sample as many dishes and snacks as you can.
For your lunch, you can opt for the boat noodle, which is priced at 60 Baht. Then, pair it with the delicious mango sticky rice at 50 Baht. These two are very popular in the market, so make sure not to miss them.
And, you can try coconut ice cream, which is also a favourite among locals and even tourists. The price for this kind of dessert is normally 40 Baht.
Side note: Some travellers choose to visit Amphawa Floating Market. This market is celebrated for its seafood goodness and relaxing ambiance, but it's not as renowned as Damnoen Saduak Floating Market.
2. Maeklong Railway Market (Rom Hup Market) – 1.5 hours (1:50 PM to 3:20 PM)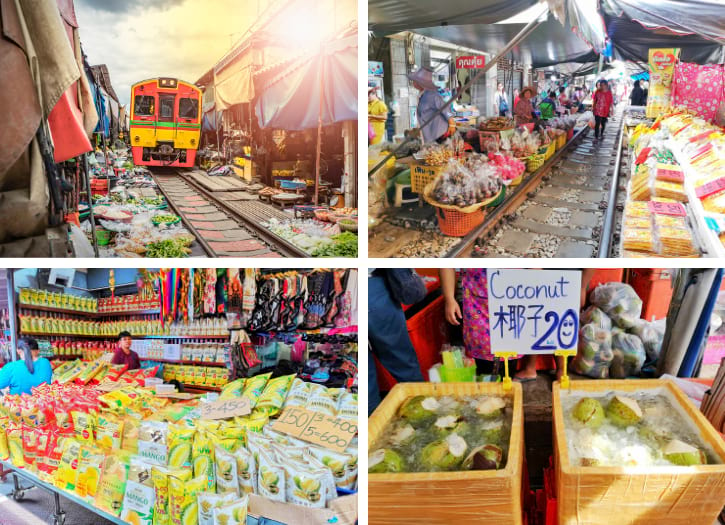 In the afternoon, make your way to the Maeklong Railway Market and capture the moving train. This is definitely the main reason why travellers want to visit this popular market when they're in Bangkok.
Aside from that, this place is also a fun spot to buy some dried fruit snacks. Most of these are sold for as low as 50 Baht.
So, if you're looking for delicious and affordable treats, you can buy them here.
And to energize you, try the fresh coconut in the market, which is also very cheap. It's only 20 Baht! You really can't find this kind of price anywhere in Bangkok, so don't miss them out.
3. The One Ratchada – 3 hours (6:00 PM to 9:00 PM)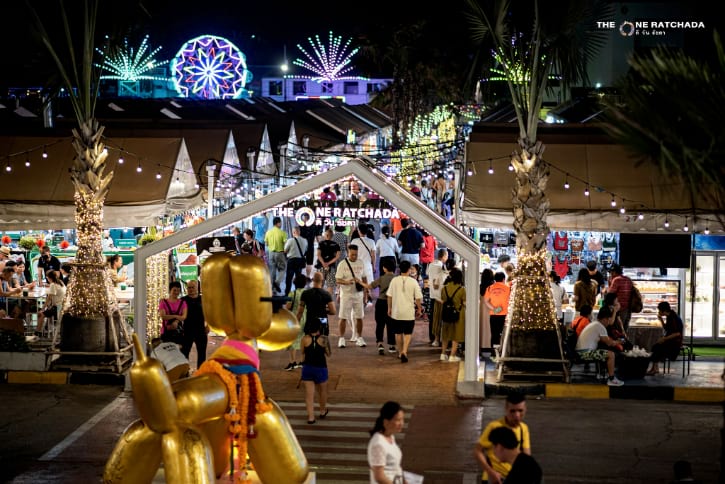 Kick off your evening at The One Ratchada. This cozy market is perfect for both shopping and eating.
If you're like me and love local markets, this place is a treat. You'll find stylish clothes and unique souvenirs to take home.
With a vast array of food options, you can easily have your dinner in the market.
Delight in delicious sushi, refreshing smoothies, and fresh coconuts. And for seafood lovers, don't miss out on the grilled crabs and prawns.
To top off your visit, unwind at one of the laid-back bars with affordable drinks and lively music. Enjoy!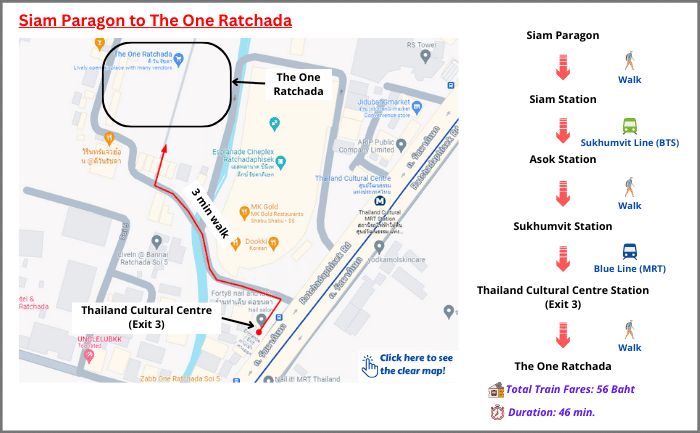 Smart Ways to Save on Bangkok Attraction Tickets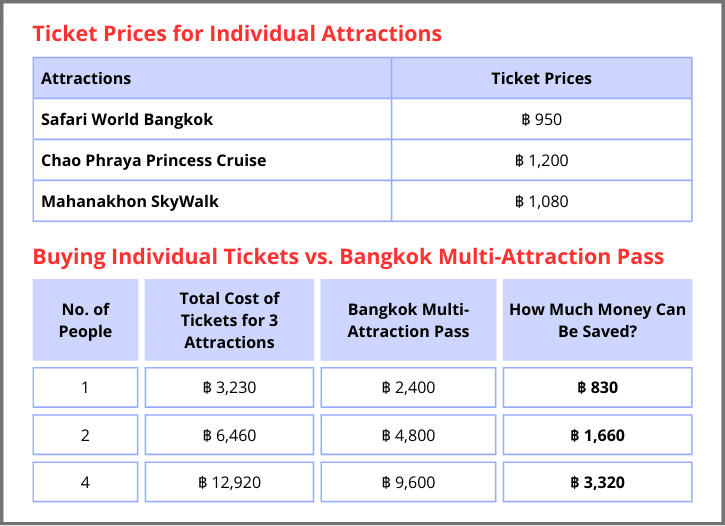 If you're planning to see several attractions in Bangkok, you might want to consider getting the Bangkok Multi-Attraction Pass.
For instance, if you're interested in visiting Safari World, enjoying a river cruise, and seeing the city from the Mahanakhon SkyWalk, buying tickets one by one would cost 3,230 Baht.
But if you get the multi-attraction pass, it's just 2,400 Baht for all three. That means you save 830 Baht.
If two of you are traveling, you'll save even more, about 1,660 Baht in total. The pass can get you into as many as 28 attractions. For more info, just hit the link below.
Bangkok Itinerary 5 Days Map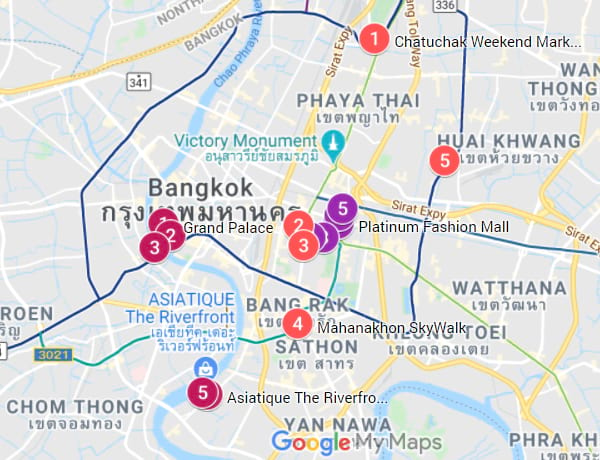 To help you craft the perfect itinerary for your Bangkok vacation, I've created a map that highlights all the best places in the city.
This way, you can see where each attraction is located and easily plan out your route from one must-see to the next.
Where to Stay in Bangkok
For the best accommodation, below are my most recommended hotels to stay in Bangkok. These hotels are situated near BTS stations, shopping malls, and eateries.
Holiday Inn Bangkok: For those who want to be near Chit Lom and Siam BTS stations, this hotel is a great choice. Not only that but this is also 5 minutes away from the top shopping malls such as Central World and Siam Paragon.
Centara Watergate Pavillion Hotel: This hotel is very near to Pratunam Market and Platinum Fashion Mall. Just a 5-minute walk to Siam Paragon Mall and Central World Shopping Complex.
ibis Bangkok Siam: This hotel is very close to MBK and Siam Paragon shopping mall. It's also located next to the National Stadium station. This BTS station allows you to easily ride BTS Skytrain to visit other places in the city.
Thailand SIM Card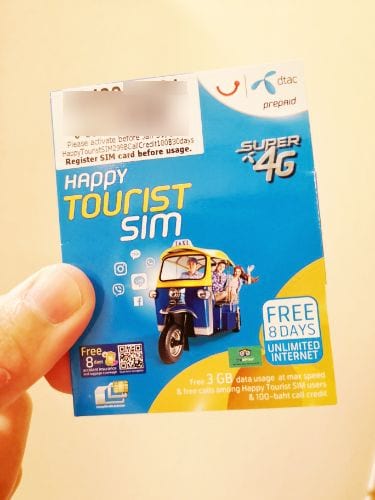 Just in case you do not know, it's quite difficult to get a free Wi-Fi connection in Bangkok. That's why it's advisable that you get a Thailand prepaid SIM card ahead of time.
You can book here for the prepaid SIM card before you kick-start your vacation. This is actually what we did during our trip to the city.
Why Use Local Prepaid SIM Card
It allows you to navigate around the city via Google Maps easily.
It lets you check the precise train route from time to time while travelling.
It gives you the chance to use Grab. Having a local SIM card is needed because the driver needs to call you beforehand to confirm the pickup location.
Why Book the SIM Card Online
Bangkok Transportation Guide

1. BTS Skytrain and Metro (MRT)
The best way to get around Bangkok is by taking the BTS Skytrain and Metro (MRT). This transport option lets you skip the traffic jam and save your travel time.
You can purchase the train ticket from the ticket vending machines located in each station. Hence, you just buy the tickets every time you need to ride a train.
To check the train route, I recommend that you utilize Google Maps. This gives you the shortest route to reach your preferred destination.
2. Grab
Unfortunately, taxi scams in Bangkok are quite common. Some drivers do not use their taxi meter so they charge tourists a higher, fixed price.
Because of this, I encourage you to use Grab for safety purposes. The rates of this transport service are also reasonable, so nothing to worry about.
3. Airport Transfers
My most recommended choice when it comes to travelling from the airport to a hotel is via private airport transfer. It's because this option offers stress-free transportation.
There's no need to drag your luggage during train transfers. All you have to do is relax and wait for your destination.
I booked a private airport transfer during our trip, and their service was truly excellent, with a very friendly driver. They can even take you directly to any hotel in Bangkok.
Check out the prices at the below links.
| Airports | Latest Prices |
| --- | --- |
| Private Don Muang Airport Transfer | Check Price |
| Private Suvarnabhumi Airport Transfer | Check Price |
Bangkok is all set for you; just add these ideas to your own itinerary. Have a fantastic time exploring!
Related Posts
Photo Credits:
Klook