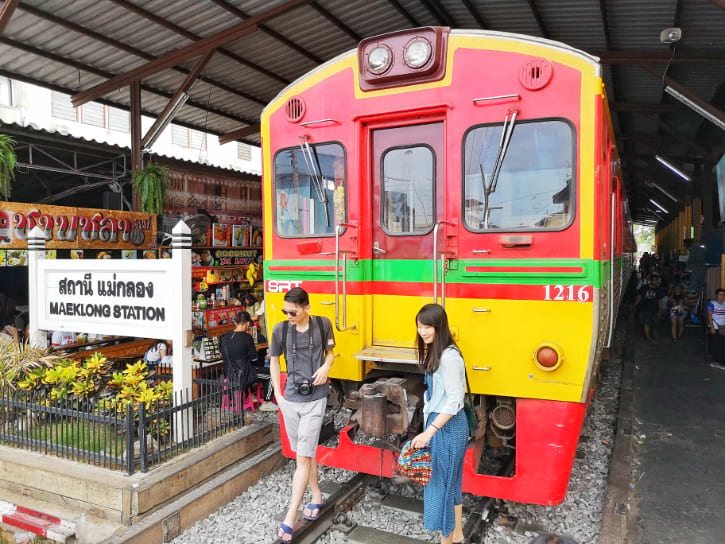 Maeklong Railway Market is a great place to go for a unique market experience. It's truly a must-visit destination for first-time travellers exploring Bangkok. Here, you will be introduced to a rather special shopping scene along the railway.
I have visited the market together with my wife, and it was absolutely a fun and memorable trip. It's something that I would highly recommend to be added to your Bangkok itinerary.
Through this article, I will share the things you can explore as well as the items you can buy there. I will also provide you with insights on how to go to Maeklong Railway Market from Bangkok in this guide.
So, let's get started with an outline of this top-rated market in the Thailand. 🙂
Maeklong Railway Market Overview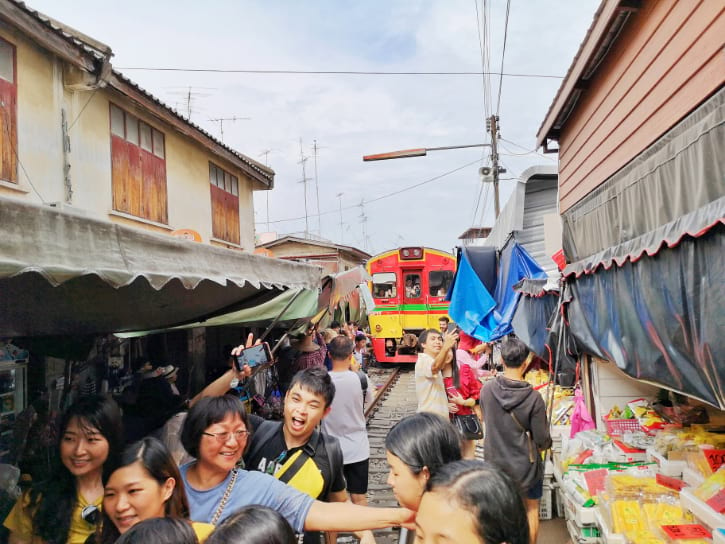 A lot of travellers are fascinated with Maeklong Railway Market. Well, simply because it isn't your typical shopping spot.
Unlike normal markets situated in convenient locations, this one is positioned near the train tracks.
When the train approaches, local vendors would move their umbrellas and their products. Undeniably, this is the main highlight and key reason why many tourists are drawn to this market.
So, be sure to ready your smartphone or camera and take a shot of this unique scene.
Moreover, this famous railway market sells many vegetables, fresh fruits and dried snacks.
A day trip to Maeklong Railway Market from downtown Bangkok is no doubt a special way to experience local shopping.
And before your visit, it's important that you get to know more about the place. So, take your time and check all the relevant insights I've listed below.
Maeklong Railway Market Train Schedule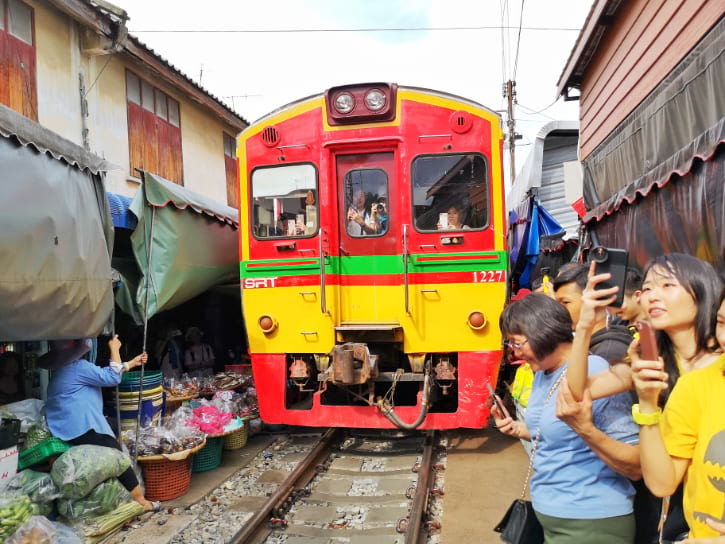 To catch the highlight of the market, be sure to check out the train schedule below. This will help you plan your visit accordingly so you'll get a chance to take a photo with the train.
It's also suggested that you arrive at the railway track 10 minutes before the scheduled train arrival or departure. This way, you can choose your preferred spot to capture the moving train.
Train Arrival Time at Maeklong Train Station:
8:30 AM, 11:10 AM, 2:30 PM, and 5:40 PM
Train Departure Time from Maeklong Train Station:
6:20 AM, 9:00 AM, 11:30 AM and 3:30 PM
Popular Market Stalls to Explore
Aside from the main attraction, Maeklong Railway Market is also filled with all sorts of goods.
There are a lot of vegetables, fruits and snacks on display. Fresh seafoods are being sold here as well.
1. Local Products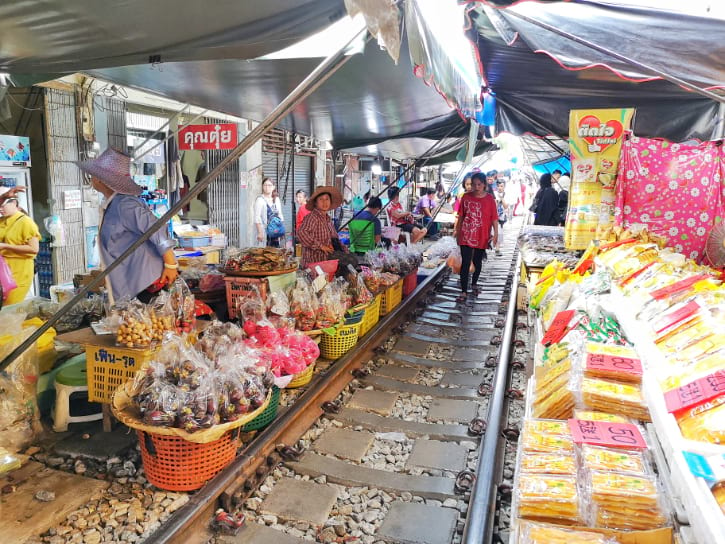 The market scene is always jam-packed with different local products. Whether you're looking for vegetables or dried fruits, this place has all the things you need.
And the most unique part is that these items are presented just beside the railroad track. Vendors have mastered the art of pulling in and pulling out their displays to give way to the train.
2. Fresh Fruits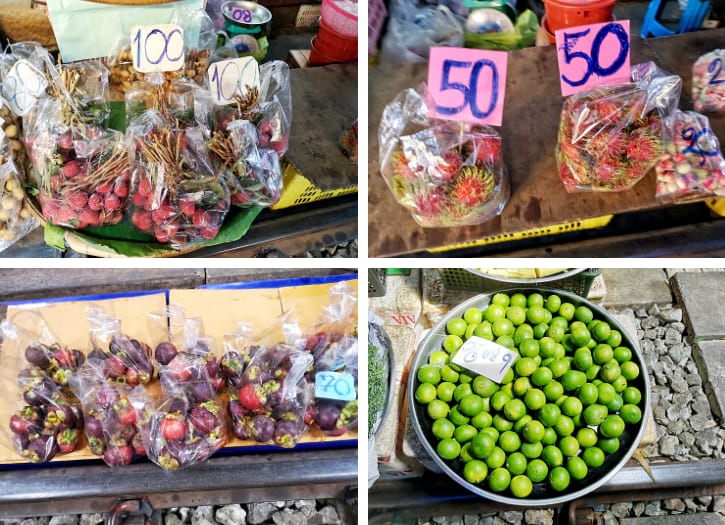 For those who love lychees and rambutans, you'll be delighted to find a lot of these sweet fruits here. These are mostly sold at affordable prices.
You'll also find fresh limes and mangosteens paraded along the railway.
3. Leafy Vegetables and Other Fresh Produce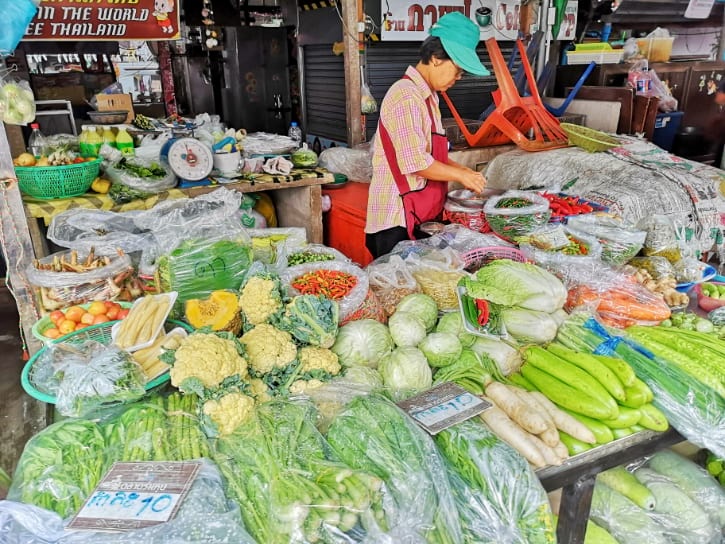 Continue strolling around and you'll be surprised with the abundant collection of vegetables. From leafy veggies to root crops, this market got everything for you.
Surely, you'll have fun shopping around because of the wide assortment of veggies.
4. More Vegetables and Pre-packed Goods
One of the best things when buying from a local market is that you can buy in smaller packs.
You can buy garlic, onions, gingers, and tomatoes individually or in minimal amount.
Most of the veggies and spices are also already pre-packed.
5. Seafood Choices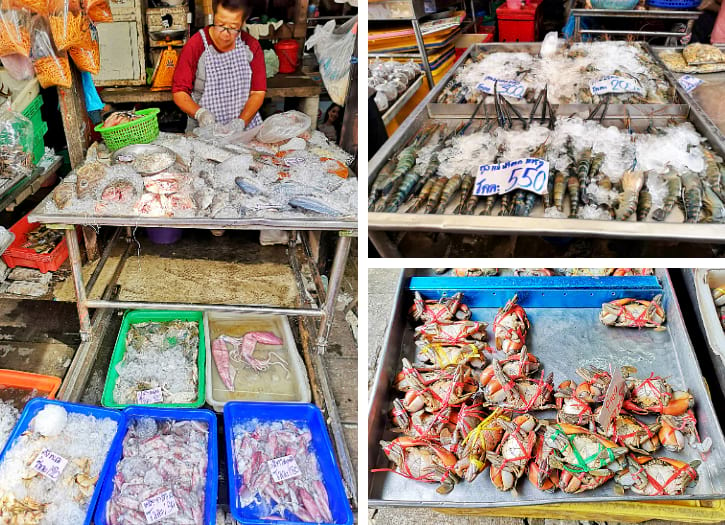 Carry on with your shopping and visit these seafood stalls. The seafood options in the market are simply irresistible.
They have prawns, squids, and fishes, as well as some small and big crabs. All these are fresher and even way cheaper than those in the supermarket.
Best Foods to Take Home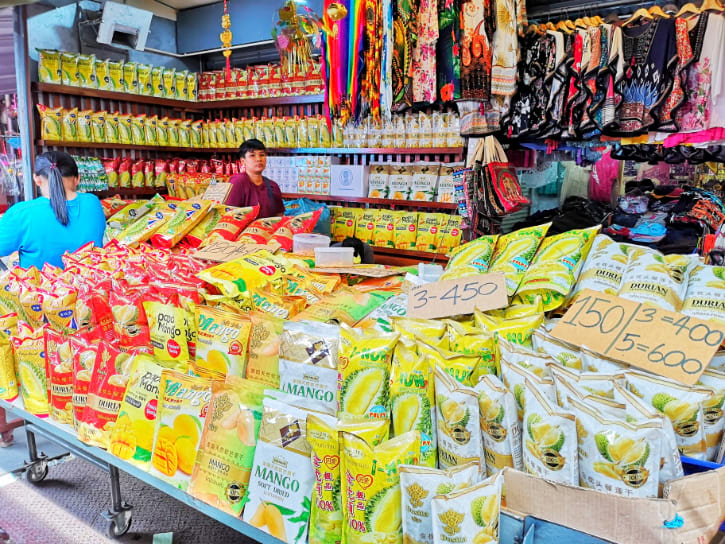 Aside from the fresh produce, the market is quite famous for its dried fruits. These include the ever-interesting durians and always-delicious mangoes.
Surprisingly, the dried fruits sold at Maeklong Railway Market are very affordable. In fact, these are way cheaper than other Bangkok market like Asiatique The Riverfront.
In general, the vendors sell 1 pack of dried durian at 150 Baht. But if you buy 3 or more, you can get a discount.
For 1 pack of dried mango, these are sold at 80 or 100 Baht, depending on weight.
So, if you plan to buy 3 or more dried durians or dried mangoes, make sure to strike a bargain. Often, the vendors give an extra 10% to 20% discount from the listed price.
Must-try Drinks and Desserts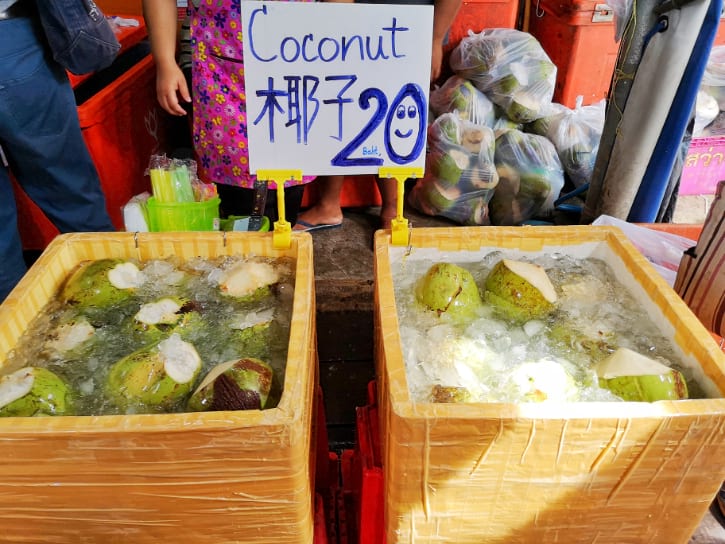 The coconuts sold here are very cheap. The lowest price is only 20 Baht, so be sure to try it out.
Along with these, there are many fresh juices too. Some of the options include pomegranate juice, watermelon juice, mango juice, orange juice, and more.
To top it all, the market also has plenty of delicious Thai desserts. Don't miss their famous mango sticky rice and coconut ice cream.
Clothing and Souvenirs to Shop at Maeklong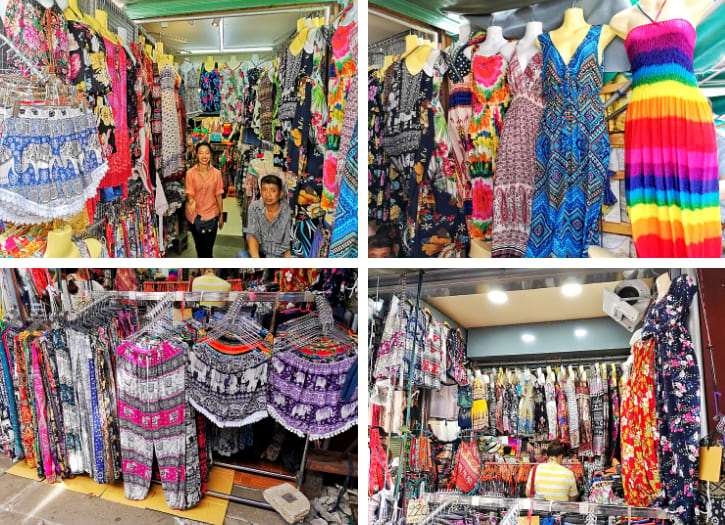 These gorgeous, multi-coloured Thai dresses will surely catch your attention.
There are plenty of styles to choose from, including asymmetrical prints and floral designs.
Aside from that, you'll find stylish shorts and pants at affordable prices.
So, if you're looking for fashionable clothes, go around the market stalls and pick your favorite item.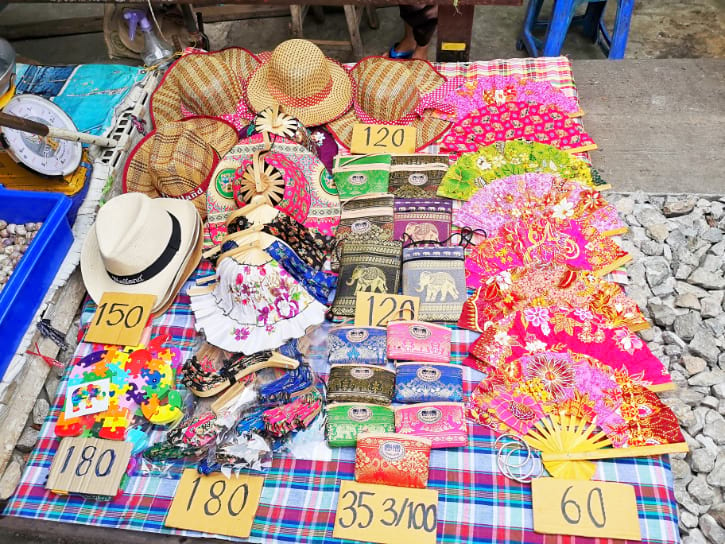 Completing the assortment of items in the market are these colorful souvenirs. Most of these are directly presented along the railroad tracks.
Some of the items you'll come across are vivid fans, patterned wallets, and beautiful hats. These local products are definitely great souvenir items for your family and friends.
Maeklong Market Nearby Attractions
Damnoen Saduak and Amphawa markets are located near Maeklong Railway Market.
So, if you want to continue your adventure, these two markets are definitely worth the visit.
I've written separate articles for Damnoen Saduak Floating Market and Amphawa Floating Market, which you can check it out.
And if you want to explore other top-rated sites, check my suggestion for the best things to do in Bangkok.
4 Ways to Go to Maeklong Railway Market from Bangkok
There are 4 methods to travel from Bangkok to Maeklong Railway Market―via minivan, shuttle bus, private tour, and train.
The travel time is around 1 hour and 30 minutes. And during our trip, we personally picked the shuttle bus (below option 2). This already comes with a local tour guide. Don't worry because I will further explain why we chose this option.
So, let's check out the 4 transport ways below.
1. By Minivan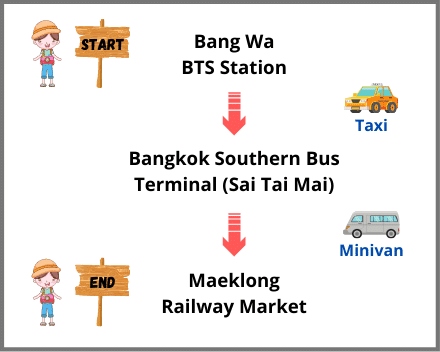 Take the BTS Silom Line to Bang Wa BTS Station.
From there, go out the Exit 1 for you to take a taxi to Bangkok Southern Bus Terminal (Sai Tai Mai).
At the bus terminal, ride a minivan to Maeklong Railway Market. It departs every 40 minutes.
The minivan ticket costs 70 Baht and the journey takes around 90 minutes.
2. By Shuttle Bus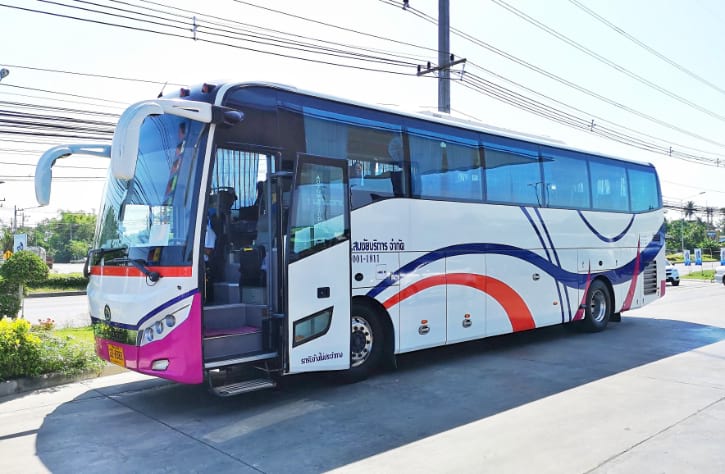 We took this shuttle bus to Maeklong Railway Market from the city centre of Bangkok.
I believe this is the most efficient and safest way to avoid inconvenient transfers and possible scammers.
Another nice feature of the shuttle bus is that it has its own professional local tour guide. The tour guide is very knowledgeable and accommodating.
He even gave us a lot of recommendations about the must-try unique foods, along with some key tips and tricks. This really helped us buy delicious local foods at a cheaper price.
So, if you want to follow our experience, you can book the best shuttle bus here.
3. By Private Tour
Another option if you're from Bangkok is to book a private tour going to Maeklong Railway Market.
This is suitable for those looking for the fastest and safe transportation. It's because the private tour comes with a car or van.
It also offers hotel pick-up and drop-off services for added convenience. Hence, this option is also ideal for those travelling with the entire family and groups of friends.
You've two options for the private tours. Choose either one―Damnoen Saduak Floating Market and Maeklong Railway Market or Amphawa Floating Market and Maeklong Railway Market.
4. By Train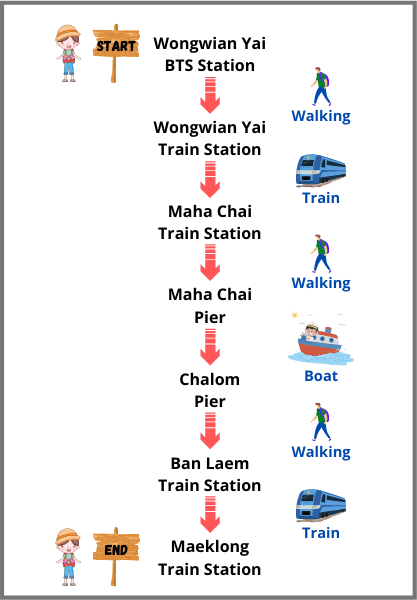 To reach Maeklong Railway Market, first, ride the BTS Silom Line to Wongwian Yai BTS Station in Bangkok.
Go out the exit 1 from the station and then walk to Wongwian Yai Train Station.
From there, take the train go to Maha Chai Train Station.
When you reach the train station, you should walk to Maha Chai Pier and then take a ferry boat to Chalom Pier.
From that pier, you should walk to Ban Laem Train Station.
And then, take a train to go to Maeklong Train Station.
The one-way journey takes about 2 hours and 30 minutes. It costs 20 Baht.
*Kindly take notes this is the slowest way of getting there. Plus, the trains don't have air-con and only installed with mini fans.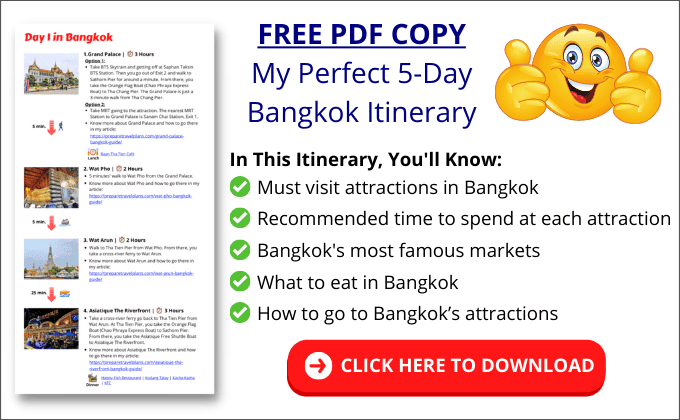 So, we've reached the end part of my guide. Thank you for reading the entire article all the way up to here. I really appreciate it and I hope that you find it helpful and informative. 😊
Maeklong Railway Market definitely deserves a spot in your Bangkok travel itinerary.
The unique location of the market, as well as the amazing display of local products, is something that you shouldn't miss out on.
Related Posts