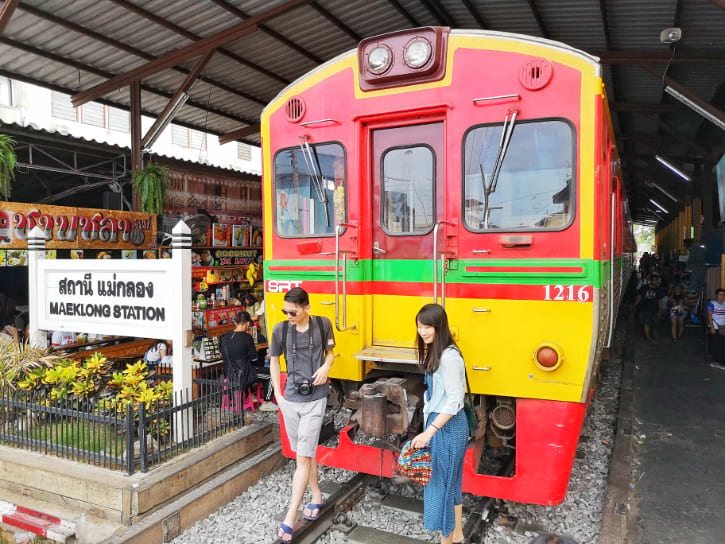 Planning to travel from Bangkok to Maeklong Railway Market? Let me share with you how to get to the train market conveniently.
Basically, you have 5 ways of getting to Maeklong Railway Market if you want to depart from Bangkok. These 5 methods are minivan, train, taxi, take a tour by bus and private tour.
I'll show you these 5 transport modes in more detail later and together with my best pick. And also, you'll know the travel duration and travel costs to the train market.
Aside from this, I'll introduce to you the best things to do on your day trip to Maeklong Railway Market and what things you should buy at there.
In summarize, after reading this blog, you'll know how to plan a smooth and enjoyable trip to Maeklong Railway Market.
So, let me start sharing with you how to go to Maeklong Railway Market easily!
5 Ways to Get from Bangkok to Maeklong Railway Market
---
1. By Minivan
---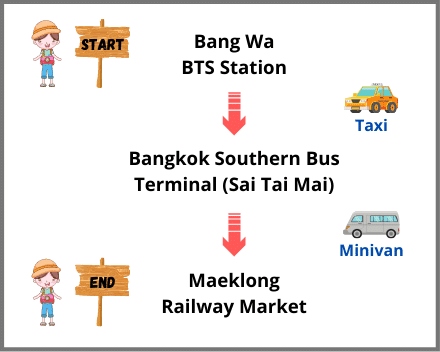 Why you should take the minivan from Bangkok Southern Bus Terminal?
Cheap but required transfer before riding the minivan
A step-by-step guide on getting to Maeklong Railway Market by Minivan:
Take the BTS Silom Line to Bang Wa BTS Station
Alight at Bang Wa BTS Station, Exit 1
Take a Taxi to Bangkok Southern Bus Terminal (Sai Tai Mai)
Ride a minivan to Maeklong Railway Market from Bangkok Southern Bus Terminal (Sai Tai Mai)
*The minivans depart every 40 minutes at the Bangkok Southern Bus Terminal (Sai Tai Mai)
Southern Bus Terminal to Maeklong Railway Market:
Travel Cost (one way): 70 Thai Baht
Time Required (one way): Around 90 Minutes
2. Take a Tour by Bus
---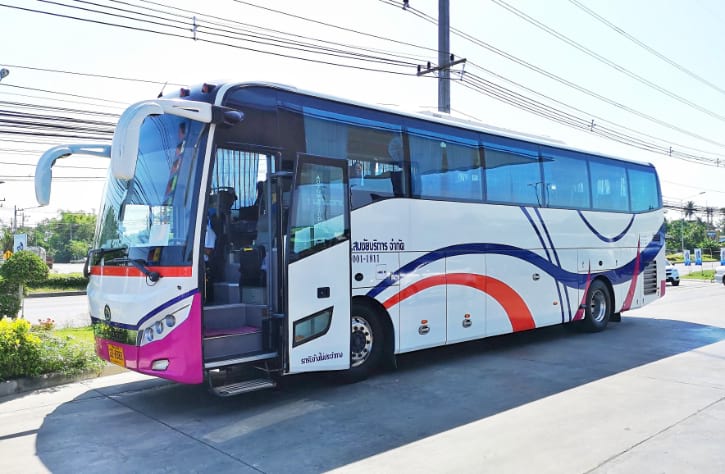 Why you should take a tour?
Easy, fast and save time plus affordable price
Enjoy both convenience and safety at an affordable price by taking a tour to Maeklong Railway Market from Bangkok.
Here are 6 reasons why you should take a tour to Maeklong Railway Market:
Highly-organized. No need to deal with late public vehicles or disorderly drivers if you take this tour. The tour is very much organized, hence giving you more than enough time to explore the market.
Smooth and convenient transportation. Save time and effort with a cozy bus ride that requires no multiple transfers.
Direct transfer to Maeklong Railway Market. From Bangkok to the railway market, it would take only one big, bus to transport you to your destination!
Reliable local expert guide. Wander around the railway market conveniently with the help of an expert tour guide. The local guide can give you lots of recommendations about the most popular foods and cheap souvenirs. Plus, you can ask for easy tricks when it comes to bargaining with the local vendors.
Forget about taxi scam. Avoid possible taxi scams by being a joiner in a tour. Tour packages already include direct transport service to and from the railway market. Plus, taking a tour is actually much cheaper than taxi.
Definitely a secure and comfortable bus ride. Simply sit back, relax, and wait for the bus to take you to the ever-famous Maeklong Railway Market.
Assembly Locations:
If you opt to take the tour, you'll be happy with the assembly locations. There are situated just outside of Victory Monument BTS Station, Exit 2 (Century Mall) and Siam BTS Station, Exit 5 (Siam Paragon).
Here's my feedback on the tour I took during my trip to Maeklong Railway Market
---
When I visited the Maeklong Railway Market, I also took a tour in Bangkok. And I can say that the tour was impressive and informative. Everything was on point―from the professional tour guide to the convenient bus transfer.
The tour arrangement itself was well-organized and the local tour guide was highly-trained. Having a friendly, knowledgeable, and accommodating tour guide certainly made our trip more convenient and memorable.
Plus, the English-speaking guide gave us lots of tips and tricks, which include basic Thai phrases. This really helped us conversed naturally and easily bargain with the vendors.
Moreover, with the help of the local guide, we were able to try delicious local foods at a cheaper price. We were informed of the food prices beforehand, hence were able to check if the rates are overpriced. With a local expert leading the way, this gave us extra time to explore the market and shop around.
In a nutshell, taking this tour is highly recommended. Two thumbs up!

Maximize time without stressing yourself out by availing a tour, together with other tourists. The one I took not just covered Maeklong Railway Market but also other nearby famous attractions. These include both Amphawa Floating Market and Damnoen Saduak Floating Market. So, all in all, you will visit three beautiful and unique tourist spots with ease and comfort.
Though you can actually visit these three attractions by yourself, it might be a bit challenging and tiring. It's because these places are not well-surrounded by public transports, making it difficult to explore around.
But if you want to get to these popular attractions without getting lost, taking the tour is the answer.
If you've decided to have the tour, then you have 3 packages to choose from.
Damnoen Saduak Floating Market & Maeklong Railway Market
Damnoen Saduak Floating Market, Maeklong Railway Market & Amphawa Floating Market

(I chose this package)

Maeklong Railway Market & Amphawa Floating Market
Amphawa Floating Market is not available every day. It only opens from Friday to Sunday and closes from Monday to Thursday.
During my visit, I booked the second package, which is Damnoen Saduak Floating Market, Maeklong Railway Market & Amphawa Floating Market.
To give you some information about the tour packages I availed, you can check the link below. This will give you everything you need, from the package rates to daily itineraries to the actual schedules.
3. Private Tour by Car
---
Why you should take the private tour?
Fastest and secure but expensive
The another option to get from Bangkok to Maeklong Railway Market is taking a private tour. This is suitable for those looking for fast and safe transportation. Booking a private tour is actually the most convenient and most secure way to reach Maeklong Railway Market.
A downside, however, is that it's more expensive compared to taking a group tour. But of course, the added rate means you get extra great features. These include a private and highly informative tour guide that will assist you all day long.
Plus, the tour guide provides you with amazing recommendations, from cheap and tasty foods to best and affordable souvenirs. With the help of a local guide, you won't miss any popular foods and items.
More than that, the private tour offers hotel pick-up and drop-off services. This means that you don't need to deal with crowded public transports and possible taxi scams. Instead, you will just hop aboard a car or a van. Then, simply wait for your ride that will take you to the railway market.
Another great feature when you book a private tour is the convenience it provides to the passengers. It's ideal for those travelling with the entire family and groups of friends. Further, it's the most recommended option for those on a trip with persons with disability or senior parents.
You've two options for the private tours. Choose either one―Damnoen Saduak Floating Market and Maeklong Railway Market or Amphawa Floating Market and Maeklong Railway Market.
For more information about the private tours, see the links from the table below. This will provide you with all the important facts and guidelines, including departure and return times, daily schedules, and rates.
| No. | Tour Packages | Latest Prices |
| --- | --- | --- |
| 1. | Private Damnoen Saduak Floating Market and Maeklong Railway Market Tour | Check Price |
| 2. | Private Amphawa Floating Market and Maeklong Railway Market Fireflies Tour | Check Price |
4. By Taxi
---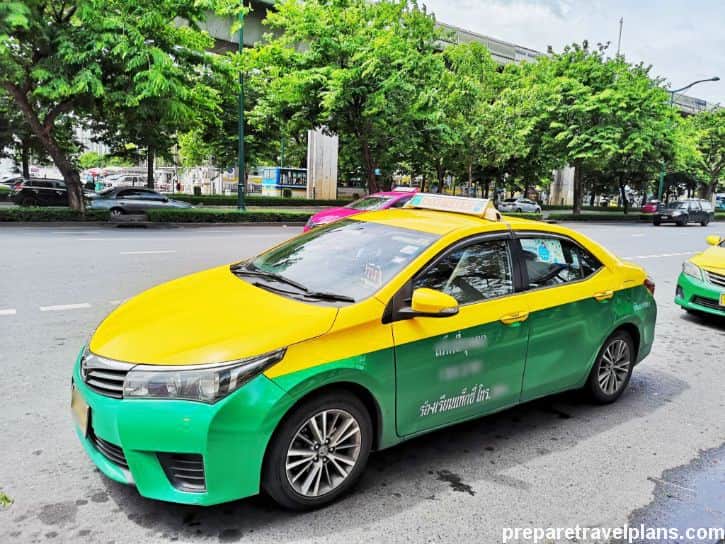 Why you should take the taxi?
Fastest but expensive – Beware of scam
For travellers who want to get to Maeklong Railway Market as fast as possible, riding a taxi is an option. Taxis are fast but costly, and might even be pricier if you run into a traffic jam. Traffic is quite popular in Bangkok, so as taxi scams.
If you opt to ride a taxi, certain precautions must be taken. These include asking the taxi driver if their meter is working and not allowing fixed taxi rate. So, if the driver refuses to use the meter, don't think twice and get another taxi.
5. By Train
---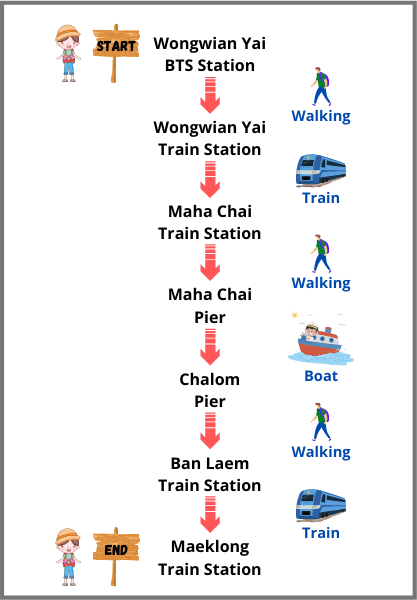 Why you should take the train?
Cheapest but slowest
A step-by-step guide on getting to Maeklong Railway Market by Train:
Ride the BTS Silom Line to Wongwian Yai BTS Station in Bangkok
Alight at Wongwian Yai BTS Station, Exit 1
Walk to Wongwian Yai Train Station
Take a train from Wongwian Yai Train Station to Maha Chai Train Station
Walk to Maha Chai Pier
Cross the Tha Chin River from Maha Chai Pier to Chalom Pier via Ferry boat
Get off at Chalom Pier and then walk to Ban Laem Train Station
Take a train from Ban Laem Train Station to Maeklong Train Station.
*Kindly take notes the trains to Maeklong Train Station don't have air-con and only installed with mini fans.
Wongwian Yai Train Station to Maeklong Train Station:
Travel Cost (one way): 20 Thai Baht
Time Required (one way): Around 2 Hours and 30 Minutes
Why You Should Visit Maeklong Railway Market
---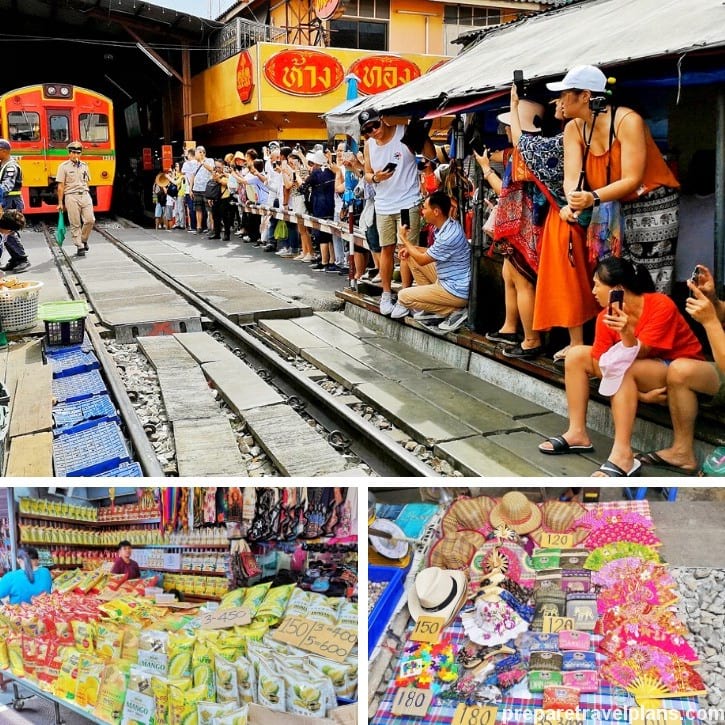 Maeklong Railway Market is always jam-packed with locals and tourists. Simply because, it isn't just your normal shopping destination―it's a railway market famous for selling dried fruits, along with some fresh fruits, vegetables, and seafood. Unlike normal markets situated in convenient locations, this one is positioned right on the train tracks.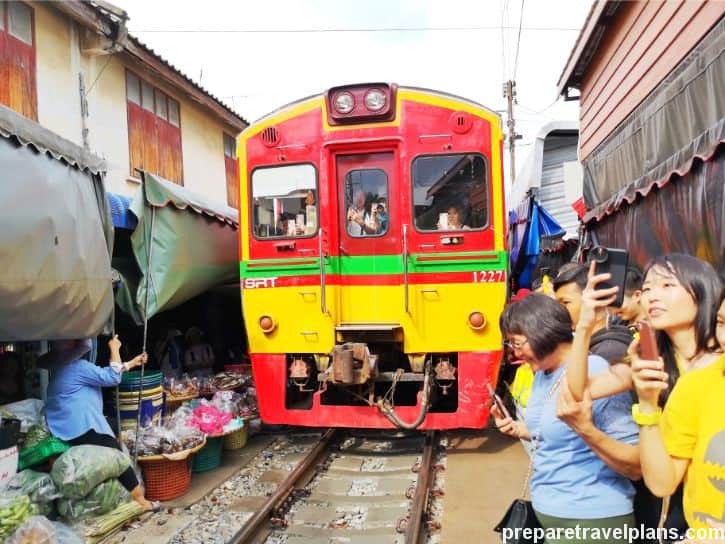 When the train approaches, local vendors would move their umbrellas and their products. And as soon as the train passes, the business continues. These are regular sights you'll see in this distinct marketplace. It might appear dangerous, but amazingly, these have been part of the locals' daily lives.
That is why it's a must to visit the place and experience it first-hand. Explore the surrounding stalls of the train line and act like a local. And, don't forget to capture some thrilling shots before the train draws near the railway track.
Without a doubt, spending your time here is something one for the books.
4 Important Things to Know Before Going to Maeklong Railway Market
---
1. Shop for the railway market's best goods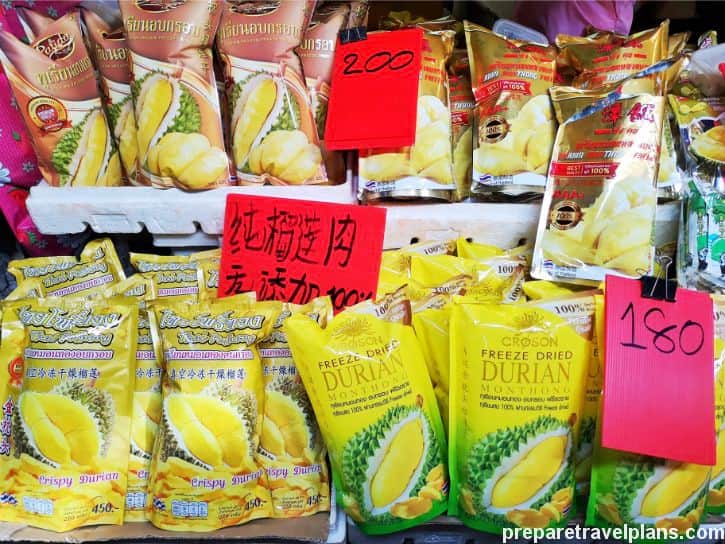 There are lots of things sold in the market, but it's their dried fruits that will really catch your attention. These tasty goodies are everywhere! From left to right, you can find different dried fruits such as dried durians, mangosteens, and mangoes.
So, if these are your favourites, then better buy here so that you'll save money. The dried fruits sold at this railway market are actually way cheaper compared to those in supermarkets.
2. Don't miss the fresh coconuts at the train market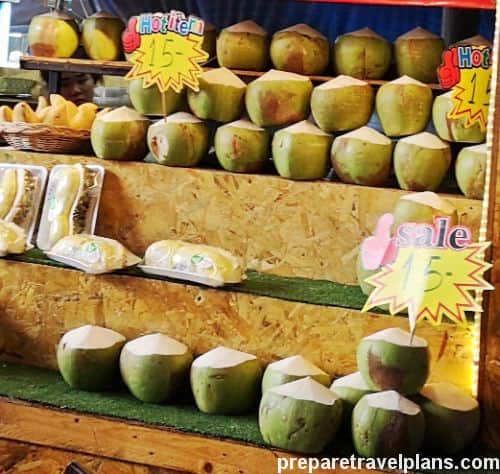 Beat the heat with some fresh coconuts! The coconuts sold in this train market are very cheap, with the lowest price at 15 Thai Baht only.
Because of its price and freshness, these coconuts are too hard to resist. But make sure not to drink more than 2 coconuts so you won't have diarrhea.
3. Learn some basic and common Thai Language for shopping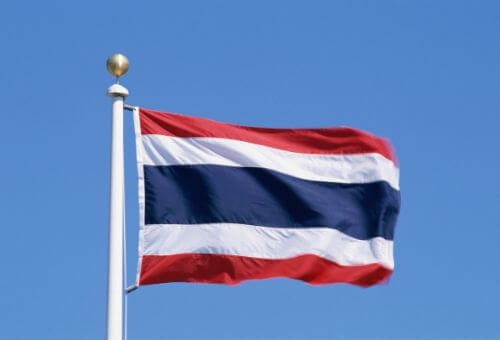 When you shop in local markets, it's best to know some basic shopping phrases in Thai. This will help you speak and converse with the vendors smoothly.
Here are some that you need to know:
Hello – Sawadee Krap (Male)/ Sawadee Ka (Female)
How Much – Thao Rai
Discount – Loht
Yes – Dai
No – Mai
Thank You – Khop Khun Krap(Male)/ Khop Khun Ka (Female)
4. Know some tactics when bargaining price for dried fruits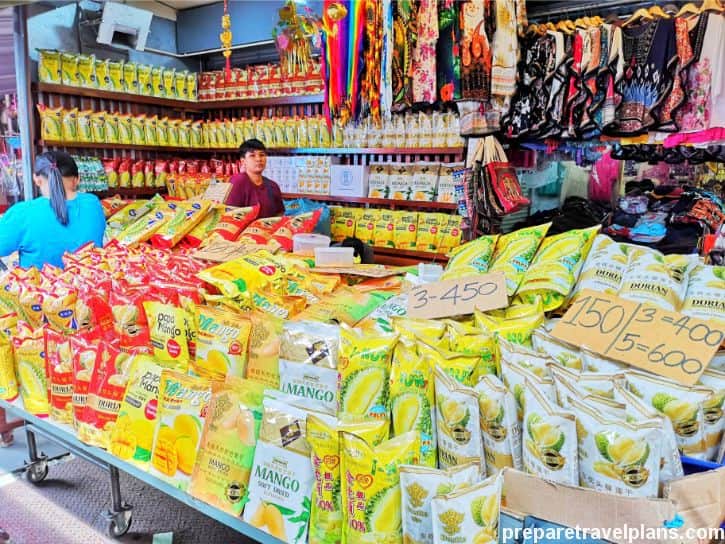 When visiting this railway market, make sure to visit different stores first so that you'll know the price range. Once you're done with the stall hopping, choose the cheapest store and start bargaining. Begin by cutting the price to 10% or 20% and wait for their response. If they do not accept the price, try to leave. Generally, sellers would accept your offer. In case they don't accept your bargain, just look for other stores.
Maeklong Railway Market Train Schedule
---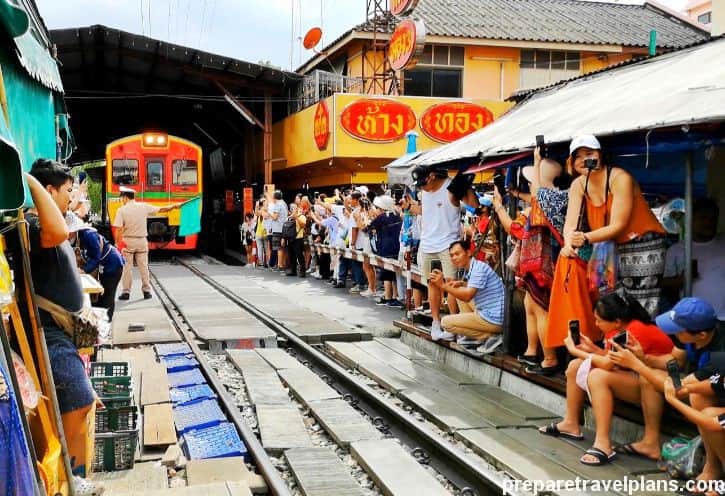 For you to get the most convenient location, be at the railway track at least 10 minutes. This will give you enough time to take good-looking photos before the train arrives or departs. Know the train schedule so that you can prepare ahead of time.
Train Arrival Time at Maeklong Train Station:
8:30 AM, 11:10 AM, 2:30 PM, and 5:40 PM
Train Departure Time from Maeklong Train Station:
6:20 AM, 9:00 AM, 11:30 AM and 3:30 PM
Things to Do on Your Day Tour to Maeklong Railway Market
---
Capture the moving train
---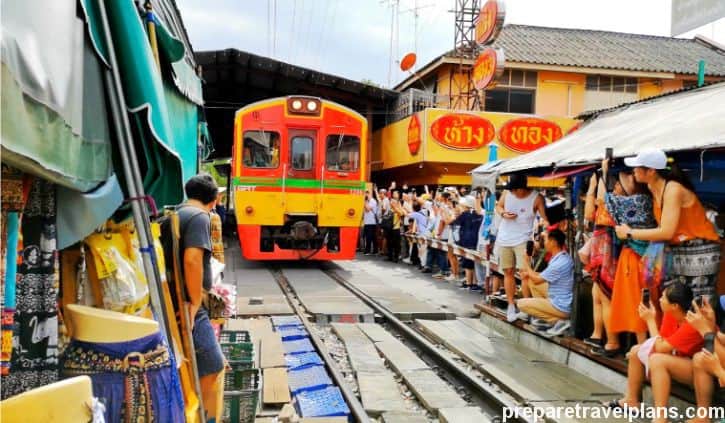 Wait for the train's arrival and departure at the side of the train tracks. But always remember, safety first! Don't worry because you'll hear the train sounds long before you see it. Prepare your cameras to capture the moving train right before your eyes.
A little bit of history, this traditional railway market is more than a century old. It was established in 1905 to provide convenient transportation of goods around the country. And one hundred fourteen years later, this historic railway market still exists and functions like the old times.
Now, more and more tourists visit the market to catch a glimpse of the train while shopping around. Be amazed at how fast the vendors move their products and compress their umbrellas to give way to the train.
Stroll along the railway market
---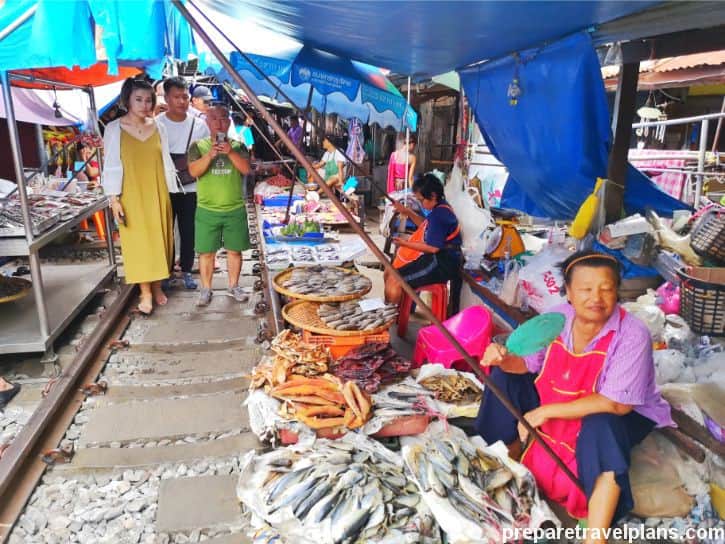 But of course, there's so much to do while you're at the railway market. Aside from the famous train, this market is full of fresh and dried fruits, vegetables, seafood, and more!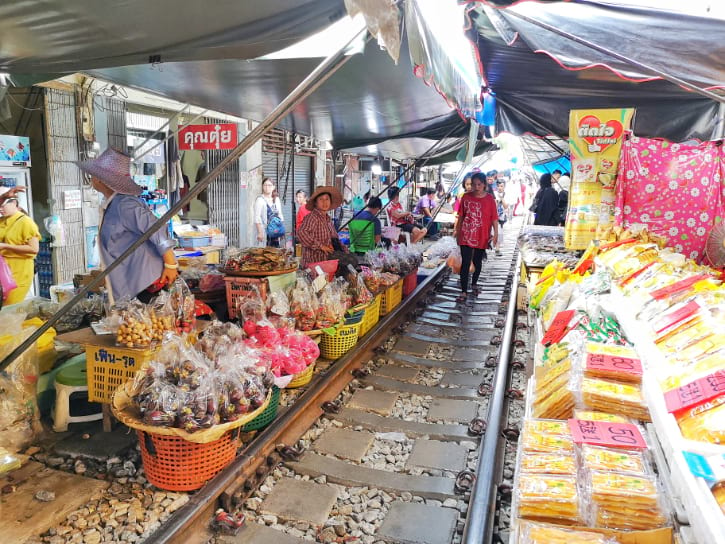 The picture above shows the normal state of the market stalls―if the train is still not in sight. The sides of the train track are surrounded by all sorts of goods.
Impressive display of dried foods
---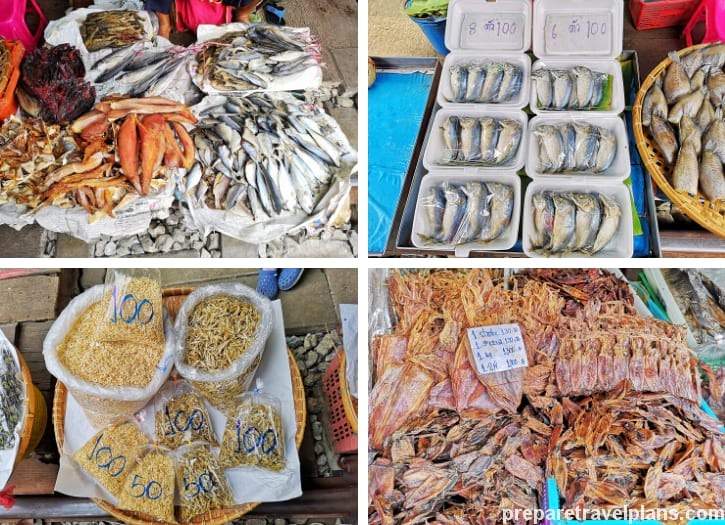 Dried fishes of different kinds are abundant in the railway market. These come in different sizes―small, medium, and even large ones.
With the amazing variety of dried fishes, you'll never run out of options! Surely, you won't have a hard time looking for dried fishes because there are heaps of stalls selling these.
For picky travellers, you have a decent option of fresh dried fishes packed in plastics and styro containers. The packaging will help avoid unnecessary smell when you travel back home.
Dried anchovies are other great finds you can buy along the railway. And to make everything more exciting, the dried products are not just limited to dried fishes. They have dried squids too!
Aside from dried fishes and squids, there's also an impressive display of dried foods in different sections. From red chilli peppers to white and violet onions, for sure you'll get all the needed ingredients for your food. Most of these dried foods are already packed in different sizes so you just pick at your convenience.
In addition to dried chillies, packets of curry powders and other spices are also on exhibit. Since these packed in smaller plastics, you'll enjoy some great savings compared to buying them in bottles from supermarkets.
Buy some tasty dried fruits
---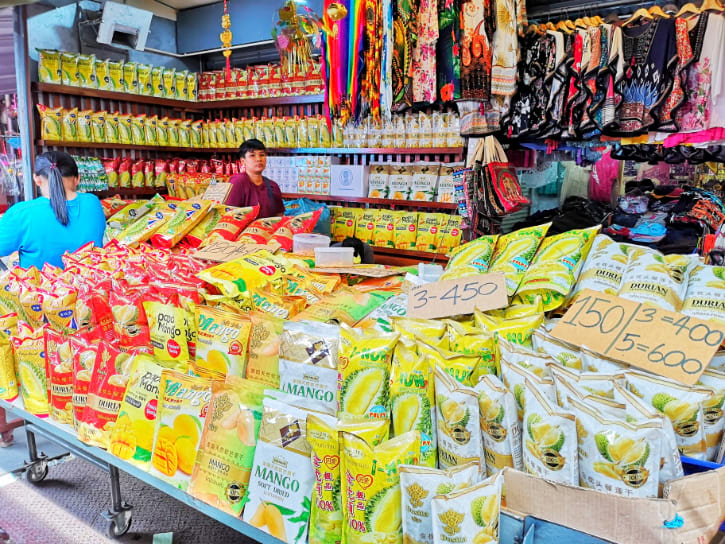 The next section of stalls is a bit more exciting. These shops are loaded with tasty dried fruits, which include the ever- interesting durian and always-delicious mangoes.
Crispy dried durians may be known for its strong smell and taste but these are actually healthy treats! Substitute these with your chips and chocolates for a more nutritious snack time.
With minimal distinct smell, dried durians are more manageable to eat compared to the fresh ones. So, if you're on the hunt for some unique yet tasty treats, durian candies are pretty much good options.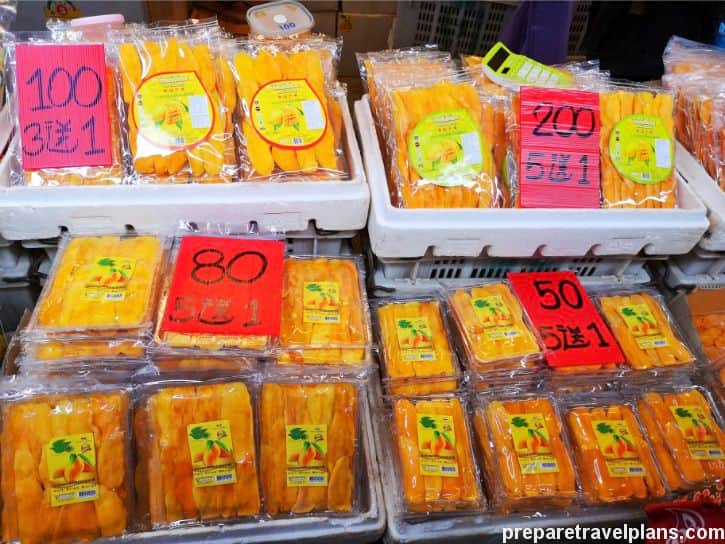 Dried durians aren't the only dried fruits popular among locals and tourists. Dried mangoes are also crowd favourites, especially that these are priced at more affordable rates.
Depending on the weight, there are dried mangoes sold at 80 or 100 Thai Baht. If you buy 3 dried mangoes, you get 1 free for 100 Thai Baht. And if you buy 5, you get 1 free for only 80 Thai Baht. You can even bargain the price so that you'll get it at a much cheaper rate!
Just make sure to apply the bargaining tricks before you start shopping. Know the price range of the dried mangoes first, then strike an offer to the vendors and haggle!
Stalls offering fresh vegetables
---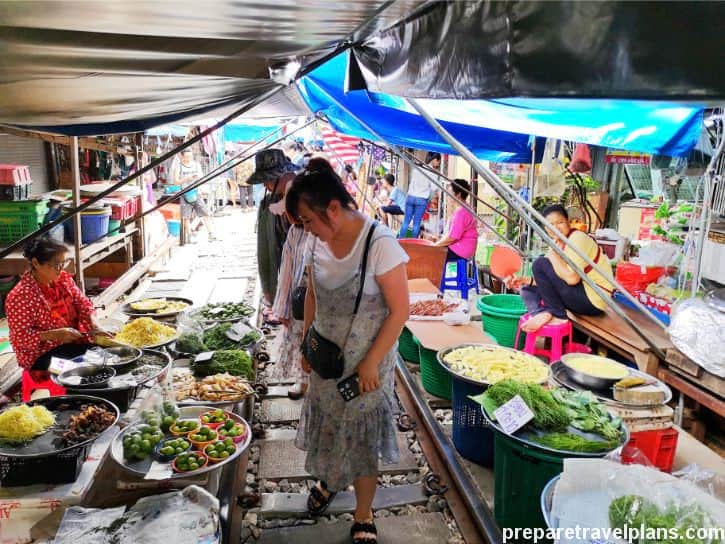 If you think that's all this unique market can offer, you got it all wrong! Continue strolling and you'll be surprised with the numerous stalls offering fresh vegetables and other products.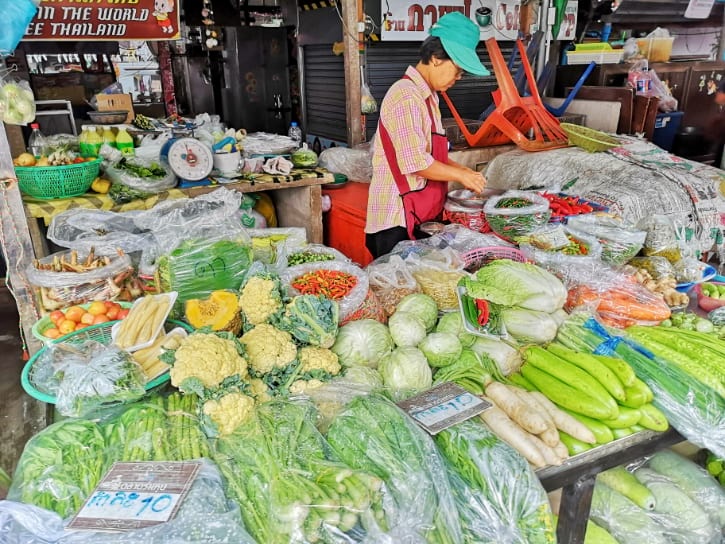 From limes to tomatoes and leafy veggies, you have everything you need right at your fingertips. Plus, it won't be that challenging to shop around because they have a wide assortment of veggies.
The vegetable stalls extend their products to the railway track and would simply move it once the train passes. It might appear tiring to move their items back and forth everyday but they are used to it.
If you want to prepare your own food, then you'll love this marketplace even more! You've got a whole lot of vegetable stalls waiting for you. They sell cabbages, cauliflowers, carrots, and more.
Moreover, you'll see other veggies, including white carrots, cucumber, onions, and bitter melon. And one of the best things when buying from a local market is that you can buy in smaller packs.
Shop your favourite fruits
---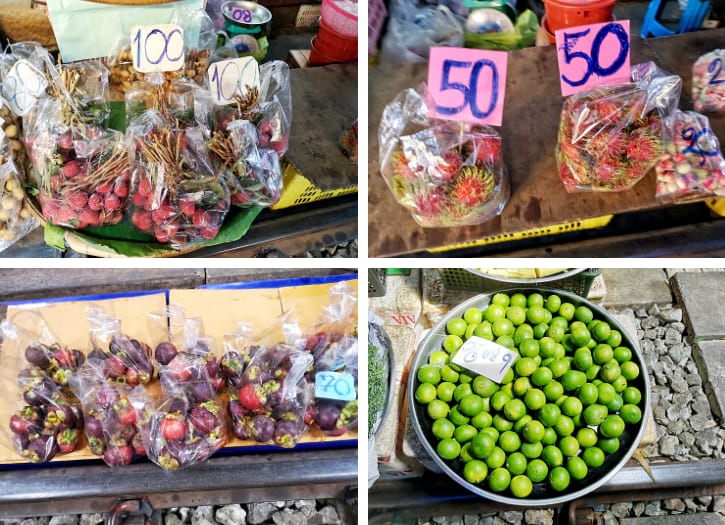 Here, limes can be bought in minimal amount. This way, you won't end up with lots of rotten vegetables because you can buy them in smaller portions.
If you want to save more money, you can also shop your favourite fruits from one of the market stalls. For those who love lychees, you'll be delighted to find a lot of these sweet fruits here.
Healthy fruits like mangosteens can be bought in plastic packs. These tropical fruits with sweet and sour taste are highly rich in antioxidants.
If you want more of this fruity goodness, keep walking around and you'll discover some rambutans. Just like lychees, rambutans are loaded with antioxidants and vitamin C, making it a perfect healthy snack option.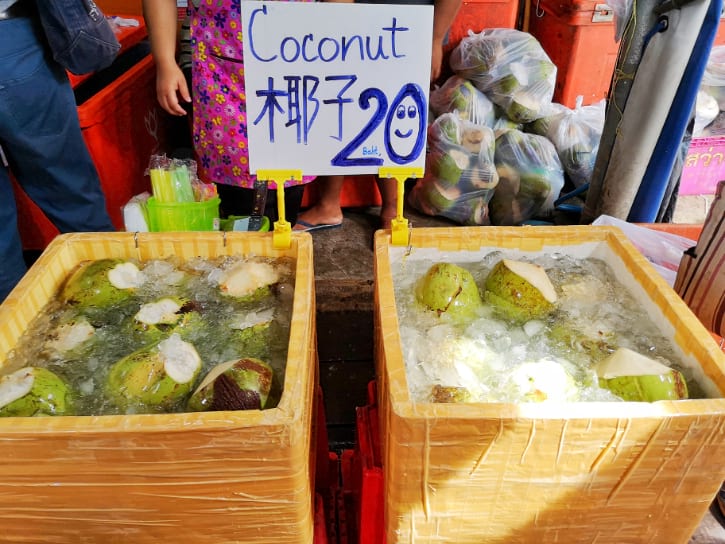 Of course, a great treat after a long day of shopping and waiting for the train are these cold coconuts. These refreshing drinks are perfect for a hot, sunny day trip to Maeklong Railway Market.
Seafood display
---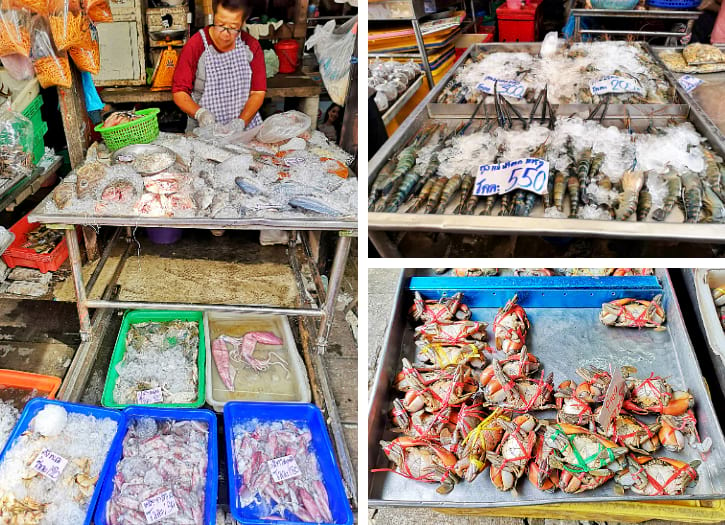 After having a quick fruit break, carry on with your shopping and visit some seafood stalls. The seafood options in the market are simply irresistible.
From prawns to squids to fishes, you have everything you need for your seafood cravings. The large prawns in the market are even fresher and cheaper.
Other than prawns, you'll also love the display of small and big crabs. There's a lot to do with these crabs. You can have them as delicious appetizers, mouth-watering seafood boils, or even tasty soups.
Colourful souvenirs and Thai dresses
---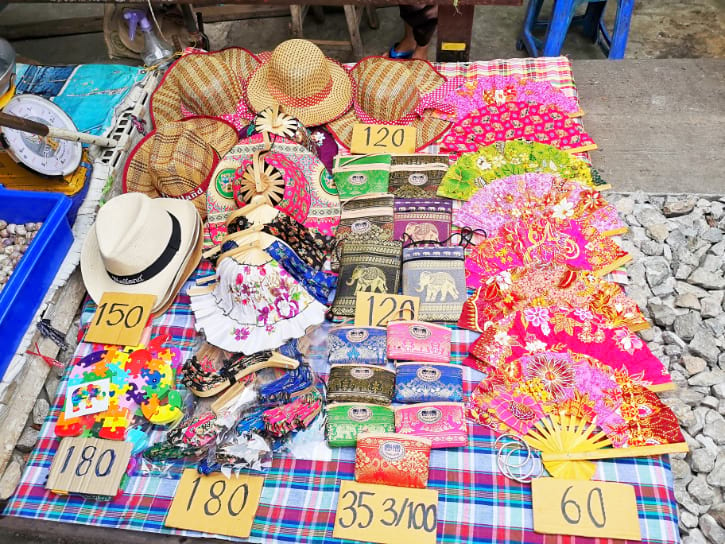 And to complete the wide assortment of items you can find in the market are these colourful souvenirs. Pick your favourite from this stall that sells vivid fans, pattered wallets, beautiful hats, and other unique products.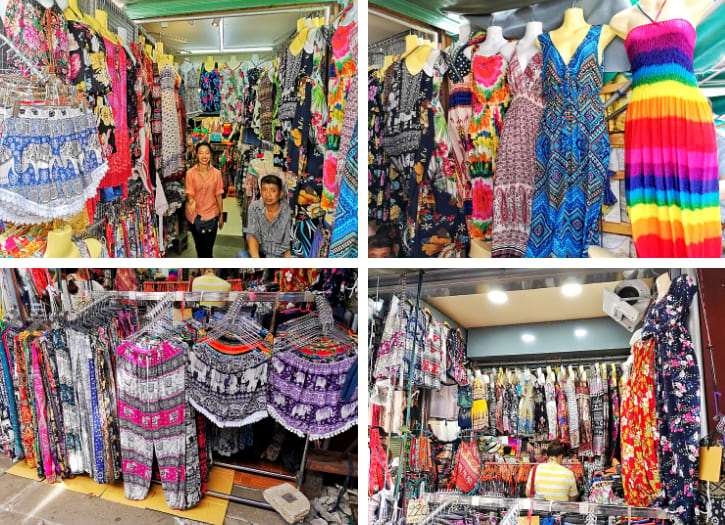 But wait there's more! These gorgeous, multi-coloured Thai dresses are also meant to catch your attention. Plus, these are worth your money. So, if you're looking for some show-stopping clothes, you'll definitely love this place.
Keep wandering around and you'll discover more Thai clothing, from dresses to boho shorts to printed tops. These items are perfect for those with a heart for fashion!
And if you want to have something that represents the beauty of the country, shop for Thai traditional pants. With different colours and patterns, for sure you have plenty of take-home items.
My Final Thought
There's a unique journey waiting for you at Maeklong Railway Market. This railway market gives you an experience that you wouldn't forget.
Maeklong Railway Market is one of the most distinct marketplaces in the country. It's located on a railway system, which means the train would pass through the market every day. And to the delight of the tourists, the train goes through the area not just once but eight times! With four arrival and four departure schedules, for sure you won't miss the moving train while shopping.
So, for those who want to have a rather exceptional adventure, Maeklong Railway Market is definitely worth visiting. Plus, this railway market is close to two tourist spots―Damnoen Saduak Floating Market and Amphawa Floating Market. This means that you can visit the two nearby attractions, along with Maeklong Railway Market, in one day.
If you're planning to see and experience all three markets, it's best that you take a tour. Here's a tour price that covers all three popular attractions. This tour will take you to your destinations conveniently and safely so you save time and money.
Thank you for reading my entire blog for Maeklong Railway Market. Hope you enjoyed and learned some valuable insights about this popular attraction in Thailand.
If you're planning to visit the market soon, you can bookmark the page for quick reference.
And if you have family members or friends visiting Thailand, then let them know about this beautiful tourist spot. Share this blog online via different social media sites like Twitter, Facebook, Pinterest, WhatsApp, and Gmail.
Hope you have the most wonderful trip to Maeklong Railway Market! 🙂
Discover Other Famous Attractions in Bangkok