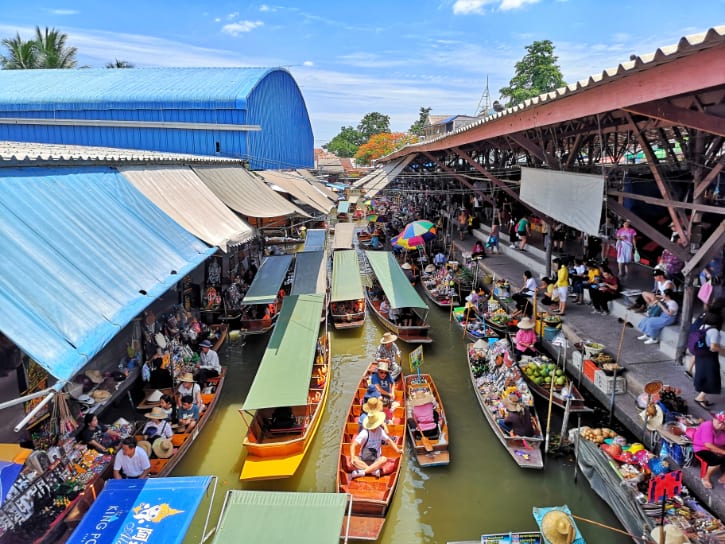 Damnoen Saduak is one of the most popular floating markets around Bangkok. It has a lot of amazing things to look forward to, from shopping to dining and strolling around. Because of this, it is explored by many locals and tourists every year.
I have visited Damnoen Saduak Floating Market with my wife during our holiday in Bangkok. Our trip was truly memorable and enjoyable because of the great selection of fresh finds, local foods, and unique items.
So, let me share all the best things you can do at the market, along with the best foods to try. I will also provide a step-by-step on how to go to Damnoen Saduak Floating Market from downtown Bangkok.
Now, it's time to reveal the beauty of this floating market through the detailed guide below. 🙂
Damnoen Saduak Floating Market Overview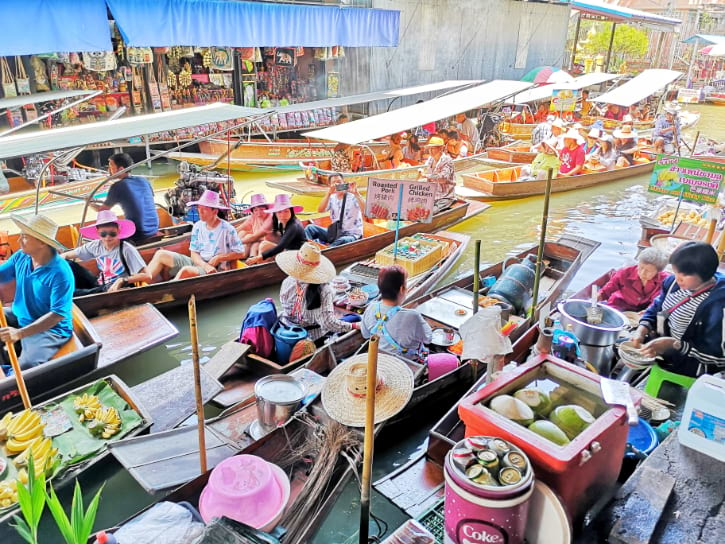 If you're looking for a vibrant floating market, Damnoen Saduak Floating Market truly makes up for a great Bangkok day trip.
This is such a famous floating market because of the vast number of locals doing business on wooden boats.
And with the abundance of local foods and unique pieces, it surely gives you a memorable market experience.
Plus, it offers many picturesque photo spots that showcase the beautiful Thai landscape and culture.
To give you a tip, the market is often the busiest in the morning.
Since there are plenty of things waiting for you at Damnoen Saduak, it best that you avail of the boat tour.
Then, make sure to try different foods and shop along the sides of the canals.
Things You'll See During the Damnoen Saduak Boat Ride
To best experience the Damnoen Saduak Floating Market, you have to ride a boat. This way, you get to explore different stalls while seeing the scenic waters up-close.
1. Scenic Boat Ride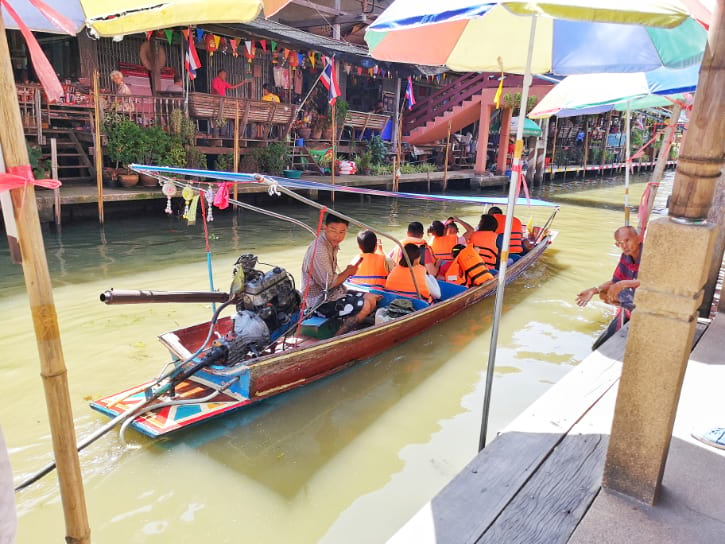 The boat ride allows you to discover the entirety of the area and gain a deeper insight into the local culture.
See all the beautiful things surrounding the market like the stilt houses and shops floating on the river.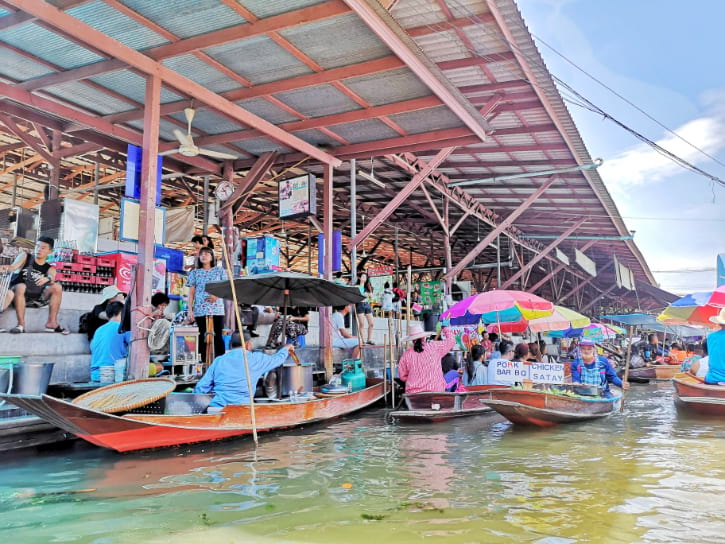 Get ready for a fun boat adventure, starting at the main canal. This is where you'll find many locals doing their business on the wooden boats. Each of these offers unique set of items, from fresh fruits to local dishes.
2. Impressive Local Items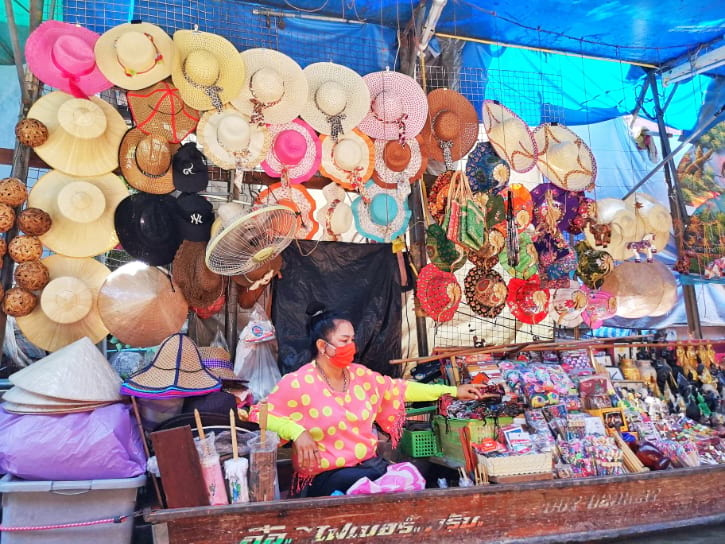 During your boat ride, you will see these conical hats in different sorts of patterns and colours.
Because of the abundant choices of handmade hats, you might end up buying one or more! And of course, these can be used during your trip.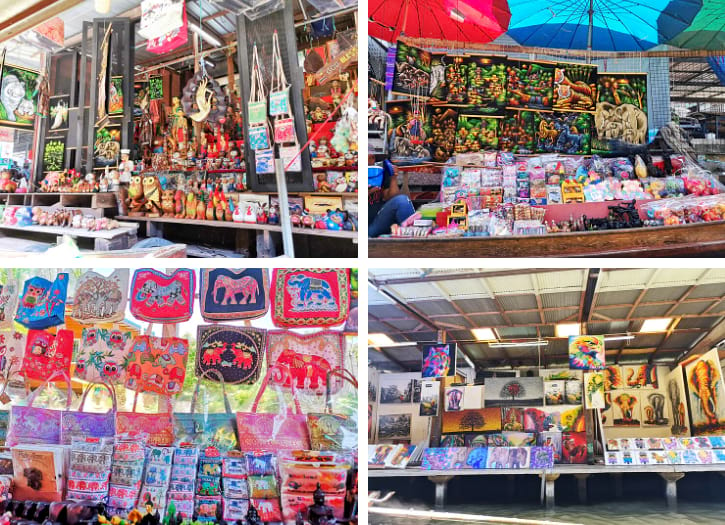 Also up for sale are some beautiful, handmade portraits. These are great tokens to buy along with the hats.
Some paintings showcase the iconic Thai symbols like tigers and elephants.
Handmade bags and other accessories are just around the corner too. These come in different patterns and designs.
3. Delectable Tropical Fruits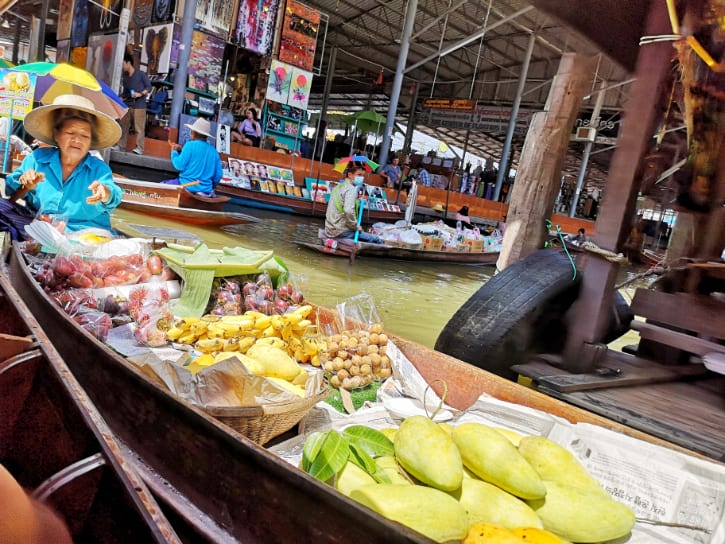 Also being sold around are these fresh and tasty tropical fruits.
It's best that you start your day with these fruits so that your body will absorb the nutrients easily.
Some of the fruits you'll see around are pink rose apples and mangoes―both green and yellow ones. Rambutan, bananas, and langsat are present too.
4. Classic Tilt Houses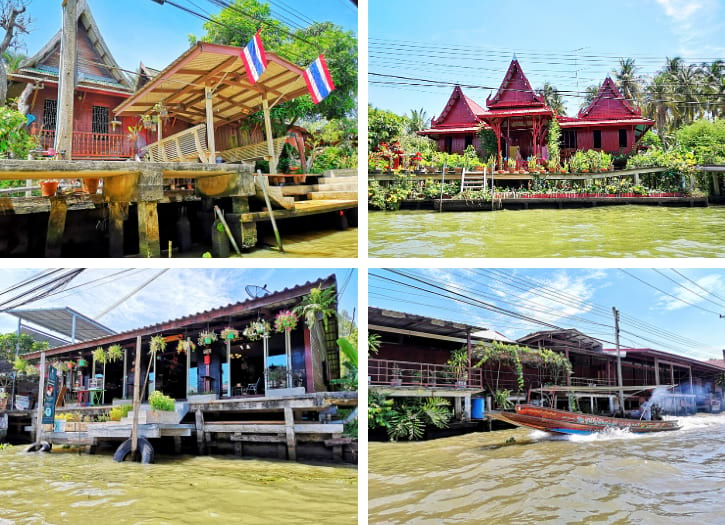 Aside from busy boats and vibrant stalls, you'll come across the traditional houses of the locals.
Stilt houses are common sights in this water-surrounded tourist spot. These are structures constructed on a body of water.
Catch a glimpse of the country's history through these old Thai houses. Most of these local dwellings beautifully outline the canal.
Must-Eat Food at Damnoen Saduak
To fully enjoy your Damnoen Saduak Floating Market adventure, make sure to try different local dishes. And, you won't be disappointed with the options at hand.
1. Boat Noodle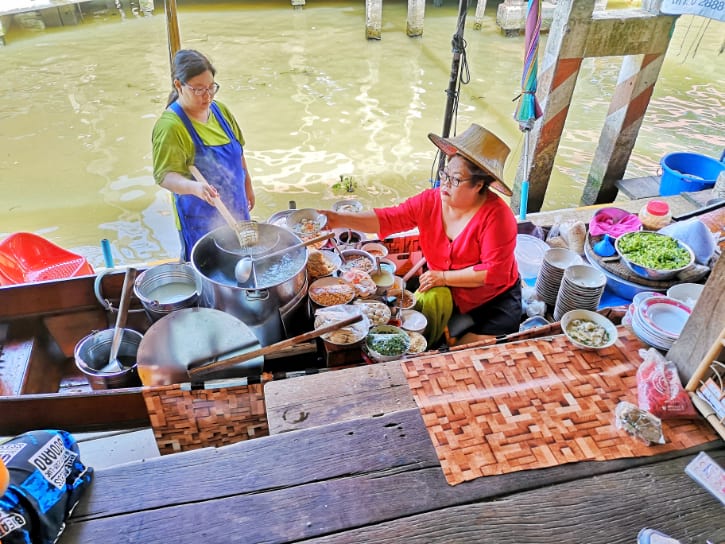 Kick off your food trip with the hot, tasty noodles from Jay Muay Noodles. This popular boat noodle serves a lot of noodle variations, which are priced at 60 Baht.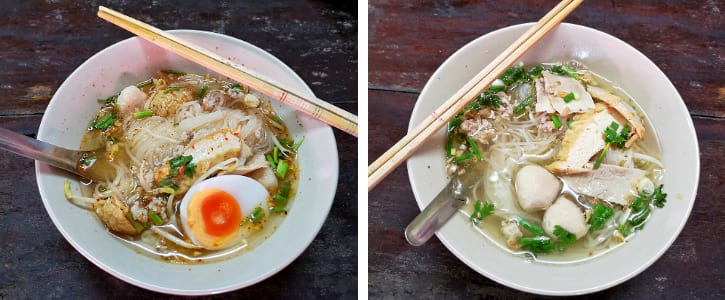 One of their best-sellers is the Tom Yum noodles. This is a spicy seafood soup loaded with noodles, shrimps, and other spices.
This food is something that you shouldn't miss at Damnoen Saduak Floating Market. It's because these noodles are quite difficult to find in Bangkok.
2. Coconut Ice Cream and Pancakes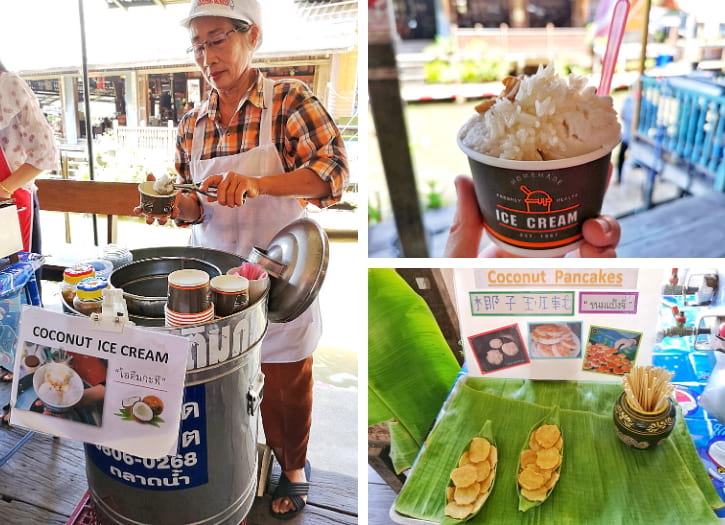 Coconut ice creams are all over the market. Enjoy a scoop of this delectable, homemade coconut dessert.
Mini coconut pancakes are also famous desserts that deserve a mention.
Both of these local desserts are sold at 40 Baht each. So, grab a bite and share these appetizing snacks with your friends.
3. Mango Sticky Rice and Boiled Rice Soup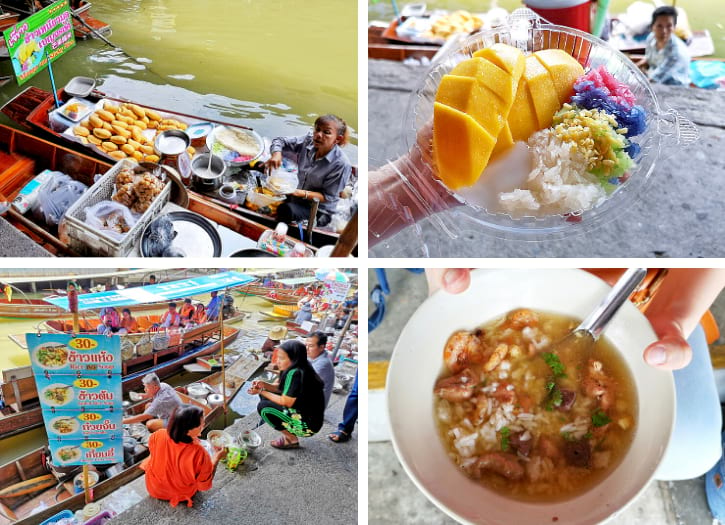 Fill your stomach with a boiled rice soup served fresh from the wooden boat. This is such a perfect treat after a long day of walking and shopping. And, it's just for 30 Baht!
In between your adventure, make sure to savor the famous mango sticky rice. This famous Thai dessert is loaded with sticky rice, coconut milk, and fresh, sweet mango. Plus, it's only being sold at 50 Baht.
Damnoen Saduak Food Court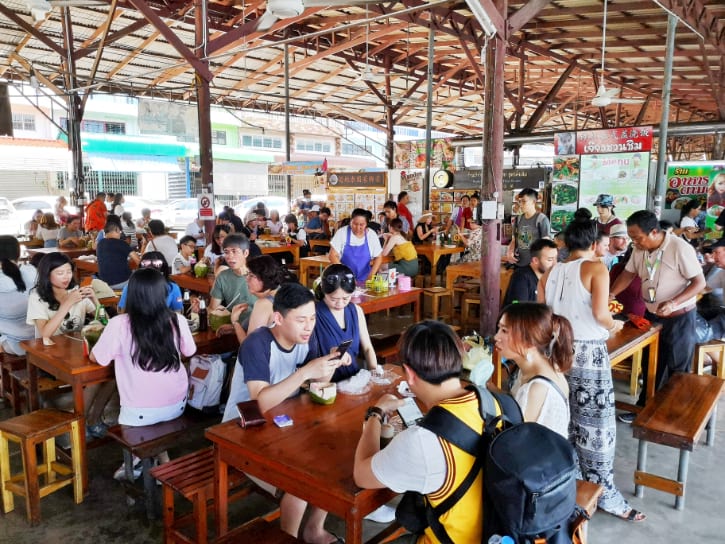 For a more satisfying food trip, head to the food court in the market.
Here, you get to seat comfortably while devouring some tasty local dishes. Along with the delectable foods, the views here are beautiful too.
So, if you want a full course lunch, this is the best place to go.
Unique Items to Shop
But of course, Damnoen Saduak also offers a lot of shopping items. These include handcrafted pieces, trendy clothing, and cheap souvenirs.
1. Special Local Finds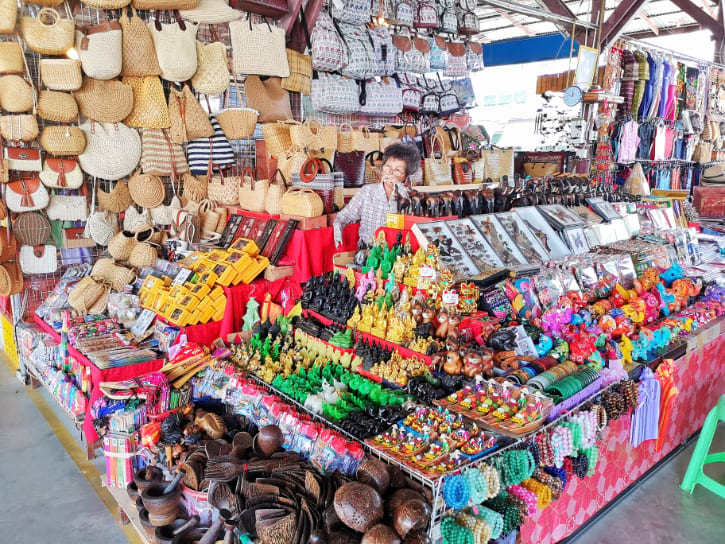 Some of the unique things on display are these Buddha statues.
Wooden kitchenwares are also captivating items, along with these fancy handmade bags.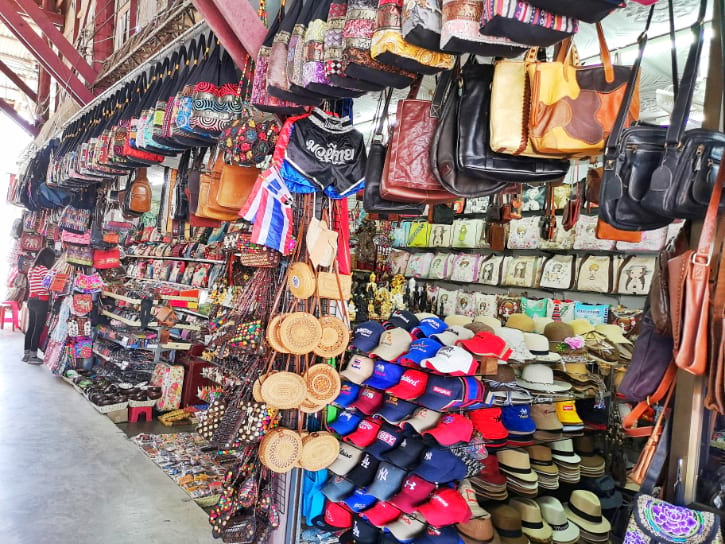 Go through the exhibit of bags in each stall and check out the different styles.
There are bags with simple designs and those with fancy embellishments.
2. Vibrant Clothing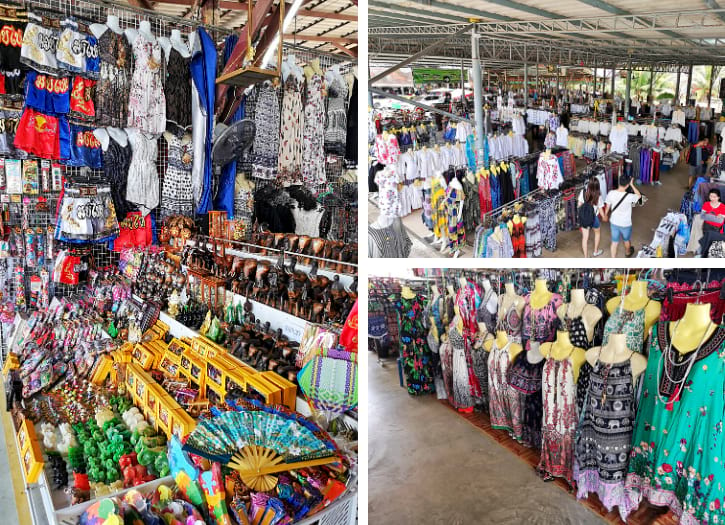 Wander around and you'll come across this section filled with Thai clothing and fashion essentials. These include some hippie pants, patterned dresses, and casual shirts.
Though these are very eye-catching, the prices at Damnoen Saduak Floating Market are a bit expensive.
Generally, this market place is a nice place to stroll around but not that budget-friendly when it comes to clothing.
So, if you want cheaper fashion items, I'd suggest you go to Pratunam Market or Chatuchak Market in Bangkok. These two markets sell a lot of trendy clothes at an affordable price.
Where to Explore Next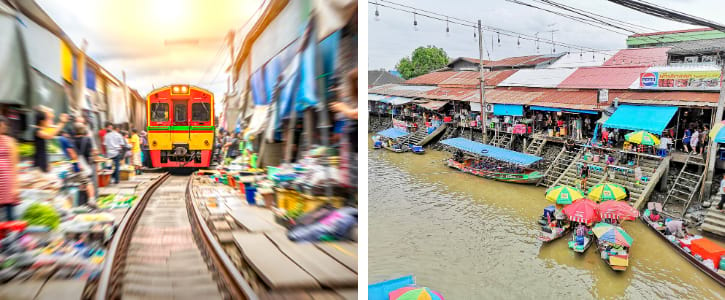 After touring Damnoen Saduak Floating Market, I recommend that you visit nearby markets. The closest markets are Maeklong and Amphawa.
Both are also very popular among locals and tourists alike. It's because these two not just offer ample local foods and items but also beautiful photo opportunities.
Take your time to read my detailed Maeklong Railway Market and Amphawa Floating Market articles. You can also consult my 5 days in Bangkok itinerary to get more ideas on how to add these marketplaces in your travel plans.
3 Ways to Go to Damnoen Saduak Floating Market from Bangkok
There are 3 ways to reach Damnoen Saduak Floating Market if you are from the city center of Bangkok. These are via public bus, shuttle bus tour, or private tour. Normally, the travel time to the market is around 1 hour and 45 minutes.
In my case, I personally took the second option, which is the shuttle bus tour. I will explain in detail why I picked this one, along with the other transport choices.
1. By BTS Skytrain and Public Bus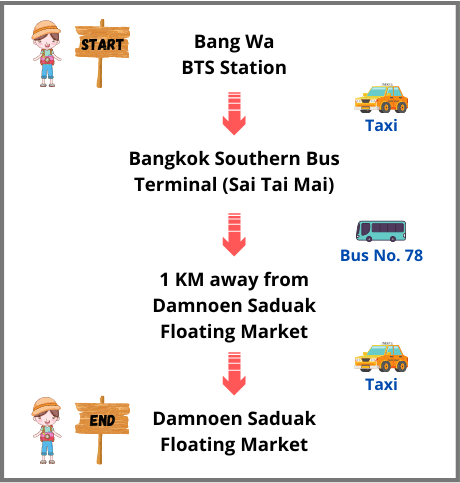 To get to Damnoen Saduak Floating Market from Bangkok, ride the BTS Skytrain to Bang Wa Station. Then, catch a taxi going to Bangkok Southern Bus Terminal (Sai Tai Mai). From there, take bus #78 to Damnoen Saduak. The total journey time is around 2 hours, with a cost of about 50 Baht per way.
The bus starts operating at 6 AM and leaves every 40 minutes. Since bus #78 drops you about 1 km away from the floating market, you need to take a taxi again to reach the market.
Upon arrival at Damnoen Saduak market, hop aboard the electric boat and tour around the floating market. The entire boat ride lasts for about 1 hour.
This costs around 800 Baht per person, or roughly 1500 Baht per boat. Beware of scammers because they might charge you 2000 Baht per person for 1-hour boat ride.
2. Join a Tour (Shuttle Bus)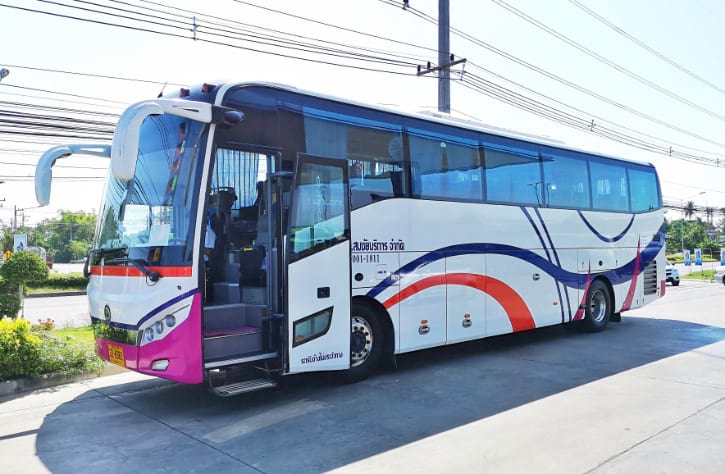 For an easy and fast way to go from Bangkok to the Damnoen Saduak Floating Market, it's best to join a bus tour.
I personally joined this popular bus tour in Bangkok because of its convenience. Everything is well taken care of, so all you have to do is relax and wait for your destination.
Another reason why I opted for this transport option is because of the notorious scamming in the place. Most of my friends told me about many dishonest boat operators, overcharging the boat rates.
So, if you want to avail of this one, check the tour price here. You'll be surprised because the rate is actually is not that expensive.
Plus, you'll be supported by a local tour guide who is very professional, highly informative, and well-versed in English. Along with that, you will be given tips on where to eat in the market.
3. Take a Private Tour (Car/Van)
The third option is the private Damnoen Saduak Floating Market tour that comes with a car or van as transportation.
This might be the fastest way to reach the market. However, it's a bit expensive compared to taking a group tour in Bangkok.
To know the rates ahead, see the private tour price here.
On the good side, this one offers hotel pick-up and drop-off services. That's why this is highly suitable for those with senior parents. Surely, this is a nice option for the entire family or even groups of friends.
So, we've come to the ending section of my article. Thank you for taking your time to read my Damnoen Saduak guide. I hope you find it instructive and useful for your upcoming trip. 🙂
All I can say is that Damnoen Saduak Floating Market really deserves to be part of your plans when visiting the Bangkok. It's a great side trip from the city if you want to experience a special market in Thailand.
Related Posts