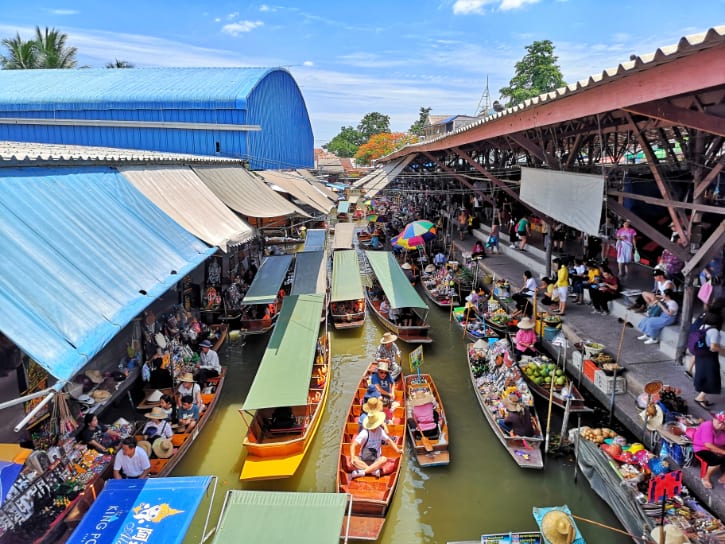 Planning a day trip from Bangkok to Damnoen Saduak Floating Market? Here's a quick guide for you to know how to reach this famous floating market easily.
Actually, you have 4 ways to go to Damnoen Saduak Floating Market if you plan to depart from the downtown Bangkok. I'll show you these 4 transport options including which one is the best and easiest way of getting there.
In addition, I'll also let you know the travel time and cost to the floating market so that you can plan out your schedule in advance to save both time and money.
And to make your Damnoen Saduak Floating Market trip more successful and unforgettable, I'll share with you my personal experience of visiting the market. These include the best things to do and eat at the floating market, along with some useful tips.
All in all, this guide will help in planning your Damnoen Saduak Floating Market trip from Bangkok ahead so you'll enjoy your visit even more!
Let me start sharing with you how to reach this floating market conveniently.
4 Ways to Get from Bangkok to Damnoen Saduak Floating Market
---
1. By BTS Skytrain and Public Bus
---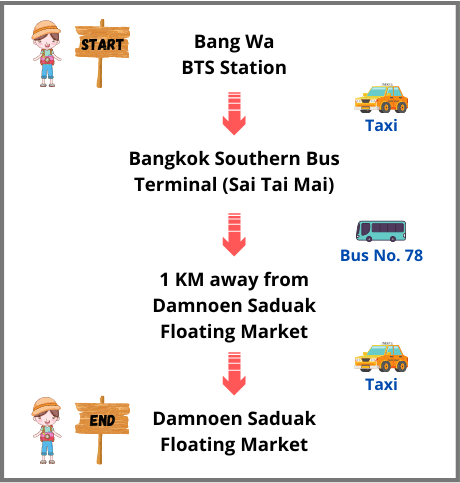 Why you should take the public bus?
Cheapest but slow
Taking a public bus to Damnoen Saduak Floating Market is the cheapest option. The first step is to take BTS Skytrain to Bang Wa Station and then catch a taxi to Bangkok Southern Bus Terminal (Sai Tai Mai).
There is no metro station near to the bus terminal. So, you need to take a taxi to the bus terminal which is just 10 km away from Bang Wa Station.
Once you reach Bangkok Southern Bus Terminal (Sai Tai Mai), you can take the bus #78 to Damnoen Saduak Floating Market that leaves every 40 minutes.
The bus is available starting 6 AM and cost about 50 Thai Baht per way. From downtown Bangkok to Damnoen Saduak Floating Market, the travel time is around 2 hours.
The bus #78 will drop you about 1 km away from the floating market. After you get off the bus, you need to take a taxi to the market.
When you reach the Damnoen Saduak market, you can ride an electric boat to get around the floating market. The electric boat ride at Damnoen Saduak Floating Market costs about 800 Thai Baht per person or 1500 Thai Baht per boat. Try your bargaining skills so you can lower the price. The entire boat ride lasts for about 1 hour.
And, beware of scammers that will charge 2000 Thai Baht per person for 1 hour boat ride.
2. Take a Tour by Bus
---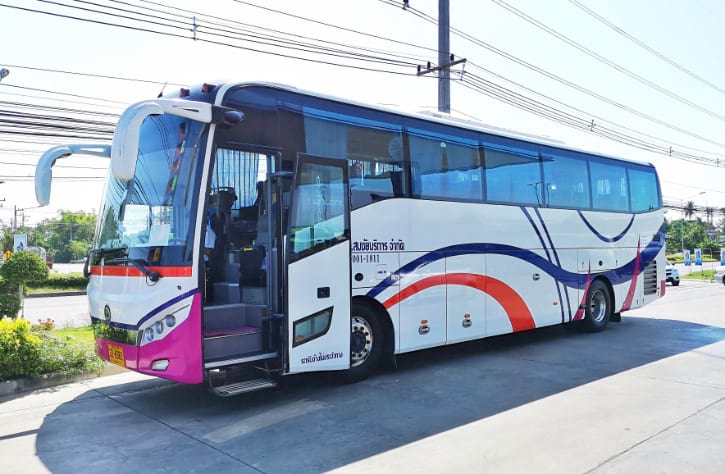 Why you should take a tour?
Easy, fast and save time plus reasonable price
The second option is by taking a tour. This is a convenient and safe way to go to Damnoen Saduak Floating Market from Bangkok. Moreover, the price is not that expensive. So, if you're on a tight budget, this one is a great choice.
Here are 8 reasons why you should take a tour to Damnoen Saduak Floating Market:
Well-organized. No need to plan an itinerary to Damnoen Saduak Floating Market because this is all covered by the tour.
Secure, convenient, and comfortable. Unlike other transportation options, you'll get to the floating market in no time. You don't have to transfer from one ride to another, hence making it super convenient.
Direct transport to Damnoen Saduak Floating Market. With the tour, you can skip unnecessary routes and go directly to your destination.
Local expert guide. Don't miss the highly recommended foods with the help of an expert local tour guide. You can easily consult your tour guide and ask everything related to the floating market.
Less worrisome transportation. Instead of worrying how, when, and where to take the public bus, taking a tour makes everything more relaxed.
No to boat operator scams. When you book a tour, the boat ride is already included in the package. This means that dishonest boat operators couldn't take advantage of you by offering overcharge rates.
Avoid taxi scam. Another possible unfortunate event if you go on your own is getting scammed by unscrupulous taxi drivers. There are taxi drivers who wouldn't use the meter and will charge you with a fixed and higher rate.
Cheaper than taxi. Did you know that a group tour package is much cheaper than taxi? So, if you take a tour, you don't just keep yourself away from taxi scams, but also save money.
Assembly Locations:
The assembly areas are just located outside of Victory Monument BTS Station, Exit 2 (Century Mall) and Siam BTS Station, Exit 5 (Siam Paragon).
Here's my feedback on the tour I took during my trip to Damnoen Saduak Floating Market
---
During my visit to Damnoen Saduak Floating Market, I took the tour in Bangkok and was satisfied with the service. The tour guide was professional, highly informative, and well-versed in English.
More than that, the local tour guide provided us with significant tips as well as basic Thai shopping phrases. This really helped us bargain prices from different stall vendors.
Aside from shopping, the tour guide also gave recommendations on where to eat and gave us food prices ahead. With our knowledgeable, funny, and accommodating tour guide, it made our entire trip to this floating market more enjoyable.

Also, the tour isn't pressed with time. Instead, we were given more than enough time to roam around, shop, and dine in different spots in the market. Above all, the rate already includes three attractions―Damnoen Saduak Floating Market, Amphawa Floating Market, and Maeklong Railway Market. All necessary expenses are also covered like the transportation service and 60-minute electric boat ride.
Though it's possible to have a DIY tour of the three attractions, it might be challenging. Public transports surrounding these tourist spots are not that well-established, hence higher chance of getting lost and wasting your time.
Overall, I am completely satisfied with the tour. Highly recommended, with no hidden cost! So, if you want to visit these three popular attractions in just one day, then take a tour.
There are 3 packages on offer:
Damnoen Saduak Floating Market & Maeklong Railway Market
Damnoen Saduak Floating Market, Maeklong Railway Market & Amphawa Floating Market

(I chose this package)

Maeklong Railway Market & Amphawa Floating Market
Kindly take note that the tours include Amphawa Floating Market attraction only available from Friday to Sunday. It's because this market is closed from Monday to Thursday and only open from Friday to Sunday.
And during my trip, I was lucky to avail of the Damnoen Saduak Floating Market, Maeklong Railway Market & Amphawa Floating Market Tour.
Know more about the package prices, assembly time, and schedules of the tour with the given link below.
3. Private Tour by Car
---
Why you should take the private tour?
Fastest and secure but expensive
The third option is the Private Tour, which might be the fastest and most secure way to reach Damnoen Saduak Floating Market from downtown Bangkok. However, this a bit expensive compared to taking a group tour.
But if you wouldn't mind spending extra money for a stress-free trip, then the private tour is the best.
When you book a private tour, you will be given an informative, helpful guide who can assist all throughout. There will be hotel pick-up and drop-off services so you won't have to deal with busy and crowded public transports.
And since these are local tour guides, they can help you with all the ins and outs of the attractions. You can ask for recommendations, from top food spots to best photo opportunities to famous souvenir stalls.
Plus, there's no need to worry about possible scams because the tour already comes with the transportation and boat ride. Not just that, if you avail of a private tour, two other attractions are included―Maeklong Railway Market and Asiatique the Riverfront.
So, for those travelling with the entire family or group of friends, the private tour is recommended. Also, it's highly advisable for those with senior parents and mobility-disabled persons.
Check out the link below to get more information about the rates and itinerary, including the departure and return times.
4. By Taxi
---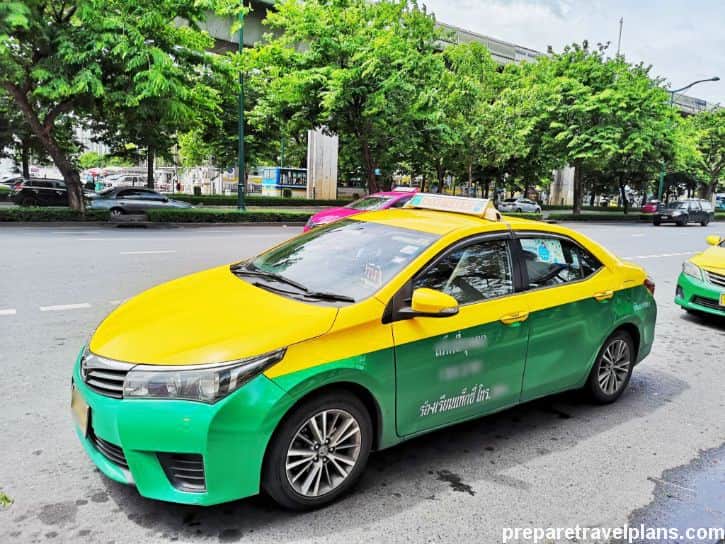 Why you should take the taxi?
Fastest but expensive – Beware of scam
Last option is by taking a cab going to Damnoen Saduak Floating Market. This is probably the fastest mode of transportation but could also be the priciest, especially with its traffic jam. So, make sure you consider the possible high taxi fare because of traffic.
And before you hop into the taxi, check if the meter is working. If it's not or they don't want to use the meter, better get another cab so you won't get scammed. Unfortunately, taxi scams in Bangkok are quite popular, with taxi drivers overcharging tourists.
Scam Alert:
When going to Damnoen Saduak Floating Market, there are some taxi drivers quoting you with cheap taxi fare. However, the scam starts when they take you to opportunist boat operators who charge overpriced boat ride fee. Instead of the normal 1500 Thai Baht per boat, these unscrupulous people offer you 2000 Thai Baht per person! To top it all, you will be gathered all together with other unsuspecting tourists.
Another famous scam is when taxi drivers take you to a recommended boat operator who'll offer you a higher price. Then, this taxi driver pretends to support you and be on your side by bringing you to another boat operator. Now, this second boat operator quotes you a cheaper price but little did you know that this is still overpriced!
So, keep in mind the normal rates before you take the boat ride.
Why You Should Visit Damnoen Saduak Floating Market
---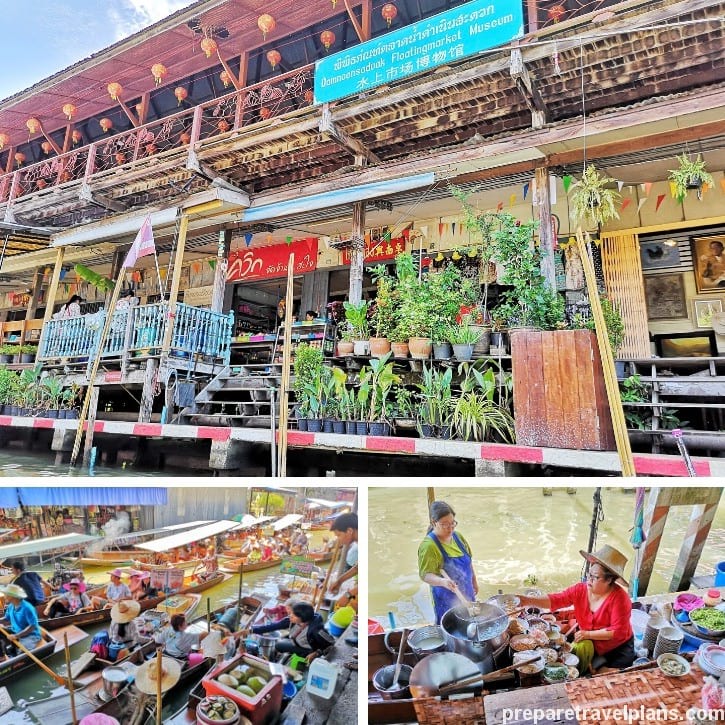 With network of waterways and canals, floating markets are very popular in the country. And one of the many go-to floating markets among locals and tourists is the Damnoen Saduak Floating Market.
The place is such a famous floating market because of the vast number of locals doing business on wooden boats. And with the abundance of fresh finds and local foods, this market surely gives you a unique and memorable experience.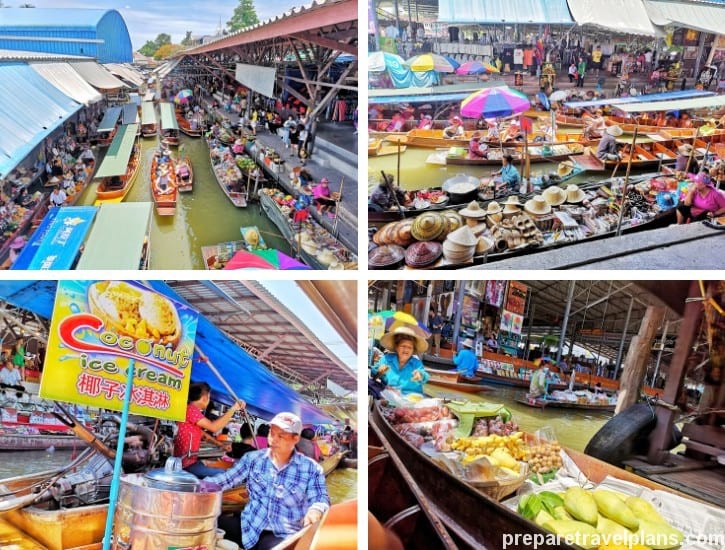 Furthermore, this floating market is well-known for its picturesque photo spots that showcase the beautiful Thai landscape and culture.
So, experience a rather interesting way of shopping, dining, and exploring a place filled with boats instead of cars.
5 Important Things to Know Before Going to Damnoen Saduak Floating Market
---
1. Head to Damnoen Saduak Floating Market in the morning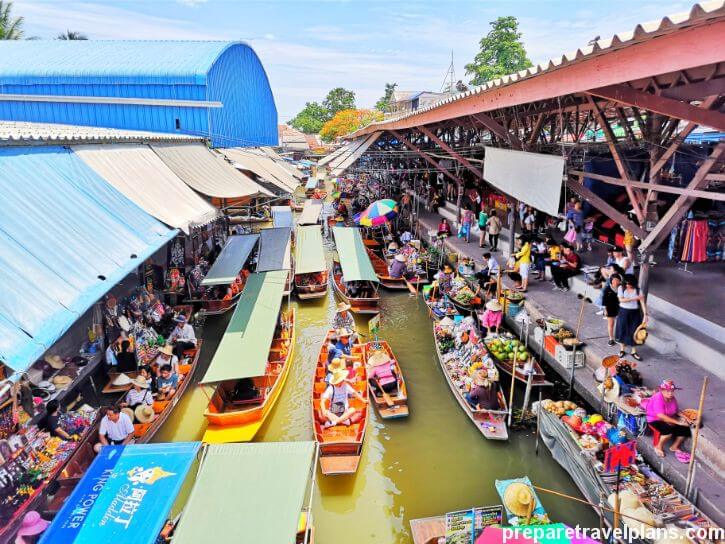 Ideally, it's best to take the boat ride in the morning so you won't have to endure the intense heat. Also, Damnoen Saduak is much livelier in daytime because of the number of colourful boats and abundant items on display. Come afternoon, there are only limited sellers with limited goods, hence lesser sights to see.
2. Focus on taking good pictures while on-board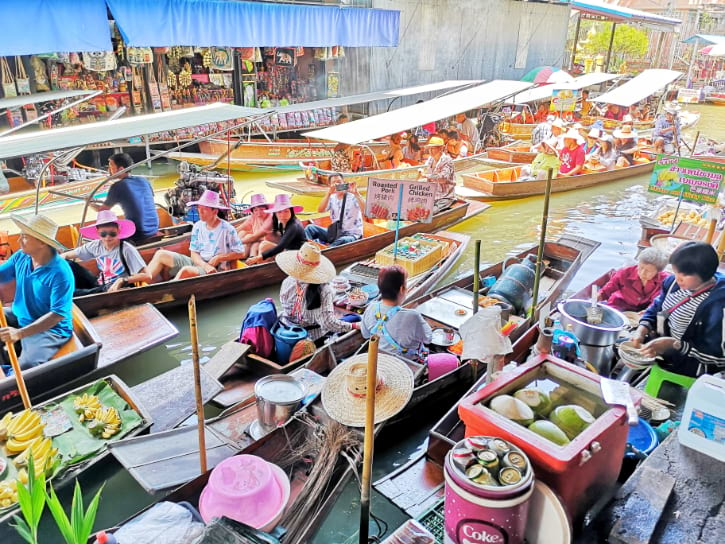 Since the boat ride itself is a unique experience, don't miss the opportunity to take some picture-perfect photos. Strike a pose during the scenic water ride and take pictures of the place surrounded by colourful backdrops.
Right after, you can take your snack or go shopping, along the sides of the canals. Exploring on the ground gives you a higher chance to easily bargain with the vendors.
3. Indulge in delicious Thai Foods at the Floating Market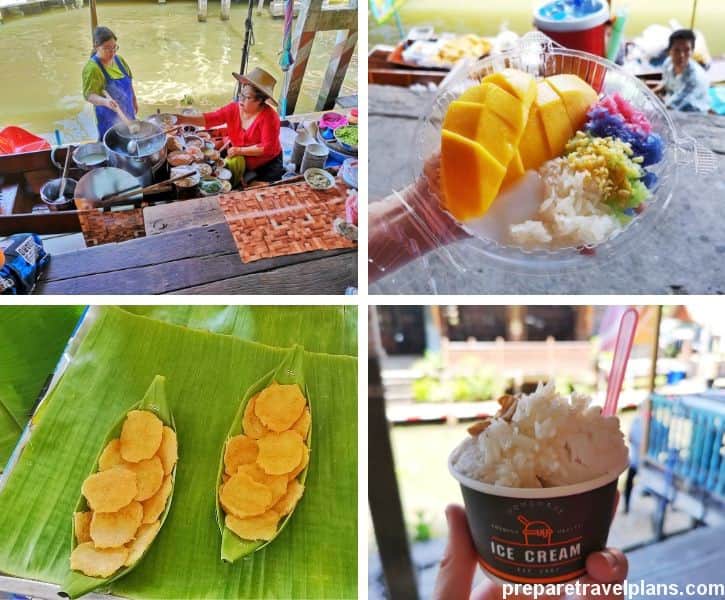 You'll never go hungry here. From left to right, there's a wide selection of tasty desserts and authentic foods on display.
For a more fulfilling trip, enjoy some sweet treats such mango sticky rice, mini coconut pancakes, and coconut ice cream. If you need a hot and flavoursome dish, try the ever-satisfying boat noodles.
You can find plenty of fresh coconuts in the market, but make sure not to drink more than two. Drinking too much might cause you diarrhea! 🙂
Here's a price list of the foods sold in the market for quick reference.
Boat Noodles – 60 Thai Baht
Mango Sticky Rice – 50 Thai Baht
Mini Coconut Pancakes – 40 Thai Baht
Coconut Ice Cream – 40 Thai Baht
Coconut – 30 to 40 Thai Baht
4. Familiarize some basic Thai phrases for shopping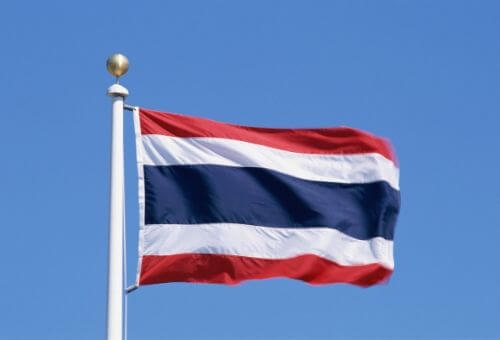 Shop around the floating market with the help of some basic Thai phrases. It's best to equipped yourself first with simple yet very useful Thai words so that you can shop conveniently.
Hello – Sawadee Krap (Male)/ Sawadee Ka (Female)
How Much – Thao Rai
Discount – Loht
Yes – Dai
No – Mai
Thank You – Khop Khun Krap (Male)/ Khop Khun Ka (Female)
5. Know some tactics when bargaining for souvenirs and goods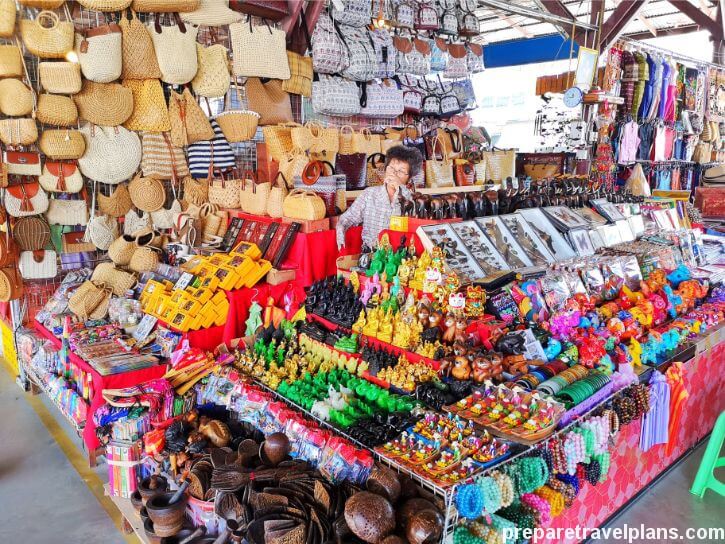 Before buying souvenirs, make sure to try visiting other stores so that you have an idea of the price range. Know the different prices first for you to easily bargain with the sellers.
When you bargain, start by cutting the price to 70% and see how they respond. If they won't accept it, counter offer it to 60%. If they still refuse, pretend to leave. When they didn't give you any response, this means that the seller offers you the last price.
More often than not, souvenir stalls would accept to cut the price to 50%. So, don't be shy to bargain with the sellers so you'll save money.
Exploring Damnoen Saduak Floating Market by Boat
---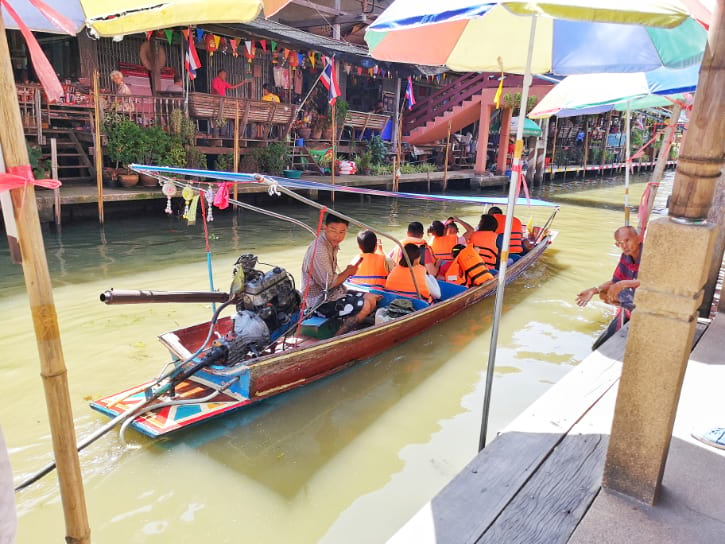 Bursting with lively crowd and vivid ambience, Damnoen Saduak Floating Market is no doubt a remarkable tourist spot in Bangkok. And the best way to wander around this charming place is by boat.
Compared to simply walking along sides of the canal, the boat ride allows you to explore the entirety of the area and gain deeper insight of the local culture. See all beautiful things surrounding the market like the stilt houses and shops floating on the river.
The queue for the boat ride could be long, especially during peak seasons. But don't worry because there are lots of electric boats in line, patiently waiting for tourists.
These boats come with a roof to keep you protected from the heat. Also, life jackets are already included in each boat for safety purposes.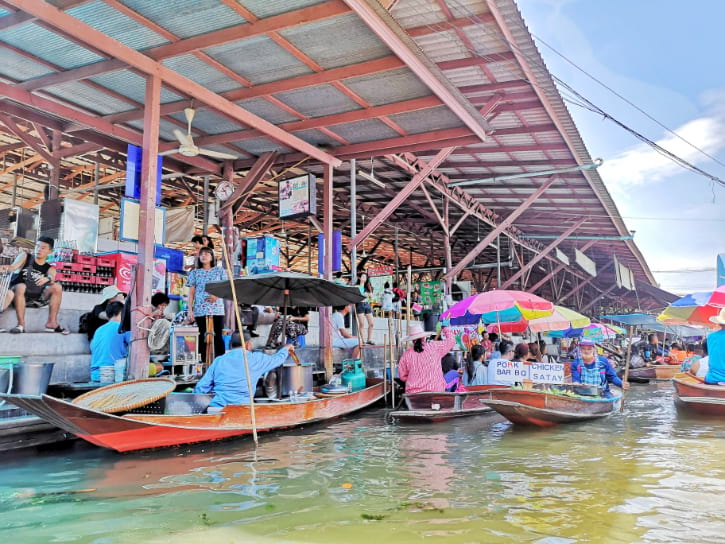 Welcome to Damnoen Saduak Floating Market! This isn't your normal shopping/ dining adventure as you explore around the market by boat.
Wooden boats with multi-coloured umbrellas are everywhere―just like all the vibrant stalls and stuff surrounding the waterway.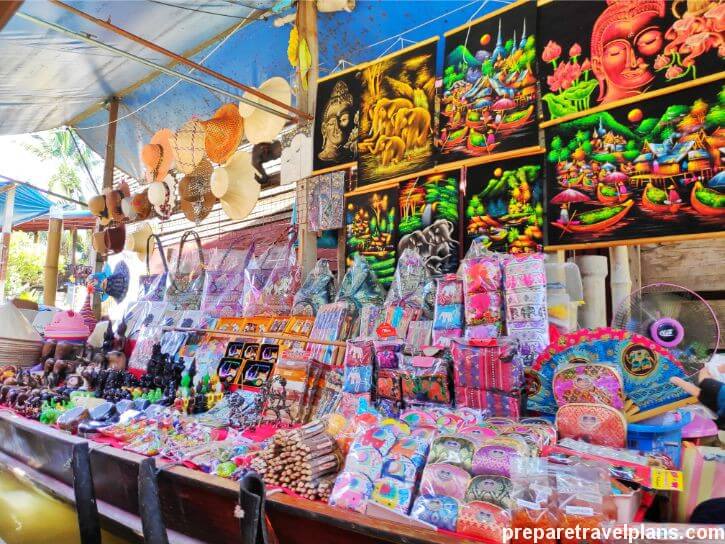 If you need a new bag, might as well get a local and authentic piece from one of the stalls. Lots of bags in different colours and designs are sold at cheaper prices.
Aside from colourful and patterned bags, there are also lovely handicrafts that display the striking Thai arts and culture.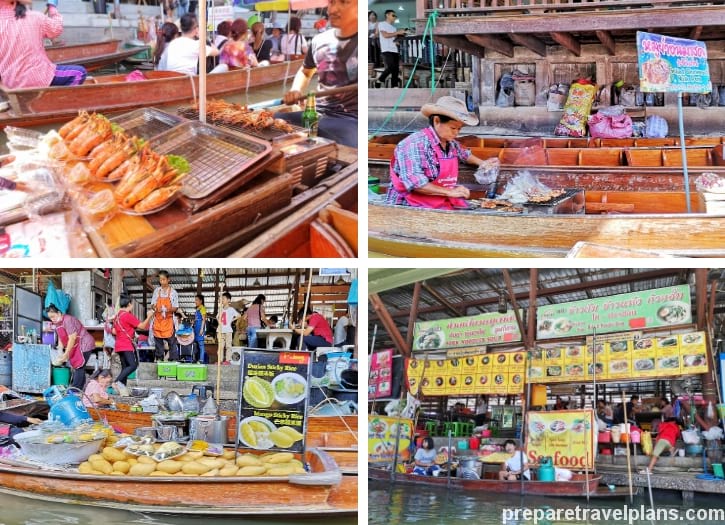 During your boat ride, you will pass by several boats selling mouth-watering foods. One of the top choices you can get are fresh grilled prawns.
But, there's more to this floating market than its delicious seafood. Make sure to try the appetizing Tom Yum Kung and Pad Thai. If you want a more satisfying meal, visit the local restaurant in the area that serves tasty, authentic Thai dishes.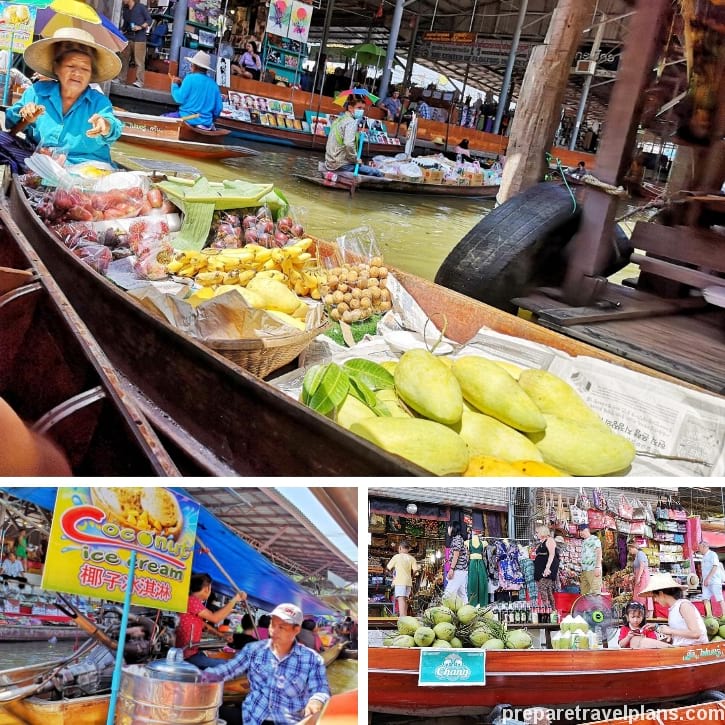 Fresh tropical fruits are also being sold around. It's best that you start your day with fruits so that your body will absorb the nutrients easily. Some of the fruits you'll see around are pink rose apples and mangoes―both green and yellow ones.
If you think that's all you can find, wait there's more! Rambutan, bananas, and langsat are also present.
But of course, you can't miss the famous coconut ice cream. Beat the heat with this popular cold treat that is both refreshing and nutritious.
Get more coconut goodness by drinking fresh coconut juice! But don't get too addicted though or else you'll end up with an upset stomach.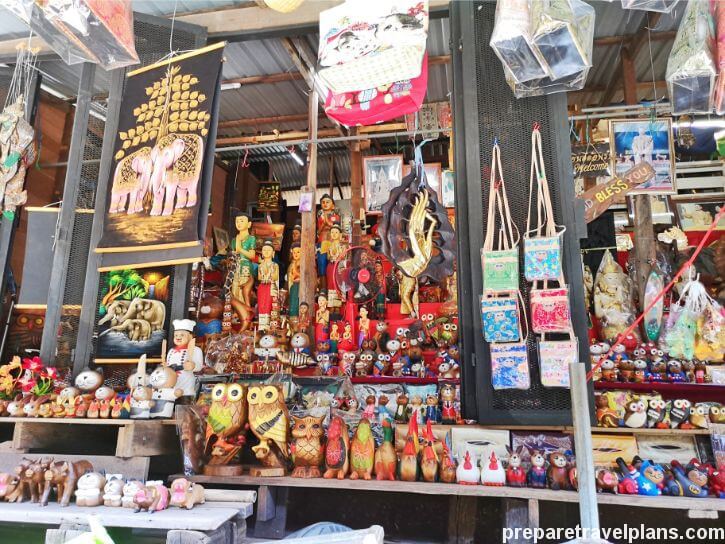 Foods aren't the only thing you'll love at the place. And if you miss the first souvenir stalls, no need to fret because you'll find more shops along your trip.
More souvenirs are put on display. Wander your eyes around the array of wooden carvings of various sizes and designs.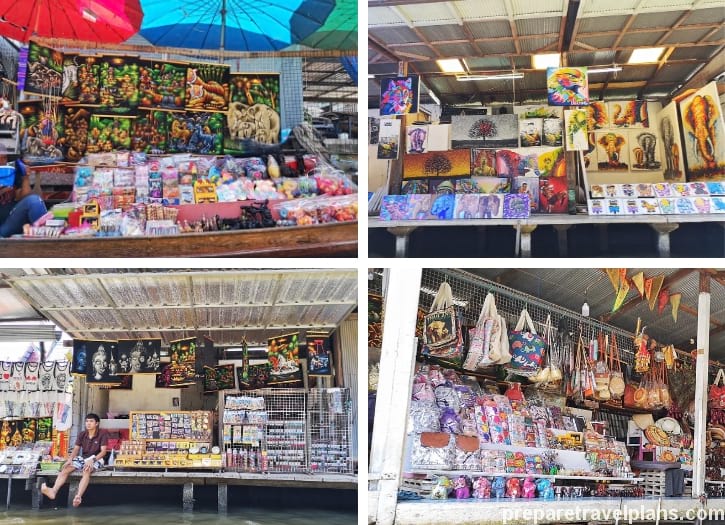 Also up for sale are some beautiful, handmade portraits and items. These are great tokens you can buy along the market. There are paintings that show some iconic Thai symbols such as tigers, elephants, and even the floating markets.
All the colourful paintings add up to the already vibrant vibe of the floating market.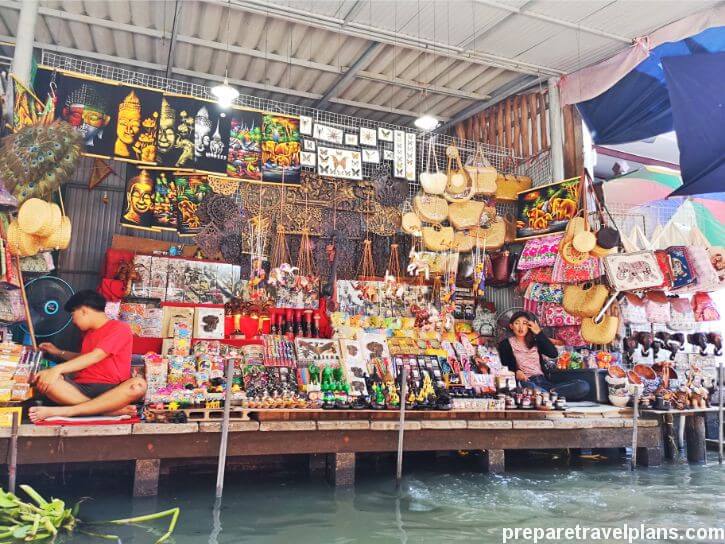 Most shops sell all kinds of souvenirs such as figurines, portraits, bags, wallets, and shirts. Key chains and ref magnets are some of the cheapest souvenir items you can find in the market.
Don't get overwhelmed with all the Thai handicrafts and make sure to choose and bargain wisely.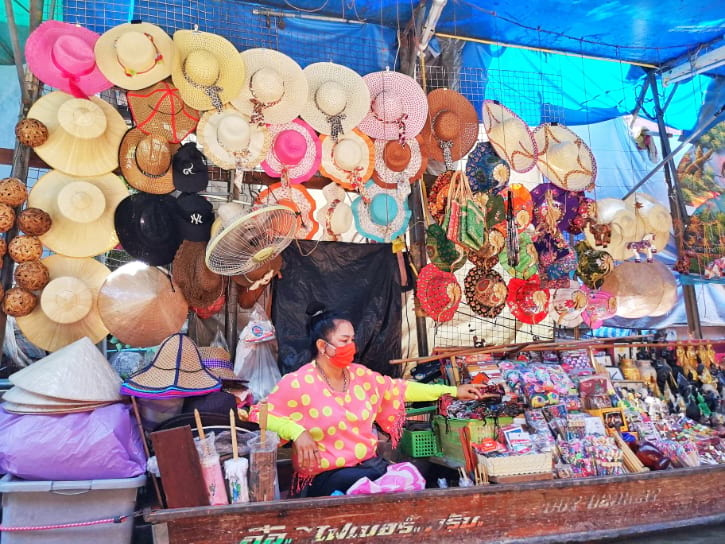 For your beach needs, you can find lots of gorgeous hats, ranging from trendy styles to conical ones.
Conical hats, or sometimes called as farmer's hats, come in all sorts of patterns and colours. Because of the abundant choices of handmade hats, you might end up buying one or more!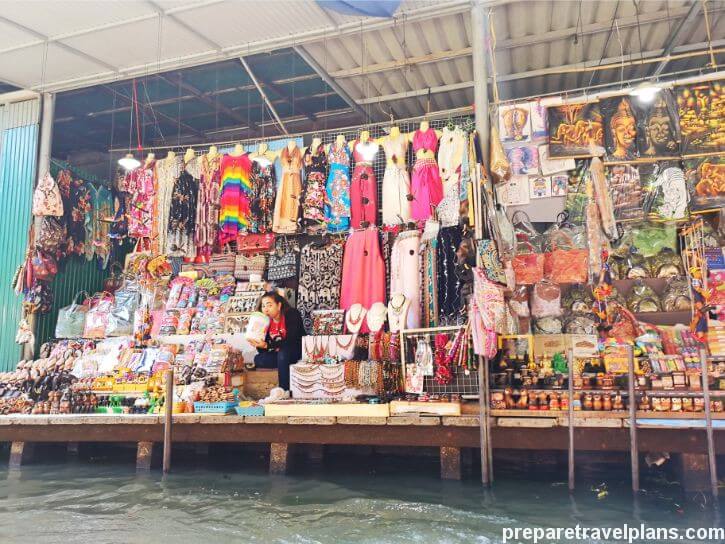 One of the best ways to immerse yourself with the Thai culture is to wear one of their traditional clothing. And, you won't be disappointed with the impressive local costume selection.
In addition to local attires, there are Thai-designed T-shirts that are way popular among tourists. These shirts are cheaper so a great option for budget travellers looking for an affordable yet nice souvenir.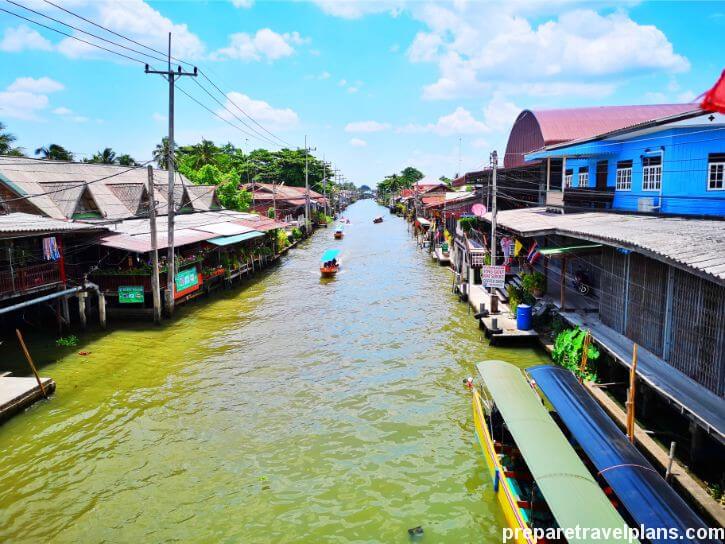 Aside from busy boats and vibrant stalls, this floating market becomes much more exciting because of the surrounding local houses.
Stilt houses are common sights in this water-surrounded tourist spot. These are houses constructed on a body of water.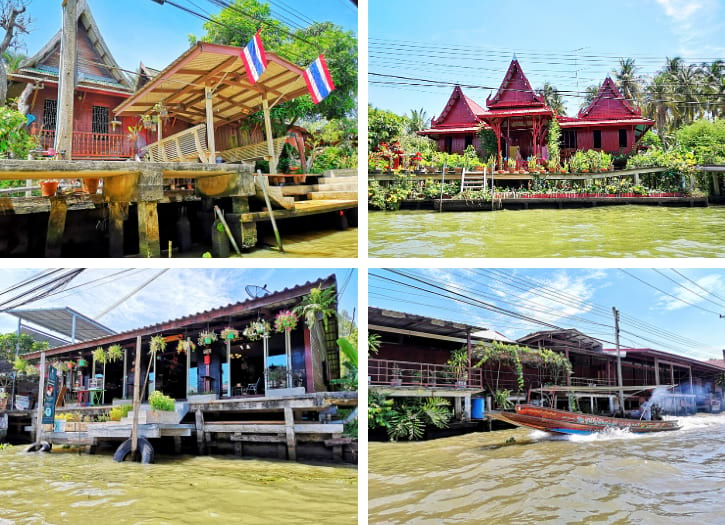 This picture above is one of the many traditional stilt houses you can see around the floating market.
Catch a glimpse of the country's history through these old Thai houses. These local dwelling places beautifully outline the clean canal.
So, if you want to see and experience all these amazing spots, hop on an electric boat and enjoy.
Things to Do and Eat on Your Day Tour to Damnoen Saduak Floating Market
---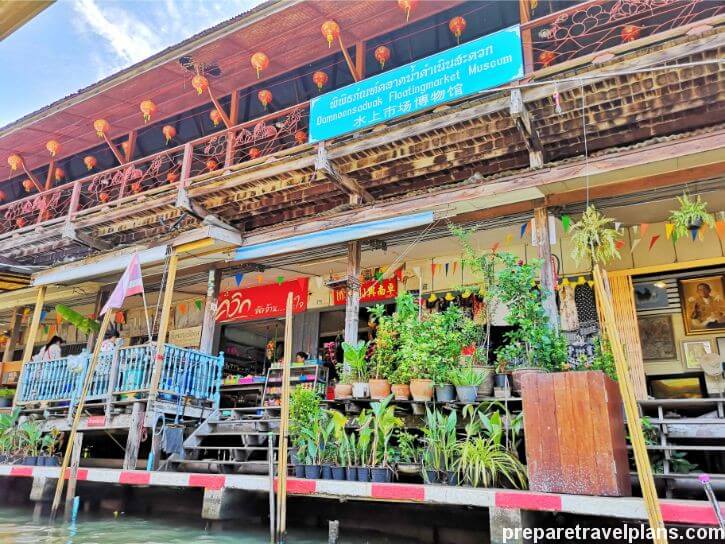 After the scenic boat ride, go strolling along the sides of the canal. You'll even be surprised because there's still a lot to do in this floating market.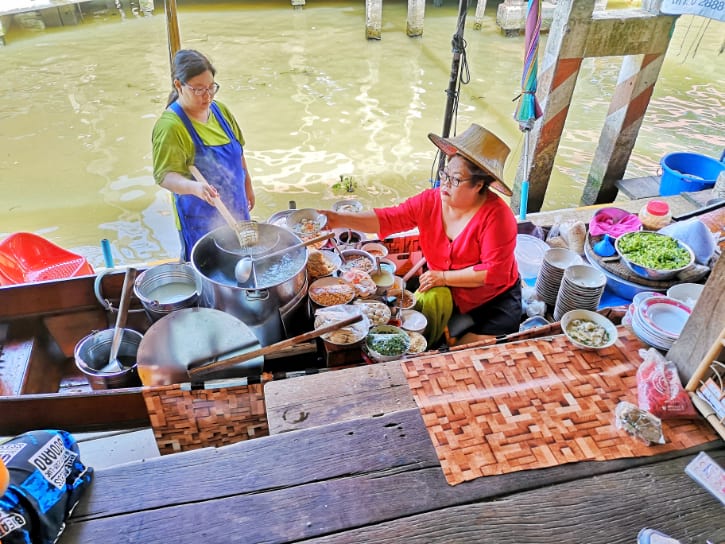 One of the best ways to further enjoy your trip to Damnoen Saduak Floating Market is to try different local dishes. Start your adventure with hot, tasty noodles from Jay Muay Noodles.
This popular boat noodle serves a lot of noodle variations! They have Soup Noodles, Dried Noodles, Tom-Som Noodles, Tom-Yum Noodles, and Yen-Ta-Fo UR Noodles―all priced at 60 Thai Baht.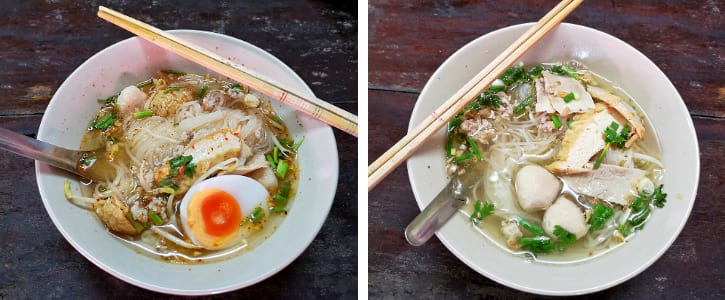 One of the best-sellers is the Tom Yum noodles―a spicy seafood soup loaded with noodles, shrimps and other spices. Or, you can also dine another crowd-favourite―the ever-tasty soup noodle topped with pork, fish balls, and onions.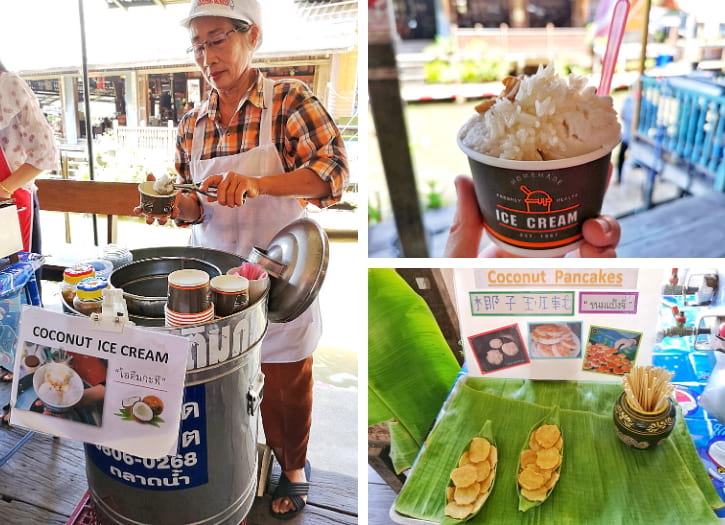 If you've got your noodle fix, then it's ice cream time! When in Thailand, coconut ice creams are all over the market.
Enjoy a scoop of this delectable, homemade coconut dessert. You might even have another scoop because of its goodness!
Coconut pancakes are another famous dessert that deserves a mention. Share these tasty snacks with your friends.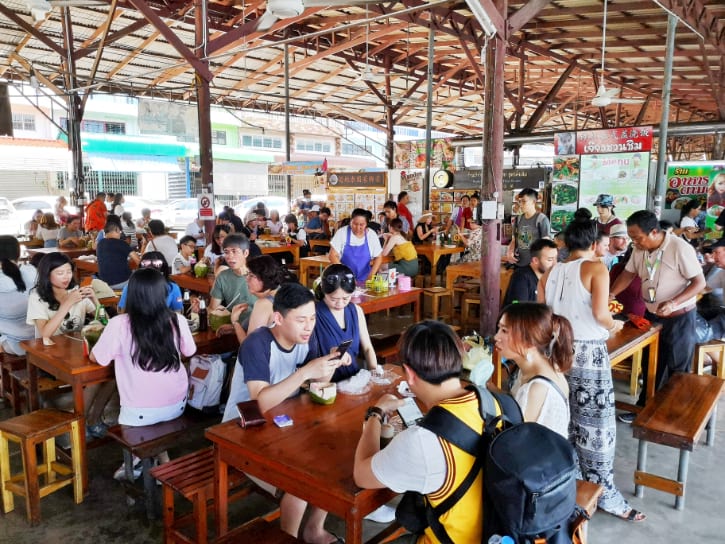 For a more satisfying food trip, head to the food court in the market that serves delicious local dishes.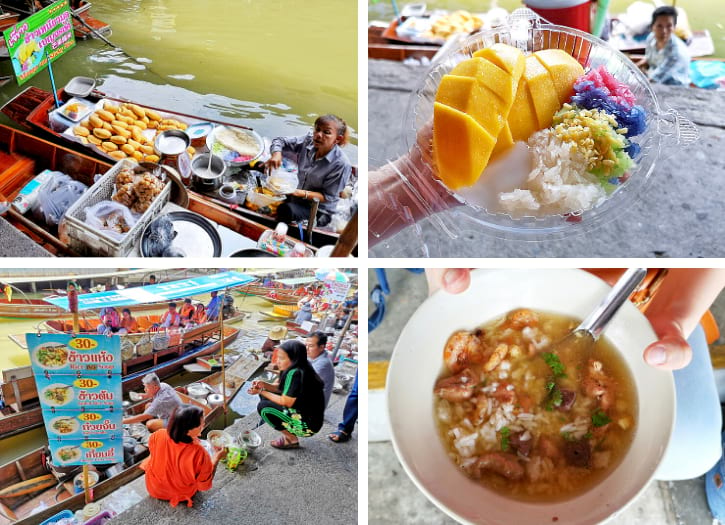 All the shopping adventures will surely make you go hungry―once again. Fill your stomach with a boiled rice soup served fresh from the wooden boat. This is such a perfect treat after a long day of walking and shopping.
Don't forget to make room the famous mango sticky rice. This popular Thai dessert is a healthy treat loaded with sticky rice, coconut milk, and fresh, sweet mango.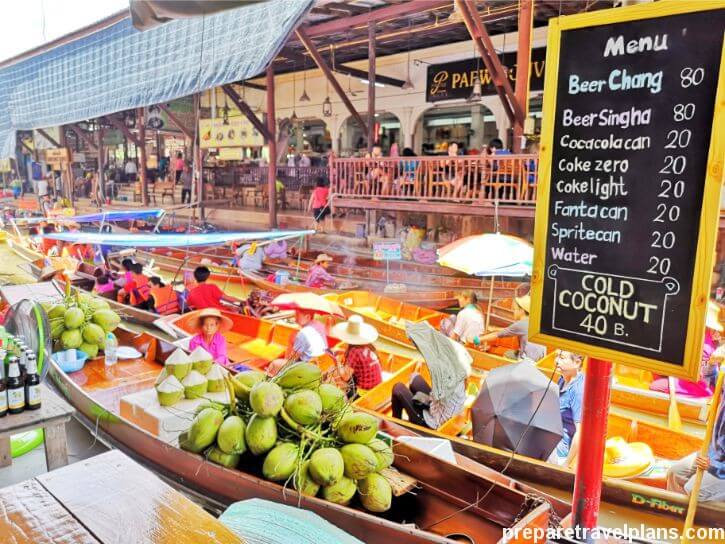 If you need quick refreshment, enjoy a fresh coconut juice or a local beer!
Shopping at Damnoen Saduak Floating Market
---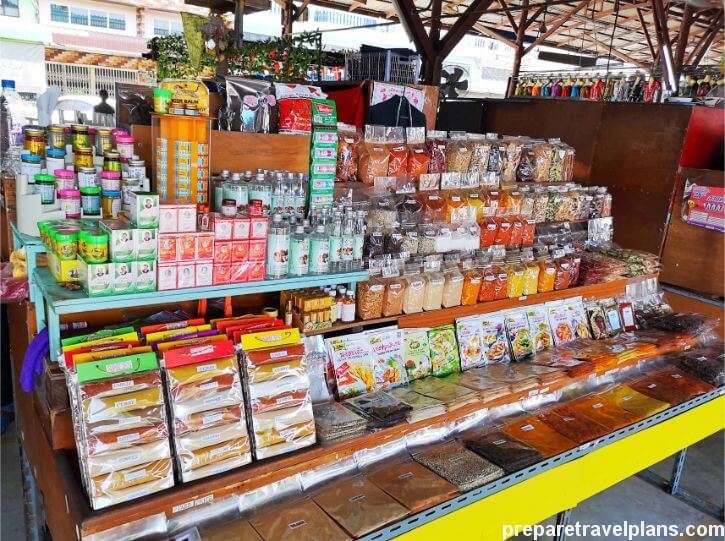 Right after eating, you can go around and buy some dried foods, Tom Yum pastes, local spices, and other products.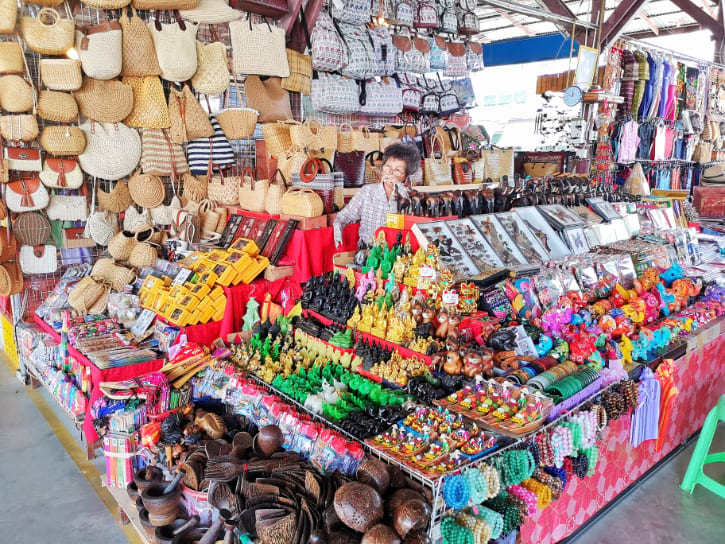 Along with exciting food items, there are also Buddha statues and other religious items that are worth seeing. If you're looking for a unique souvenir to your family and friends, you might want to buy some Thai masks.
Wooden kitchenwares are great take-home items too, especially if you have a thing for cooking!
For travellers with a heart for fashion, handmade bags and other accessories are just around the corner. If you want more trendy finds, you can add these handcrafted bags to your fashion needs.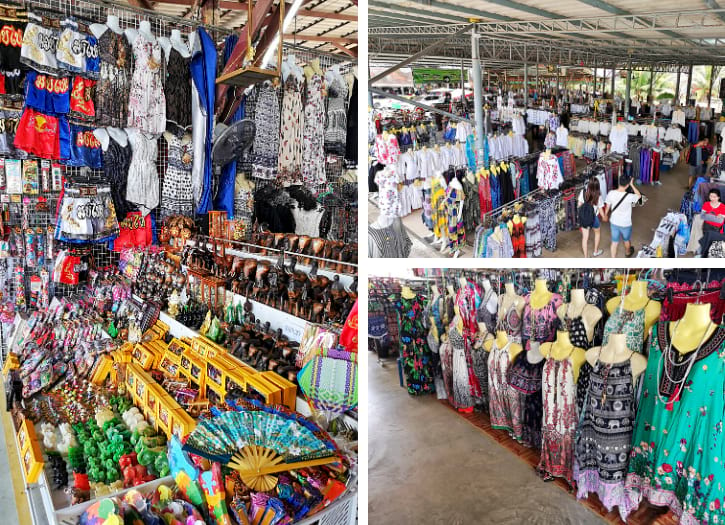 There's so much to love while you are here. You can find an amazing selection of Thai clothing of great quality. Wander around this spot full of trendy clothes―from hippie pants to casual tops to patterned dresses.
For sport enthusiasts, there are also athletic attires for you to choose from. Muay Thai shorts are some of famous items being sold here.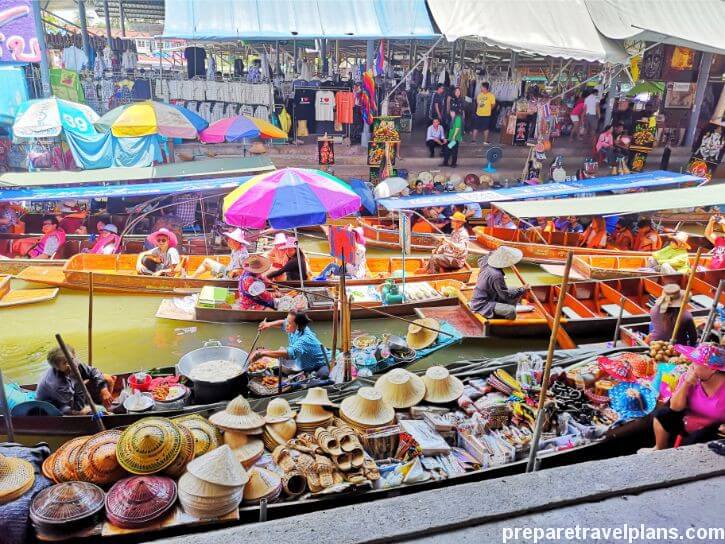 Other than this, you can buy a conical hat from one of the stationed boats along the canal. You'll be surprised by the massive number of conical hats in full parade.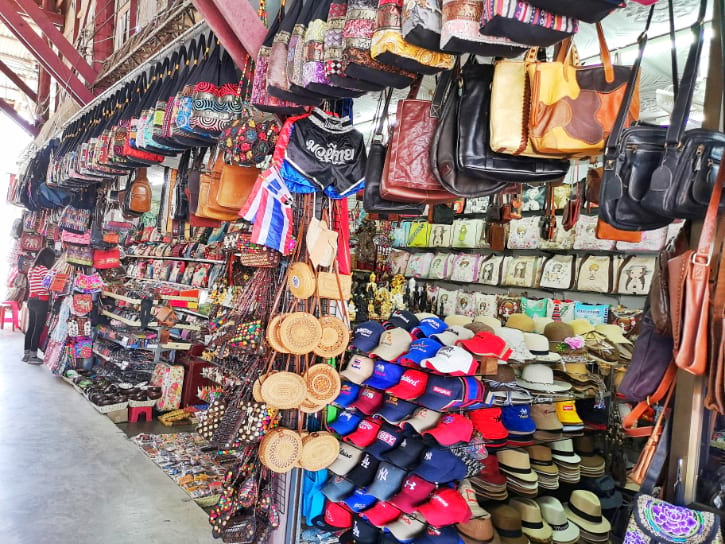 Surely, you can find lots of items that are great for souvenirs. So, make the most out of everything while you are in the market.
My Final Thought
For a one of a kind shopping experience in Bangkok, don't miss Damnoen Saduak Floating Market. This attraction may often be a tourist trap but surely it deserves to be on your travel bucket list. Its popularity attracts more and more tourists every year.
Ideally, it's best to take this tour so that you can avoid possible tourist traps like taxi scams and overcharged boat rates.
Without a doubt, this floating market is something that is worth visiting together with your family and friends. All the vibrant colours and lively energy framing this unique marketplace are simply eye-catching.
And when you go to Damnoen Saduak Floating Market, this gives you the opportunity to visit nearby attractions. These include Maeklong Railway Market and Amphawa Floating Market, which are just a short distance away from the floating market.
I sincerely appreciate the time you spent on reading my blog. And I hope it will make your trip to Damnoen Saduak Floating Market more convenient.
For future use, you can simply bookmark this page or even share this blog to your loved ones.
Re-post this online via top social media apps like Facebook, Twitter, Pinterest, Gmail, and WhatsApp.
Once again, thank you and wishing you a heart-warming and unforgettable adventure to Damnoen Saduak Floating Market. 🙂
Discover Other Famous Attractions in Bangkok