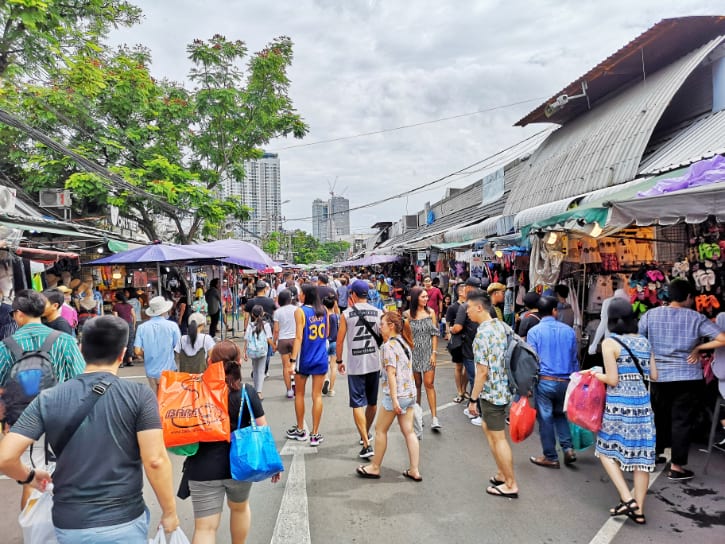 Chatuchak Weekend Market (JJ Market) in Bangkok is truly a joy to visit! This market has over 8,000 stalls distributed into 30 sections. Because of its wide stretch of stalls and shops, it is recognized as the largest market in the country. It has everything you need, from clothing to plants to food and more! This is surely the best destination for shopaholics who are on a budget.
So, there's no chance of missing this top-rated attraction! It's a once in a lifetime experience to go shopping and food hopping at one of the world's largest markets.
To help you, here's the complete shopping guide and tips to Chatuchak Weekend Market. You'll know where to buy and shop amazing treats as well as eat delicious foods at the market.
So, let's not delay things and start exploring everything you need to know about Chatuchak Weekend Market.
Why Chatuchak Market Is So Popular in Bangkok
---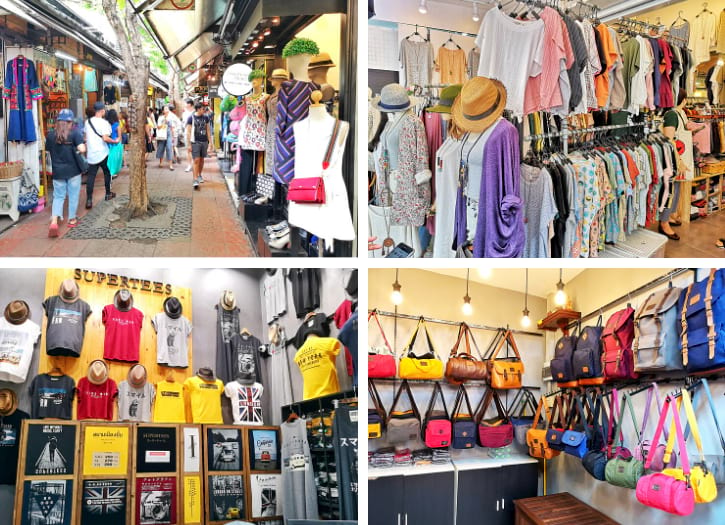 Chatuchak Market won't be the largest market in Thailand for nothing! It has everything you need from left to right, making it a shopper's paradise for anyone exploring Bangkok. With thousands of stalls surrounding the market, it's surely difficult to go home with an empty bag!
From one shop to another, you will find incredible displays of clothing for men and women, as well as for adults and children. And if you want to save money, try your bargaining skills and you might get some discounts!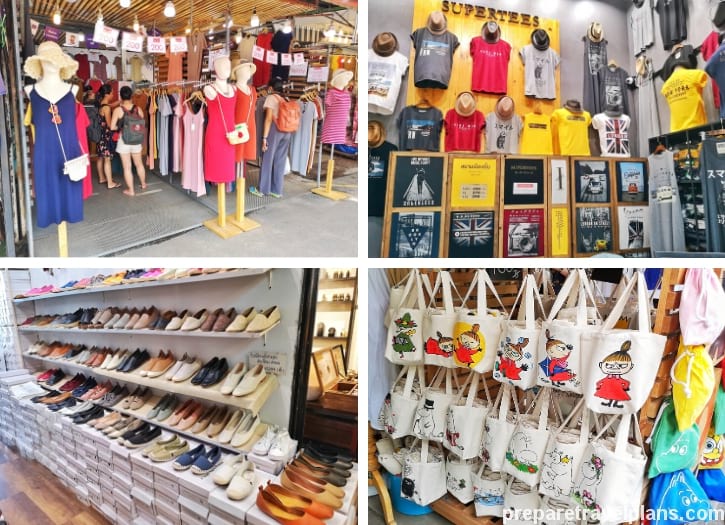 The shopping choices in this famous market are quite impressive. Fashion dresses, trendy pieces, and stylish accessories are everywhere. You can also find a lot of cool t-shirts, cute bags, chic sandals, and comfy footwear. And if you're looking for souvenirs, this market got it all!
Undeniably, this a great place for anyone who wants to have endless shopping options. Just make sure you take note of the stalls because you might get lost with the abundant shops around.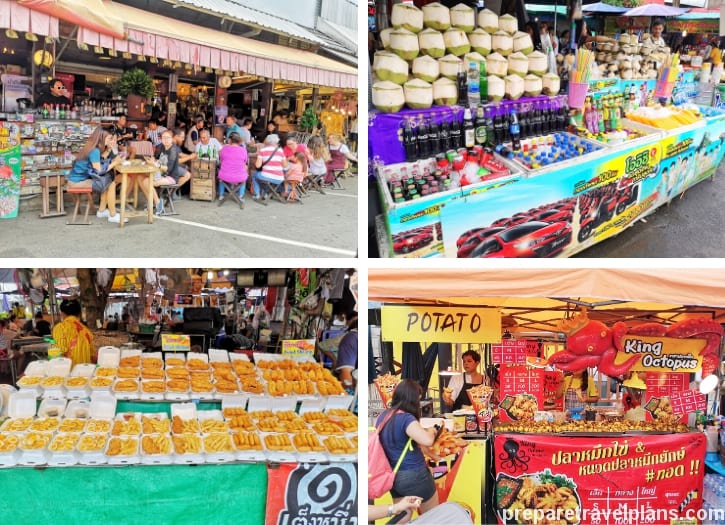 But of course, your visit wouldn't be complete without checking out their food stalls! The food choices are as abundant as their shopping selections. You can dine in at one of the open-air cafes or visit the jam-packed food court. Either way, you'll end up on a full stomach for sure.
Now, let me share with you all the important tips that will help make your visit to this famous market much easier and more memorable.
Chatuchak Market Guide Map
---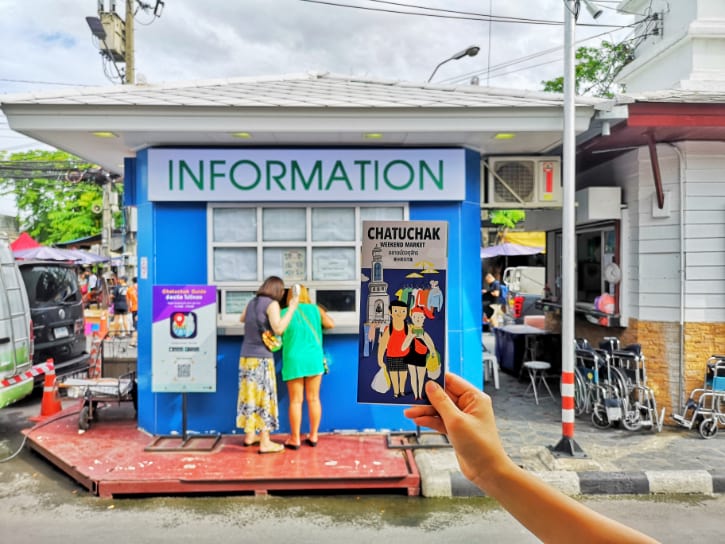 Considering the large stretch of stalls, you might get lost while exploring the Chatuchak Market. But don't worry because you can get a free map from the information counter at Entrance 3.
Take note that other entrance gates do not provide free maps, so make sure to enter via Entrance 3. You can check out Google Maps here to know where the Entrance 3 is located at the market.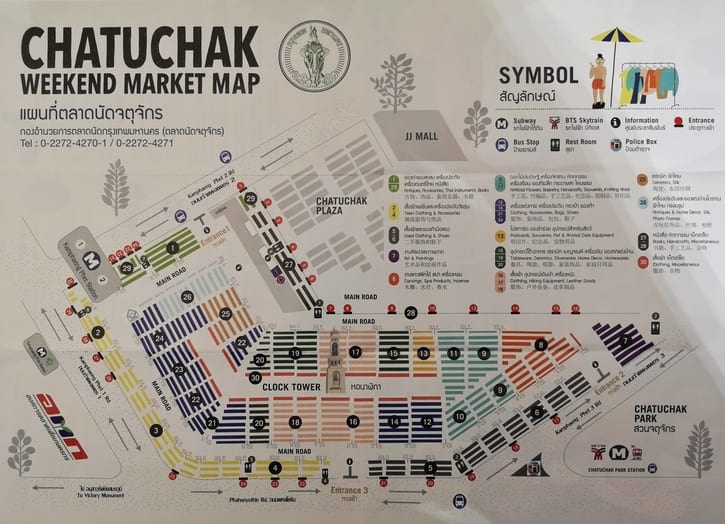 The Chatuchak Market map gives you a detailed breakdown of the sections, including the things you can buy there.
See the comprehensive guideline below to know the specific sections of the items you want to find in the market. This will surely help you save time and effort.
Antiques, Accessories, Thai Instruments and Book – Sections 1 and 29
Teen Clothing and Accessories – Sections 2 to 4
Used Clothing and Shoes – Sections 5 and 6
Art and Paintings – Section 7
Carvings, Spa Products and Incense – Section 8
Artificial Flowers, Basketry, Handicrafts, Souvenirs and Knitting Wool – Sections 9 to 11
Clothing, Accessories, Bags and Shoes – Sections 12, 14, 21 to 24
Postcards, Souvenirs, Pet and Animal Care Equipment – Section 13
Tableware, Ceramics, Silverware, Home Decor and Homewares – Sections 15, 19 and 20
Clothing, Hiking Equipment, Leather Goods – Sections 16, 17 and 18
Ceramics and Silk – Section 25
Antiques & Home Decor, Silk and Photo Frames – Section 26
Books, Handicrafts and Miscellaneous – Section 27 and 28
Clothing and Miscellaneous – Section 30
Food and Beverages – Sections 2 to 4, 23, 24, 26, 27
Shopping at Chatuchak Market
---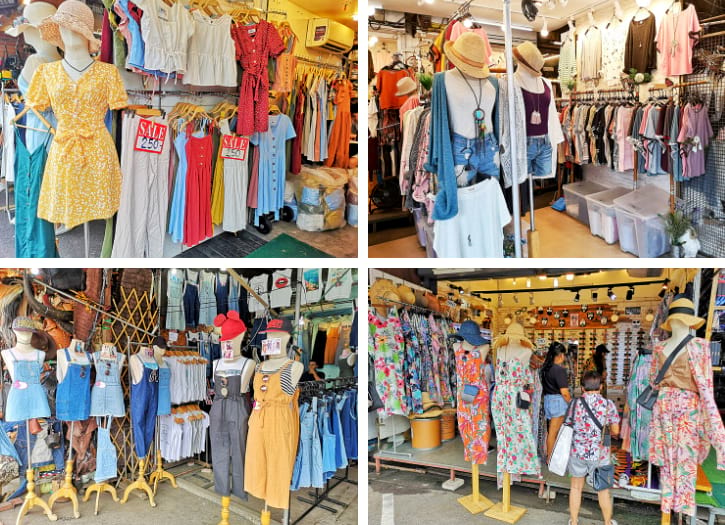 Calling all fashion lovers out there! Shop your hearts out from the abundant selection of fashion stalls in Chatuchak Market.
With all the stylish tops and trendy dresses, it's so hard to choose only one item! So, be sure to prepare your budget ahead so you will score many stylish pieces in the market.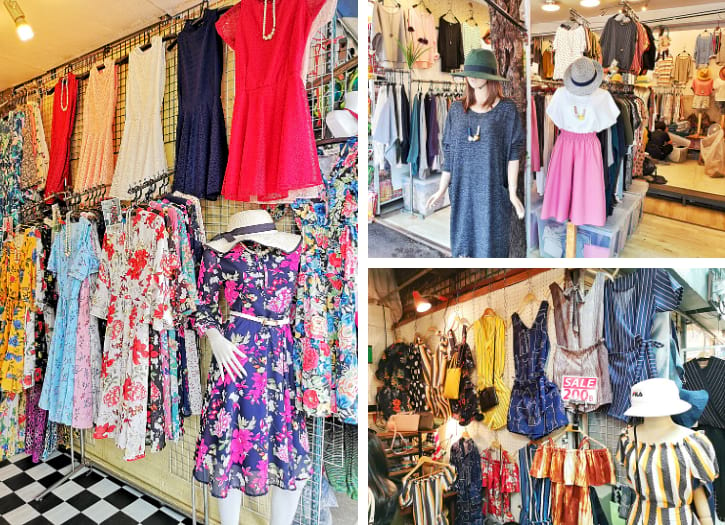 Sleeveless casual dresses of different styles are everywhere! From plain white to eye-catching green color, take your favourite design into your wardrobe.
Whether you're looking for a medium-sized jumpsuit or mini version, they've got you covered! Each clothing stall will never run out of stylish pieces for your fashion needs. They have ruffle tops, wide-legged pants, and casual dresses.
Denims are favourite fashion items too. Pair your top with either a denim skirt or a denim jumper.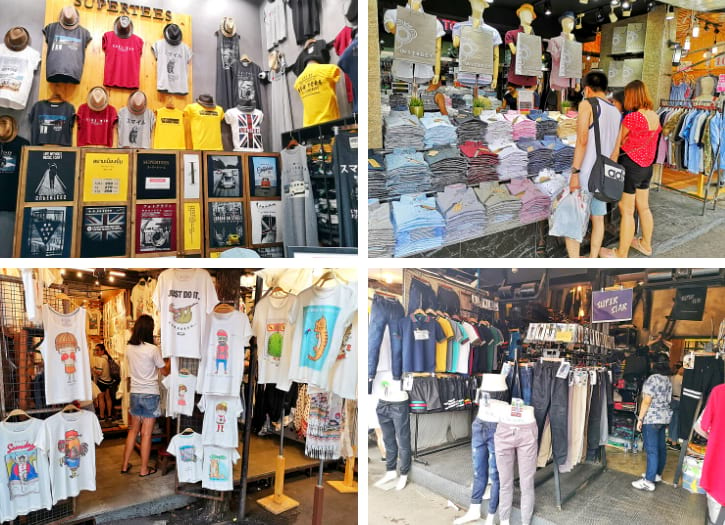 Chatuchak Market is not all about women's fashion. There are also amazing men's clothing in several stores. For instance, this stall offers 3D animal-printed shirts.
Of, if you want some funny or cartoon printed shirts, visit this stall and go through their cute shirt collection.
If you aren't a fan of white printed shirts, well, you've got other options. Look at these statement black shirts and pick your style.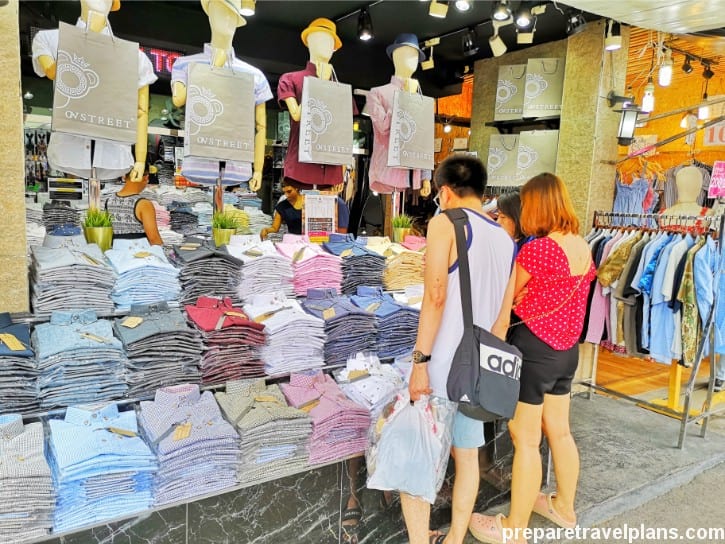 Pop by this stall and see the amazing stacks of smart casual shirts for men. These men's casual T-shirts are perfectly paired with jeans or shorts. Luckily, you've got a whole lot of designs to choose from!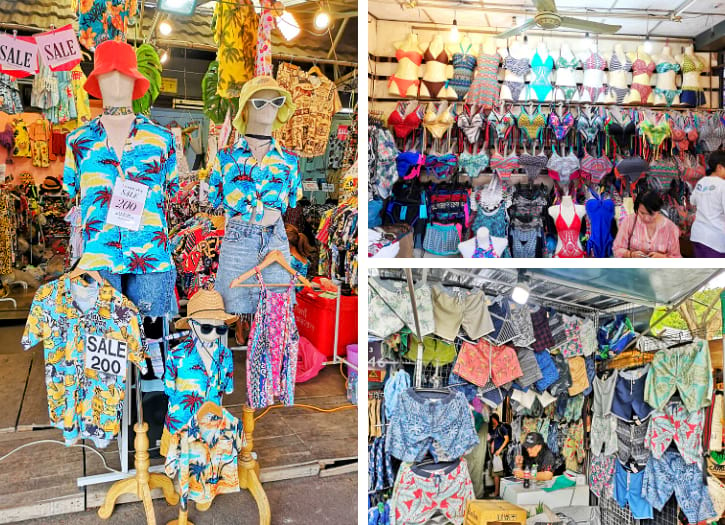 Get inspiration on how to perfect your family beach attire. This stall has all sorts of beach clothes for the entire family.
More women swimwears are presented in this stall. They have one-piece and two-piece bikinis to decide on.
If there are bikinis and swimsuits, there are also lots of beach shorts for men. Hunt through the captivating display of printed shorts with different colours and styles. These are cheaper options compared to those sold from the malls.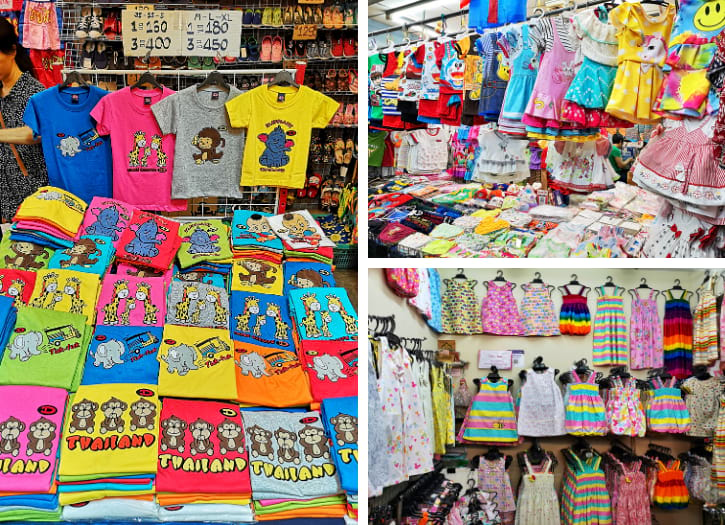 In case you need to buy stuff for your kids, this large market also has a lot of options at hand. For example, they have children ternos in various sizes. They have a nice clothing range for young boys and young girls.
These super cute shirts are readily available for your selection. Cartoon-printed animal shirts are easy to notice while wandering around the market. It's a perfect souvenir for your kids as these animal shirts come in all sorts of colours.
If your daughters prefer colourful attires, you've got something to marvel your eyes in this area. Dig into these vibrant dresses bursting with colours and patterns.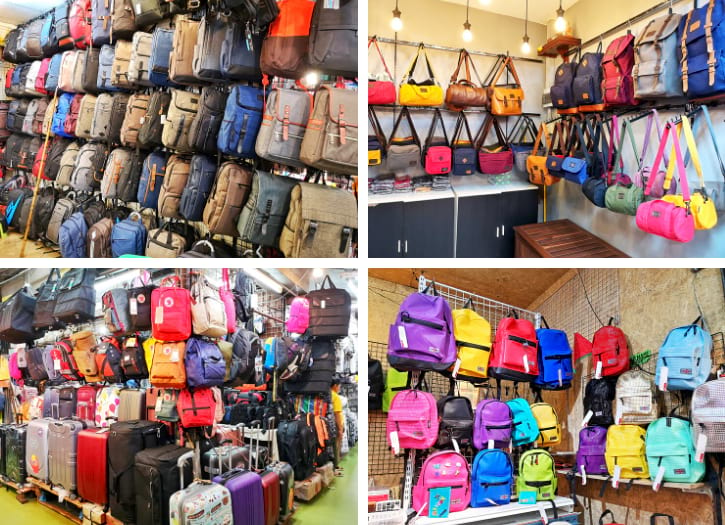 Now, let's move into the bag section, starting with this impressive backpack display. Surely, this entire backpack selection will amuse your eyes! With abundant choices, it's hard not to bring home at least one piece.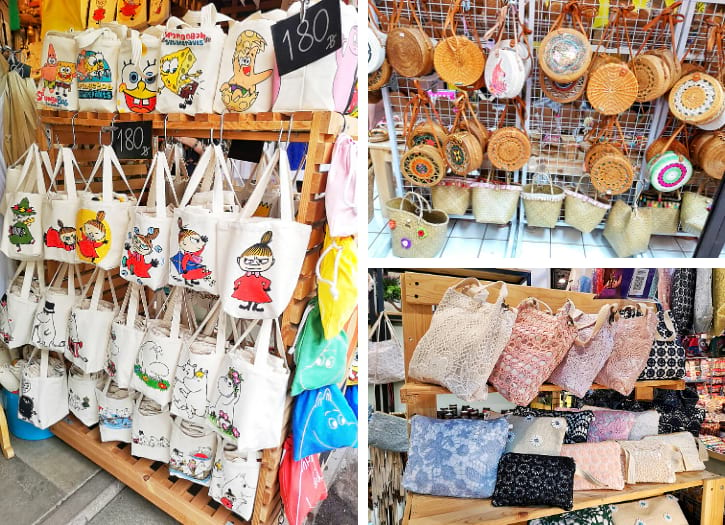 These cartoon tote bags are irresistibly cute! You can use these during your market trips or daily errands.
Knit style is coming into life with these sassy, knitted bags. Add this into your summer bag collection and you wouldn't be disappointed.
Stay on trend with these locally-made straw bags. Pick your style and flaunt your cute bag on the runway!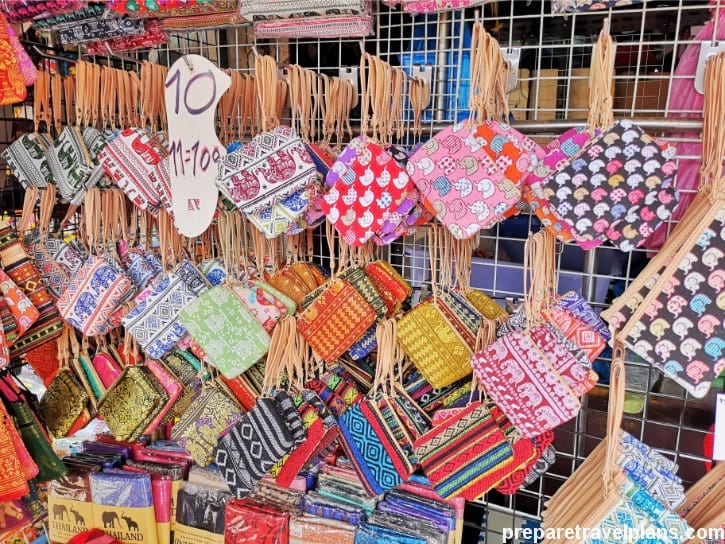 Purchase one of these purse coin handbags and give them as a gift to your friends. Decide on this variety of silk-made wallets with Thai elephant designs. These are practical and handy souvenirs for everyone.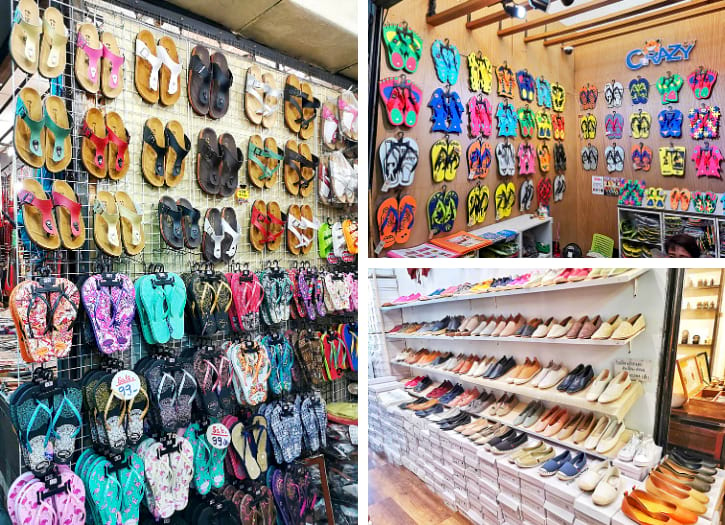 Expand your shoe collection as you visit one of the many shoe stalls in the Chatuchak Market. There's a lot to consider from this breath-taking display of shoes.
Own a cheaper version of the high-end Birkenstock! Shop for a footbed sandal and walk in style and comfort.
Turn heads while you sport this colourful flip-flops with crazy designs. Each slipper has its own style that is worth the second look!
If you prefer plain and not-so striking slippers, you've got options too.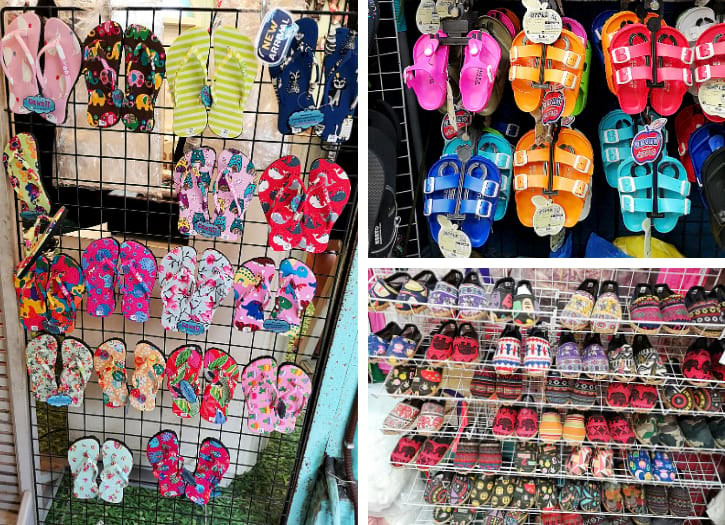 Kid's sandals are also all out for your selection. Many stalls have different colours and styles for easy picking.
For your little girls, spend some time roaming around this store with lots of shoe designs. Or, you can choose from this display of floral slippers.
But wait, there's more! Slip-on espadrille shoes for kids are also fully loaded in many stores.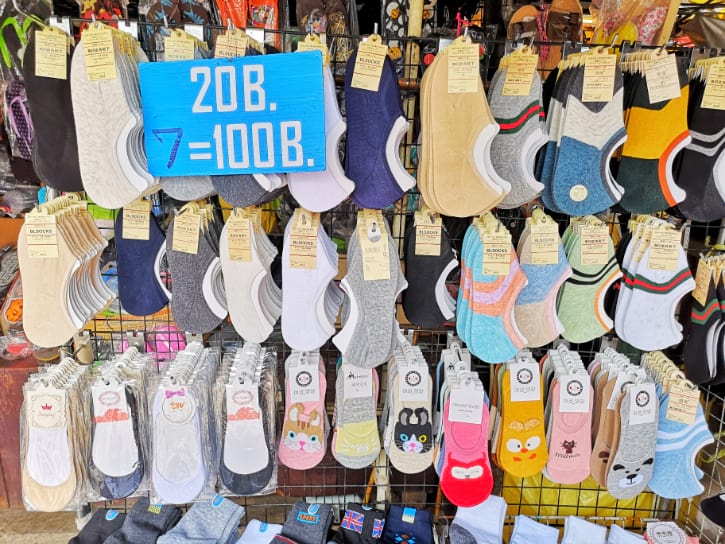 And of course, don't forget to complete your foot essentials with these low-cut socks. Whether you want it plain or something cute and colourful, you've got something to choose from in this section.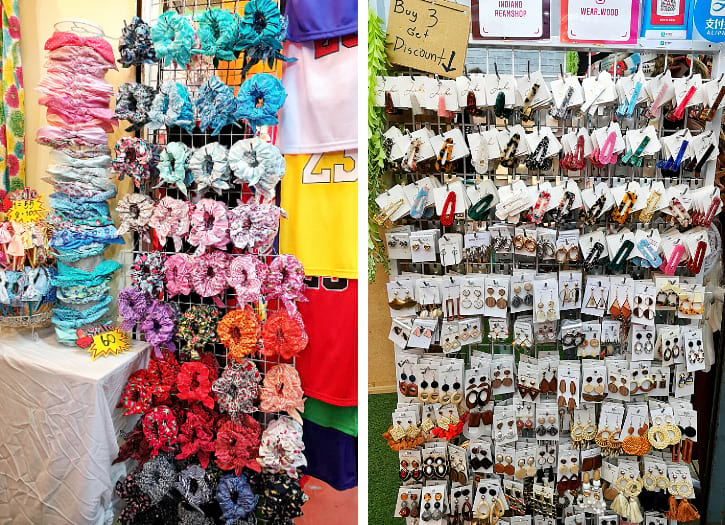 Girly stuff like colourful headbands and hair ties are on sight too. For girls, keep yourself comfortable and get one of these multi-coloured headbands to tie your hair.
Pump up your style with these chic earrings. On top of these cute earrings, you can find hairpins in various styles and colours.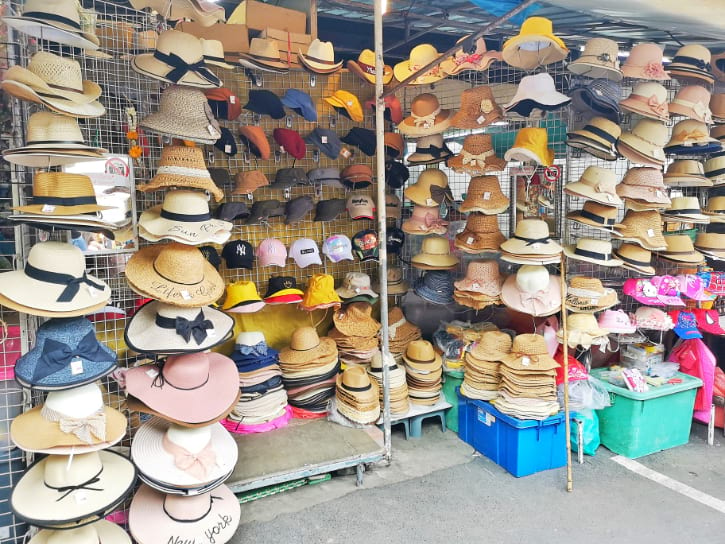 Stay away from the heat with the help of these chic yet practical hats. Pick your favourite straw hat that represents your style. These women's hats are perfect for any summer trip.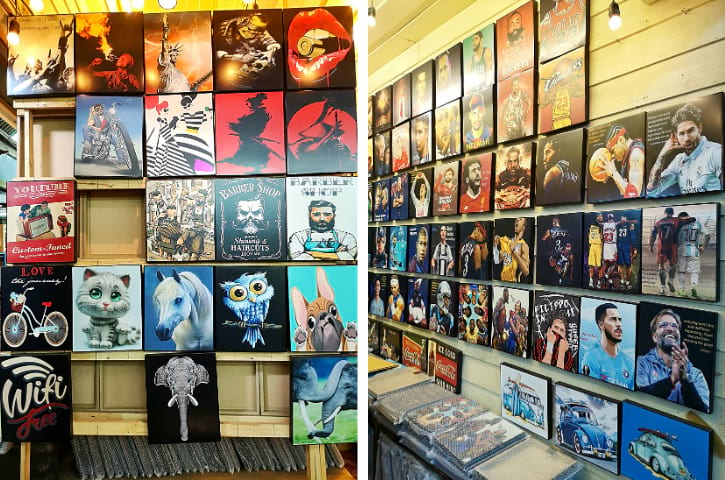 For those with an eye for art, check out this huge exhibit of various paintings. Gaze upon this striking display of adorable and unique portraits. For sports fanatics, there are several paintings to look forward too.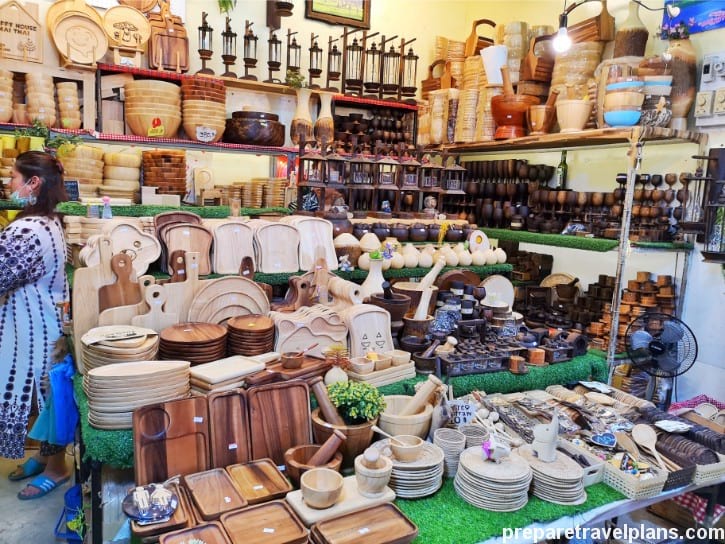 Take your cooking to the next level with these bamboo kitchenware, from rice to spoon to other utensils.
Wooden cooking utensils are much recommended compared to metals because these don't damage your pots and pans. Plus, these don't conduct heat, meaning less chances of burning your hands.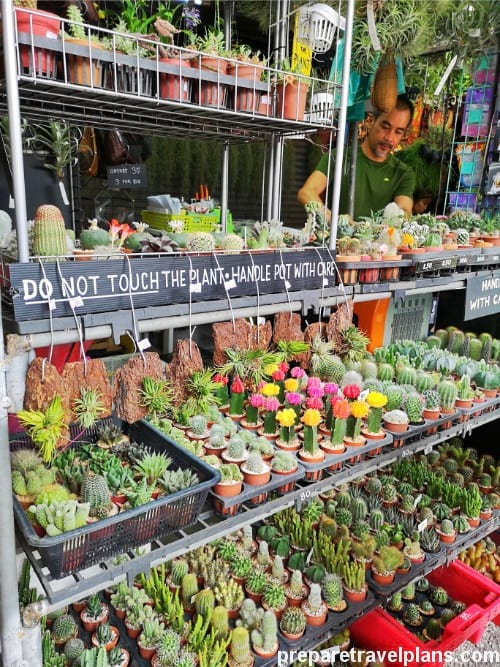 If you're ready to take care of live plants, take yourself to this flowering cactus plant section. Unlike most plants, these colourful cactuses are easier to manage because they need less water.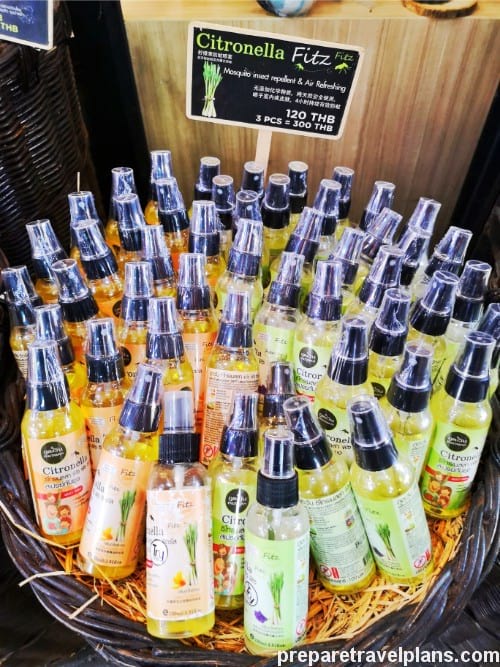 Secure yourself from mosquito bites and unwanted bumps with the aid of this local mosquito repellent spray especially if you plan to visit Safari World Bangkok.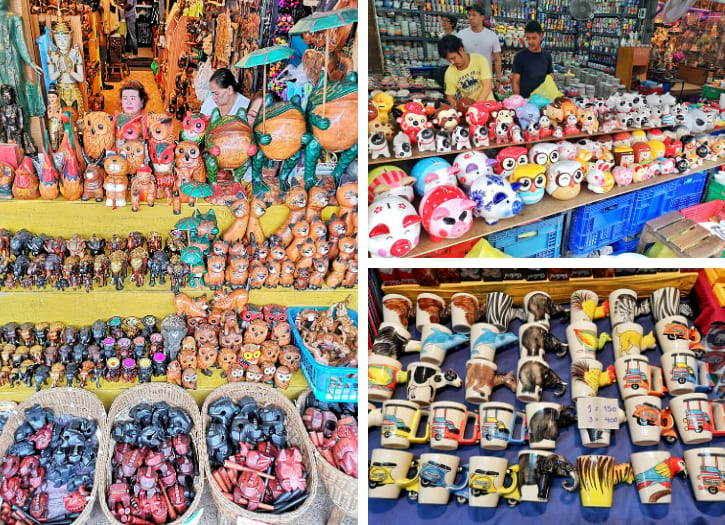 Now, let's go to the place where most tourists flock together. The souvenir section has everything on offer, including these animal coin banks. Wood souvenirs are another tourist favourites because of their style and price.
Want something practical and attractive? These souvenir cups are simply striking to look at and practical to use.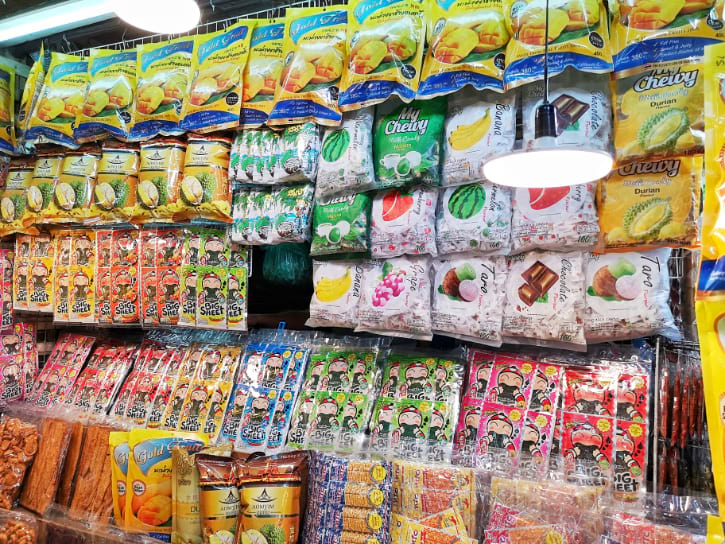 There's no chance you'd miss all these cheap dried fruits and snacks! It's best to purchase these treats from Chatuchak or any local market so you'd save money.
And there's nothing to worry about when shopping your favourite dried fruits and snacks. There's a great number of stalls for everyone. From dried mangoes to dried durians, this is surely the perfect spot for travellers!
Things to Eat at Chatuchak Market
---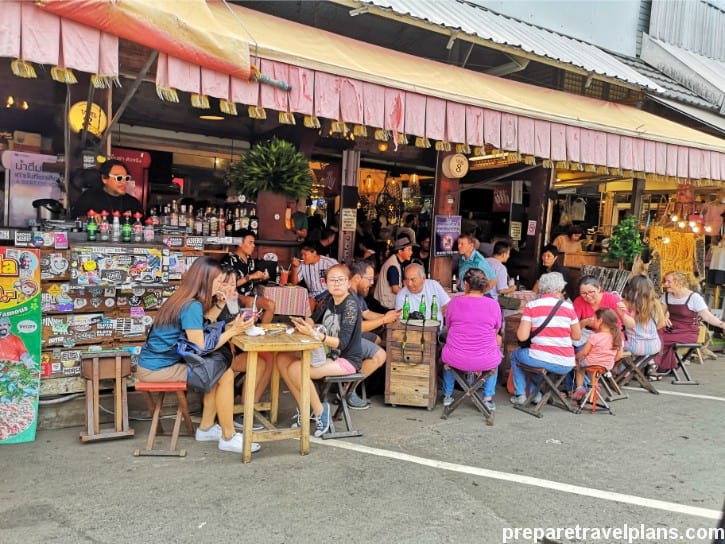 All the shopping adventures will surely tire you out. But fret not because everything is set out for you! Chatuchak Market is filled with food and beverage options, and you can start from this popular cafe.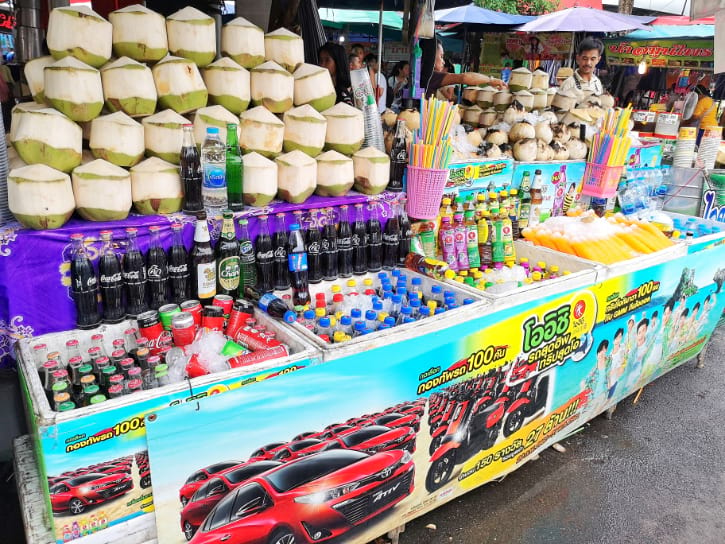 There are many stalls along the corners, serving fresh coconuts and cold soft drinks.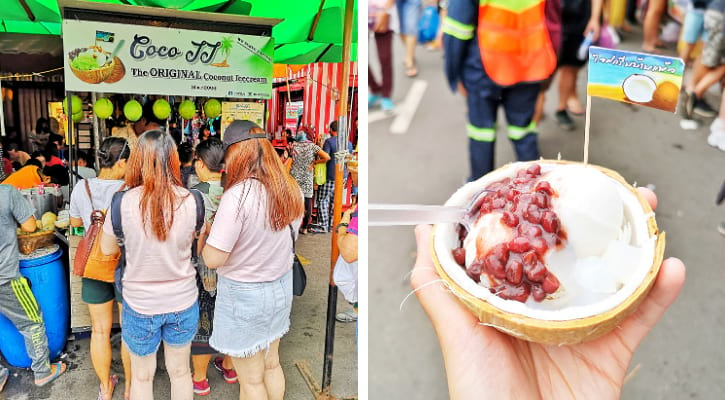 Can't get enough of coconuts? Take a scoop of this cold, tasty dessert! This coco ice cream is just the perfect treat after a long day!
Because of its popularity, this stall is often jam-packed with costumers―both international and locals!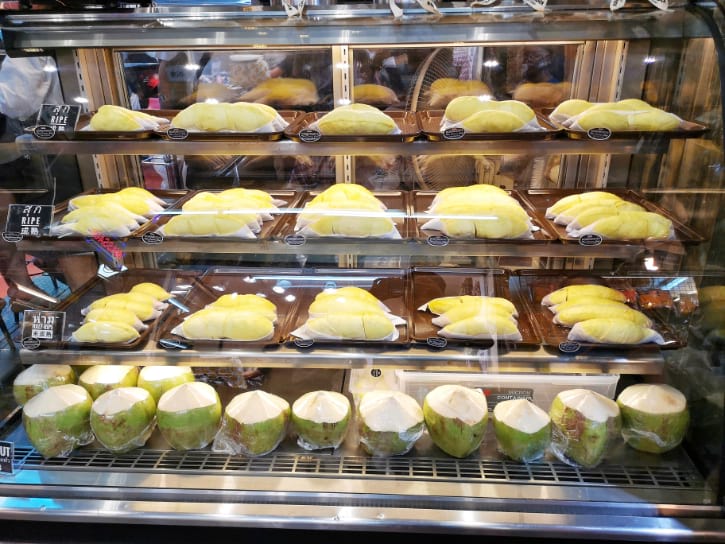 Satisfy your cravings with these healthy and yummy durian and coconuts.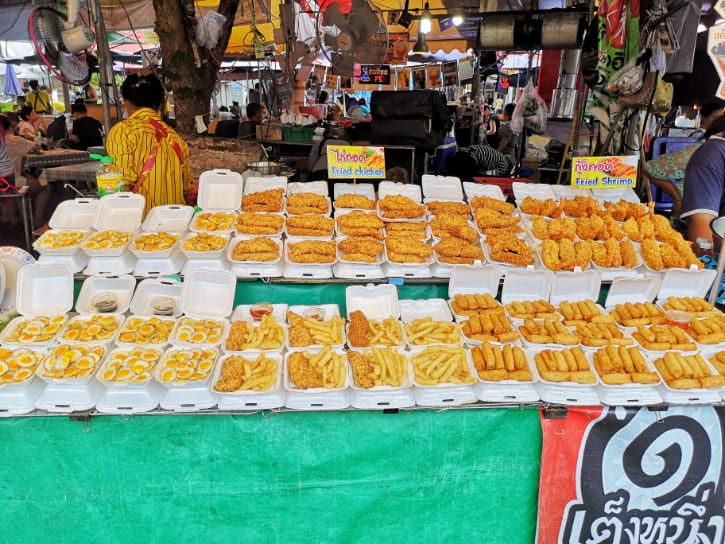 Grab this ready-to-eat fried chicken and shrimp combo and enjoy your food!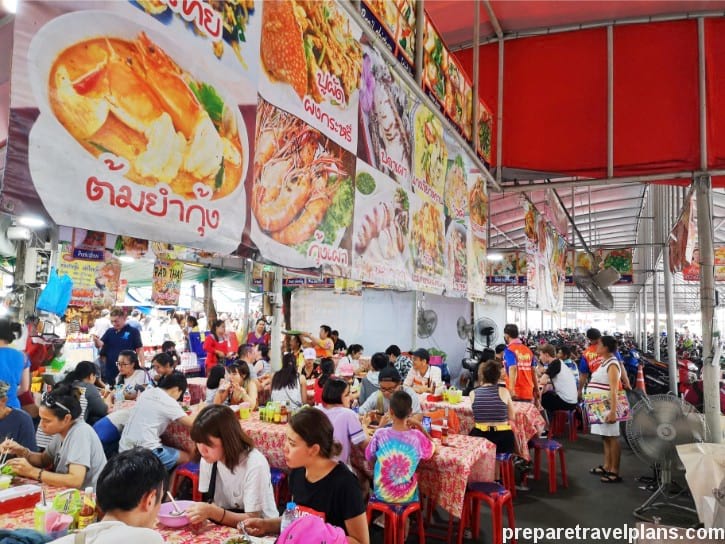 Seafood dishes, anyone? Take your feet into this area filled with all kinds of seafood goodness!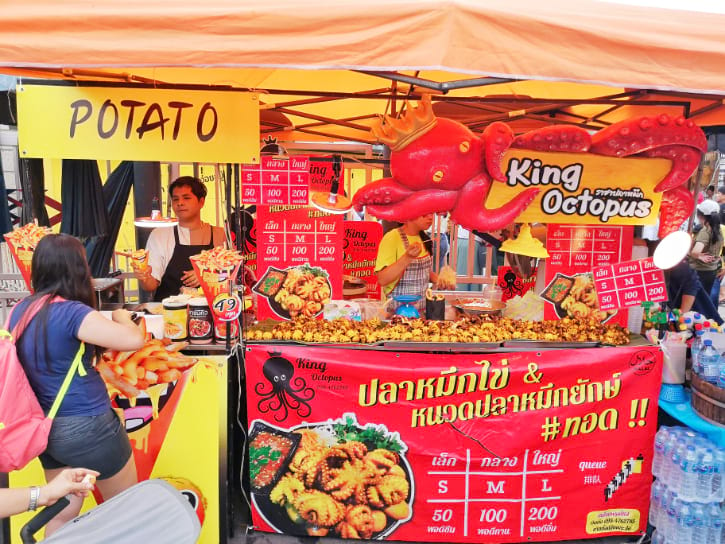 And, visit the ever-popular King Octopus and dig into their fried seafood selection.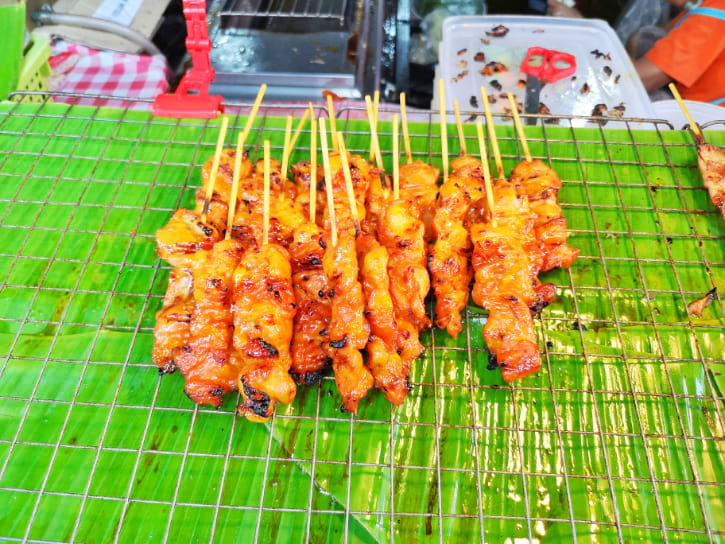 Try one of these tasty chicken skewers and you might end up asking for more!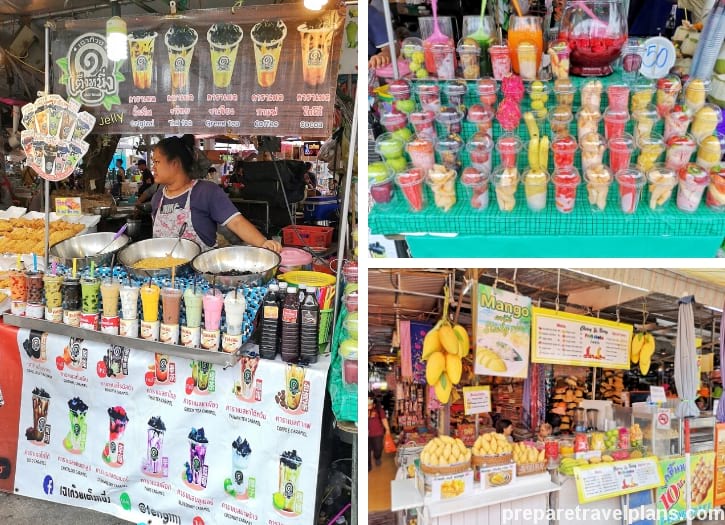 If you're trying to be healthy, just go to this area selling fruit juice. Mango sticky rice, of course, will never be out of place, especially in this market.
Craving for some tea? Chatuchak Market got it all for you! Try this Thai Tea Caramel, along with other tea flavors.
Chatuchak Market Opening Hours
---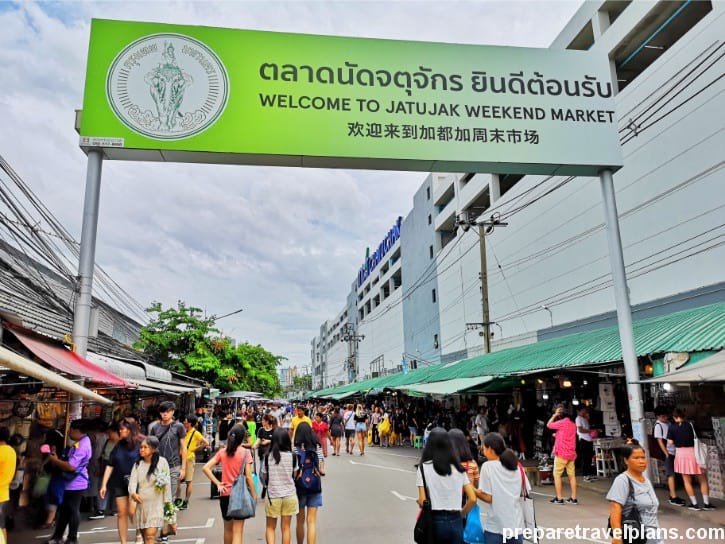 Wednesday to Thursday (Plants Market):
5:00 AM – 6:00 PM
Friday (Wholesale Market):
7:00 PM – 5:00 AM (Next Day)
Saturday and Sunday (Weekend Market):
5:00 AM – 7:00 PM
To maximize your visit, it's best to visit Chatuchak Weekend Market on Saturday and Sunday. Compared to weekdays, all stalls are open on weekends. This gives you a lot more shopping and dining options.
10 Tips for Visiting Chatuchak Market
---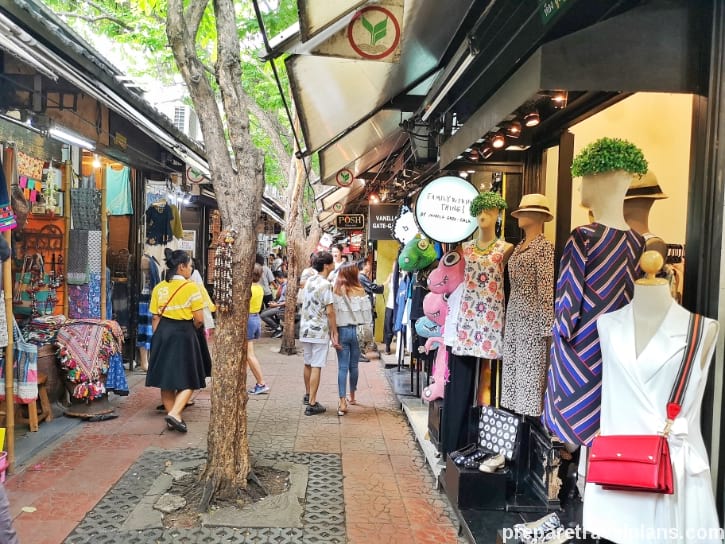 1. Schedule your visit to the market in the morning
With lesser crowd and more tolerable temperature, it's recommended to visit the market in the morning. Most stalls didn't open by 9 AM, so it's best to visit the market from 9 AM onwards.
2. Check out the fully-loaded fashion section
Fashion clothing takes up a lot of spots in the market. So, if you've always wanted to fill in your wardrobe with new clothes, better know the fashion sections ahead. These are sections 2 to 4, 12, 14, 21 to 24, 16 to 18, and 30.
While shopping for more clothes, you can squeeze some snack time in between. Simply go to sections 2 to 4, 23, 24, 26, 27 and enjoy your food and drinks.
3. See it, love it, buy it!
Because of the large market size, it not easy to move from one stall to another. So, if you love an item, make a decision on the spot―either to buy it or not. Avoid going back and forth the stalls because this will waste your time.
Plus, there's nothing to worry about the prices because most of the items at Chatuchak Market are mostly discounted. You may try to bargain but the prices are already much cheaper compared to other places.
So, don't insist to ask for further discounts, unless you buy 3 or more items. Usually, vendors give you an extra 10 to 15% discount if you purchase 3 items and above.
4. Practice some common Thai language for shopping
To make your shopping much easier, it's best to gear yourself with some basic Thai shopping phrases.
Hello – Sawadee Krap (Male)/ Sawadee Ka (Female)
How Much – Thao Rai
Discount – Loht
Yes – Dai
No – Mai
Thank You – Khop Khun Krap(Male)/ Khop Khun Ka (Female)
5. Prepare your budget, especially cash
Since you will be shopping in a local market, most vendors only accept cash. There are only very few stalls that allow credit card payment.
So, ready yourself with some cash beforehand, though you can also withdraw from one of the ATM's in the market. Unfortunately, the conversion rate is lower from the cash machines, hence not really advisable.
6. Spend at least half a day in the market
During my visit to Chatuchak Market, I allocated the entire day because of the wide array of shopping treats. However, if you can't tolerate the heat, at least half a day is recommended. This duration is quite enough to cover the main sections of the market.
7. Keep your belongings secured to avoid pickpocketers
Beware of pickpockets! If you're wearing a backpack, don't put your wallet on the back pocket. Keep it in a more secure area and wear your bag on the front instead of on your back. This way, you can keep an eye on your things easily.
8. Opt for comfy clothing and footwear
Wandering under the heat of the sun can be pretty uncomfortable. Wear comfortable clothes and sandals that will keep you relaxed all day long. Avoid wearing long sleeve top and pants since you will be shopping in an open-air market with no conditioner.
9. Bring your own water bottle
Keep yourself hydrated throughout your shopping adventures by bringing your own water bottle.
10. Be more careful when buying antique products
If you're an antique lover, make sure to check the products carefully before buying. See if the items have damages because many vendors sell factory rejects. Better safe than sorry!
How to Get to Chatuchak Market
---
By BTS Skytrain
---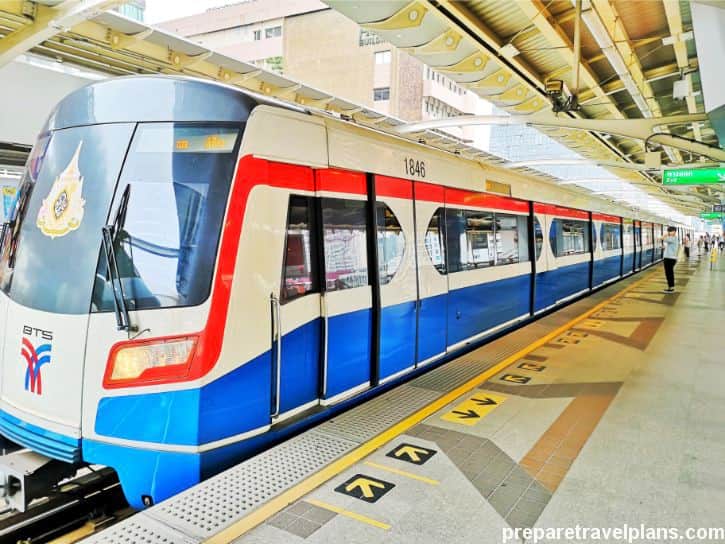 Chatuchak Weekend Market is easily reachable by Skytrain (BTS). The nearest BTS Station to the market is Mo Chit Station. Upon reaching Mo Chit Station, just head to Exit 1 and walk straight for around 4 minutes (roughly 350 meters). By then, you will see the Entrance 3 of Chatuchak Weekend Market on the right side.
As noted previously, it's best to enter the market via Entrance 3 so you can get a free map. This map will help you navigate the market with ease.
For your convenience, refer to the specific Google Map below. This shows the exact way from Exit 1 of Mo Chit Station to the market's Entrance 3.
By MRT
---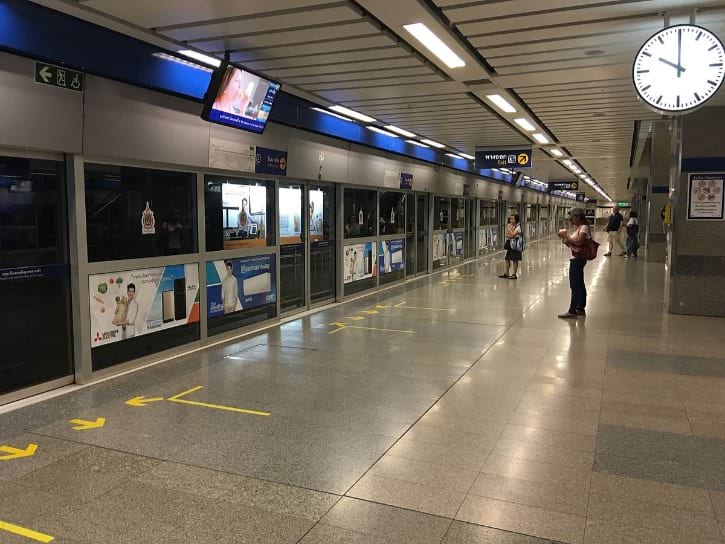 There's another option for travellers who plan to visit Chatuchak Weekend Market by Subway (MRT). Simply get off at Chatuchak Park Station, Exit 1, then turn right and go straight for around 4 minutes. Then, you'll be at Entrance 3 of the market in no time.
See the Google Maps below for the exact path to the market's Entrance 3 from Chatuchak Park Station, Exit 1.
By Taxi
---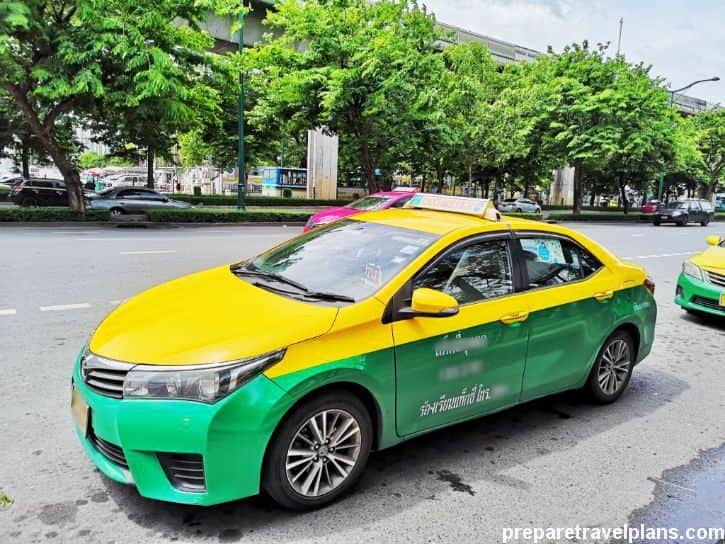 If you prefer to take a cab, it's okay but make sure to check if the meter is working. Avoid taxi scams by ensuring that the driver will use the meter throughout the ride.
Though most taxi drivers know different Thai markets, there are some who don't. So, in case the taxi driver doesn't understand what is Chatuchak Market, simply pronounce Chatuchak as "Jatujak".
Google Maps
I have prepared a specific Google Maps below that will help you navigate to Chatuchak Market. This guide shows two different ways to go to Entrance 3 of Chatuchak Market. One from the Mo Chit Station, Exit 1 and the other from Chatuchak Park Station, Exit 1.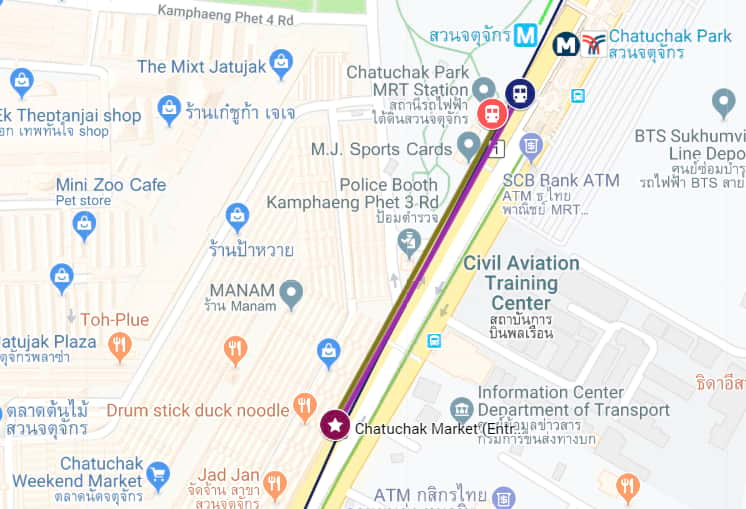 Conclusion
Chatuchak Weekend Market surely deserves its international recognition because of impressive variety of shopping treats and food options. This must-visit place in Bangkok has everything under the sun, from fashion clothing to cheap souvenirs and more!
So, make sure you spend at least half a day in this world-famous attraction in the country.
Thank you for reading the blog from start to finish. I sincerely hope you gain more insight from this comprehensive guide. For easy reference in the future, simply bookmark this page.
And, you can help fellow travellers by sharing this online via Pinterest, Facebook, Twitter, Gmail, and WhatsApp.
Once again, thank you and wishing you a fun and fulfilling trip to Chatuchak Weekend Market. 🙂
Discover Other Famous Attractions in Bangkok