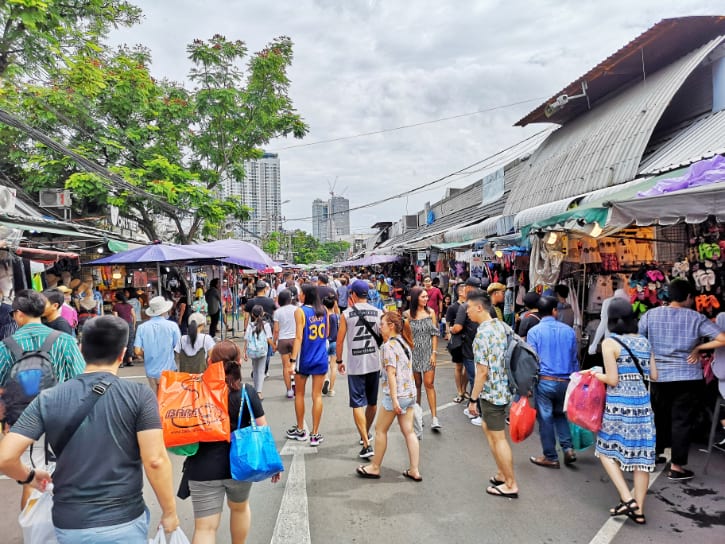 Chatuchak Weekend Market has always been a great place to visit in Bangkok among locals and tourists. The market is packed with 8,000 stalls categorized into 30 sections. Because of this, it is recognized as the largest market in Thailand.
Also called as Jatujak Market, this spot has everything you need, from clothing to plants to food and more! Surely, it is a great destination for shopaholics who are on a budget.
In this Bangkok's Chatuchak Weekend Market guide, I'll share the exact location where you can buy clothing and eat delicious foods. I'll also include a detailed map to help you navigate around the market without wasting time. 🙂
Along with this article, I suggest that you also check out this post on 12 best markets in Bangkok for other famous markets. These include Pratunam Market and Asiatique The Riverfront, which are worth visiting as well.
Chatuchak Weekend Market Shopping Guide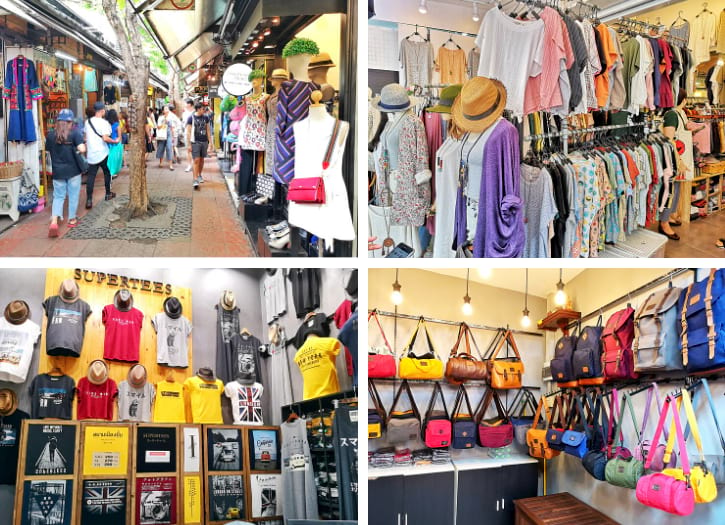 Before you start shopping at Chatuchak Weekend Market, there are 4 important things you should know beforehand. These are elaborated through the list below.
1. Check out the fully-loaded fashion sections
As mentioned earlier, Chatuchak Weekend Market is divided into 30 sections. The best areas to buy clothes, shoes, and bags are sections 2 to 4, 12, 14, 16 to 18, 21 to 24, and 30.
For foods and drinks, the suggested sections to go are 2 to 4, 23, 24, 26, and 27. You can download the Chatuchak Market map here to better understand the areas.
2. See it, love it, buy it!
Because of the large market size, it not easy to move from one stall to another.
So, if you love an item, make a decision on the spot―either to buy it or not. Avoid going back and forth the stalls because this will waste your time.
Plus, there's nothing to worry about the prices because most of the items at Chatuchak Weekend Market are mostly discounted.
You may try to bargain but the prices are already much cheaper compared to other places.
So, don't insist to ask for further discounts, unless you buy 3 or more items. Usually, vendors give you an extra 10% to 15% discount if you purchase 3 items and above.
3. Practice some common Thai language for shopping
To make your shopping much easier, it's best to gear yourself with some basic Thai shopping phrases.
Hello – Sawadee Krap (Male)/ Sawadee Ka (Female)
How Much – Thao Rai
Discount – Loht
Yes – Dai
No – Mai
Thank You – Khop Khun Krap(Male)/ Khop Khun Ka (Female)
4. Prepare your budget, especially cash
Since you will be shopping in a local market, most vendors only accept cash. There are only very few stalls that allow credit card payment.
So, ready yourself with some cash beforehand, though you can also withdraw from one of the ATM's in the market. Unfortunately, the conversion rate is lower from the cash machines, hence not really advisable.
Travel Essential Item: Getting a free WiFi connection in Bangkok is not easy. I highly recommend that you buy a Thailand SIM card in advance here. The SIM card comes with high-speed 4G internet for unlimited data usage. It's super easy to use and very cheap. Be sure to check it out!👍
Things You Can Buy
There are plenty of things you can buy at Chatuchak Weekend Market, including fashion essentials to kids' stuff and souvenirs.
There are 15 things you can get from the market, so let me introduce these to you through the list below.
1. Trendy Women's Clothing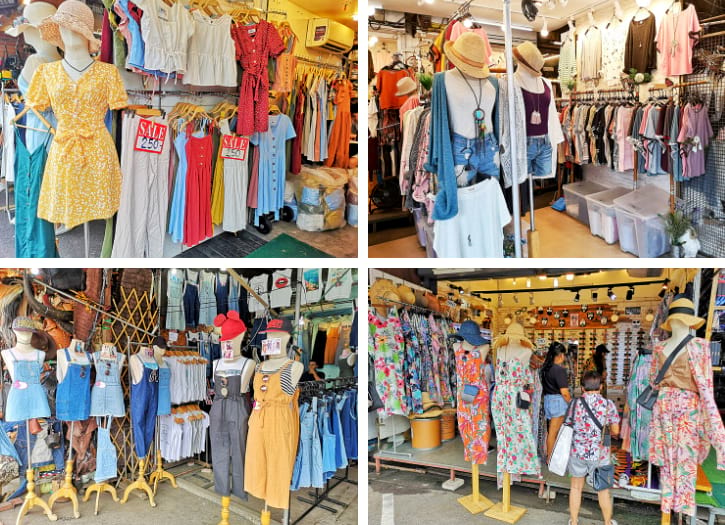 Calling all fashion lovers out there! This is the place to go for all kinds of fashion essentials.
The stalls are loaded with dresses, tops, skirts, and more! Surely, you won't run out of stylish pieces for your wardrobe upgrade.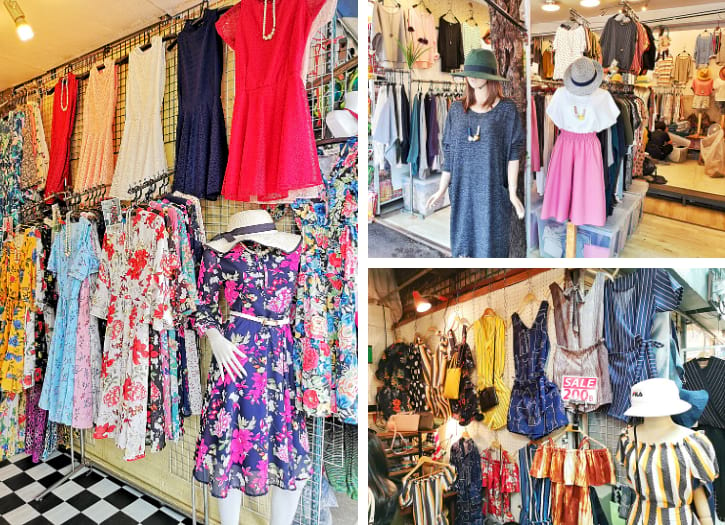 With all the stylish tops and trendy dresses, it's so hard to choose only one item!
So grab all the chic clothes you want during your visit to Chatuchak Weekend Market.
2. Men's Casual Clothing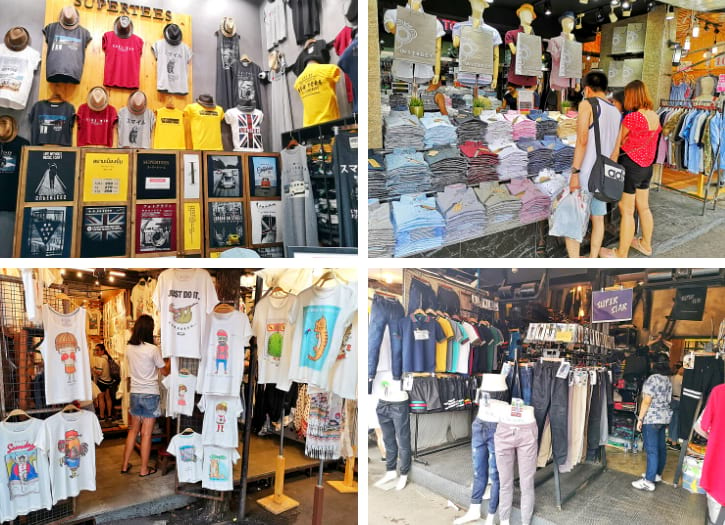 There's also an amazing selection of men's apparel. Check out these stalls offering comfy T-shirts, printed tops, and denim jeans.
3. Swimwear and Colorful Attire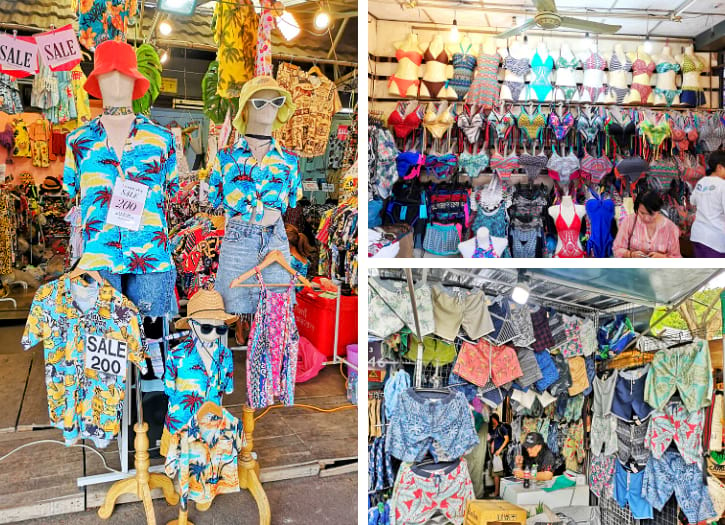 These shops have various kinds of beach clothes for the entire family.
They have one-piece and two-piece bikinis, along with some floral tops and shorts. Hunt through the affordable assortment and save money for your next beach escapades.
4. Kids' Dresses and Shirts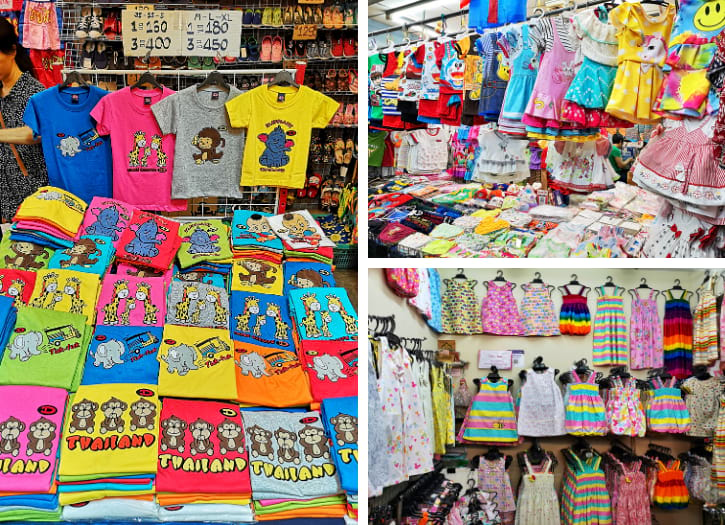 In case you need to buy stuff for your kids, this large market also has a lot of options at hand.
They have cute ternos in various sizes as well as colorful dresses and shirts.
5. Different Bags Styles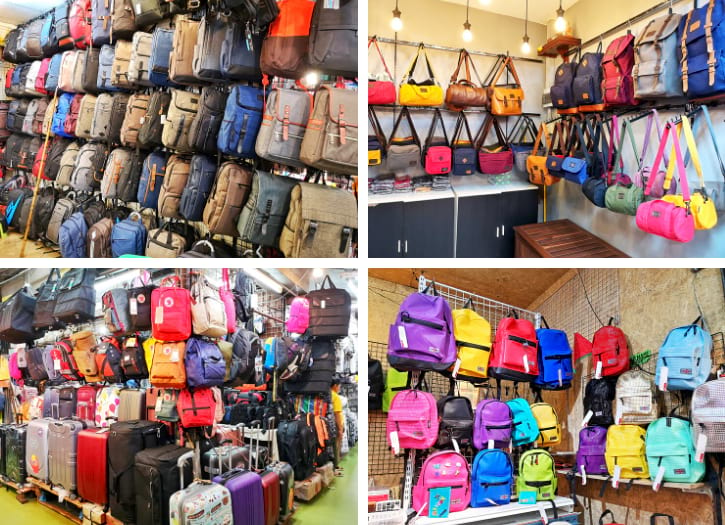 Now, let's move into the bag section. Explore this impressive collection of backpacks and duffel bags and score your favorite piece.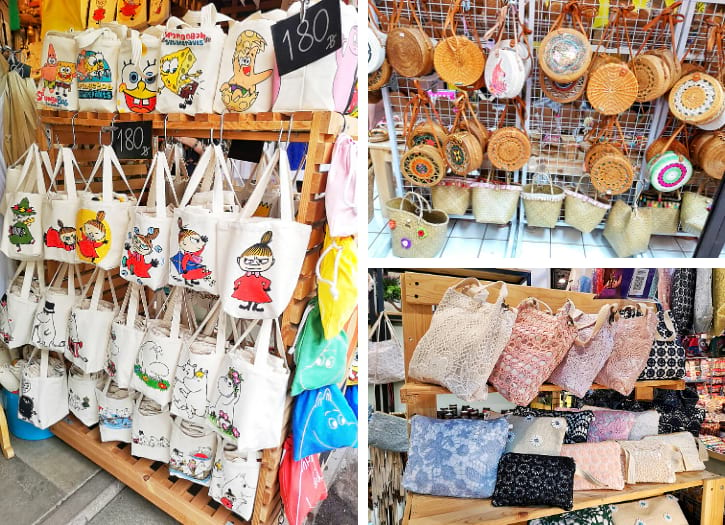 Stay on trend with these locally-made straw bags. Pick your style and flaunt your cute bag on the runway!
Or go for these simple yet cute tote bags that you can use every day.
6. Hair Accessories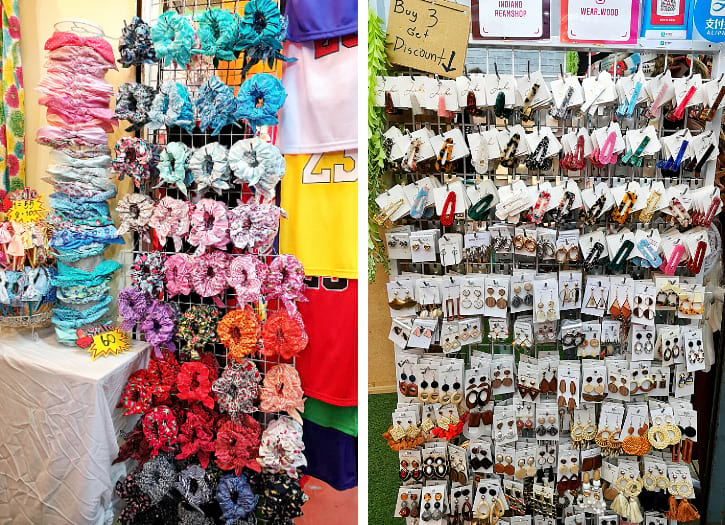 Stylish stuff like colorful headbands and hair ties are on sight too. Shop some of these cute headbands and clips for your girls.
7. Fashionable Hats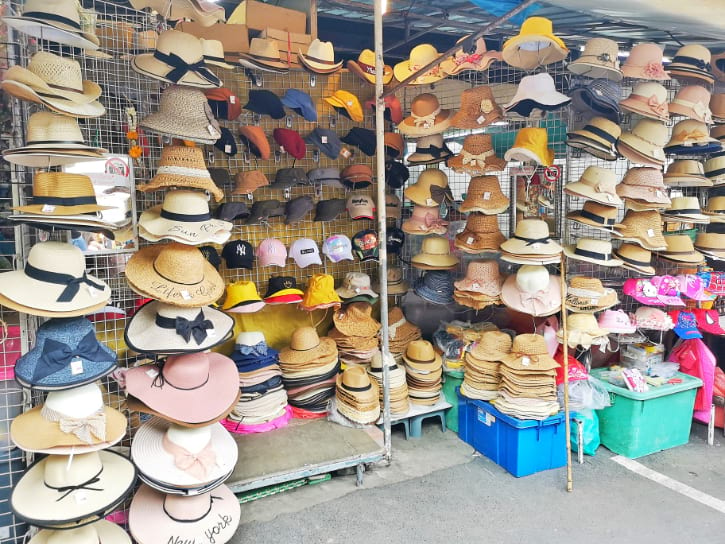 Make your Chatuchak Weekend Market trip more comfortable with these chic and practical hats.
Pick your favourite straw hat that represents your style. These women's hats are perfect for your summer trip in Bangkok.
8. Colorful Footwear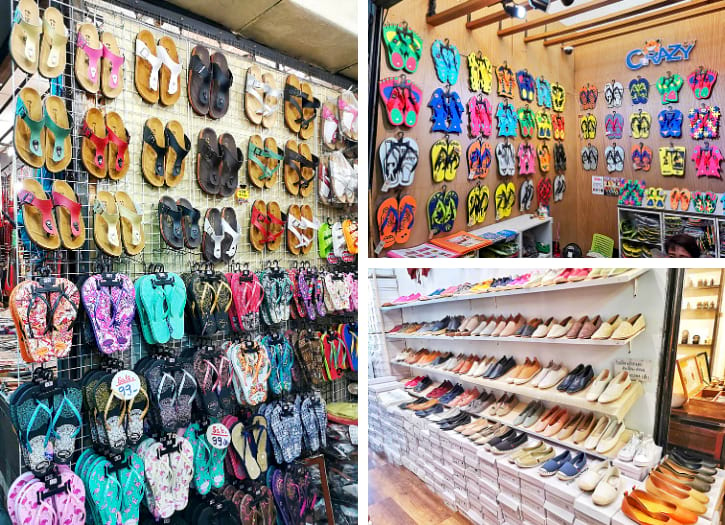 It's time to expand your shoe and slipper collection. There's a lot to consider from this breath-taking display of footwear.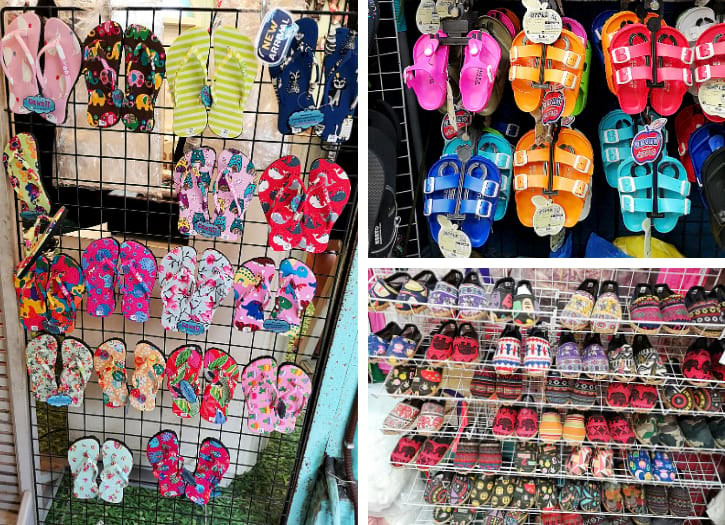 Turn heads while you spot these colourful flip-flops with cute designs. Each slipper has its own style that is worth the second look!
9. Cheap Socks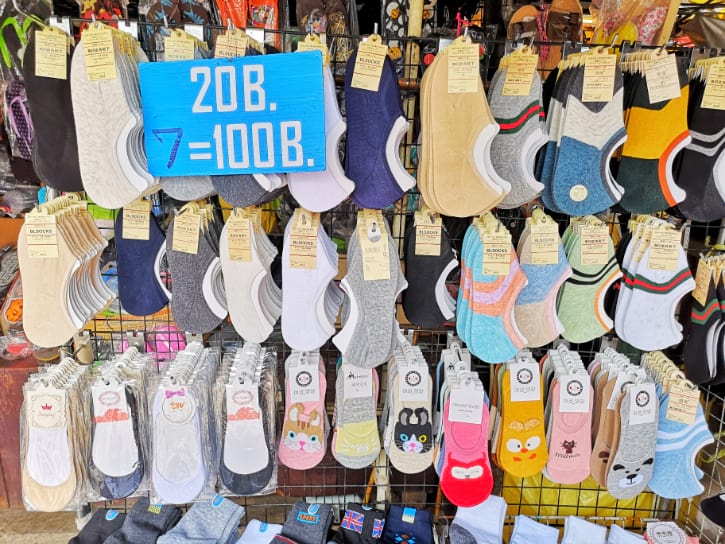 And of course, don't forget to complete your foot essentials with these socks. Whether you want it plain or something colorful, you've got something to choose from in this section.
10. Beautiful Portrait Painting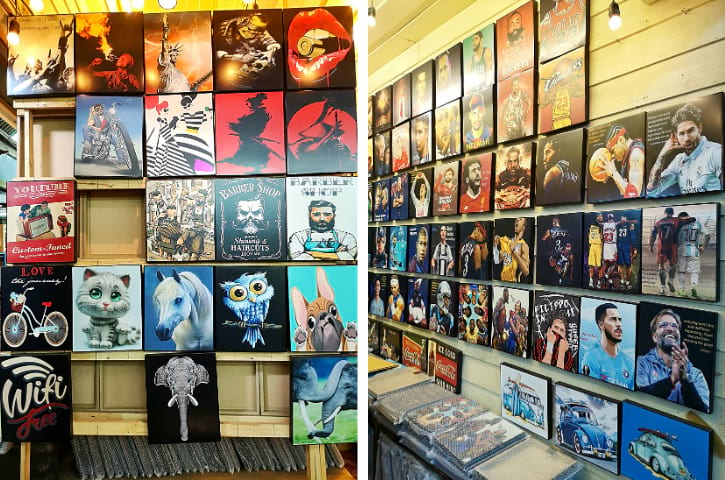 For those with an eye for art, see this huge exhibit of various paintings. They've got an incredible display of unique and fascinating portraits.
11. Cheap and Cute Souvenirs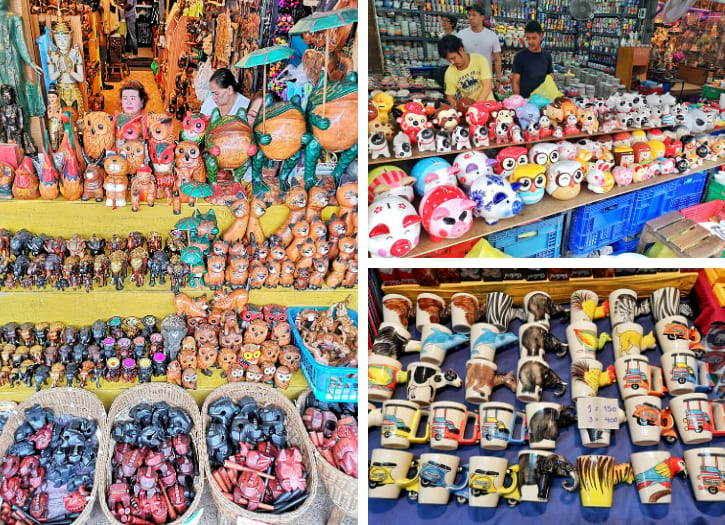 The souvenir section has everything on offer, including these animal coin banks and figurine cups.
Wood souvenirs are tourist favorites too because of their style and price.
12. Dried Snacks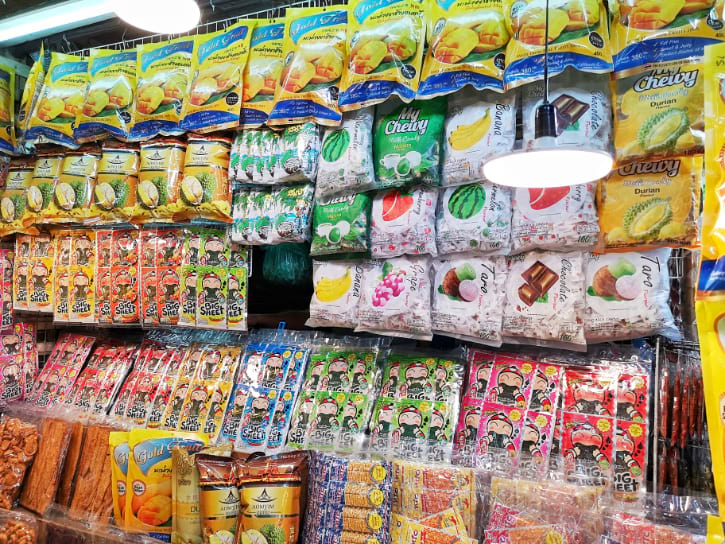 It's hard to miss all these cheap snacks! And there's nothing to worry about when shopping for your favorite treats. There are a great number of stalls for everyone, from dried mangoes to dried durians.
Best Foods to Eat
After your Chatuchak Weekend Market shopping spree, it's time to satisfy your stomachs!
Ready yourself with the abundant food and beverage options. There are fried dishes, fresh fruits, and tasty snacks in many stalls.
1. Coconut Ice Cream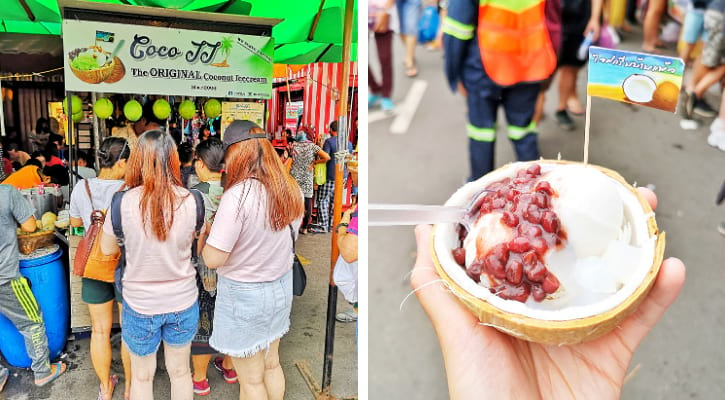 Take a scoop of this cold, tasty dessert! This coco ice cream is just the perfect treat after a long day! Because of its popularity, this stall is often jam-packed with customers.
2. Fried Chicken and Shrimp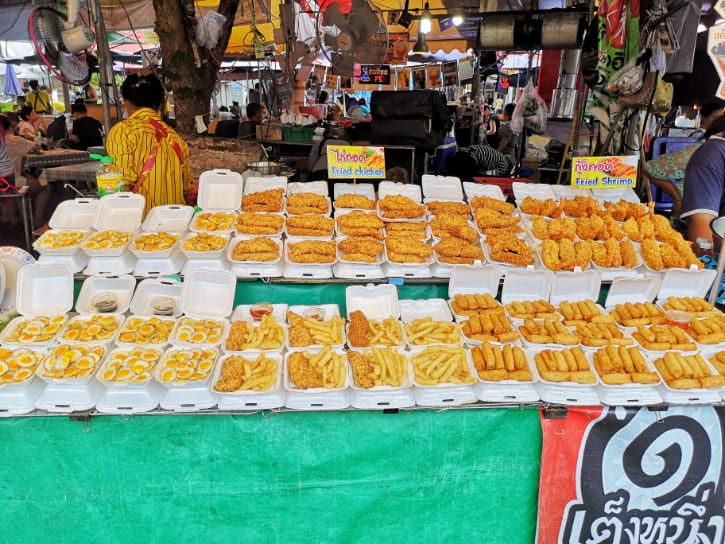 Grab this ready-to-eat fried chicken and shrimp combo! These are perfect options to fulfil your cravings.
And don't worry because these are very tasty dishes that won't hurt your budget.
3. Grilled Fish and River Shrimp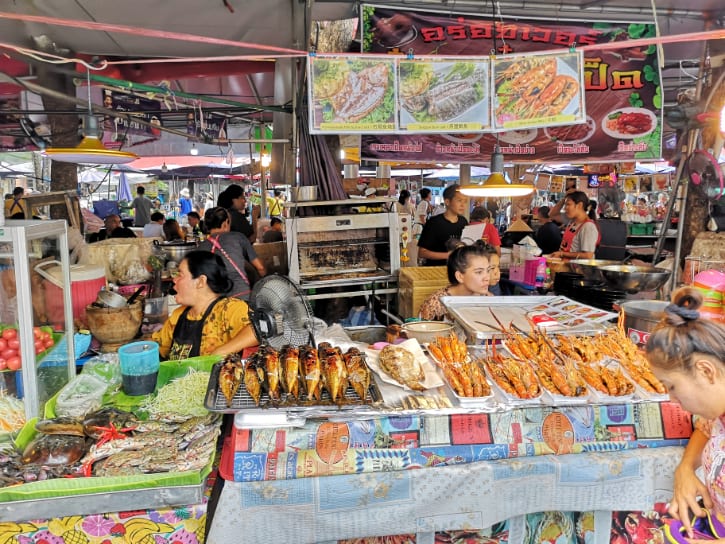 Take your feet into this area and try some seafood goodness!
If you're a seafood lover, make sure to also visit the Amphawa market. This place is well-known for its seafood dishes.
Plus, the atmosphere in the area is very relaxing. Find out more about this famous spot in my blog post on day trip to Amphawa floating market from Bangkok.
4. Fried Potato and King Octopus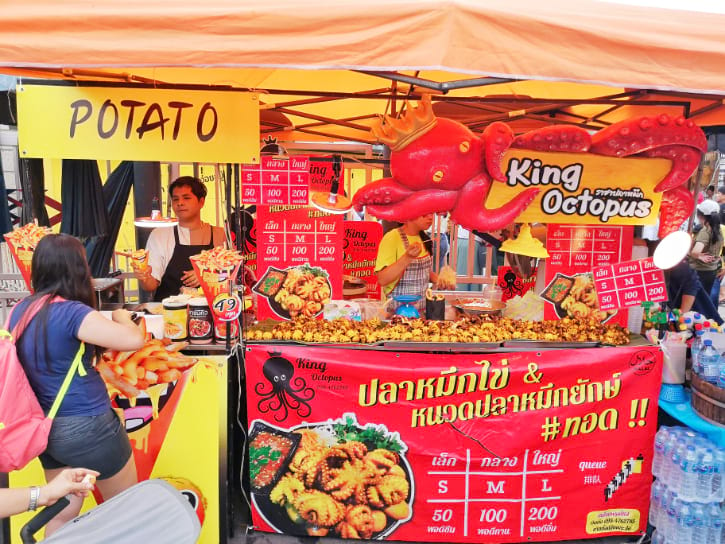 Don't forget to visit King Octopus! This is one of the famous stalls in Chatuchak Weekend Market that offers delectable fried seafood. There might be long queues here but it's definitely worth the wait.
5. Chicken Skewers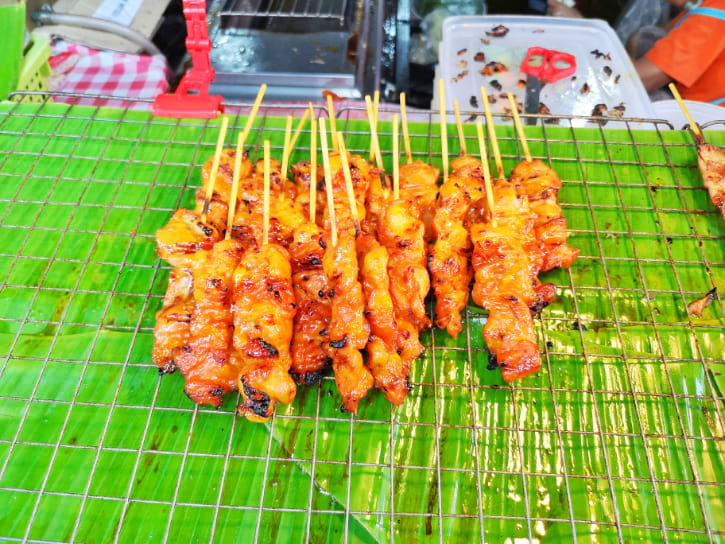 Try one of these tasty chicken skewers and you might end up asking for more! These are popular treats that you can eat in one go.
6. Durian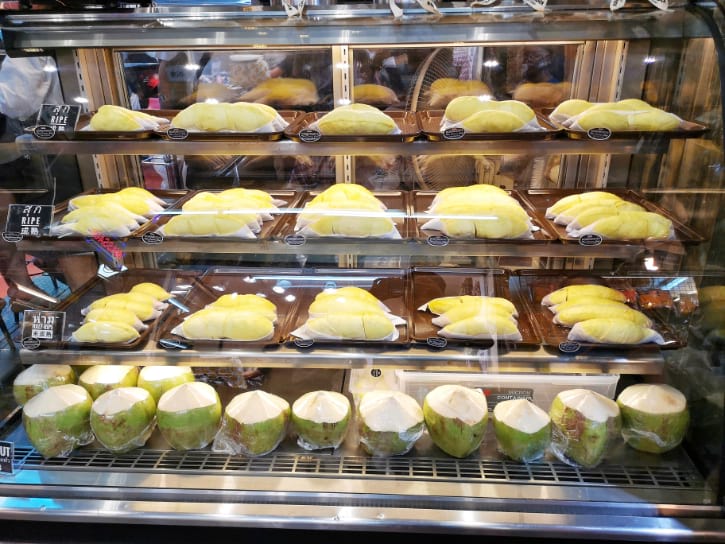 Satisfy your cravings with these healthy and yummy durian and coconuts. You won't be disappointed because these fruits are very fresh!
7. Mango Sticky Rice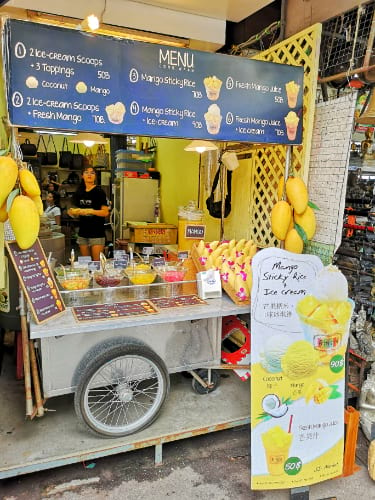 If you want more healthy options, pop by this stall and indulge in their famous mango sticky rice. They also have some refreshing shakes to try to.
8. Curry Rice with Friend Chicken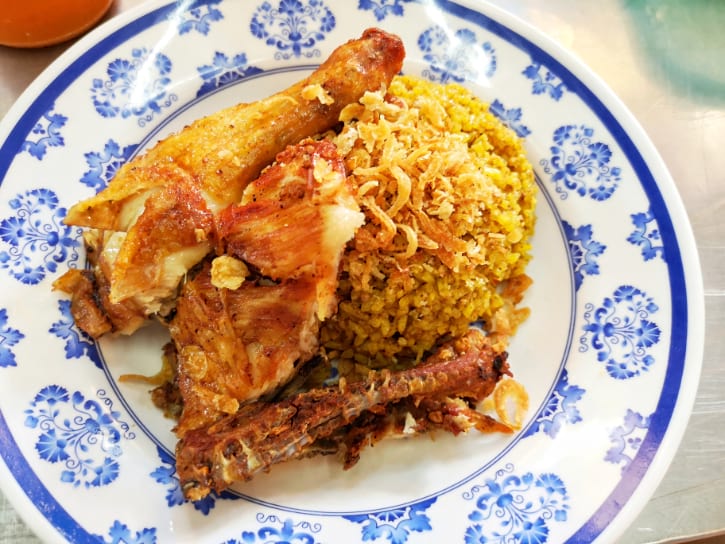 Complete your food adventure with a delectable curry rice paired with fried chicken.
Must Try Drinks
But of course, there's nothing more satisfying than capping off your food trip with some cold drinks!
Truly, Chatuchak Weekend Market has everything you can think of, from appetizing dishes to refreshing beverages!
1. Coconut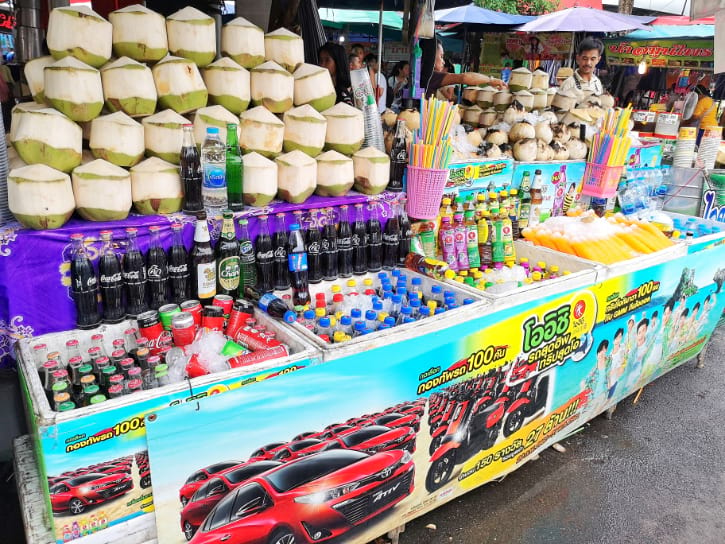 Along the corners, you'll find plenty of stalls serving fresh coconuts. They also have a lot of cold soft drinks to pair with your snacks.
2. Fruit Juice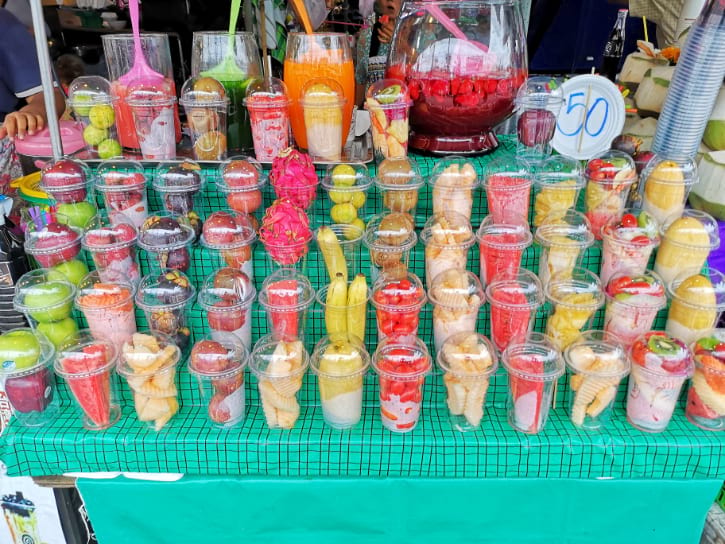 If you're trying to be healthy, just go to this area and enjoy their incredible juice selection.
They have almost all kinds of fruit juice, including watermelon, mango, banana, and melon.
3. Mixed Fruit Smoothie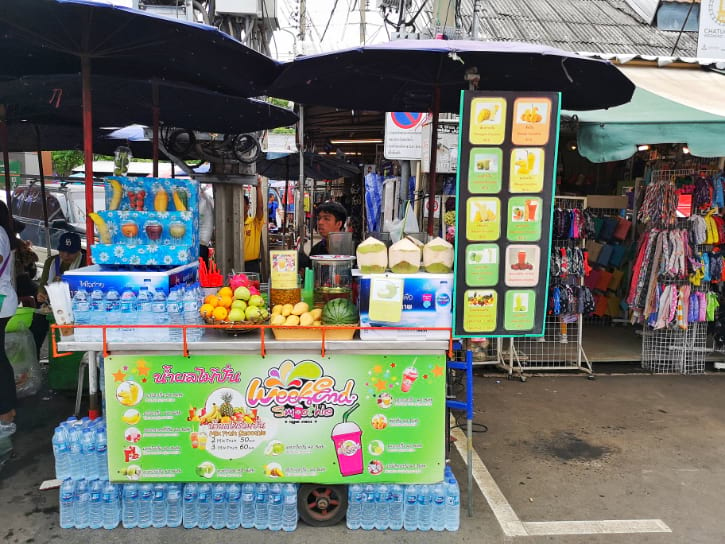 What about a combination of your favorite fruits? This stall grants your wish as they offer mixed fruit smoothies. They have several options on array to satisfy your taste buds.
4. Thai Tea Caramel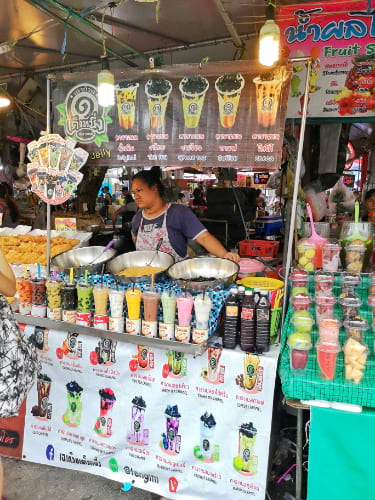 Craving for some tea? This market got it all for you! Take a sip of the famous Thai Tea Caramel, along with other tea flavors.
Best Time to Visit
Wednesday to Thursday (Plants Market):
5:00 AM – 6:00 PM
Friday (Wholesale Market):
7:00 PM – 5:00 AM (Next Day)
Saturday and Sunday (Weekend Market):
5:00 AM – 7:00 PM
Tip #1: Go to the market on weekends
To maximize your visit, it's best to go to Chatuchak Weekend Market on Saturday and Sunday.
Compared to weekdays, all stalls are open on weekends. This gives you a lot more shopping and dining options.
Tip #2: Explore the market in the morning
With lesser crowd and more tolerable temperature, it's recommended to visit the market in the morning. Most stalls didn't open by 9 AM, so it's best to visit the market from 9 AM onwards.
Tip #3: Spend at least 4 hours in the market
During my visit to Chatuchak Weekend Market, I allocated about 4 hours because of the wide array of shopping treats. This duration is quite enough to cover the main sections of the market.
Something to Take Note Of
1. Keep your belongings secured to avoid pickpocketers
Beware of pickpockets! If you're wearing a backpack, don't put your wallet on the back pocket.
Keep it in a more secure area and wear your bag on the front instead of on your back. This way, you can keep an eye on your things easily.
2. Opt for comfy clothing and footwear
Avoid wearing long sleeve top and pants since you will be shopping in the market with no air conditioner.
Wear comfortable clothes and sandals to keep you relaxed all day long.
Chatuchak Weekend Market Map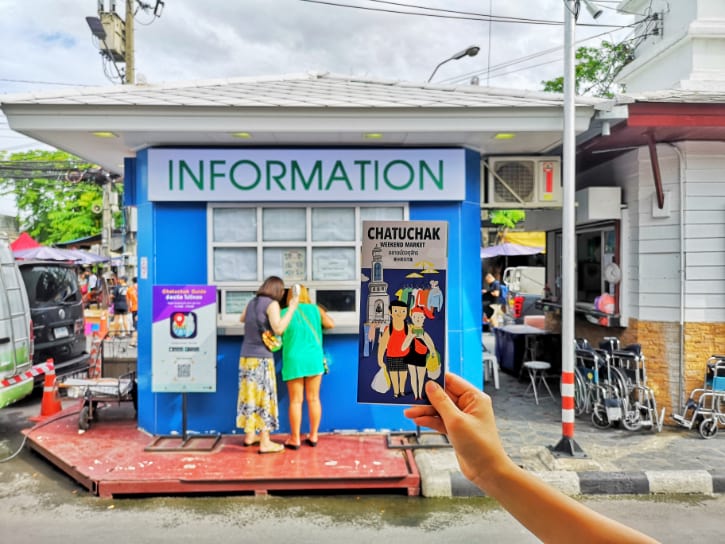 Considering the large stretch of stalls, you might get lost while exploring the Chatuchak Weekend Market in Bangkok. But don't worry because you can get a free map from the information counter at Entrance 3.
Take note that other entrance gates do not provide free maps, so make sure to enter via Entrance 3 (Google Maps).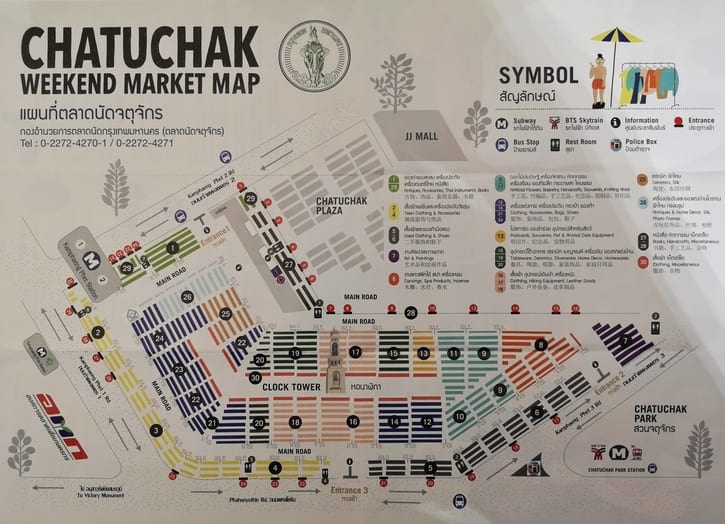 See the comprehensive guideline below to know the specific sections of the items you want to find in the market. This will surely help you save time and effort.
Antiques, Accessories, Thai Instruments and Book – Sections 1 and 29
Teen Clothing and Accessories – Sections 2 to 4
Used Clothing and Shoes – Sections 5 and 6
Art and Paintings – Section 7
Carvings, Spa Products and Incense – Section 8
Artificial Flowers, Basketry, Handicrafts, Souvenirs and Knitting Wool – Sections 9 to 11
Clothing, Accessories, Bags and Shoes – Sections 12, 14, 21 to 24
Postcards, Souvenirs, Pet and Animal Care Equipment – Section 13
Tableware, Ceramics, Silverware, Home Decor and Homewares – Sections 15, 19 and 20
Clothing, Hiking Equipment, Leather Goods – Sections 16, 17 and 18
Ceramics and Silk – Section 25
Antiques & Home Decor, Silk and Photo Frames – Section 26
Books, Handicrafts and Miscellaneous – Section 27 and 28
Clothing and Miscellaneous – Section 30
Food and Beverages – Sections 2 to 4, 23, 24, 26, 27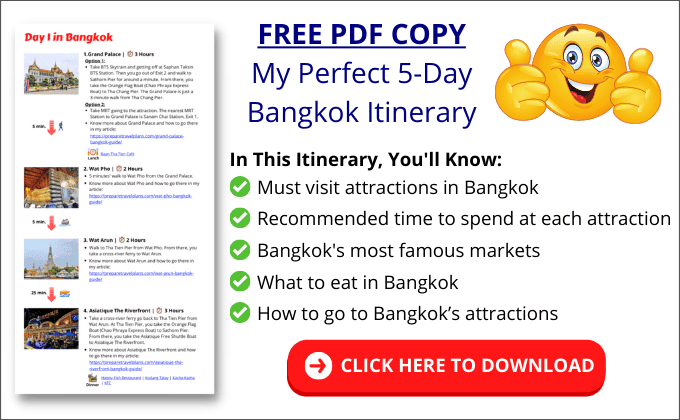 How to Get to Chatuchak Weekend Market in Bangkok
1. By BTS
Chatuchak Weekend Market is easily reachable by Skytrain (BTS). The nearest BTS Station to the market is Mo Chit Station. Upon reaching Mo Chit Station, just head to Exit 1 and walk straight for around 4 minutes (roughly 350 meters). By then, you will see the Entrance 3 of the market on the right side.
As noted previously, it's best to enter the market via Entrance 3 so you can get a free map. This map will help you navigate the market with ease.
2. By MRT
There's another option for travellers who plan to visit Chatuchak Weekend Market by Bangkok MRT. Simply get off at Chatuchak Park Station, Exit 1, then turn right and go straight for around 4 minutes. Then, you'll be at Entrance 3 of the market in no time.
Related Posts