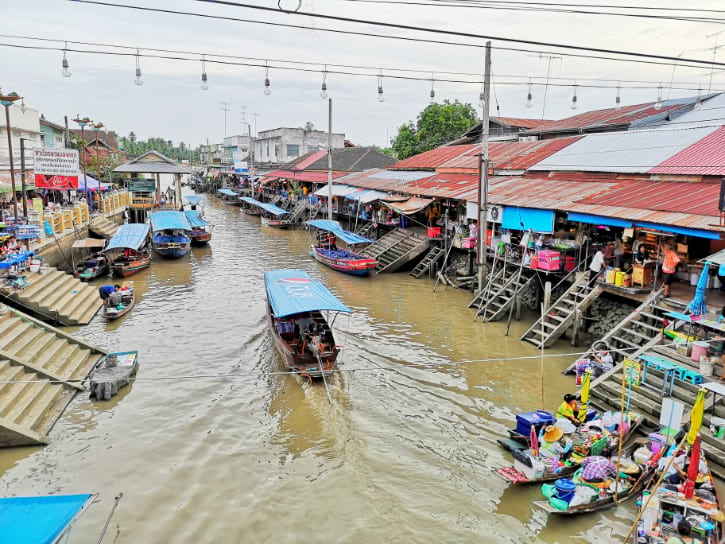 Wondering how to go to Amphawa Floating Market from Bangkok? This detailed guide will help you to reach this popular floating market easily.
There are 4 ways of getting to Amphawa Floating Market if you plan to depart from Bangkok which are minivan, group tour, private tour and taxi. I will walk you through these 4 transport options, together with my best pick. You'll also know how long does it take and how much does it cost to travel to Amphawa.
Other than this, I'll share with you my experience of visiting the market, along with some important tips and tricks. Plus, I'll introduce to you the best things to do and eat at there.
Overall, this guide will help you to plan a smooth and memorable trip to Amphawa Floating Market.
Let's get started.
4 Ways to Go to Amphawa Floating Market from Bangkok
---
1. By Minivan
---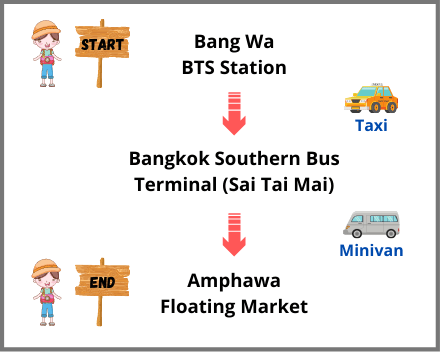 Why you should take the minivan?
Cheapest but needed transfer before taking the minivan
The cheapest way to go to Amphawa Floating Market is by taking a minivan but required multiple transfers and a little bit time consuming.
You may refer the steps below to know how to take a minivan to Amphawa.
Take the BTS Silom Line to Bang Wa BTS Station
Alight at Bang Wa BTS Station, Exit 1
Take a Taxi to Bangkok Southern Bus Terminal (Sai Tai Mai)
Catch a minivan to Amphawa Floating Market from Bangkok Southern Bus Terminal (Sai Tai Mai)
*The minivans depart every 60 minutes at the Bangkok Southern Bus Terminal (Sai Tai Mai)
Southern Bus Terminal to Amphawa Floating Market:
Travel Cost (one way): 70 Thai Baht
Time Required (one way): Around 90 Minutes
2. Take a Tour by Bus
---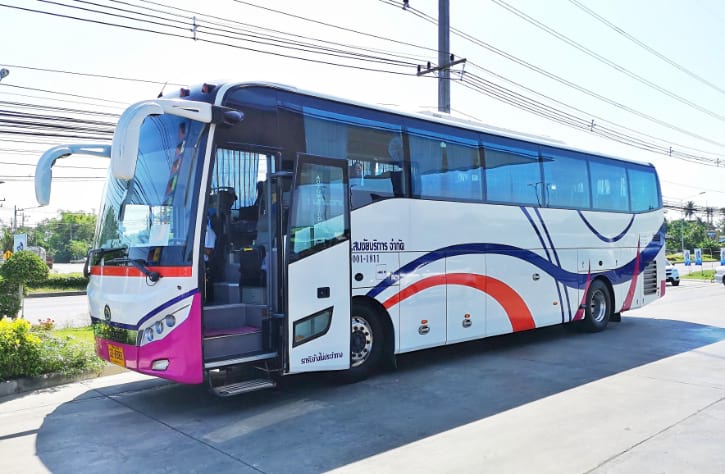 Why you should take a tour?
Easy, fast and save time plus affordable price
If you want to avoid taxi scams, then the best option is to take a tour from Bangkok to Amphawa Floating Market. This is a convenient and safe way to go there. Plus, it's more affordable compared to taxis.
Here are 7 reasons why you should take a tour to Amphawa Floating Market:
Highly-organized adventure. If you want to have a systematized trip, there's no better way than to take a tour.
Comfortable and convenient service. The tour brings you directly to the floating market, which means no need for multiple, inconvenient transfers.
Comes with a local expert guide. Unsure of what to do, what to eat, and what buy at Amphawa Floating Market? This tour guide is there to help you all throughout your trip to the market.
No more boat ride scam. Surprisingly, this tour not just covers your land transportation but also your boat ride. Such a great saving!
And of course, no more taxi scams. With direct transportation to and from the market, there's no chance of you getting taxi scammed.
Much cheaper than taxis. Aside from dismissing possible taxi scams, you get more savings if you avail of a group tour.
More secure and safe trip. Lead by a local Thai tour guide, you simply just take the ride, explore the market, and enjoy every attraction!
Assembly Locations:
The assembly locations for the tour are right within your reach. There are situated just outside of Victory Monument BTS Station, Exit 2 (Century Mall) and Siam BTS Station, Exit 5 (Siam Paragon) making these very convenient to tourists.
Here's my feedback on the tour I took during my trip to Amphawa Floating Market
---
Availing the tour to visit Amphawa Floating Market has been a great decision during my trip to Bangkok.
The tour itself was very organized and convenient. And with a professional, English-speaking tour guide, it made our trip very engaging and informative.
We were taught not just with basic Thai words but also some valuable shopping tips when striking a bargain. Plus, the local guide gave amazing recommendations on where to dine and what to eat to save money. The guidelines provided really helped us choose wisely.
Because of the systematic itinerary, we had enough time to explore the entire floating market. We were able to enjoy lots of local foods and shop for various items.

Above all, this tour package already includes the firefly boat tour for 1 hour. So, that means you don't have to deal with possible boat ride scam. Furthermore, it also covers two other nearby attractions like Maeklong Railway Market and Damnoen Saduak Floating Market.
My final verdict for this group tour is definitely two thumbs-up! It's highly recommended for all sorts of travellers, from couples to families and group of friends.
So, if you want to explore all three attractions in one day, simply take the tour and enjoy! You'll have the most comfortable day trip ever without worrying about public transportation, scam, and all.
You've got 3 packages to choose from.
Damnoen Saduak Floating Market & Maeklong Railway Market
Damnoen Saduak Floating Market, Maeklong Railway Market & Amphawa Floating Market

(I chose this package)

Maeklong Railway Market & Amphawa Floating Market
If you're wondering why there are 3 options, it's because Amphawa Floating Market is available from Friday to Sunday. This means that you can't visit this attraction from Monday to Thursday due to closing.
I was lucky to visit all three attractions since I availed of the second tour package.
For reference, see the link below that features all important information about taking a tour. This includes the transportation schedules, assembly locations, package rates, tour itineraries, and such.
3. Private Tour by Car
---
Why you should take the private tour?
Fastest and secure but expensive
Another option is the private tour, which is highly suitable for friends, families, or those with senior parents. This is also the fastest and safest way to get to Amphawa Floating Market from downtown Bangkok.
But of course, it's pricier compared to taking a group tour. Still, you'll love the inclusions of this private tour.
You'll be assisted by a local, informative guide who can focus on you the entire trip. From the time of hotel pick-up to hotel drop-off, there'll be no division of attention.
Plus, you'll have a more personalized adventure, exploring all the must-visit spots and eating all the must-try foods.
With a local tour guide leading the trip, this will surely create a more lasting and enjoyable journey.
Planning to avail of the private tour?
Click the link below to know everything this option has to offer, from price, schedule, inclusion, and more.
4. By Taxi
---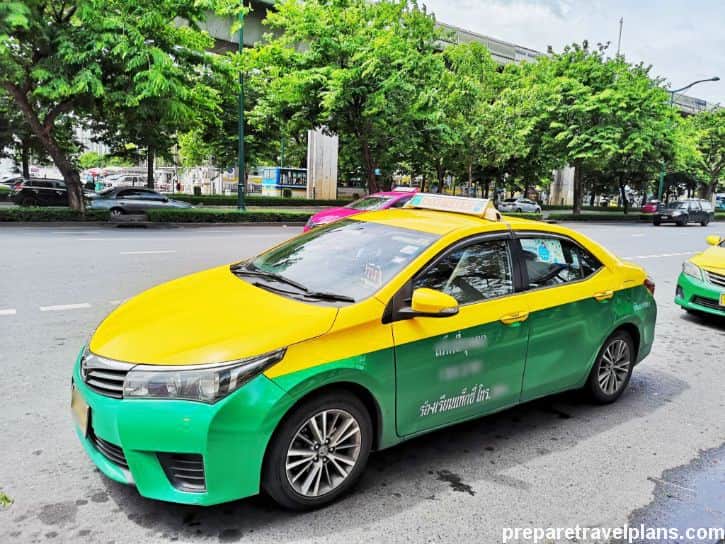 Why you should take the taxi?
Fastest but expensive – Beware of scam
If you want to get to Amphawa Floating Market as fast as you could, taking a taxi is the answer. This might just be the fastest way to go to this famous attraction from Bangkok; however, it could also the most expensive.
The taxi rate could go high, especially with the serious traffic jam in Bangkok. Not only that, if you choose this option, you might possibly experience taxi scam―especially if you're not very careful.
When taking a taxi, be sure to check with the driver first if he got a meter or not. This will help you avoid possible opportunist drivers who don't use the meter and give you a fixed rate instead.
So, if a taxi driver refuses to use the meter, don't waste your time and get another cab.
Amphawa Floating Market Opening Hours
---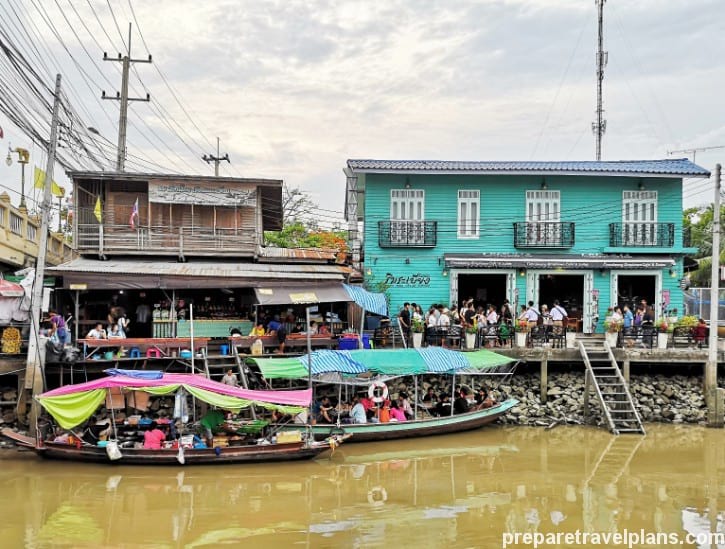 Unlike most markets that open daily, this floating market is only accessible from Friday to Sunday. They welcome people from all walks of life from 11 AM to 8:00 PM.
For a livelier and more memorable experience, head to the floating market after 2:00 PM. This time, the market starts to be jam-packed with people, wandering around and eating some local foods.
Why You Should Visit Amphawa Floating Market
---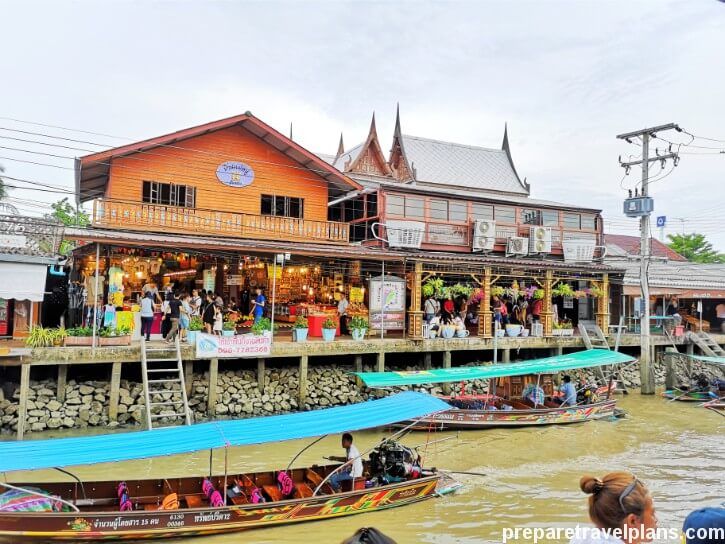 As one of Thailand's most visited attractions, Amphawa Floating Market can give you a rather memorable day trip. This famous floating market maybe second to Damnoen Saduak in terms of size, but its spells out authenticity.
So, if you want something more traditional with less modern intervention, then this place is something to look forward to.
During afternoon, the floating market is beaming with excited tourists and lively locals. Plus, the stalls surrounding the canal are a work of art. And without a doubt, you can feel the energetic ambiance enclosing this scenic market.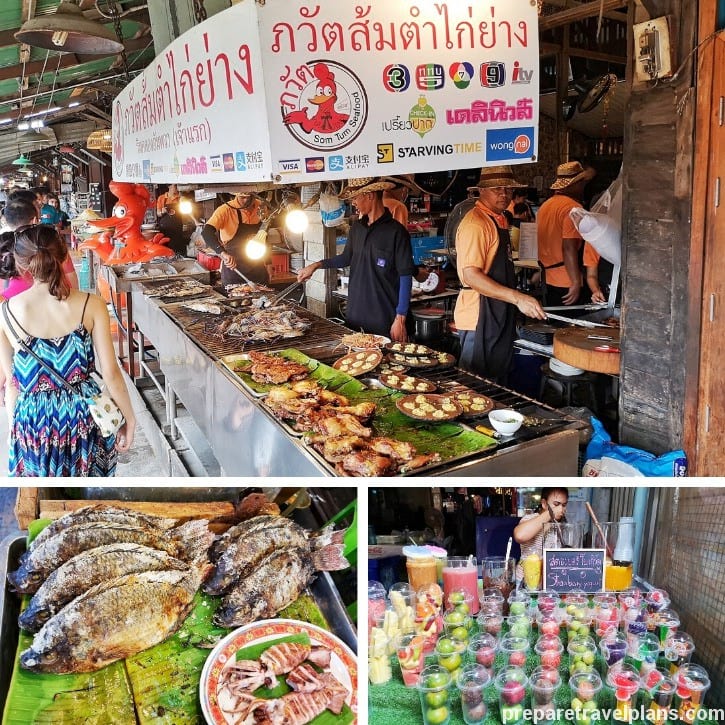 And one of the best things to do at the Amphawa Floating Market is to go seafood hunting. This floating market is a paradise for seafood lovers.
Choose among the platter of grilled foods such as shellfish, prawns, grilled fish, squids, and crabs. Then, dine freely on one of the steps alongside the canal and see the gorgeous water views while eating.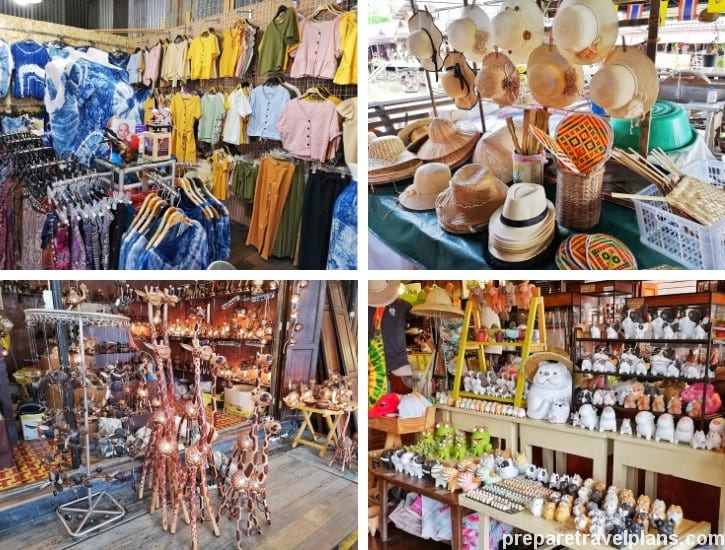 More than the seafood options, fashion clothing shops and souvenir stalls are also everywhere.
When you visit the place in the evening, you can fully appreciate the scenic waterscape and the picturesque setting. Because of its vibrant vibes and traditional setting, no wonder why this market is always a tourist favourite.
Experience an exceptional shopping and dining journey in the market and you'll love the country even more. This place is probably one of the best ways to live like a local, even for a limited time.
4 Important Things to Know Before Going to Amphawa Floating Market
---
1. Prepare your tummy for a wide selection of must-try Thai foods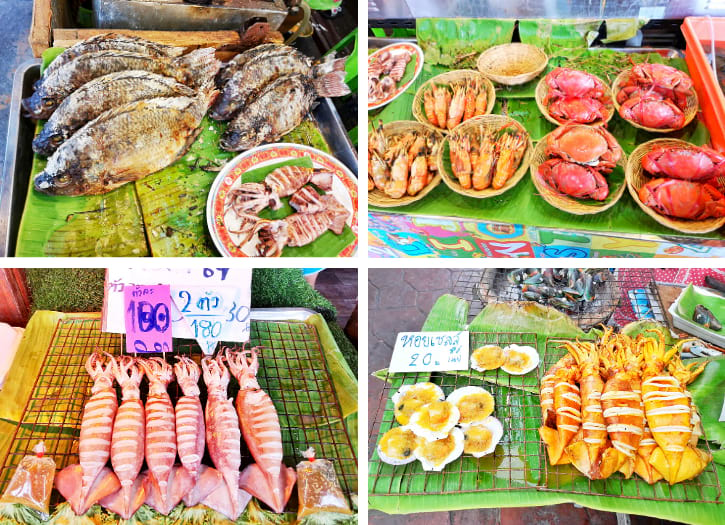 You'll never go hungry at the floating market. They have lots to offer, from grilled fish to squid to prawn and more! The seafood selection in the market is simply impressive.
So, if you have some seafood cravings, then this is the best spot to visit.
2. Take a stroll or dine along the riverside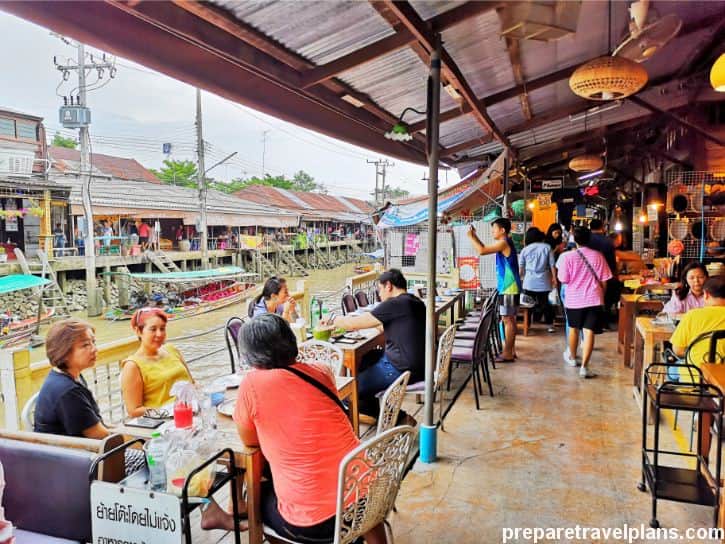 Filled with traditional wooden shops and charming eateries on both sides, the market is perfect for strolling around. Walk along the riverside and enjoy the beautiful views. Or, you can dine in one of the riverside restaurants.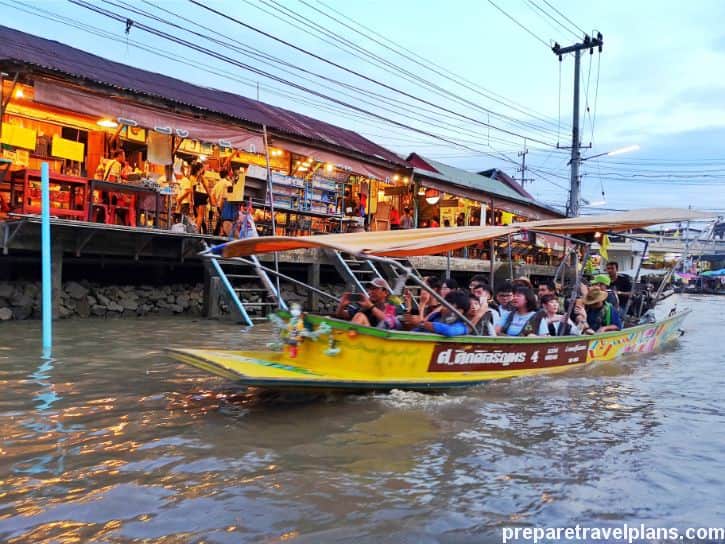 When the sun sets, you can now jump aboard the longtail boat ride. It's best to take this water journey around 6:00 PM to 6:30 PM so that you will be surrounded by glittering scenery.
At evening-time, this floating market transforms into a more picturesque destination, with all the captivating illuminations from the shops. During this time, you can take your camera for a dazzling photoshoot―with a chance of seeing some fireflies.
3. Practice some basic Thai phrases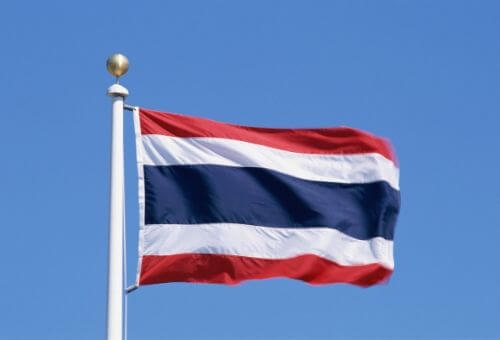 For your convenient and advantage, make sure to know these common Thai words before going to the market. This will make your shopping adventure to Amphawa Floating Market easier as you already understand some basic Thai shopping language.
Here are some of the most used Thai phrases when shopping:
Hello – Sawadee Krap (Male)/ Sawadee Ka (Female)
How Much – Thao Rai
Discount – Loht
Yes – Dai
No – Mai
Thank You – Khop Khun Krap(Male)/ Khop Khun Ka (Female)
4. Be informed of some tips and tricks when bargaining for souvenirs and goods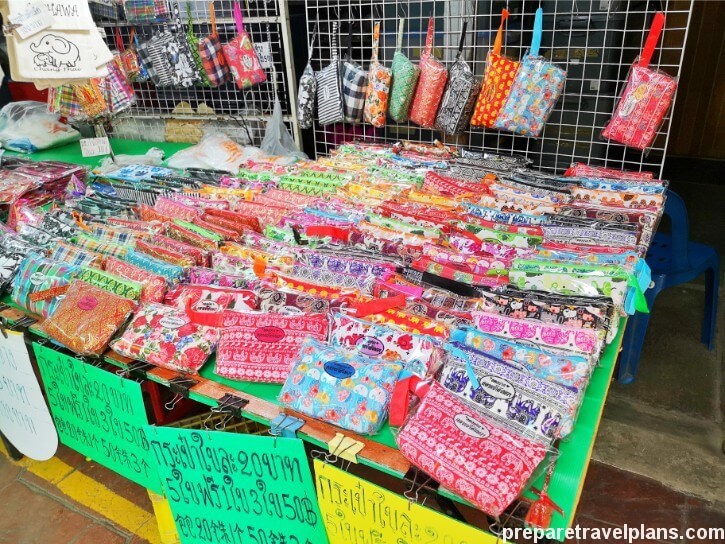 Save money when you shop at the market with the help of these bargaining tricks. For instance, if you're planning to buy some cute handmade wallets, you should first visit several stores. This will help you gain information about the price range and will aid you with the best starting bargain price.
Upon knowing the price range, visit your preferred store then let the bargaining begin! Cut the price for a 20% discount and wait for their reaction. If they don't take your offer, pretend to leave.
Then, cut the price again for 10%. If they don't still accept it, look for other stores as most vendors would already accept such bargain.
Things to Do and Eat on Your Day Tour to Amphawa Floating Market
---
The Main Entrance of Amphawa
---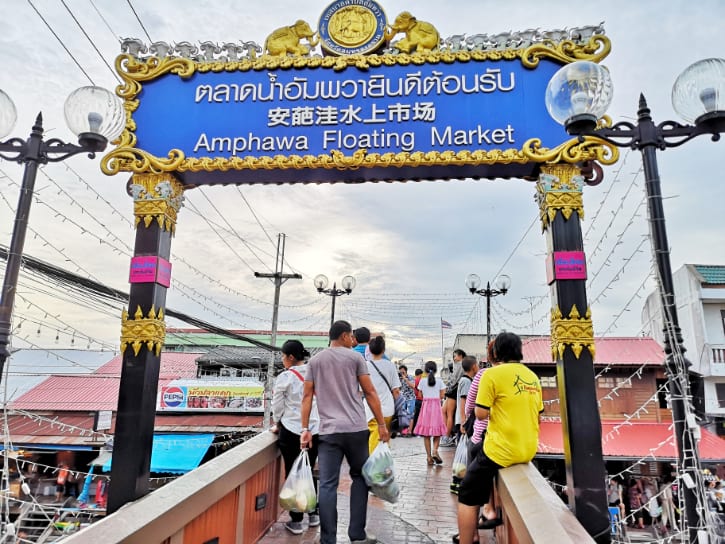 You'll never run out things to do on your day tour to Amphawa Floating Market. Go shopping, food hunting, or even photo shooting. This famous destination makes a perfect day trip for families and friends.
Judging by the entrance of the floating market, you know you won't go home with your stomach and hands empty.
This place boasts of its authentic food experience served in boats driving by the river. Take a step forward and dive into this famous Thai attraction!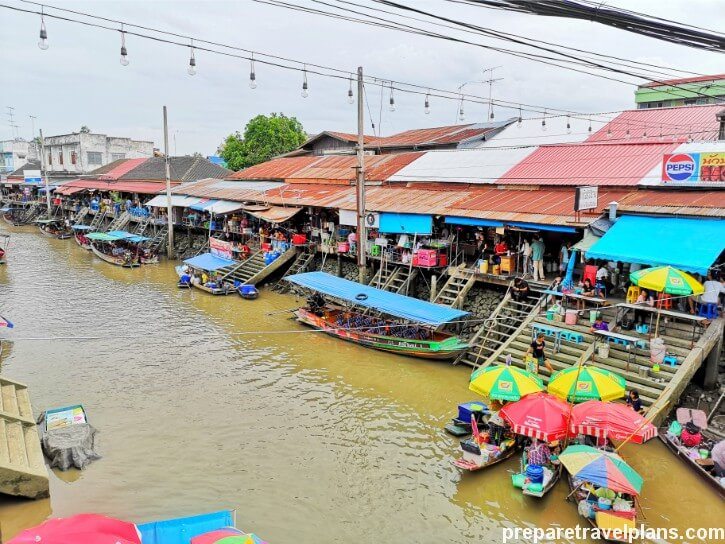 Through the years, the floating market has preserved its unique and captivating form.
The relaxing river, tasty foods, and vibrant goods—these are just some of the reasons to keep you visiting. Stop by one of the food stalls then to the passing boats and dig what you like!
Thai Street Snacks and Sweet Treats
---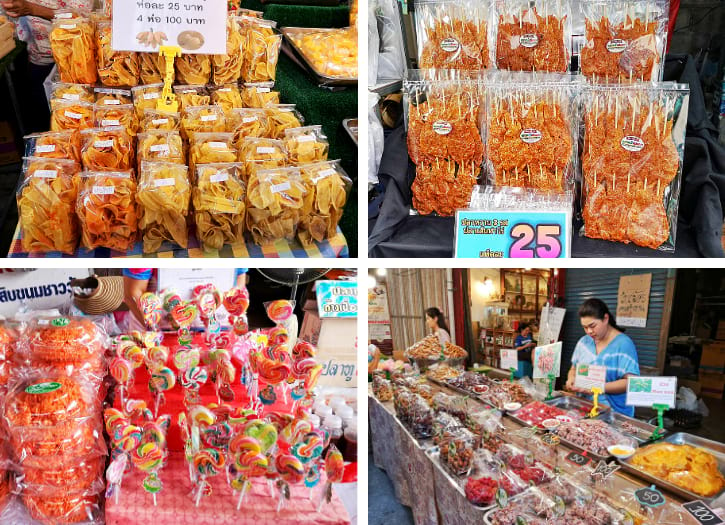 Taste the crisp of Thai banana chips for just a few Thai baht! This kind of snack is the best company when you're busy wandering around the market. These are very handy, tasty, and inexpensive. Chew one piece and you'll be surprised to finish it all in no time.
The market offers an impressive variety of sweets. Some of these are what you see above—an appealing array of treats that won't fail your sweet tooth. Give some a try and satisfy your cravings! However, if the money permits, you can surely try all of them, too!
Remember to grab some bright-looking lollipop while you're on your way! Chewing on these tasty lollipops will have you forget the hot weather.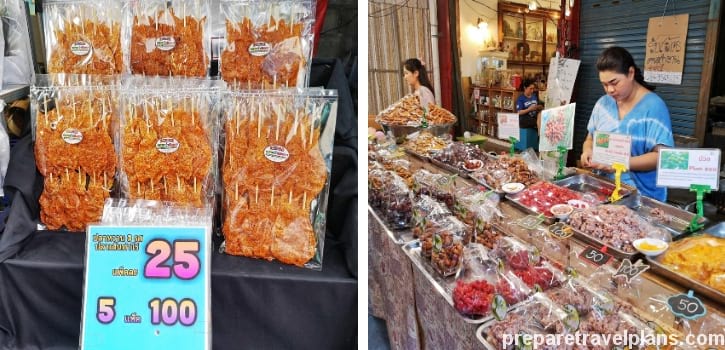 What we have here is a popular seafood appetizer that never disappoints. Search no more and settle for this satay fish!
And yep, these are honey roasted. If you haven't tried one before, well, trying the ones in Amphawa market will definitely leave you a good impression!
Don't forget to buy some dried tomatoes, too! This fruit can blend with any meal in a day.
Make sure to choose the freshest ones! Along with tomatoes, take a handful of smooth and juicy plums as well.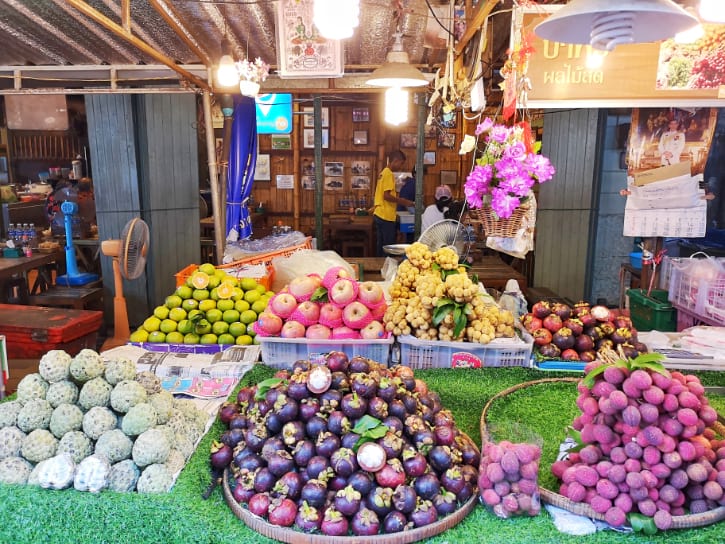 Voila! Make up your mind and figure out which among the group of assorted fruits you will buy. With the likes of mangosteens, lychees, apples, and lime, it's almost impossible to choose only one.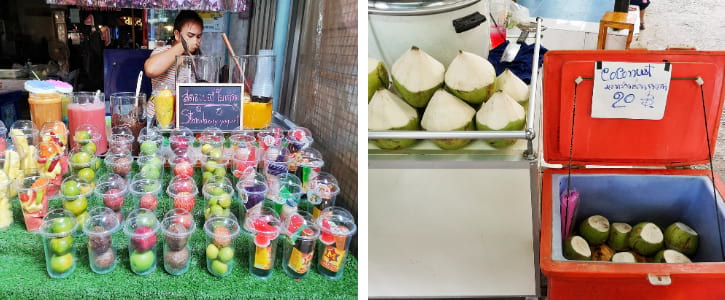 A sunny day is never too hot when you're drinking a delectable juice. A mixture of fresh fruits makes up this drink, from a slice of watermelon to apple. Go for your favourite flavour and have a healthy drink onward!
Alright, time to satisfy your thirst. Strolling along the walkway may probably exhaust you, but no need not worry. A fresh coconut drink awaits your arrival.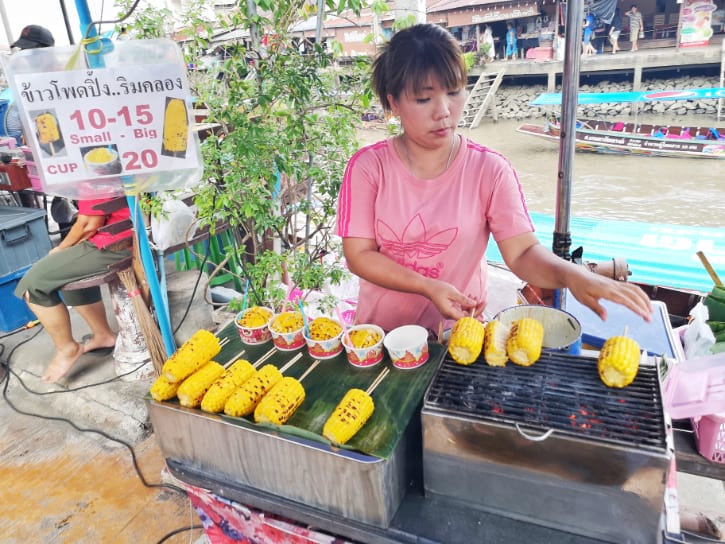 Don't forget to try some delicious corn stick grilled in one corner of the walkway. Stop by and take time to delight both in the taste of corn and the sight of the river.
If one small stick isn't enough though, might as well buy the bigger grilled corn.
Crunchy Fish Cakes and Mini Crabs
---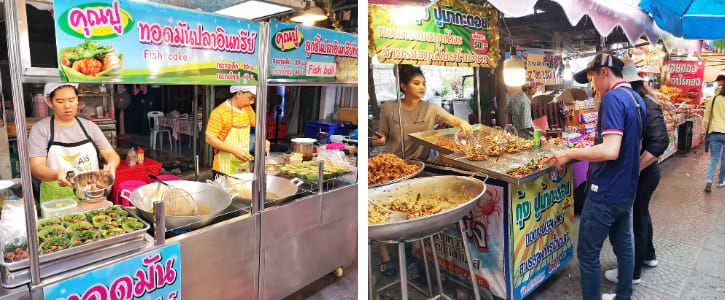 Get a taste of the crunchy fish cake with a touch of Thai cuisine. With its standout taste, this dish can be easily seen in one of the food stands in the market. You can also choose to have the fish cake as your side dish.
A good number of food stalls also sell mini crispy crabs. Many visitors try this out while roaming around the market.
Sometimes, deciding what to buy may take you some time because of the great selection of delicious food. However, this right here won't get you any hesitations.
Tasty Seafood
---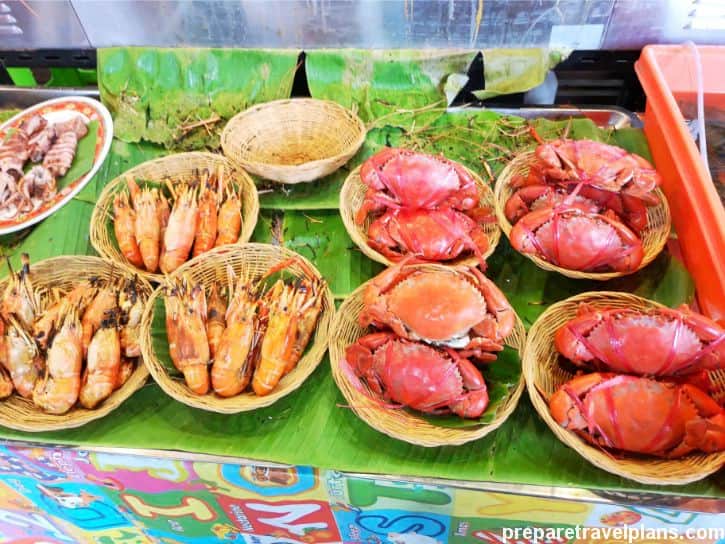 And we're back to another seafood trip! Seriously, Amphawa Floating Market is packed up with all kinds of seafood.
Hence, best believe that there's no shortage of crabs and prawns here. This is simply a heaven for seafood.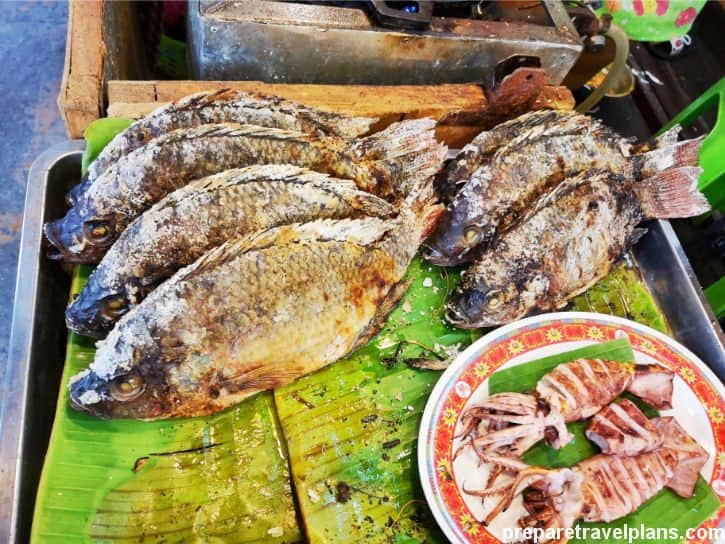 Who can say no to grilled fish? This dish is just too good to be disregarded. Anyway, its delicious smell will definitely find its way to you. Trust your senses and go for it!
Now, let's add more to the food feast. If you never know, squids and fishes are the best match. These foods can never go wrong if put together in one plate, especially if both are grilled!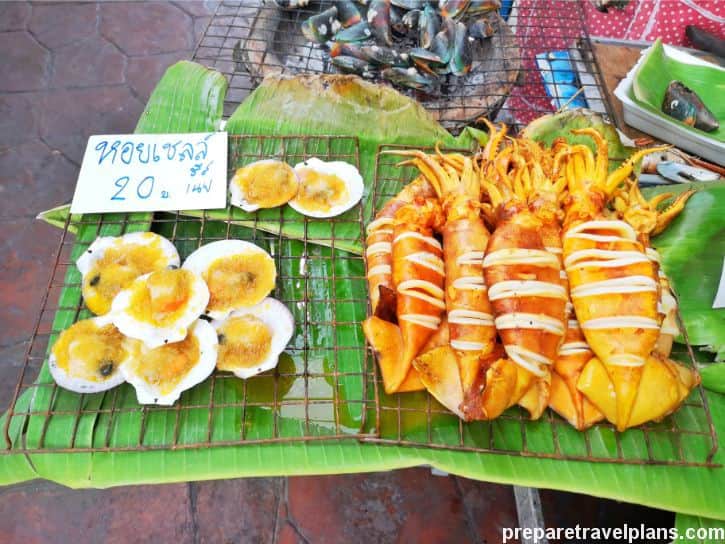 Now, if you're thinking about bringing home some delicious squids for dinner, you should.
Out of the number of seafood sold in the market, squids are the one of the most-loved and purchased. These squids are truly the best when grilled and soaked with spices.
Those who have a thing for scallops will definitely find it hard to resist this dish. Once you see it, you'll be pushed to reach for your pocket.
As flavoursome as these scallops look, the grilled squid is also a must-try. A line-up this good will have you looking for more.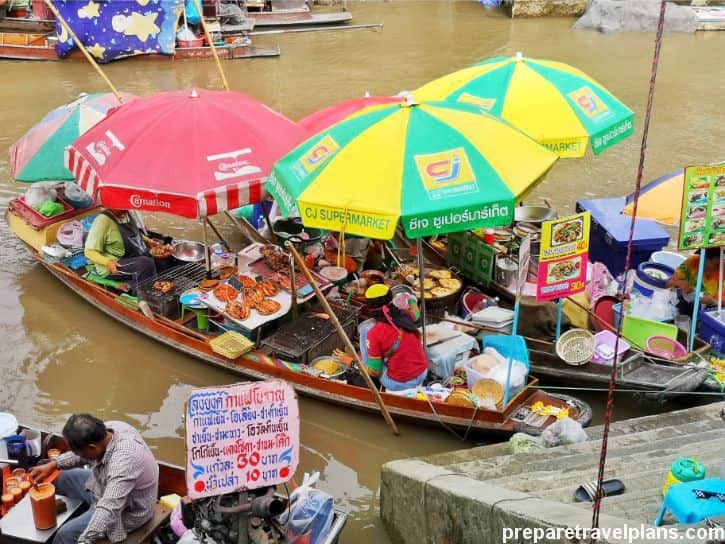 Join the many visitors who have been attracted by the smell of tasty grilled seafood. You can see these displayed out in a series of wooden boats. Pick your choice and eat next to the river!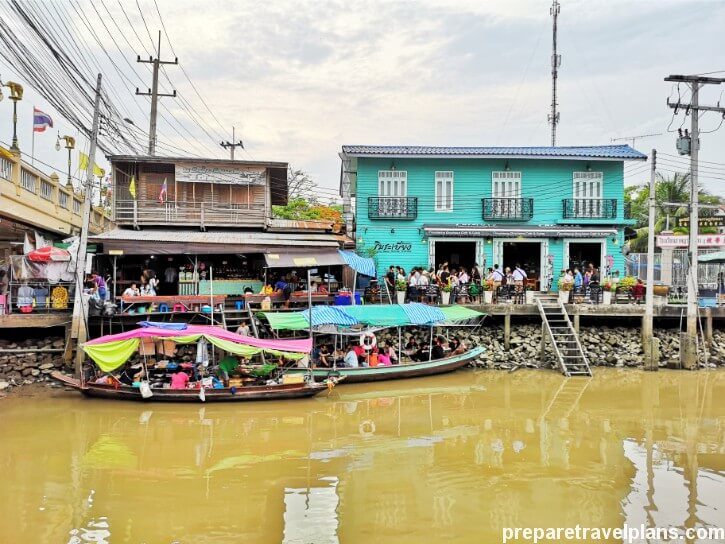 These boats deliver the best seafood at a cheap price. Don't underestimate the small boats because these have a lot of foods to offer.
Different appetizers are squeezed together in the boat, tempting onlookers to get a piece of their prawns, squid, and shellfish.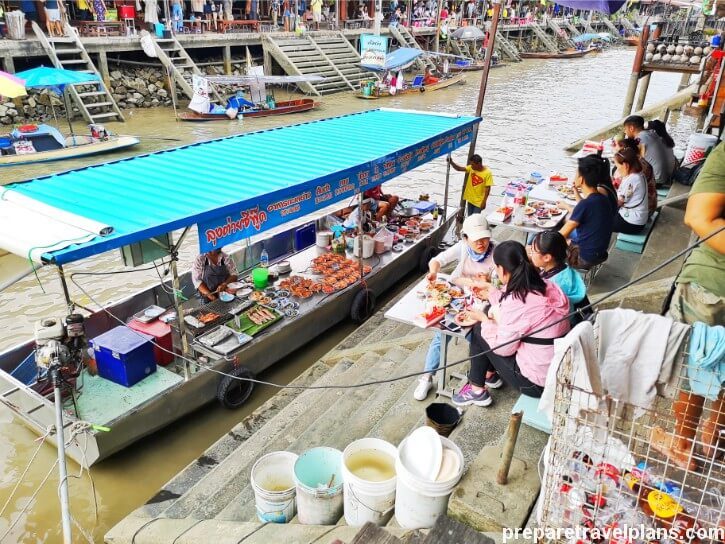 You have all the time to pick among the seafood displayed in the boats.
Usually, weekends are flocked with many people. You'll find some of them sitting casually alongside the canal while savouring their food.
Seafood Restaurants Along Both Sides of the Canal
---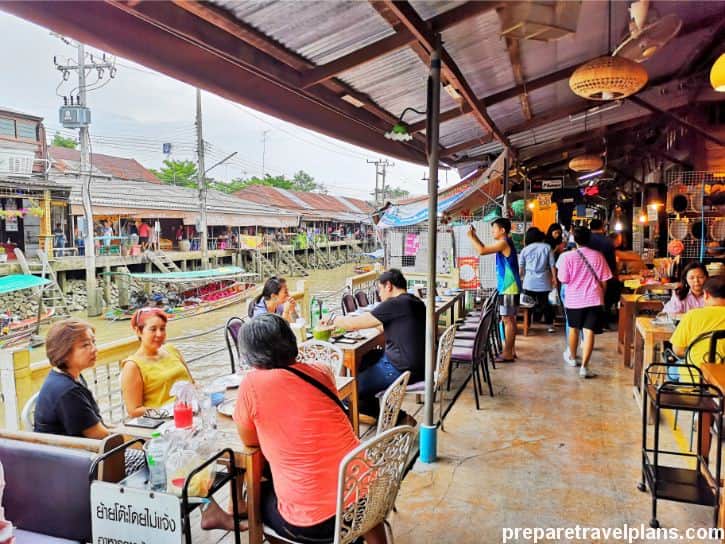 Sitting along the sides of the river offers a delightful ambiance for sightseeing lovers.
Just by watching the life bursting in the floating market makes every busy person stop for a while and contemplate. Eating your food is twice the fun with the scene of the calm river before you.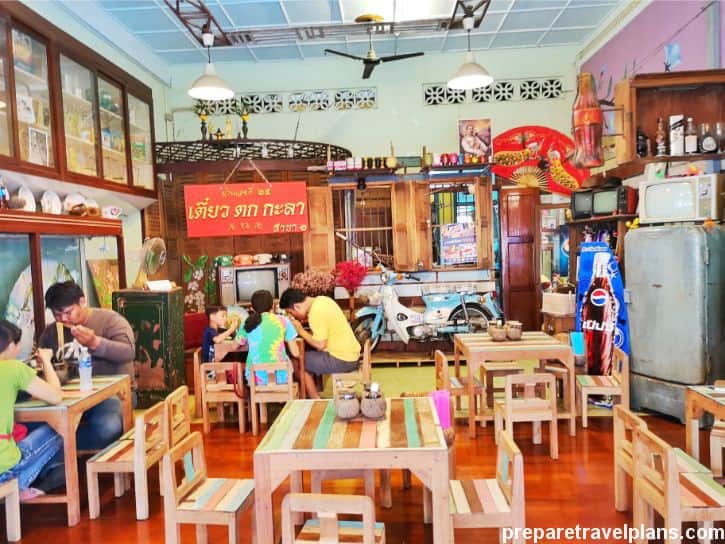 A good noodle shop can also be found in the market. If you prefer to enjoy your food indoors, this spot is a top choice. Enjoy your noodles inside this cosy stall that covers the lively noise outside.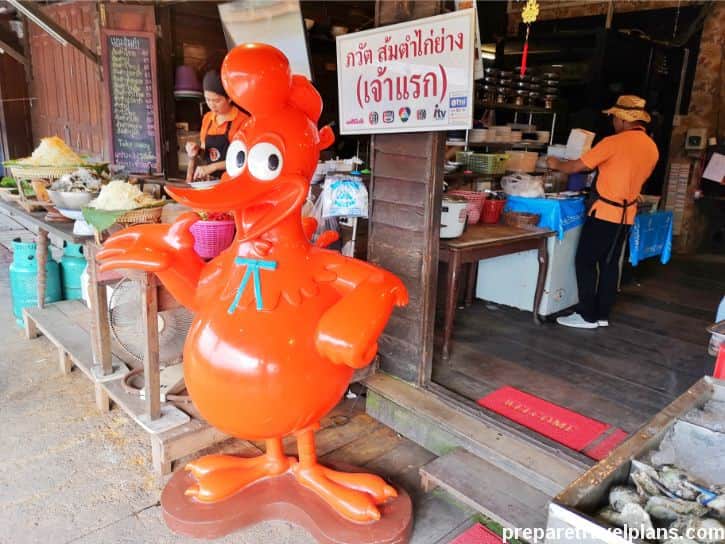 For legit dining, head to Som Tum Seafood Restaurant and dine in comfort. This place is the perfect spot to get away from the busy shops and crowded boats. Delicious food plus relaxing vibes―such a beautiful combination!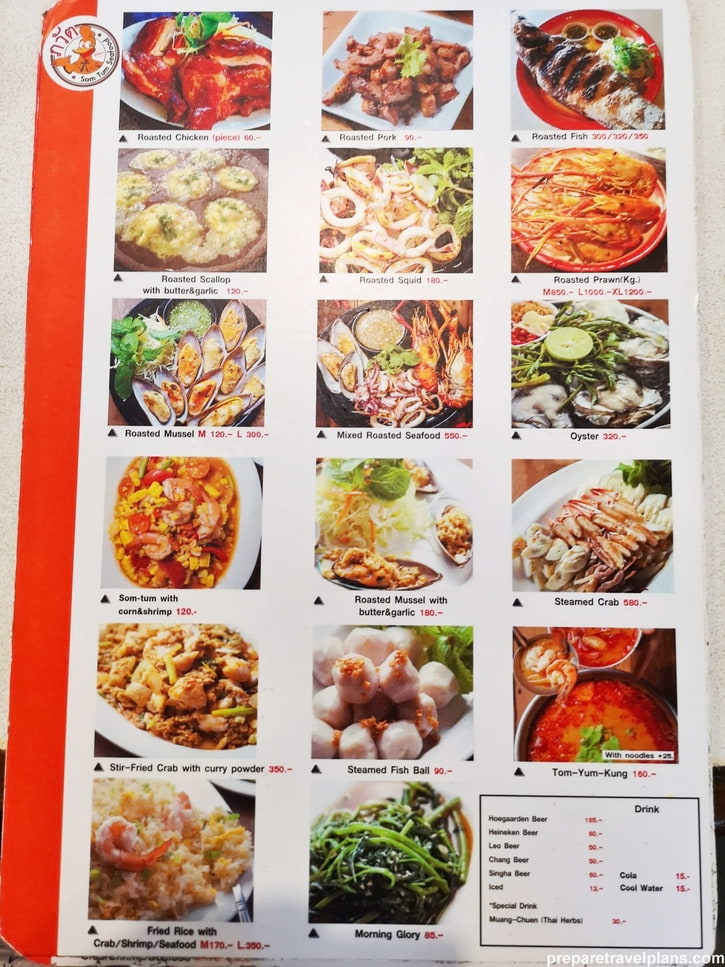 Though their mascot is a chicken, they specialize in delectable seafood cuisines. Their seafood menu is very tempting as it has all sorts of mouth-watering dishes at decent prices.
They have roasted scallop, grilled fish, steamed crab, oyster, and the famous Tom Yum Kung soup.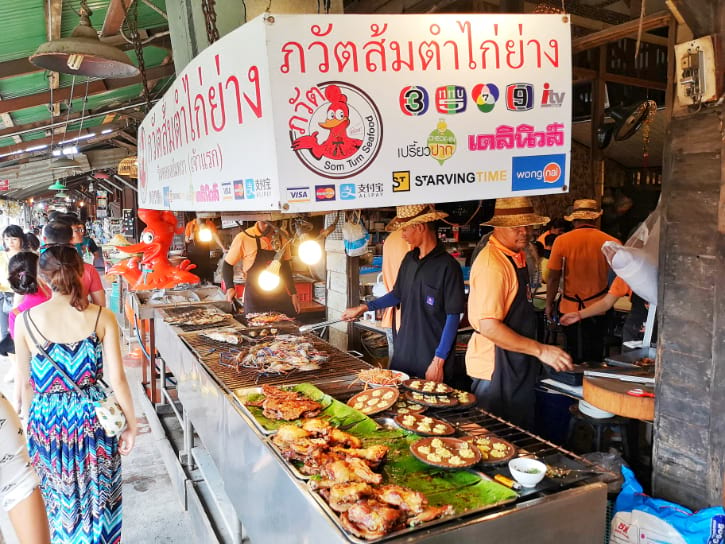 But of course, there's no way you shouldn't try their grilled chicken. Aside from their popular seafood choices, the chicken is a staple dish that deserves a mention!
All these grilled treats are stacked outside Som Tum Seafood Restaurant, waiting for all hungry visitors at Amphawa Floating Market.
Some of the best options to satisfy your seafood cravings are grilled prawn, roasted fish, and garlic butter scallops. These are deliciously and freshly prepared for the best dining experience.
Shopping at Amphawa Floating Market
---
Women's Accessories
---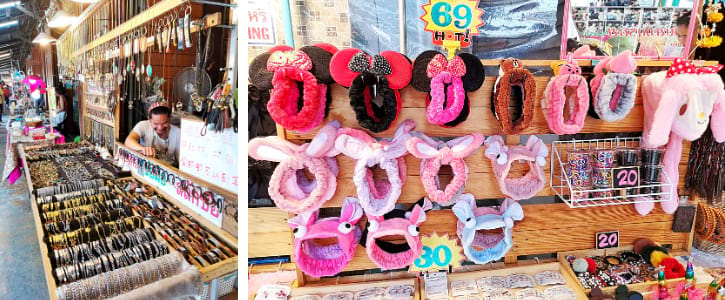 Aside from the food stalls, there are also shops selling stylish items for fashion lovers to select from. In one shop, you can spot headbands, ponytails, and other sets of hair accessories. Go purchase yourself some!
If you're interested in accessories, then you better check out this spot! This area has an entire space filled with different women accessories.
Women's and Men's Clothes
---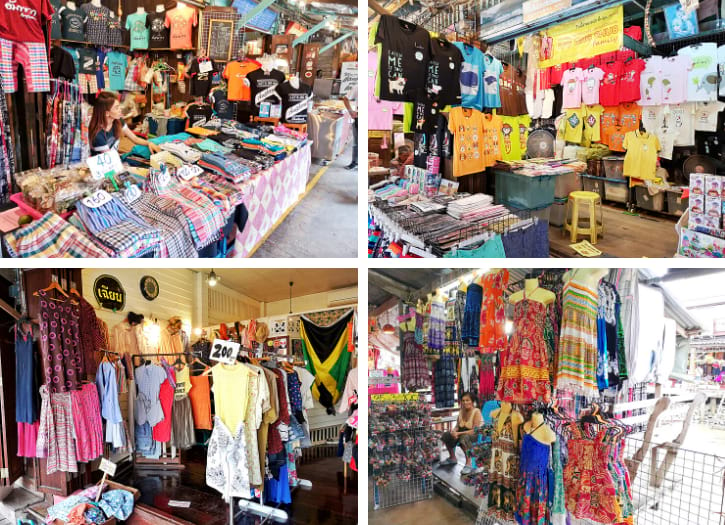 On another corner, you can find a bunch of clothes for women and men. These shirts and shorts are sold at affordable prices and good quality.
Here comes a load of colourful Thai clothing! Try fitting on some of the beautifully crafted dresses and take whichever speaks your style. But wait, there's more! There are plenty of creatively patterned shorts that you can select.
Different coloured shirts with cute designs are also exhibited for all fashion enthusiasts out there.
Plus, you can find another array of simple dresses of various sizes and colours. This is definitely a homey area welcome to all women who are after great and durable clothing items. The clothing ranged from simple-designed shirts to richly-tailored dresses.
Handmade Bags, Hats and Wallets
---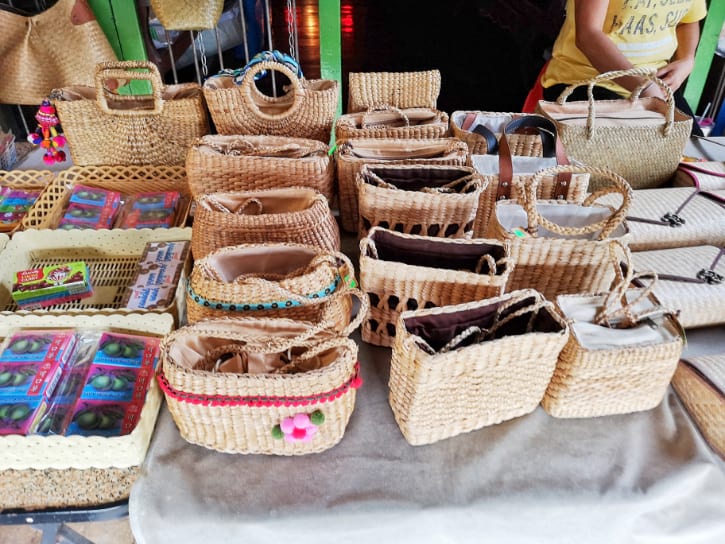 Get the best handmade bags straight from the floating market! The lovely details of each bag will surely please your style.
Take a look at those conical hats! Sure, you may have seen one or even hundreds of similar-looking hats in your life. However, there's nothing like these handmade hats adorned with simplistic designs. Try putting one on and fall in love!
The market basically sells everything you need. Here is another mass of vividly-coloured wallets that are especially handmade.
Postcards, Stuffed Toys and Souvenirs
---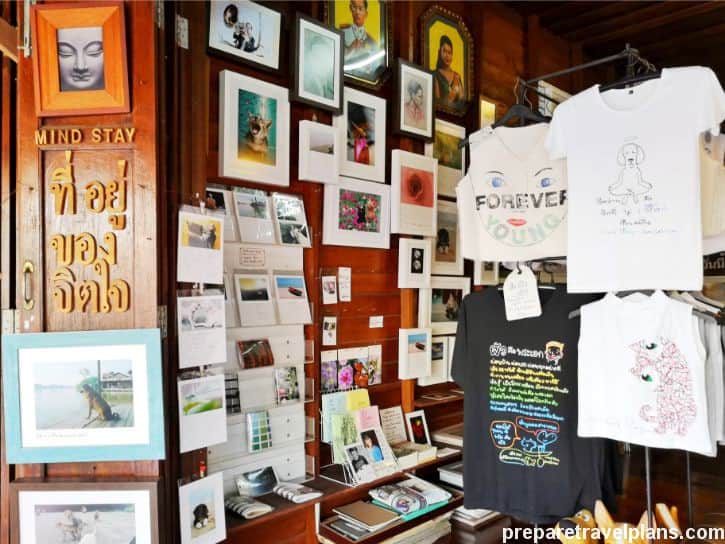 Take a piece of the place with you! Let a number of postcards and portraits relieve the memory of your Amphawa Floating Market experience.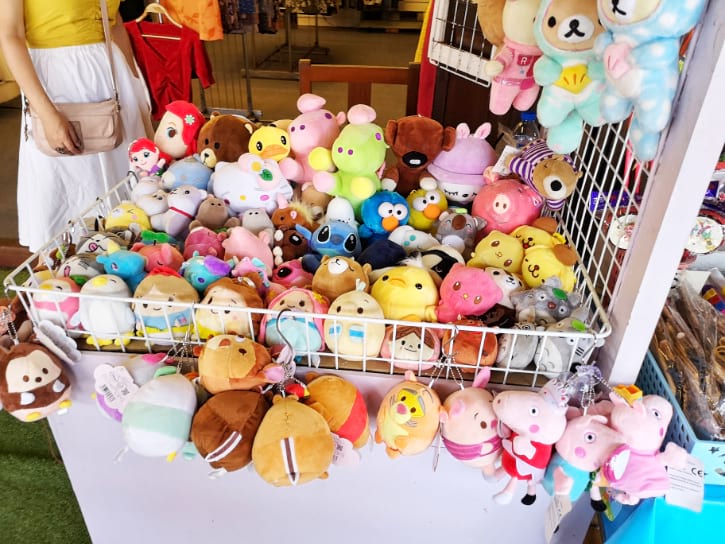 Get some fluffy figure dolls for your kids, significant other, or yourself! You're never too old to have one. These mini animal stuffed toys have the iconic faces of the old and new animated characters. Try searching for Stitch and Peppa Pig!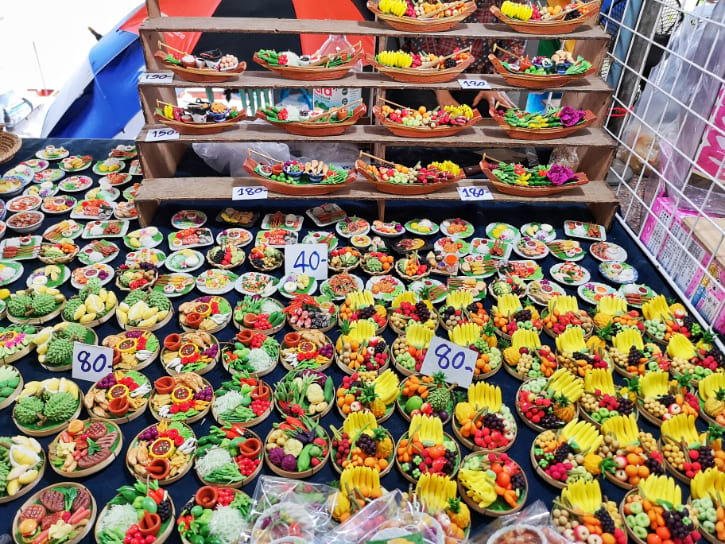 If you want something that will last even after your trip, check out some of the displayed souvenirs. Bursting with colours and pattern, these items will bring to life the memories you've spent in the market.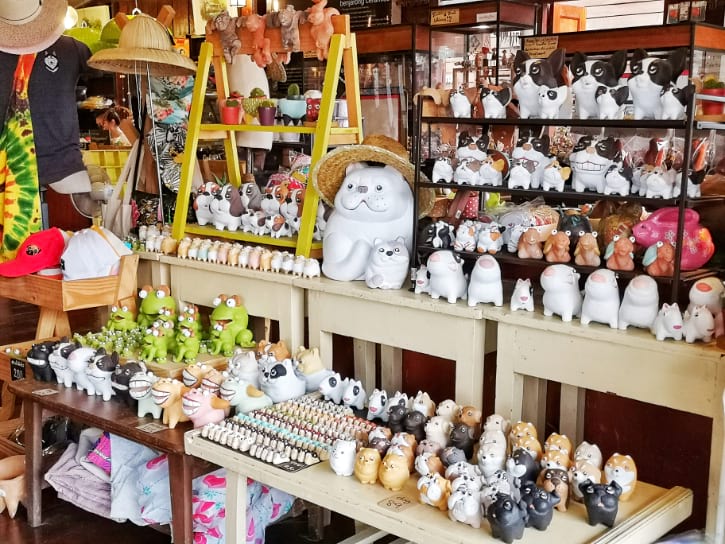 Once you enter one of the shops in the market, you'll be met by a few adorable dog figurines. These dog figurines are all cute and totally handy.
Exhibited outside the shop is another item which you can't always find in other figurine shops. Presenting the beautiful long-neck creatures that are made out of wood―giraffe figurines! These giraffe figurines are gracefully crafted in different sizes.
Of course, you don't just experience the cuisine of Thai when you're in the market. There's also room for Thai herbal balm which is perfect for those who need a relaxing massage. Treat your skin with these herbal balms after a long shop inside Amphawa!
Exploring Amphawa Canal and See Magical Fireflies by Longtail Boat
---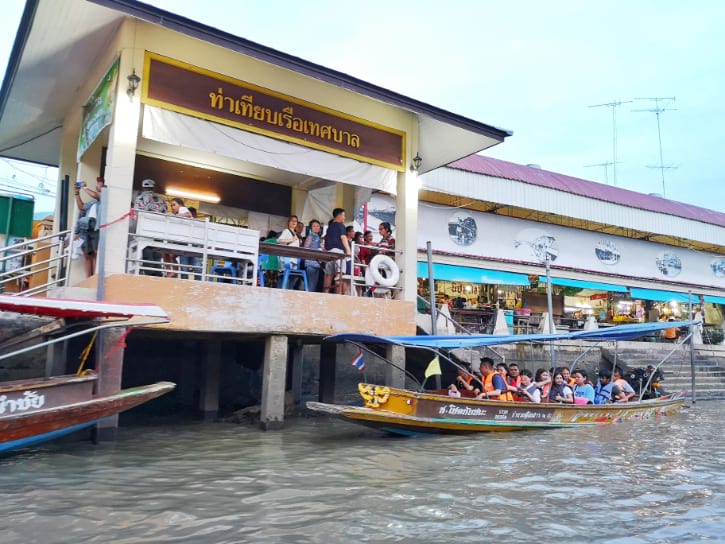 Complete your visit to Amphawa Floating Market by taking a longtail boat ride.
At this time of the day, it's no longer too hot and the breeze starts to get colder. So, it's best to avail of the scenic water adventure during evening around 6 PM.
For a private boat ride is priced at 500 Thai Baht. To save money, you can share a boat tour with other guests and simply pay 50 Thai Baht per person. You'll have about 1 hour to enjoy the mesmerizing water scenery and firefly viewing.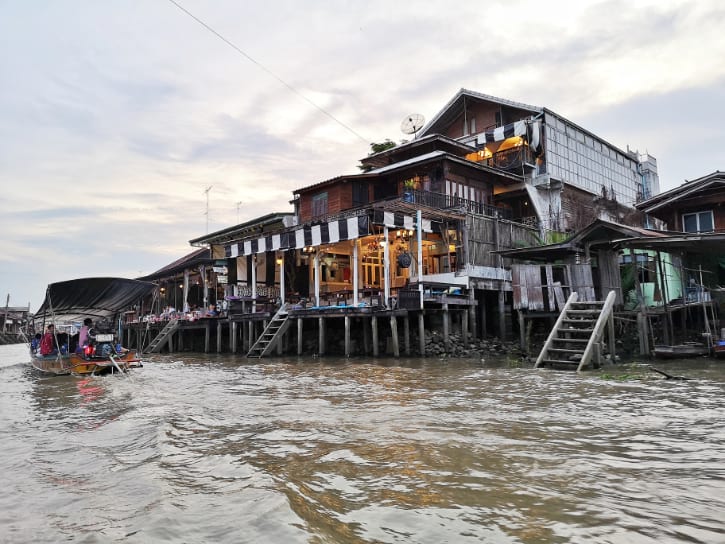 Exploring this floating market by boat allows you to see not just local stalls and restaurants but also traditional houses. And this is one of many Thai dwelling places you can find during your boat trip.
This palace-like house stands out from the surrounding green landscape and brownish waterscape.
Aside from traditional Thai houses, there are more stilt houses around the corner, enclosing the river. When the night comes, these stilt houses, together with the shops and eateries, light up the entire floating market.
As your water ride continues, you'll see more captivating sceneries―from traditional homes to smiling locals.
Wooden shophouses are perfectly positioned on the riverside, adding more traditional vibes to the entire place. These are guarded by beaming children sitting on the sides or adults doing their daily lives.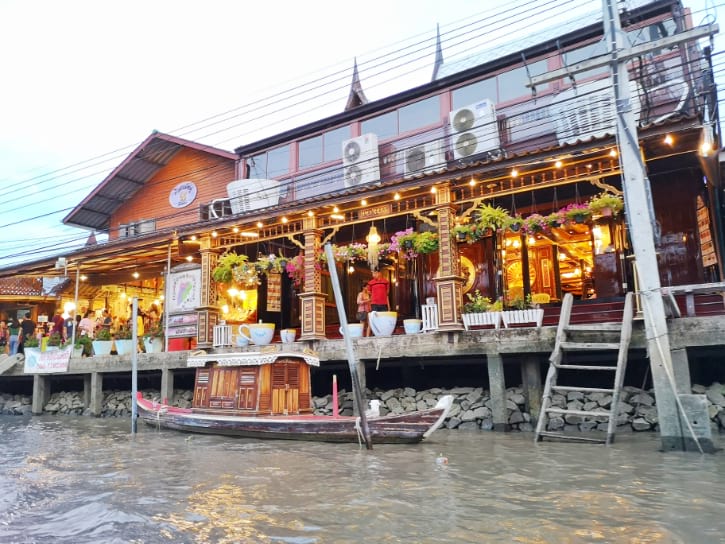 The wooden shops now glitter like gold, complementing the calming water backdrop. The golden landscape from the shops and dining spots makes it difficult not to stop and stare. So, prepare your cameras ahead and capture these gorgeous sights!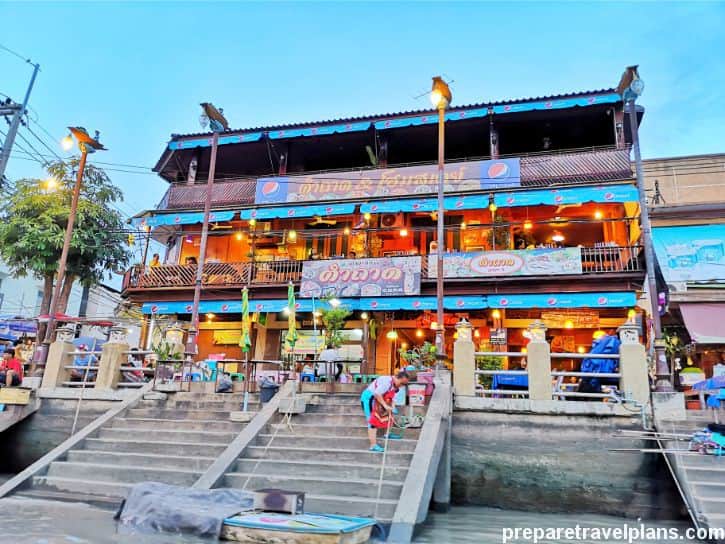 These Amphawa seafood restaurants offer some of the best sights during your boat trip. Serving almost all kinds of seafood dishes, you've got everything you need to gratify your love for seafood.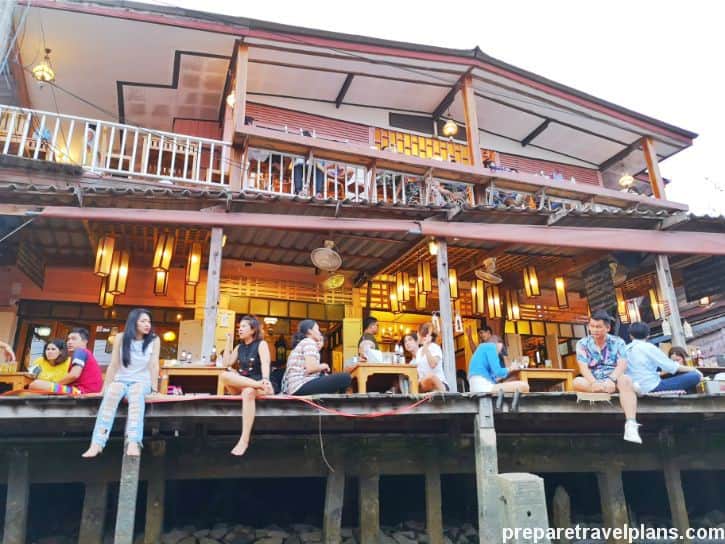 The best thing about these local restaurants is that it gives customers the chance to dine outside. This means that you can eat your favourite dish while also relishing the water view.
Simply seat on the balcony, relax, and enjoy your food.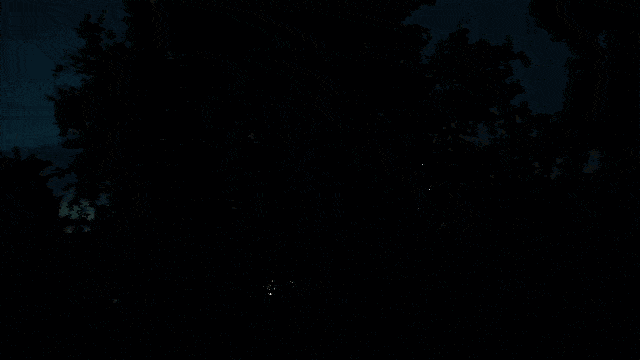 Did you know that visiting Amphawa Floating Market gives you the chance of seeing some sparkling flying creatures? Take the longtail boat ride and spot some fireflies travelling around and through the trees.
To save money, you can share a boat tour with other guests and simply pay 50 Thai Baht per person. You'll have about 1 hour to enjoy the mesmerizing water scenery and firefly viewing.
Amphawa Floating Market Nearby Attractions
---
Strategically situated between other famous tourist spots, make your trip from Bangkok to Amphawa Floating Market more unforgettable by visiting nearby attractions.
Explore around Maeklong Railway Market, Damnoen Saduak Floating Market, Wat Bang Kung, and Thai Boxing Temple first. Then, head to Amphawa Floating Market from afternoon until evening to enjoy the sparkling scene and vibrant ambiance.
Maeklong Railway Market
---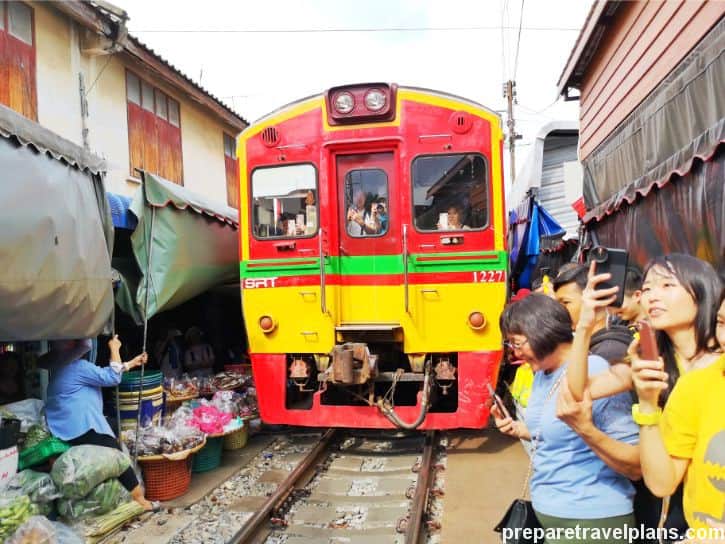 Have a unique kind of shopping at Maeklong Railway Market. This popular attraction is located right in between a railway; hence the train passes the market every single day. Watch in anticipation as vendors quickly and expertly bring back and forth their umbrellas.
But of course, there's so much to do while in the market. Before you shop around the market, see my comprehensive guide below.
➔ A Guide to Visit Maeklong Railway Market
Damnoen Saduak Floating Market
---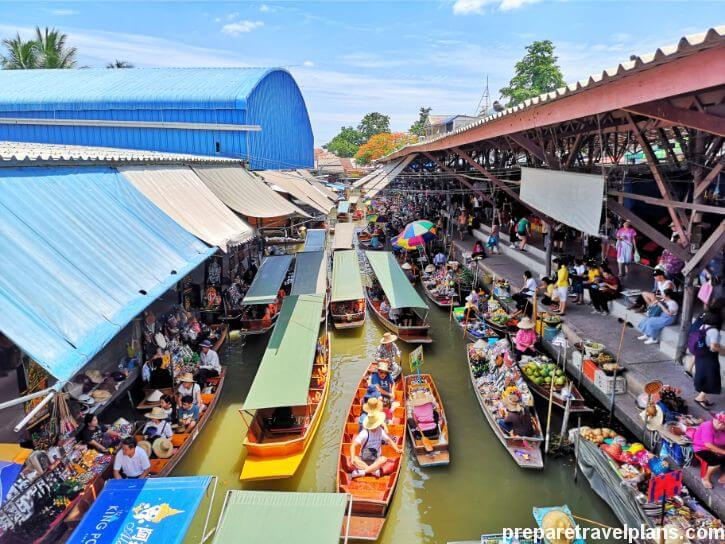 Can't get enough of floating markets? Visit Damnoen Saduak Floating Market and be amazed by the animated scenery filled with colourful boats and vibrant products. Don't forget to try some of the most popular treats like mango sticky rice and coconut ice cream! Lots of souvenirs and other handmade items are also waiting for you.
See the link below to know more about this popular floating market.
➔ A Guide to Visit Damnoen Saduak Floating Market
Wat Bang Kung and Thai Boxing Temple
---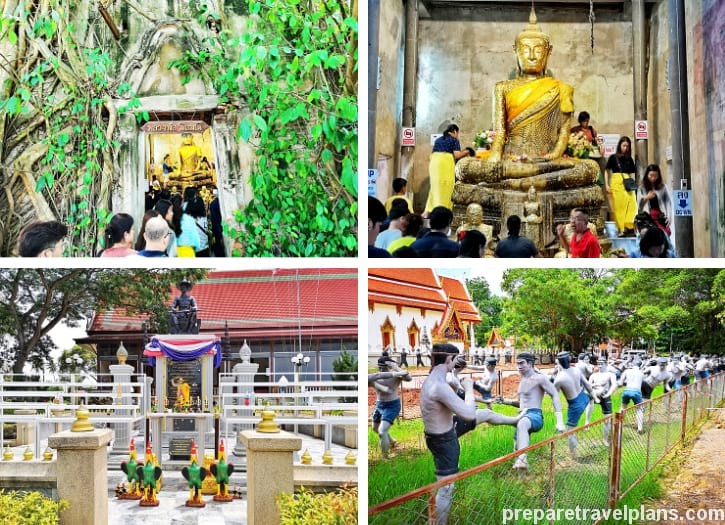 Within the roots of an old banyan tree lies a historical temple that dates back to the Ayutthaya period. Being sheltered by the large tree, the temple continues to be an enchanting attraction to tourists.
Go inside and pay homage to the golden seated Buddha statue that is worshipped by both locals and tourists. This prominent statue holds a rather beautiful blend of natural serenity and significant spirituality.
Around the area is the memorial statue of King Taksin.
Did you know that the place was once a battleground between Siamese fighters and Burmese invaders in the 18th century? As part of history, you can find plenty statues of Muay Thai fighters here.
Here's why I want to take a tour from Bangkok:
The best thing about taking a tour is the convenient it offers. This gave me an opportunity to visit not just Amphawa Floating Market but many nearby attractions. I was able to explore around Maeklong Railway Market, Damnoen Saduak Floating Market, Wat Bang Kung, and Thai Boxing Temple in just one day!
So, I didn't have to waste time and money just to visit these multiple attractions. All these tourist spots were covered and led by an expert tour guide who made the trip more notable.
If you're planning to avail of the tour, you can check the package ahead. The link below gives you all the key information you need―from the price to the assembly location and more!
My Final Thought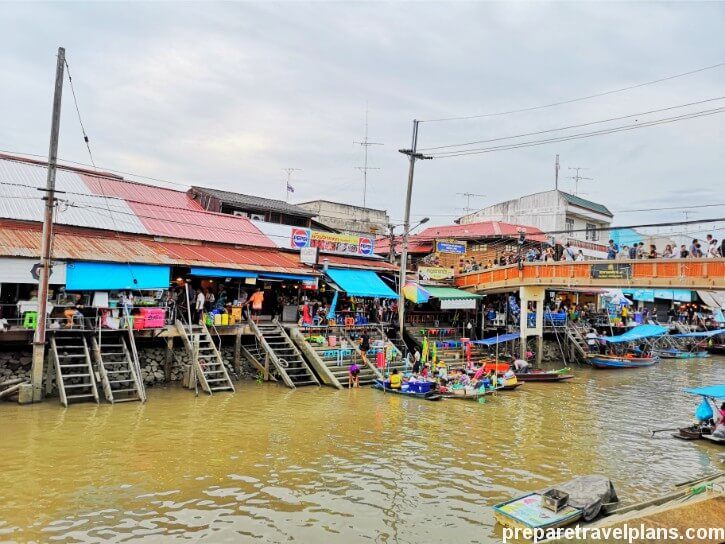 For a rather unforgettable and traditional kind of adventure, better include the Amphawa Floating Market in your travel list.
This well-loved floating market is worth your money and time. It has everything you need―seafood options, fresh fruits, sweet treats, fashion finds, souvenir items, and more!
With many vibrant stalls and picturesque spots, you'll never be disappointed with this floating market.
And, if you want to maximize your time, you can simply include Damnoen Saduak Floating Market and Maeklong Railway Market. These two top-rated attractions are conveniently located near Amphawa Floating Market.
Thank you for visiting my blog and taking your time to read everything! I hope that this guide can help you plan a well trip to Amphawa Floating Market.
Don't forget to bookmark this page as future reference.
Or, you can share this page via Facebook, Pinterest, Twitter, WhatsApp, and Gmail to help other travellers.
Once again, thank you and have a fun-filled adventure! 🙂
Discover Other Famous Attractions in Bangkok