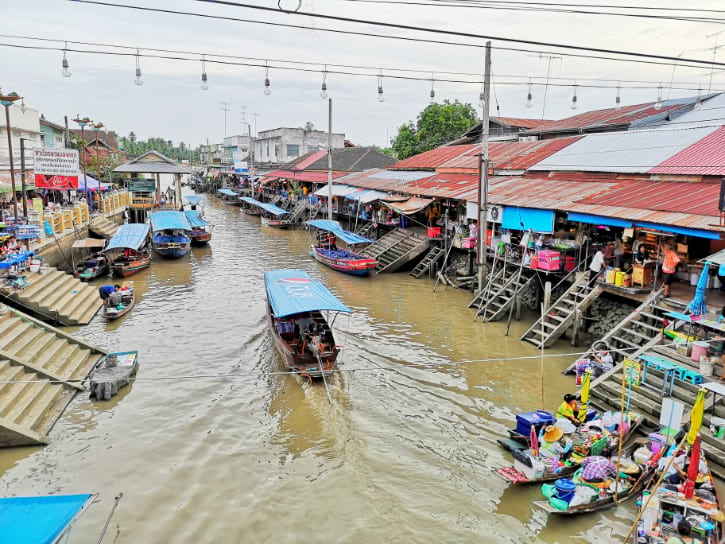 Amphawa Floating Market is one of the most famous places to go in Thailand if you're looking for a more traditional floating market. This is just 1 hour and 30 minutes away from the city centre of Bangkok.
I have personally explored this floating market, together with my wife. And, it was such a great experience because of the scenic stalls around the canal.
Without a doubt, Amphawa Floating Market makes it to my list of 12 best markets you can't miss in Bangkok and 30 top things to do in Bangkok.
So, let me share all the things you can do and the foods you must try in the market. Also, I will provide you with details on how to go to the Amphawa Floating Market from Bangkok and other exclusive tips.
Without any delay, here's everything you need to know about this remarkable floating market. 🙂
Amphawa Floating Market Overview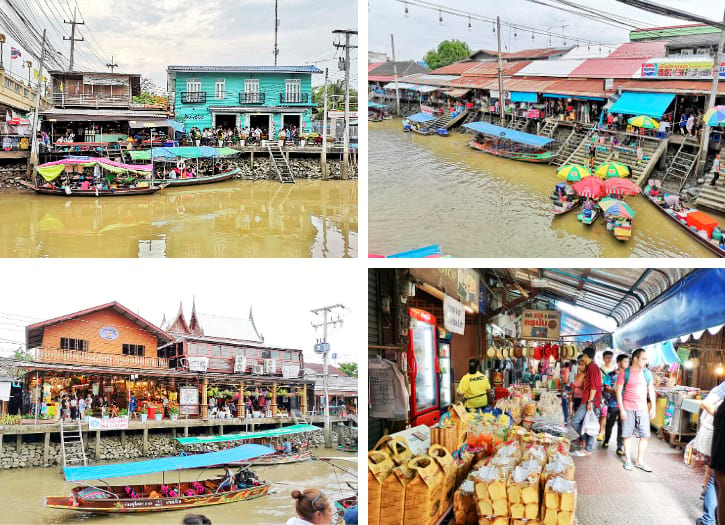 When it comes to traditional floating markets, Amphawa Floating Market definitely tops the list. This place is always included when planning for the best Bangkok day tour.
Another reason why it is very popular in Thailand is because of its extensive food options. The market itself is a paradise for seafood lovers.
Not only that but it also offers a great selection of Thai snacks and sweet treats. There are even fashion and souvenir shops everywhere.
All the vibrant stalls make up the picturesque market scene. And here, you can capture a lot of beautiful photo opportunities while strolling around.
So, if you want to experience exceptional shopping and dining, Amphawa is one of the best locations to visit.
Best Seafood to Try Out at Amphawa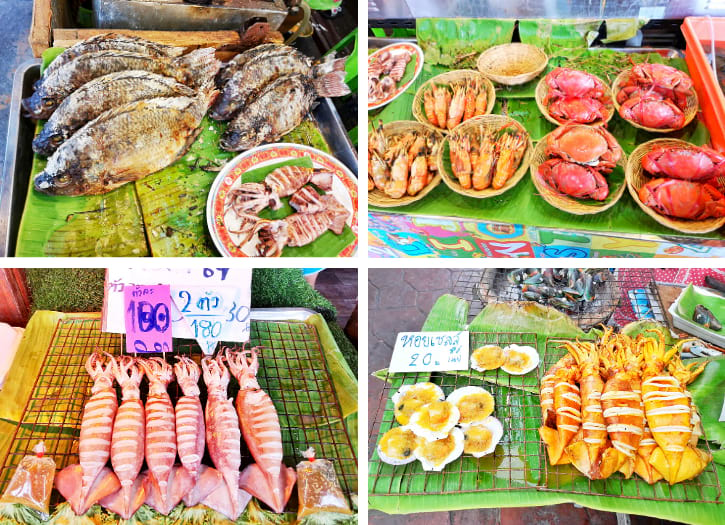 Aside from the scenic views, seafood is the main reason why tourists from Bangkok flock to Amphawa Floating Market.
The seafood selection here is simply impressive.
They have lots to offer, from grilled fish to squid to prawns and more! So, if you have some seafood cravings, then this is the great spot to visit.
Recommended Restaurant at Amphawa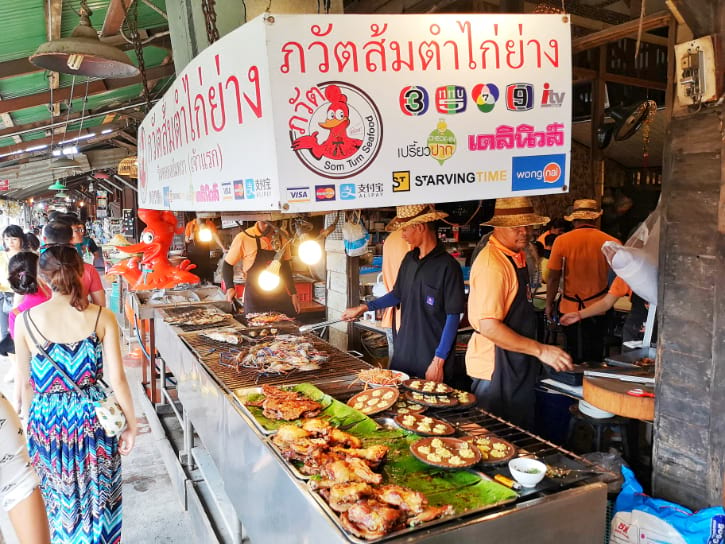 For legit dining in Amphawa Floating Market, head to Som Tum Seafood Restaurant. This is the perfect spot to get away from the busy shops and crowded boats.
Though their mascot is a chicken, they specialize in delectable seafood cuisines.
Their seafood menu is very tempting as it has all sorts of mouth-watering dishes at decent prices.
They have roasted scallop, grilled fish, grilled prawn, steamed crab, oyster, and the famous Tom Yum Kung soup.
Some Popular Thai Snacks to Try
Kick off your Amphawa adventure with some local snacks and special treats that are quite hard to find in the city. There are healthy options as well as sweet foods to choose from.
1. Grilled Treats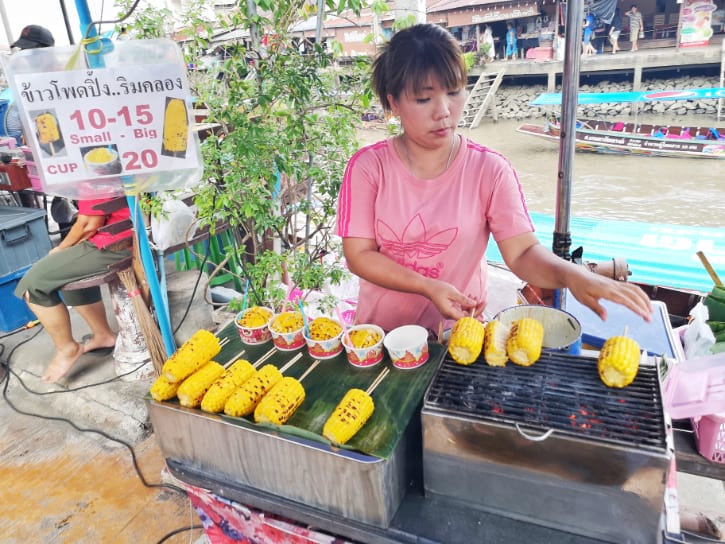 There are plenty of delicious corns grilled along the walkway.
Stop by and take time to delight both in the taste of corn and the sight of the river. If one small cup isn't enough, might as well buy the bigger grilled corn.
2. Pre-packed Goodies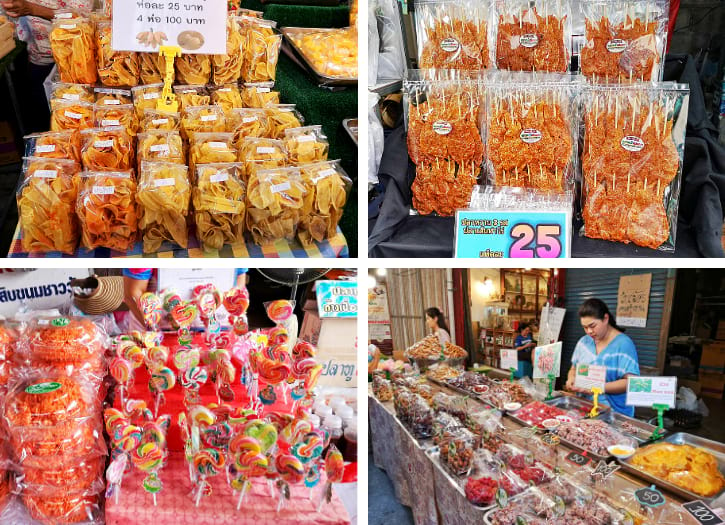 The market offers an amazing variety of sweets. There are banana chips, lollipops, and dried fruits.
If you want something unique, you can try the honey roasted satay fishes.
Surely, these snacks are the best companion while wandering around the market. You'll love these goodies even more because these are not just tasty but also very affordable.
3. Local Delights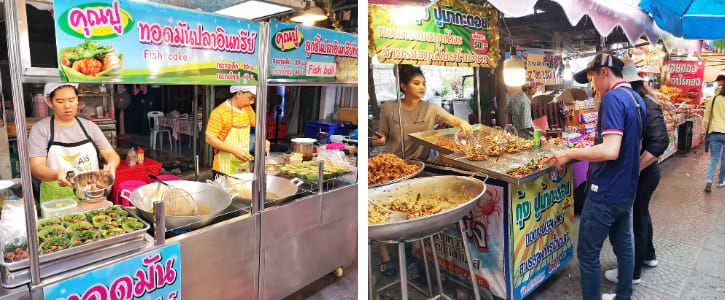 While you're in Amphawa Floating Market, make sure you try these local treats.
Fish cakes and mini crabs are always crowd-favourites among travellers.
Unfortunately, these are quite hard to find in Bangkok, so grab your chance and enjoy these snacks.
Fresh Fruits and Tasty Drinks to Savour
If you want fresh fruits and other refreshments, Amphawa Floating Market also has an incredible array of choices. These are nice treats while exploring different stalls and shops.
1. Delectable Fruits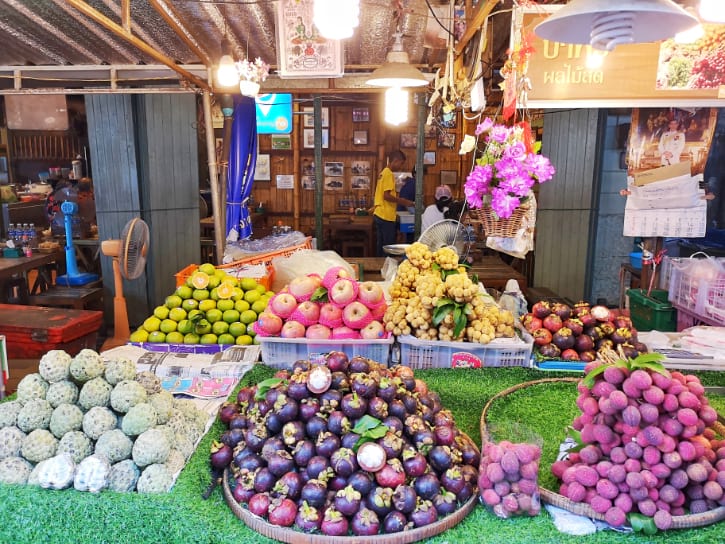 Choose among the vibrant assortment of fresh fruits sold at decent prices.
Some of the options at hand are lychees, mangosteens, and apples. There are also limes presented in many stalls.
2. Fresh and Cold Drinks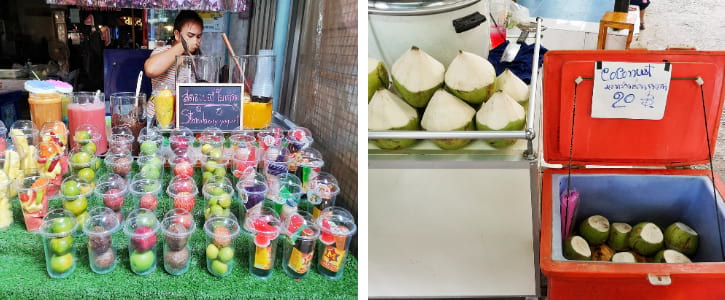 If you want more healthy treats, try this mixture of fresh fruits. You can pick your preferred combination, from watermelon and mango to lime and apple.
As you continue strolling around, you'll find these fresh, cold coconuts ready to satisfy your thirst.
Shopping Choices at Amphawa
Amphawa Floating Market is not just about seafood, snacks, and drinks.
This place is also bursting with trendy clothing and other fashion stuff.
1. Stylish Apparel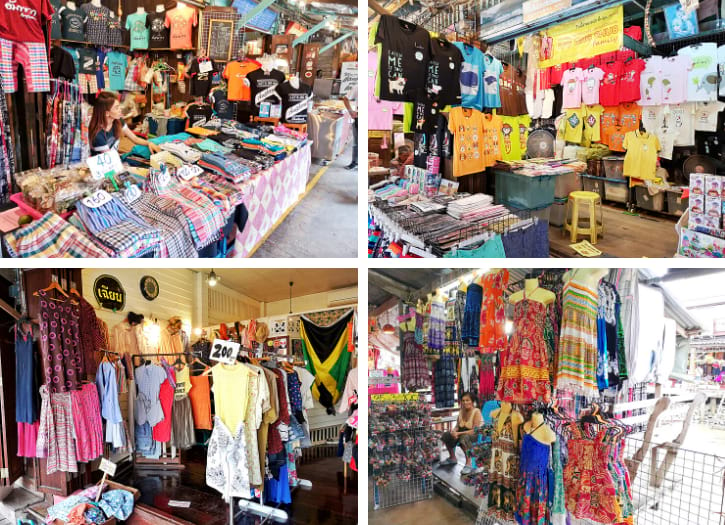 Here comes a load of colourful items for everyone. Find a bunch of clothes that are being sold at affordable prices.
Along with these, you'll discover a lot of Thai clothing that are beautifully crafted into dresses and more. Try fitting some and shop whatever fits your style.
2. Handmade Bags and Wallets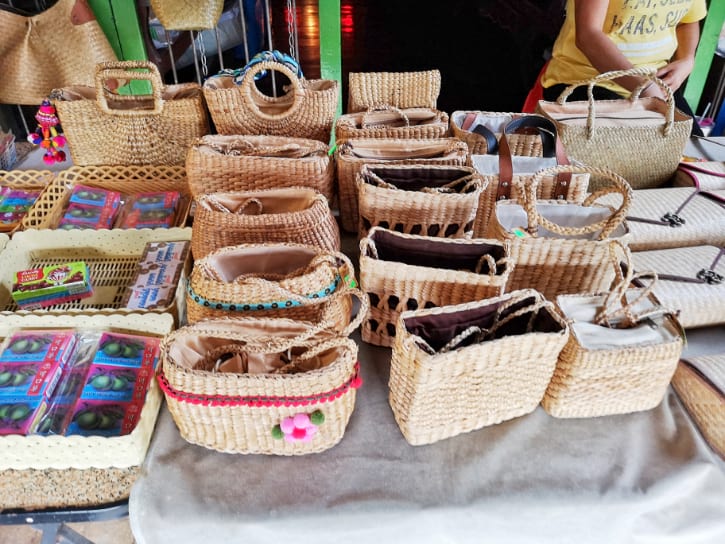 Get the best handmade bags in Thailand straight from the floating market! The lovely details of each bag will surely please your fashion sense.
3. Customized Hats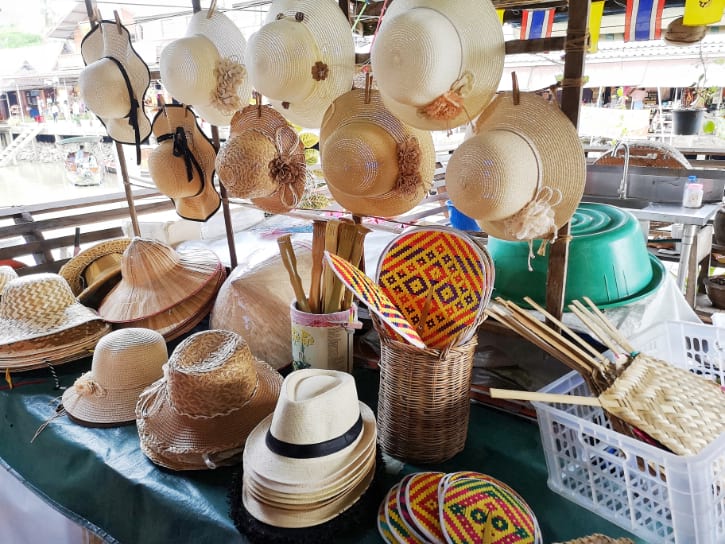 Take a look at the conical hats! There are plenty of these hats around the market.
Surely, you may have seen one or even hundreds of similar-looking hats in your life.
However, there's nothing like these handmade hats adorned with simplistic designs.
4. Cute and Unique Accessories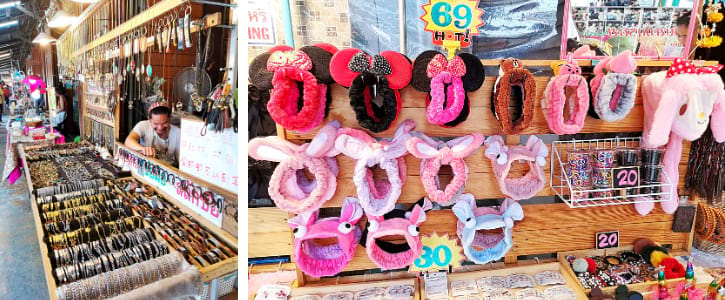 There are also shops selling stylish items for fashion lovers.
In some shops, you can spot headbands, ponytails, and other sets of hair accessories.
If you enjoy shopping at Amphawa Floating Market, I suggest that you also visit Chatuchak. This is the largest market in Bangkok that offers a lot of shopping choices.
Here, you can take home the latest clothes, bags, and shoes at a cheaper price. Simply read my article on Chatuchak Market in Bangkok here to get more shopping tips and ideas on what to buy there.
Charming Souvenirs from Amphawa
Go on with your shopping exploration and find these special souvenirs on exhibit.
Some stalls offer animal figurines, while some sell plush toys and wooden items.
1. Animal Figurines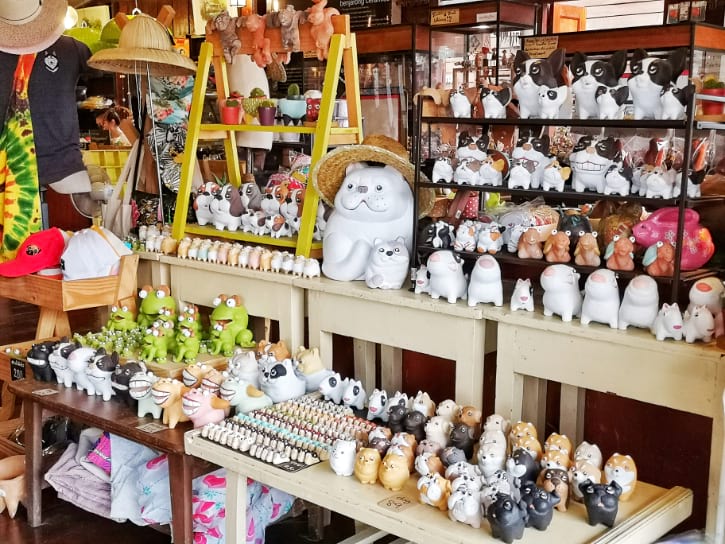 Once you enter one of the shops in the market, you'll be met by these adorable animal collectibles. These figurines are all cute and totally handy.
2. Plush Toys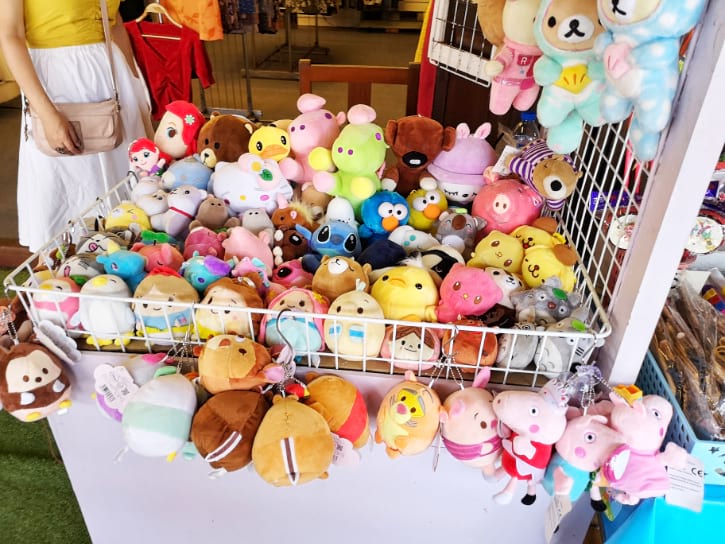 Get some fluffy figure dolls for your kids, significant other, or yourself!
You're never too old to have one, especially if you're at Amphawa Floating Market. These mini animal stuffed toys have the iconic faces of famous animated characters.
3. Vegetable and Fruit Souvenirs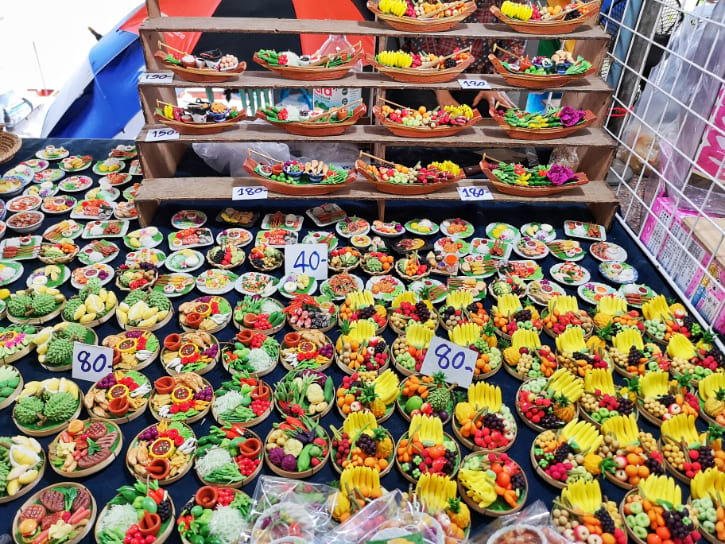 If you want something that will last even after your Thailand trip, check out these vibrant souvenirs.
Bursting with colours and patterns, these items will bring to life the memories you've spent in the market.
4. Wooden Figurines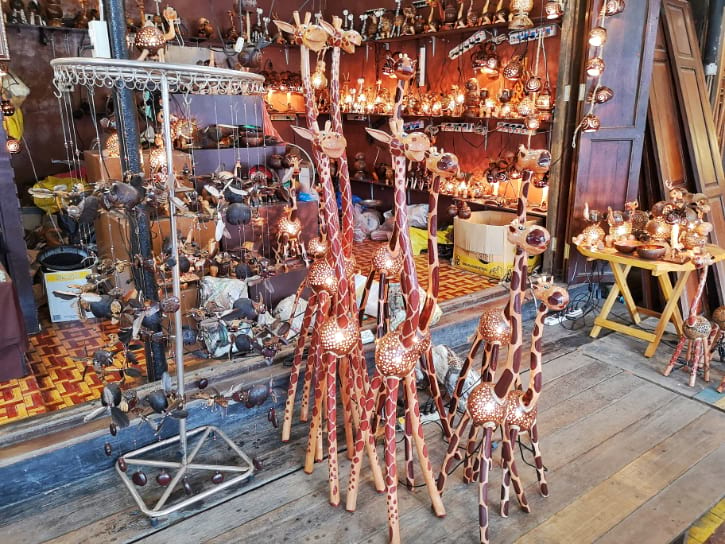 Presented outside this shop is another item which you can't always find in most shops. These are no other than the beautiful long-neck figurines that are made out of wood. These giraffe collectibles are uniquely crafted in different sizes.
Longtail Boat Ride around the Mae Klong River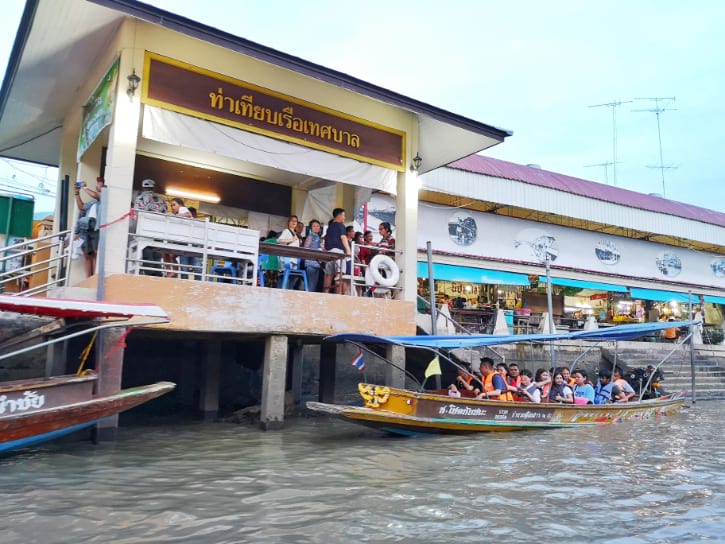 Complete your visit to Amphawa by taking the longtail boat ride. This is the best way to see the local stalls, restaurants and traditional houses along the scenic canal.
And if you want to better enjoy the water adventure, it's suggested that you ride the boat around 6 PM. At this time of the day, it's no longer too hot and the wind is much colder.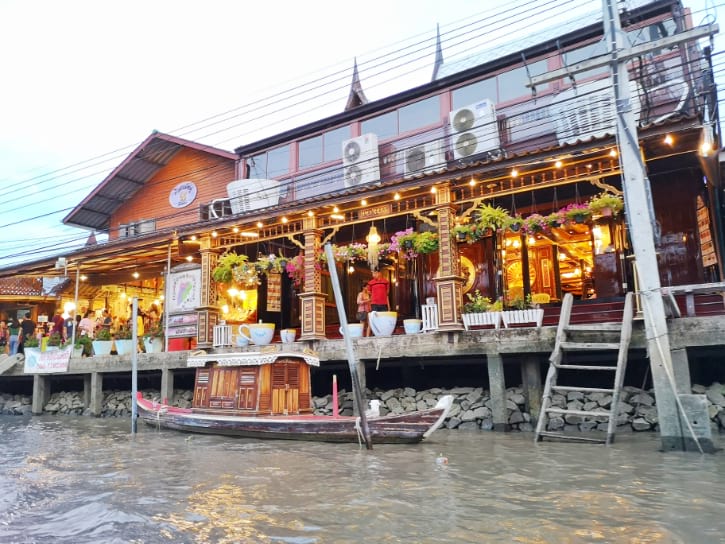 During your water journey, don't miss the beautiful scenes from the vibrant stalls.
If you opt for a late afternoon ride, you'll catch these shops lighting up the entire scenery.
Riding the boat allows you to see some beautiful traditional houses. These are palace-like houses that stand out from the surrounding landscape.
Wooden shophouses are also perfectly positioned along the riverside.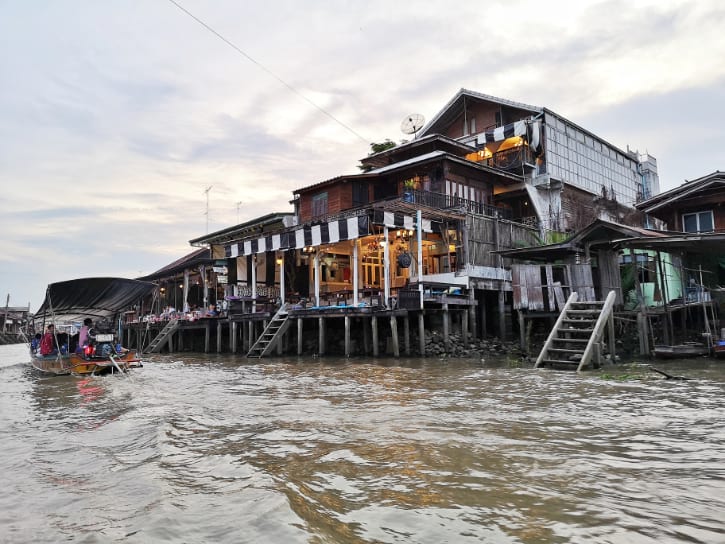 The private longtail boat ride is priced at 500 Baht.
If you want to save money, you can share the boat tour with other guests. Through this, you will just pay 50 Baht per person.
You'll have about 1 hour to enjoy the mesmerizing water scenery and colorful market sights.
See the Magical Fireflies by Riding a Boat
But of course, a trip from Bangkok to the Amphawa Floating Market won't be complete without seeing the fireflies. This is a great chance to spot these sparkling, flying creatures up-close.
To save money, you can share a boat tour with other guests and simply pay 50 Baht per person.
Amphawa Opening Hours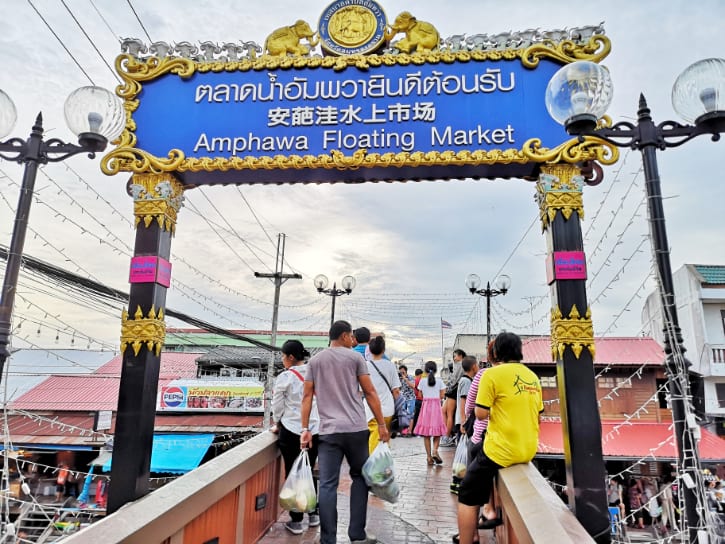 Unlike most markets that open daily, Amphawa Floating Market is only accessible from Friday to Sunday.
They welcome people from all walks of life from 2:00 PM to 8:00 PM.
For a livelier and more memorable experience, head to the floating market after 2:00 PM. This time, the market starts to be jam-packed with people, wandering around and eating some local foods.
Amphawa Nearby Attractions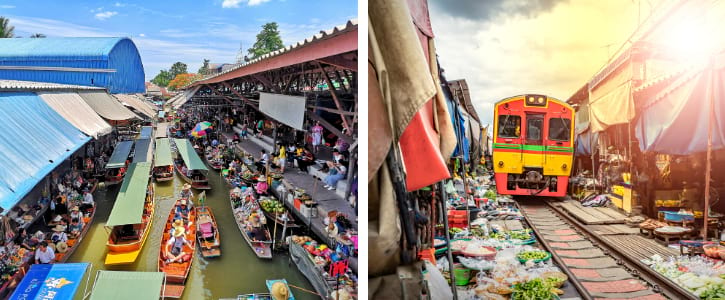 Aside from visiting Amphawa, I suggest that you also explore Damnoen Saduak and Maeklong markets.
These 2 famous Thailand markets are near Amphawa market. This means you can add these two during your trip to Amphawa.
Damnoen Saduak is a very scenic floating market known for its boat noodle and mango sticky rice.
For insights about this famous market, check out my blog post on Damnoen Saduak Floating Market and sort out your plans ahead.
Maeklong is a train market that displays its foods and items along the railway track.
So, if you want to have a unique shopping experience, find out more information in my Maeklong Railway Market post.
I also recommend that you read this detailed Bangkok 5-day itinerary so you'll learn how to cover these 3 markets and other top-rated attractions. This guide will surely help you visit more tourist spots in Bangkok without wasting time.
3 Ways to Go to Amphawa Floating Market from Bangkok
There are 3 methods to travel to Amphawa Floating Market if you stay in Bangkok. You can take a minivan, opt for the shuttle bus, or book a private tour. And normally, the travel time going to the market is about 1 hour and 30 minutes.
I personally used the second method, which is the shuttle bus tour. I will let you know why we chose this option. But before that, let's detail out the 3 options.
1. Ride a Minivan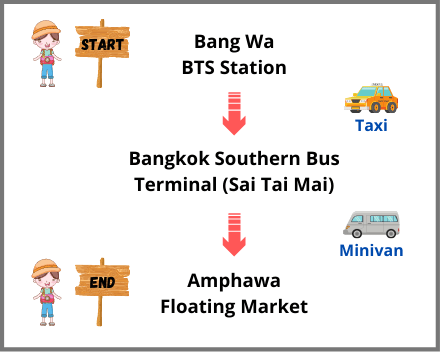 First, take the BTS skytrain (Silom Line) to Bang Wa BTS Station and then go out the Exit 1. After that, take a taxi to get to Bangkok Southern Bus Terminal (Sai Tai Mai). From there, catch a minivan to Amphawa Floating Market. The single trip costs 70 Baht and take around 90 minutes.
This might be the cheapest way to go there but required multiple transfers and a little bit time consuming.
*The minivan departs every 60 minutes from the bus terminal
2. Take a Shuttle Bus Tour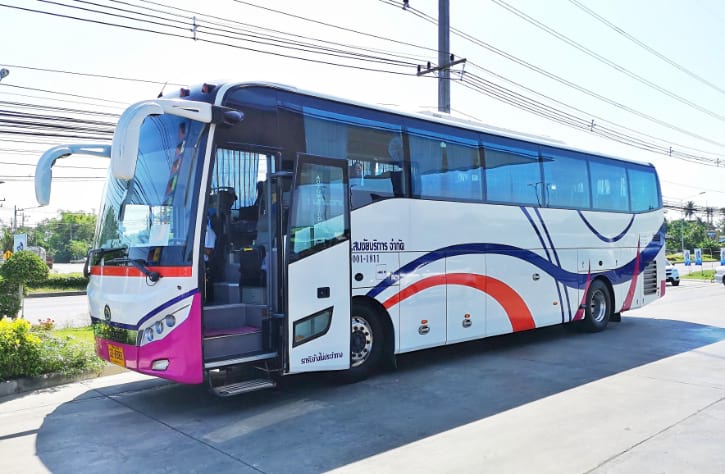 I personally joined the shuttle bus tour in Bangkok going to Amphawa Floating Market.
I believe this is the best transport option to avoid inconvenient transfers as well as public transport scammers.
The tour I joined was very organized and convenient. It also gave us enough time to tour around the market.
Plus, the local guide gave amazing recommendations on where to dine and what to eat. Because of these, we really enjoyed our trip and even save money.
And if you want to follow what we did, simply check out the tour price here. And there's nothing to worry about because their rates are quite affordable.
3. Avail of the Private Tour
Another method is by booking a private Amphawa Floating Market tour. This is the fastest method to reach the market.
It also offers hotel pick-up and drop-off services, making it a great option for small groups of travellers or families with senior parents. You can see the private tour price here.
So, we've come to the end part of my guide. Thank you so much for taking your time to read the entire article.
I hope that this Amphawa blog post can help you with your itinerary.
Amphawa Floating Market truly deserves to be part of your day trip from Bangkok. This is a must-visit spot in Thailand, especially for first-time travellers and seafood lovers.
So, don't miss this famous floating market and enjoy your trip! 🙂
Related Posts