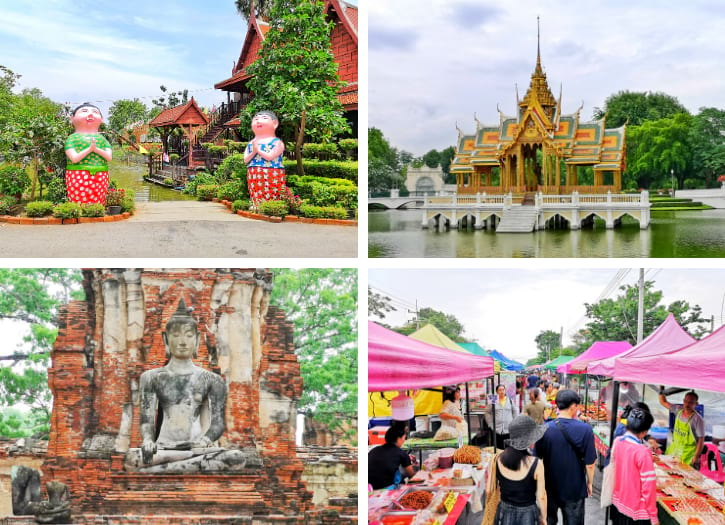 A day trip from Bangkok to Ayutthaya is definitely a great way to experience Thailand. So, here's my detailed guide on how to visit and what to explore in this famous historical city.
Ayutthaya is consistently part of the top things to do in Bangkok because of its historical beauty. In fact, the place is a UNESCO World Heritage Site. Once a notable international trading port, Ayutthaya has now transformed into a must-visit tourist spot.
Here, you can discover different ancient temples, statues, monasteries, and local markets. Because of its wide array of attractions, no wonder it's always included in the Bangkok itinerary of many tourists.
So, let me start sharing the must-do things in Ayutthaya as well as the ways on how to get there easily.
Bangkok to Ayutthaya: 6 Best Transport Options
Ayutthaya is about 80 KM away from Bangkok and its travel time is around 80 minutes to 2 hours. The duration depends on what transport mode you take.
There are 6 ways to go to Ayutthaya and I'll be showing each of these in detail, including the method we took during our visit to Bangkok.
We personally chose option 3, which is the bus tour. Don't worry because I will also explain why we prefer this option through the list below.
1. Train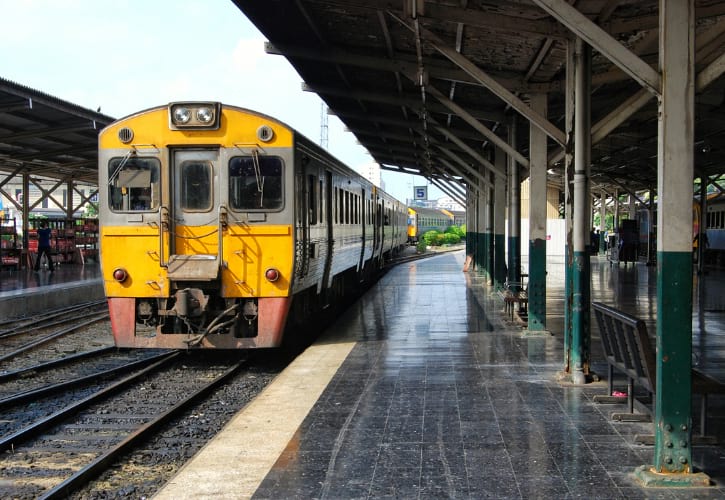 From Bangkok, you simply get to the train going to Ayutthaya at the Hua Lamphong Railway Station. The first-class ticket is priced about 330 Baht and it takes around 80 minutes to reach there.
You've got two choices when buying the train ticket, either first-class or third-class.
a.) First-class
The first-class ticket cost around 330 Baht, which already includes an assigned, air-conditioned seat.
b.) Third-class
The third-class ticket is about 20 Baht only, but without air-condition and assigned seats. It only come with a decent fan. A single trip takes 2 hours.
Something to Take Note Of:
The tickets can only be bought at the railway station and no option for online purchase.
The downside of taking the train, however, is the long hour land journey, which might even include delays.
Another thing to consider is that the public transports in Ayutthaya are quite restricted.
This means you are left with limited choices once you reach Ayutthaya Railway Station. You can only choose between a taxi and a tuk-tuk to tour you around the place.
You will need to allocate around 60 to 100 Baht to visit a single attraction via a tuk-tuk.
2. Minivan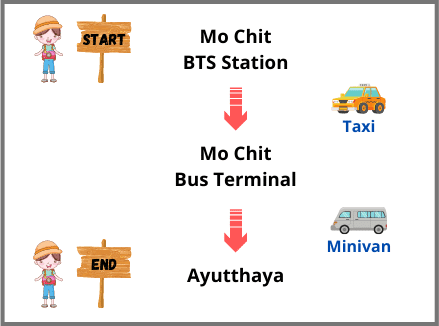 The minivan takes between 1.5 hours to 2 hours to reach Ayutthaya from Mo Chit Bus Terminal. The single trip fare is around 70 Baht.
One disadvantage of riding a minivan is it needs to be full before it starts the trip. So, you need to wait for other passengers, which might affect your schedule.
And since the minivan will have lots of route stops, be sure to inform the driver ahead that you're going to Ayutthaya.
You'll be dropping off at Wat Mahathat, which is also the last stop of the minivan. Well, you can't miss Wat Mahathat because it's one of the most visited sites in the area.
3. Bus Tour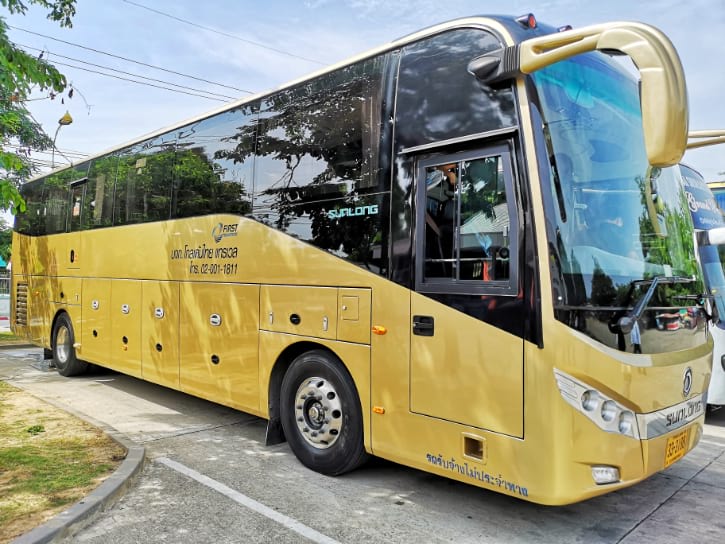 Taking the bus tour from Bangkok surely made my trip to Ayutthaya more fun and memorable.
It was well-organized and highly-informative, with lots of attractions and food spots included in the trip.
Also, the professional tour guide speaks well in English, making it easy for us to converse and ask for recommendations.
We were able to try local foods at a cheaper price as well as tour around the place comfortably.
If you don't want to lose track, visiting different attractions in one day, the bus tour is the answer.
Option 1:
To know more about the day tour I availed for my Ayutthaya trip, check out the bus tour here. This already shows everything you need to know, including the price, assembly place, schedule, and such.
Option 2:
If you think that the above-mentioned day tour is quite pricey, don't worry because there's another option you can consider. See the budget tour here, which is a cheaper day tour for those who are on a budget.
4. Private Tour
The fast and secure way going to Ayutthaya is by taking a private tour. Though this one is much expensive than the bus tour, it is also much comfier and convenient.
You can easily consult and ask recommendations from the expert local guide as there are no other groups to accommodate.
The main feature of this tour is their hotel pick-up and drop-off services. Hence, there's no need to deal with public transports.
So, if you're travelling with your family or a group with senior citizens, then this is definitely advisable.
Get more information about the private tour through the link below.
5. Public Bus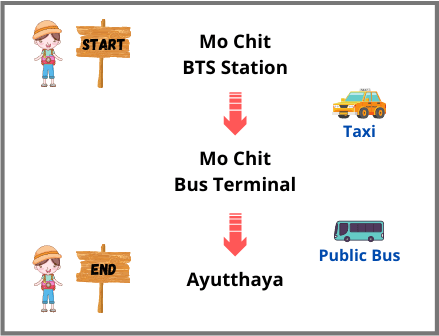 Another option to go to Ayutthaya from downtown Bangkok is the public bus at Mo Chit Bus Terminal. The one-way journey takes about 2 hours and the bus fare is 50 to 60 Baht.
To reach the bus terminal, you can catch the BTS Skytrain to Mo Chit BTS Station. From there, you leave the station via Exit 4 and take a taxi to the Mo Chit Bus Terminal.
This public bus will also have several stops before it reaches to Ayutthaya. So, the entire transportation might be time-consuming too.
6. Taxi
The fastest option could be getting a Bangkok taxi to Ayutthaya but it's pretty costly.
The normal taxi rate one-way is around 1000 Baht already and another fee for visiting multiple attractions.
Normally, if you take the round-trip transfer, including attractions, the fare is roughly around 2500 Baht or more.
Best Things to Do on Your Day Trip to Ayutthaya
Ayutthaya is a significant part of Thailand's past. Because of this, it has a lot of historical spots and even vibrant local markets to uncover.
So, let me introduce you to the 7 best things to do and see in Ayutthaya below.
This list is the perfect guide if you plan to take a day tour from Bangkok with your family and friends.
1. Go around the Bang Pa-In Summer Palace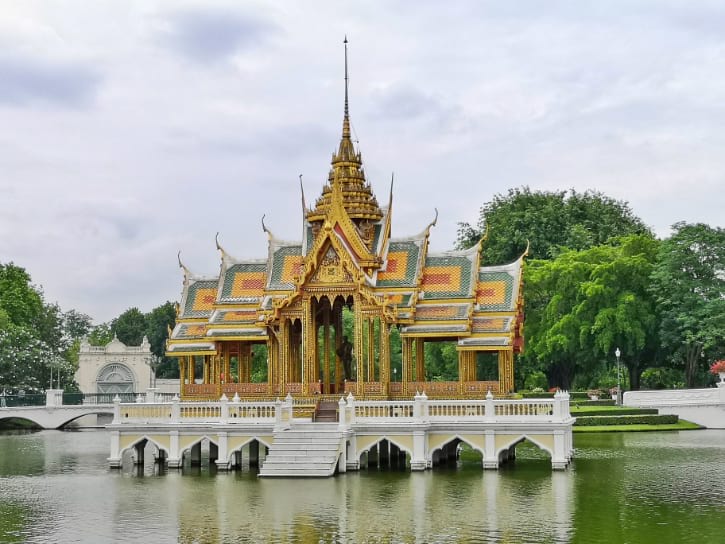 The best way to start your adventure is at Bang Pa-In Summer Palace. With its visible elegance and beauty, it's not difficult to fall in love with the place.
Capture the breath-taking view that was once the home of Thai royalties.
As you continue your stroll, you'll see a complex of buildings surrounded by scenic sights.
Walk your way to the bridge and enjoy the peaceful atmosphere. You can also take a lot of photos of the magnificent Chao Phraya River.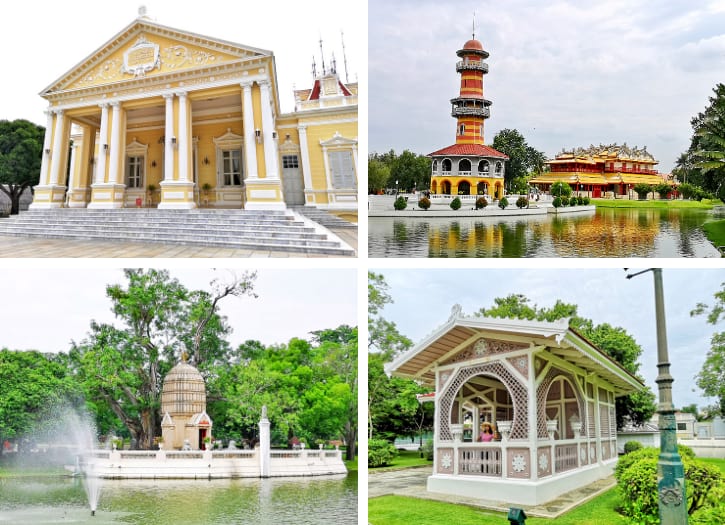 One of the first temples you'll take notice of is the Ho Hem Monthian Thewarat. From afar, it appears like an elongated igloo but it's actually the "Golden Palace of the God King".
While walking around, catch the Phra Thinang Warophat Phiman. There's also the Ho Withun Thasana Tower (Sages Lookout Tower), which is positioned right in the middle of the river.
Another spectacular spot in Thailand that is worth to go is Grand Palace. This is located in Bangkok city centre and is considered an iconic site full of photography opportunities.
You can find out more about this royal residence in my comprehensive post on Bangkok Grand Palace.
2. Visit Ayutthaya Floating Market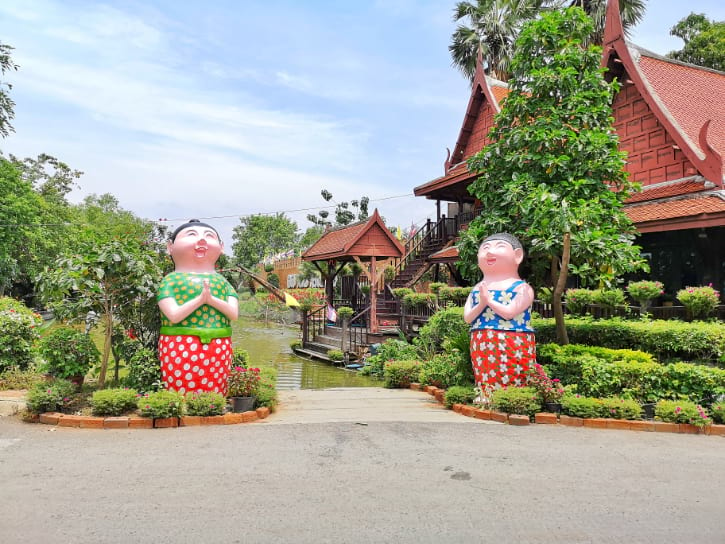 Experience a unique market journey at Ayutthaya Floating Market. This top-rated spot is overflowing with lots of shopping and food choices.
The Market Stalls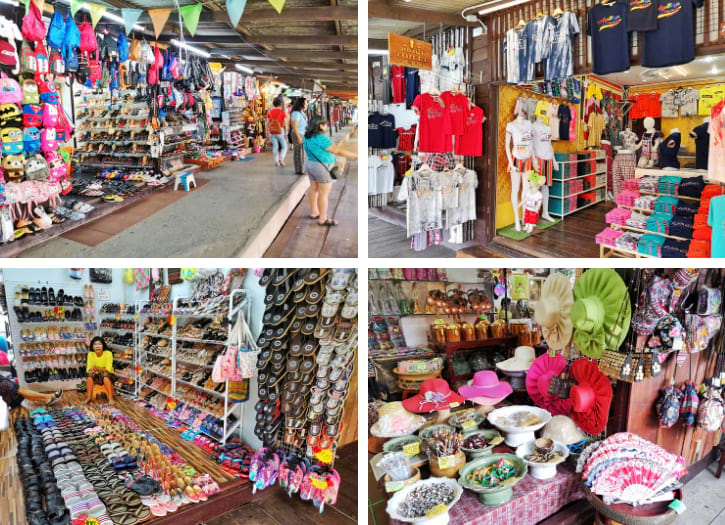 Walk along the wooden walkway and pop by the vibrant stalls. Each of these offers different kinds of items that might catch your attention, from cute souvenirs to customized products.
Fashion clothes are also on display. Enter one of the boutique stalls and find some trendy pieces.
Continue the fun at one of the footwear shops in the market. There are hundreds of shoes, slippers, sandals, and slip-ons on full parade too.
Local Snacks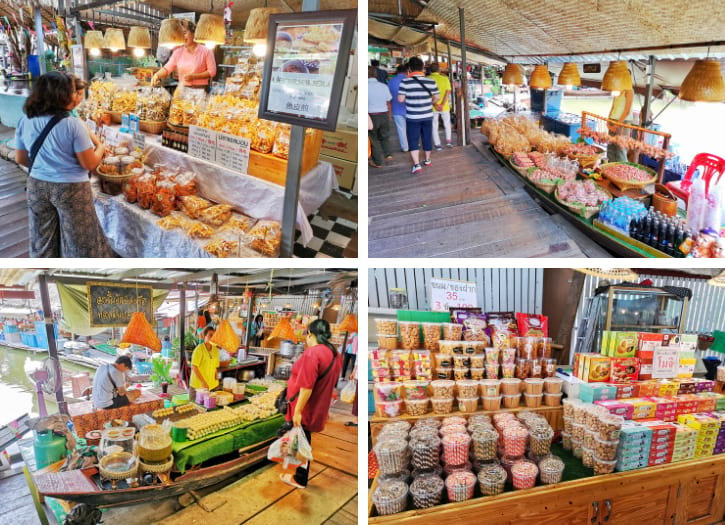 Right after your shopping adventure, it's high time to try different local Thai snacks. Ditch the unhealthy goodies and munch some crispy fish skins.
Aside from that, there are stalls serving delicious grilled fish balls.
For sweet tooth travellers, plenty of snacks are also presented. So, make sure to leave enough space in your stomach to try all of these.
Fresh Drinks and Ice Cream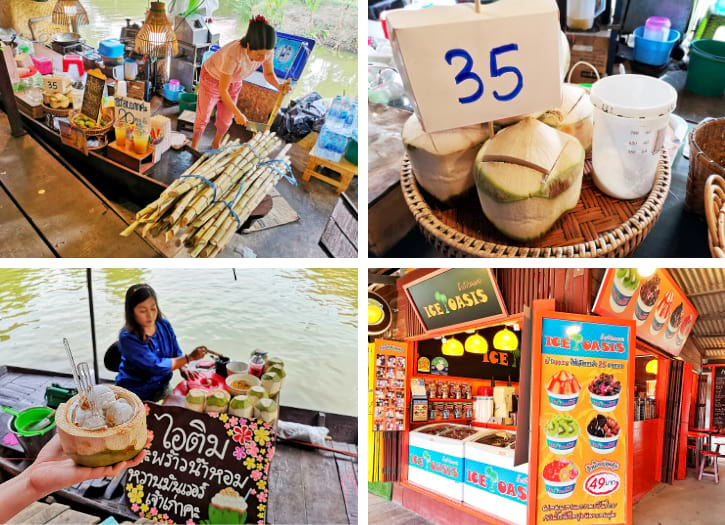 Try some fresh drinks like coconuts and bamboos. These are cheap, healthy drinks that you can't miss while strolling around.
And if you're craving for ice cream, there's nothing to worry about. Get your ice cream fix at Ice Oasis, a famous spot that offers tasty fruit ice cream for everyone!
Aside from visiting Ayutthaya Floating Market, I suggest that you also visit the Amphawa Floating Market if you're staying in Bangkok. This is one of Thailand's top floating markets that is recognized for its seafood and local snacks.
3. Marvel at the Wat Lokayasutharam (Reclining Buddha)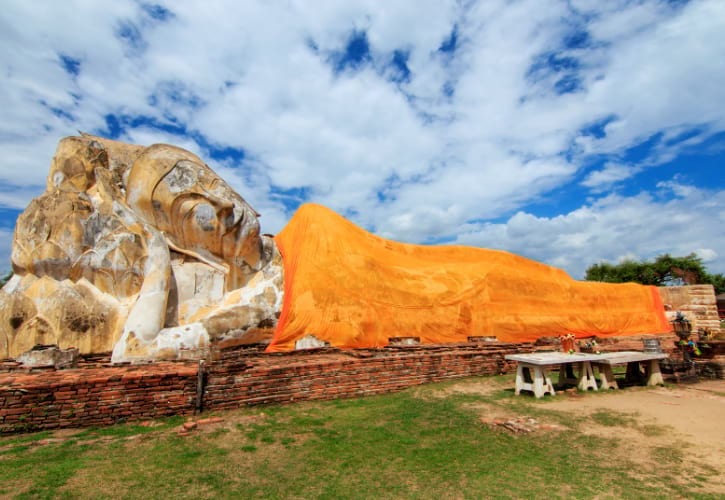 Wat Lokayasutharam is quite similar to Wat Pho temple in Bangkok, which is famous for its reclining Buddha.
In comparison, the statue here is displayed outside and is surrounded by lush landscapes.
Gaze at this huge structure that stands at 8 metres high and 37 metres long.
Because of its massive size, it's considered one of the largest reclining Buddha statues in Thailand.
More than that, this Buddha image was once covered by a monastery building.
And, it was said to be built centuries ago but was ruined during the Burmese raids. So, don't miss this religious site and get to know more about its noteworthy past.
4. Admire the Wat Phra Sri Sanphet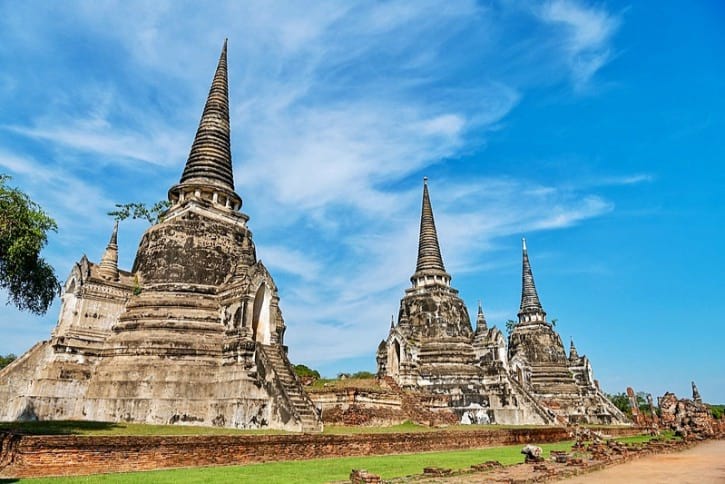 No trip to the Ayutthaya from Bangkok is complete without going to Wat Phra Sri Sanphet, a valuable site in the old capital of Thailand.
From afar, it seems these are just pointed hats, but think twice because these are actually ancient structures.
Have a close look at the temple that was considered the holiest site back in the 17th century. As the most religious spot among the ancient Thais, it served as the royal monastery.
Centuries later, you can still appreciate the beautiful ruins. Be in awe at the three bell-shaped pagodas settled in one rectangular platform.
5. Discover Wat Mahathat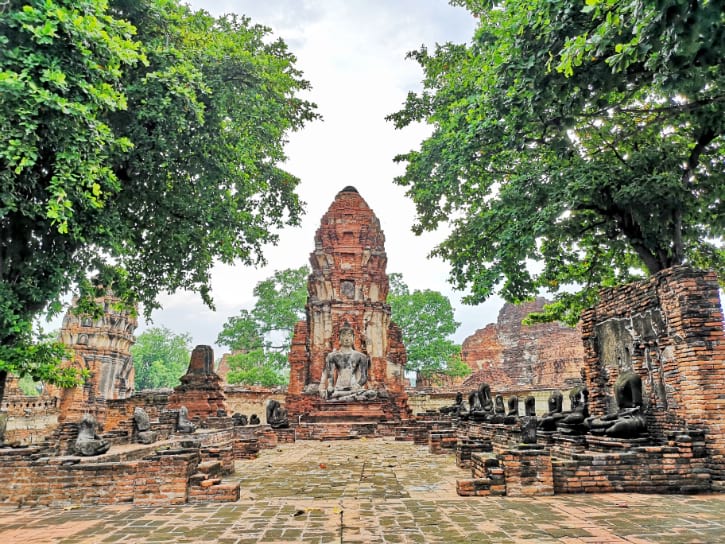 Get lost in the remarkable beauty of Wat Mahathat. This historical site is tagged as one of the oldest temples in Thailand.
Before, the place was a beautiful, sacred site with many temples and statues.
Even with the passing of time, you can't deny the incredible architectural beauty of the place.
Be captivated by the lush scenery that surrounds the temple complex.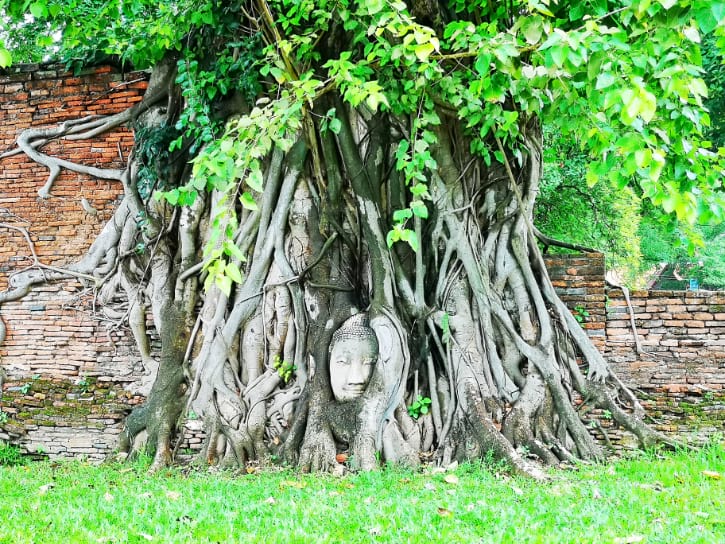 One of the many interesting spots here is the Buddha head wrapped within a banyan tree.
Look closely and see how the tree roots encircling the statue. Surely, this is a one-of-a-kind attraction that deserves a visit.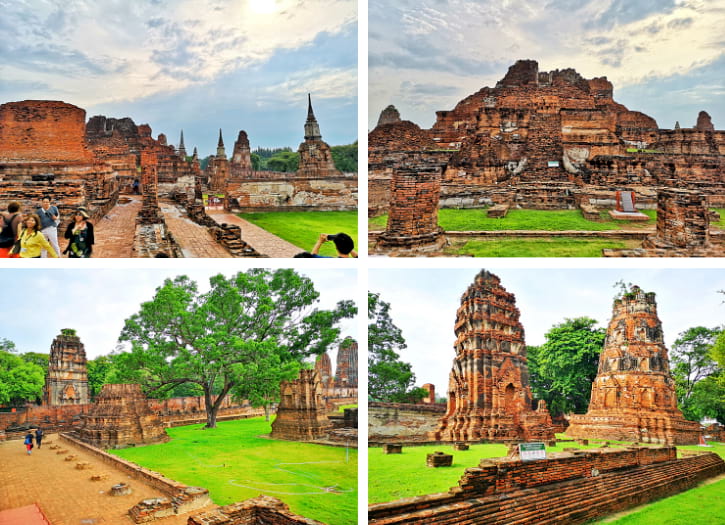 Even with the ruined walls and bricks, these religious structures still captivate every visitor. Some of these walls even have headless Buddha carved on its surface.
As you wander around, you'll meet more Buddha images. There are also towering pagodas that vary in size.
Get mesmerized by the jaw-dropping sights and make use of this as your photo backdrop.
6. Go Ayutthaya Evening Market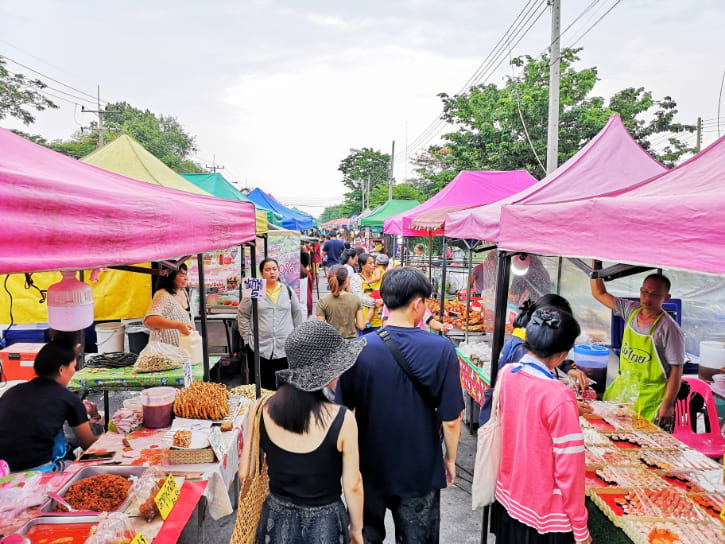 Explore the Ayutthaya Evening Market and relish in its abundant collection of tasty foods.
This place is always filled with mouth-watering treats and satisfying drinks.
March your way towards the centre of the market and get ready with the abundant display of heavenly delights.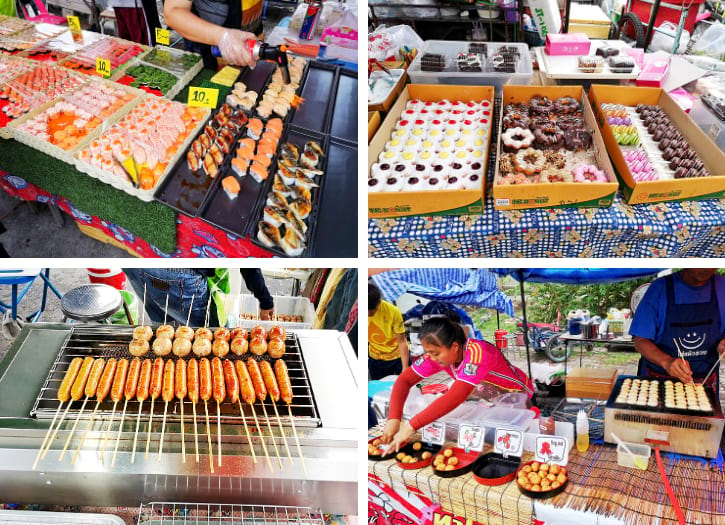 To kick off your food adventure, try the squid, shrimp, crab, and bacon balls. And for sushi fanatics, there's something waiting for you here!
And of course, there's always a spot for the sweet tooths! Check out this attractive donut counter loaded with yummy donuts in different sizes and styles.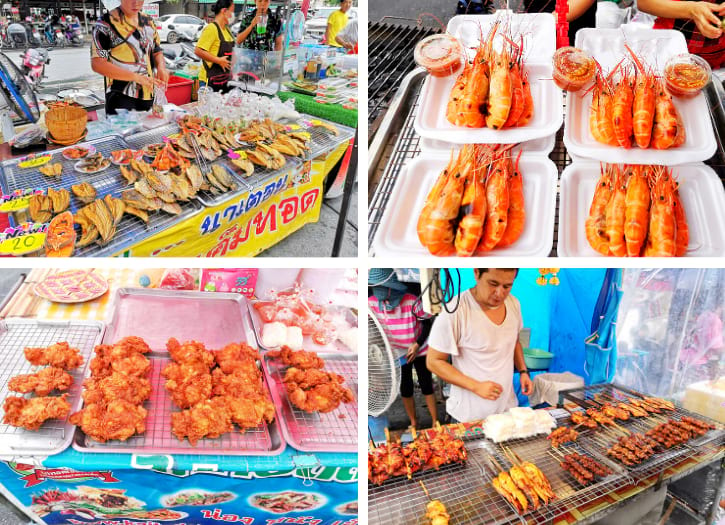 Grilled foods are quite popular in the market. Take a bite of the deliciously grilled pork sausages or grilled hotdogs.
If hotdogs and pork sausages aren't your thing, relax because there are more options at hand.
Enjoy some chicken barbecue skewers and spiced fishes with green chili.
And for seafood lovers, you shouldn't miss these large, grilled prawns. Dip the prawn into the cup filled with appetizing sauce.
Are you fond of strolling around the market?
Read here for my extensive guide to the 12 best markets in Bangkok and uncover my recommended places to visit. In this article, I will share the most popular markets that are great for travellers who love shopping and dining.
7. Enjoy a Sunset Boat Ride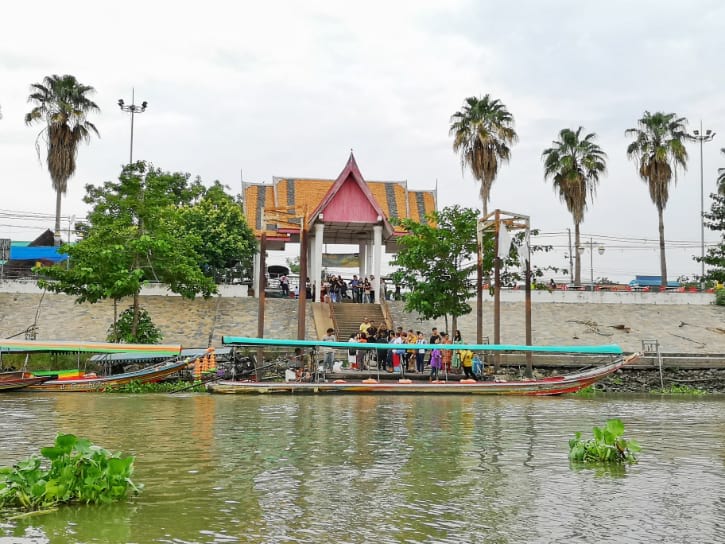 See the some beautiful Ayutthaya sights by taking a boat ride. This transportation allows you to tour around the place comfortably.
The boat can accommodate a lot of passengers because of its bigger capacity.
Moreover, it gives you the opportunity to capture lovely photos of the temples and other sights.
And of course, it's the best way to catch the beautiful sunset during your Ayutthaya day trip from Bangkok.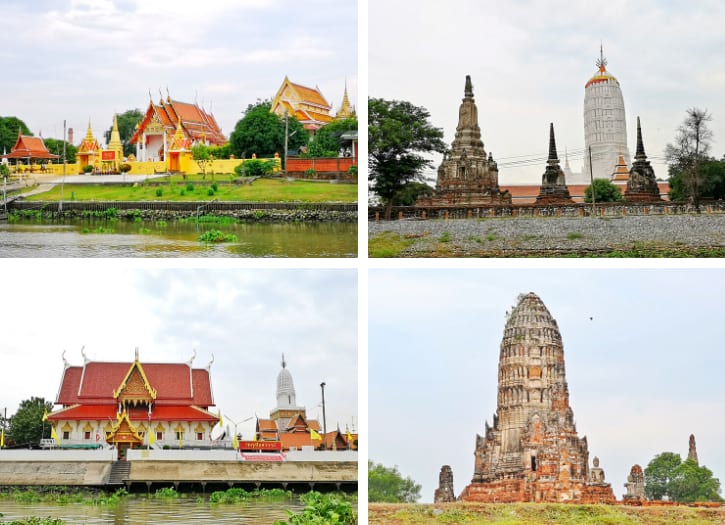 Sail around the lovely river and immerse yourself in the local scenes. This boat adventure offers you a glimpse of the towering temples as well as some local houses.
While onboard, spot the Wat Phanan Choeng (Buddhist temple) and marvel at its stunning exterior.
Another must-see sight is the Wat Phutthaisawa, a historical Buddhist shrine at the western side of the Chao Phraya River.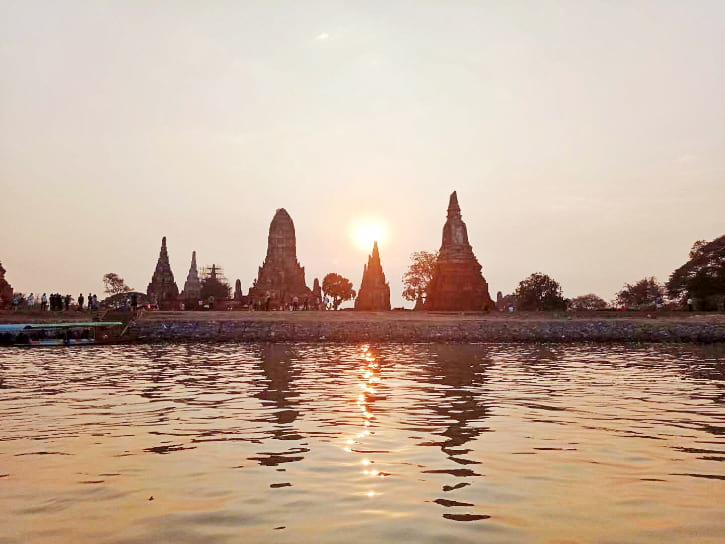 During the relaxing boat ride, don't miss to catch the beautiful sunset. Undeniably, this is the most picturesque way to finish your exploration.
Related Posts