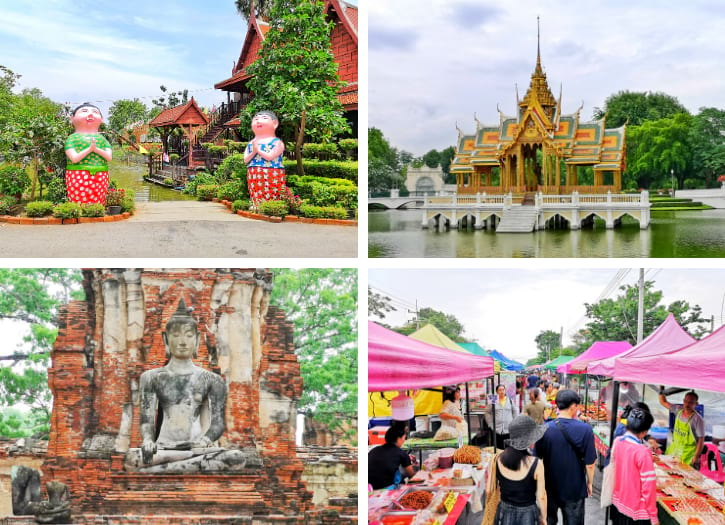 Wondering how to go from Bangkok to Ayutthaya? This comprehensive guide will show you 6 ways to go to Ayutthaya if you plan to depart from Bangkok.
These 6 methods are train, minivan, group tour, private tour, public bus and taxi. I will show you these 6 transport options in more detail later including with my best pick. You'll also know how long and how much does it take to get there.
Aside from this, I'll share with you my experience of day tour to Ayutthaya, along with some important tips to help you make the most out of your visit. And also, I will introduce to you the top-rated attractions in Ayutthaya that are very picturesque and definitely worth the visit!
Now, it's time for me to share with you how to reach Ayutthaya conveniently!
6 Ways to Get from Bangkok to Ayutthaya
---
1. By Train
---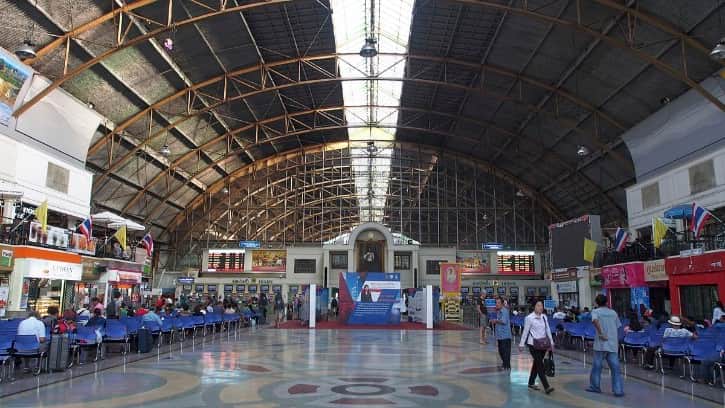 Why you should take the train?
Cheap but inconvenient
If you're on a tight budget, you might want to take the train and save money. From Bangkok, you simply get to the train going to Ayutthaya at the Hua Lamphong Railway Station.
The downside of taking the train, however, is the long hour land journey, which might even include delays. Hence, this one is not suitable for those who don't like time-consuming transportation and indefinite itinerary.
Because when you take a train, there's a bigger chance that your schedule will be affected by unforeseen circumstances.
But if you want to be more adventurous, you can simply buy your train ticket at Hua Lamphong Railway Station. The tickets can only be bought at the railway station, so no option for online purchase.
You've got two choices when buying the train ticket, either first-class or third-class. The first-class tickets are priced around 330 Thai Baht, which already includes an assigned, air-conditioned seat.
In comparison, the third-class tickets are about 20 Thai Baht only, but without air-condition and assigned seats. So, you need to get inside the train early to choose your preferred seats, with only a decent fan.
Another thing to consider is that the public transports in Ayutthaya are quite restricted. This means you are left with limited choices once you reach Ayutthaya Railway Station. You can only choose between a taxi and a tuk-tuk to tour you around the place.
You will need to allocate around 60 to 100 Thai Baht to visit a single attraction via a tuk-tuk.
On the other side, the taxi fare ranges from 1000 to 2000 Thai Baht for multiple Ayutthaya attractions. This can go lower, depending on your bargaining skills.
And if you've decided to take the taxi, negotiate properly and be sure you have both agreed on the price. This will definitely make things easier on both sides and avoid possible misunderstanding.
So, for travellers who want to try the train, see the quick guide below.
A Quick Guide on Getting to Ayutthaya via Train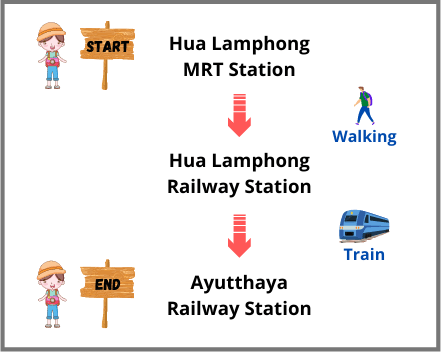 Take the MRT Line to Hua Lamphong MRT Station
Alight at Hua Lamphong MRT Station, Exit 2
Walk to Hua Lamphong Railway Station
Purchase first-class or third-class train at the ticketing counter of Hua Lamphong Railway Station.
Catch the train from Hua Lamphong Railway Station to Ayutthaya Railway Station.
First-class Train (Air-con)
Travel Cost (one way): Around 330 Thai Baht
Time Required (one way): Around 80 Minutes
Third-class Train (Only has Fans and No Air-con)
Travel Cost (one way): Around 20 Thai Baht
Time Required (one way): Around 2 Hours
2. By Minivan
---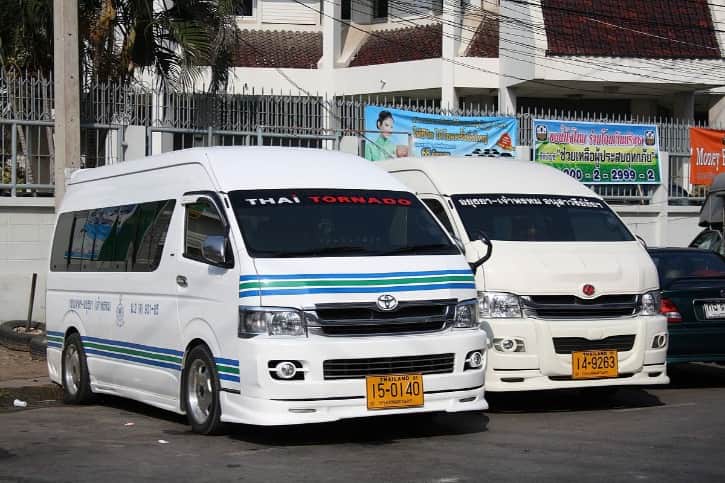 Why you should take the minivan?
Cheap but slow
For the second option, you can ride the minivan to Ayutthaya from Bangkok. This is also a cheaper alternative than the first-class trains because it only costs around 60 Thai Baht.
Plus, these are air-conditioned minivans, which means it is much comfier compared to the third-class trains.
One disadvantage of riding a minivan is it needs to be full before it starts the trip. So, you need to wait for other passengers, which might affect your schedule.
And since the minivan will have lots of route stops, be sure to inform the driver ahead that you're going to Ayutthaya.
You'll be dropping off at Wat Mahathat, which is also the last stop of the minivan. Well, you can't miss Wat Mahathat because it's one of the most visited sites in the area.
Once you get to Ayutthaya, you can choose between tuk-tuk and taxi to get around the area. As for the price, you can negotiate to get more savings.
If you've chosen the minivan, check out the quick guide below for your reference.
A Quick Guide on Getting to Ayutthaya via Minivan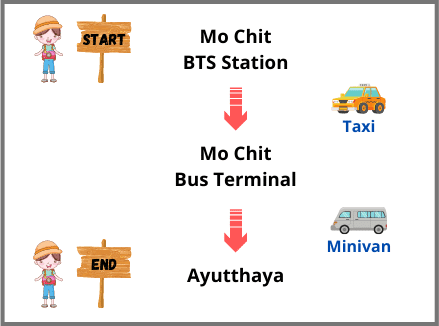 Catch the BTS Sukhumvit Line to Mo Chit BTS Station
Alight at Mo Chit BTS Station, Exit 4
Take a Taxi to Mo Chit Bus Terminal
Ride a minivan to Ayutthaya from Mo Chit Bus Terminal
Travel Cost (one way): Around 60 to 70 Thai Baht
Time Required (one way): Around 1 Hour 30 Minutes to 2 Hours
3. Take a Tour by Bus
---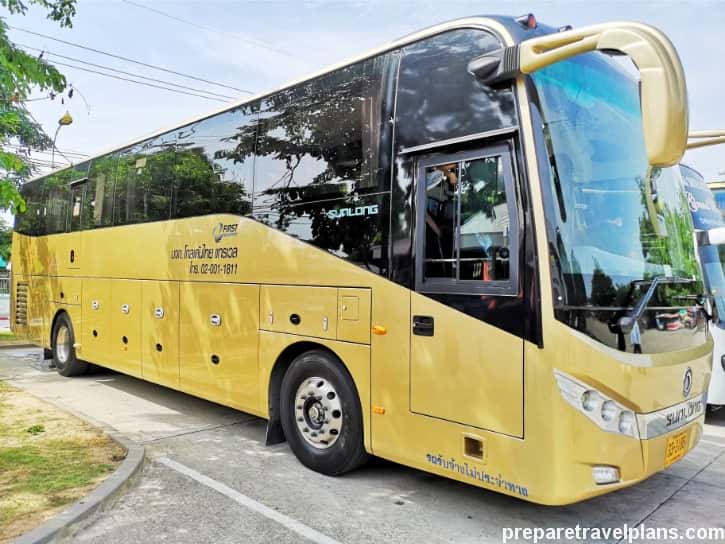 Why you should take a day tour?
Easy, fast and save time plus affordable price
For the most convenient and safe method to reach Ayutthaya, take a day tour from Bangkok at an affordable rate.
Here are 7 reasons why you should take a tour to Ayutthaya:
Well-planned tour. Waste no time as you visit multiple attractions in Ayutthaya with a highly organized itinerary.
Convenient transportation. Experience a comfortable transportation with just one bus that will take you from one attraction to another.
No more multiple transfers. This bus will take you directly to the most popular attractions you can find in Ayutthaya.
Equipped with a local tour guide. With an expert tour guide to assist you, you'll never miss all the attractions and food spots to visit.
Avoid both tuk-tuk and taxi scam. Skip the possible tuk-tuk and taxi scams who would charge you with a higher fixed rate.
Cheaper and comfier. Simply hop aboard the bus and relax as the tour takes you to the most beautiful attractions in Ayutthaya.
More fulfilling and memorable Ayutthaya adventure. Learn more about the history and culture of this majestic ancient capital from the local tour guide.
See the day tour prices, itineraries and assembly locations at the links below:
Ayutthaya Day Tour Package 1

(I took this tour and chose "Bang Pa-In Summer Palace, Wat Lokayasutharam, and Floating Market with Sunset Boat Ride Tour from Century Mall" package)
Here's my feedback on the day tour I took during my trip to Ayutthaya
---
Taking the day tour from Bangkok surely made my trip to Ayutthaya more fun and memorable. It was well-organized and highly-informative, with lots of attractions and food spots included in the trip.
Also, the professional tour guide speaks well in English, making it easy for us to converse and ask for recommendations.
We were able to try local foods at a cheaper price as well as tour around the place comfortably.
Aside from the knowledgeable, funny, and accommodating tour guide, the tour itself covers all significant expenses. These include the bus, entrance fees, fish feeding, boat ride at Ayutthaya Floating Market and boat ride for sunset view.
Overall, taking a day tour is highly recommended for everyone!
So, if you don't want to lose track, visiting different attractions in one day, a day tour is the answer. Skip the challenging and stressful kind of adventure as you can simply take the comfy day tour.
To know more about the day tour I availed for my Ayutthaya trip, see the link below. This already shows everything you need to know, including the price, assembly place, schedule, and such.
If you think that the above-mentioned day tour is quite pricey, don't worry because there's another option you can consider. Check out the link below, which is a cheaper day tour for those who are on a budget.
4. Private Tour by Car
---
Why you should take the private tour?
Fastest and secure but expensive
Another fast and secure way to get from Bangkok to Ayutthaya is by taking a private tour. Though this one is much expensive than the group tour, it is also much comfier and convenient.
You can easily consult and ask recommendations from the expert local guide as there are no other groups to accommodate. You will be able to visit food spots, scenic locations, and other attractions with the help of your tour guide.
This also means that you can learn more about Ayutthaya's interesting past and even some secrets straight from the local. There's more to know about this ancient capital beyond its touristy attractions and picturesque spots.
Another feature that makes the private tour more convenient is their hotel pick-up and drop-off services. So, there's no need to go to an assembly location or even deal with public transports.
So, if you're travelling with your family or a group with senior citizens, then this is definitely advisable.
Get more information about the private tour through the link below.
5. By Public Bus
---
Why you should take the public bus?
Cheap but time-consuming
Another option to get to Ayutthaya is the public bus at Mo Chit Bus Terminal. However, this bus will also have several stops before it reaches to Ayutthaya. So, the entire transportation might be time-consuming too.
On the brighter side, the bus fare is quite cheaper than the minivan. If this appeals to you, then you can refer to the clear and concise guide below.
A Quick Guide on Getting to Ayutthaya via Public Bus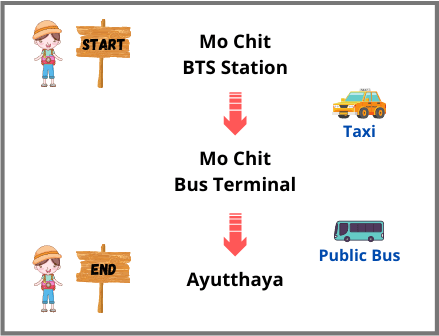 Take the BTS Sukhumvit Line to Mo Chit BTS Station
Alight at Mo Chit BTS Station, Exit 4
Take a Taxi to Mo Chit Bus Terminal
Catch a Public Bus to Ayutthaya from Mo Chit Bus Terminal
Travel Cost (one way): Around 50 to 60 Thai Baht
Time Required (one way): Around 1 Hour 30 Minutes to 2 Hours
6. By Taxi
---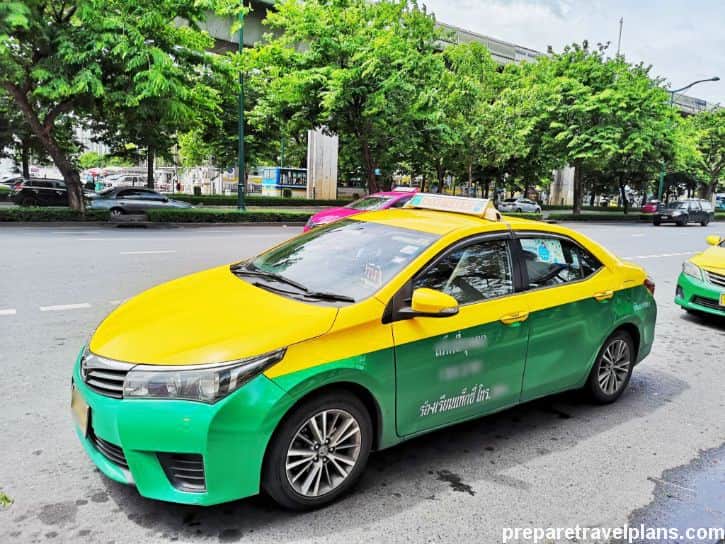 Why you should take the taxi?
Fastest but expensive – Beware of scam
If you don't want to waste time, then the fastest option could be getting a taxi to Ayutthaya from Bangkok. This is a comfortable way to get to Ayutthaya but it's pretty costly.
The normal taxi rate one-way is around 1000 Thai Baht already and another fee for visiting multiple attractions. So, before you get one, make sure you and the taxi driver have agreed on a price.
Mention the attractions you want to visit and negotiate for the price. Normally, if you take the round-trip transfer, including attractions, the fare is roughly around 2500 Thai Baht or more.
Since the taxi drivers are only there to drop you off at the tourist spots, there'll be no tour guide. If you want one, you may have to pay another fee to the local tour guides.
Why You Should Plan a Day Trip to Ayutthaya
---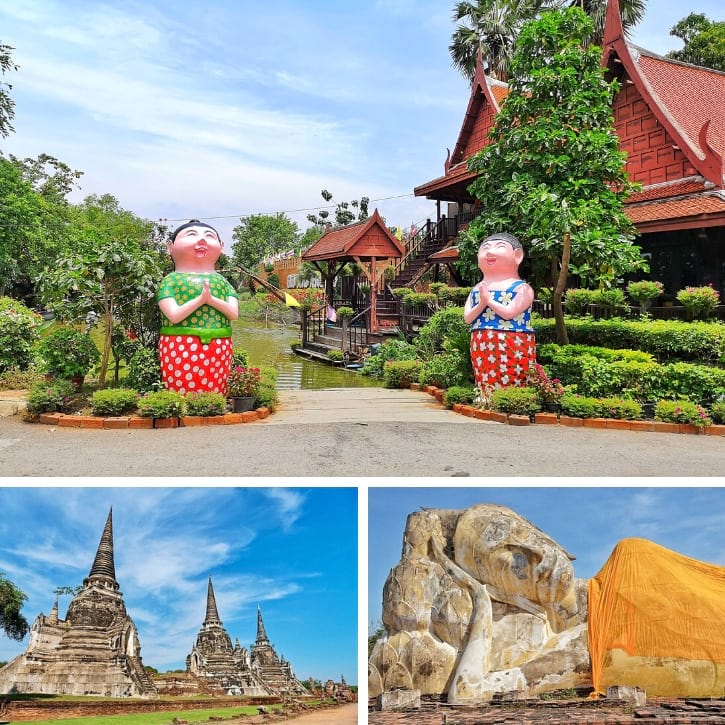 Ayutthaya's glory days revolved around the international trading port. For many years, this historical city prospered, becoming the booming centre of the Kingdom of Siam.
But in 1767, this flourishing capital fell into the hands of the Burmese invaders. And the unfortunate fate of Ayutthaya remains visible up to the present time.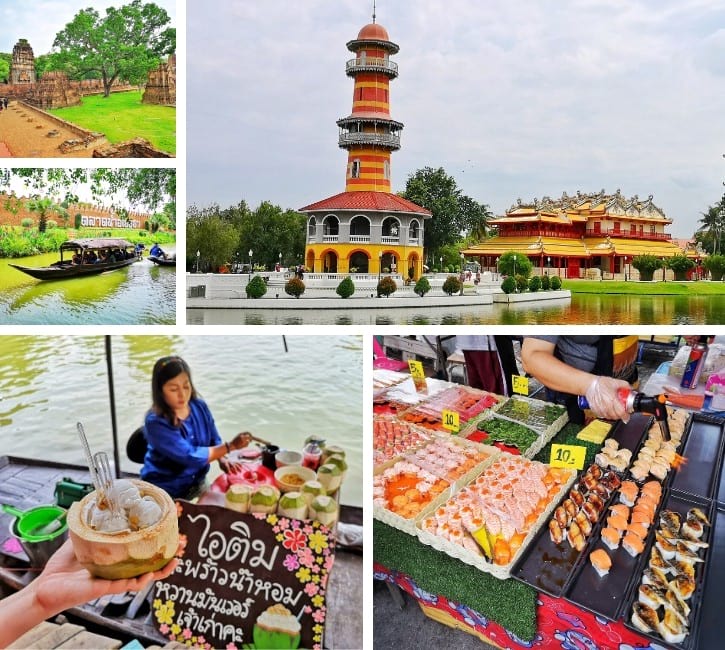 Now, centuries after it was destroyed, Ayutthaya has become a significant part of Thailand's past. Filled with ancient temples, statues, monasteries, and markets, a day trip to Ayutthaya from Bangkok is highly recommended, especially during Bangkok holidays.
So, let me take you to see the beautiful attractions of Ayutthaya through the guide below!
7 Best Things to Do on Your Day Tour to Ayutthaya
---
1. Bang Pa-In Summer Palace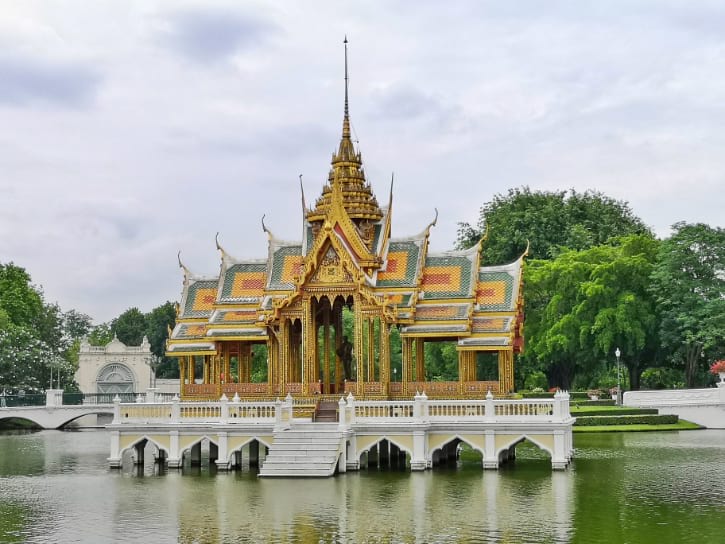 With its visible elegance and beauty, Bang Pa-In Summer Palace is no doubt a favourite attraction by many. This breath-taking destination was once the place for Thai royalties.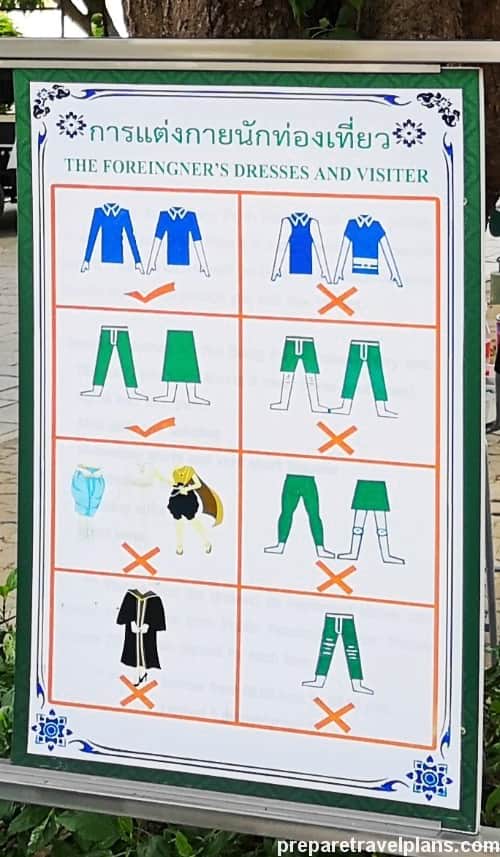 As a renowned tourist spot in the country, there are certain requirements you need to follow before entering the place. See the dressing guideline above that shows the proper attire. Your clothes should cover the shoulders and your pants should cover the knees.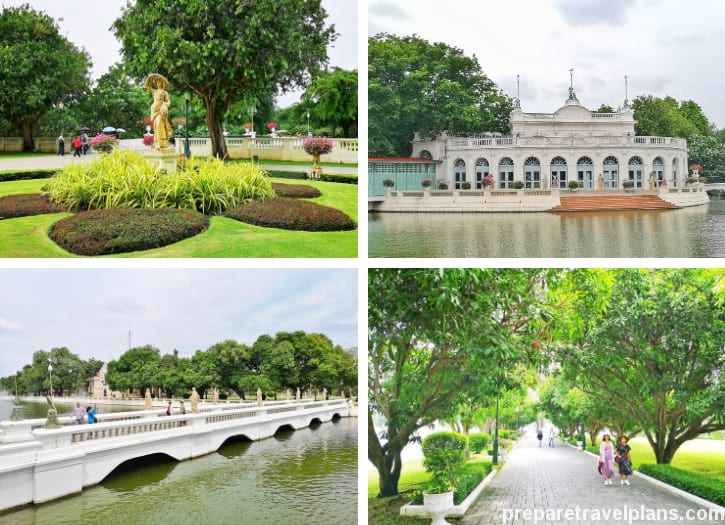 Devaraj Kunlai Gate welcomes you to the inner palace of Bang Pa-In. Enter the Devaraj Kunlai Gate and you'll be taken into the spectacular complex of buildings, river views, and lush landscapes.
Walk your way to the lengthy bridge that is bounded by the magnificent Chao Phraya River. Stroll around the beautiful walkway surrounded by trees. The peaceful atmosphere adds up to the entire nature landscape. Definitely another picture-perfect spot!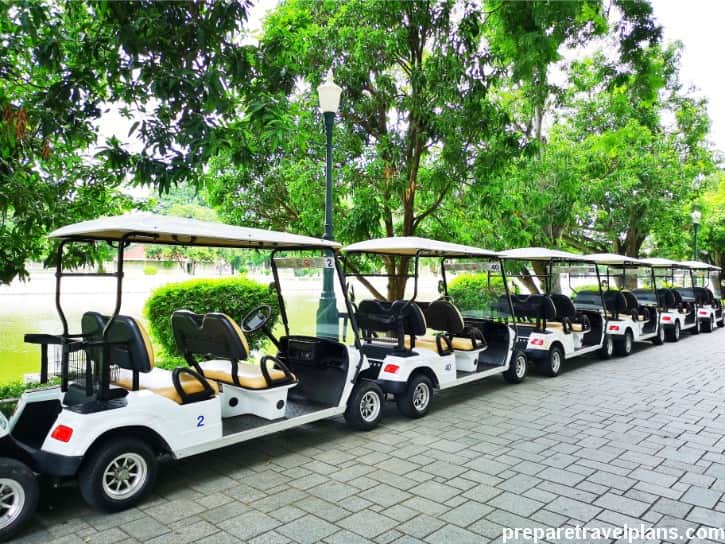 There's more to discover in Bang Pa-In Summer Palace, hence a golf cart is provided for convenience. Make sure to bring your driver's license so that you can rent one of the golf carts in the palace. Those who can't present one will be denied access to the golf cart.
Present your driver's license at the counter for Golf Cart For Rent. The normal rate is 400 Thai Baht for the first hour, then 100 Thai Baht for the additional hour.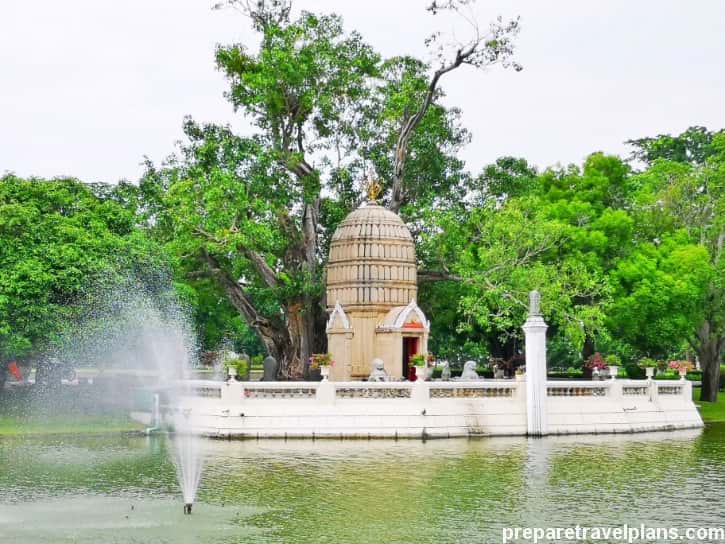 One of the first temples you'll take notice of when you enter the palace is the Ho Hem Monthian Thewarat. From a distant, it looks like an elongated igloo but this is actually the "Golden Palace of the God King."
At the back of Ho Hem Monthian Thewarat is an ancient tree that complements the interesting beauty of the shrine. Just like most sacred sites, you need to take off your shoes before you can enter the temple.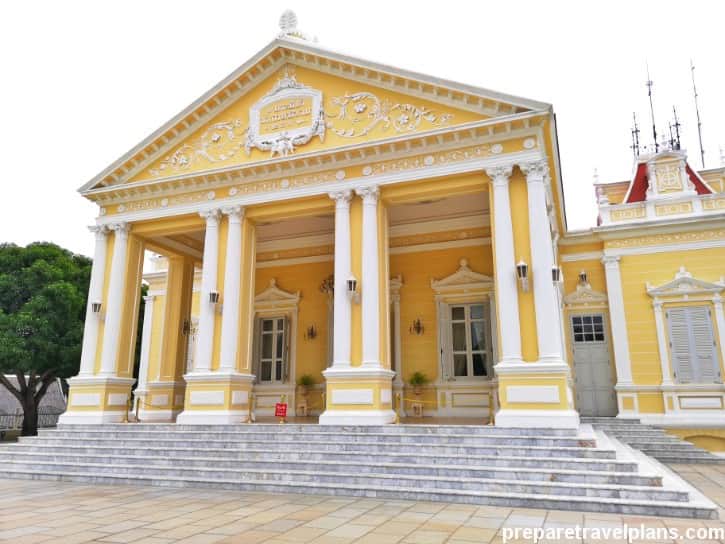 One of the many buildings you'll find here is the Phra Thinang Warophat Phiman. This structure stands out from the rest as it highlights the traditional Thai architectural beauty.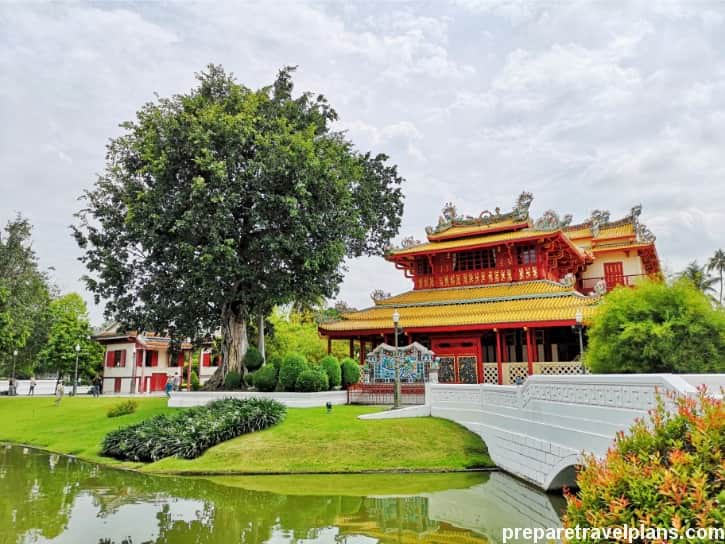 Another famous site to visit is the Phra Thinang Wehart Chamrun. This Chinese-style building is not just known for its majestic style of red, gold, and silver finishing. Back in the days, this was the only palace open to commoners.
Move closer to the royal residence hall of Phra Thinang Wehart Chamrun and you'll be amazed by the delicate carvings. Aside from the ornamental tiles and porcelain artwork, the camel bone dragon will surely catch your attention.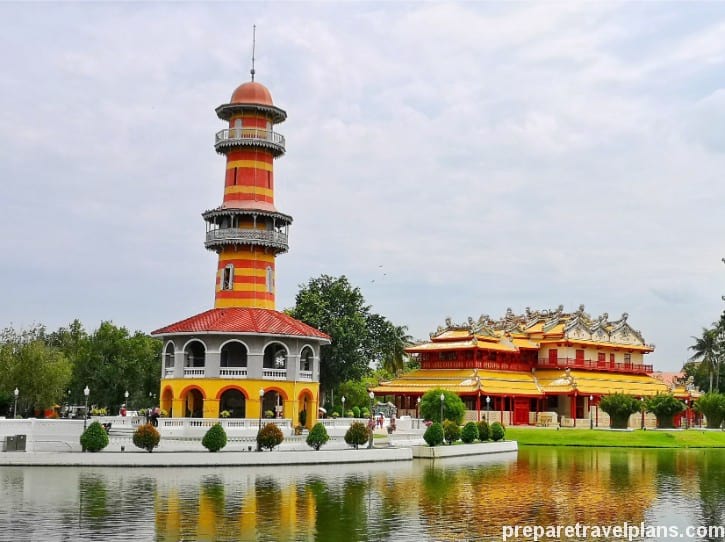 Also dubbed as the "Sages Lookout Tower", Ho Withun Thasana Tower is positioned right in the middle of the river. This tower characterized by vibrant colours comes with a spiral staircase that leads to the viewpoint platform.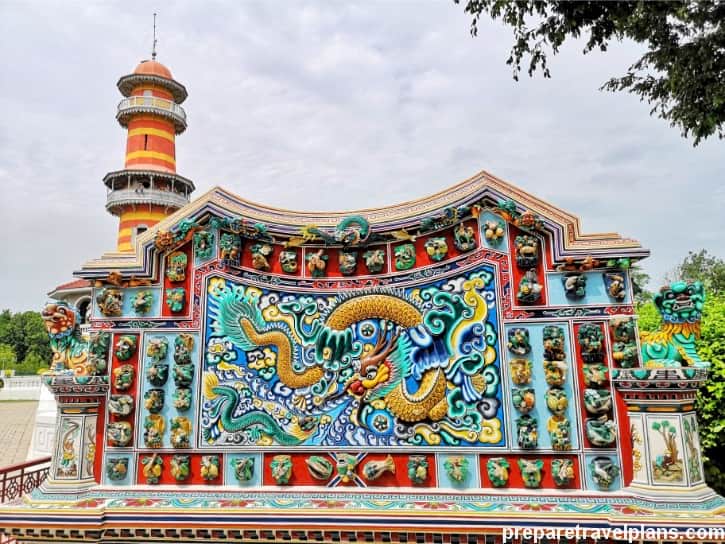 Located near the Ho Withun Thasana Tower is this stunning dragon carving. The huge carving illustrates a remarkable craftsmanship, which is not just limited to Thai architecture but also Chinese design.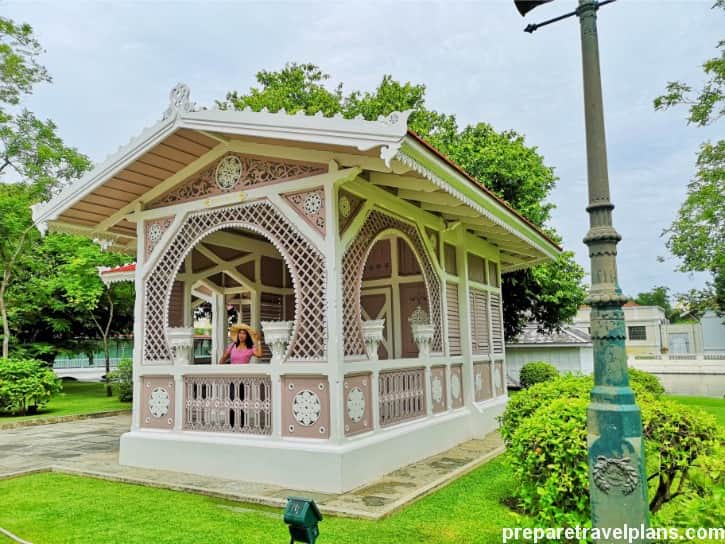 If you're looking for a cosy spot for your Instagram feed, Keng Boo Pah Pra Paht is the perfect place. This little structure covered with pastel pink facade gives you that charming photo vibe.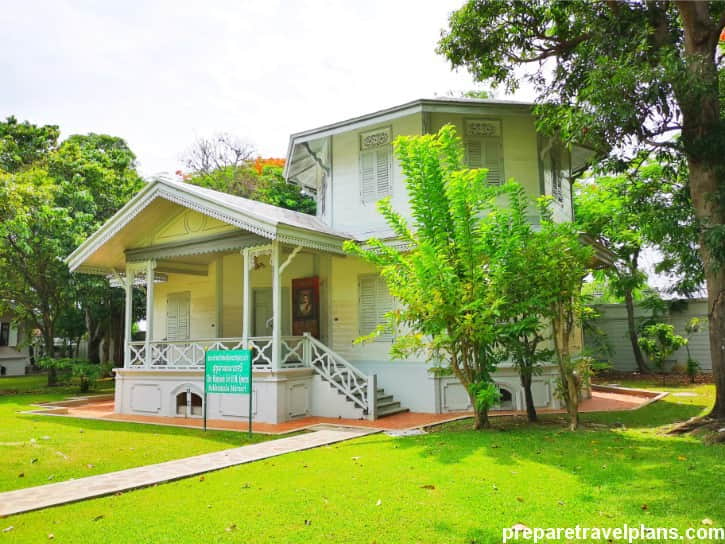 Pay a visit to the residence of one of the consorts of King Chulalongkorn, Queen Sukhumala Marasri. Queen Sukhumala Marasri was also the daughter of King Mongkut with his concubine.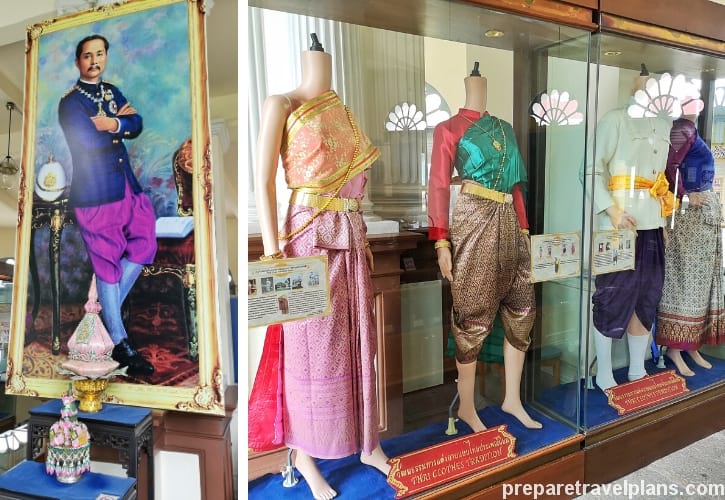 A portrait of the well-loved King Chulalongkorn can also be found in one of the buildings in Bang Pa-In. King Chulalongkorn's reign for more than four decades gave a lot of improvements in the country. Aside from his brilliant reforms, he was also known for his love affairs.
There's also a display of traditional Thai clothes. See the sophisticated pieces that symbolize the striking Thai style.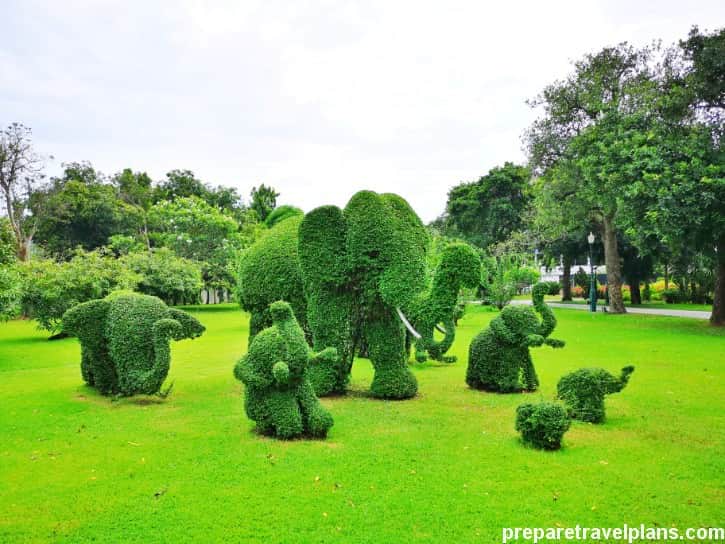 Temples, portraits, and traditional attires aren't just the things you can see in this breath-taking complex. Bang Pa-In is recognised for its topiary of elephants.
Elephants are considered as the country's national symbol because it represents strength and long life among Thai people. Also, elephants are tagged as a sign of Thai royalty.
Opening Hours
8:00 AM – 4:00 PM (Last Admission 3:30 PM)
2. Ayutthaya Floating Market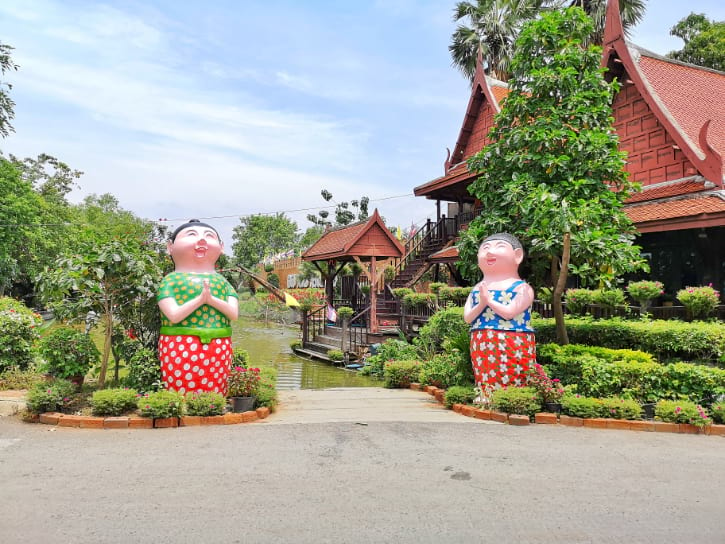 Get on a traditional water journey at Ayutthaya Floating Market. This top-rated cultural and shopping spot in Ayutthaya Province is overflowing with things to do and attractions to visit.
At the entrance of Ayutthaya Floating Market, you can already feel the vibrant vibe. The colourful decorations and natural charms prepare visitors for a series of fun-filled activities inside the market.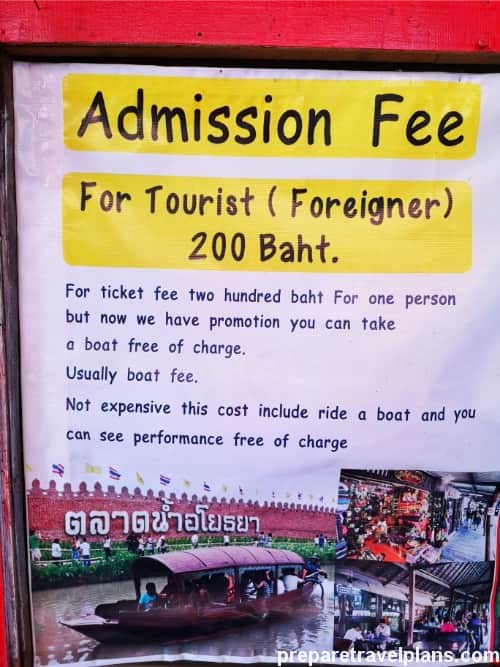 But before you can enter the market, there's an admission fee amounting to 200 Thai Baht per person. This fee already includes the boat charge, which means you get to ride the boat for free.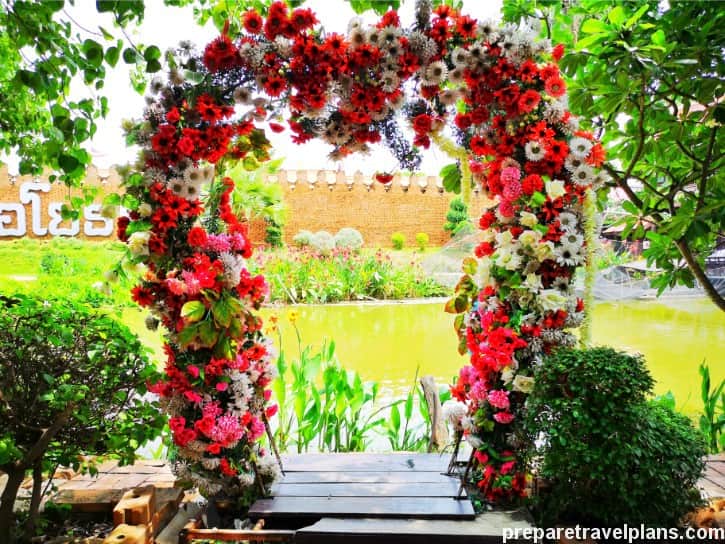 Pop by this heart-shaped flower arc upon entry at Ayutthaya Floating Market. Wrapped by the scenic river sights, this decoration is definitely a perfect welcoming spot.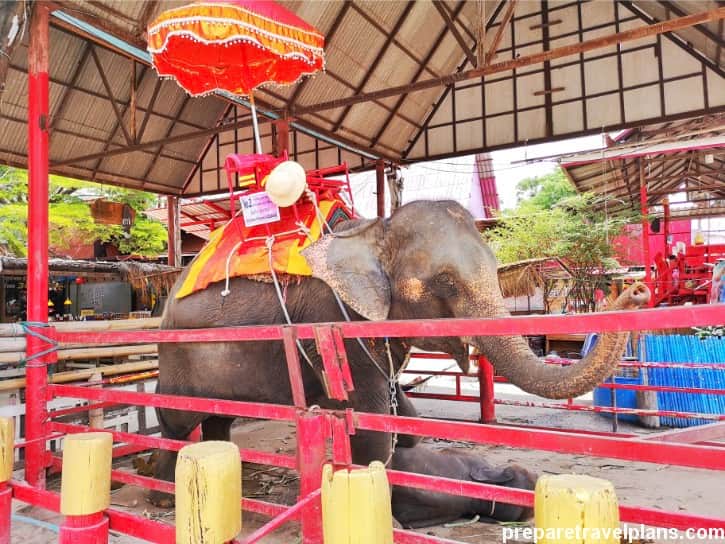 If you want to start your adventure on a high note, you can hop aboard this gentle giant. Elephant rides are quite popular in this market and it's something you might want to give a try.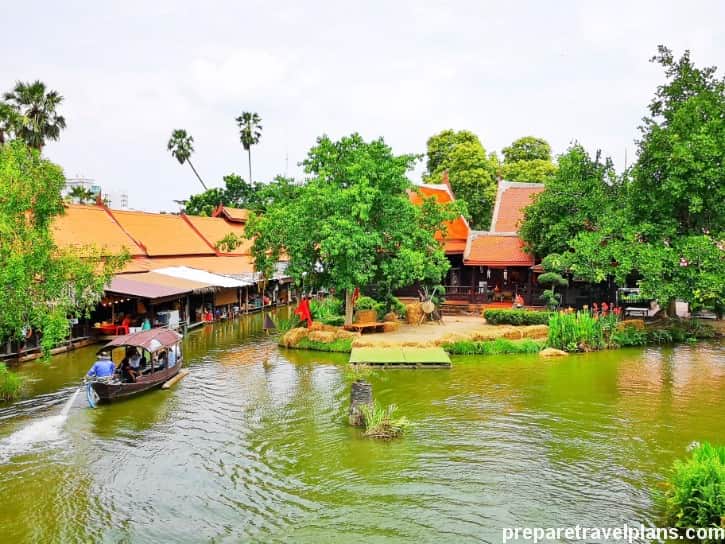 Walking around this picturesque floating market surely gives you that sense of satisfaction. Along the riverbank, you can see traditional boats filled with smiling and curious tourists.
The gorgeous water scenery is simply a joy to watch even if you're just walking around the market stalls.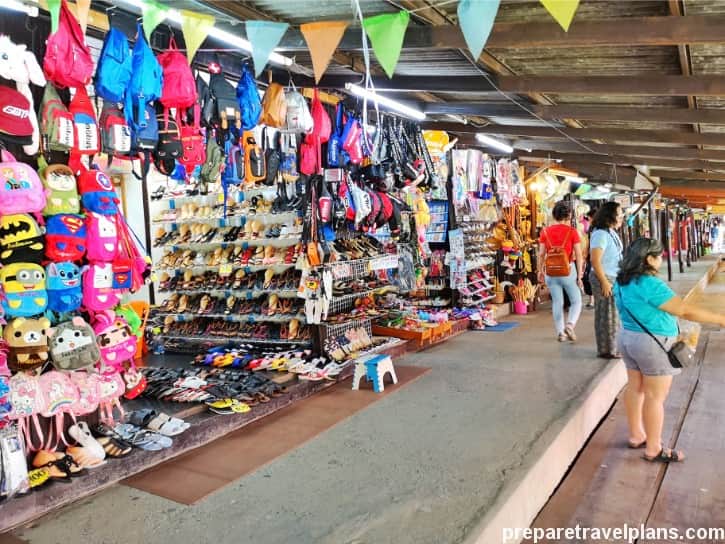 Continue strolling around and you'll discover lots of surprises. The wooden walkway is occupied with different sorts of stalls, selling all kinds of items that might catch your attention. From trendy finds to cute souvenirs and even K-pop posters, for sure you'll end up with a bag or two!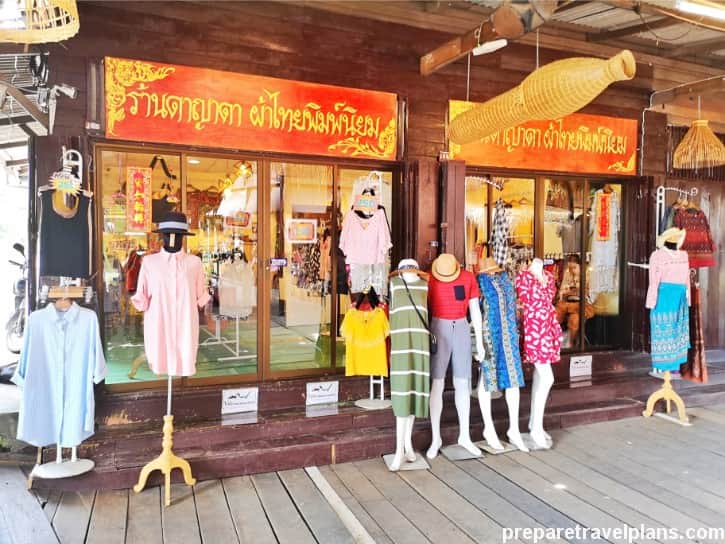 Fashion clothes are also on display, waiting to be discovered by the curious eyes of the trendy travellers. Enter one of the fashion boutique stalls and find your most desired fashion piece.
If you want to save money, there are also cheaper Thai t-shirts that come in different sizes. So, if you want an affordable yet practical item, then a shirt wouldn't hurt your pocket.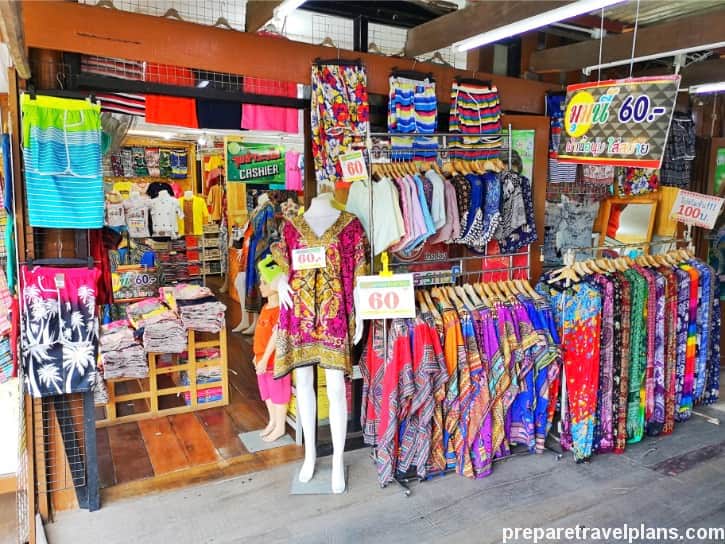 Traditional Thai costumes are also on exhibit. Take home a piece of Thai attire that will give you a lasting impression of the beautiful Thai culture.
These traditional dresses surely showcase the vibrant Thai culture, packed with eye-catching patterns and bright colours.
For those travelling with children, there's an impressive selection of kids' clothing too. Let your kids be immersed with the local culture and fuel their sense of curiosity through these traditional attires.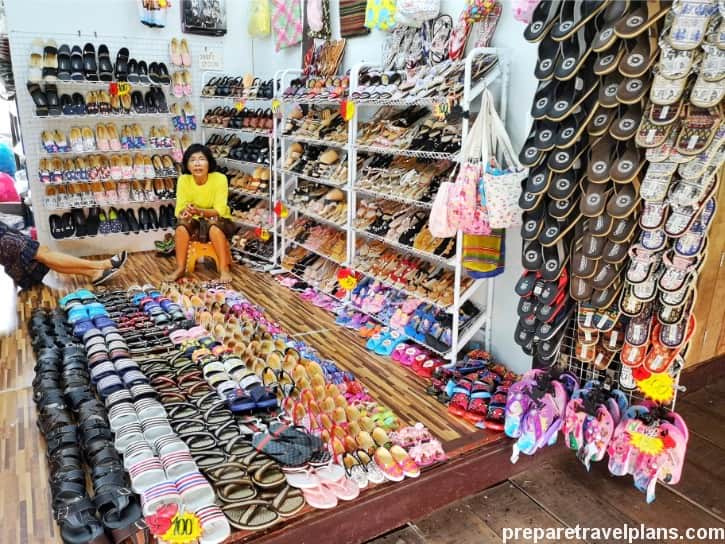 After a series of fashion hunting and traditional shopping, continue the fun at one of the many footwear shops. Prepare yourself for the hundreds of shoes, slippers, sandals, and slip-ons on full parade.
Since there are many options to choose from, make sure to choose wisely. Know the price range ahead by visiting different stores. By asking various stores, you can establish your starting bargain rate.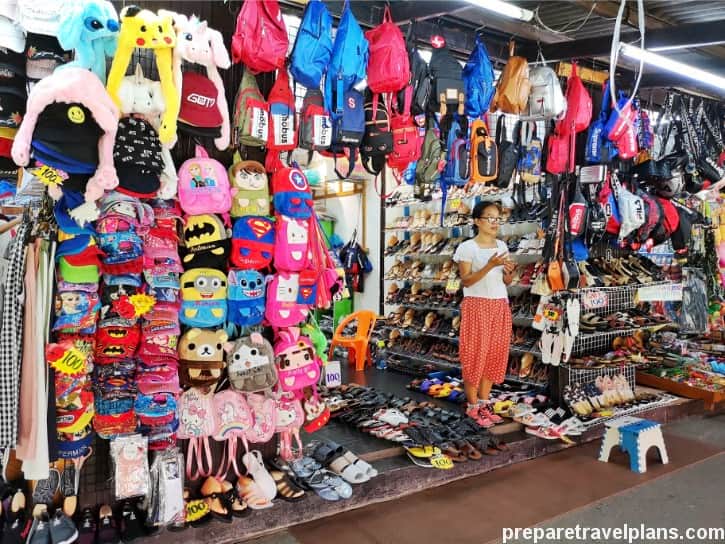 For those looking for bags, you'll not be disheartened with the abundant choices from left to right. There are bags of various styles and sizes for all ages.
Sling bags are also hot items in the market. You can find these multi-coloured pieces hanged from most stalls. And the best part about these sling bags is that these are very charming and cheap!
If sling bags aren't your type, don't worry! A whole lot of bags are customized for all types of tourists. There are trendy handbags, practical shoulder bags, and even adorable backpacks.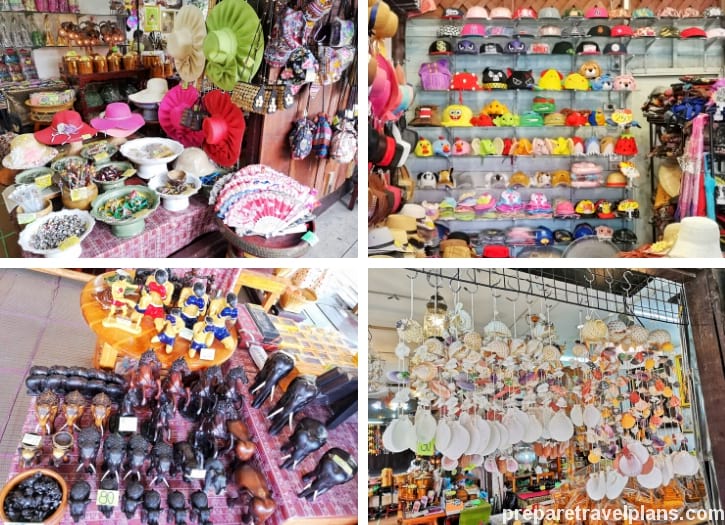 Also, on your selection are bright conical hats that best complement your outfit of the day or OOTD! These hats are the perfect summer accessory you can use all throughout your Thailand trip.
For kids or those kids at heart, you'll love this stall loaded with colourful hats from different cartoon movies. These cute finds are great souvenirs too!
Talking about souvenirs, these small wooden horses and elephants remarkably represent your Thailand trip.
There are also seashell hanging decors for those with a heart for marine beauty! These gorgeous shells are intricately crafted into captivating pieces of art.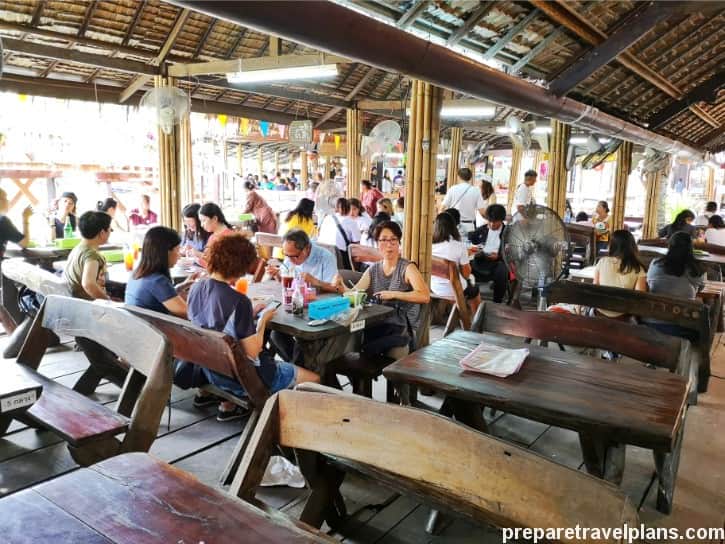 All the walking and shopping will definitely wear you out. But there's nothing to worry because just like the abundant array of products, there are lots of food choices here!
You can start with this food court that serves legit Thai dishes and drinks to satisfy your hungry stomach.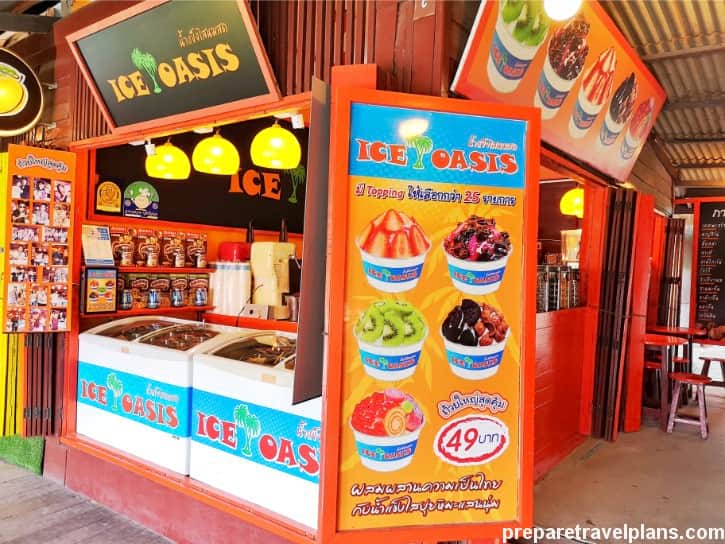 You certainly deserve ice cream after everything you've been through for the day. Get your ice cream fix at Ice Oasis that offers tasty fruit ice cream for everyone!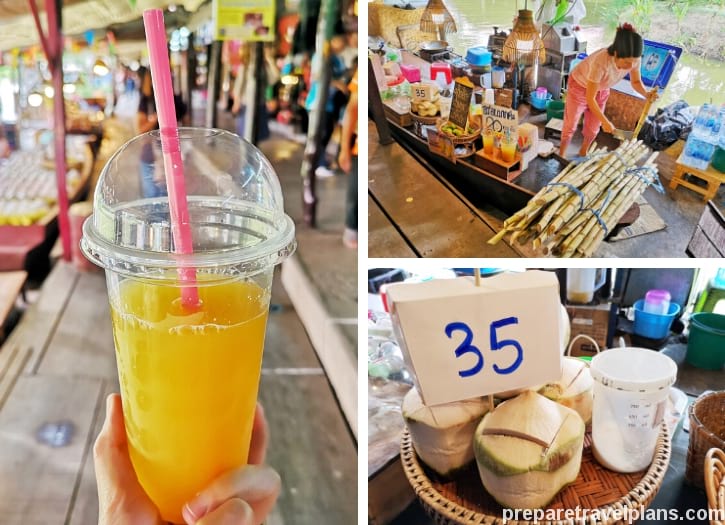 Try some local drinks from this stall at the floating market. Serving healthy coconut and bamboo drinks, you can see how your drinks are prepared freshly and instantly.
Here's a freshly made bamboo drink! Did you know that this organic juice boosts your immune system? So, to give you the needed energy to complete your adventure, don't forget to try this one!
Of course, fresh coconuts are simply irresistible. These are cheap, healthy drinks you shouldn't forget. But make sure to limit your drink to two coconuts only so you won't have an upset stomach after.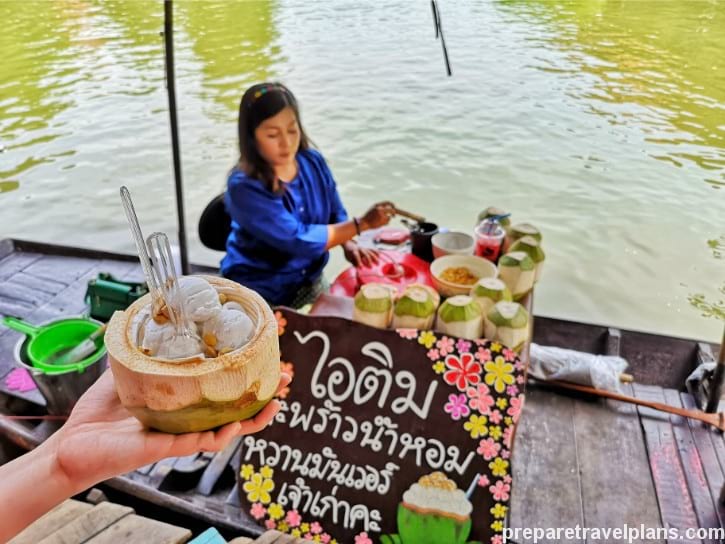 And if you just can't get enough of your coconut madness, take a scoop of this tasty coconut ice cream.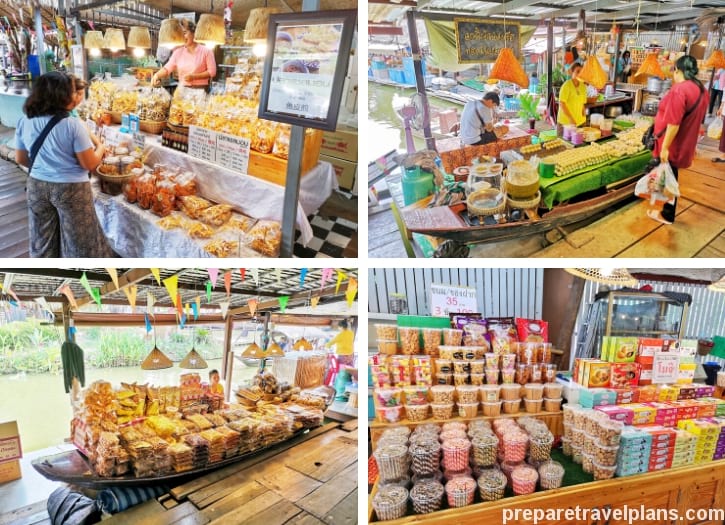 Right after your coconut-eating adventures, it's high time to try different local Thai snacks. You can't skip this stall right here that sells crispy fish skin! This is the perfect stall for those who want a healthier alternative from pork treats.
Aside from crispy fish skins, other stalls also serve delicious grilled fish balls. And take note because one is never enough for these delicious fish treats!
More dried food stalls are positioned beside the river. So, if you miss the previous shops, you'll find more options as you continue strolling. These food stalls have every sort of dried food you need.
For sweet tooth travellers, plenty of snack foods are also presented. So, make sure you still leave enough space in your stomach. Buy more of these goodies and you'll save more money.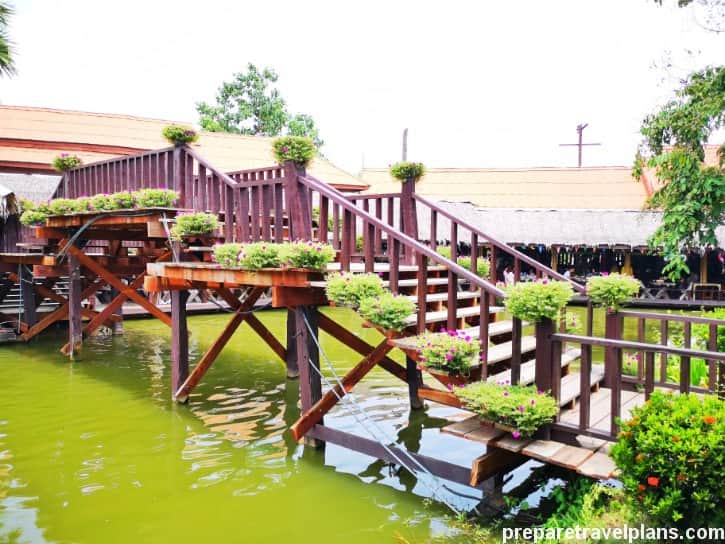 If you want some scenic captures, head to the bridge and strike your most admirable poses. With the river as your background, it's not hard to get some beautiful photos!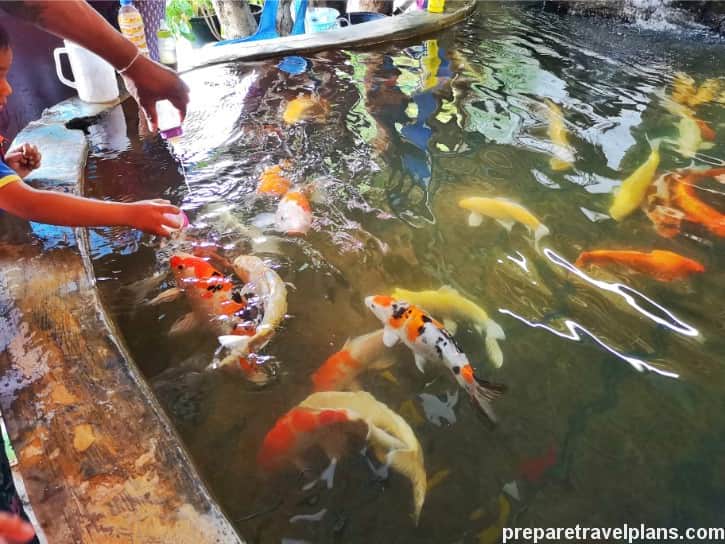 Shopping and food hopping aren't just the things you can do at Ayutthaya Floating Market. Try carp feeding and enjoy some memorable time with these marine creatures.
After carp feeding, there's also catfish feeding! Watching the marine animals gather in one direction is simply satisfying to look at. See how the catfishes easily consume the food you throw at them.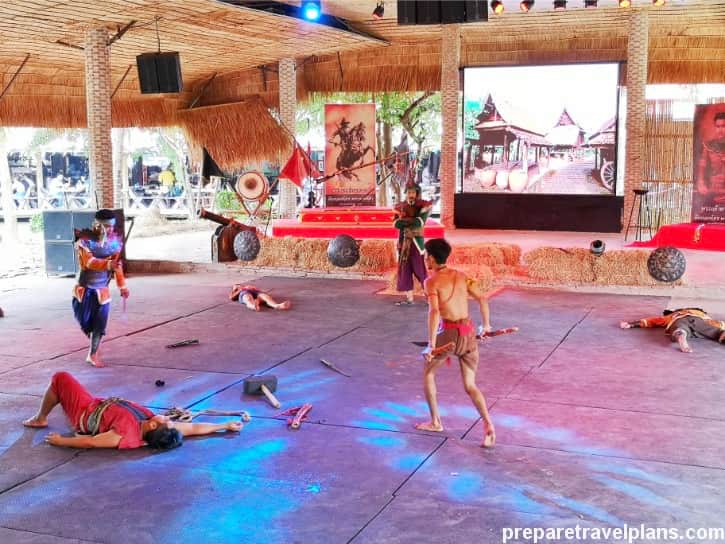 While strolling, you might stumble upon this popular warrior battle show in the market. See how these talented locals demonstrate a historical play with life-like weapons and armours.
This local presentation is a great side trip while shopping and enjoying the local foods.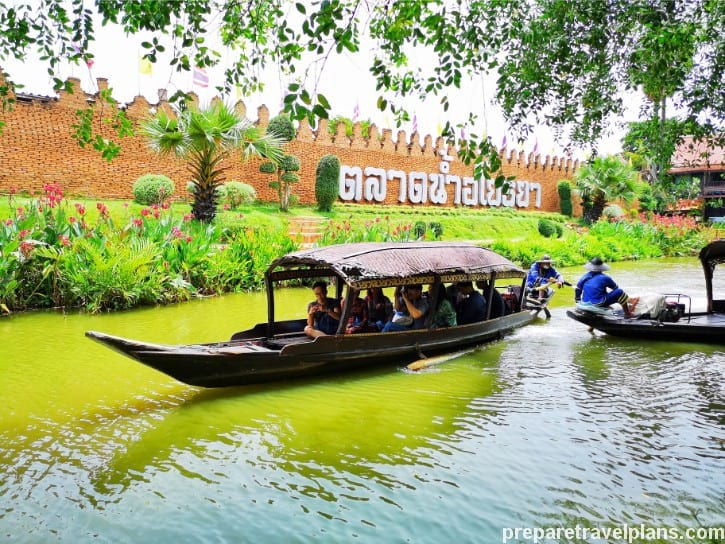 And if you're done with all the strolling, cap off your adventure with a boat ride. Since this is already included in the entrance fee, you won't be spending extra money to see these magnificent views.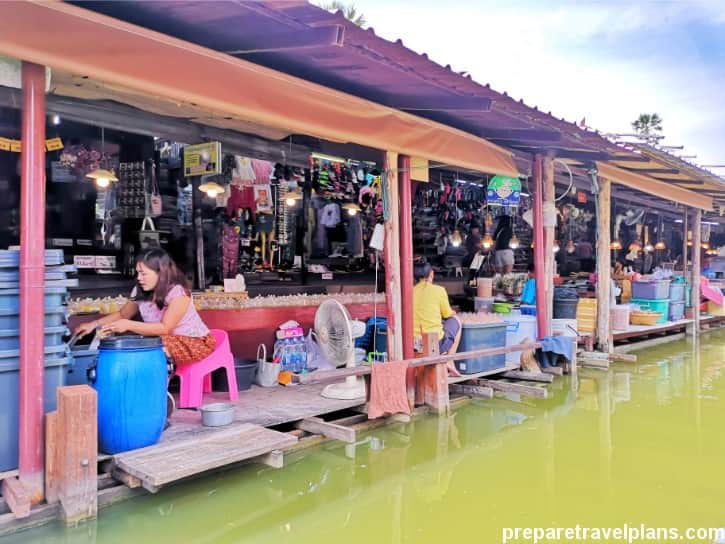 From your boat, take a glimpse of the food stalls and shops surrounding the river. The boat ride itself is very relaxing, making it a perfect day-end activity. Or, you can do this first and start your day seeing the entire floating market from your boat.
This gives you an idea where the stalls are located ahead of time. Hence, it will be easier for you to stroll around the floating market.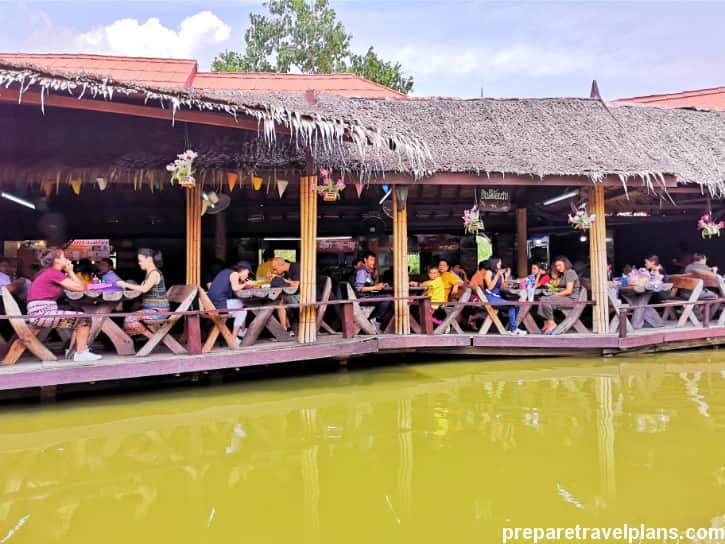 You can also catch a glimpse of locals and tourists enjoying their food from one of the nearby restaurants. And surprisingly, because of the clear waters, you can see their reflections from afar.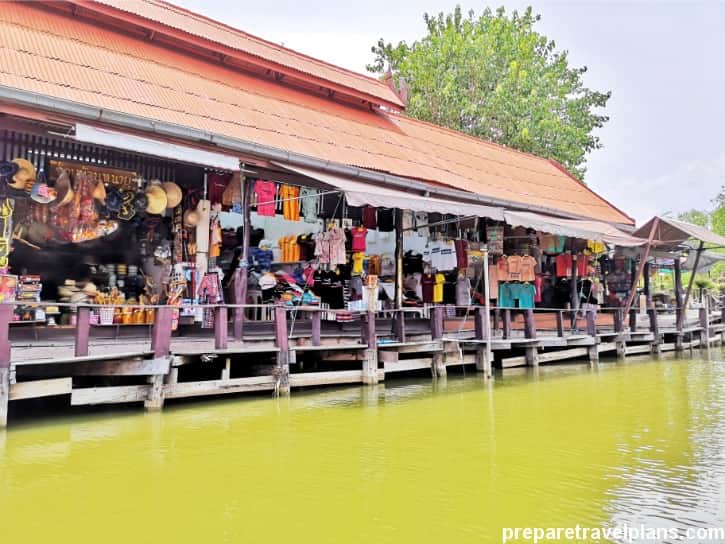 Truly, there's nothing more fulfilling than riding a boat when you visit a floating market. So, make sure to cruise the scenic river and immerse in a traditional water adventure.
Ticket Price
200 Thai Baht (Entrance Fee and Boat Ride)
3. Wat Lokayasutharam (Reclining Buddha)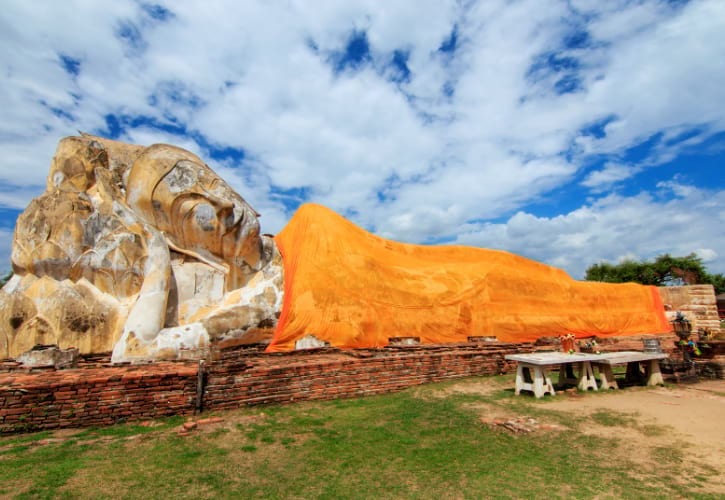 Wat Lokayasutharam isn't like most Buddha structures in the country. Instead of its normal sitting position, this spiritual site highlights a rather unique illustration of the famous religious leader.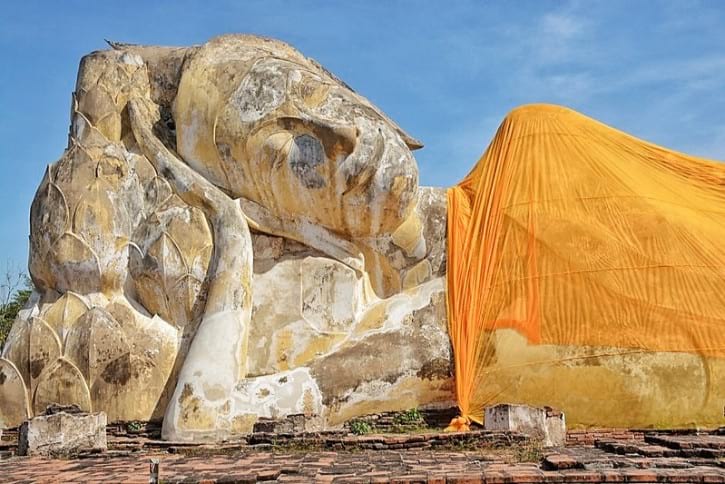 Displayed in a reclining placement, the Buddha image named as Phra Bhuddhasaiyart is 8 metres high and 37 metres long. Its size will surely impress you, making it one of the largest reclining Buddha statues in the country.
It was said to be built within the Ayutthaya period, which is roughly after the 16th century. Before, this immense structure was covered by a monastery building but was ruined during the Burmese raids.
4. Wat Phra Sri Sanphet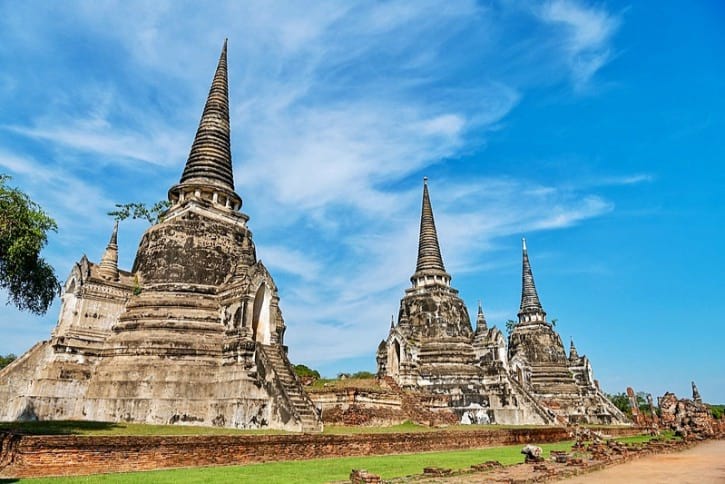 From afar, it seems these are just pointed hats. But think twice because Wat Phra Sri Sanphet is such a valuable site in Thailand's old capital.
It was the most religious and most beautiful site of the ancient Royal Palace back in the 17th century. As the holiest centre among the ancient Thais, this was tagged as the royal monastery, where no monks can reside.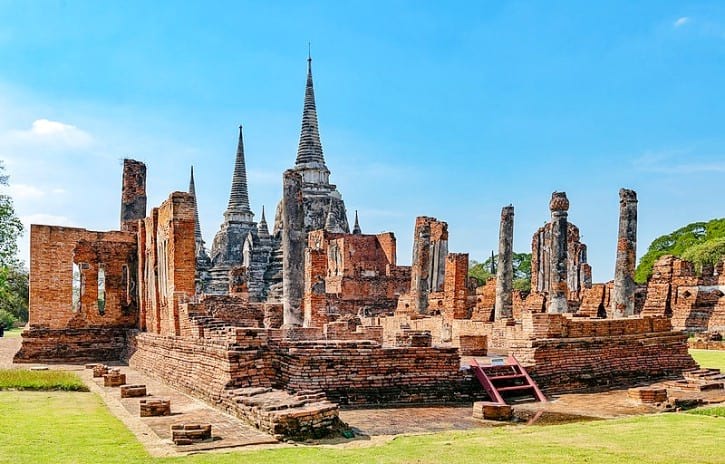 However, in 1767, the Burmese invaded and destroyed this holy place, which leaves it to its present state. Up to now, you can see beautiful ruins of the past―three bell-shaped pagodas settled in one rectangular platform.
5. Wat Mahathat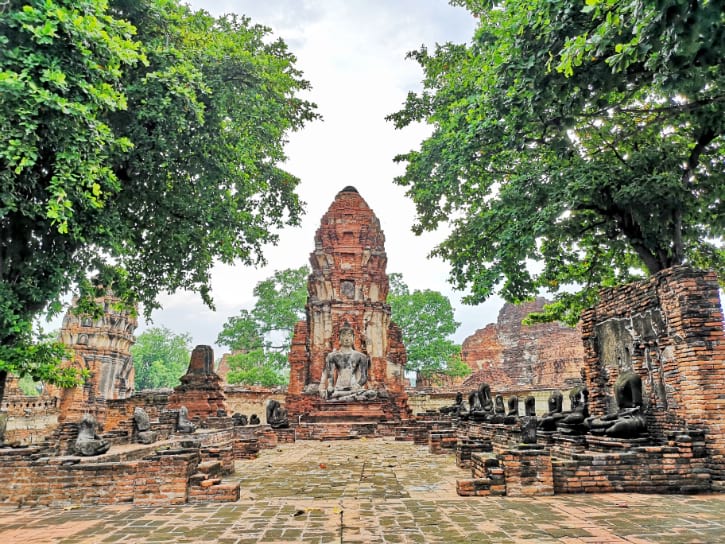 The creation of Wat Mahathat is quite uncertain; according to most historians, it was founded back in the 13th century. With this theory, this historical site is considered as one of the oldest temples in Thailand.
Long before its wrecked yet still captivating condition, Wat Mahathat was a beautiful, sacred site with many temples and statues.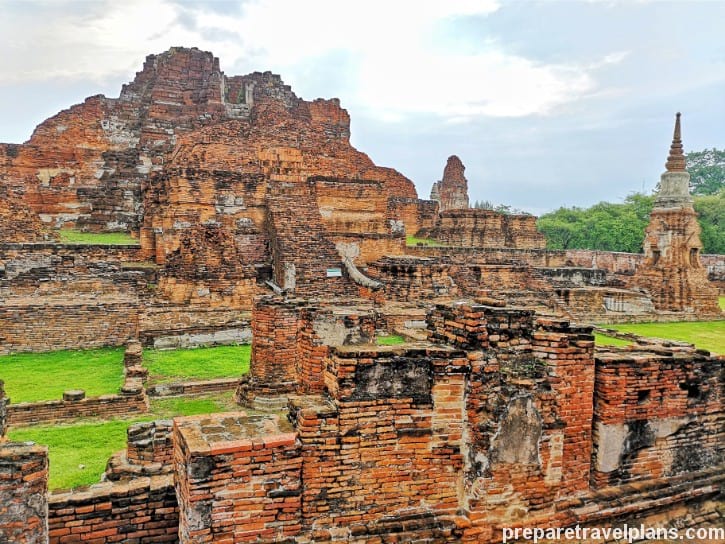 Back in ancient times, the entire complex was completely surrounded by water. Now, this popular attraction is enclosed with lush landscape.
The main prang of Wat Mahathat displays the breath-taking ruins of the past. Even from a distant view and deformed situation, you can see its vastness and grandness.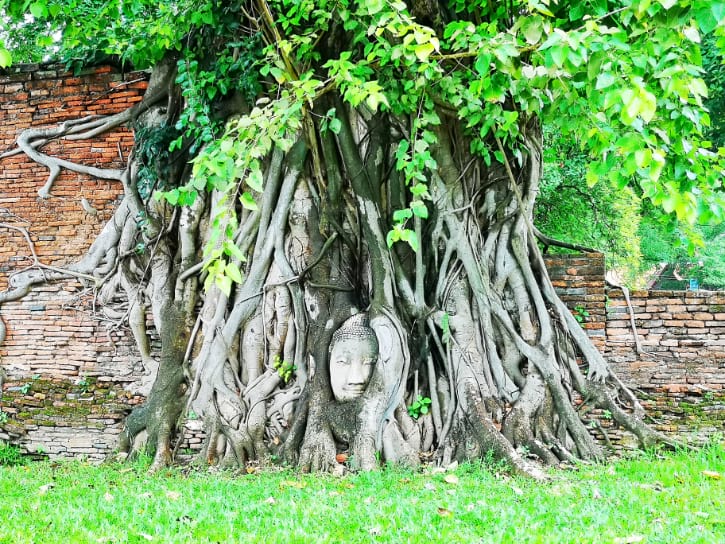 One of the many interesting spots you can catch here is the Buddha head wrapped within a banyan tree. With the tree roots encircling it, you might think that the statue is part of the tree itself.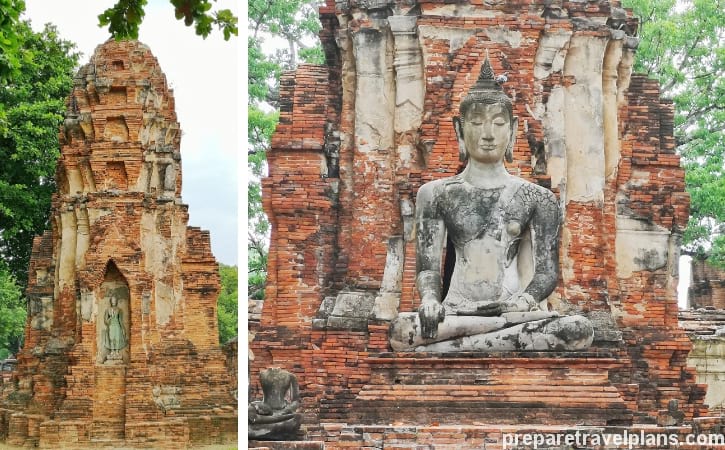 Stop by this statue that is engraved within this Buddha shrine. Surrounded by ruined walls and bricks, this religious structure still stands despite its unfortunate past.
More Buddha images are scattered within this breath-taking religious complex.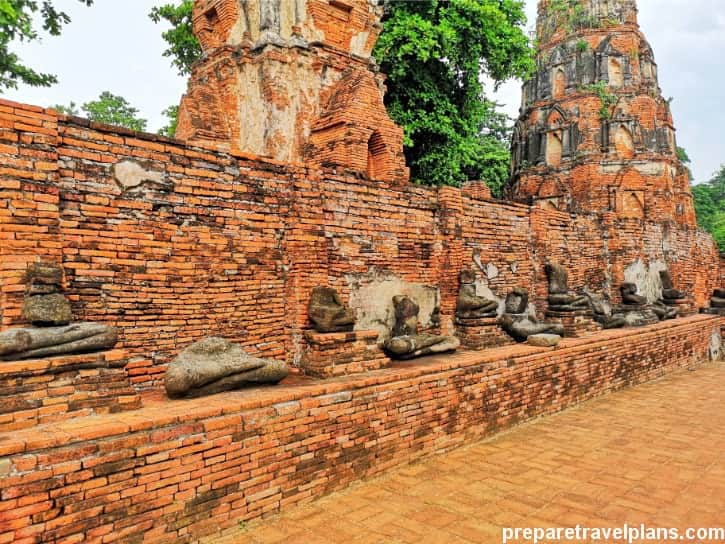 This may be a destroyed wall but it can be a great backdrop for your photos. Carved within these walls are headless Buddha statues.
It was said that these headless Buddha statues were the result of the Burmese attack in Ayutthaya. Burmese invaders destroyed and beheaded these figures during the battle.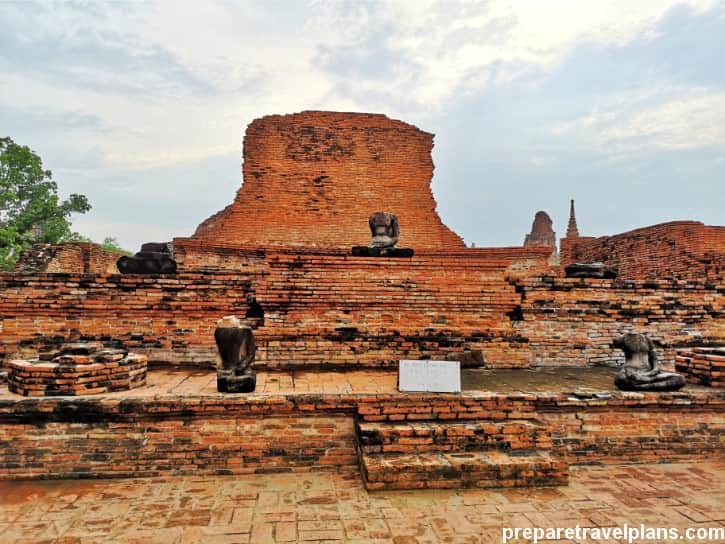 But some say that these Buddha figures were personally beheaded by the local people. The motive for such was to extract gold inside these statues.
If you want to see more of the headless Buddha statues, you can see more along this tower.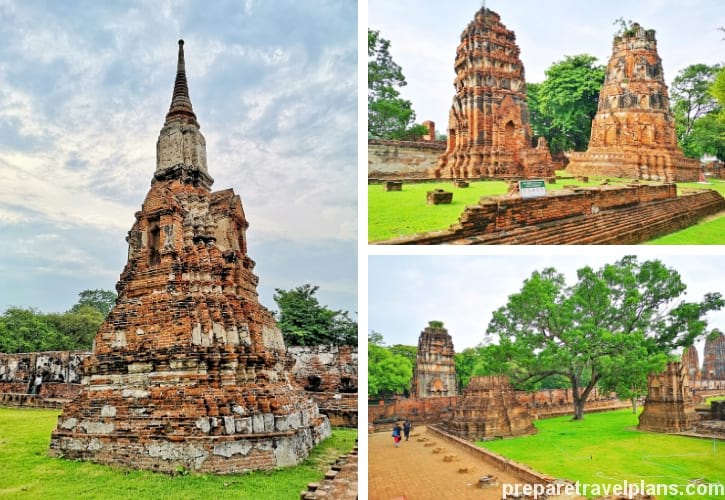 These soaring towers stand like spectacular castles perfectly positioned within the natural setting.
Aside from towers and headless Buddha structures, you can also find some pagodas. These vary in sizes are spread beautifully around Wat Mahathat.
Without a doubt, the overall surrounding of Wat Mahathat simply radiates that sense of historical beauty and sacred vibes.
6. Ayutthaya Evening Market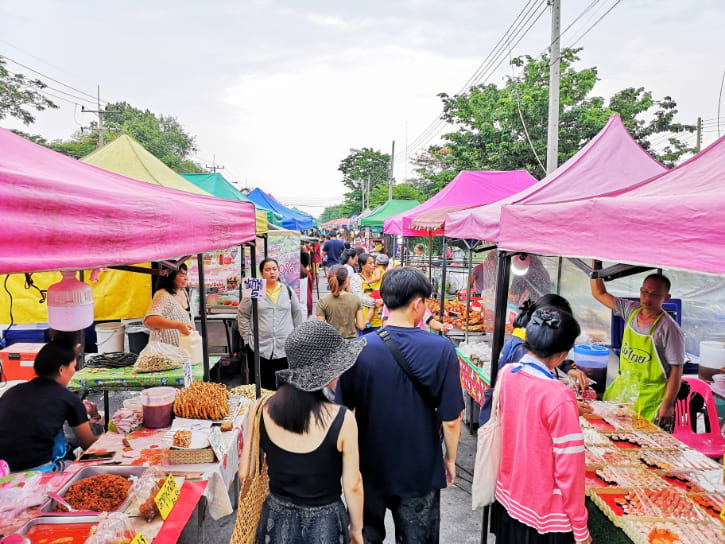 For foodies out there, for sure there's something that will grab your attention at Ayutthaya Evening Market.
This place is always filled with mouth-watering foods and satisfying drinks. And if you're up for some real food adventures, you're in the right place!
March your way towards the centre of the market and you'll be amazed by all the heavenly delights. Because of the abundant choices left and right, expect for lots of locals and tourists strolling along the walkthrough.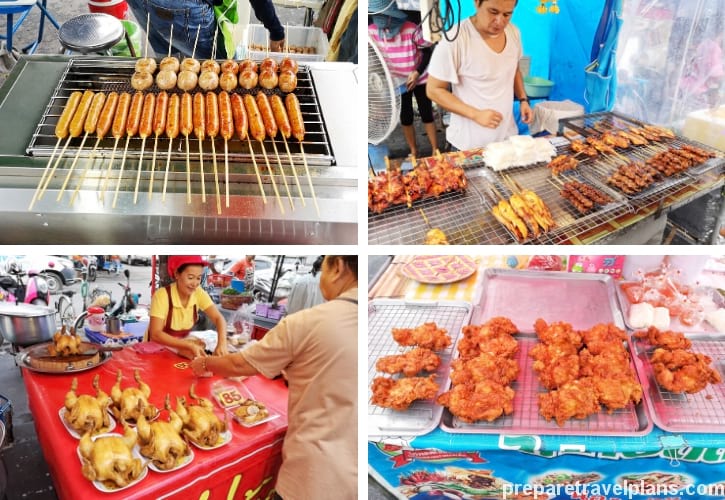 Grilled foods are quite popular in the market and these grilled hotdogs are perfect starters. Or, you can take a bite of this deliciously grilled pork sausage.
If hotdogs and pork sausages aren't your thing, nothing to worry because there are more options at hand. Enjoy this chicken barbecue skewers from different chicken parts.
For those eyeing for more chicken goodness, there are also roasted options in the market.
Do you want to try some local Thai fried chicken? You can find a lot along the stalls of Ayutthaya Evening Market.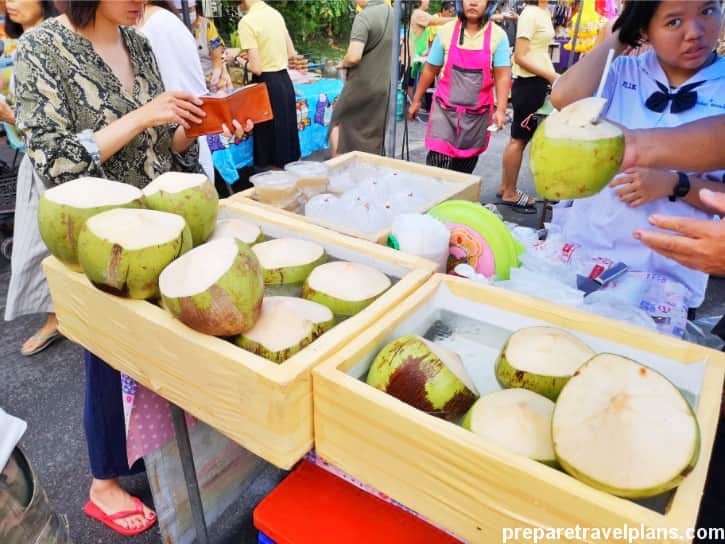 In between your food adventures, satisfy your thirst with this refreshing coconut drink. Trim your drink to only one so you still have room for more food.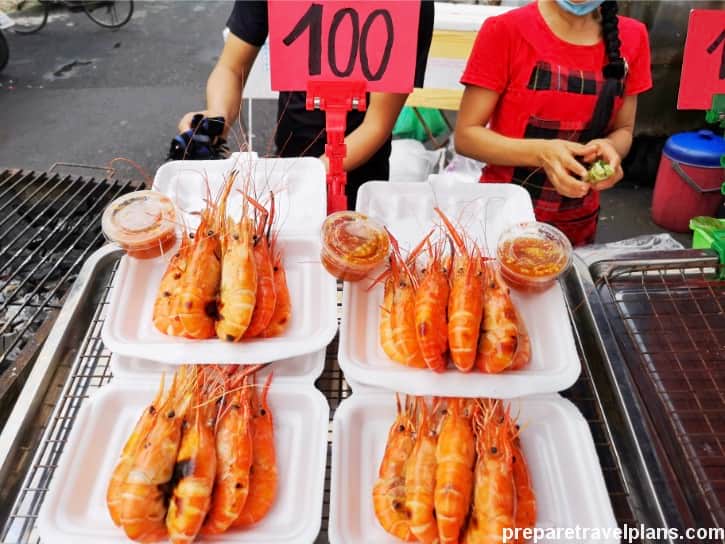 For seafood lovers, you shouldn't miss out these large, grilled prawns. Dip the prawn into the cup filled with appetizing sauce and you definitely ask for more.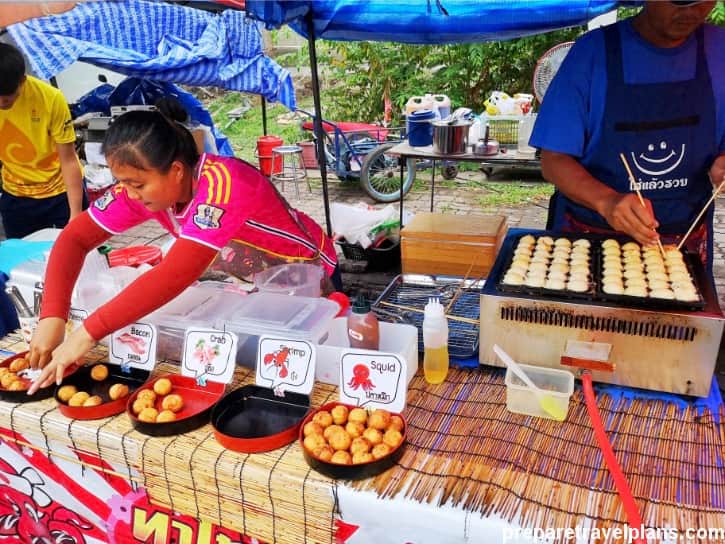 Carry on with your seafood hopping at this stall serving fresh seafood balls. They have squid, shrimp, and crab balls for you to choose from. Aside from these, they also have bacon balls on display.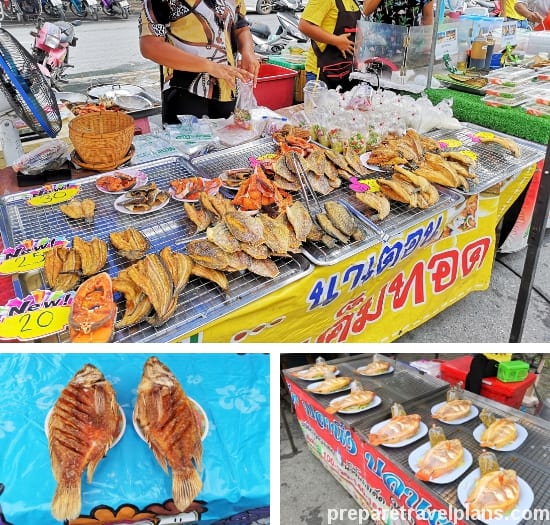 More seafood choices are presented as you continue your stroll along the market. These fried fishes are another must-try when you visit the place.
If you want something tasty yet exceptional, give this spiced fish with green chilli a try! This might be your next favourite dish in the future.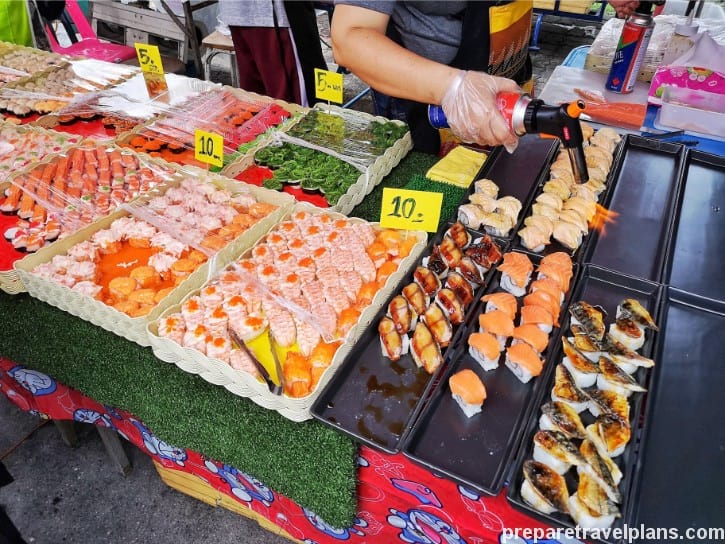 Sushi fanatics, there's something waiting for you here! Fall in love with the amazing array of these fish treats, all priced reasonably.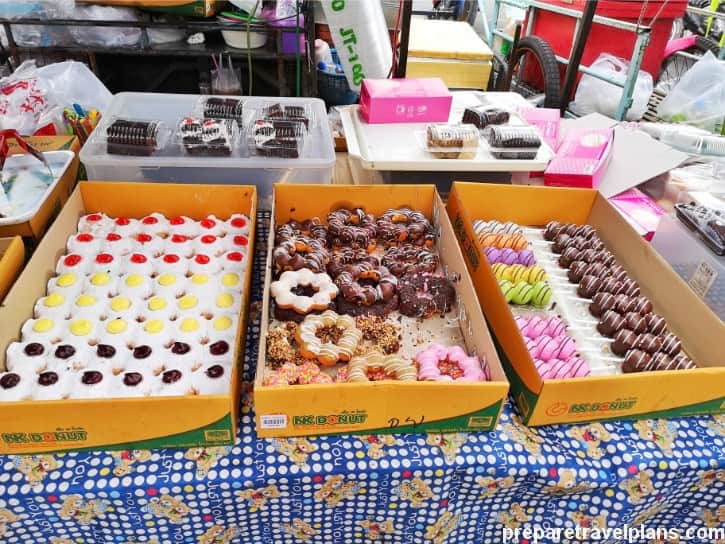 And of course, there's always a spot for the sweet tooths! Check out this attractive donut counter loaded with colourful and yummy donuts in different sizes and styles.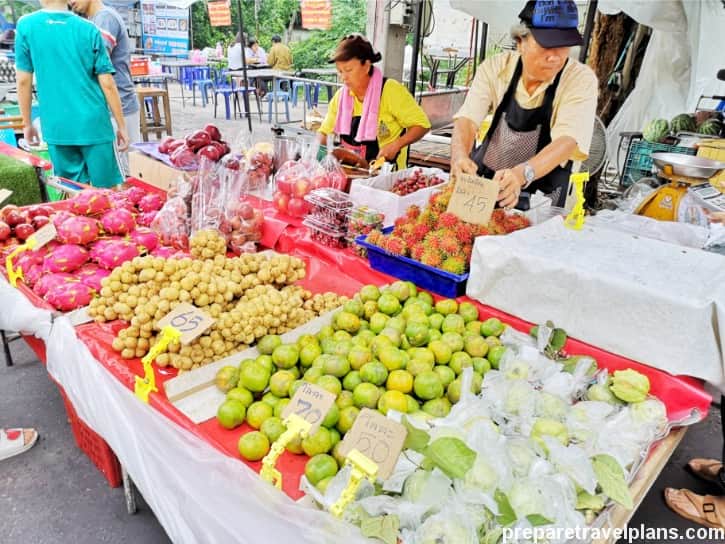 Complete your food adventure by popping this vibrant fruit stall that offers lansats, rambutan, limes, dragon fruit, and more! After a hearty food trip, these healthy finds are perfect night-enders.
7. Enjoy a Sunset Boat Ride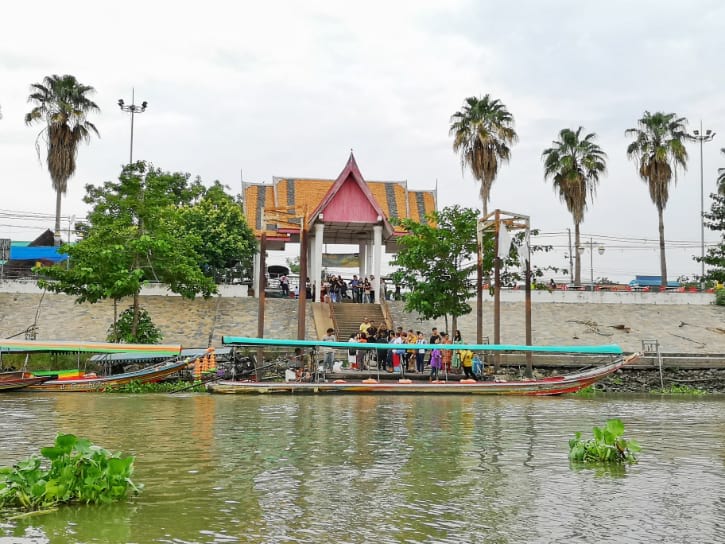 For tourists visiting Ayutthaya, take this chance to ride another boat during sunset. Compared to the other boat ride during daytime, this one features a bigger boat. Since this is a bigger boat, it can accommodate more passengers per trip.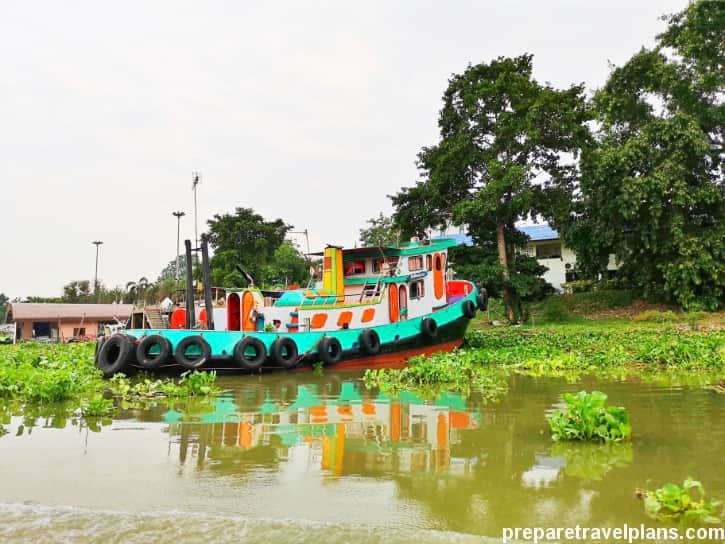 By taking the sunset boat ride, you will be able to tour around Ayutthaya comfortably. This scenic boat adventure allows you to see not just the markets but also the local houses.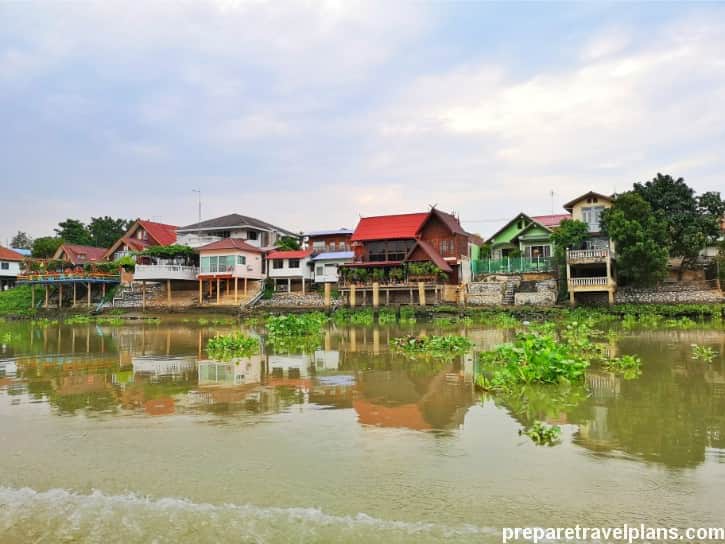 Sailing around this lovely river is a beautiful way to immerse yourself with the Thai culture.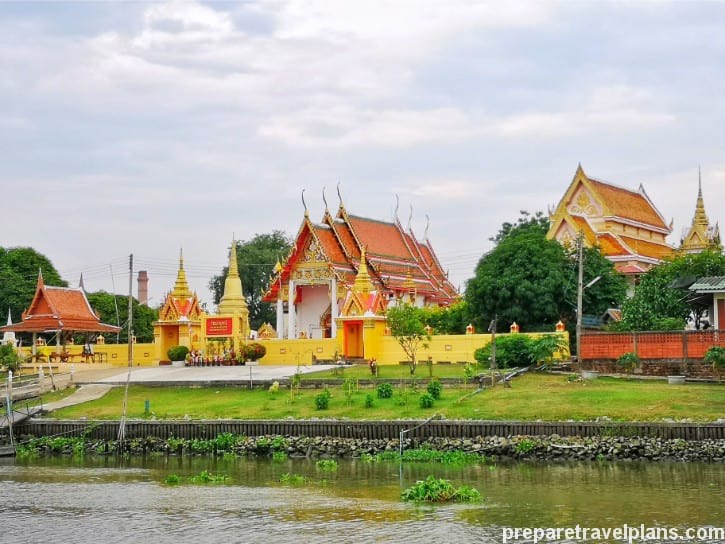 Stopover at Wat Phanan Choeng, which is another popular attraction you can find in Ayutthaya. Inside this magnificent temple is a large seated Buddha figure that is 19 metre tall. This enormous Buddha image built in 1324 is one of the most ancient and most beautiful in the country.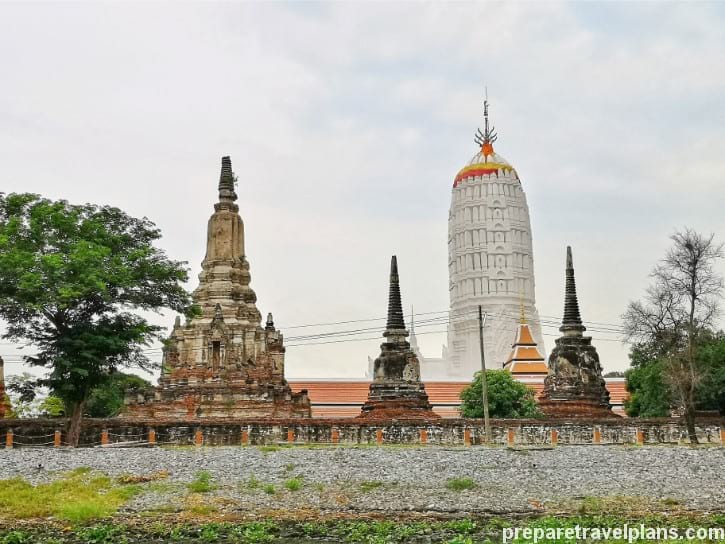 Wat Phutthaisawa is another historical Buddhist shrine surrounded by the Chao Phraya River. This remarkable temple is more than 600 years old.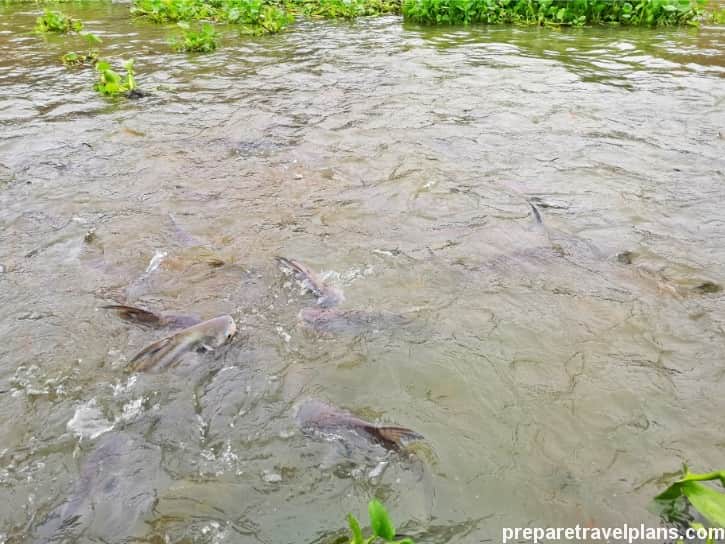 Aside from temple sightseeing, you can also try fish feeding at the Chao Phraya River if you're in the boat.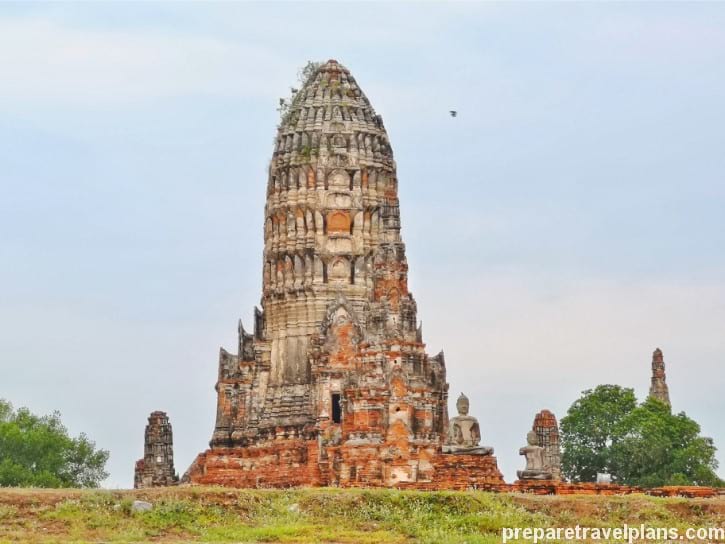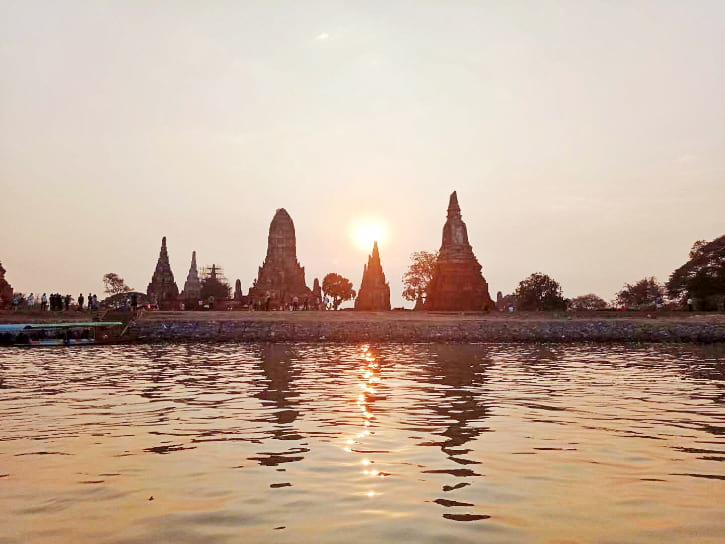 After the relaxing boat ride, catch the beautiful sun, setting behind the majestic Wat Chaiwatthanaram. Undeniably, this sunset boat ride is the most picturesque way to finish off your Ayutthaya day trip.
My Final Thought
For all travellers planning to visit Ayutthaya, you won't be wasting your time here. The amazing list of attractions to visit, fun-filled activities to try, and foods and drinks to enjoy is simply appealing.
So, if you want to experience first-hand the historical beautiful of an ancient capital, Ayutthaya is the place to go.
Thank you so much for reading everything, from the start 'til the end. I definitely appreciate your time and I do hope this will make your future trip to Ayutthaya unforgettable.
You can bookmark this page in case you need it for future reference.
Or, you can share it online and help other tourists. Simply, share this blog via Facebook, Twitter, Pinterest, WhatsApp, or Gmail and be a blessing to your fellow travellers.
Once again, thank you and may you have the most wonderful holiday in Ayutthaya! 🙂
Discover Other Famous Attractions in Bangkok