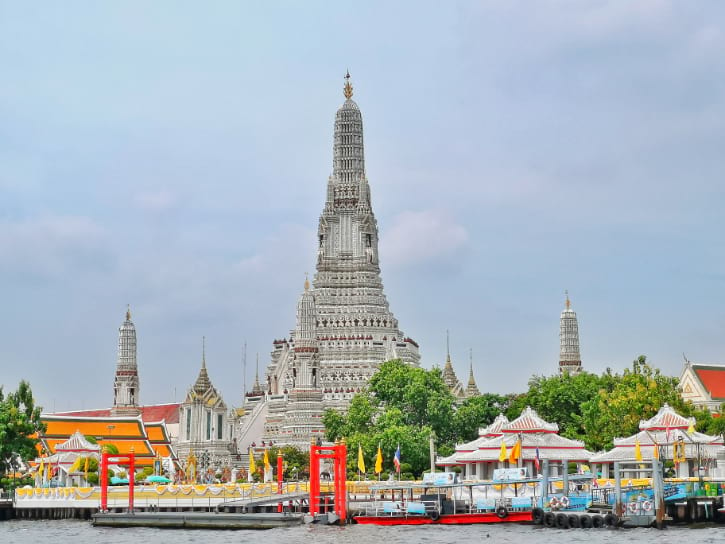 Wat Arun or The Temple of Dawn is a spectacular temple in Bangkok known for its magnificent towers. It is located along the beautiful Chao Phraya River, making it very picturesque.
I have visited this beautiful temple together with my wife and we totally enjoyed our tour. The ambience of the place was amazing as well as the architectural designs.
And in this blog, I will share the must-see things in the temple and some tips on how to go to Wat Arun by BTS and boat easily.
The Wat Arun is just one of the amazing places we visited in the city. And if you want to know other top-rated spots, read my article on top 30 things to do in Bangkok and get more information.
Wat Arun Overview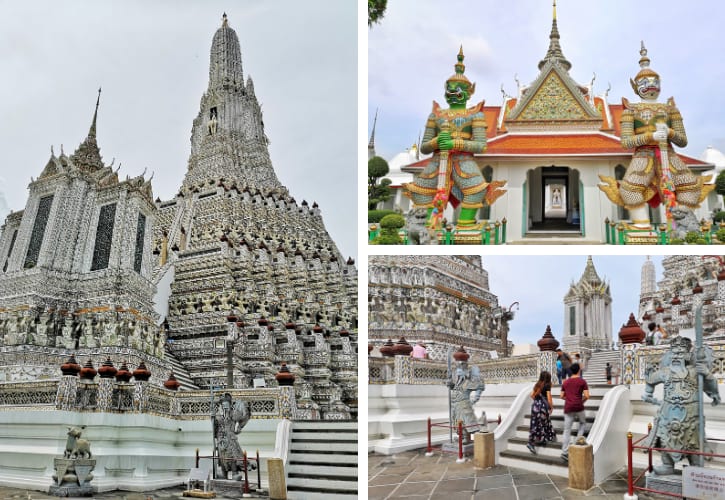 Wat Arun dazzles visitors with its towering spires, multi-coloured walls, and refined mosaics.
As one of the oldest temples in Bangkok, this shelters different Buddha structures.
There are also lots of giant statues and Chinese warrior sculptures on display.
Aside from its impressive sacred items, the place is also known for its unique location. It is near the Chao Phraya River, which makes it more ideal for photo shooting.
The temple is definitely a nice place to watch the sunrise or catch the sunset.
And just across this temple is the famous Wat Pho Bangkok, a religious site renowned for its huge, reclining Buddha. This remarkable structure is one of Thailand's largest Buddha figures, so don't forget to include it in your plans.
Things You Must See There
There are plenty of things to look forward to when visiting Wat Arun. These include the remarkable towers, intricate architectural designs, and religious sculptures.
I will list down the 7 must-see features within the temple, along with its photos and useful information.
So, let's start with the first one, which is the Main Prang.
1. Main Prang (Khmer-style tower)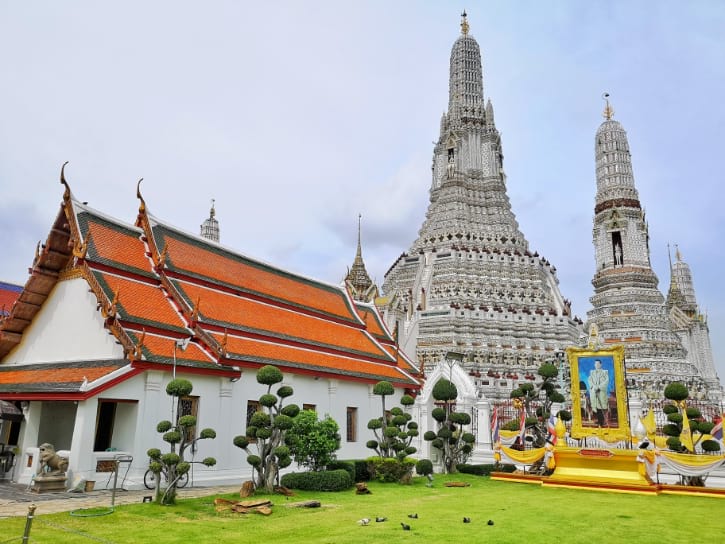 One of the highlights of Wat Arun is the main prang.
Upon entering the complex, you'll catch a glimpse of this unique tower in Khmer-style.
Surrounding the structure are gigantic pagodas that outline the amazing Thai craftsmanship.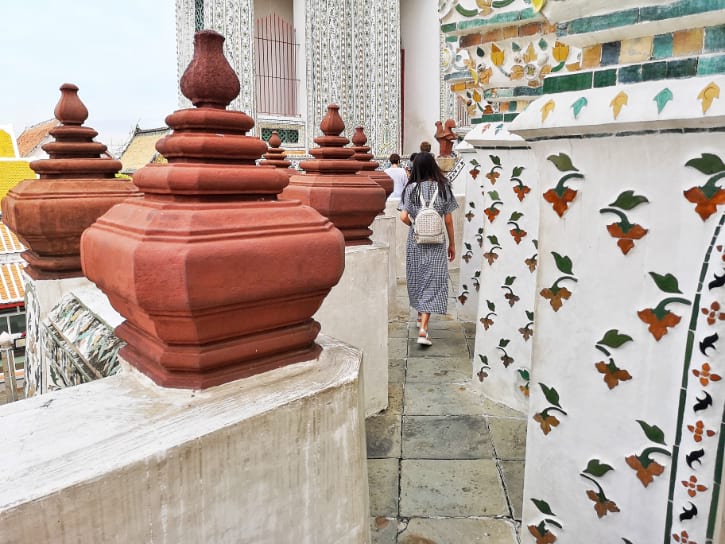 Continue the exploration and wander around the walkway of the tower. Here, you'll see the beautiful river scenes and cityscape.
And be sure to take a closer look at the decorated walls that signify the history and artistry of the locals.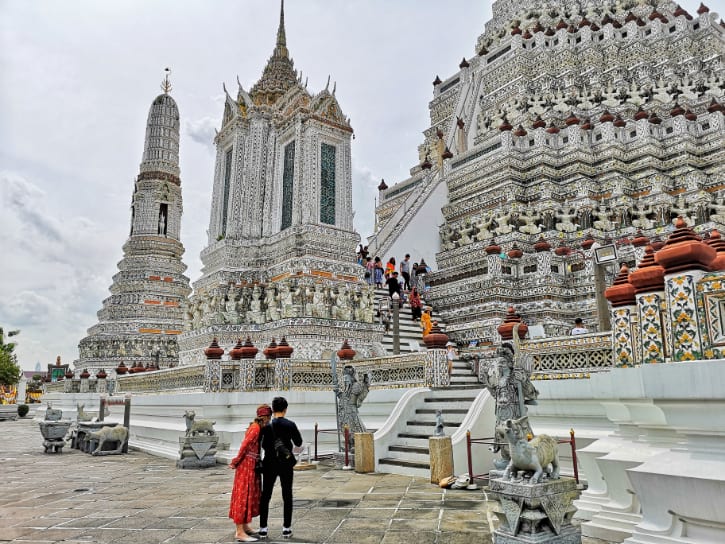 Aside from the multi-coloured mosaics, you will also love the picturesque temple grounds. Strike a pose and use the towering prangs as your background.
2. Ancient Chinese Sculptures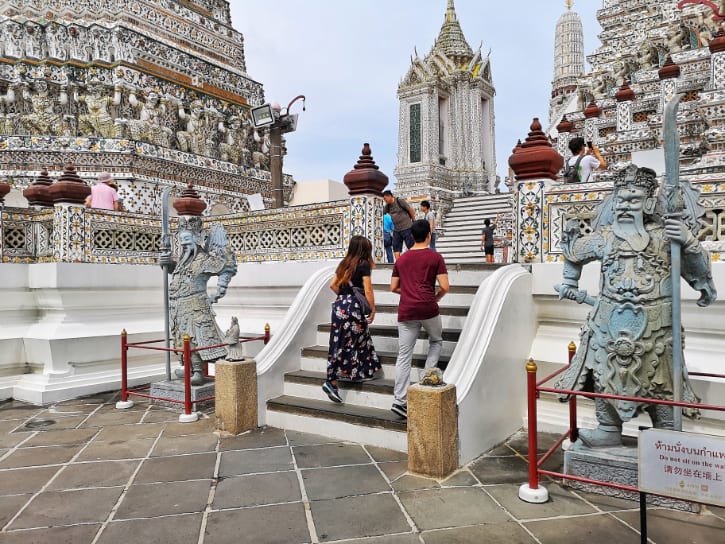 The temple is also bounded with eye-catching Chinese warrior sculptures. Find these stone statues at the base of the grand pagoda.
As you take a closer look at the statues, you'll discover the artistry behind each piece. These figures actually serve as the guardian of the temple.
3. Ordination Hall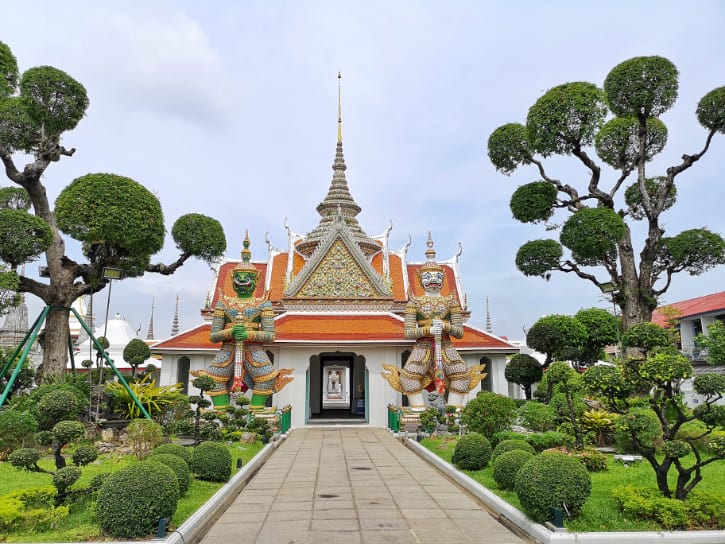 Another popular spot in Wat Arun is the Ordination Hall. This is the holiest compound in the temple, where you'll find Niramitr Buddha Statue, along with other sacred items.
As you enter the place, you'll meet the two giant guardian figures. Stop by the towering stone guards and gaze at the vibrant and elaborate designs.
Once you arrive at the Ordination Hall, you will be in awe of the classic exterior design.
Take a photo of the white columns that perfectly blend with the classic gold and red roof.
4. Golden Niramitr Buddha Statue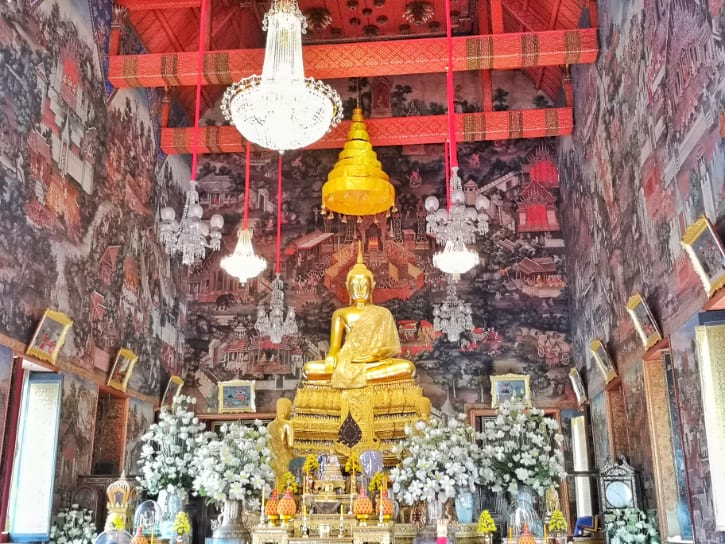 As the most revered spot in the temple, make sure you pay your respects properly.
This is where most rituals are performed in front of the golden Niramitr Buddha statue.
And of course, the paintings inside are simply a sight to marvel at. Follow the life of Buddha through the breath-taking murals that were created during the period of Rama V.
5. Golden Buddha Statue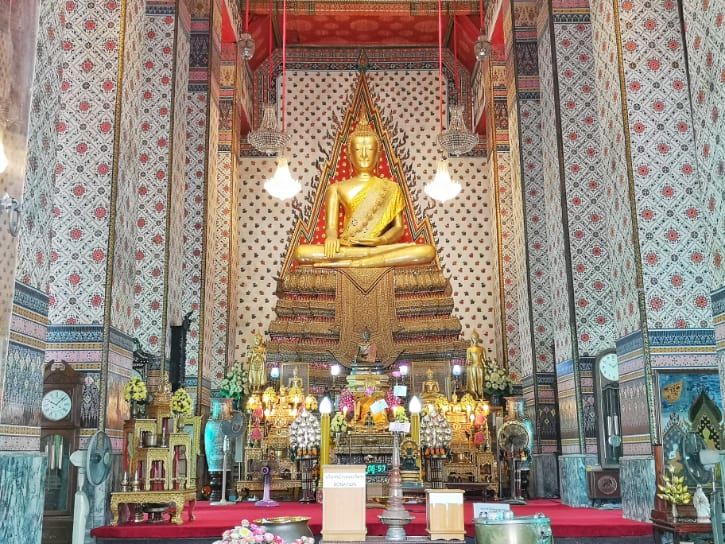 Other than the Niramitr Buddha statue, there is another golden Buddha statue within the temple.
Drop by this huge relic beside the Ordination Hall and be amazed by its size.
Apart from the Buddha image, the marble illustrations and stylish murals are also worth the capture.
6. Chinese Pavilions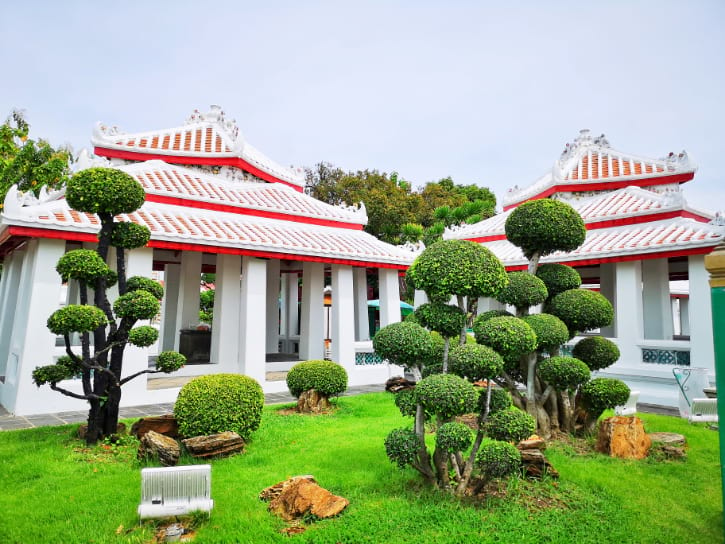 After checking out different Buddha statues, go around the Chinese pavilions.
The green scenery effortlessly complements the sophisticated exterior of red and white.
Gaze at this classical beauty and don't forget to take a photo together with your companion.
7. Lush Garden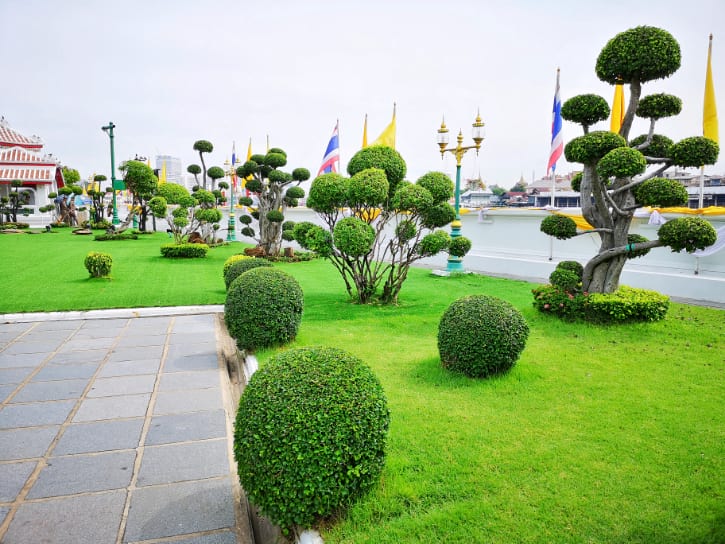 There's no better way to cap off your tour than to relax and simply enjoy the lush garden.
And of course, you'll love to laze around here even more because of the calming breeze from the riverside.
Wat Arun Dress Code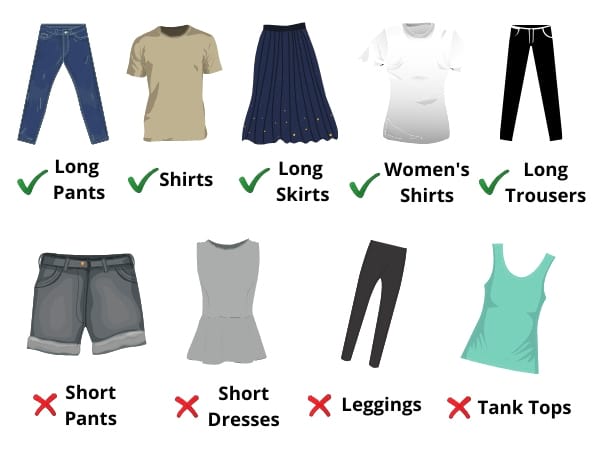 Like most temples in Bangkok, it's important that you wear the appropriate clothing so that you're allowed to enter the Wat Arun complex.
Dress code for men:
Should wear short-sleeved or long-sleeved shirts
Should wear long pants or short pants that cover the knees
Can wear comfortable footwear like sandals, shoes, and flip-flops
Shouldn't wear sleeveless shirts
Shouldn't wear clothing with disrespectful slogans or images
Shouldn't wear torn clothes and pants
Dress code for women:
Should wear long skirts or trousers that extend to the knee
Can wear short-sleeved top or T-shirt
Can wear long dresses that cover your shoulder
Can wear comfortable footwear like sandals, shoes, and flip-flops
Shouldn't wear sleeveless shirts, tank tops, and see-through outfits
Shouldn't wear short dresses, miniskirts, short pants, and leggings
Shouldn't wear clothing with disrespectful slogans or images
If you prefer wearing short pants, make sure you bring a Sarong to cover your legs.
In case you forget to bring one, don't worry because there's a stall near the ticket counter that rents Sarong. It's priced at 20 Baht.
My Tips
1. Spend 1 or 2 hours at the Wat Arun temple
Normally, you can complete the tour around the temple for an hour.
But if you have extra time, 2 hours would be enough. This will give you time not just to explore the entire complex but also to relax and have fun.
2. Visit the temple either early morning or evening
The best time to explore the temple is during early morning. At this time, there are still few visitors and the sun is not yet too hot.
If you can't visit in the morning, it's advisable to go to the place around 4 PM which can also help you to avoid crowds.
3. Prepare some small change
To save time, it's highly recommended that you prepare some small change before you go to Wat Arun.
Sometimes, the ticket counters for the boat rides and the temple might not have enough change.
So, it's best that you have some small notes in your pocket like – 20 Baht, 50 Baht and 100 Baht.
4. Beware of tuk-tuk scammers
There are some local scammers who may approach and inform you that the temple is closed. They will then offer you a cheap tuk-tuk tour instead.
Beware of this scheme because the temple is open daily, from 8:00 AM to 5:30 PM.
5. Recommended attractions
Option 1: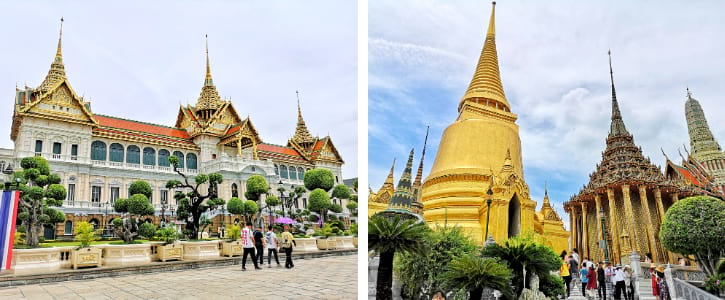 Aside from going to Wat Arun, I recommend that you also visit Grand Palace, which is just located nearby.
This is very popular because it was once the home of the Thai King. Now, this majestic complex is considered a famous tourist spot in Bangkok.
One of the amazing features of this top-rated site is its awe-inspiring architectural design. That is why many travellers are drawn to this place.
Find out more details in my guide to the Grand Palace here.
Option 2: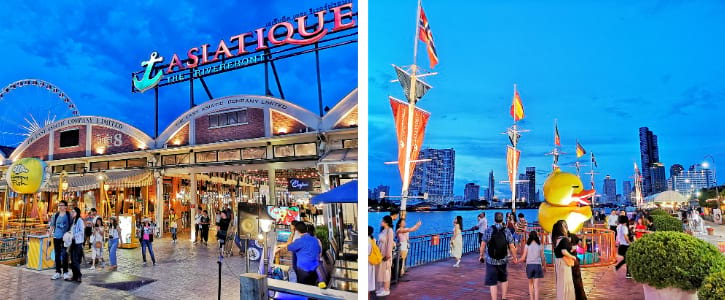 If you plan to visit Wat Arun in the late afternoon, I suggest that you explore Asiatique The Riverfront next.
This is one of Bangkok's top markets at night because of its abundant shopping and dining choices. Plus, it is bounded by lovely riverside views.
Not only that but this market is also very near the temple. This means you can explore it after touring the temple grounds.
Option 3: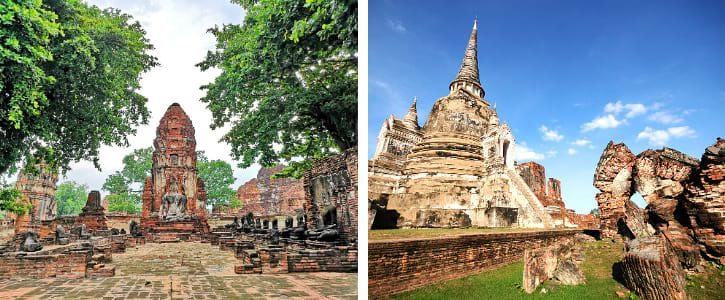 Another must-visit site is the Ayutthaya, a UNESCO World Heritage Site just 80 KM away from Bangkok.
This historical spot is rich in ancient temples, prangs, and Buddha statues.
See here for my day trip from Bangkok to Ayutthaya, which will show you how to go there, what to see, and more!
Visitor Information
Opening Hours:
8:00 AM – 5:30 PM
Ticket Price:
50 Baht per person
Official Website:
https://www.watarun1.com/en
Address:
158 Thanon Wang Doem, Wat Arun, Bangkok Yai, Bangkok 10600, Thailand
How to Go to Wat Arun in Bangkok
To get to Wat Arun, first take the BTS Skytrain go to Saphan Taksin Station. Then, head to the Exit 2 of the station. From there, hop aboard the Chao Phraya Express Boat (costs 15 Baht) to Tha Tien Pier. Then catch the cross-river ferry (costs 4 Baht) to the temple.
To have a detailed view of the instructions, here's a step-by-step guide on how to reach he temple by BTS Skytrain and Boat.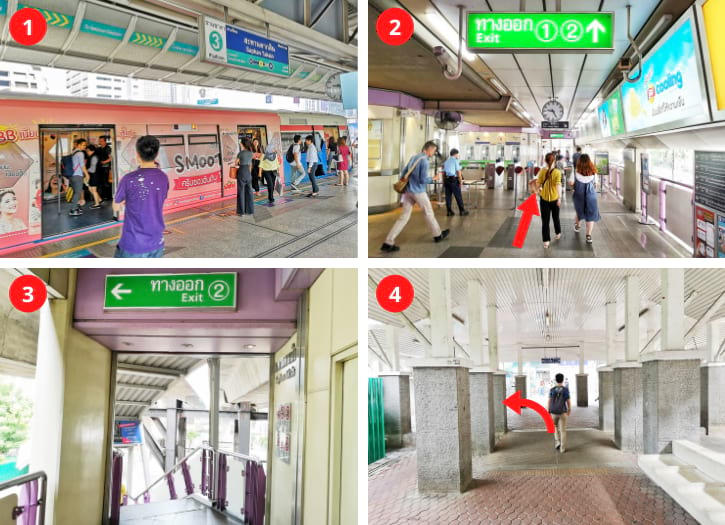 1. The very first step is to take the Silom Line that will bring you to Saphan Taksin Station.
2. Then, get off the BTS Skytrain at Saphan Taksin Station and head to the Exit 2. The Sathorn Pier is just a minute away from the Exit 2 of the Saphan Taksin BTS Station.
3. At the Exit 2 of Saphan Taksin Station, take the stairs down.
4. Walk straight for less than a minute and turn left. This is where you'll find Sathorn Pier.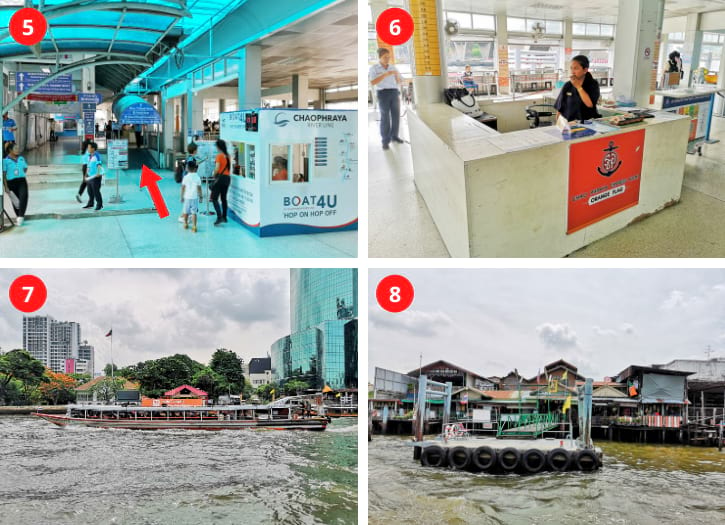 5. Then, go straight and you'll see the ticketing booth that sells the Chao Phraya Express Boat ticket.
6. This is the ticketing booth where you can buy the Chao Phraya Express Boat ticket (Orange Flag). The one-way boat fare is 15 Baht per person. This amount is already the fixed rate regardless of the jetty where you get off.
7. After buying your boat ticket, follow the queue for the Chao Phraya Express Boat (Orange Flag). The travel duration from Sathorn Pier to Tha Tien Pier is around 15 minutes.
8. Upon arrival at Tha Tien Pier, you will need to catch the cross-river ferry.

9. The cross-river ferry will bring you to the opposite side of the river, where the popular temple is situated. It will take around 3 minutes to cross from Tha Tien Pier to Wat Arun.
The ferry caters passengers every 10 to 15 minutes and it costs 4 Baht. You can buy it upon arrival at Tha Tien Pier. And for the return trip, just reverse the steps listed above.
*The operating hours of Chao Phraya Express Boat (Orange Flag) is 6:00 AM – 7:00 PM and it departs every 10 to 20 minutes from Sathorn Pier.
Don't have enough time to plan for your trip to Wat Arun?
Simply take this guided tour in Bangkok. With this tour, you'll be able to see all the 3 top-rated attractions (Wat Arun, Grand Palace and Wat Pho) at once.
Google Maps
For a more pictographic guideline on how to reach there via BTS Skytrain and boat, see the Google Maps below.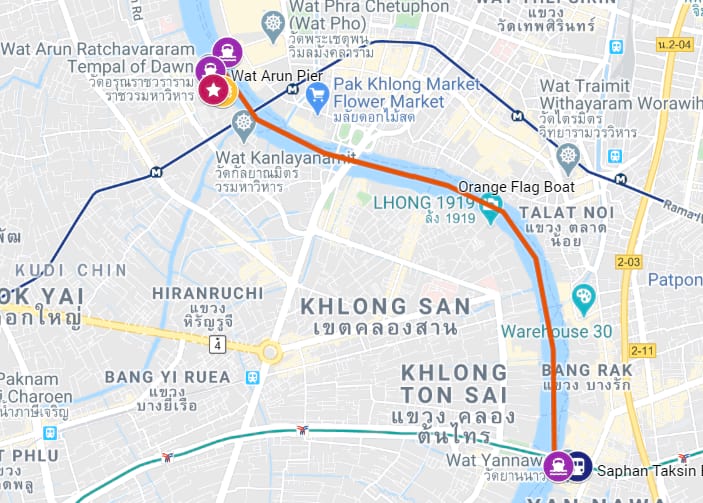 Related Posts