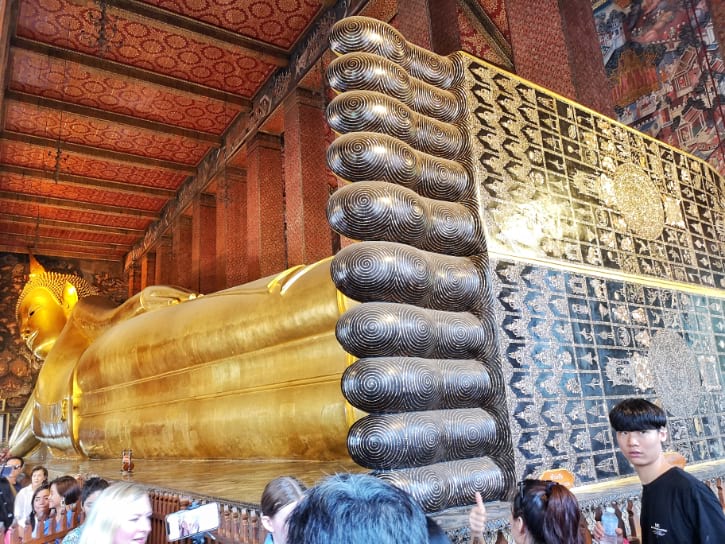 Wat Pho, or also known as the Temple of the Reclining Buddha, is such a remarkable site to visit in Bangkok. In fact, it's one of the oldest and largest Buddhist temples in the city.
We went to the temple after exploring the Grand Palace because it's just located at the back of the complex. And we truly enjoyed our trip because of the abundant and unique spots.
In my guide, I'll share the photos we took during our visit as well as the attractions you shouldn't miss. Likewise, I'll show you the ways on how to get to Wat Pho by BTS and MRT for your convenience.
Furthermore, Wat Pho is just one of the attractions we explored in the city. For other beautiful sites, check out this guide to the best things to do and see in Bangkok.
Wat Pho Overview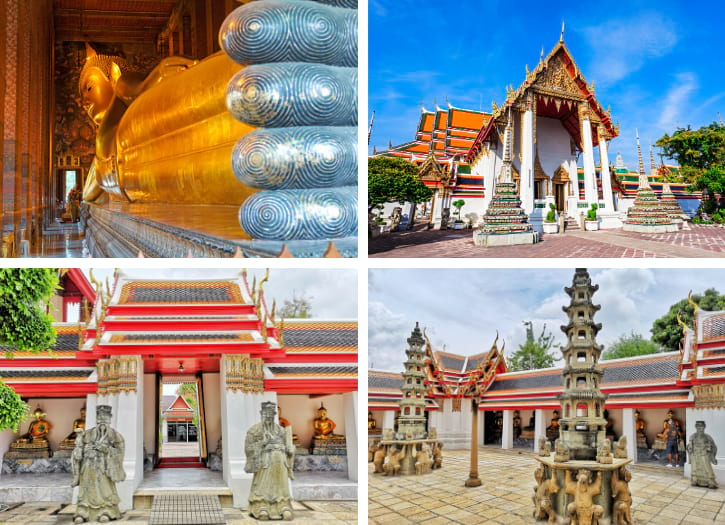 Wat Pho has always been a popular spot in Bangkok. It houses the giant reclining Buddha, which is one of the biggest Buddha sculptures in Thailand.
The temple is also filled with stupas, chedis, and all other historical statues.
And of course, there a lot of beautiful locations within the complex that are perfect photo backgrounds.
Along with that, it's recognized as one of the Thailand's first public education centres that focuses on religion, literature, and science.
However, it's more famous as a hub for medicine and traditional massage.
Must-See Attractions
Bangkok's Wat Pho is definitely a great place to explore because of its exceptional features.
You'll find plenty of spectacular Buddha statues, towering chedis, and more.
And to make your trip more memorable and convenient, I have listed down its 10 must-see spots.
So, let's kick start with the first one, which is the reclining Buddha.
1. Giant Reclining Buddha Statue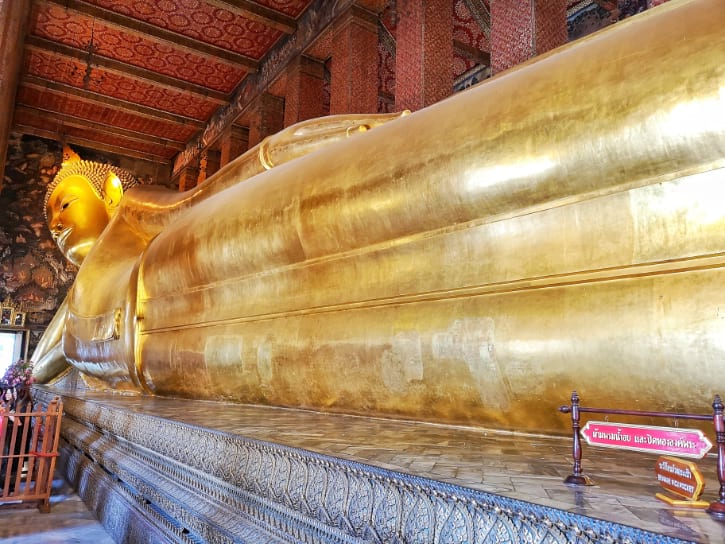 Get ready to meet the main highlight of Wat Pho―the giant reclining Buddha statue. This huge statue is clothed in gold and is 150 feet long.
And notably, the giant structure is a significant part of the country's past. So, be sure to take a closer look at its brilliant shade and smooth structural design.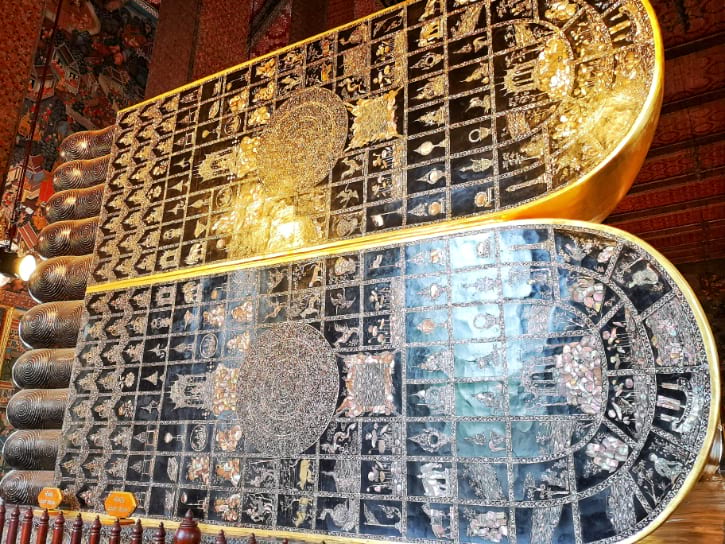 Aside from its size and color, one of the unique aspects of the statue is its design.
See the feet of the reclining Buddha and you'll discover intricate traditional decorations called the laksanas. These illustrations are very important Buddhist symbols and characteristics.
There are over a hundred laksanas that correspond to the number of actions done by Buddha to acquire perfection.
2. Phra Ubosot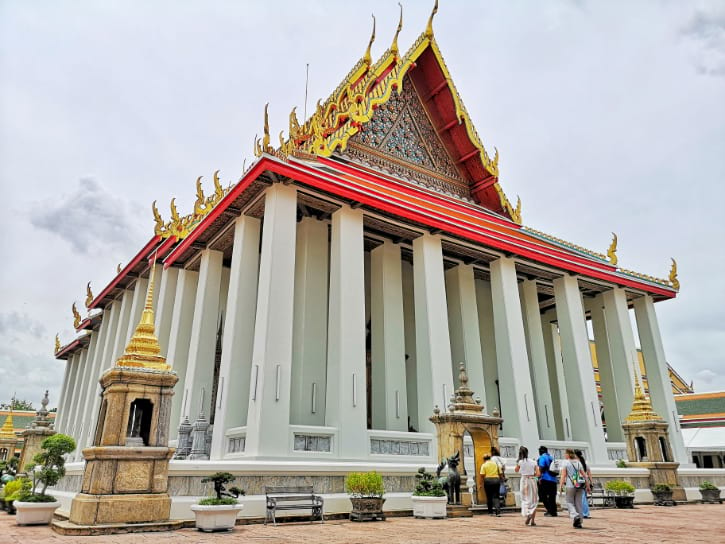 Head to the holiest place in the temple, which is the Phra Ubosot. This sacred ordination hall is where Buddhist rituals and gatherings are celebrated.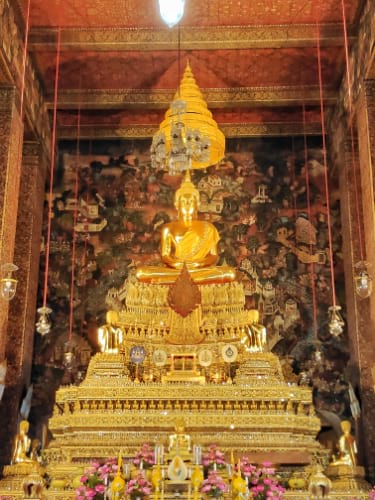 As you enter the vast building, you will catch a glimpse of the Phra Buddha Theva Patimakorn.
This striking Buddha statue is one of the most relevant and refined statues inside. It's because the base of the Buddha image houses some of the ashes of Rama I.
3. Phra Maha Chedi Si Rajakarn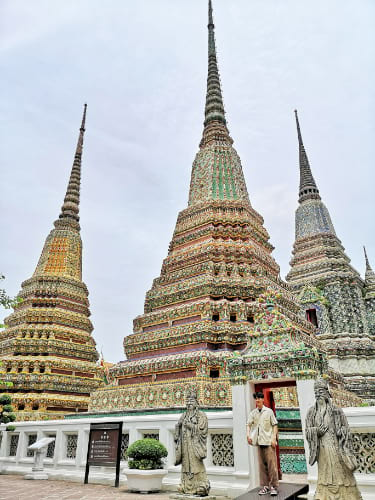 Gaze at Phra Maha Chedi Si Rajakarn and be amazed by its stunning four stupas.
Each of the pagodas stands at 42 meters, making it a great backdrop for your photos.
And if you look closely, you'll appreciate the beautiful mosaic designs.
More so, these stupas were created to honour the earliest Chakri kings. One of these was built by King Rama I.
The other pagodas were made by Rama III and Rama IV respectively.
4. Phra Mondop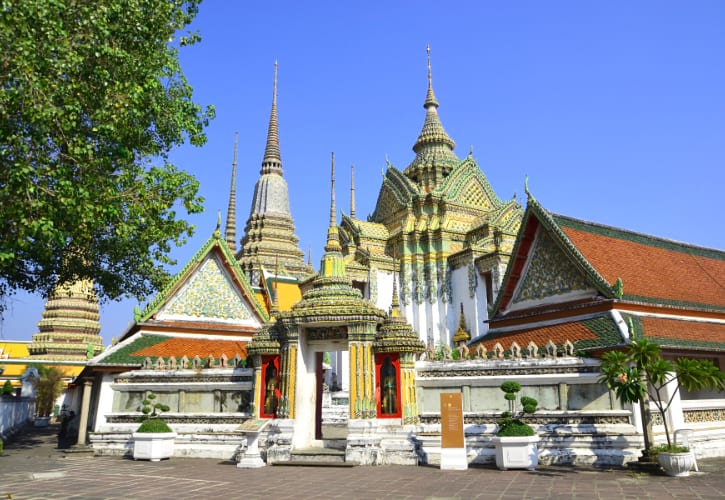 Drop by the Phra Mondop and unravel its mural paintings and giant figures. This scripture hall has its own library filled with Buddhist scriptures.
However, these historical files are off-limits to the public.
5. Phra Rabiang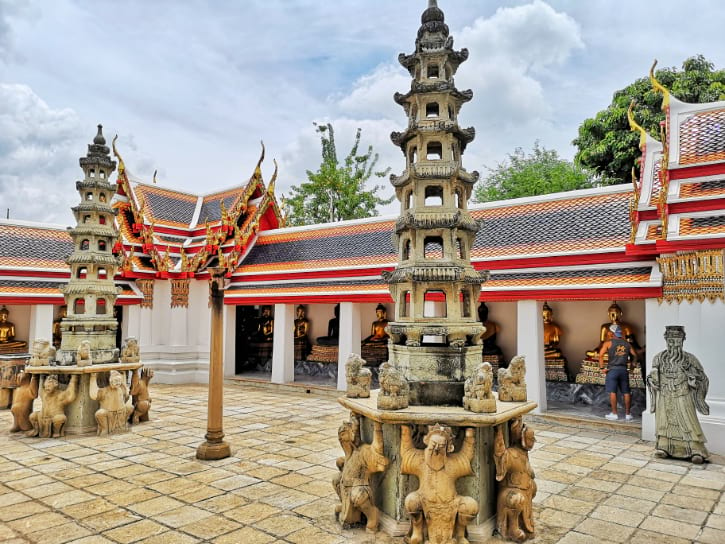 Next in line is the Phra Rabiang, which consists of cloisters with different Buddha images from the Rama I period.
But before you enter the building, you'll see some political nobleman statues guarding the area.
As you walk around the place, you'll come across these seated Buddha statues. Each of the figures is very significant in Wat Pho as it holds a fragment of the Siamese history.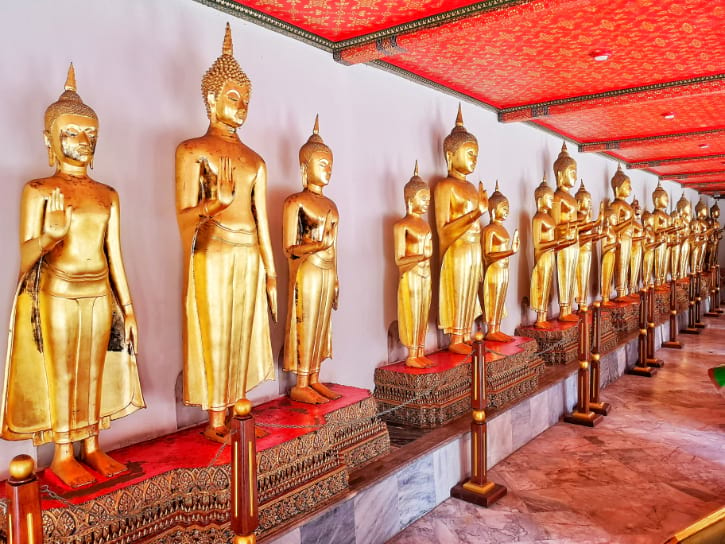 There are also standing Buddha sculptures, which are draped in golden colours.
Admire the statues that have different sizes. Some of these are full-grown while some are medium-sized.
6. Phra Prang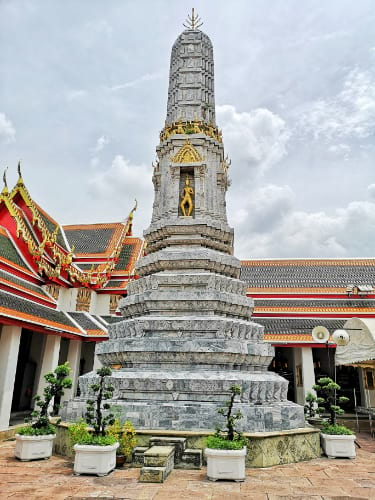 Carry on with your exploration and catch the Khmer-style Phra Prang.
There are four Phra Prang around the temple complex, guarding the key points of the temple. Each tower also features incredible marble designs and gold leaf highlights.
7. Phra Chedi Rai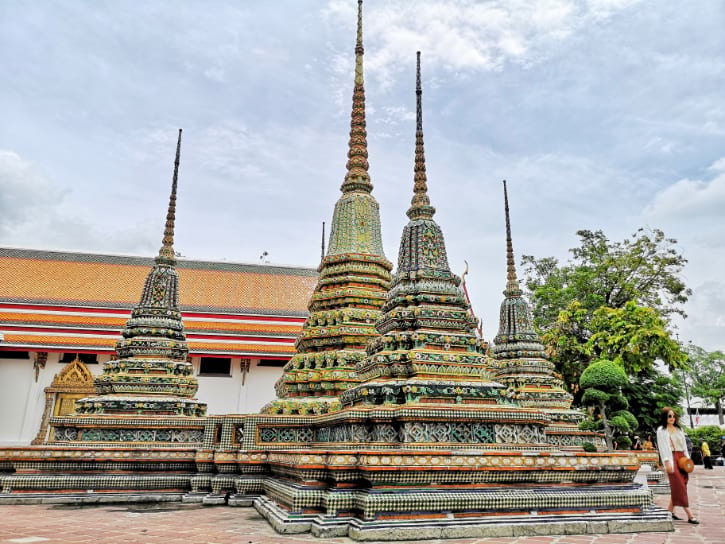 At the gate of Phra Rabiang, you'll witness some smaller chedis, which are also known as Phra Chedi Rai.
Most of these were created by Rama III, while some were built by Rama I.
8. Phra Buddha Lokanat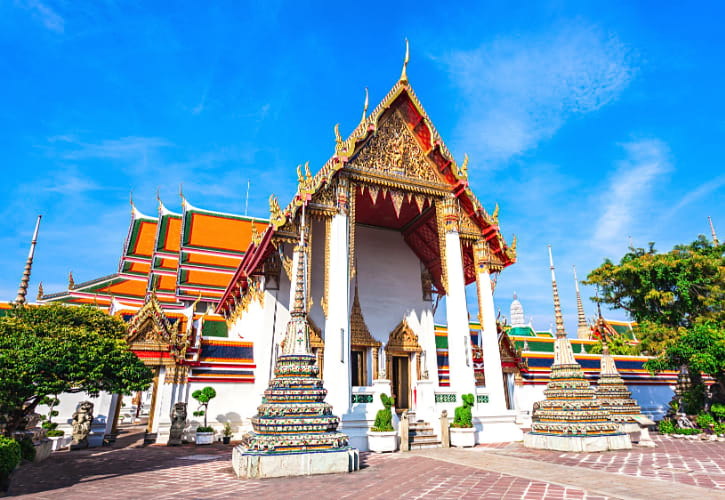 Another unique site in Wat Pho is the Phra Buddha Lokanat. You can find this at the eastern part of the temple complex.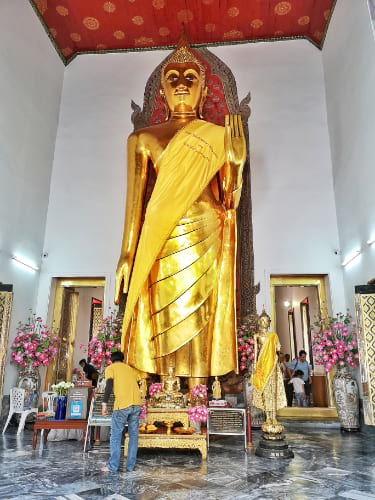 Inside this building is the golden Buddha that dazzles in Sukhothai style. Because of its design, it's called the Phra Buddha Lokanat.
9. Phra Buddha Chinnaraja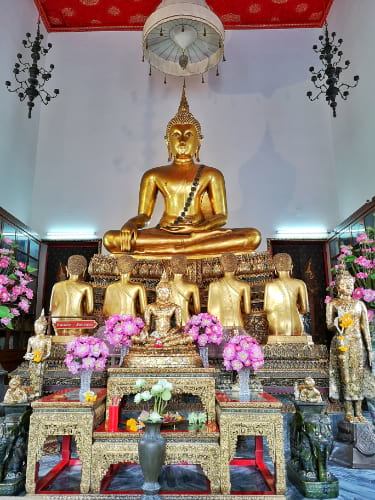 At the south section of Wat Pho, there's the Phra Buddha Chinnaraja.
Watch the seated golden Buddha surrounded by five disciple statues. This Buddha figure was brought by Rama I from Sukhothai.
10. Phra Buddha Chinnasri Muninat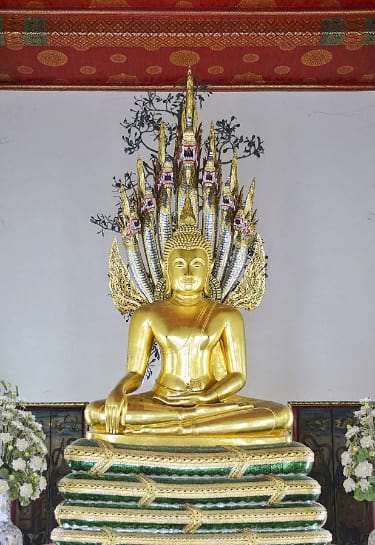 And at the west part of the temple seats the Phra Buddha Chinnasri Muninat.
Spend your time appreciating the golden Buddha structure. Aside from this religious figure, the place also has its own small museum.
Wat Pho Dress Code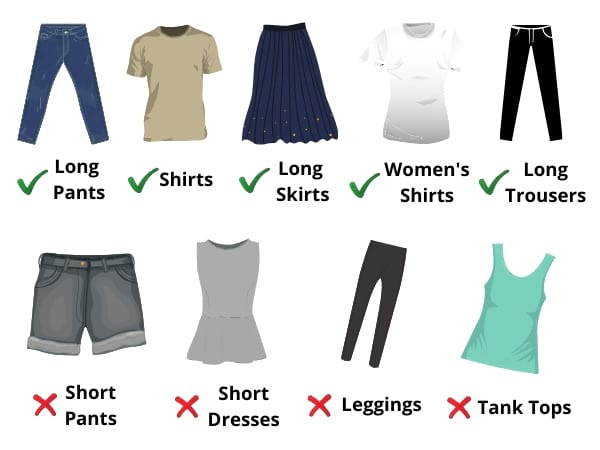 It's important to know that Wat Pho is a religious complex and you should wear proper clothing during your visit to avoid violating the rules and to enter the temple easily.
Dress code for men:
Should wear long pants, short-sleeved or long-sleeved shirts
Can wear short pants as long as it covers the knees
Can wear whatever footwear, including shoes, sandals, and flip-flop
Should not wear sleeveless shirts
Should not wear clothing with disrespectful image or slogan
Dress code for women:
Should wear long skirts or long pants that extend at least to the knees
Should wear shirts or blouses with sleeve
Can wear long dresses as long as it covers the shoulders and the knees
Can wear short pants as long as it covers the knees
Can wear whatever footwear, including shoes, sandals, and flip-flop
Should not wear tank tops and sleeveless shirts
Should not wear short dresses
Should not wear see-through and torn clothing
Should not wear leggings or any tight-fitting pants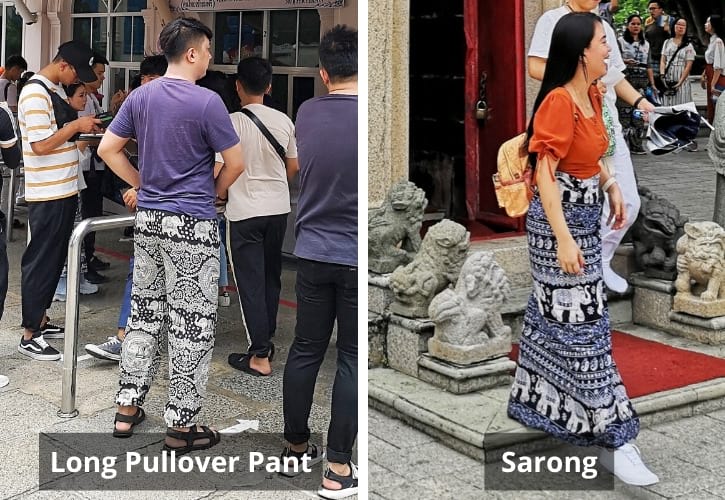 If you are wearing short pants, don't forget to take with you a pullover pant or a sarong to cover your legs.
This clothing can easily fit inside your bag, so you'll just take it out and wear it once you arrive at Wat Pho.
You cannot rent a long pullover pant or sarong at the temple, but there's a shop across the entrance selling these items.
Guide Map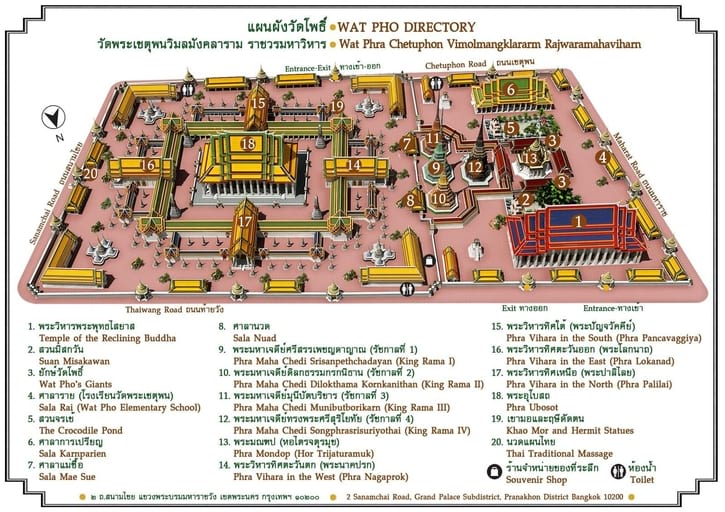 For easy navigation around the complex, you can save the above map into your smartphone. So, you'll have a reference to the places inside the temple.
My Suggestion
1. Allocate 2 hours for your Wat Pho tour
In general, you can complete the temple tour within an hour. But if you want to fully enjoy and take in all the scenic views, then spend 2 hours inside the temple grounds.
2. Be mindful of some tuk-tuk scammers
Outside the temple, there are some tuk-tuk scammers who will inform you that the temple is closed and unavailable for visitors.
Once they offer you cheaper tuk-tuk tours, step back because that's certainly a scam. Be reminded that the temple is open every day.
3. Other Places to Go
Tip #1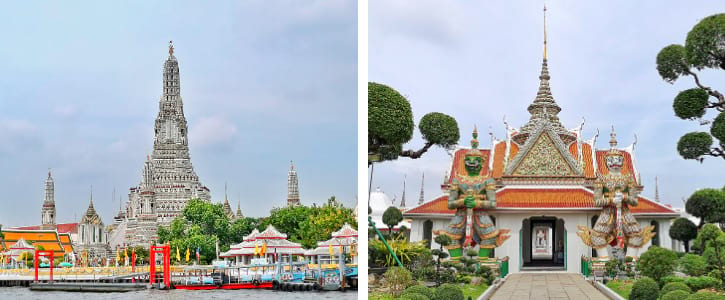 After exploring Wat Pho, I suggest that you visit Wat Arun. This is one of the popular temples in Bangkok for tourists. That's why I included it my Bangkok itinerary during my visit to the city.
This temple is just located right across Wat Pho, making it a perfect destination after your trip. If you have time, read my article on Wat Arun temple in Bangkok to gain more details on what to do and see there.
Tip #2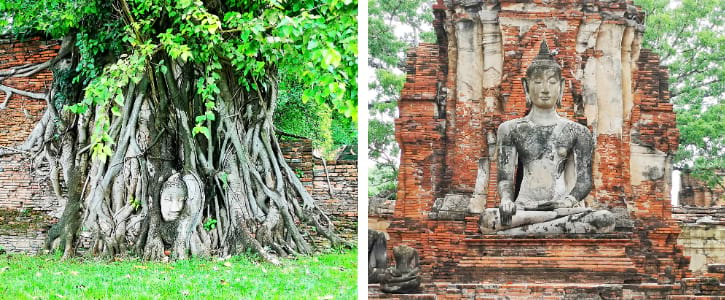 If you're a history buff, you shouldn't miss Ayutthaya. This is one of the most beautiful ruined cities in Thailand with a very rich history.
Within this place, you'll discover ancient Buddha statues, historical structures and more.
I have written a detailed guide on Bangkok to Ayutthaya day trip here, which records the must-do things in the area.
So, if you want to plan your visit beforehand, take a look at my guide and more information about the place.
Visitor Information
Opening Hours:
8:30 AM – 6:30 PM
Ticket Price:
200 Baht per person (Free entry for children under 120 centimeters)
Address:
2 Sanam Chai Rd, Phra Borom Maha Ratchawang, Phra Nakhon, Bangkok 10200, Thailand
How to Get to Wat Pho in Bangkok
1. By BTS and Boat
To go to Wat Pho, the first step is to take BTS Skytrain to Saphan Taksin Station and then leave the Exit 2. After that, you just need to walk to Sathorn Pier. From there, catch the Chao Phraya Express Boat (single trip fare is 15 baht) to Tha Tien Pier. The temple is just a 3-minute walk from the pier.
For more details, simply refer to my detailed guide below.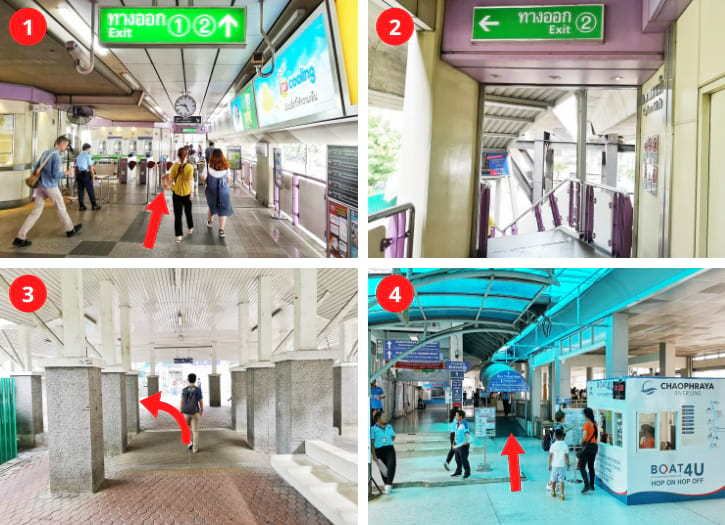 1. For the first step, take the Silom Line which will help you reach Saphan Taksin Station. From the station, head to the Exit 2 so you'll find Sathorn Pier.
2. Once you arrive at the Exit 2 of Saphan Taksin BTS Station, take the stairs down.
3. From the stairs, walk straight for a minute or so, and then turn left. From there, you'll see Sathorn Pier.
4. After turning left, head straight and you'll find a ticketing booth.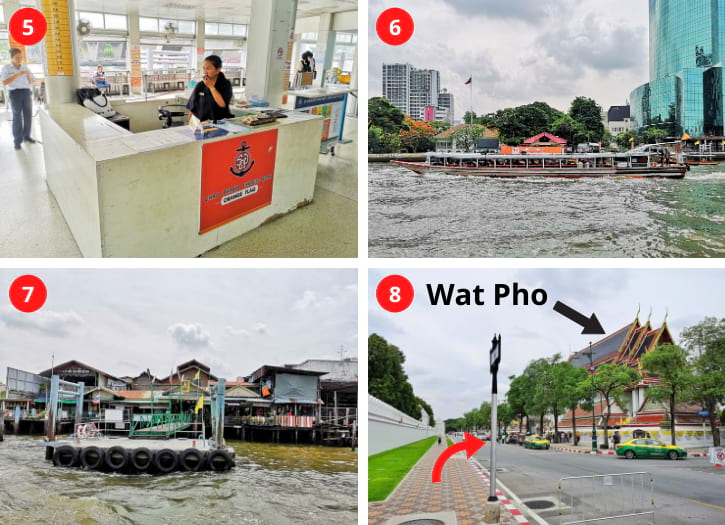 5. Just look for the booth with a "Chao Phraya Express Boat" or Orange Flag label. The one-way fare for the boat ticket is 15 Baht per person. Be it known that this is the fixed price regardless of what jetty you alight.
6. Once you have your ticket, get to the Chao Phraya Express Boat (Orange Flag) and wait for it to arrive at Tha Tien Pier. The travel time from Sathorn Pier to Tha Tien Pier is just around 15 minutes.
7. After taking off from the boat at Tha Tien Pier, head out of the pier and walk straight for about 3 minutes.
8. There you'll find Wat Pho temple on the right side.
Chao Phraya Express Boat (Orange Flag):
Departs every 10 to 20 minutes
Operating hours: 6:00 AM – 7:00 PM
Google Maps:
To give you a better view of the instructions, here's a Google Map from the BTS Skytrain, then Chao Phraya Express Boat, and lastly, Wat Pho.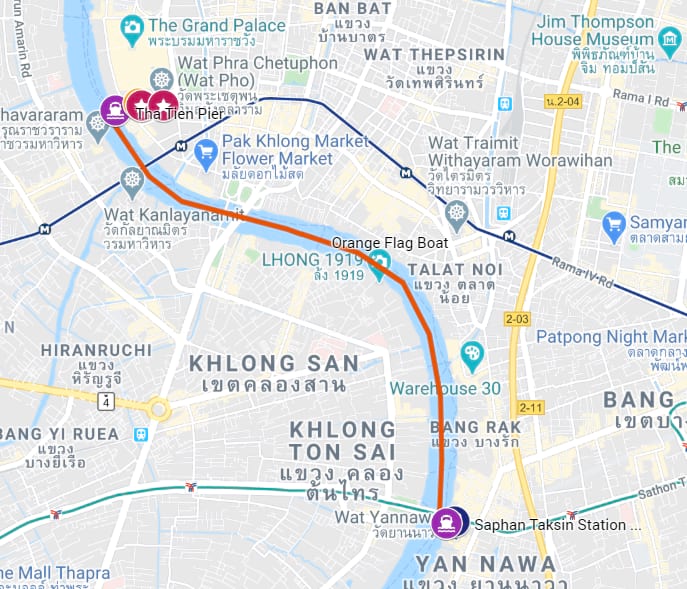 2. By MRT
The another option is you can take the Bangkok MRT to reach the Wat Pho temple. And, the nearest MRT Station to the temple is Sanam Chai Station, Exit 1. It only takes less than 5 minutes' walk to the temple from the MRT station, Exit 1.
If Sanam Chai MRT Station is your starting point, you can check the Google Maps below to know how to walk to the temple conveniently.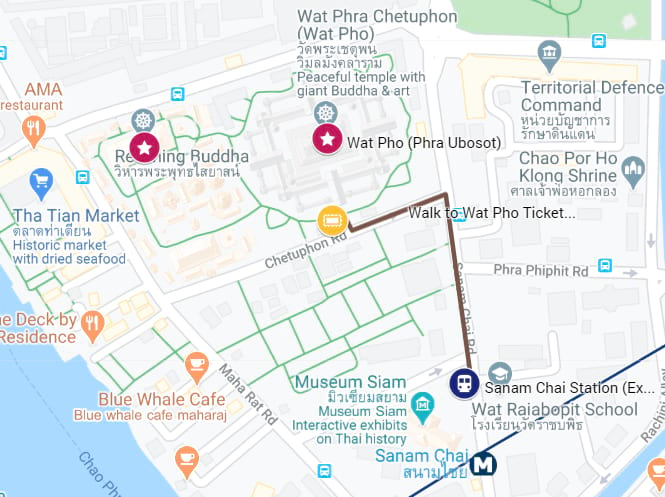 Alternative Option:
Since Wat Pho is located near Grand Palace and Wat Arun, all these attractions are often toured by visitors in one day.
And if you want to have the most comfortable trip to these three tourist spots, simply join this tour.
The tour is just the perfect option for those who are busy travellers who don't have extra time planning for transportation and such.
Related Posts