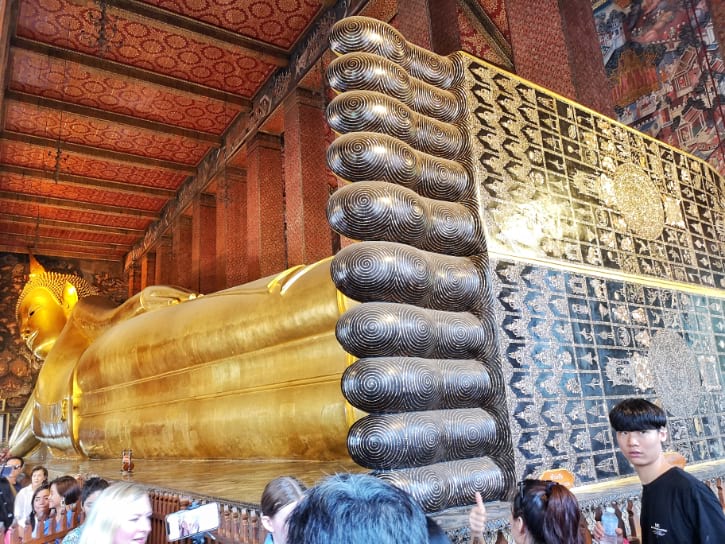 Wat Pho is a famous Buddhist complex located in the heart of Bangkok. It houses a giant, resting Buddha inside its temple complex that's why it's also called the Temple of the Reclining Buddha. This impressive structure is definitely the highlight of your visit to Wat Pho.
Did you know that Wat Pho is not just the oldest temple in the capital centre but also the largest? Because of its historical significance, it holds a rich collection of Buddha images and figures. More so, it is named as Wat Phra Chetuphon Wimonmangkhalaram, and is part of the most respected temples in the country.
In this guide, I will share with you my experience of visiting Wat Pho and also all the must-see places at the temple through its beautiful pictures and significant information. Besides that, I will show you how to get there conveniently by using public transport.
Now, it's time to have a closer look at this historically beautiful attraction in Bangkok.
Why Wat Pho Is So Popular in Bangkok
---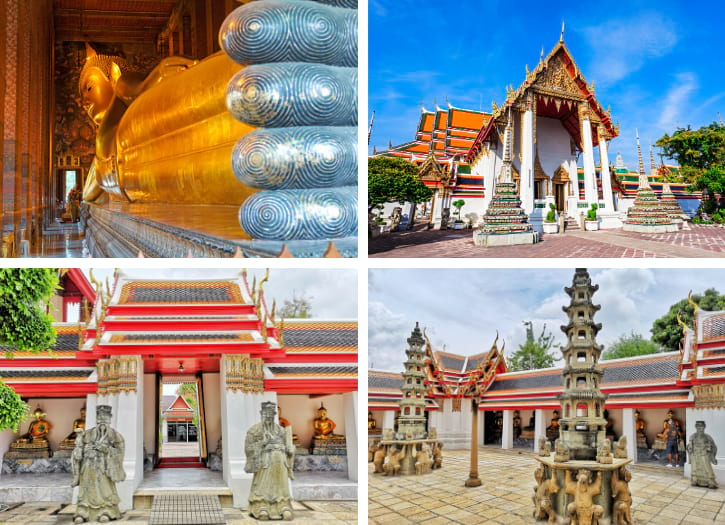 Wat Pho is a spectacular tourist attraction located in the city centre. Because of this, tourists often wander around the temple grounds to see its noteworthy structures and historical images. The temple itself is filled with stupas, chedis, and all other historical statues.
But the most famous of them all is the giant reclining Buddha that extends up to 150 feet long. This massive Buddha statue is definitely something you shouldn't miss.
Here are the 5 reasons why Wat Pho is such a famous attraction among tourists.
It serves as the home of the biggest reclining Buddha in Thailand.
It features over 1,000 religious images and pieces, making it the site with the largest Buddha collection.
It is tagged as the oldest temple situated in the heart of Bangkok.
It is close to other popular tourist spots such as the Grand Palace and Wat Arun.
It is packed with beautiful spots that are perfect backdrop for your photos.
Without any delay, here are the best attractions you can find at Wat Pho.
Wat Pho's Beautiful Attractions
---
The Giant Reclining Buddha
---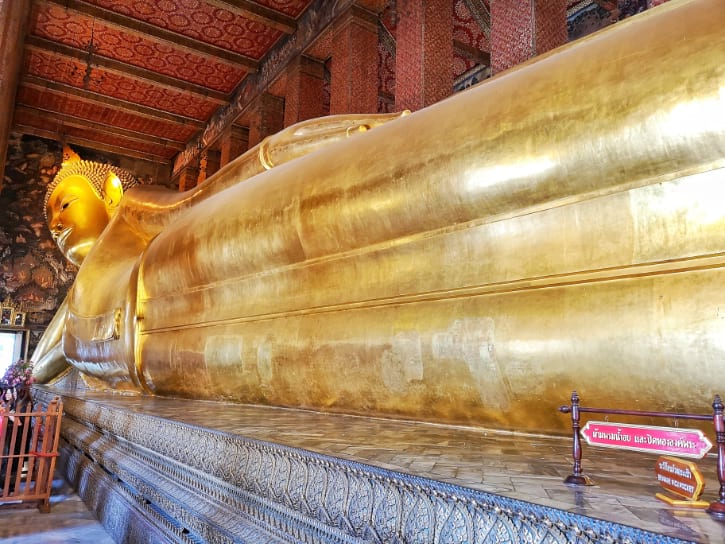 The reclining Buddha is undeniably Wat Pho's top attraction. Because of its massive size at 150 feet long, this gigantic religious figure is quite difficult to capture entirely. It even appears to be squeezed in purposely just to fit inside this building on the western part of the complex.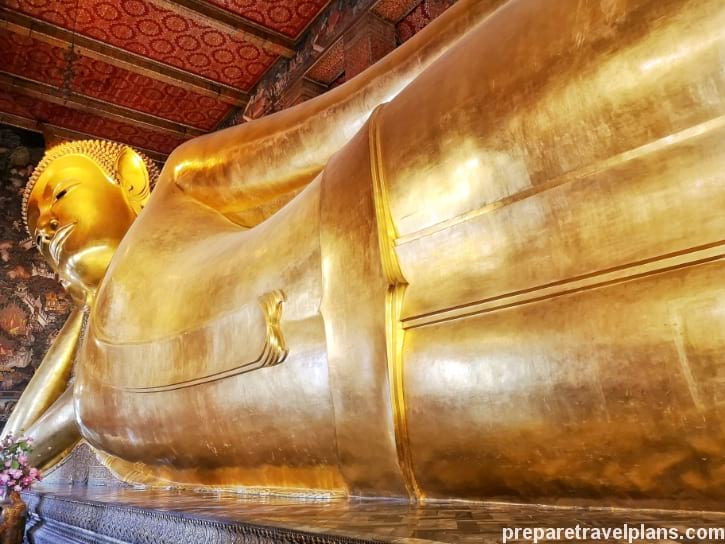 Clothed in golden colours, the Buddha statue is more than just a religious fragment of the past. Its brilliant shade and smooth structural design make it a key cultural piece of the country.
And just when you thought that's all this golden statue has to offer, you got it all wrong.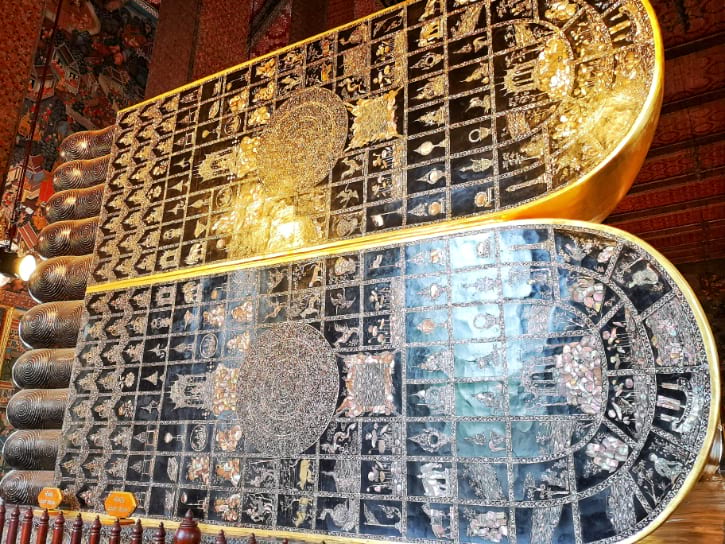 The feet of the reclining Buddha exhibit some intricate traditional decorations, which are called as laksanas. These laksana illustrations are made of mother-of-pearl, and are considered the important Buddhist symbols and characteristics.
There are over a hundred laksanas that correspond to the number of actions done by Buddha to acquire perfection.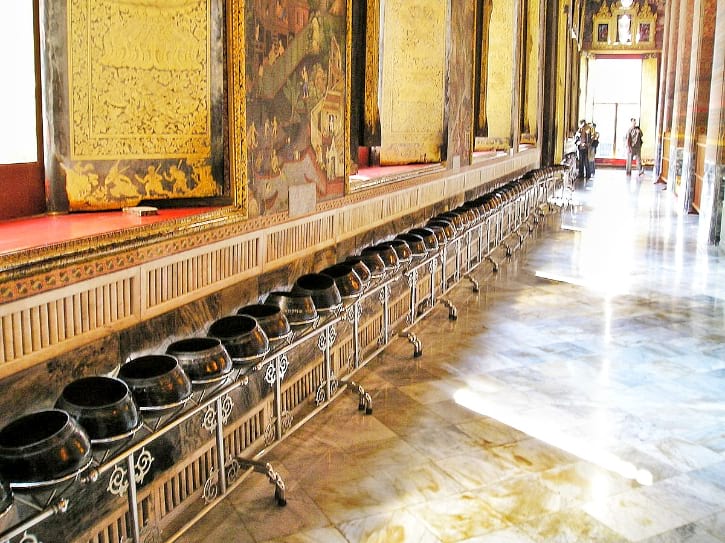 Also inside the pavilion that houses the reclining Buddha, you'll find some bronze bowls along its corridor. There are 108 bowls, all of which refer to some important Buddha characters.
Visitors would often drop coins into these religious pieces for good fortune.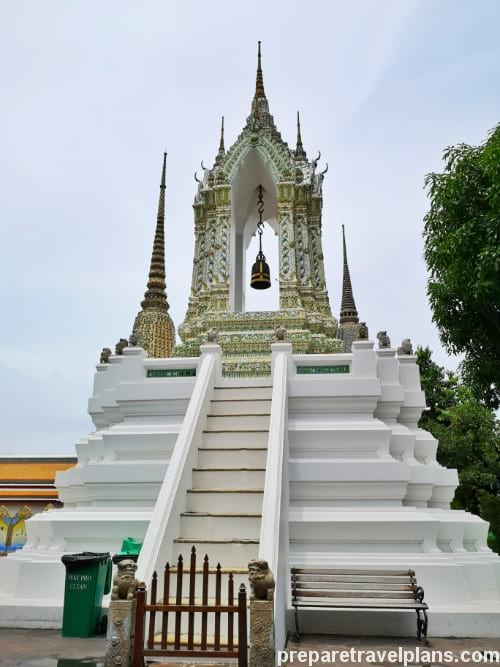 More than that, Wat Pho covers a lot more tourist spots within its vast complex. There are chapels, murals, and other religious facilities that deserve a visit.
One of the prominent attractions inside the temple is this belfry located on the northwest section of the temple grounds.
The Giant Chinese Sculptures
---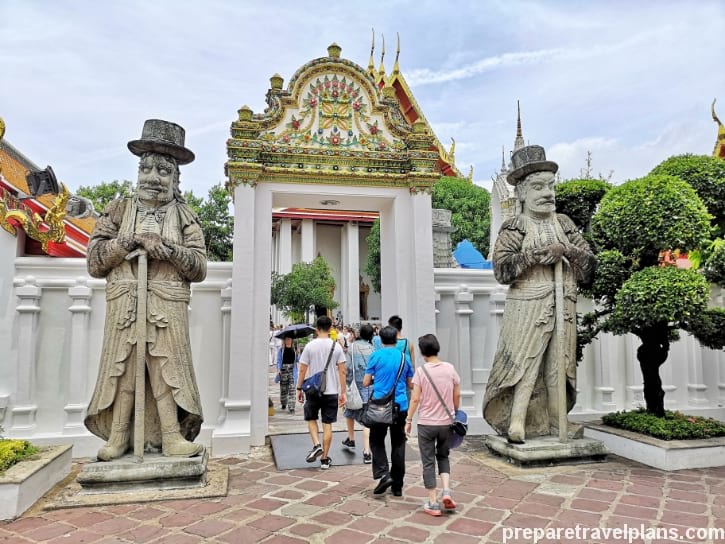 Since Wat Pho is a religious attraction, expect for some towering statues scattered all over the entrance of the buildings. Some of these are giant Chinese sculptures that serve as the guardians of the gates.
Phra Ubosot
---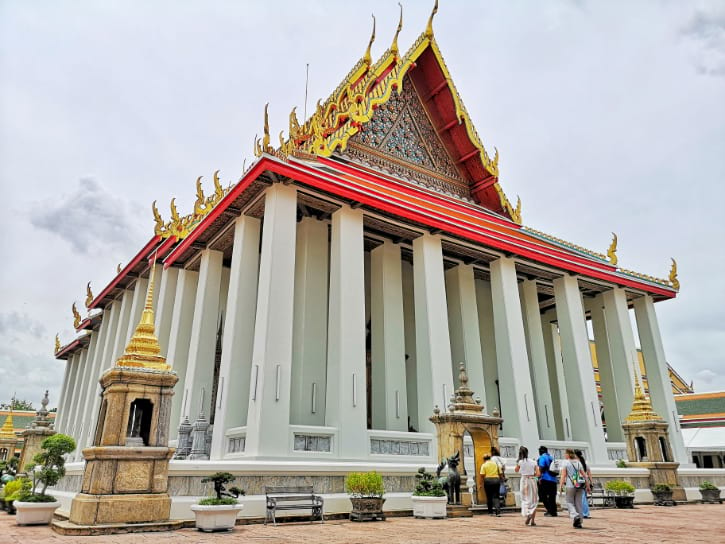 As the holiest building at Wat Pho, Phra Ubosot is the place where Buddhist rituals and gatherings are celebrated. This sacred ordination hall was under the guidance of King Rama I during the 17th century.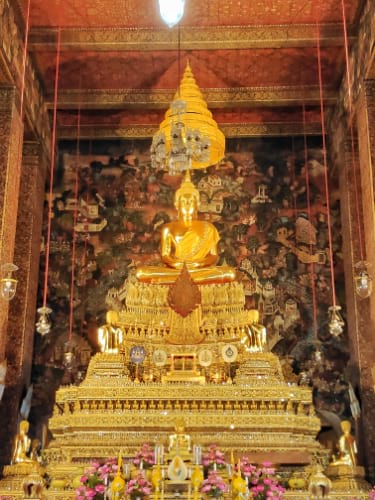 Inside this vast building are highly refined decorations and religious images. And the most noticeable of all is the Buddha statue, which is called the Phra Buddha Theva Patimakorn.
You might think that this golden Buddha is just for religious purposes. Actually, inside the base of the Buddha image are some of the ashes of Rama I.
Phra Maha Chedi Si Rajakarn
---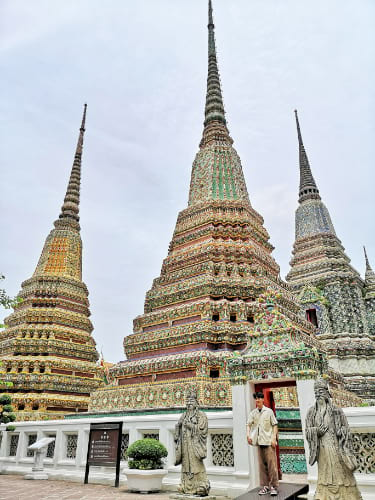 Consisting of four stupas, the Phra Maha Chedi Si Rajakarn was created to honour the earliest Chakri kings. Each of these pagodas is standing at 42 meters, which makes it a great backdrop for your photos.
One of these large stupas was built by King Rama I. This pagoda is covered in green mosaic designs to shelter the remains of the Buddha from Ayutthaya. The other pagodas were made by Rama III and Rama IV respectively.
Phra Mondop
---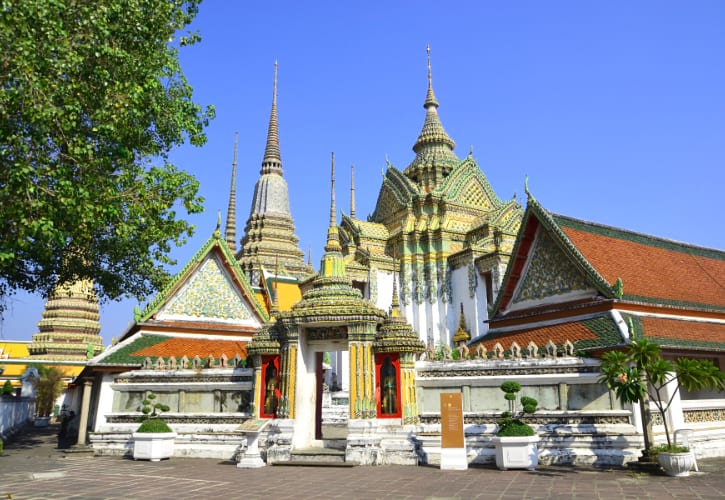 Phra Mondop is also a must-visit spot at Wat Pho. It's a scripture hall with a library that is filled with Buddhist scriptures. Because it houses some important historical files, the building is off-limits to the public. Still, you can take delight with the mural paintings and giant figures around the hall.
Phra Rabiang
---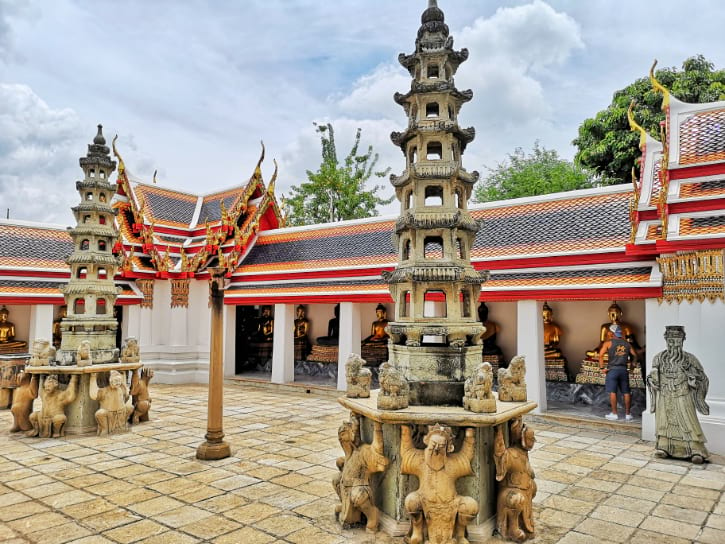 The Phra Rabiang consists of cloisters that illustrate different Buddha images from the Rama I period. Some of these images portray actions such as seating, standing, and carrying―all of which describe the encounters during the Siamese history.
Seated Buddha statues are also visible at the temple. These religious sculptures cover the entire row in this building. And just like all other Buddha images in the temple, these are clothed in golden colours.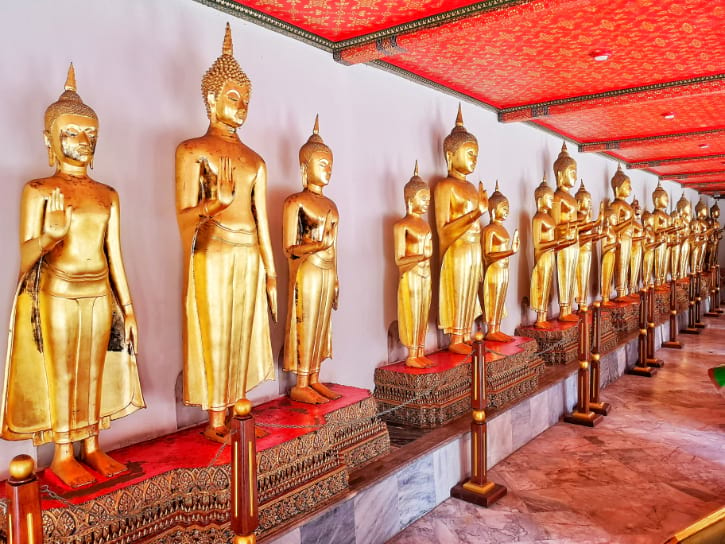 In this area, you'll be surrounded by standing Buddha sculptures. These statues vary in sizes―some are full-grown while some are medium-sized. But even with the differences in length, these are all golden Buddha figures.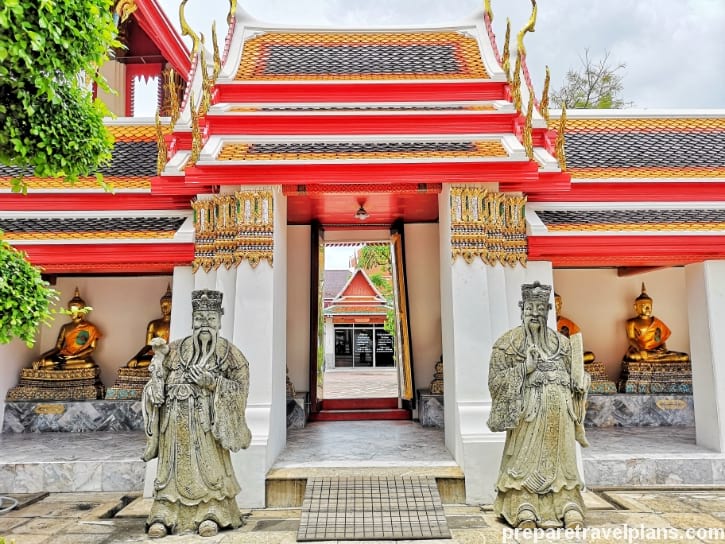 Guarding this building are these political nobleman statues. These stone sculptures were originally used as materials to stabilize ships during the early trading period with China.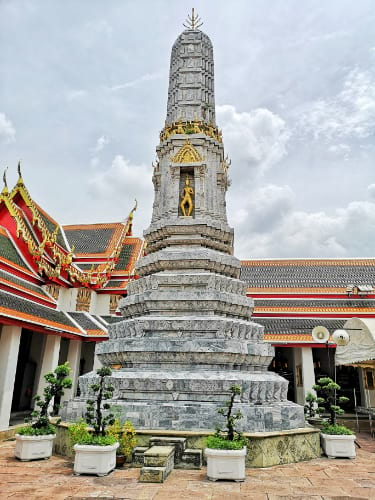 Phra Prang is a Khmer-style tower that guards the key points at Wat Pho. Inside the temple grounds, there are four Phra Prang, each tower featuring marble designs and gold leaf highlights.
East Part of the Temple Complex
---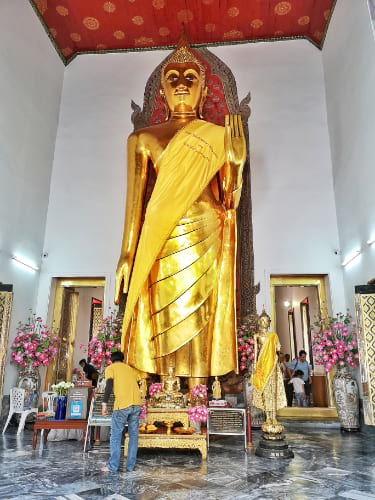 Aside from the reclining Buddha, Wat Pho also has its own standing Buddha at the east temple complex.
You can find this massive statue inside the Temple of Giant Phra Buddha Lokanat. The golden Buddha that dazzles in Sukhothai style is called Phra Buddha Lokanat.
South Part of the Temple Complex
---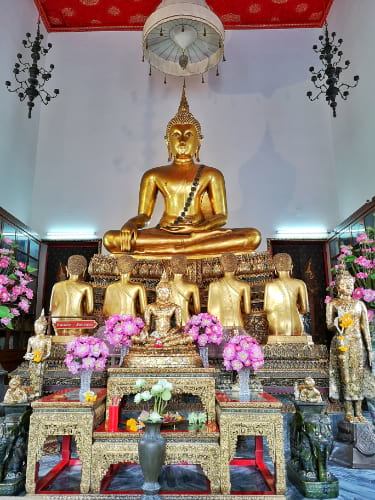 At the south section of Wat Pho, there's the Phra Buddha Chinnaraja, a seated golden Buddha surrounded by five disciple statues. This Buddha figure was brought by Rama I from Sukhothai.
West Part of the Temple Complex
---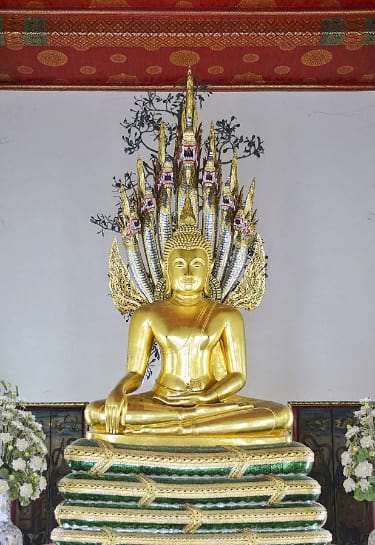 And at the west part of the Wat Pho temple seats the Phra Buddha Chinnasri Muninat. Aside from the golden Buddha, this area has a small museum.
Phra Chedi Rai
---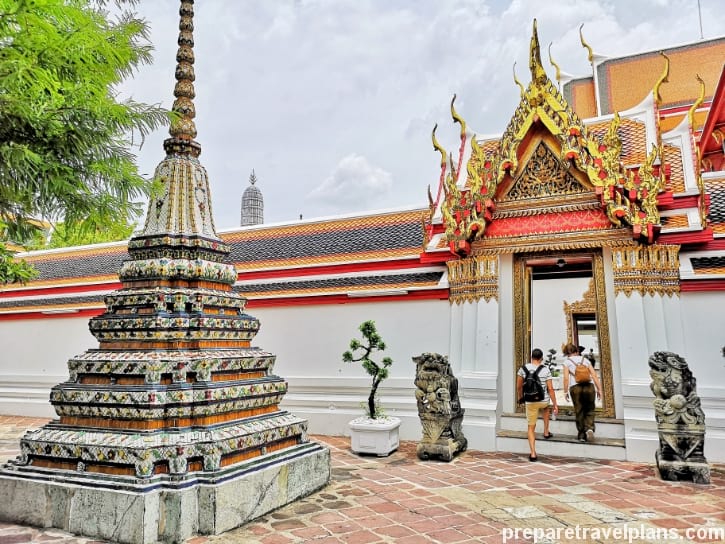 At the gate of Phra Rabiang, you'll witness some smaller chedis, which are also known as Phra Chedi Rai. Most of these were created by Rama III, while some were built by Rama I.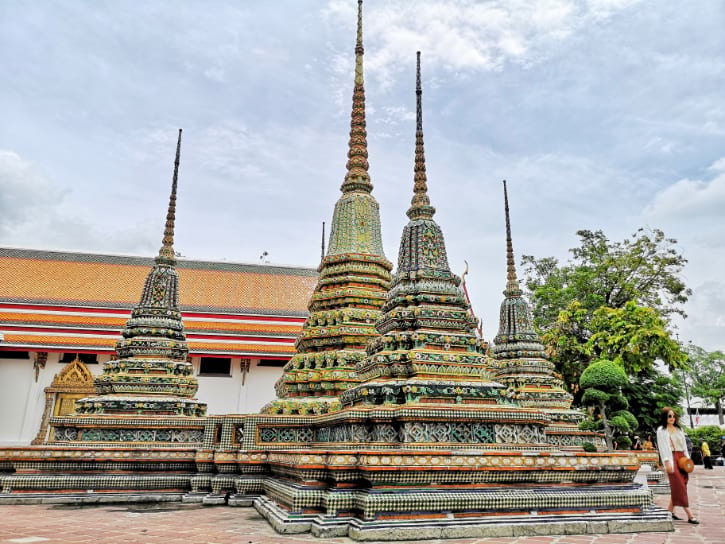 There are a couple of chedis that feature a single-base. These can be found along the corner of the buildings, to shelter the ashes of the royal family and even the remains of Buddha.
Wat Pho Entrance Fee and Opening Hours
---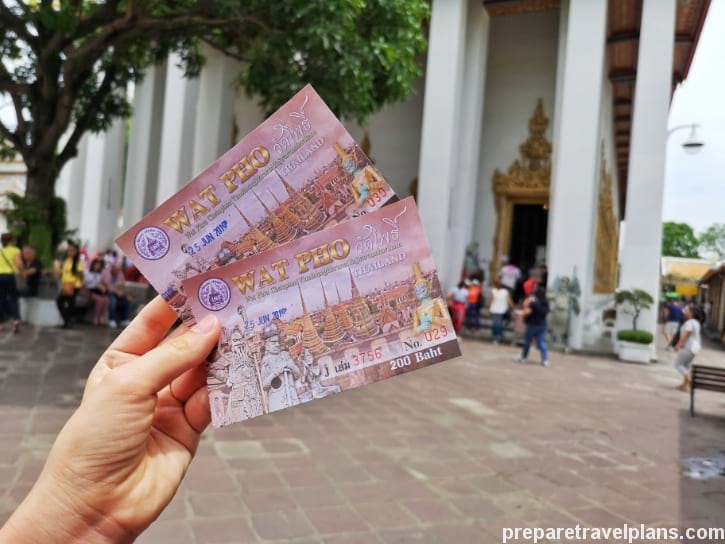 Ticket Price
200 Baht per person (Free entry for children under 120 centimeters)
Dress Code at Wat Pho
---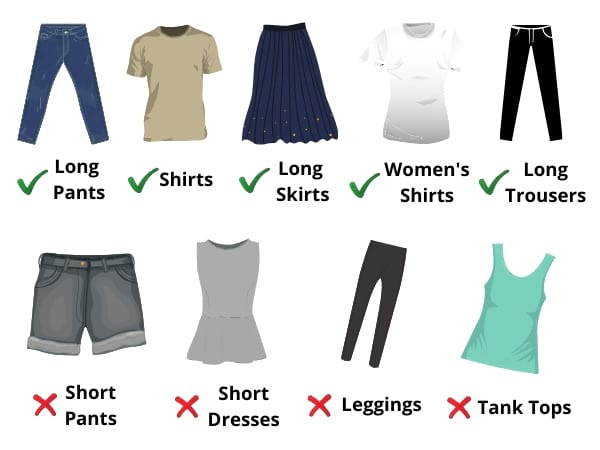 It's important to know that Wat Pho isn't just a popular attraction. It's a religious complex that's why you should wear proper clothing during your visit to avoid violating the rules and to enter the temple easily.
Dress code for men:
Should wear long pants, short-sleeved or long-sleeved shirts
Can wear short pants as long as it covers the knees
Can wear whatever footwear, including shoes, sandals, and flip-flop
Should not wear sleeveless shirts
Should not wear clothing with disrespectful image or slogan
Dress code for women:
Should wear long skirts or long pants that extend at least to the knees
Should wear shirts or blouses with sleeve
Can wear long dresses as long as it covers the shoulders and the knees
Can wear short pants as long as it covers the knees
Can wear whatever footwear, including shoes, sandals, and flip-flop
Should not wear tank tops and sleeveless shirts
Should not wear short dresses
Should not wear see-through and torn clothing
Should not wear leggings or any tight-fitting pants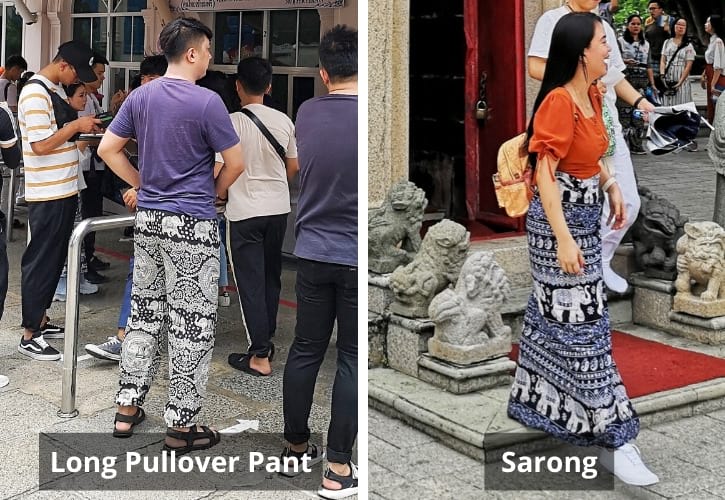 If you are wearing short pants, don't forget to take with you a pullover pant or a sarong to cover your legs. This clothing can easily fit inside your bag, so you'll just take it out and wear it once you arrive at Wat Pho. You cannot rent a long pullover pant or sarong at the temple, but there's a shop across the entrance selling these items.
Wat Pho Guide Map
---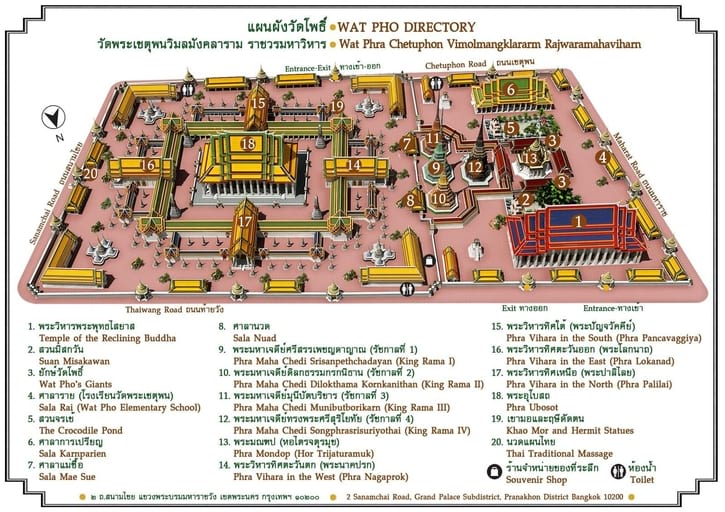 For easy navigation around the complex, make sure you download the Wat Pho map here and save it on your smartphone. With your Wat Pho map, you'll have a reference to the places inside the temple.
5 Important Tips for Visiting Wat Pho
---
1. How much time do you need to allocate for your Wat Pho tour?
In general, you can complete the temple tour within an hour. But if you want to fully enjoy and take in all the scenic views, then spend 2 hours inside the temple grounds.
2. Prepare in advance some small change
At times, the ticket counters may not have small change for your boat ticket. Therefore, it's advisable that you prepare some in advance when paying for the Chao Phraya Express Boat to Wat Pho.
The ticket rate for the Orange Flag Boat (Chao Phraya Express Boat) is around 15 Baht per person.
3. Be mindful of some tuk-tuk scammers
Outside the Wat Pho temple, there are some tuk-tuk scammers who will inform you that the temple is closed and unavailable for visitors. Once they offer you cheaper tuk-tuk tours, step back because that's certainly a scam. Be reminded that the temple is open every day.
4. Marvel at the giant reclining Buddha
Inside Wat Pho, you will have the chance to witness the huge resting Buddha at 150 feet long and 49 feet tall. Because of its impressive dimensions, this statue is tagged as one of the world's largest and holiest reclining Buddhas.
5. Visit Wat Pho, Wat Arun, and Grand Palace in one day!
Did you know that Wat Pho is very accessible from Wat Arun and Grand Palace?
Actually, these three attractions are located close to each other; hence, many travellers would opt to visit them in one day.
These three temples are considered to be very popular tourist spots in Bangkok because of their spectacular beauty. No wonder these attractions are always jam-packed with tourists every single day.
When I visited Bangkok, I actually went to these 3 famous attractions in just one day.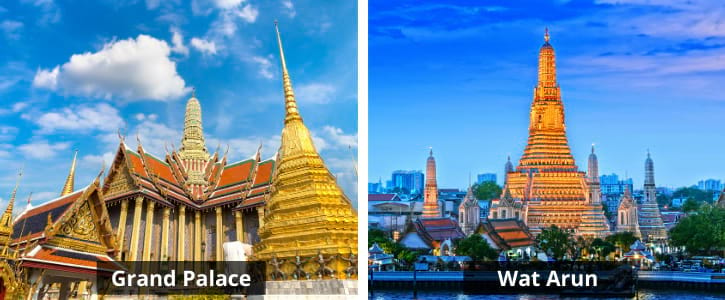 To know more about the other two tourist spots, you can check my guides to Grand Palace Bangkok and Wat Arun Bangkok.
To save time and effort, I highly suggest that you follow this route when visiting these 3 attractions in one day.
Grand Palace ⇒ Wat Pho ⇒ Wat Arun
How to Get to Wat Pho
---
By BTS and Boat
---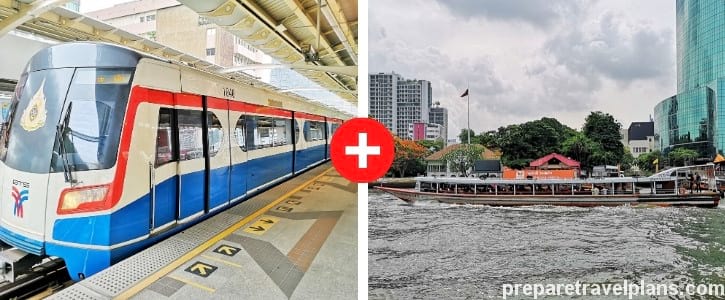 It's easy to get to Wat Pho by BTS Skytrain and Chao Phraya Express Boat.
The first step is to take BTS Skytrain to Saphan Taksin BTS Station. Then, you just need to walk to Sathorn Pier after alight at Saphan Taksin BTS Station.
From Sathorn Pier, you will purchase an Orange Flag Boat ticket and hop aboard the Orange Flag Boat (Chao Phraya Express Boat). And then alight at Tha Tien Pier, which is just a couple of minutes away to Wat Pho.
Let's check out the detailed guide below to know how to go to Wat Pho via BTS Skytrain and Boat.
A Step-by-step Guide on Getting to Wat Pho by BTS and Orange Flag Boat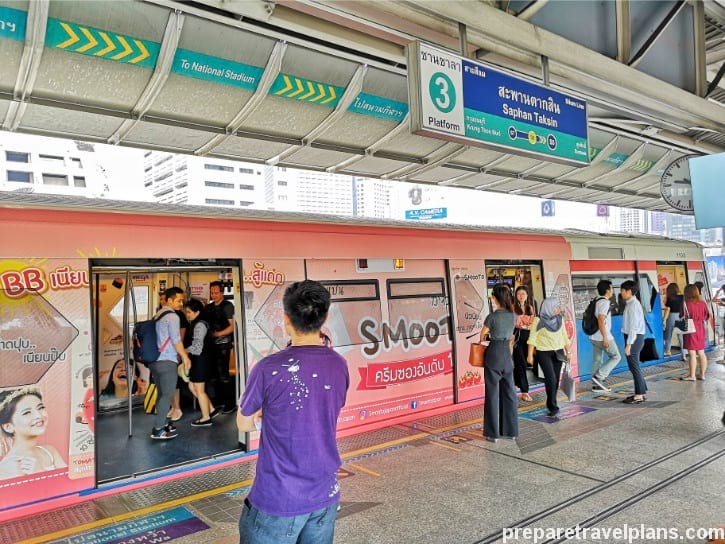 1. For the first step, take the Silom Line which will help you reach Saphan Taksin BTS Station.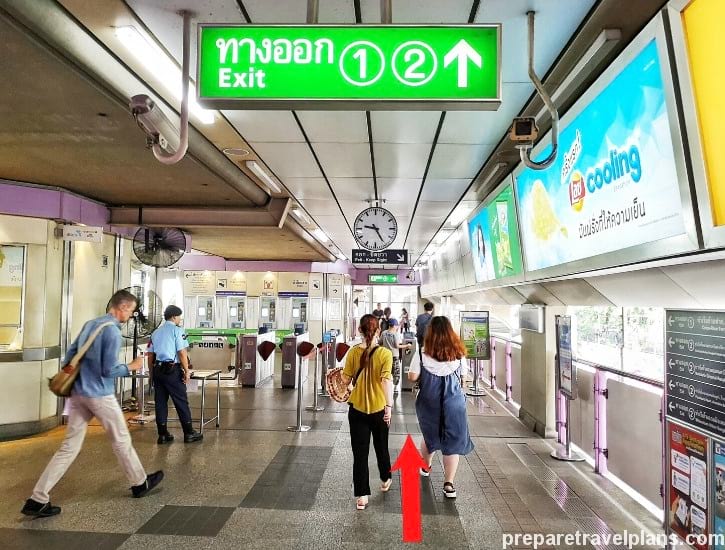 2. From Saphan Taksin BTS Station, head to the Exit 2 so you'll find Sathorn Pier.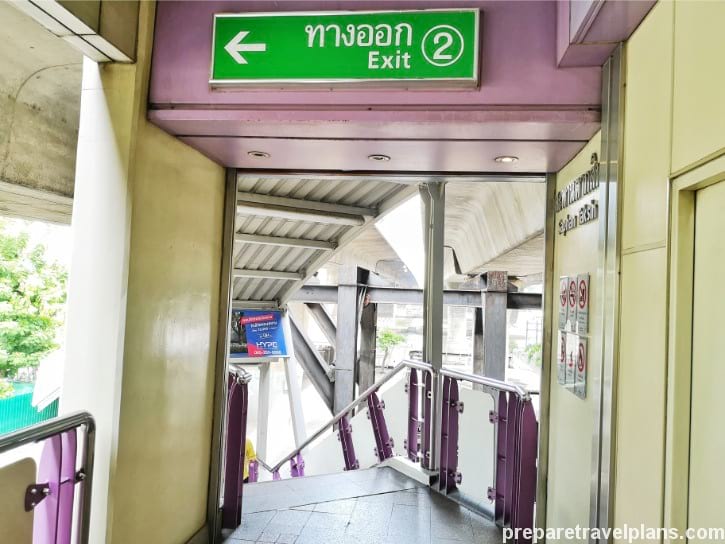 3. Once you arrive at the Exit 2 of Saphan Taksin BTS Station, take the stairs down.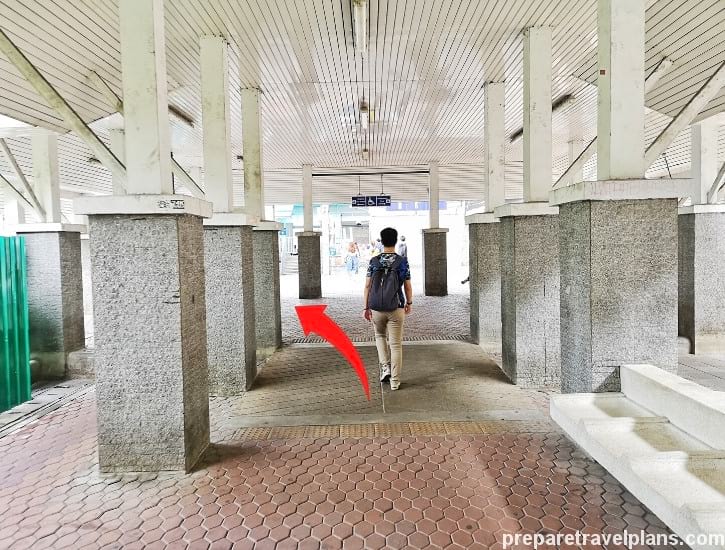 4. From the stairs, walk straight for a minute or so, and then turn left. From there, you'll see Sathorn Pier.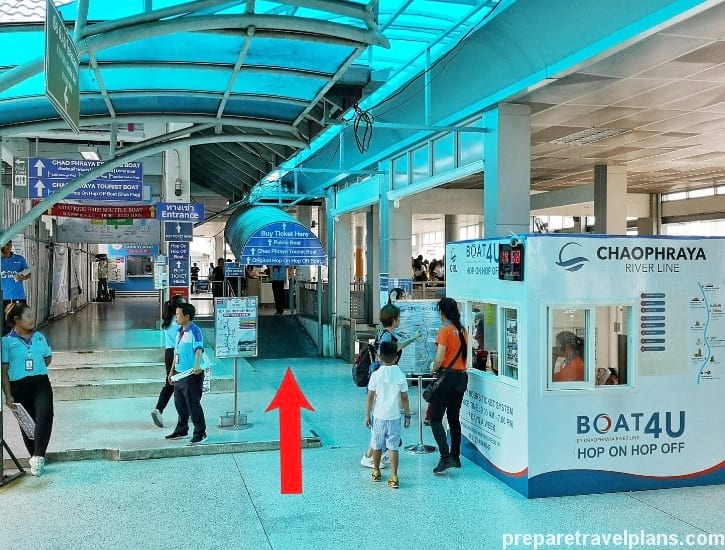 5. After turning left, head straight and you'll find a ticketing booth. This is where you'll buy the Orange Flag Boat ticket.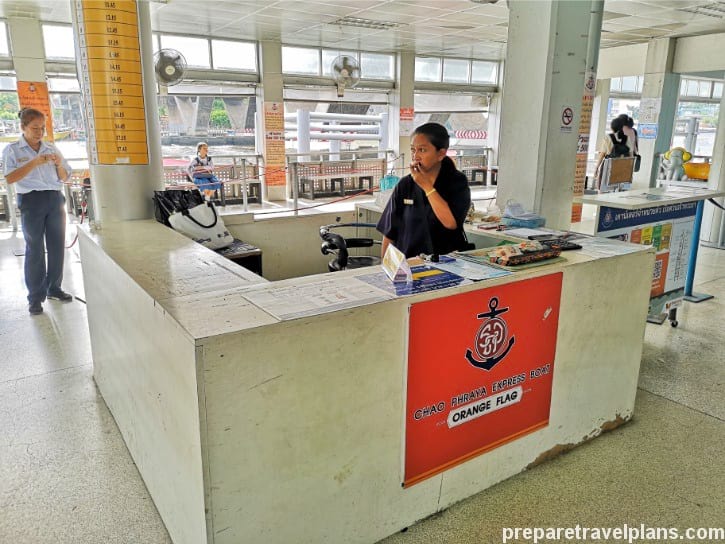 6. It's easy to locate the ticketing booth. Just look for the booth with a "Chao Phraya Express Boat" or Orange Flag label. The one-way fare for the Orange Flag Boat ticket is 15 Baht per person. Be it known that this is the fixed price regardless of what jetty you alight.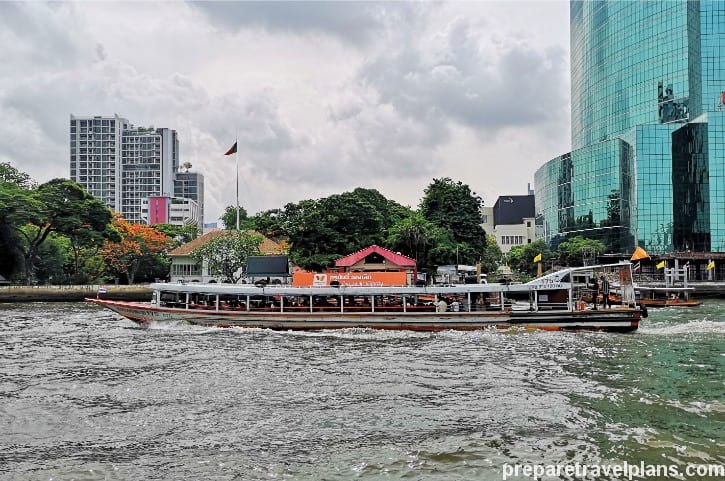 7. Once you have your ticket, get to the Orange Flag Boat and wait for it to arrive at Tha Tien Pier. The travel time from Sathorn Pier to Tha Tien Pier is just around 15 minutes. Make sure to keep an eye on the signboard display so you'll alight at the right destination, and that is at Tha Tien Pier.
Orange Flag Boat departs every 10 to 20 minutes
Orange Flag Boat operating hours: 6:00 AM – 7:00 PM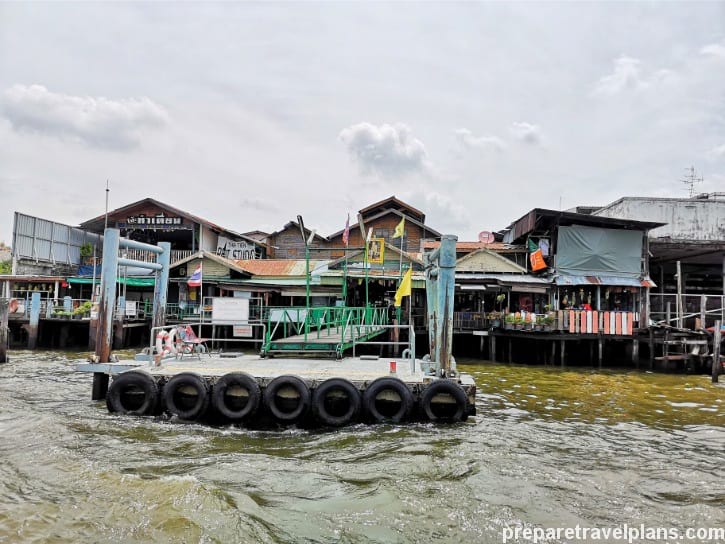 8. After taking off from the Orange Flag Boat at Tha Tien Pier, head out of the pier and walk straight for about 3 minutes.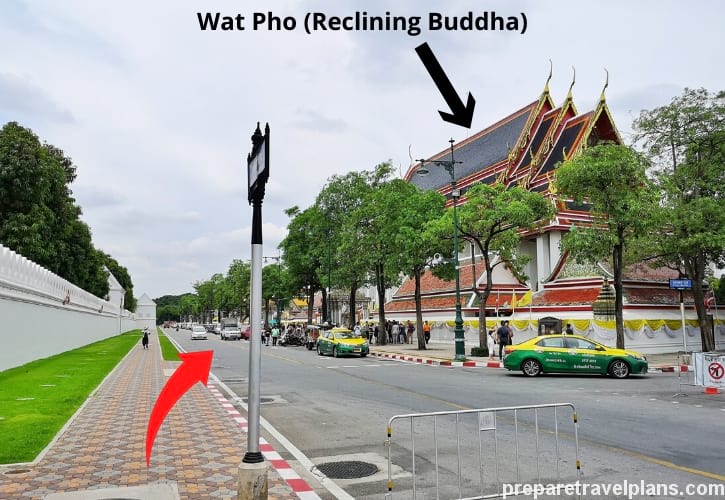 9. There you'll find Wat Pho temple on the right side.
Guide Map – Saphan Taksin BTS Station to Wat Pho
To give you a better view of the instructions, here's a Google Map from the BTS Skytrain, then Orange Flag Boat, and lastly, Wat Pho.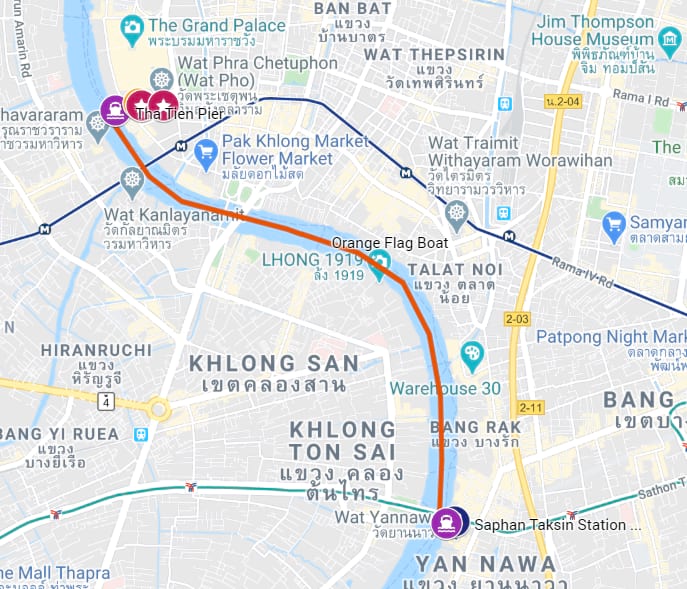 By MRT
---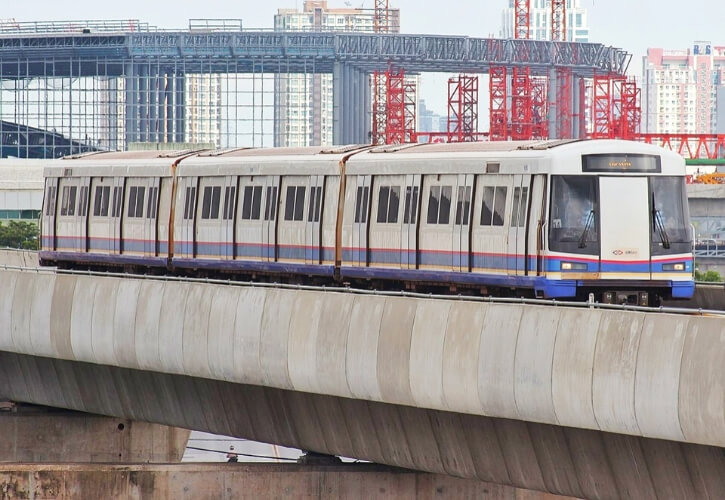 The another option is you can take the BTS Skytrain and MRT to reach the Wat Pho temple. And, the nearest MRT Station to Wat Pho is Sanam Chai Station, Exit 1. It only takes less than 5 minutes' walk to the temple from Sanam Chai MRT Station, Exit 1.
If Sanam Chai MRT Station is your starting point, you can check the Google Maps below to know how to walk to Wat Pho conveniently.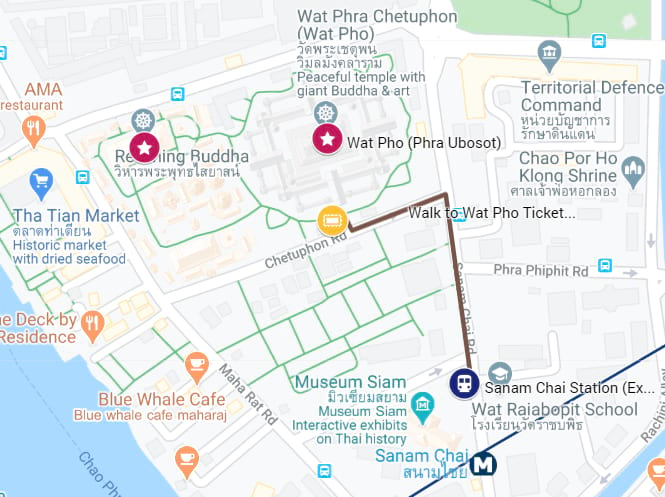 Take a Tour to Wat Pho, Grand Palace and Wat Arun
---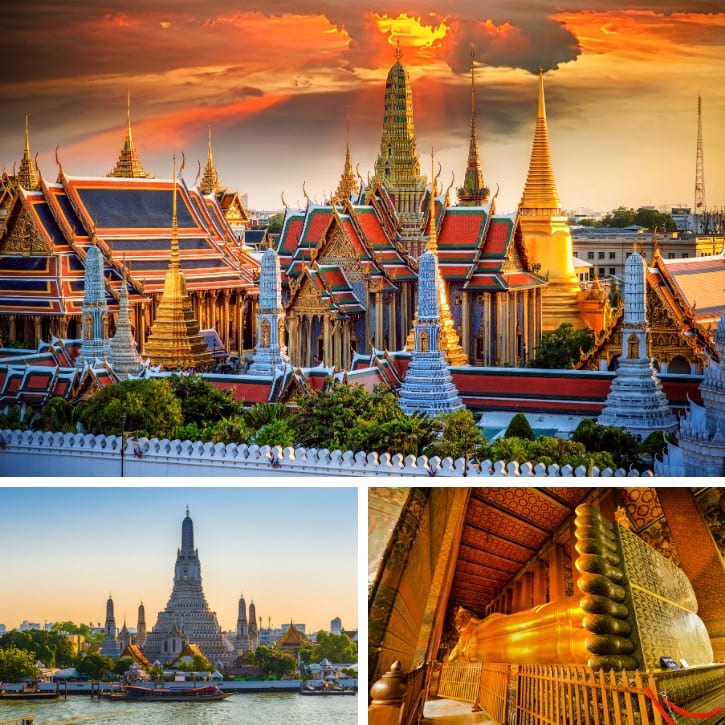 Since Wat Pho is located near Grand Palace and Wat Arun, all these attractions are often toured by visitors in one day. And that's what I did during my trip to Bangkok.
And if you want to have the most comfortable trip to these three tourist spots, simply take a tour. The tour is just the perfect option for those who are busy travellers who don't have extra time planning for transportation and such.
With the tour, you can easily explore Wat Pho, Grand Palace, and Wat Arun. And, you'll have the chance to enjoy the longtail boat cruise that showers you with breath-taking city views from the Chao Phraya River!
The tour is led by a local tour guide so you'll reach all the three destinations smoothly. This means you won't have to think about what public transport to take or where to take off. Everything is taken care of.
Plus, the local tour guide is highly professional and knowledgeable. Because of this, you will gain valuable insights about the attractions, including its history, cultural importance, and more.
For the assembly location of the tour, it's positioned just outside of Victory Monument BTS Station, Exit 2, making it very easy to locate.
To help you decide, you can read the reviews here made by previous travellers who availed of the tour.
And to give you an idea of the updated tour rates, itinerary, assembly location, and actual schedules, just see the link below.
Visiting Wat Pho Nearby Attractions Guide
---
1. Wat Pho to Grand Palace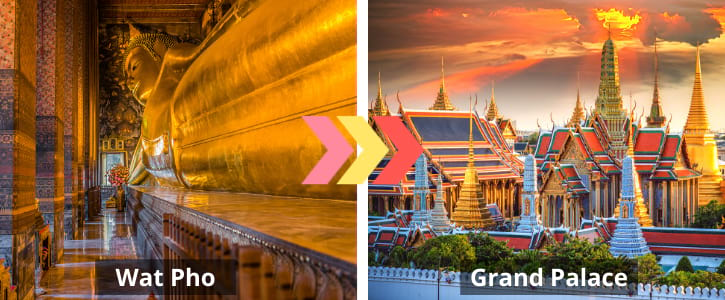 Another nearby attraction of Wat Pho is Grand Palace. The route of getting to Grand Palace from Wat Pho is very simple because the two attractions are close to each other.
It will just take around 12 minutes of walking from Wat Pho to the ticketing counter of Grand Palace.
To guide you, I have created a specific Google Maps that will help you familiarize the area beforehand.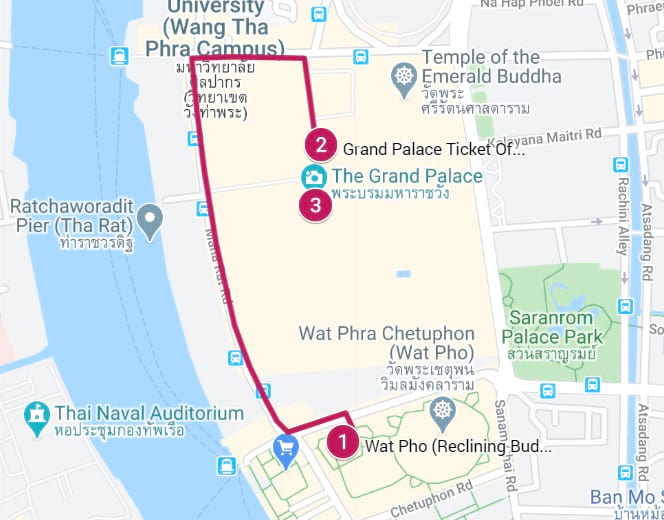 2. Wat Pho to Wat Arun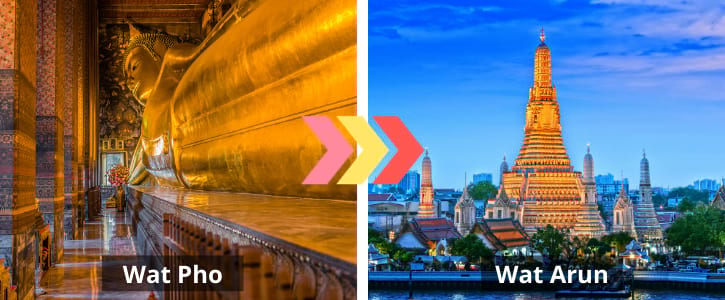 If you're from Wat Pho, there's also an easy way to reach Wat Arun. It's because these two attractions are close to each other.
To reach Wat Arun, simply walk straight from Wat Pho to Tha Tien Pier. This will take around 4 minutes.
From Tha Tien Pier, you will see the Wat Arun temple peeking on the opposite side. Just take the cross-river ferry at Tha Tien Pier to Wat Arun temple within 3 minutes. You can purchase the cross-river ferry ticket onsite. The fare is 4 Baht per person for one-way.
For easier navigation, check the specific Google Maps below. This will give you a clearer grasp of how to travel from Wat Pho to Wat Arun temple.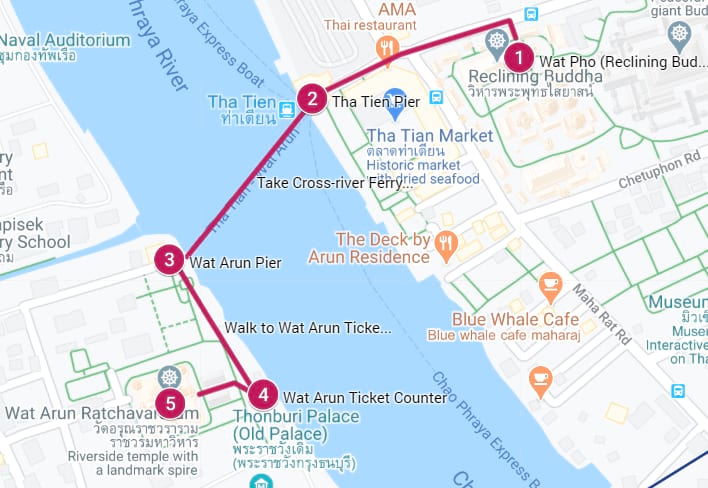 Conclusion
Wat Pho is undeniably one of the most popular attractions in Bangkok that you should see for yourself. It's more than just a temple; it holds a part of the country's rich culture and history.
All the Buddha statues, stone guards, towering chedis, and religious relics make up to its unique beauty. So, make sure to include this in your Bangkok itinerary and enjoy all the attractions Wat Pho has to offer.
Thank you so much for taking the time to read my entire blog for Wat Pho. I do hope you find it helpful and informative for your personal Wat Pho adventure.
You can easily bookmark this page in case you need it as a reference in the future.
And if you want to help your family and friends who are also planning to visit Wat Pho, you can share this blog with them. Simply send it via Facebook, Twitter, Pinterest, Gmail, and WhatsApp.
Once again, thank you and I hope you will have a great and memorable trip to the ever-beautiful Wat Pho temple in Bangkok.
Discover Other Famous Attractions in Bangkok