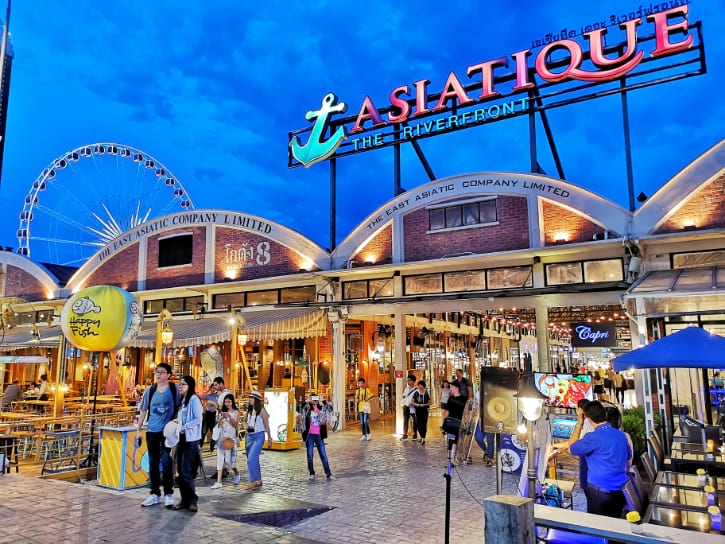 Asiatique The Riverfront is a very famous open-air mall in Bangkok. It is known for its scenic restaurants, shopping stalls, and food markets. And of course, there are lots of entertainment options too to awaken your senses.
Surely, this popular place has all your fashion needs and food cravings. And you'll definitely love the wide array of entertainment, from amazing rides to spectacular shows.
That's why Asiatique The Riverfront is always included on my list of the top 12 markets in Bangkok that you should visit at least once.
And in this guide, I will introduce all the must-do activities and must-try dining spots in there. Furthermore, I will share the ways on how to get to the place easily by BTS and Asiatique shuttle boat.
So, without any delay, let's discover the beauty of this market place through the list below. 🙂
Asiatique The Riverfront Overview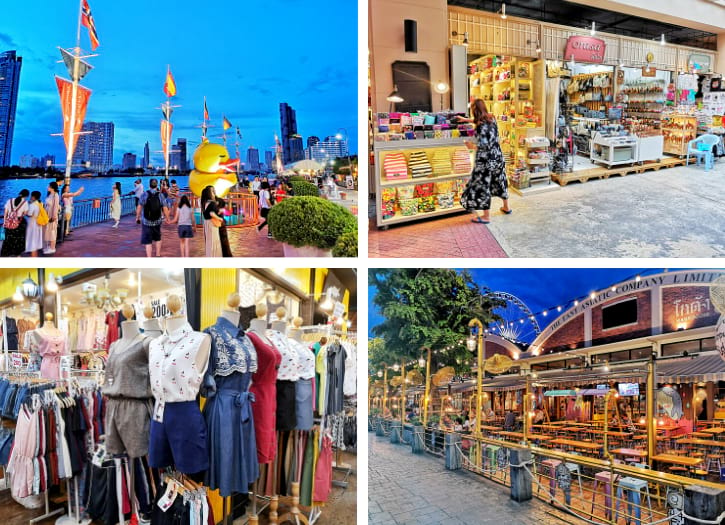 When it comes to scenic dining and shopping, Asiatique The Riverfront surely is a top choice among locals and tourists.
The lovely views of the Chao Phraya River make it a perfect destination to enjoy with your family and friends.
And of course, the nightlife here is very colorful and entertaining. You'll find a lot of restaurants and stalls, offering delicious cuisines and street food.
There are also plenty of shopping options, including trendy clothing, bags, and accessories.
To know more about the things waiting for you at Asiatique, check out the detailed guide below. This will show you more information on what you can do in this fun market place.
What Can You Buy at Asiatique
In this section, I will share some of the items being sold in Asiatique The Riverfront.
And to give you an overview, there are 6 categories that make up the entire shopping area.
1. Trendy Clothes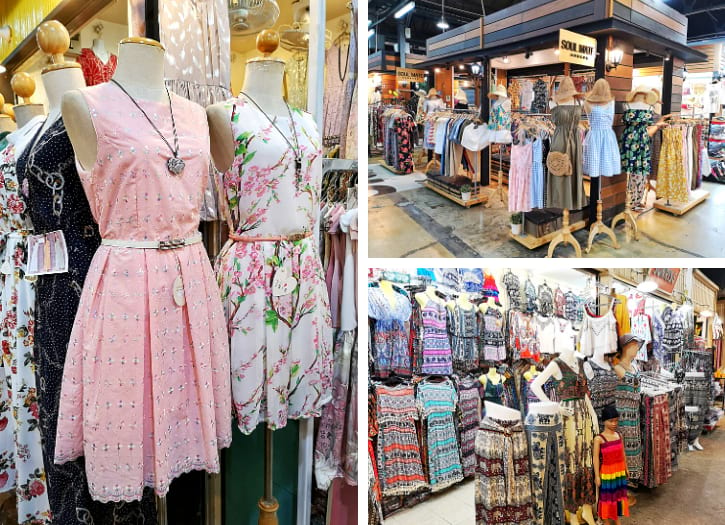 First on the list are the stylish dresses, tops, and pants. Aside from trendy apparel, there are also traditional clothing on display.
This is a nice spot to buy a sarong if you plan to visit Wat Arun but you don't have long pants. Do take note that this famous temple in Bangkok is very strict in terms of dress code.
2. Men's Collection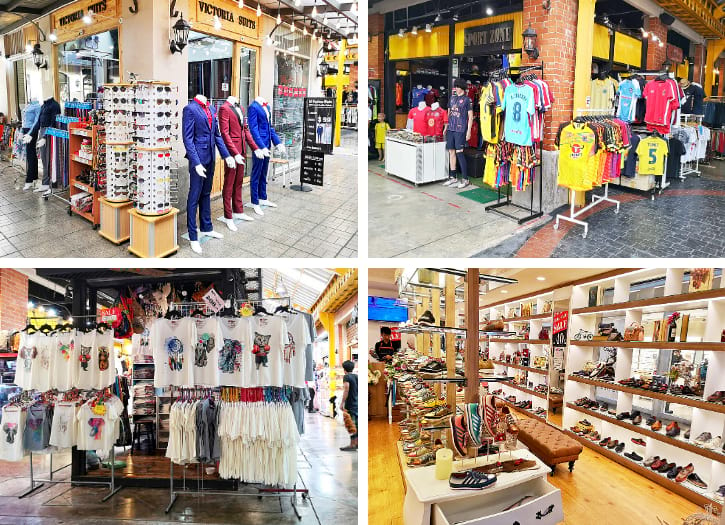 Moving forward, men's fashion style is also visible in the market. Enjoy the great selection of dashing tuxedos and other formal-wear.
And if you're in need of new comfy t-shirts, there are several choices too.
3. Kids Wear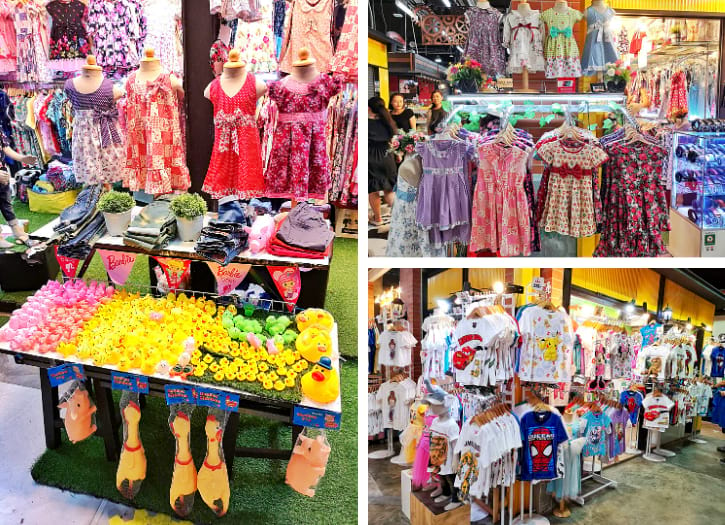 Go through this attractive collection of kid floral dresses and accessories. These adorable items are perfect souvenirs for your little ones.
Cartoon shirts for kids are quite popular as well. From Transformers to Jurassic Park to Cars, it's not hard to choose a new shirt for your kid.
4. Bags and Purses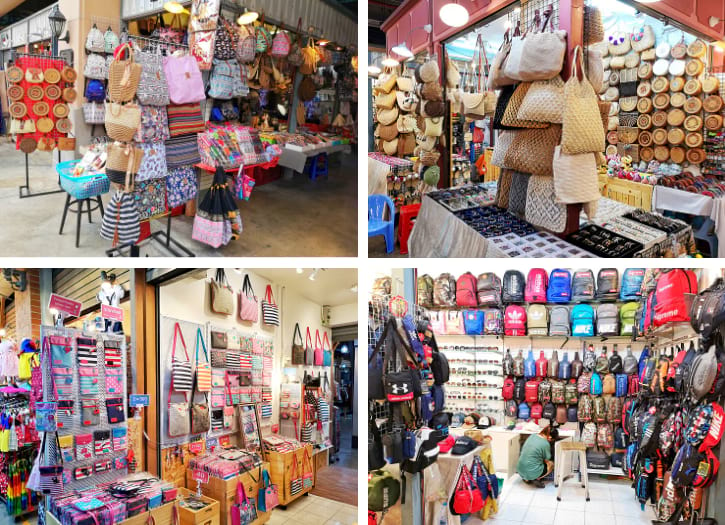 Are you looking for some hand-woven straw bags?
Luckily, there's no scarcity of these accessories in the market. From sling bags to shoulder bags, you'll surely love the assortment of lovely bags in each stall.
In addition to that, you'll be surrounded by rattan bags and backpacks in different colors.
So, whatever you need, you've got something to complement your style.
5. Unique and Comfy Footwear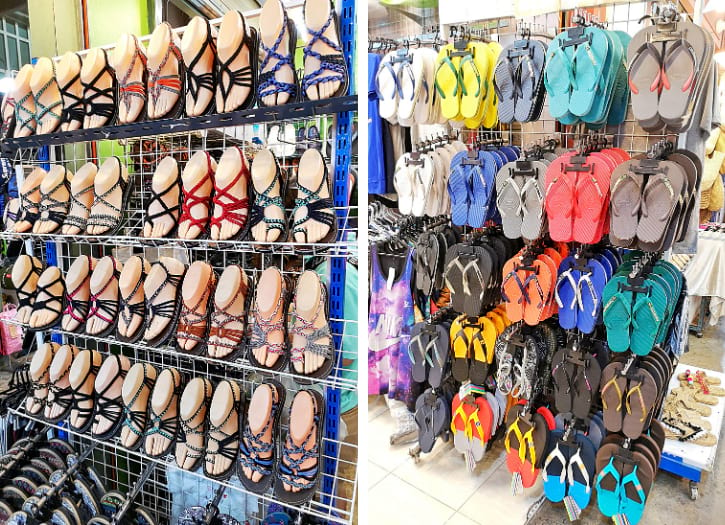 Continue strolling around and you'll come across the footwear section.
The slippers and sandals here are definitely worth buying. These are perfect options to match your chic OOTDs, whether you're eyeing for fancy design or just a simple one.
6. Cool Accessories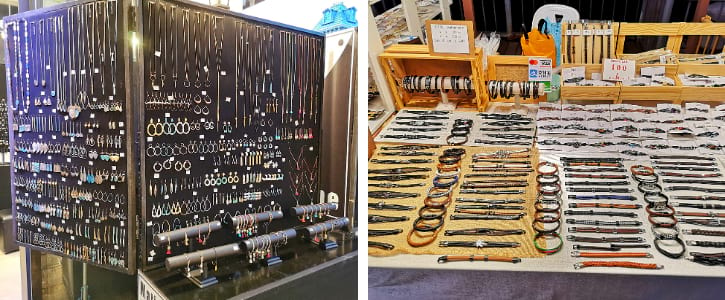 Finish off your look with these stylish accessories, including necklaces, watches, and bracelets.
And if you want more shopping options, it's recommended to visit Pratunam and Chatuchak markets as well.
Just make sure to read my complete guide to Chatuchak Weekend Market and Pratunam Market for full details of the things you can buy there.
Souvenirs from Asiatique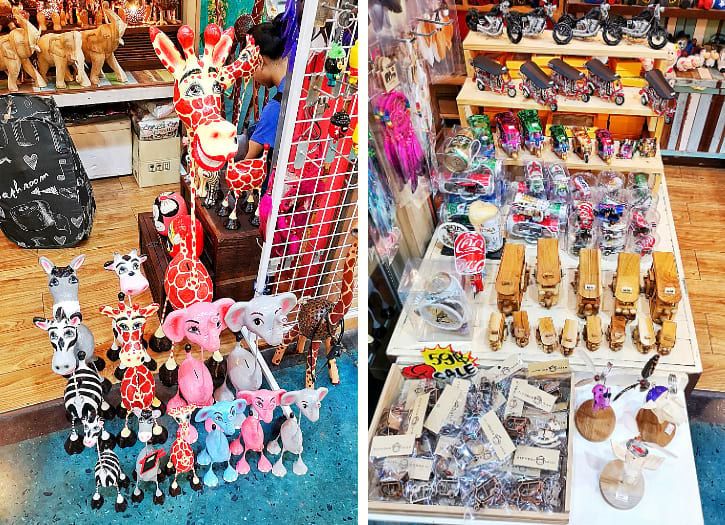 Your shopping would not be complete without these eye-catching souvenirs.
See the charming Thai magnets, cute wooden pieces, and other special items. These are the best take-home items if you're on a budget.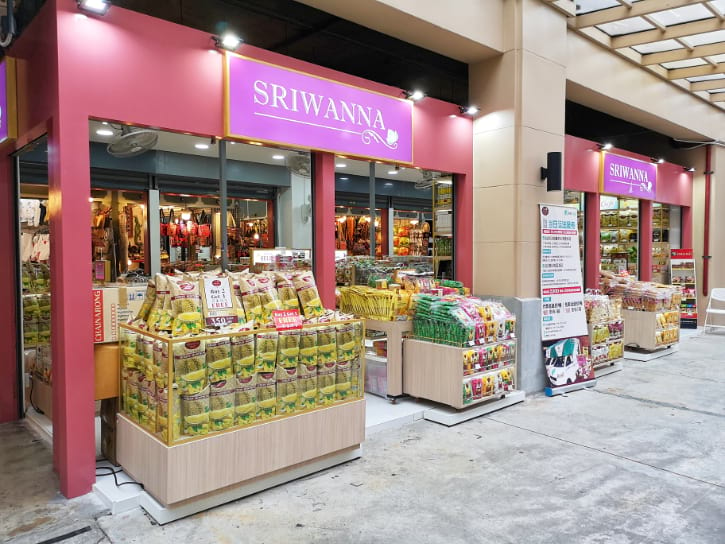 One of the greatest finds you'll uncover in the market are these tasty, dried fruits.
And if you spend a day trip to Maeklong Railway Market from Bangkok, you'll be surprised by their display of dried fruits.
In fact, these are way cheaper than the malls and the stalls here.
Tasty Street Foods at Asiatique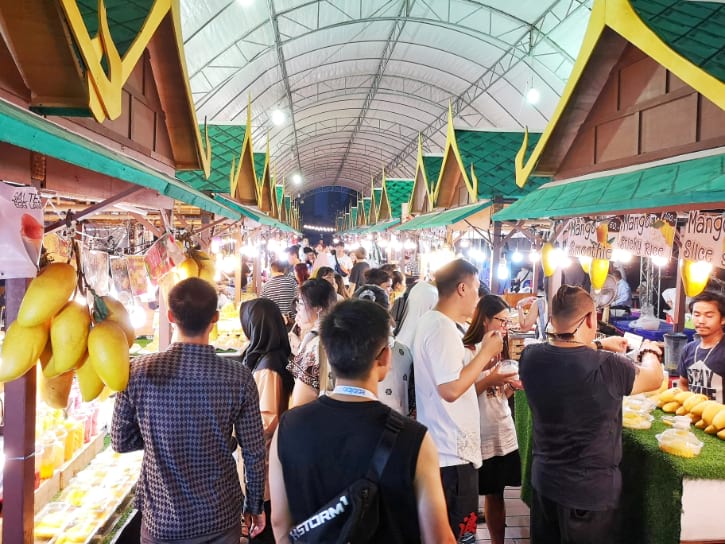 Asiatique The Riverfront is definitely not just about shopping.
Go food hunting at the food market and try different tasty foods and drinks. Surely, there's no shortage of mouth-watering cuisines here.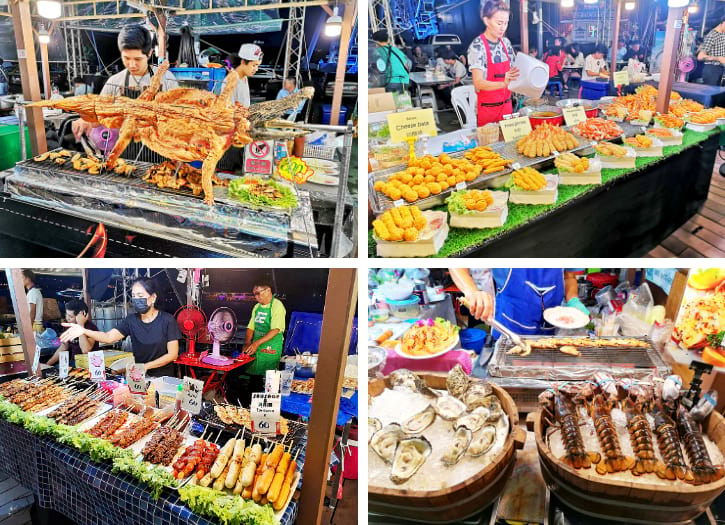 Next on the list are these exotic food displays. The crocodile grill is definitely a must-try for those with a heart for exciting foods.
If you're not a fan of exotic stuff, there are other tasty grilled options to lighten up your mood. Enjoy some BBQ chicken, pork, and beef skewers.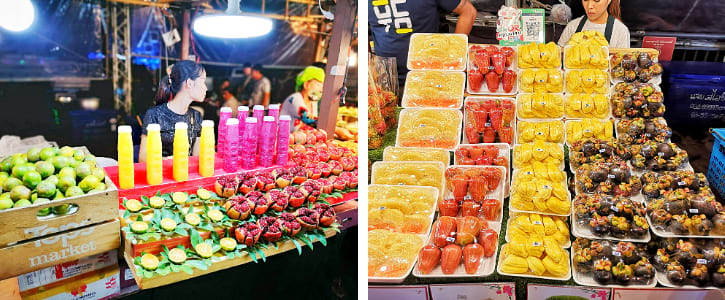 And, don't miss the healthy fruits and refreshing drinks. These are the perfect treats to cap off your food escapade.
Best Restaurants at Asiatique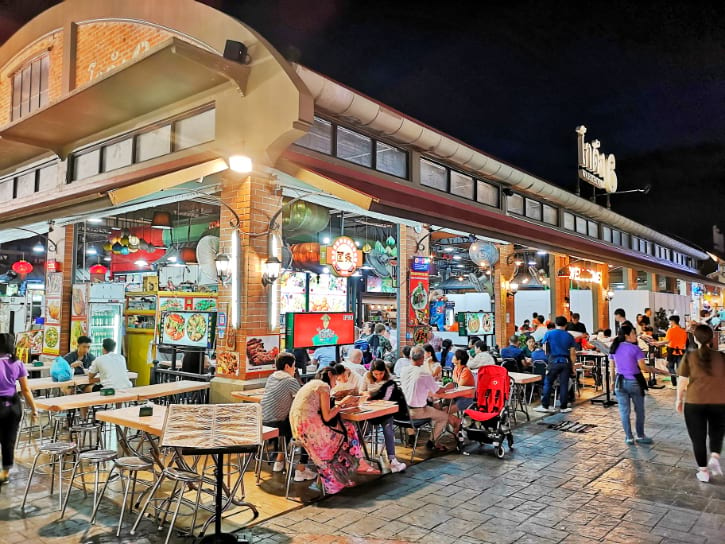 If you're craving some tasty and legit Thai cuisines at the Asiatique The Riverfront, nothing to worry about because there are a lot of options.
Below are my top picks for the best restaurants in the area.
1. Kodang Talay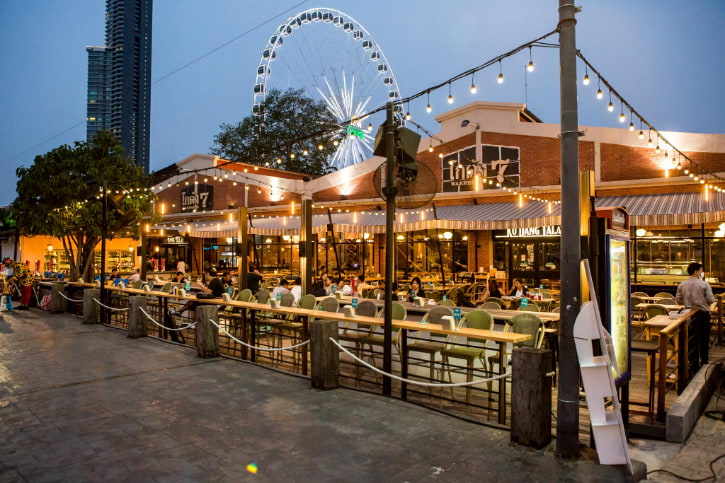 One of the most visited Thai restaurants here is Kodang Talay. This famous spot offers both scenic river views and delicious Thai seafood.
So, if you prefer fine dining, this is highly recommended.
2. Happy Fish Restaurant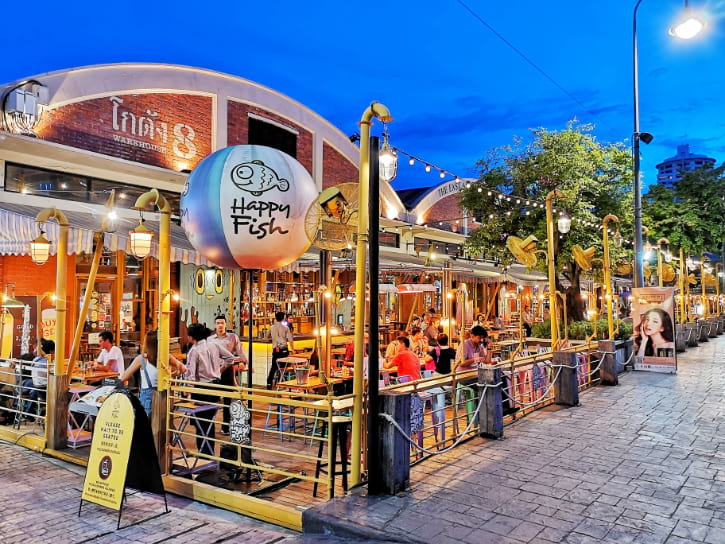 Happy Fish Restaurant is another famous spot in the area. This restaurant serves Thai-fusion and European dishes.
And one highlight of this dining spot is that it features a live band performance every night.
3. Capri Italian Restaurant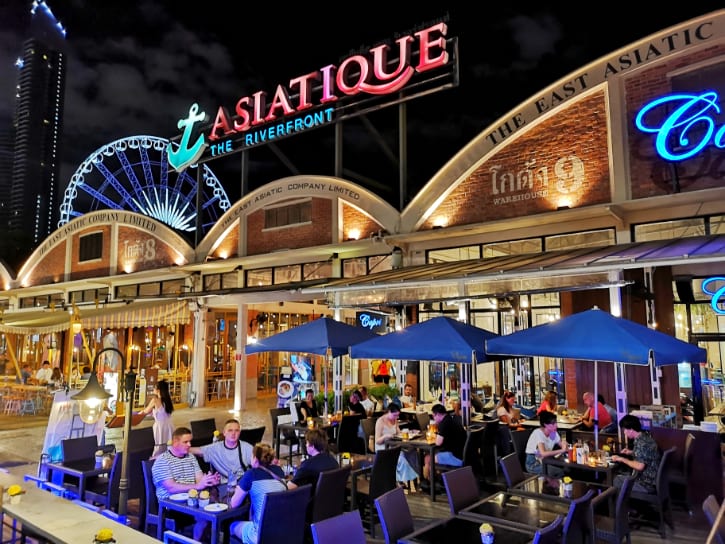 *Permanently closed 🙁
Take a break from Thai dishes and enjoy a platter of Italian treats. Capri Italian Restaurant offers plenty of Italian dishes. Plus, this is located at the riverfront, giving you more picturesque views.
4. Wine I Love You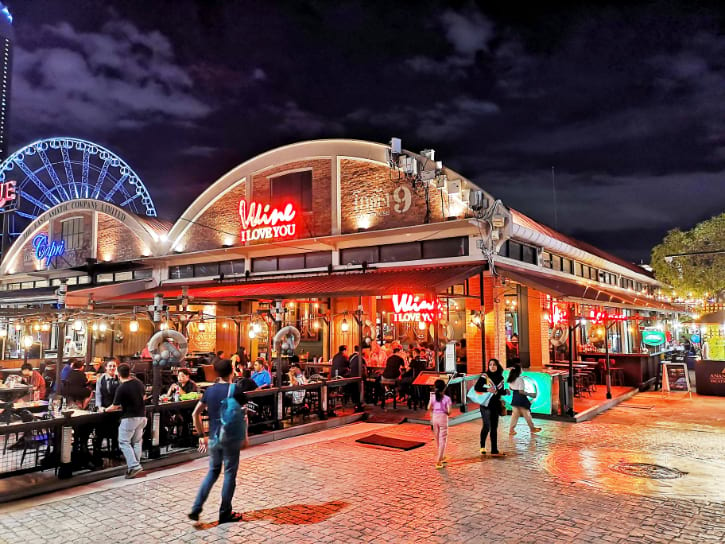 Enjoy a lovely night out with some tasty drinks at Wine I love you. This is a nice spot to chill around and appreciate the surroundings.
5. Brick Bistro Restaurant & Bar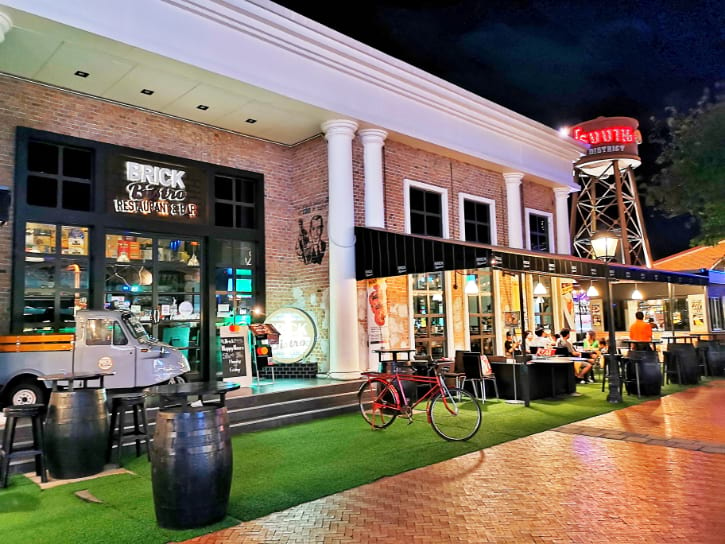 What about a restaurant and a bar? Well, Brick Bistro Restaurant and Bar can give you both features.
The place has a diverse food menu and drinks. And to spice up the night, there's a live band that serenades the customers.
6. Kacha Kacha
Japanese dishes are also part of the selection. Relish a bowl of ramen or finish your bento meal at Kacha Kacha.
7. KFC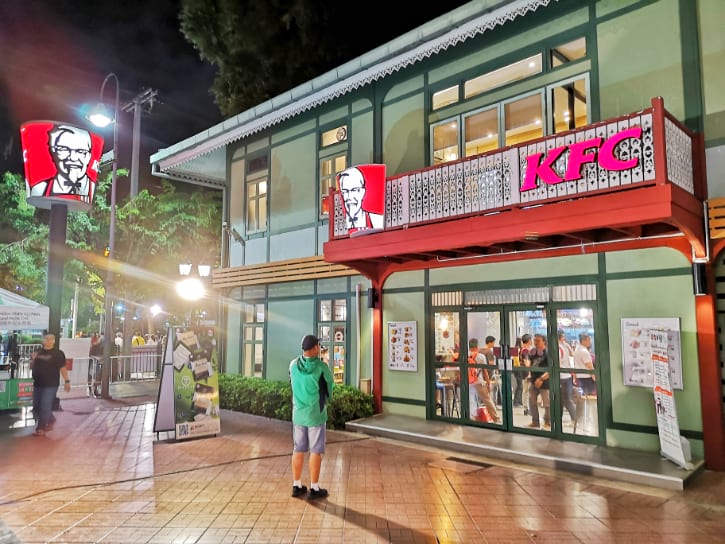 In case you are on a tight budget, KFC is there to the rescue. This famous fast-food restaurant is a great option for travellers who don't want to empty their wallets.
Besides reading my Asiatique article, I recommended you to also check out my article on Chocolate Ville here. It's a very beautiful dining park in Bangkok that's surrounded by colourful European-style architecture.
Entertainment and Shows
1. Asiatique Sky (Ferris Wheel)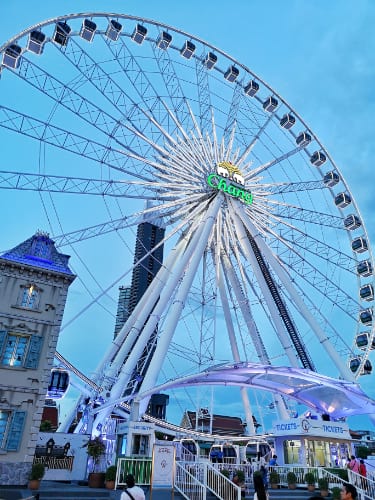 See the entire river scenery and cityscape of Bangkok from above. Hop aboard the Asiatique Sky and enjoy a relaxing ride.
This giant ferris wheel is a great escape from the crowded market setting.
Ticket Prices:
Adult: 450 Thai Baht
Child (Height < 120 cm): 250 Thai Baht
Senior Citizen (60 and above): 250 Thai Baht
2. Grand Carousel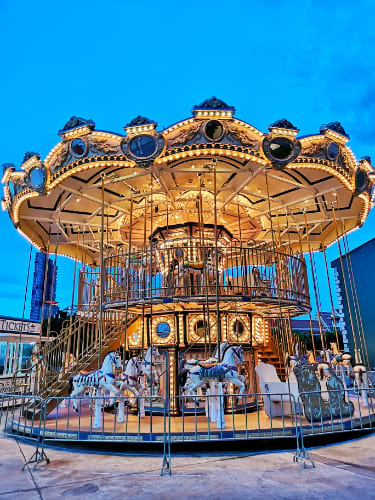 If you want a calmer ride, head straight to the Grand Carousel. This is a perfect attraction for those travelling with kids or even those who want a laidback ride.
Ticket Prices:
100 Thai Baht
3. Mystery Mansion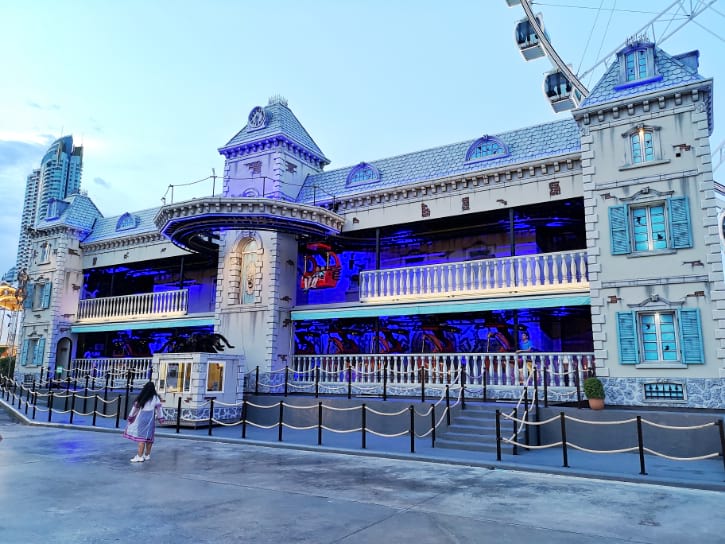 Welcome to the first-ever haunted train in Thailand! Mystery Mansion gives you the thrill that you need.
Steady your heart for 3 minutes as you go through a haunting journey.
Prepare yourselves as you will encounter lots of ghosts along the way. Each seat caters to up to 2 persons, so you've got a buddy to share your horror with.
Ticket Prices:
200 Thai Baht
4. Calypso Cabaret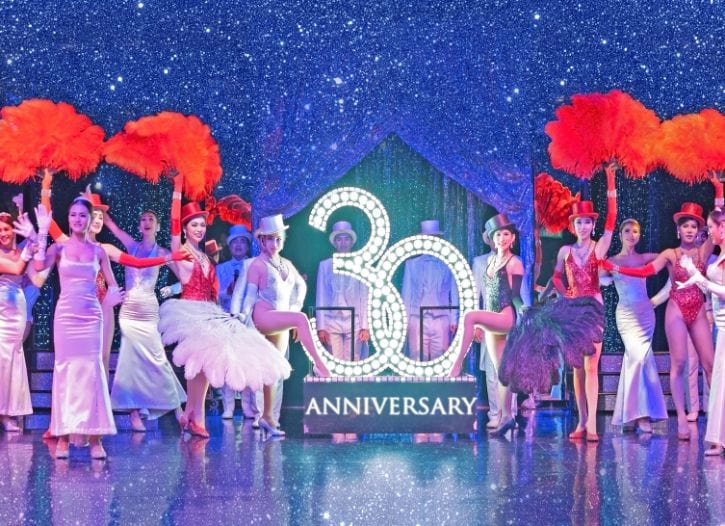 No need to fly to Vegas to witness a dazzling theatrical/ dinner show.
This 1.5-hour performance features the most beautiful and extremely talented transgenders in Bangkok in one magical night.
Normal Ticket Prices:
900 Thai Baht
Book Calypso Cabaret Show Tickets Online (Save up to 25%)
5. Muay Thai Live: The Legend Lives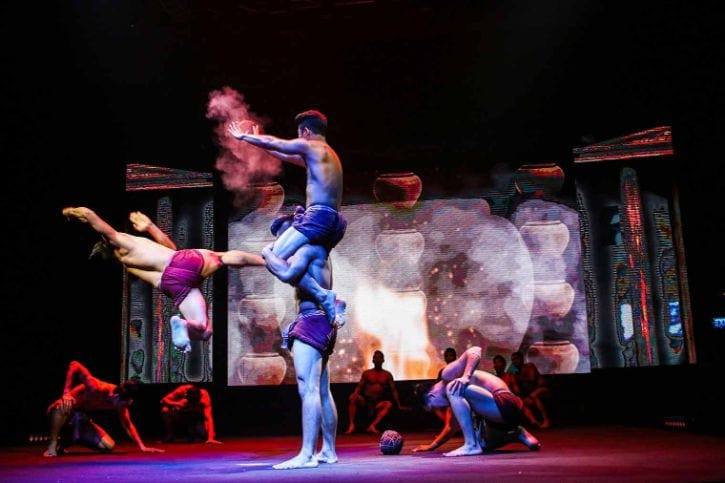 Catch this thrilling performance at Muay Thai Live: The Legend Lives.
Watch in awe as these talented Muay Thai fighters showcase their fast and skillful movements to the crowd.
Normal Ticket Prices:
Adult: 1200 Thai Baht
Child (Height 90 cm – 140 cm): 500 Thai Baht
Book Muay Thai Live Tickets Online (Get up to 25% OFF)
6. Joe Louis Thai Puppet Theatre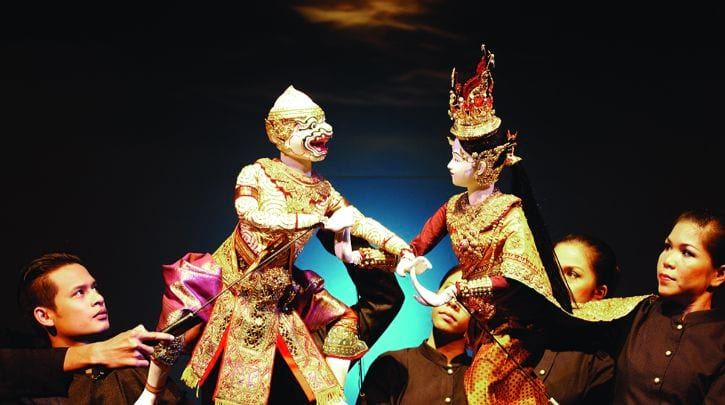 Enjoy a night full of humour and laughter. Joe Louis Thai Puppet Theatre is a famous show that reveals the traditional Thai puppetry.
Ticket Prices:
Adult: 450 Thai Baht
Child (6 – 12): 400 Thai Baht
Asiatique Map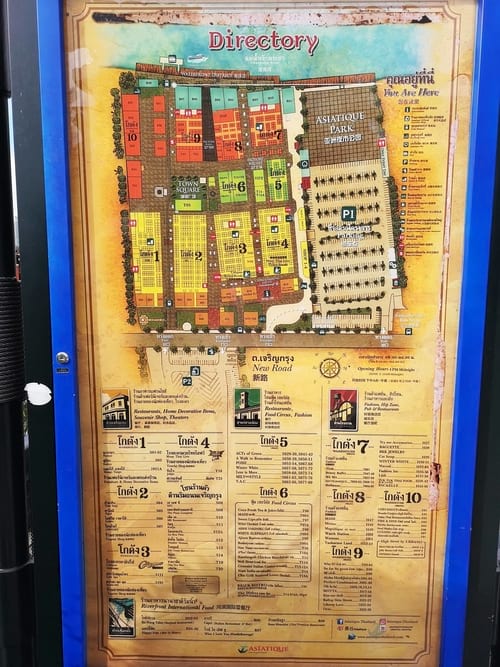 To assist first-time visitors, there are several guide maps scattered around the market.
The photo is one of the many maps in the area, which can help you navigate around the market conveniently.
4 Zones of Asiatique
Asiatique The Riverfront is divided into 4 categories.
So, before you start with your exploration, make sure you are already familiar with the market sections.
1. Waterfront District
The first area is the Waterfront District, which is filled with international restaurants and wine bars.
Since it faces the river, this spot offers amazing water views and outdoor activities.
2. Factory District
The next section is the Factory District, where you'll find most of the fashion essentials.
So, if you're looking for clothes, bags, and accessories, this is the best section.
3. Town Square District
Town Square District is also packed with a wide selection of fashion clothing and colourful bags. In addition, you can find some restaurants and beverage stalls here.
4. Chareonkrung District
Chareonkrung District is loaded with different souvenirs and home decors. Also here are some clothing stalls, restaurants, and fun shows.
Opening Hours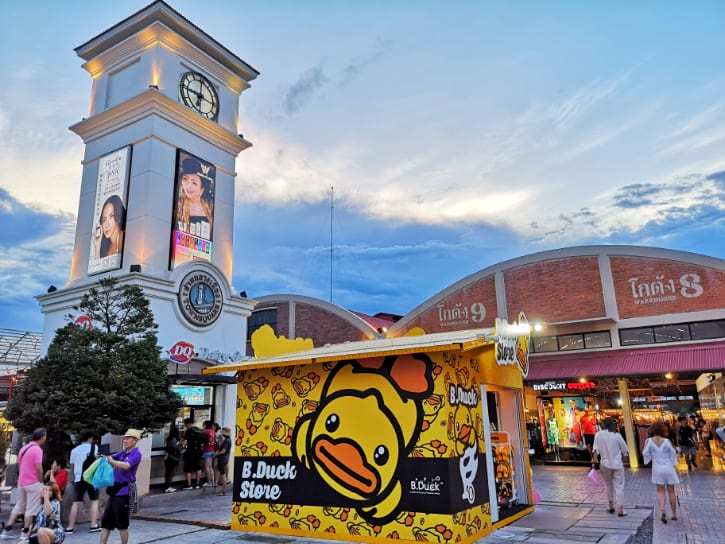 Before visiting Asiatique The Riverfront, it's best that you know the schedule ahead of time.
The market opens from 4 PM until midnight, so make sure you explore the place in between this time.
Official Website:
https://www.asiatiquethailand.com/en/home
My Tips
To make your Asiatique adventure more convenient, here are some important tips.
First is the best time to go to the market, which is around 5 PM onwards. Then, it's suggested that you spend at least 3 hours there.
Another thing is to take the BTS Skytrain and free shuttle boat to save money. This is also the fastest and most convenient option to reach the market.
It's not advisable to ride a taxi to there because of the traffic jam.
How to Get to Asiatique by BTS and Boat
The nearest BTS station to Asiatique The Riverfront is Saphan Taksin Station. Once you get off the BTS Skytrain at the station, go out the Exit 2 for Sathorn Pier. From there, you can take the Asiatique free shuttle boat to the market in 10 minutes.
So, let's check out the step-by-step guide below to know how to reach there.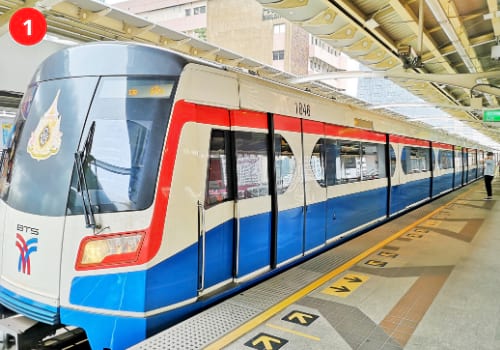 1. Take the Silom Line to Saphan Taksin BTS Station.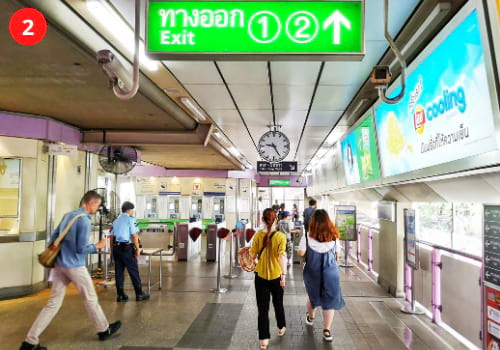 2. When you arrived at Saphan Taksin BTS Station, you should go out the Exit 2.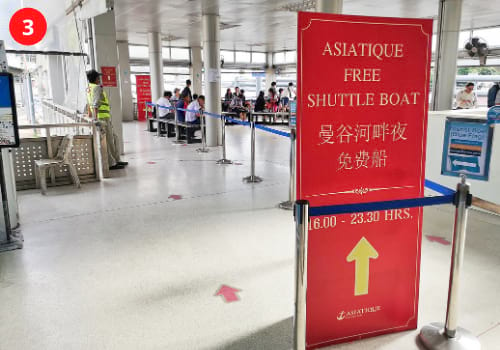 3. Follow the Exit 2 direction boards which will lead you to Sathorn Pier.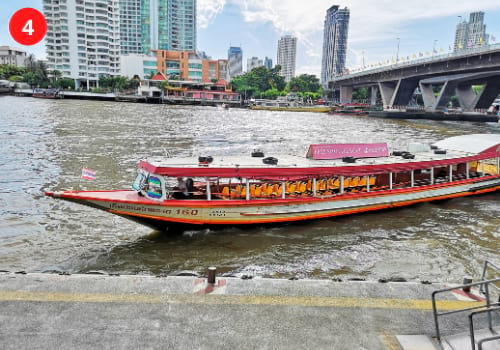 4. At Sathorn Pier, jump on the free shuttle boat to Asiatique The Riverfront. The free shuttle boat will drop you at the Asiatique Pier. Once you get off the boat, you'll discover the night market.
Asiatique Free Shuttle Boat Operating Hours:
4:00 PM to 11:30 PM
Every 15 minutes
Now, we've come to the last part of my Asiatique Bangkok blog post. I hope you enjoyed reading the guide and you gain new insights about this popular attraction. 🙂
Truly, this marketplace is such a fun destination for all ages. It's a great place packed with fantastic shopping and dining opportunities.
And of course, all these are beautifully complemented with the lovely river views.
Related Posts