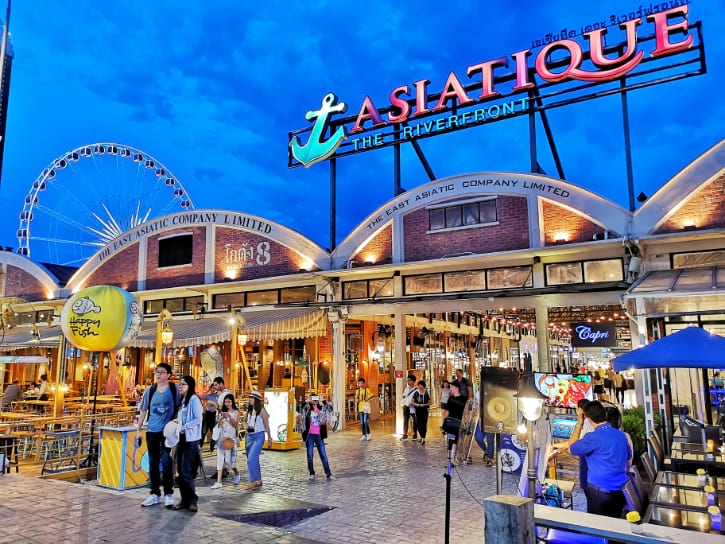 Experience Thai culture in a market filled with foods, shopping finds, and entertainment.
Here's the most complete guide and map to Asiatique The Riverfront in Bangkok for new visitors.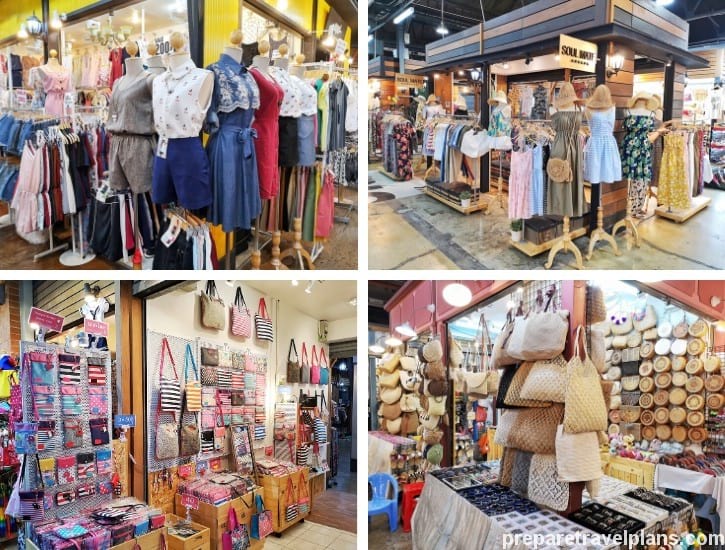 With the help of this blog, you will learn what to shop, buy, and eat in Asiatique The Riverfront.
Not only that, this will provide you with different entertainment options available in there.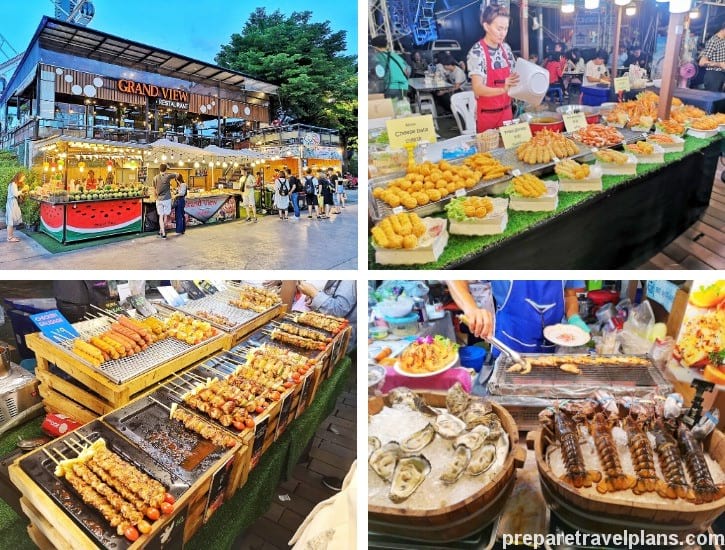 In addition, I will include pictures, along with valuable information so you'll be more familiar with the market.
Therefore, you can get a better idea of how the market looks like, especially if you're a first-time traveller.
Also, I will share some important tips and personal experiences in the market that you can take as guide.
These include tips on how to maximize your time in the market so that you can fully enjoy during your visit.
Plus, I will show you how to get to Asiatique The Riverfront by BTS and boat in this blog. Hopefully, this can help you to save your time on doing research.
Overall, this comprehensive guide will help you to get familiar with what to do in Asiatique The Riverfront. Not only that, it will help you plan a smooth trip to this famous attractions.
So, let's not delay it and know more about the amazing charms of Asiatique The Riverfront.
Bounded with scenic river sights, Asiatique The Riverfront offers everything you need for a memorable stay in Bangkok, Thailand.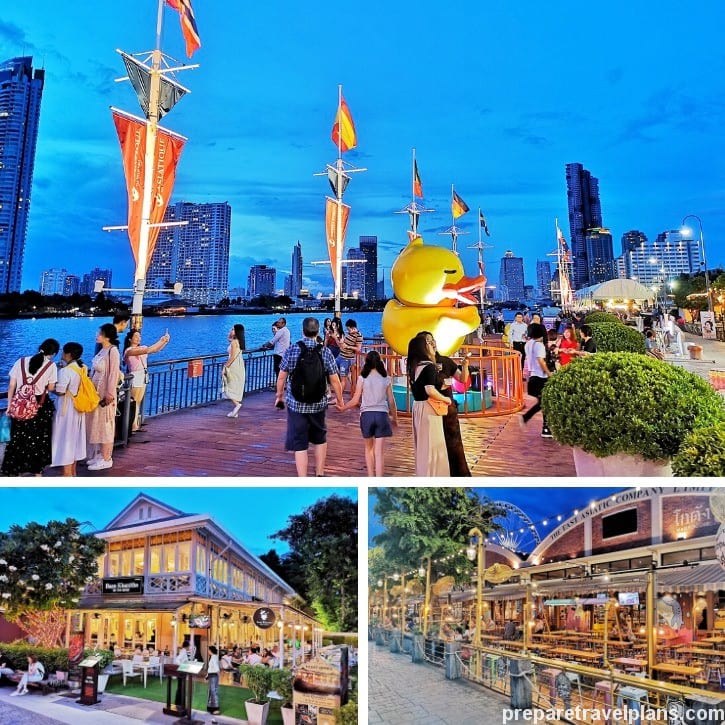 This popular open-air mall is loaded with restaurants, shopping stalls, food markets, and entertainment spots.
At night, this famous market becomes more dazzling with all its vibrant shops and decorations.
Here you can find all your fashion needs and tummy cravings!
Lots of entertaining activities are present too!
Because of the animated and relaxing landscapes, this market is surely a perfect night-time spot for all ages.
Now, let's dive right in.
6 Important Things You Should Know Before Going to Asiatique The Riverfront
---
#1: Be informed of the mall's opening hours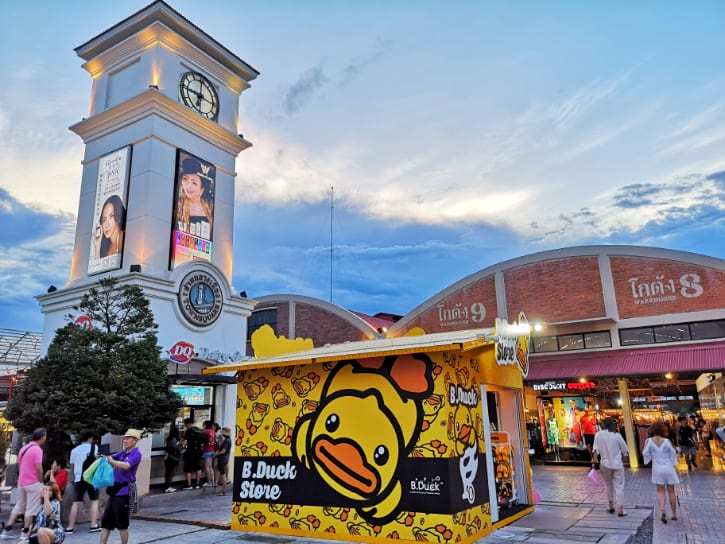 Before visiting the place, it's best that you know the schedule ahead of time.
This market opens from 4 PM until midnight.
#2: Schedule your visit around from 5 PM onwards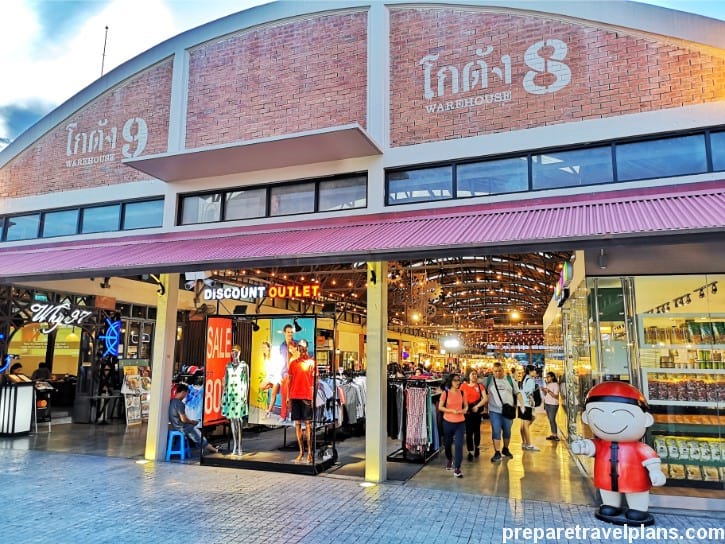 Ideally, the best time to get to the market is around 5 PM.
At this time, most stalls have opened so you can start the adventure in no time.
#3: Allocate at least 4 hours in the market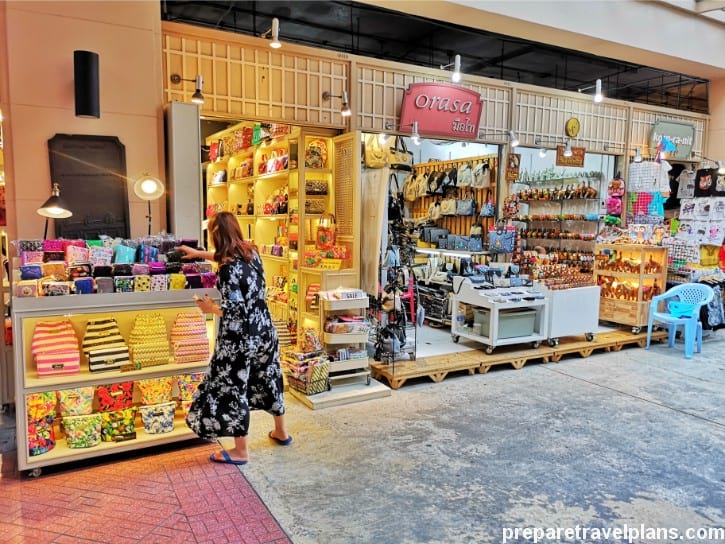 There are lots of things to do here, from shopping to food hopping.
So, make sure you spend at least 4 hours so you'll enjoy every moment.
#4: Use the Asiatique The Riverfront Map as your guide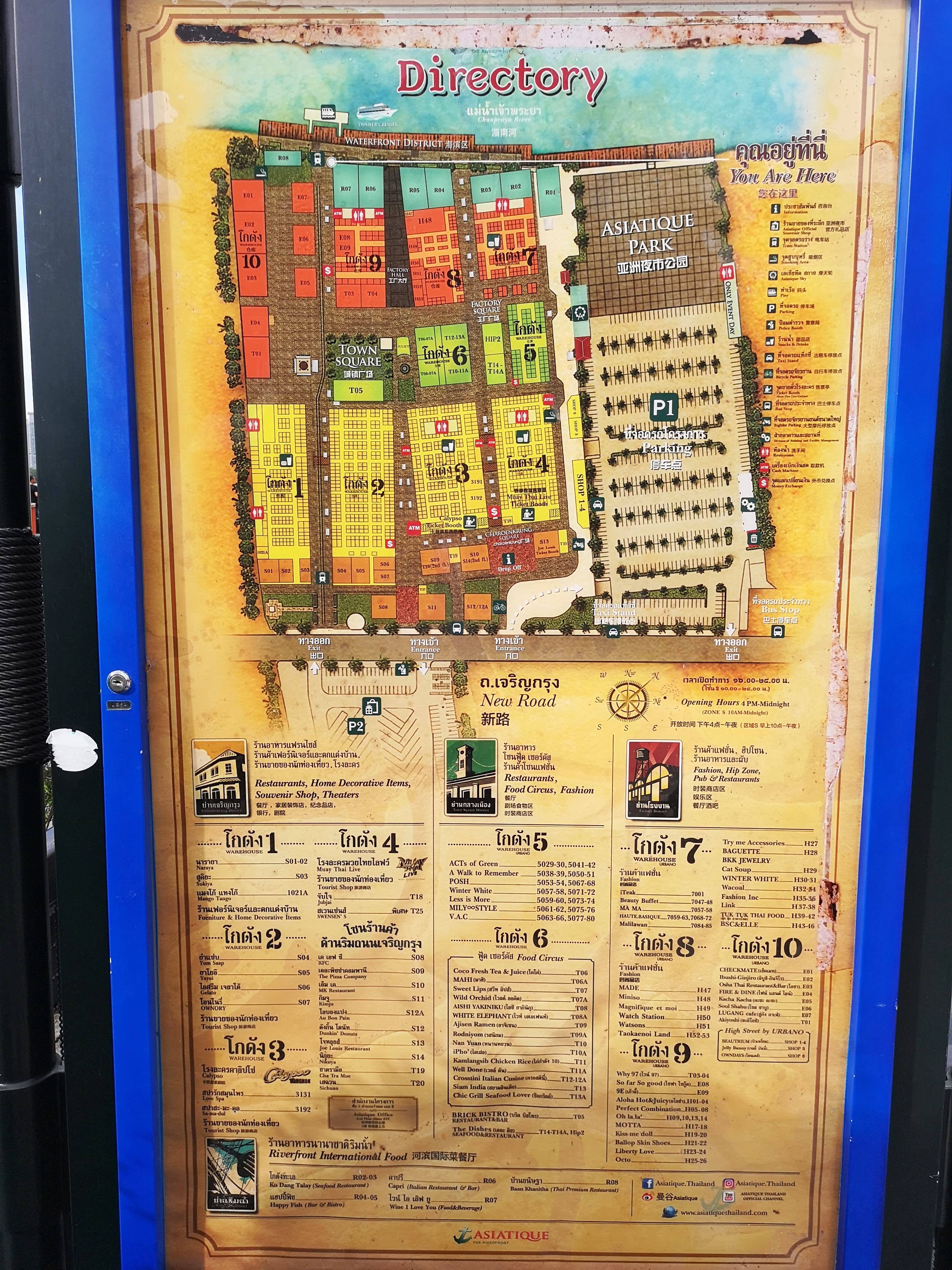 To assist tourists, there are several guide maps scattered around the market.
This will help you navigate around conveniently.
#5: All you need to know about the night market
Asiatique The Riverfront is divided into 4 categories namely:
Waterfront District
Factory District
Town Square District
Chareonkrung District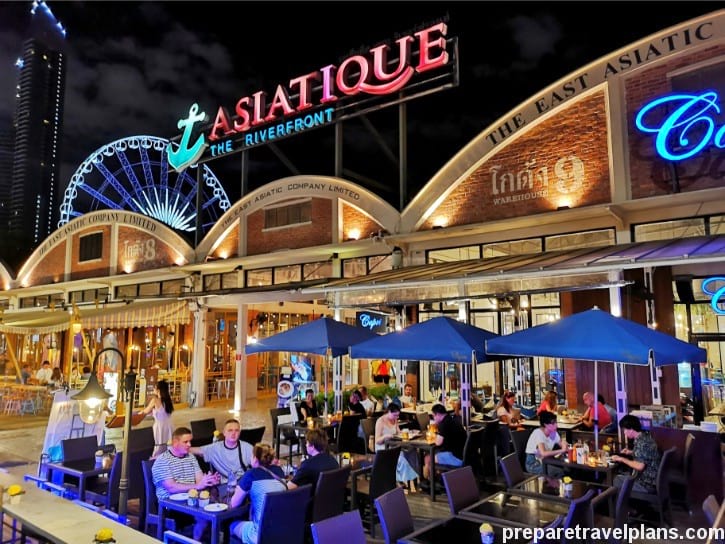 The Waterfront District is the section filled with international restaurants and wine bars.
Facing the river, expect for some scenic water views while dining or enjoying your drink.
Also, this area is loaded with outdoor activities like Asiatique Sky (Ferris Wheel), Grand Carousel, and Mystery Mansion.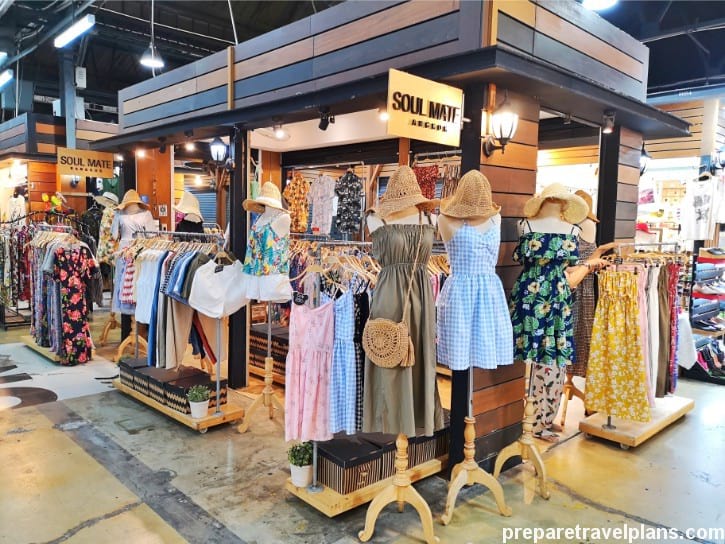 Next section is the Factory District, where most trendy clothing and bags are in full display.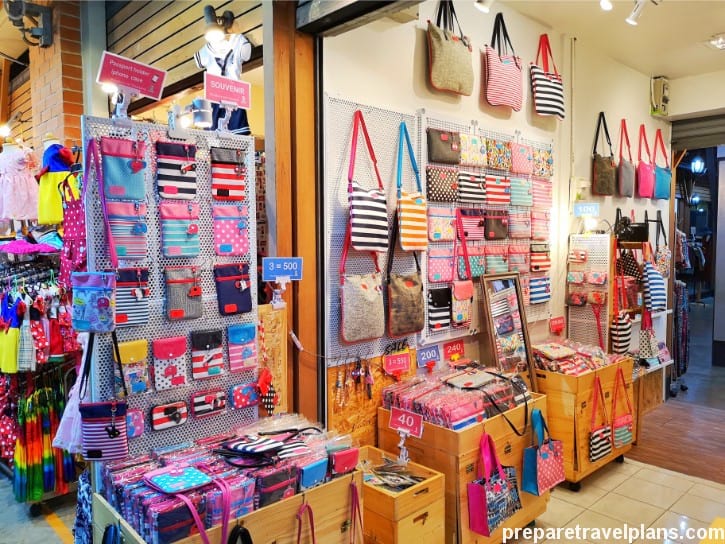 Continue your shopping at Town Square District.
This area is also packed with a wide selection of fashion clothing and colourful bags.
In addition, you can find some restaurants and beverage stalls here.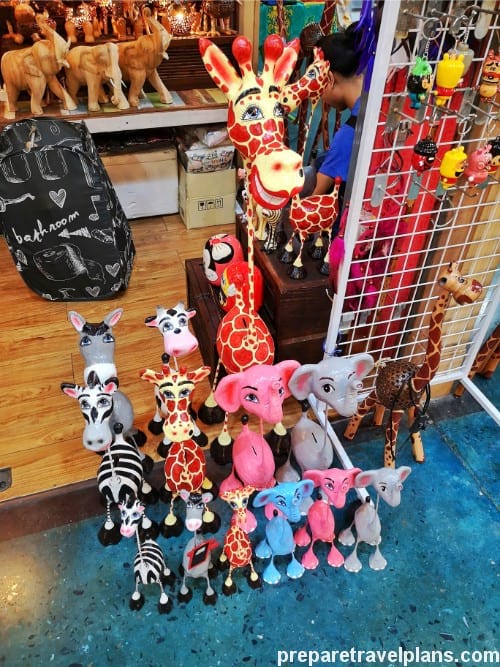 Chareonkrung District is also a favourite spot for those looking for souvenirs and home decors.
Clothing stalls, along with some local and fast-food restaurants, are here too.
Also here, you'll find shows like Calypso Cabaret, Muay Thai Live: The Legend Lives, and Joe Louis Thai Puppet Theatre.
#6: Avoid taking a taxi to and from the market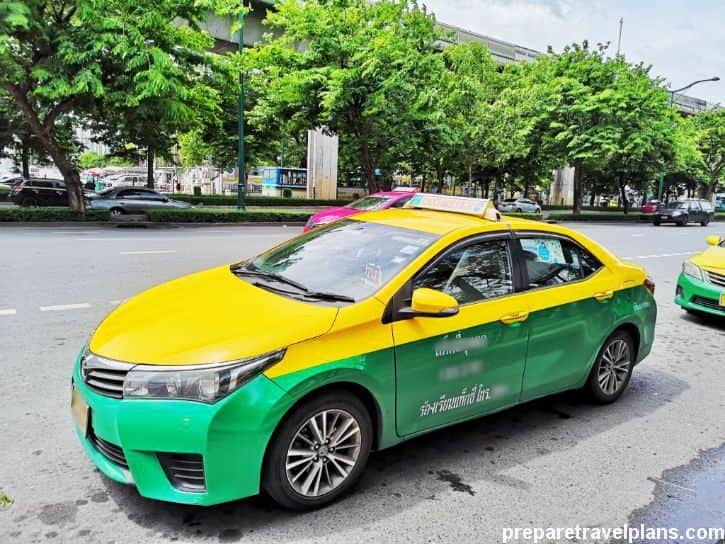 One thing to note when going to the market is to avoid taking a cab.
It's because this area is pretty much jam-packed with vehicles, hence traffic is a normal scene.
So, if you take a taxi, then your travel cost will be higher because of the traffic jam.
To save money, it's best that you take the BTS Skytrain and free shuttle boat.
This is also the fastest and most convenient option to reach the market.
Don't worry, I'll show you how to get to Asiatique The Riverfront via BTS Skytrain and free shuttle boat later.
What Things to Do in Asiatique The Riverfront?
---
In this section, I will help you go through the abundant attractions waiting for you in Asiatique The Riverfront.
This included:
So, you can prepare ahead of time and able to know what things you shouldn't miss out in this popular night market.
Now, let's start with number one! 🙂
1. What things you can enjoy when you stroll along the riverside?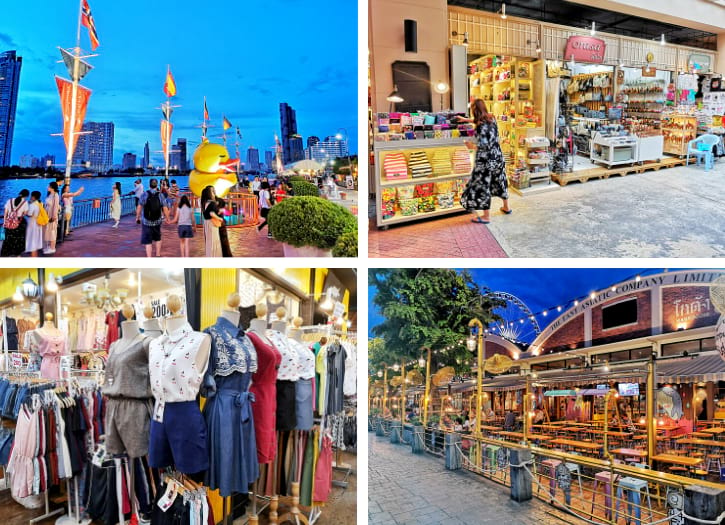 Bordered by the panoramic Chao Phraya River, one of the best things to do here is to simply stroll around.
Enjoy the scenic views together with your family and friends.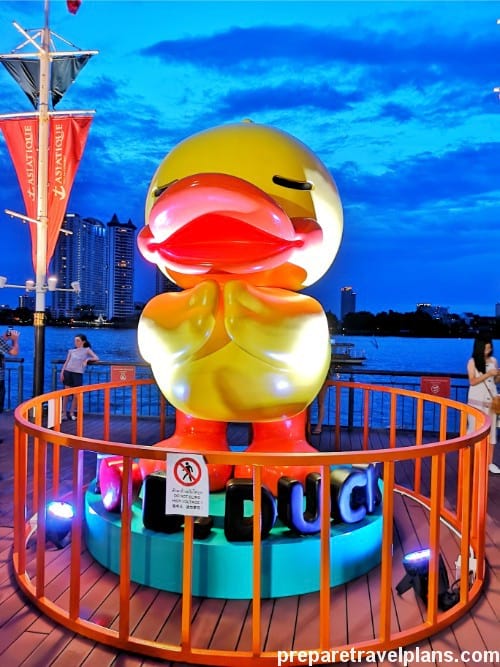 You can't miss this yellow duck display stationed at the riverside.
Stand beside this famous landmark and strike a pose before you start a fun-filled adventure.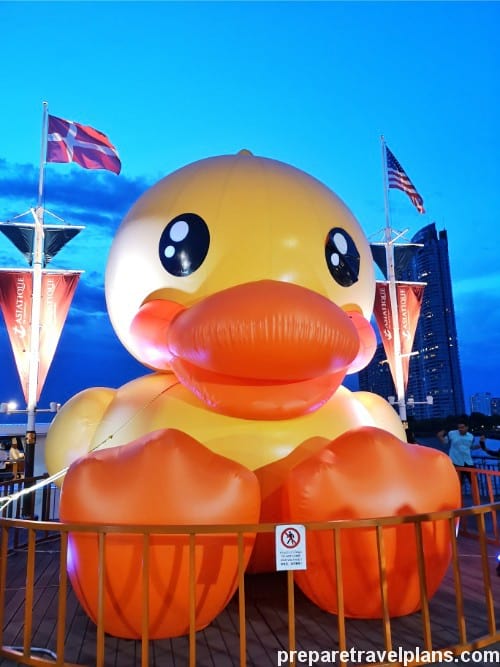 Not one but two!
You can find another giant yellow duck at the night market.
So, if you miss the first one, you have another opportunity to get a picture with this adorable giant.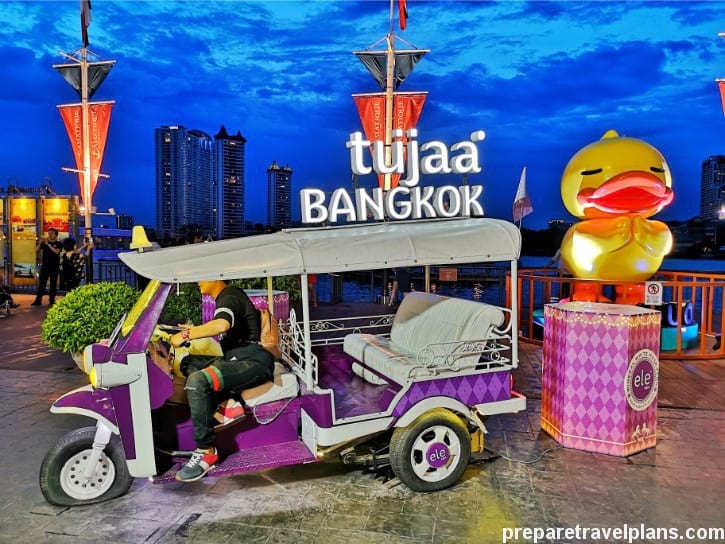 Positioned right beside the yellow duck display is the traditional Thai transportation―the tuk tuk.
Get inside this popular vehicle and act like one of the passengers or the driver!
2. What things you can shop and buy in Asiatique The Riverfront?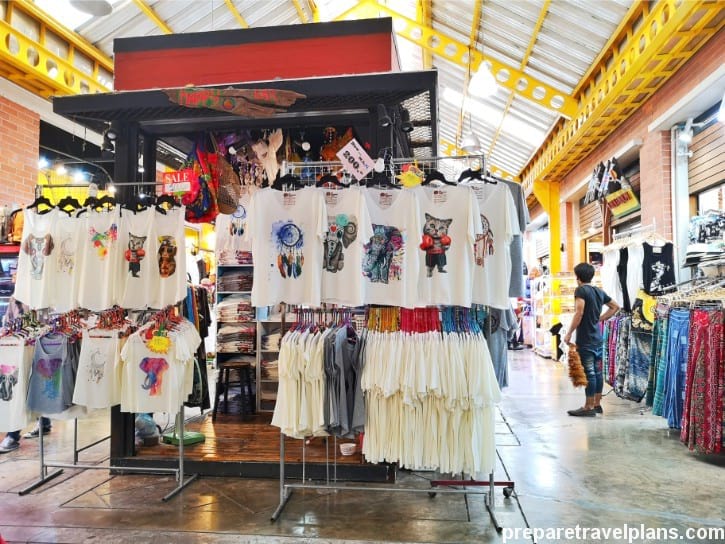 Of course, shopping is one of the most popular activities in this night market.
Get your own animal printed T-shirt from one of the many stalls.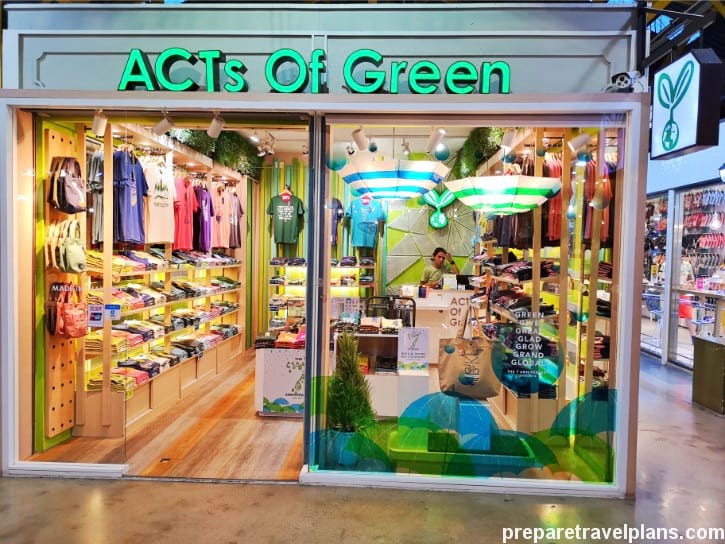 A famous stall in the market is ACTs Of Green, where you can find products that promote sustainable living.
Made from quality and ecological materials, buying a product from this shop is a great act of helping nature.
A popular stall among fashionistas and trendsetters is Winter White.
This shop has everything you need for your fashion desires, from chic sandals to casual tops to stylish accessories!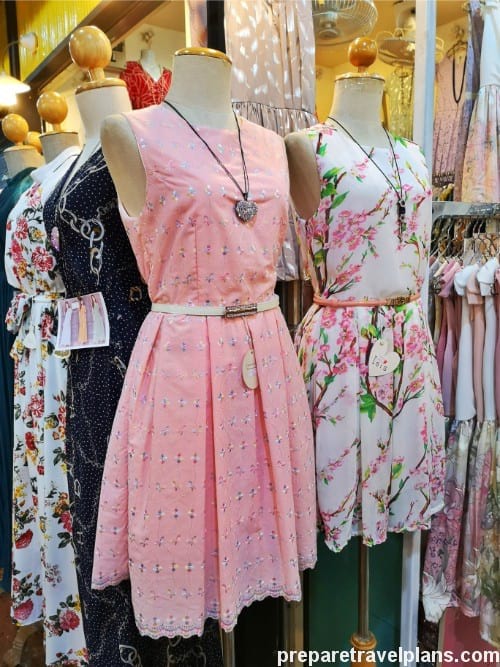 If you're looking for trendy pieces or casual dresses, you'll never run out of options in the market.
Left and right, you'll discover something that will surely catch your attention.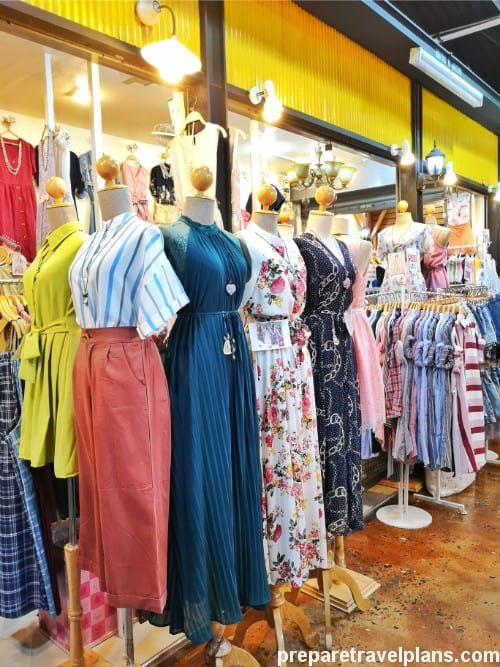 For those who are a fan of long dresses or casual looks, there are heaps of choices too.
Shop your office looks and trendy pieces here.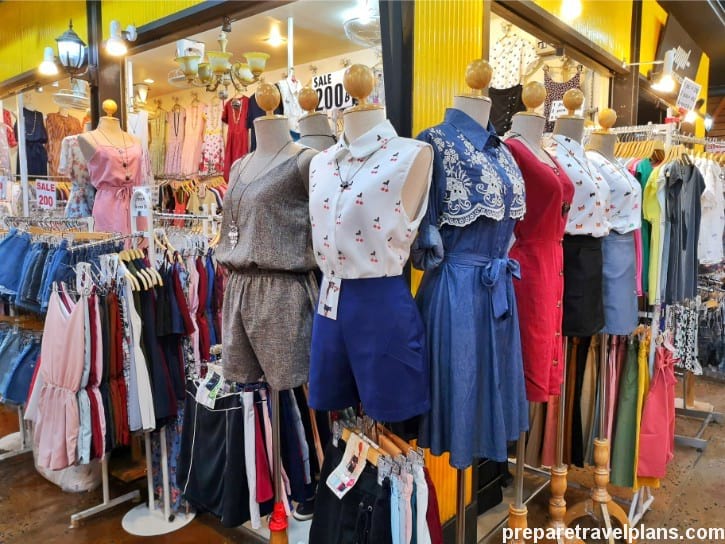 More casual items are displayed so you won't miss your favourite styles.
There are jumpsuits, terno outfits, and chic dresses to choose from.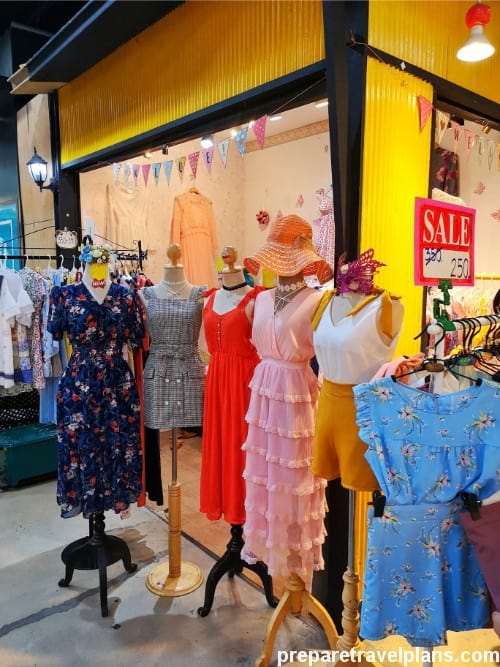 If you're eyeing for beautiful fashion dresses, you'll also find plenty of options at one of the stalls.
These chic clothing items are perfect for a casual outing or a special celebration.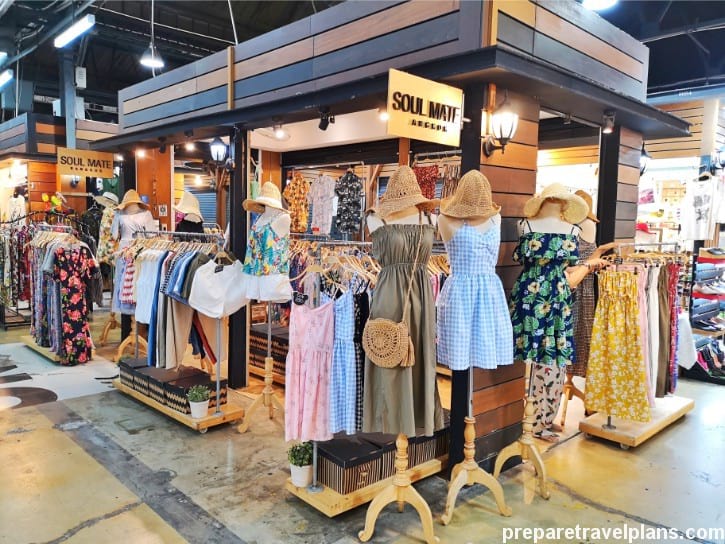 For some lovely sunny dresses and sleeveless tops, check out this store.
You can get inspiration from their stylish displays.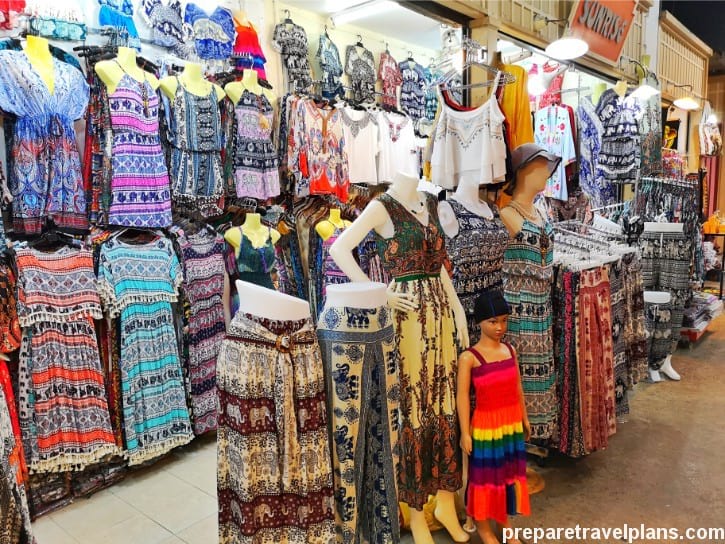 Looking for some prints and patterns?
Get your own piece from this stall filled with eye-catching pieces that represent Thai style.
Some of these are suitable clothing you can wear inside temples and museums.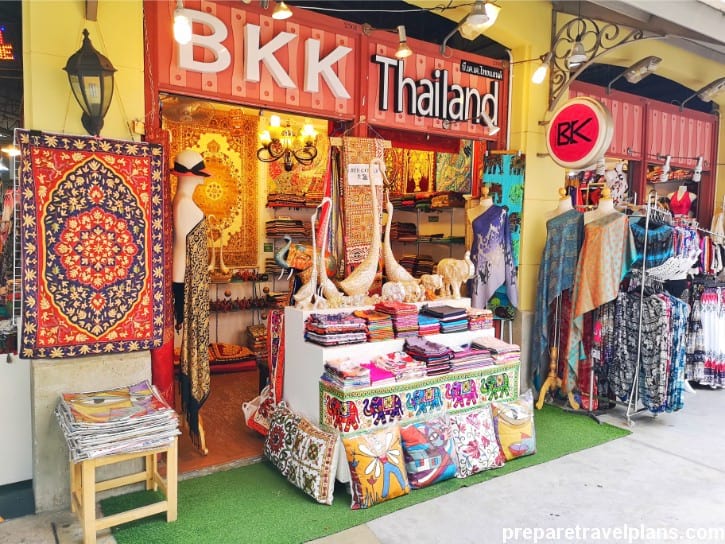 If you can't get enough of Thai fashion, complete your look with a striking and stylish Thai scarf.
This shop also sells Thai carpets for your home.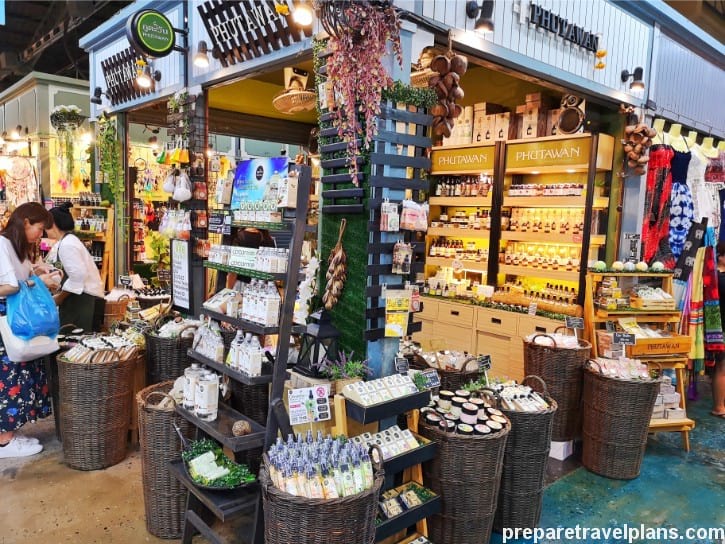 Are you in need of some Thai beauty products?
Shop at Phutawan and you'll love the amazing selection of local products.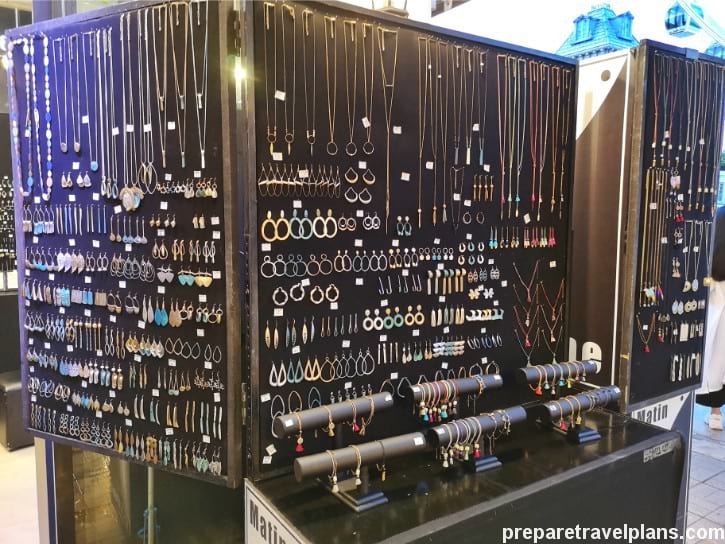 Aside from chic clothes and beauty products, you can also find lots of stylish accessories.
Earrings and necklaces are all over this place, waiting to catch the attention of market visitors.
Handwoven straw bags have been a trend lately.
Purchase your first-ever handcrafted piece from KaCha and sport this on your beach trip.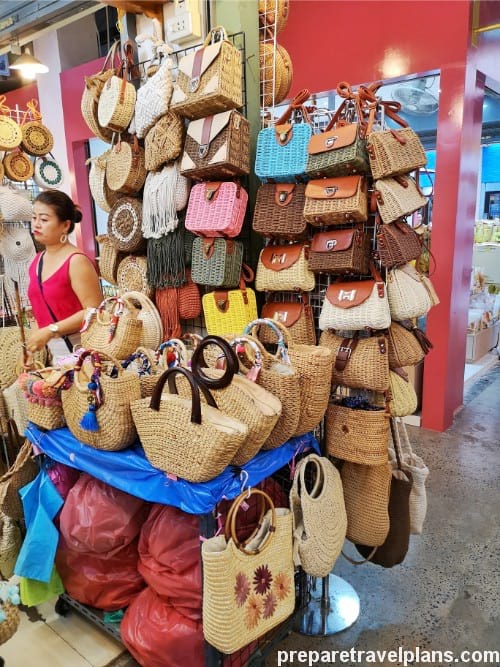 There's no shortage of these kinds of bags in the market.
From sling bags to shoulder bags, you'll love the assortment of these straw bags.
In addition to straw bags, let your eyes wander around this exhibit of rattan and crochet pieces.
These are perfect accessories to match your chic OOTDs.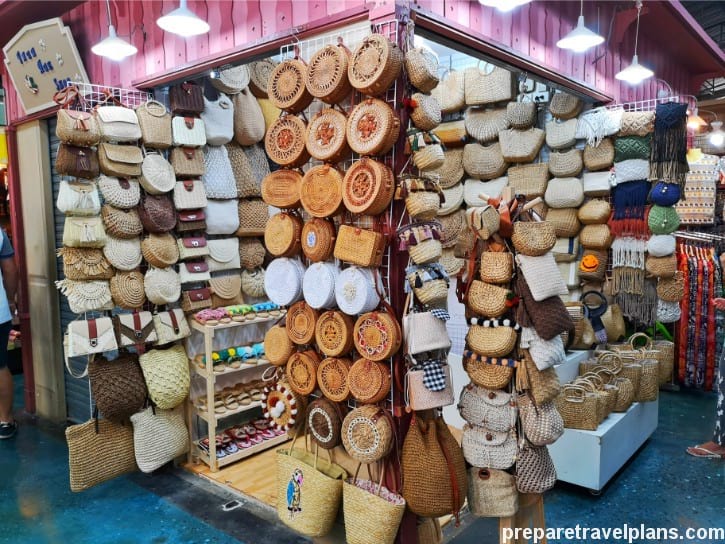 These round rattan bags come in different sizes.
So, whatever your needs, you've got something to complement your style!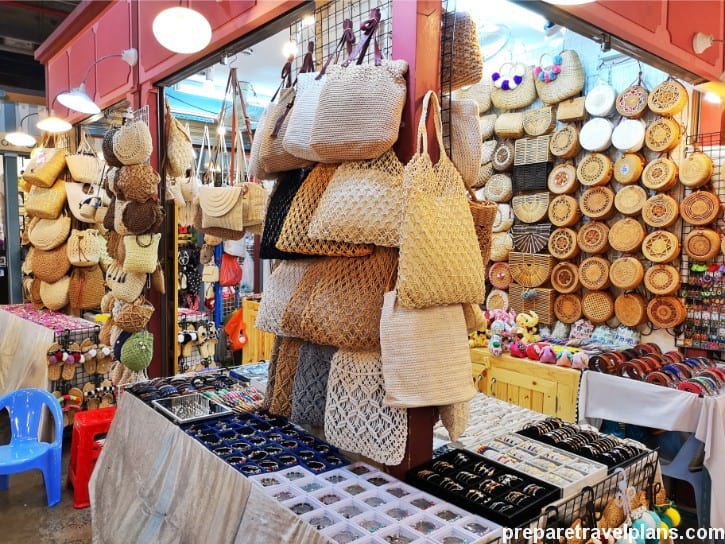 On the other hand, crochet and cotton bags are also peeking.
This stall has tote bags that are great for summer outings too.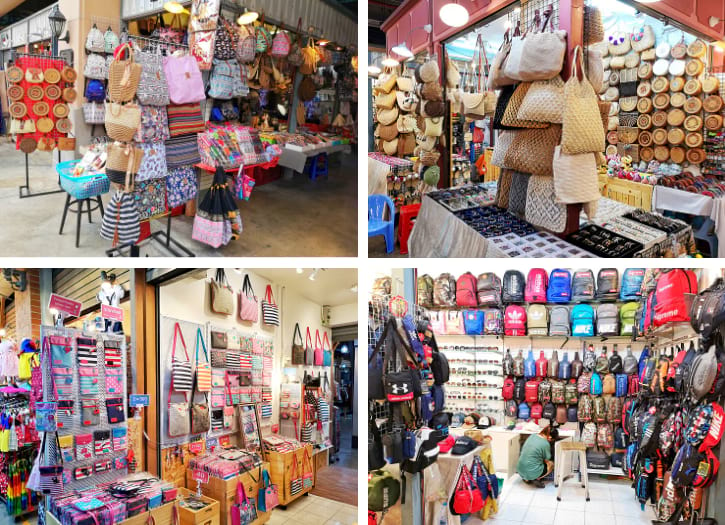 If you already have a rattan bag, why not a new Thai-patterned backpack?
Then, take your eyes to this cute owl bag collection.
This comes in various types, from backpacks to shoulder bags to totes.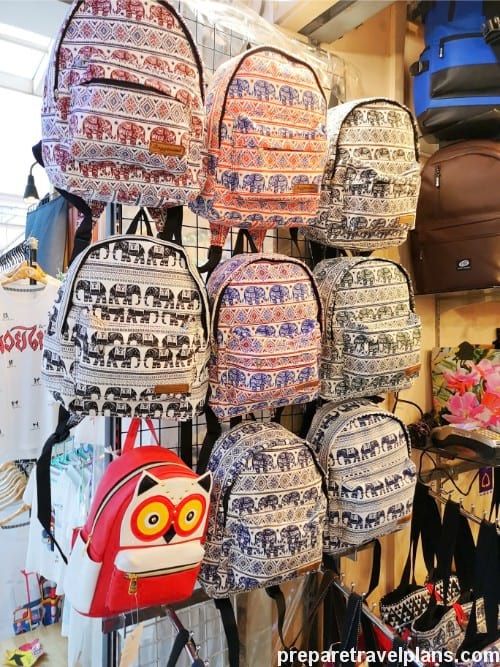 The owl bag collection isn't the only popular style you can find in the market.
Representing the ever-significant Thai elephant, you can have this symbol on your backpack―just like the bags above.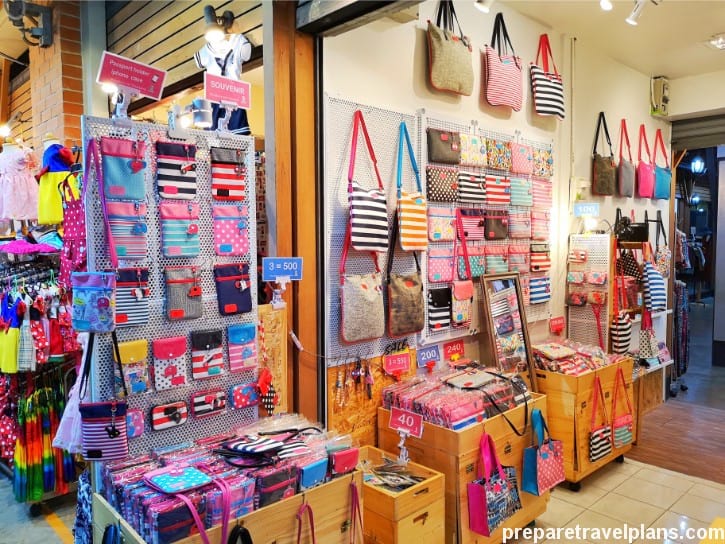 Handmade bags, pouches, and wallets are the highlights of this stall.
So, if you've got a thing for customized items, you'll get your money's worth here.
Thai bags and other local pieces are great take-home items for tourists like you.
Check out the colourful assortment of customized finds from one of these shops.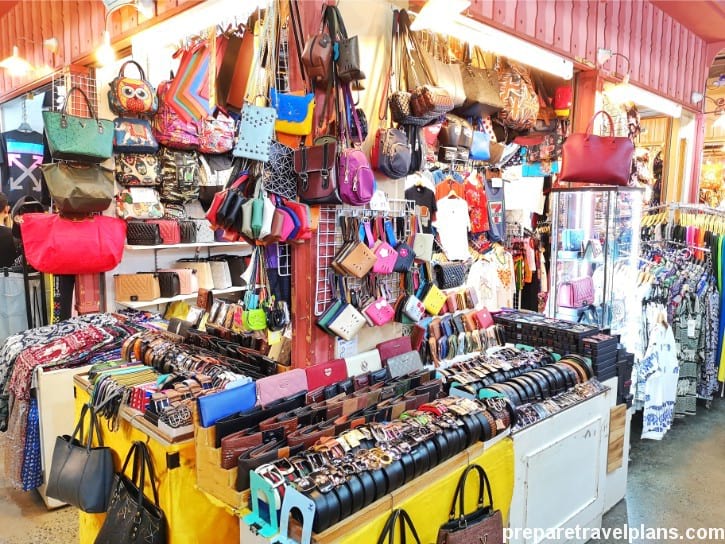 You'll spot lots of stalls selling bags and belts.
For instance, this store has a wide range of accessories for all your fashion necessities.
Get a load of these cute and colourful wallets on exhibit.
In addition, there are plenty of footwear stalls scattered in the market.
Stroll around and get your own pair of striped sandals.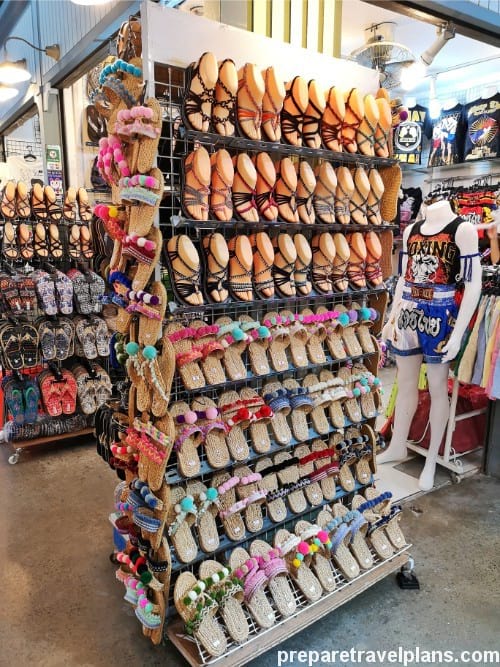 Or, you can opt for a crochet sandal decorated with lovely ornaments.
This sandal beautifully matches one of the sundresses displayed in the market.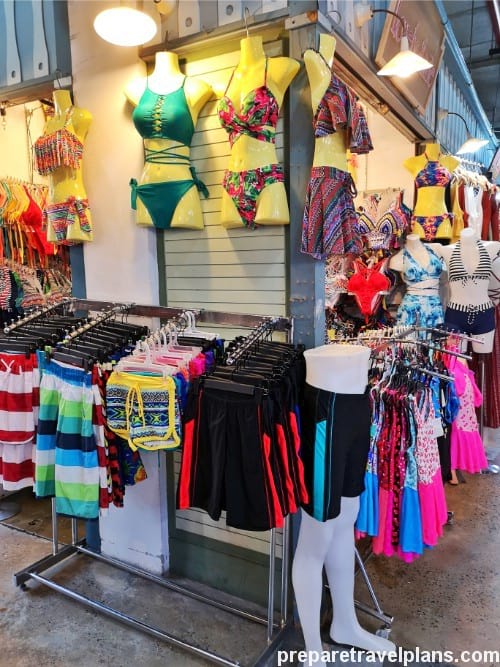 Complete your trip to Thailand with a beach trip.
And if you miss to bring some beach essentials, don't worry because there are stacks of swimwear and beach attires.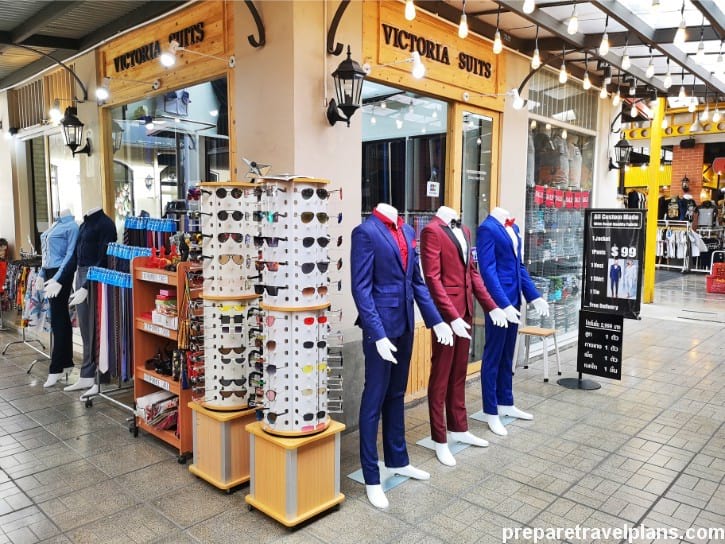 Moving forward, men's fashion style is also visible in the market.
Enjoy the great selection of dashing tuxedos and other formal-wear.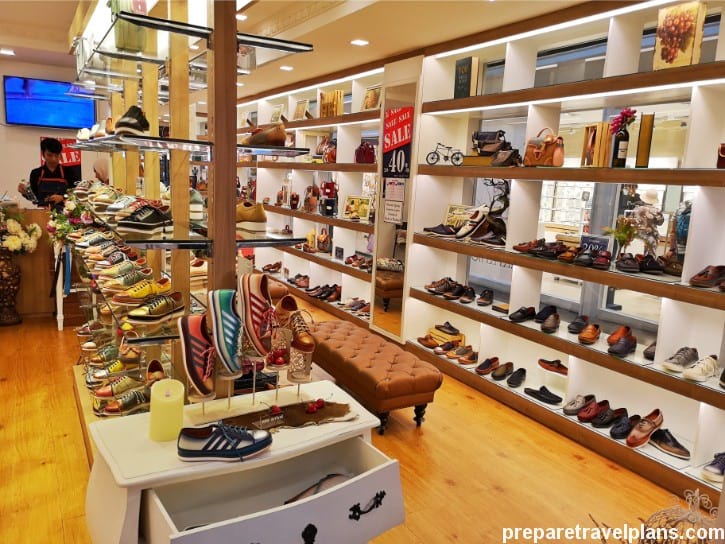 Get overwhelmed with the amazing stacks of men fashion and formal shoes.
This shop is surely a paradise for shoe lovers.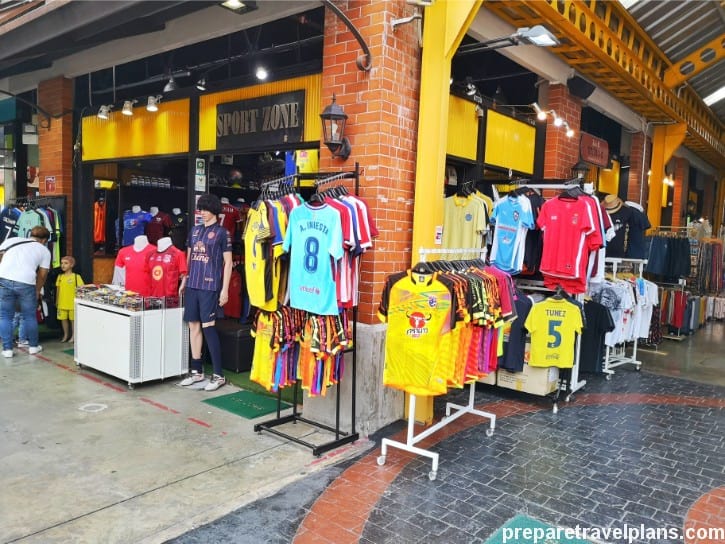 If you're in need of new men sports t-shirts, go through this stall that showcases good-looking sport attires.
Whether you're a basketball or a football fan, there's a great chance of getting your fave sports item.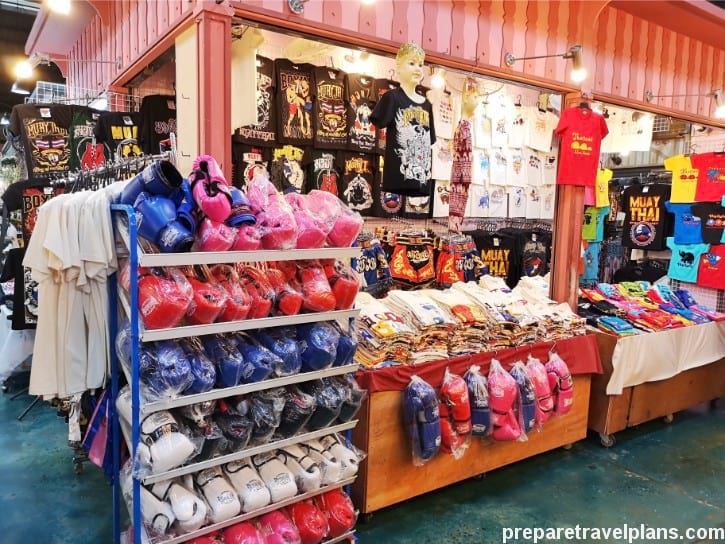 For Muay Thai enthusiasts, get your own essentials at this sports store.
They've got Muay Thai shirts, shorts, and even gloves.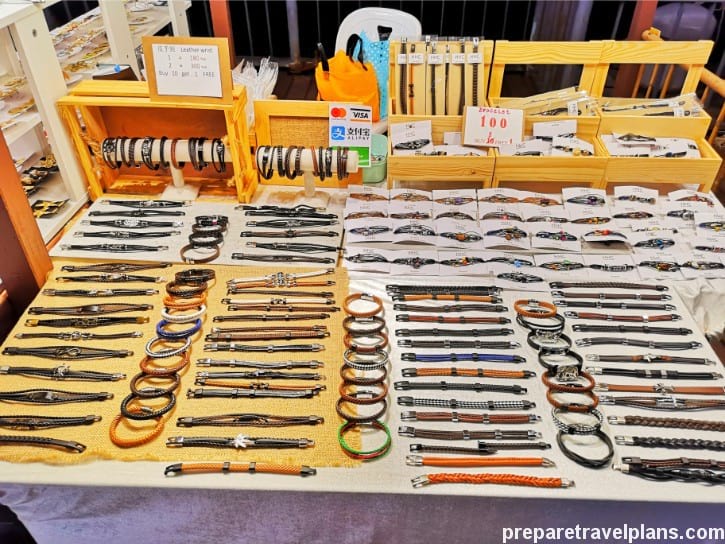 Upgrade your men style with some leather bracelet.
Unlike those that are sold in malls, these are much cheaper.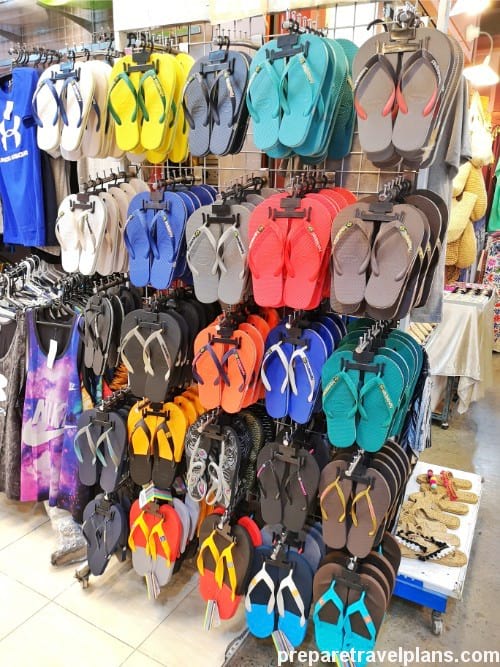 Grab a new pair of slippers from the amazing presentation above.
Whether you are buying one for yourself or for your kid, you've got something to choose from.
Continue shopping and you'll bump into this store full of waist bags.
Waist bags have become more popular recently so make sure to purchase one to stay trendy.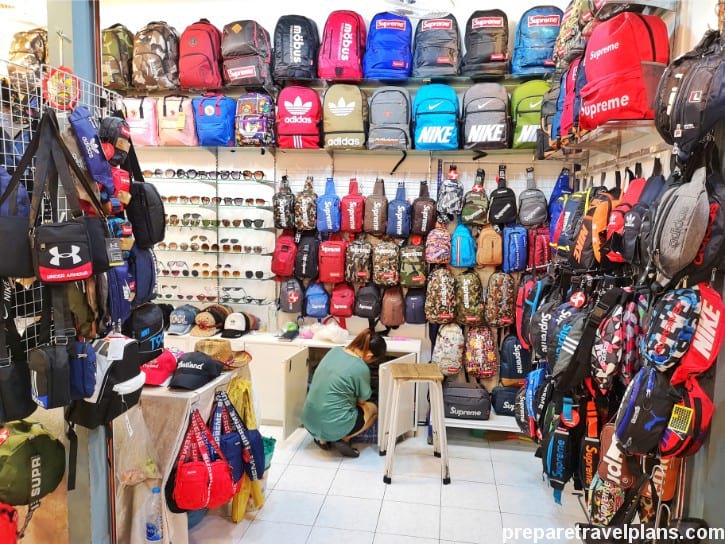 Aside from waist bags, you might want to spend your money on these sports bags.
This store has almost everything on array, from crossbody to backpacks.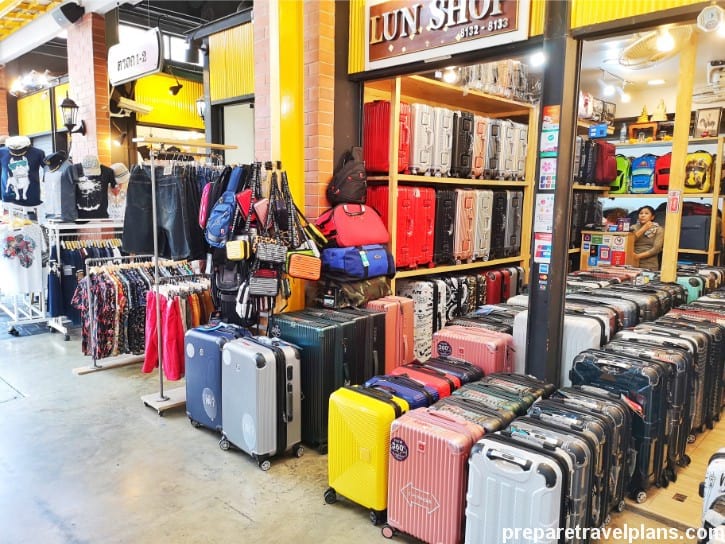 Just in case you need extra luggage, you can buy one from this shop.
They have luggage of different sizes!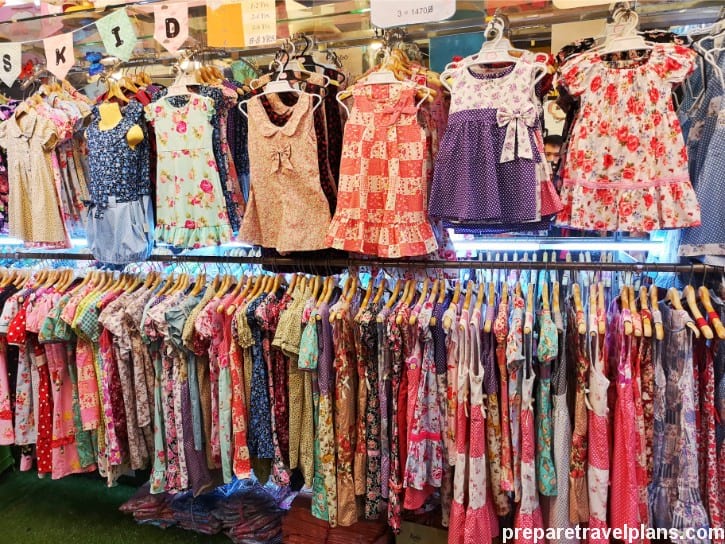 After all the women and men fashion stalls, time to bring yourself to the kids' section.
Starting up with these adorable items, you have an abundant selection when it comes to cute dresses.
All sorts of colours and patterns are on sight.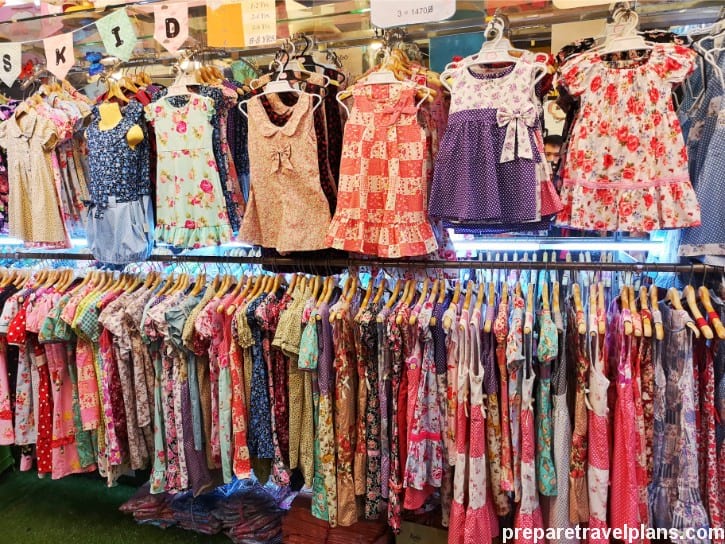 Go through this attractive collection of kid floral dresses for summer.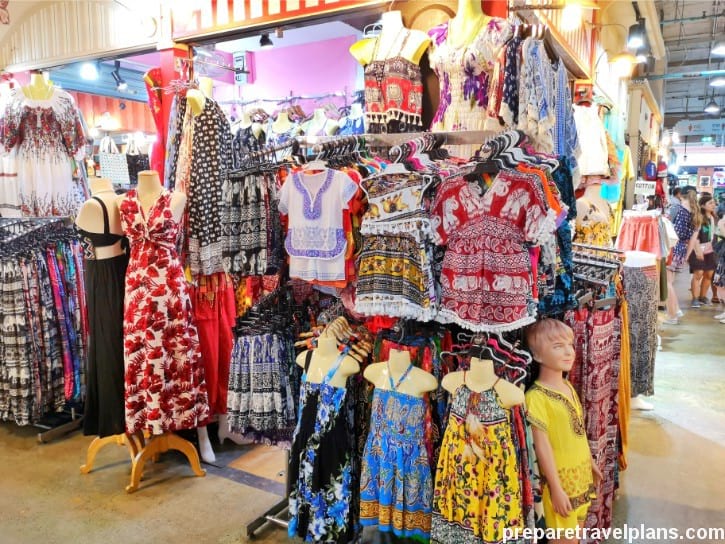 Explore further and you'll uncover more shops selling different kinds of dresses, including some tradition attires.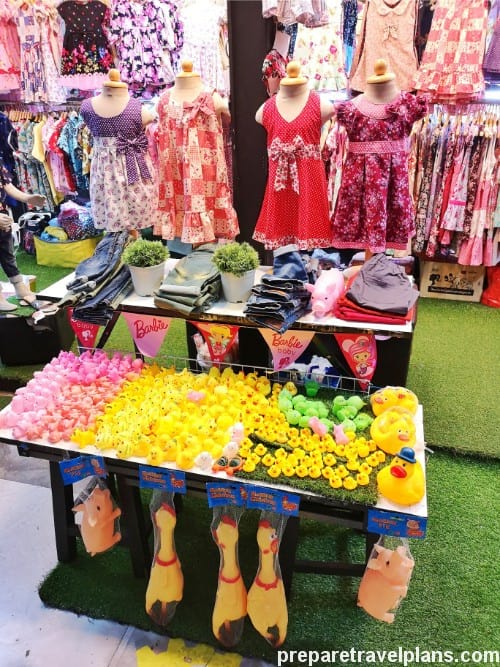 Aside from kid dresses, they've got an assortment of cute animal toys.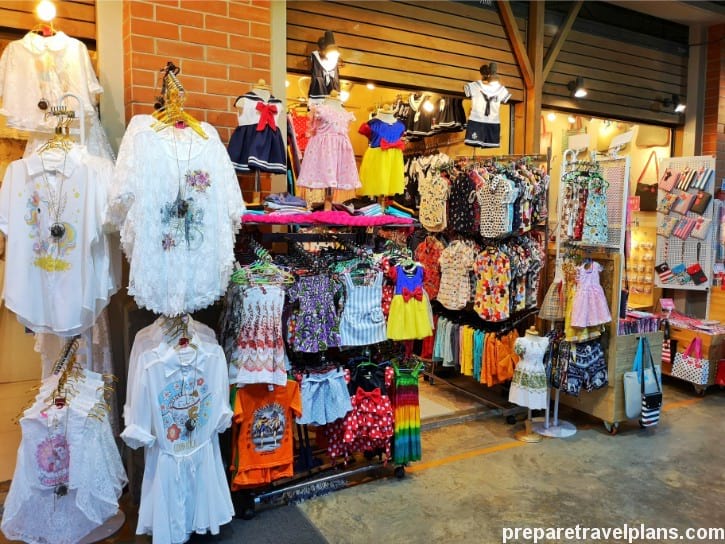 Some stores also put up for sale lovely children costumes like Snow White, Sailor Moon and others.
Cartoon shirts for kids are quite popular too.
From Transformers to Jurassic Park to Cars, it's not hard to choose a new shirt for your kid.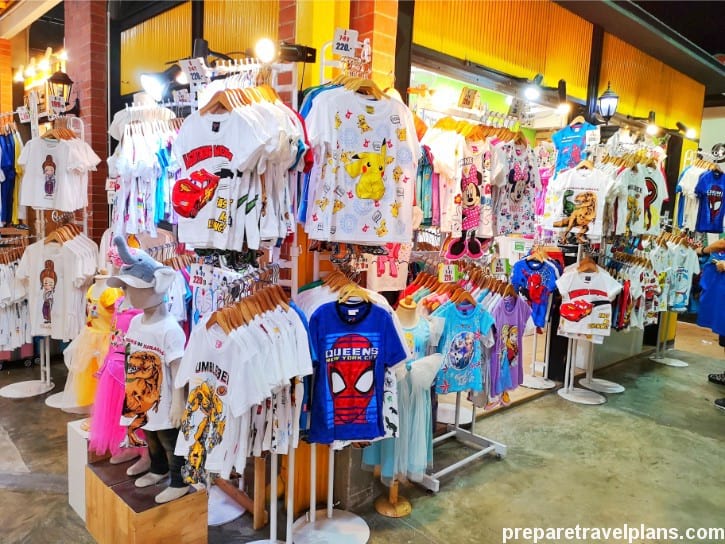 These cartoon T-shirts are not just cool but are also practical souvenirs.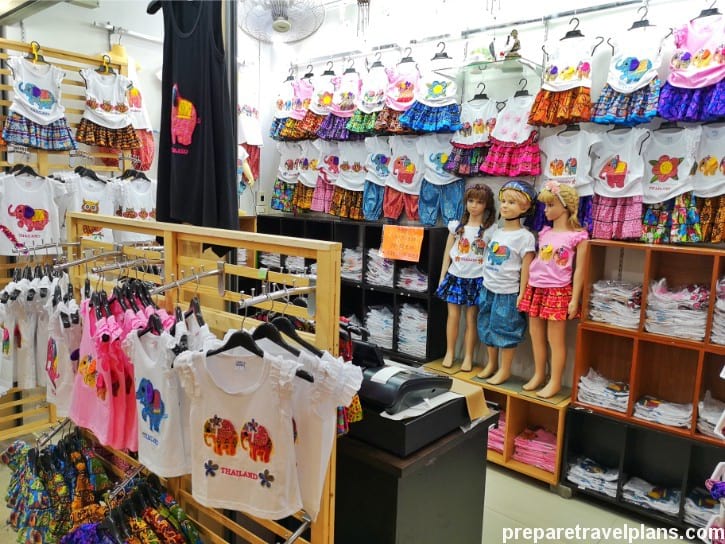 There are many kids' clothes for girls and boys.
So, if you need one, just head to this stall.
And, you won't have a hard time choosing because they have almost all T-shirt sizes.
In addition to the colourful dresses and T-shirts, lovely Thai costumes are also available.
This marketplace will not be complete without some eye-catching souvenirs.
You might even get distracted because of the many options in each stall.
To begin with, there are several religious items like Buddha figurines and such.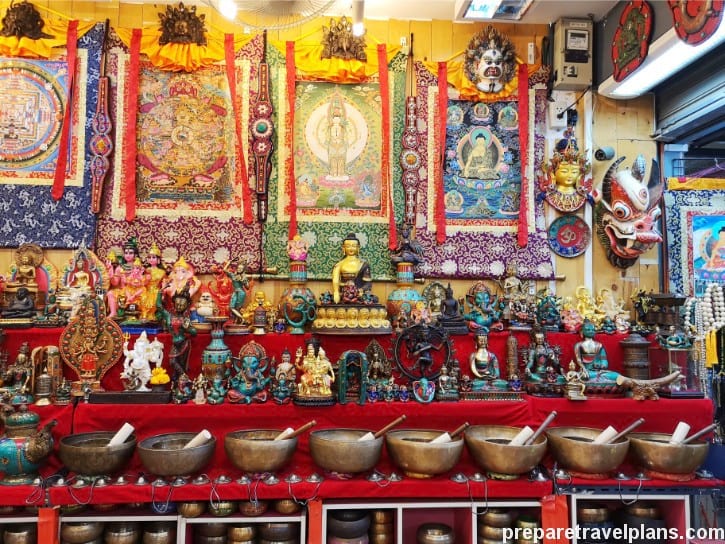 Buddha statues and other traditional pieces are beautifully presented in this stall.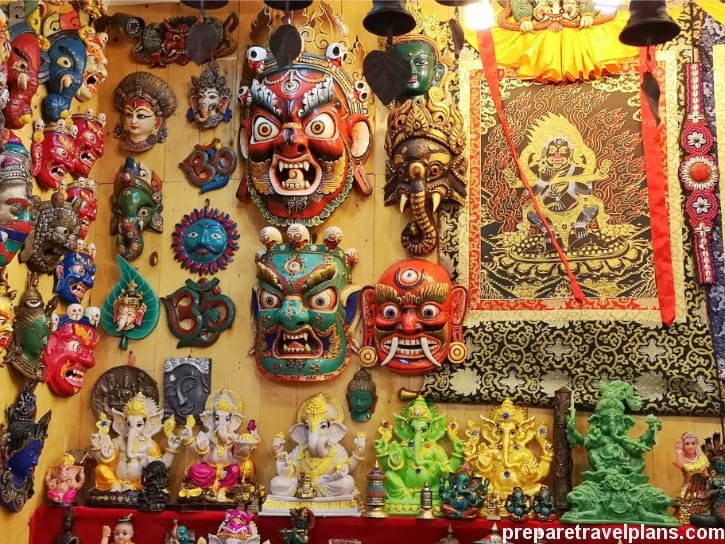 If you're drawn to the unique yet interesting Thai culture, what about getting yourself a traditional item?
This Thai mask may look quite scary but this holds a rather impressive significance among the locals.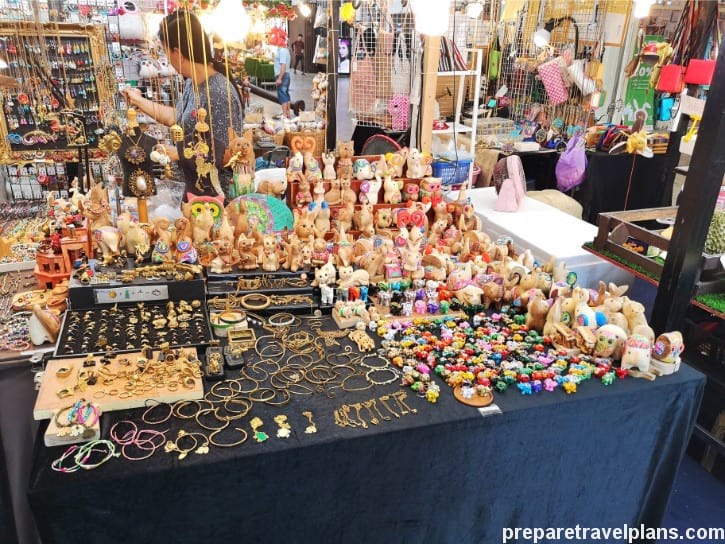 If Buddha items are not your type, you've got a whole array of charming figurines to pick out.
Cat lovers will certainly love this section filled with cat figurines.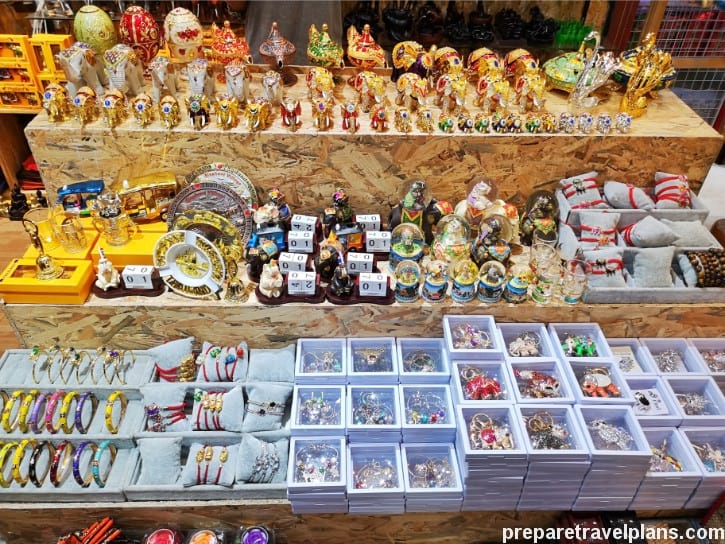 Elephant figurines and Thai teapots are crowd favourites too!
These are lovely items to add as decorations to your room.
Or, you can give these as souvenirs to your friends back home.
Add this Thai magnet souvenir to your collection of magnets!
And of course, key chains are some of the cheapest souvenir options you've got.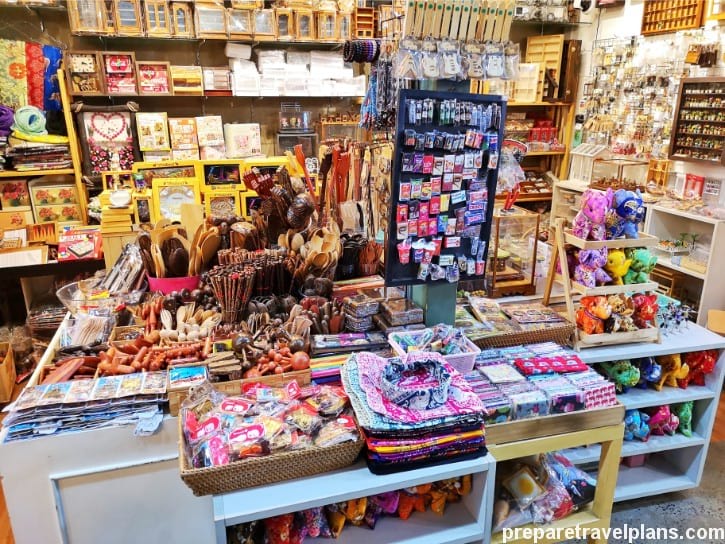 For more practical take-home items, buy some of these kitchenware products.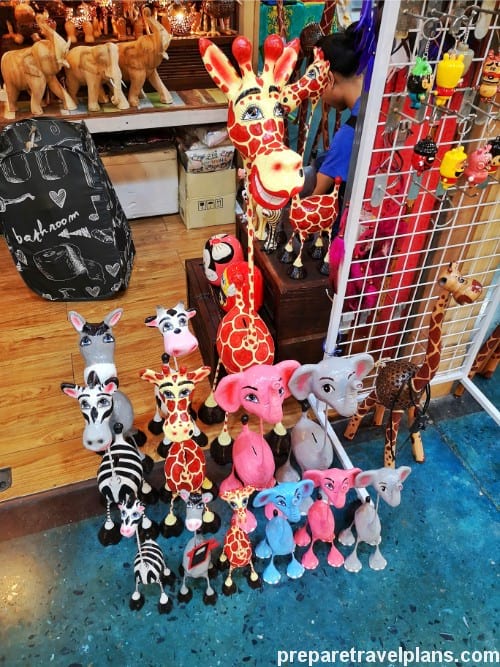 How cute are these toy animals?
Whether you want a miniature giraffe, zebra, or elephant, you'll have something to bring home from this cute, animal display.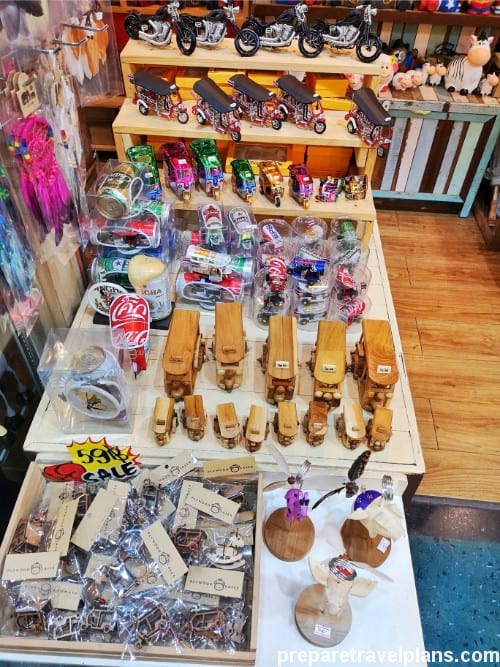 Tuk tuk vehicles are visibly the most famous traditional Thai transportation.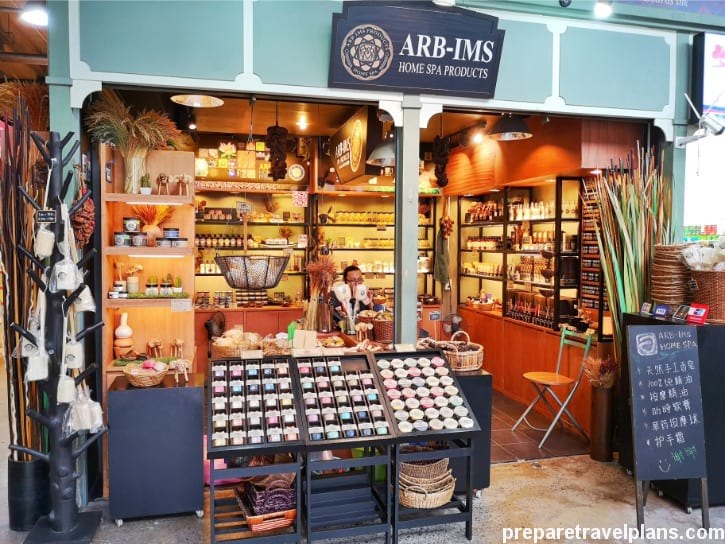 For beauty enthusiasts, there's a room for you at this home spa stall.
Purchase some of these local beauty treats and add these into your daily routine.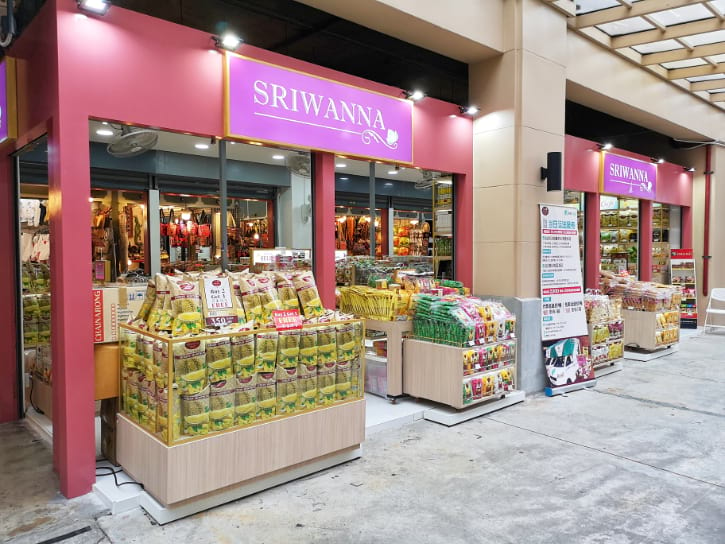 One of the great finds you'll uncover in the market are these tasty, dried fruits.
Save money and buy some dried durian snack here instead of purchasing from the high-end markets.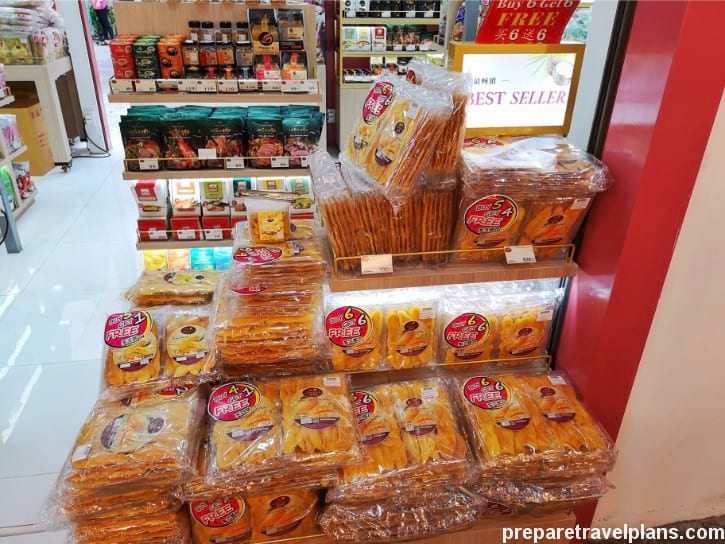 In addition to dried durian fruits, you'll also see some dried mangoes.
These are well-packed so nothing to worry.
3. What things you can eat in Asiatique The Riverfront?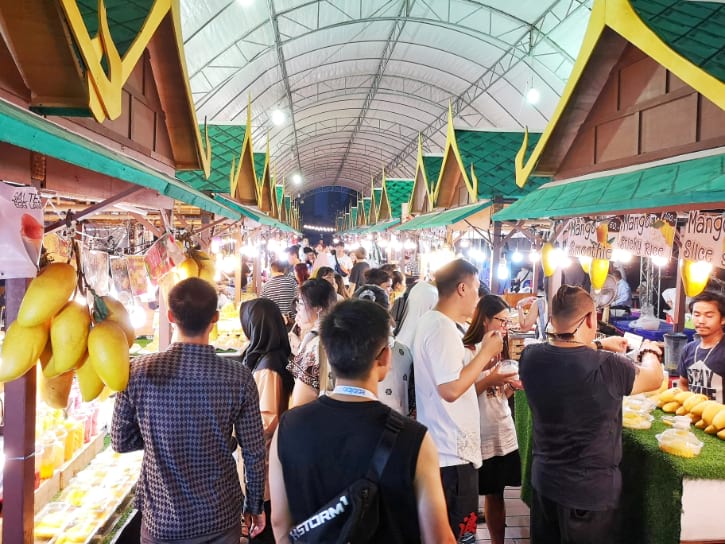 Asiatique The Riverfront is not all about shopping.
Go food hunting at the Food Market and try all the tasty foods and drinks.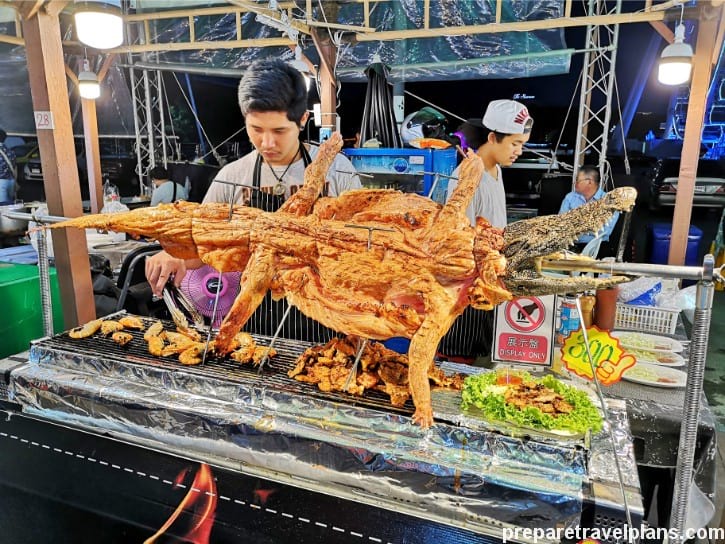 First on the list is this quite exotic food display above.
This crocodile grill is definitely a must-try for those with a heart for exciting foods.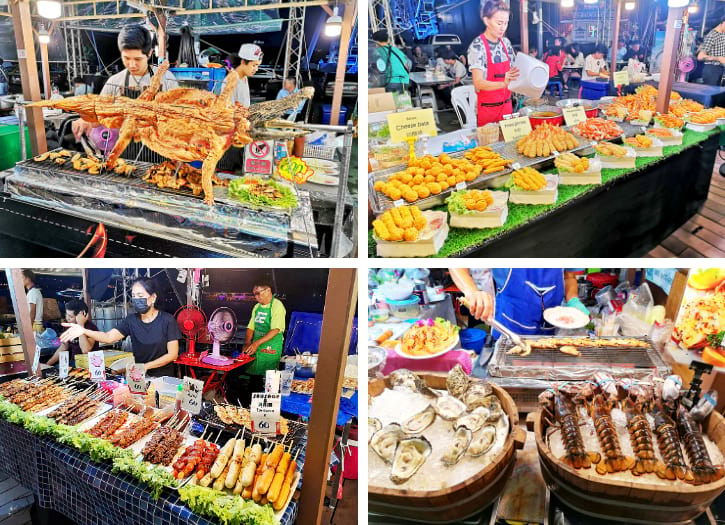 If you don't have the heart to try the crocodile grill, there are other grilled options.
Take delight with some BBQ chicken, pork and beef skewers.
Or, if you love grilled chicken, try the chicken sausage or BBQ chicken skewer.
These BBQ treats are perfectly paired with or without rice.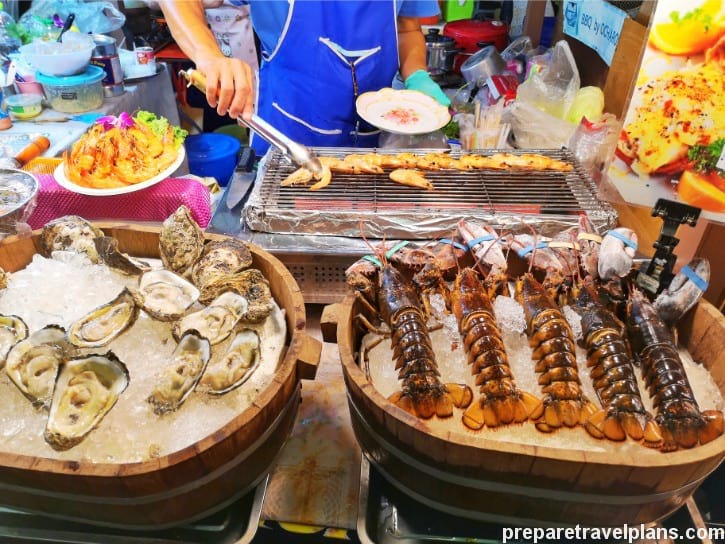 For seafood lovers, there's no shortage of mouth-watering seafood choices too.
Savour this freshly-grilled prawn and shellfish topped with tasty seasonings.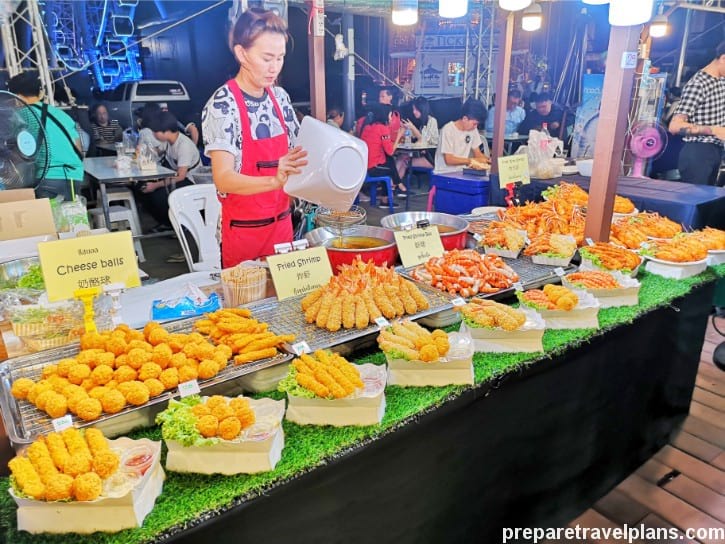 There are also cheese balls along with some fried shrimp tempura.
These are easy-to-munch snacks while you wander from stall to stall.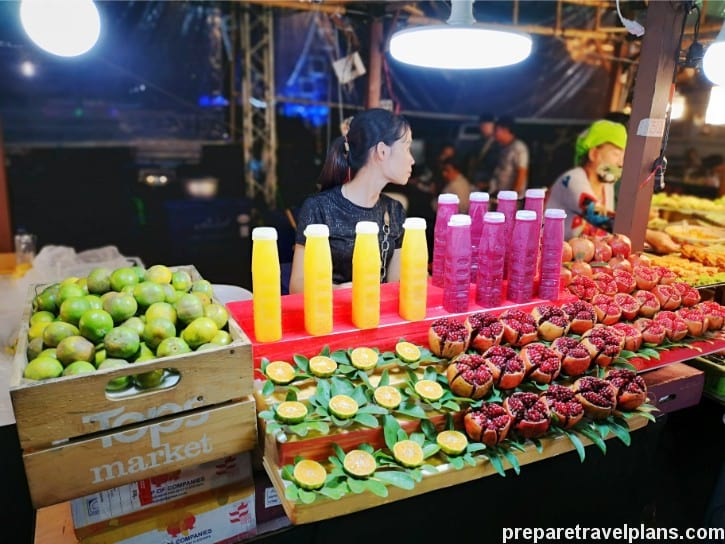 Of course, you can't miss these healthy and refreshing drinks while in the food market.
Both lime and pomegranate juices are the most popular options.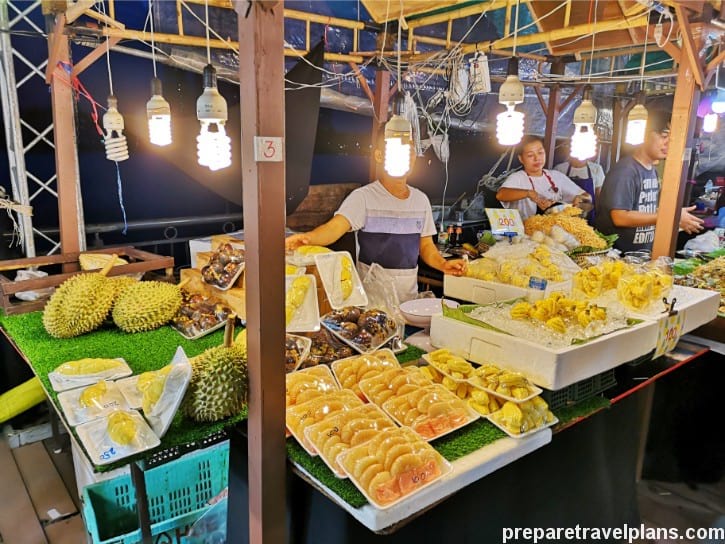 After the satisfying food adventure, you can buy some fresh fruits too.
They have pineapple, durian, and mangosteen.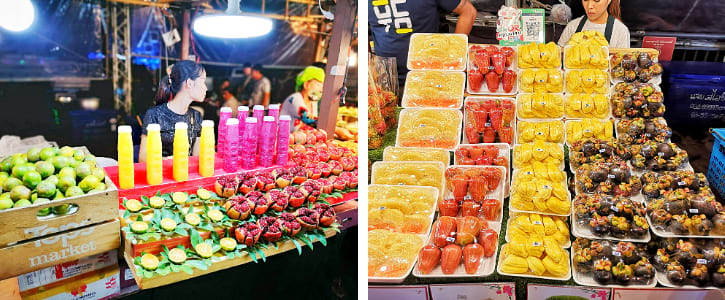 More fruits make the entire food market more vibrant.
From pineapple to pink rose apple to jackfruit, these are well-packed so you won't have a hard time bringing them.
Fill in your cravings from one of the many restaurants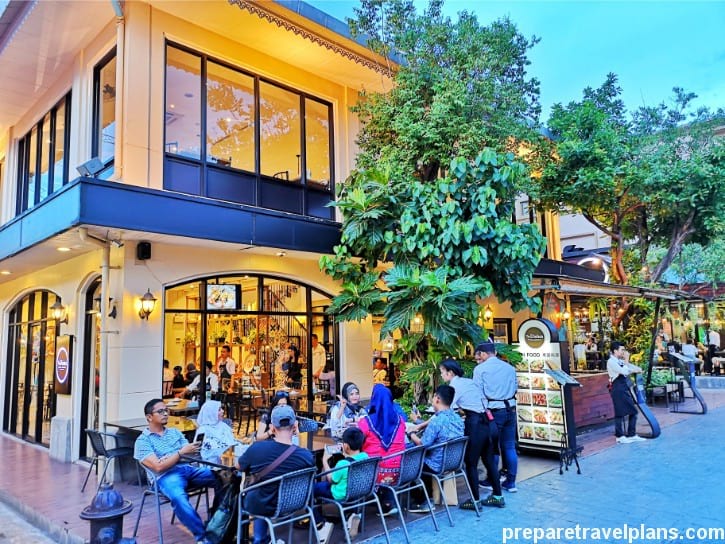 If you want to try cozy dining, there are also many restaurants within range.
Most of these restaurants serve authentic Thai dishes.
So, if you're craving for some tasty Thai cuisines, you've got lots of Thai restaurants on the sides.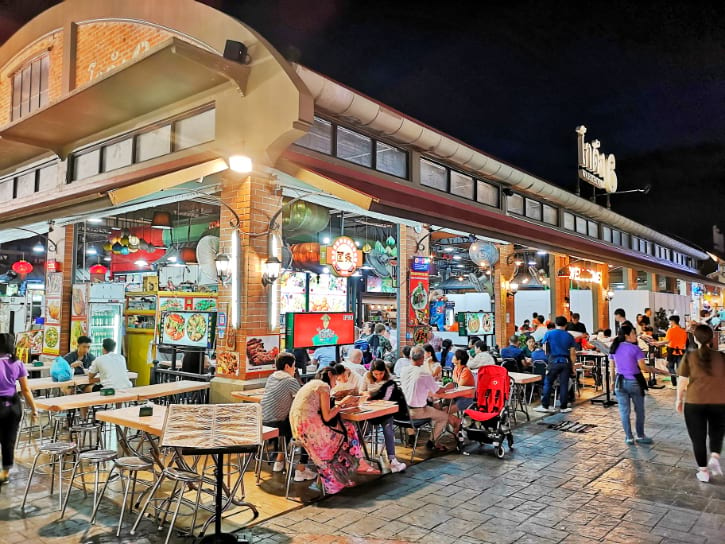 But of course, Thai seafood is much more popular among tourists.
And that's something not to fret because this place also serves seafood goodness in Thai flavours.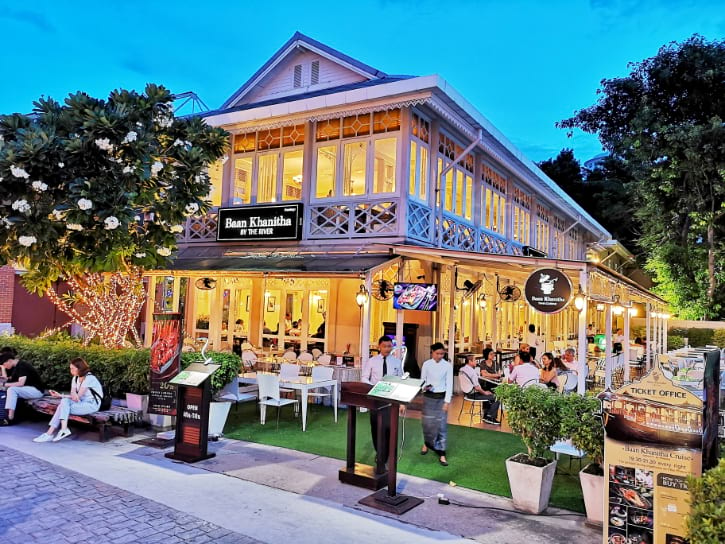 One of the most visited Thai restaurants is Baan Khanitha by the River.
This luxury dining spot offers both scenic river views and delicious Thai seafoods.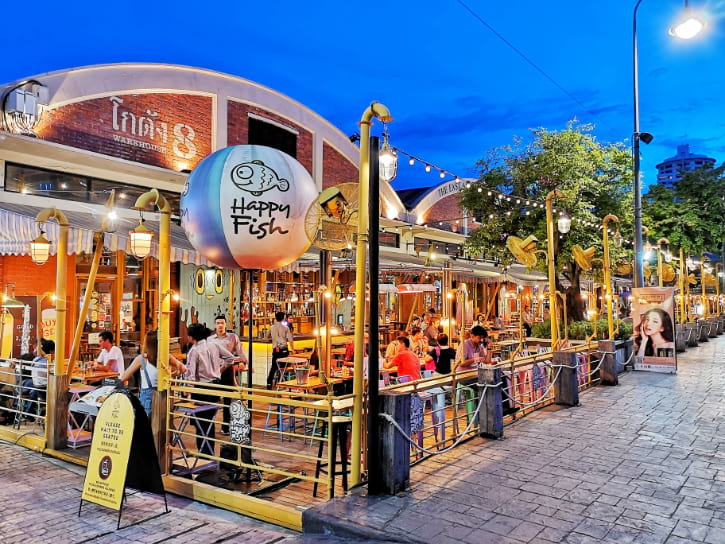 Happy Fish Restaurant is another famous spot because of its breath-taking river sights and delicious cuisines.
This relaxing restaurant serves Thai-fusion and European dishes and even features a live band performance every night.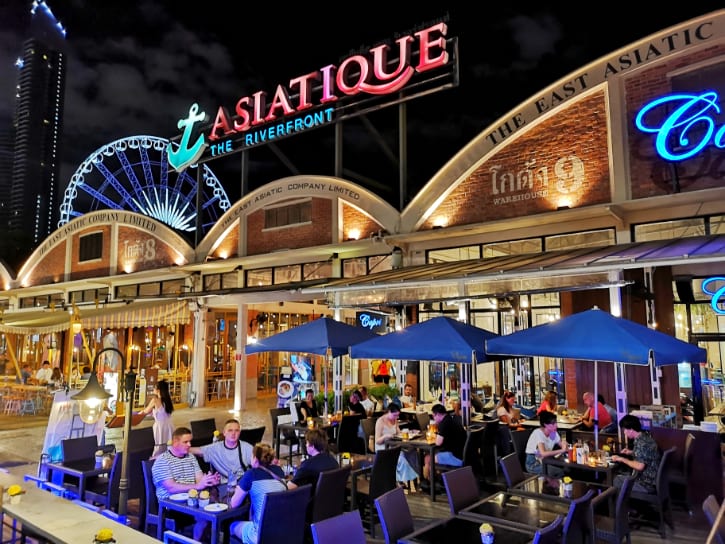 Take a break from Thai dishes and enjoy a platter of Italian treats.
Capri Italian Restaurant is located at the riverfront, hence a great view while eating.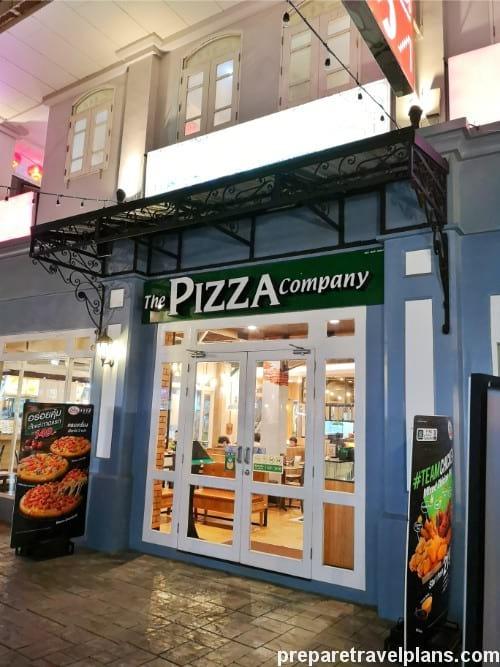 If you want more Italian goodness, check out The Pizza Company.
This is such a great snack spot for pizza lovers.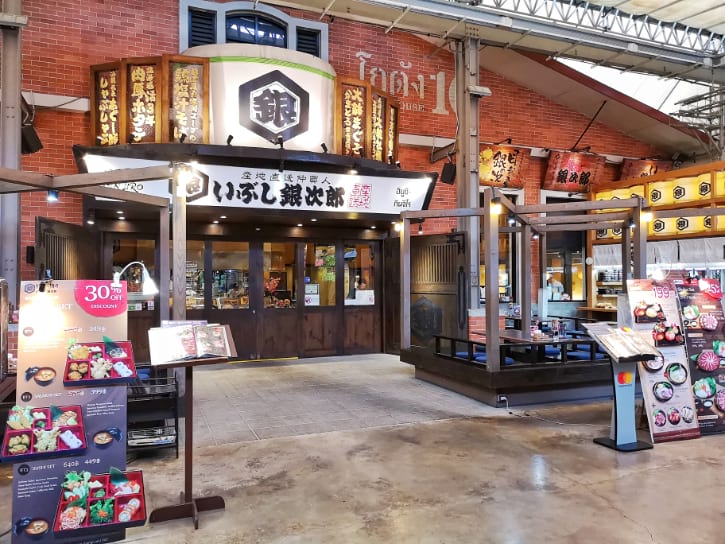 Japanese dishes are also part of the selection.
Relish your ramen or finish your bento meal at this Japanese restaurant.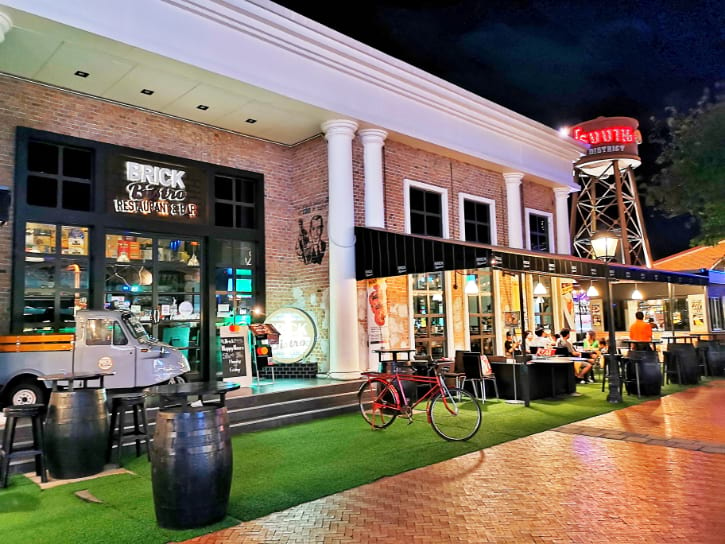 What about a restaurant and a bar? Brick Bistro Restaurant and Bar gives you both that restaurant atmosphere as well as bar ambience.
Whether you want a glass of beer or a platter of pizza, Fire and Dine Bar has something for you.
This cool and cozy restaurant offers both Thai and Italian dishes.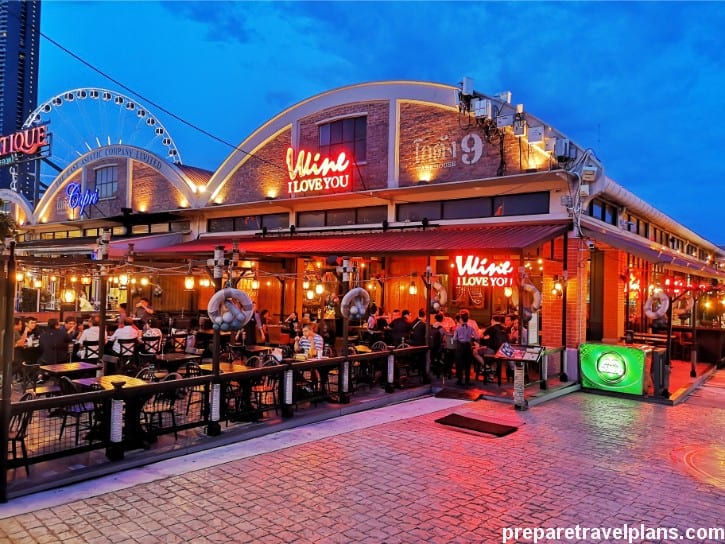 Take in the beautiful river scenery surrounding Wine I Love You Bar and Bistro.
From the name itself, it's best that you get your wine fix here.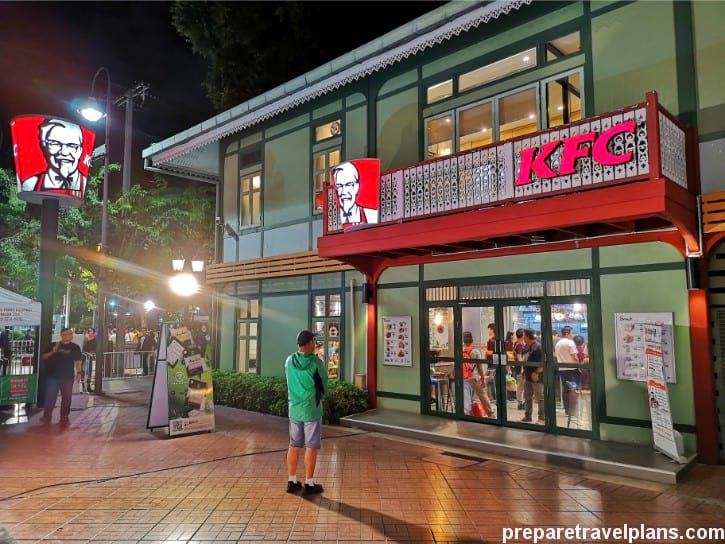 In case you are on a tight budget, KFC is there to the rescue.
This famous fast-food restaurant is an affordable option for those who want to eat without emptying their pocket.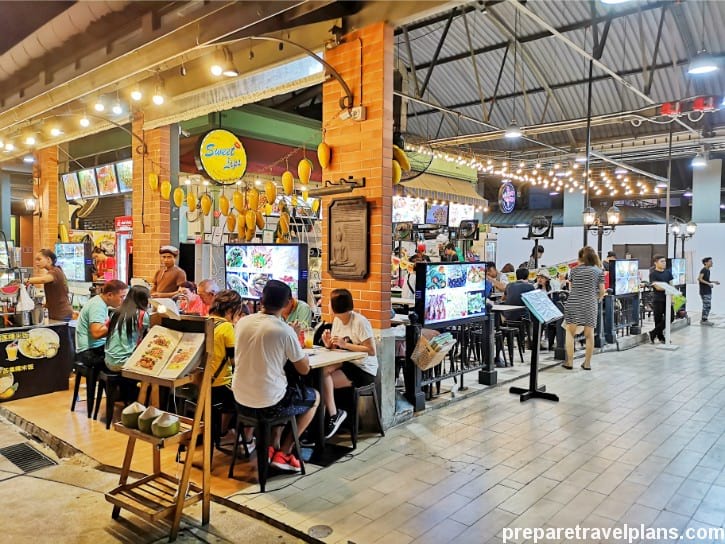 The ever-famous mango sticky rice is a staple among tourists and even locals.
And there's no need to look further because there's a stall in Asiatique The Riverfront that sells this in-demand snack.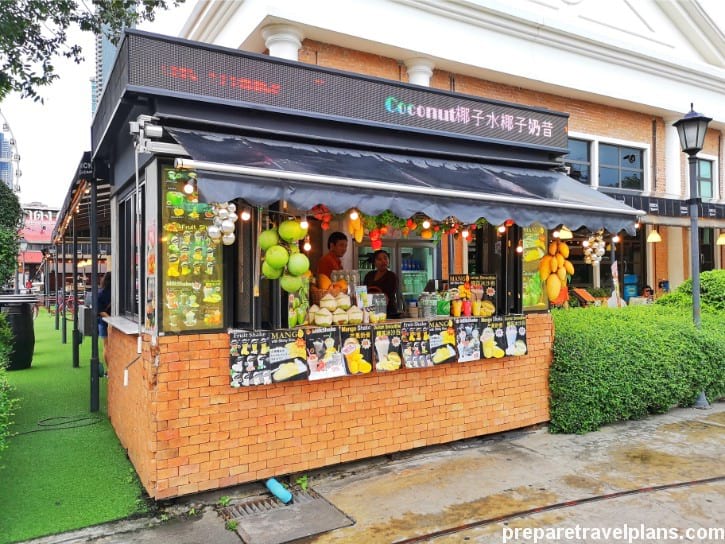 Stay healthy and hydrated as you pop by this smoothie stand.
Serving fresh shakes, you have loads of fruit options, including coconut, watermelon, durian, or mango!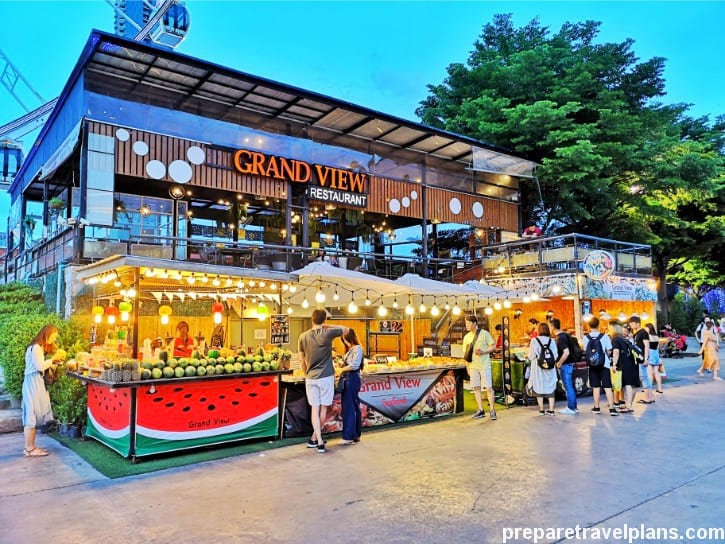 Carry on with your food adventure as you pair your fried seafood with a fruit smoothie!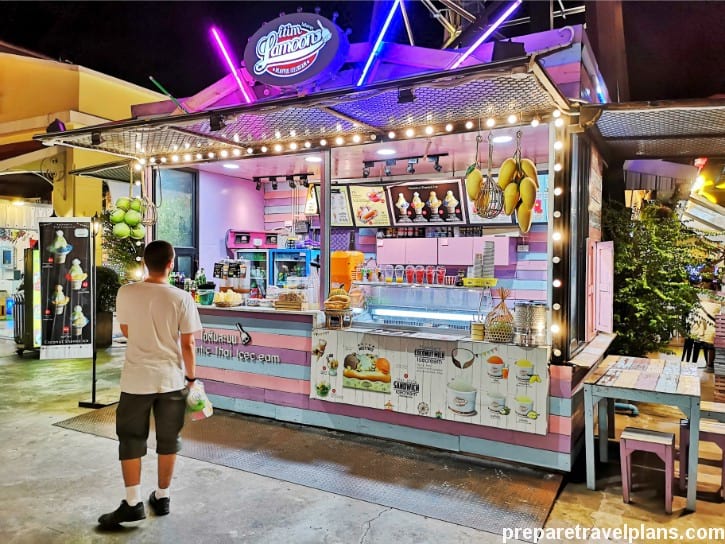 End your food trip with this well-known coconut milk ice cream.
Or, you can opt for another crowd favourite, which is the mango ice cream.
4. What entertainment and shows offer in Asiatique The Riverfront?
1. Asiatique Sky (Ferris Wheel)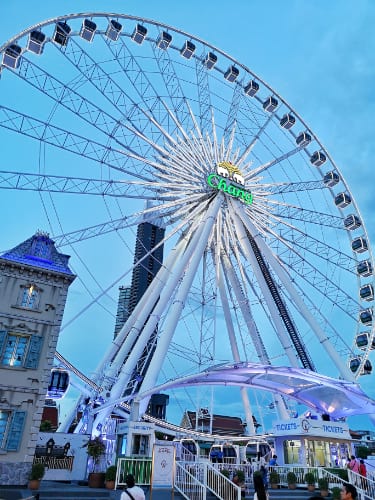 See the entire river scenery and cityscape from above.
Hop aboard the Asiatique Sky and enjoy a relaxing ride.
This giant ferris wheel is a great escape from the crowded market setting.
Ticket Prices
Adult: 450 Thai Baht
Child (Height < 120 cm): 250 Thai Baht
Senior Citizen (60 and above): 250 Thai Baht
2. Grand Carousel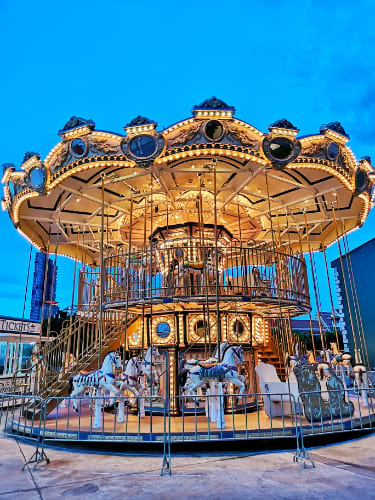 If you want a calmer ride, head straight to the Grand Carousel.
This is a perfect attraction for those travelling with kids or even those who want a laidback ride.
3. Mystery Mansion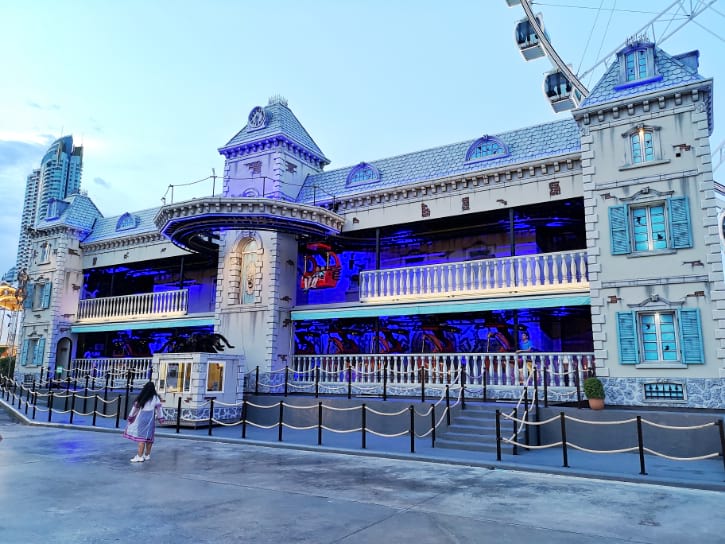 Welcome to the first-ever haunted train in Thailand!
Mystery Mansion gives you the thrill that you need.
Steady your heart for 3 minutes as you go through a haunting journey.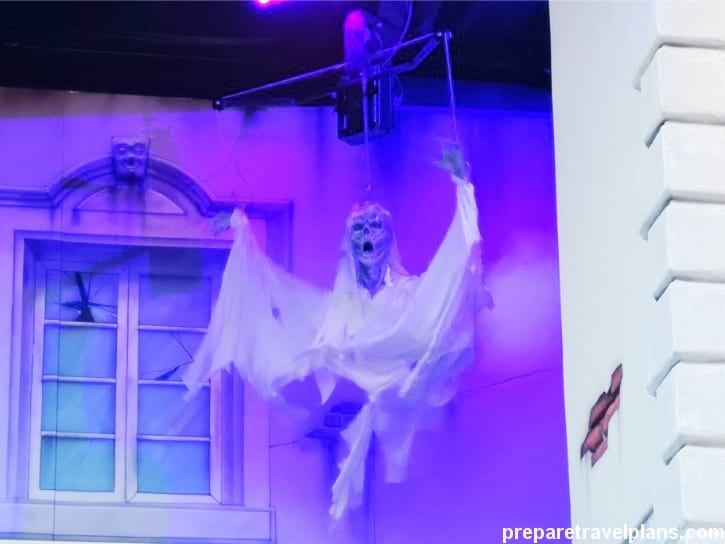 Prepare yourselves as you will encounter lots of ghosts along the way.
Each seat caters to up to 2 persons, so you've got a buddy to share your horror with.
4. Calypso Cabaret (Popular)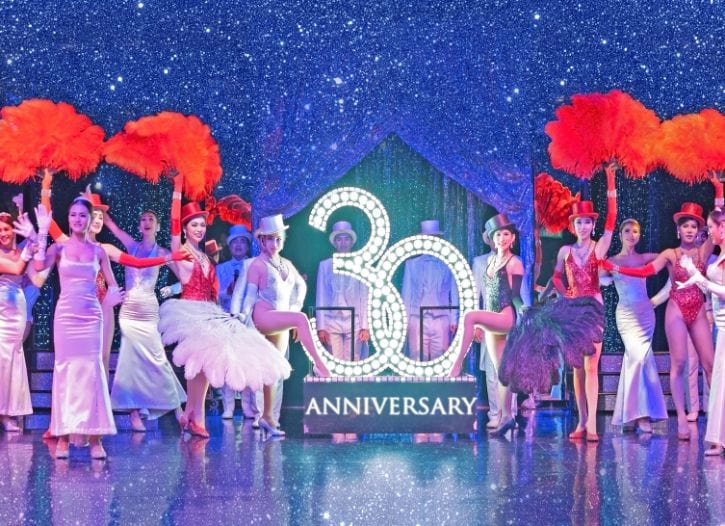 No need to fly to Vegas to witness a dazzling theatrical/ dinner show.
This 1.5-hour performance features the most beautiful and extremely talented transgenders in Bangkok in one magical night.
5. Muay Thai Live: The Legend Lives (Popular)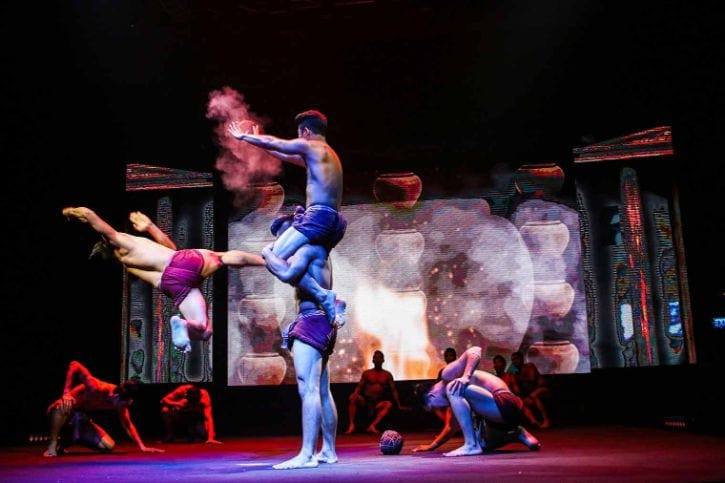 Catch this thrilling performance at Muay Thai Live: The Legend Lives.
Watch in awe as these talented Muay Thai fighters showcase their fast and skilful movements to the crowd.
Normal Ticket Prices
Adult: 1200 Thai Baht
Child (Height 90 cm – 140 cm): 500 Thai Baht
6. Joe Louis Thai Puppet Theatre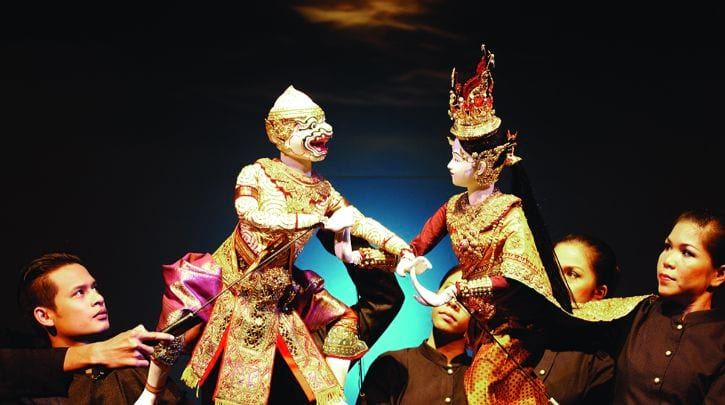 Enjoy a night full of humour and laughter.
Joe Louis Thai Puppet Theatre is a famous show that reveals the traditional Thai puppetry.
Ticket Prices
Adult: 450 Thai Baht
Child (6 – 12): 400 Thai Baht
How to Get to Asiatique The Riverfront by BTS and Boat? (Step-by-Step Guide)
---
The best and convenient way to go to Asiatique The Riverfront is taking a BTS Skytrain and Free Shuttle Boat.
In this way, you can avoid traffic jam on the road of Bangkok.
Here's the step-by-step guide to Asiatique The Riverfront.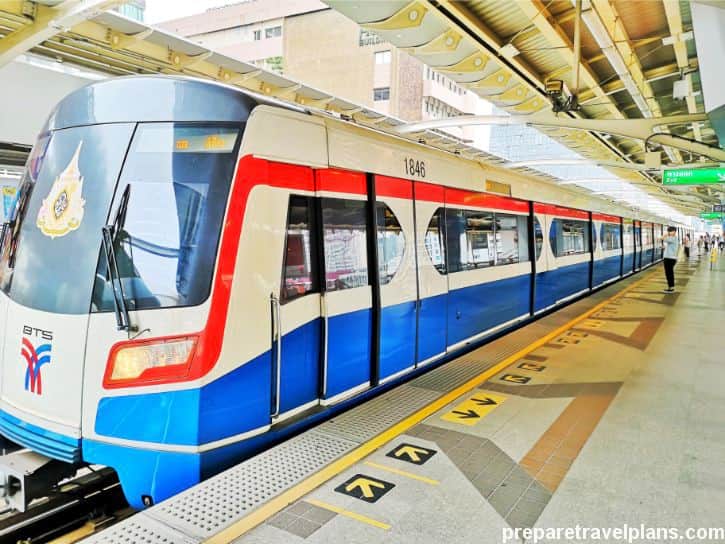 1. Take the Silom Line to Saphan Taksin BTS Station.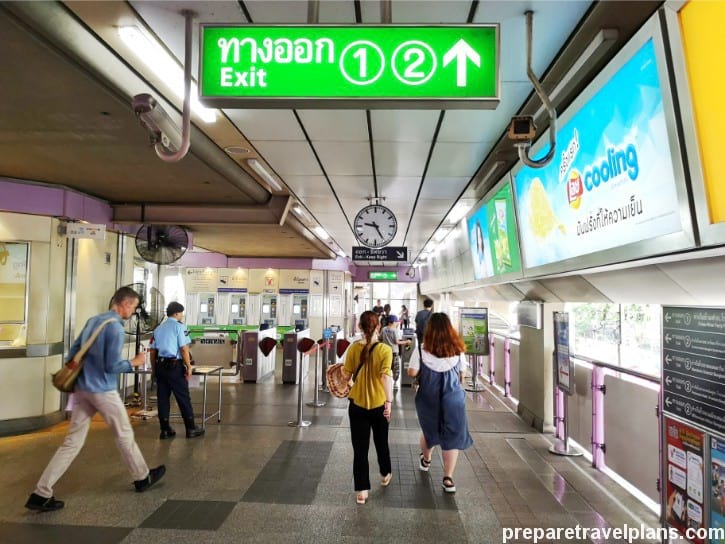 2. When you arrived at Saphan Taksin BTS Station, you should go out the Exit 2.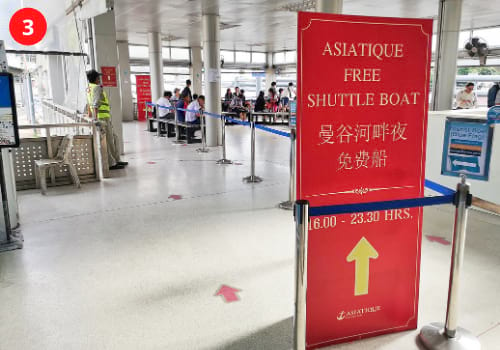 3. Follow the Exit 2 direction boards which will lead you to Sathorn Pier where you can take the Asiatique Free Shuttle Boat to Asiatique The Riverfront.
Asiatique Free Shuttle Boat Operating Hours:
4:00 PM to 11:30 PM
Every 15 minutes
Travel time from Sathorn Pier to Asiatique The Riverfront via boat is about 10 minutes.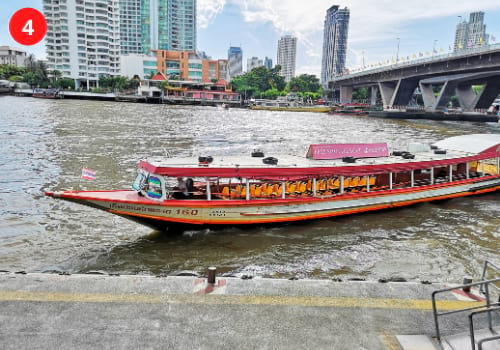 4. Jump on the Asiatique Free Shuttle Boat to Asiatique The Riverfront.
The free shuttle boat will drop you at the Asiatique Pier.
Once you get off the boat at the Asiatique Pier, you'll discover the night market just located on ahead.
How to go back from Asiatique The Riverfront?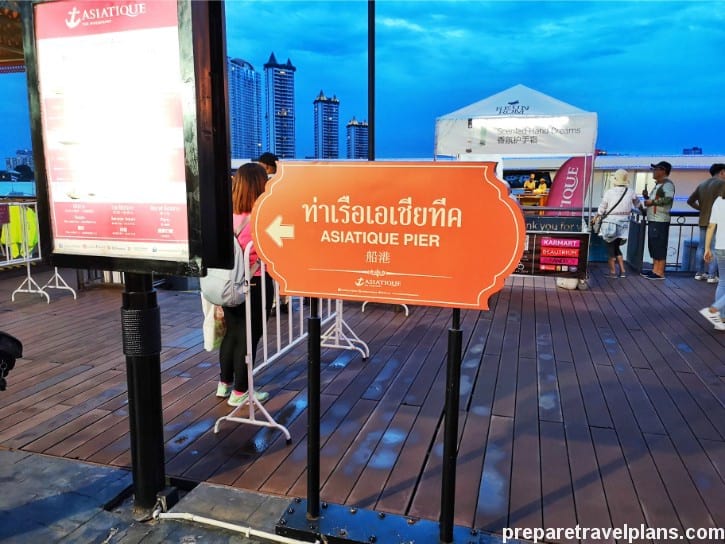 1. Get on the Asiatique Free Shuttle Boat at the Asiatique Pier. Then, get off the boat at the Sathorn Pier.
*It's just the opposite way how you get to Asiatique The Riverfront.
Take Note:
The last boat leaves the Asiatique Pier and returns to Saphan Thaksin at 11:30 PM
Guide to Asiatique The Riverfront (Google Maps)
---
Here's the Google Maps that give you a big picture on how to go to Asiatique The Riverfront. 🙂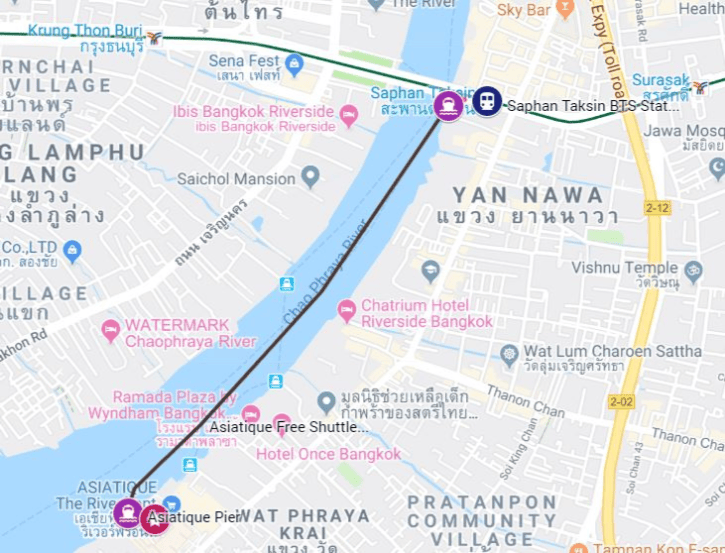 Click here to see an interactive map
Conclusion
Surrounded by scenic river views, Asiatique The Riverfront has a lot to offer to tourists and locals.
Whether you want some amazing food adventures or memorable shopping experiences, this market got it all for you.
Without a doubt, the breath-taking scenery and exciting list of activities make this place worth visiting.
Thank you for reading the entire blog, and hopefully, you find it helpful!
You can easily bookmark the page in case you need it for future reference.
And, you can digitally share this to your friends via Twitter, Facebook, Twitter, WhatsApp, Gmail, and Pinterest.
Once again, thank you and enjoy your visit to Asiatique The Riverfront! 🙂
Want to know how to make your Bangkok trip less stressful as well as save time and money?
I have listed down what important things that you should prepare in advance before heading to Bangkok.
So, you won't panic or stress during your holiday in Bangkok.
Discover Other Famous Attractions in Bangkok