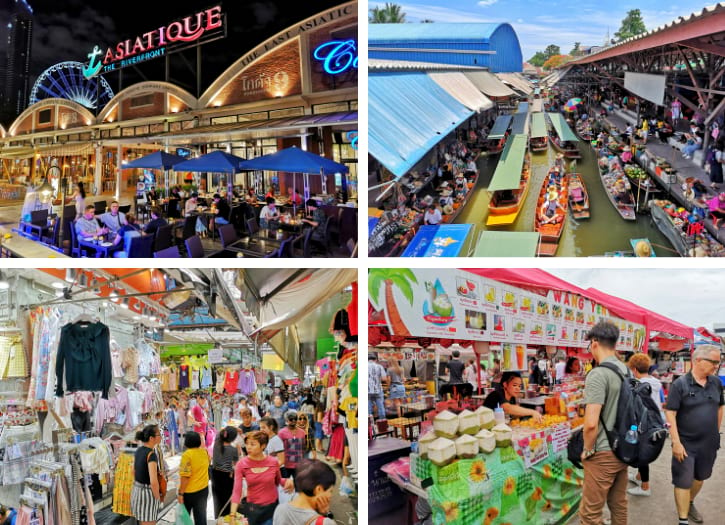 As always, Bangkok markets add so much color to the local streets and even canals. These are beautifully surrounded by tasty street foods and refreshing drinks.
And of course, you can't miss the cheap items on display, from trendy clothes to accessories and electronics.
So, let me introduce all the best markets in Bangkok through the collection below. All the local markets included in the list are very famous for shopping and eating! 🙂
After this article, I suggest that you also read my guide to the top 30 things to do in Bangkok to further help you out. This will provide you with the most popular spots in the city to make your trip more meaningful and exciting.
1. Chatuchak Weekend Market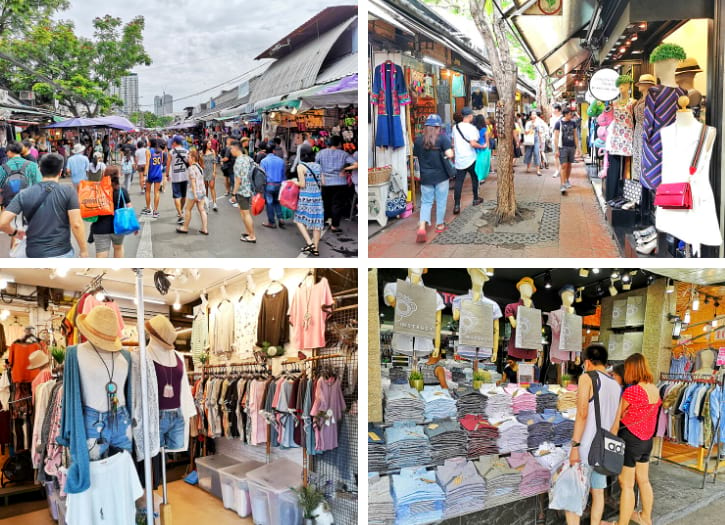 Chatuchak Weekend Market is no doubt one of the top shopping markets in Bangkok for locals and tourists.
That's why every time I visit Bangkok, I always stop by Chatuchak Market to check out their amazing array of goods and clothing.
This huge outdoor market has thousands of stalls featuring all kinds of items at very affordable prices.
Because of its massive size, the stalls are divided into 30 different sections. This helps visitors like you shop conveniently and save time.
Each area is designated to a specific type like fashion pieces, gardening plants, collectibles, and many more.
After shopping, explore the food stalls and grab something to eat. There are also a lot of cosy cafes and open-air restaurants around.
Opening Hours:
Saturday and Sunday: 5:00 AM – 7:00 PM
Access:
Mo Chit BTS Station, Exit 1/ Chatuchak Park MRT Station, Exit 1
2. Asiatique The Riverfront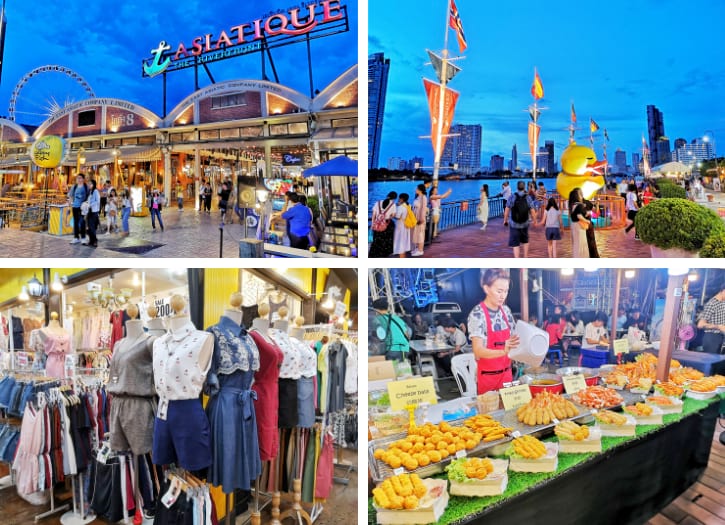 No list of Bangkok markets would be complete without mentioning the Asiatique.
Compared to the first one, the place is a bit more sophisticated. Find more details and tips in my post on Asiatique The Riverfront.
To give you an overview, this upscale market is bounded by the lovely Chao Phraya River. Because of its amazing location, it is one of the most scenic markets in the city.
The display of chic boutiques and open-air restaurants complement the entire scenery. That's why Asiatique is my favourite market to visit in Bangkok at night. It's always part of my Bangkok itinerary whenever I visit the city.
Opening Hours:
4:00 PM – 12:00 AM (Midnight)
Access:
Saphan Taksin BTS Station, Exit 2 > Walk to Sathorn Pier > Take Asiatique Free Shuttle Boat to Asiatique
3. Jodd Fairs Market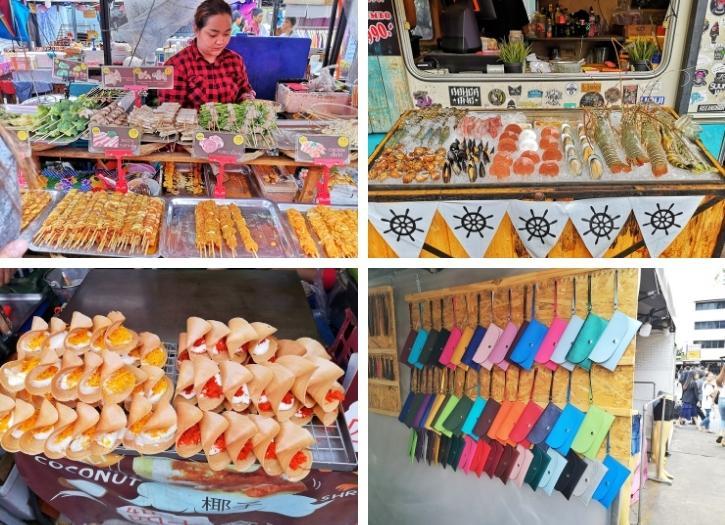 Jodd Fairs is one of the best markets in Bangkok for food lovers.
I highly recommend this place if you're looking for a wide food selection. The street food options here are simply irresistible.
There are many delicious seafood dishes to choose from, along with some cheap cocktails and beers.
And while digging in your food, you can listen to the live band and simply enjoy the views. On top of that, this urban market has plenty of stalls for your shopping needs.
Another highlight of this Bangkok night market is its accessibility to the subway station. So, if you want a market place with easy MRT access, this is a great choice.
Opening Hours:
5:00 PM – 1:00 AM
Access:
Phra Ram 9 MRT Station, Exit 2
4. Pratunam Market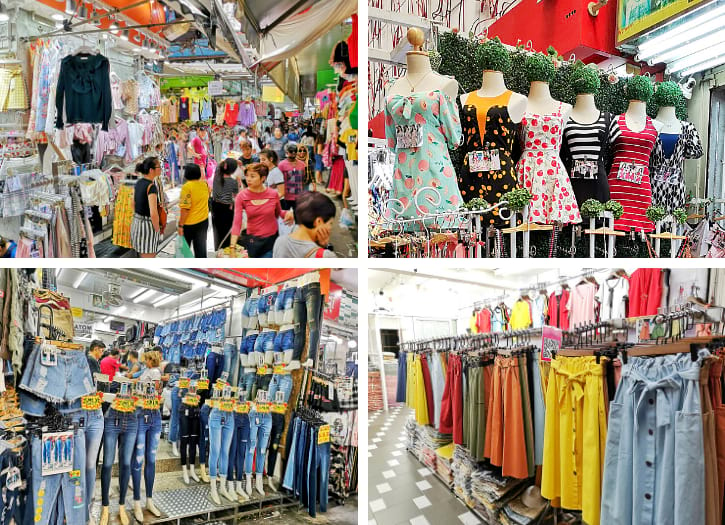 Pratunam Market is another popular Bangkok spot when it comes to fashion shopping.
Once you step inside this wholesale bazaar, you will be amazed by the limitless choices.
This thriving market has all kinds of trendy essentials, from apparel to accessories.
There are also handicraft items and Thai souvenirs available that are very budget-friendly. Most of the items here are wholesale prices, which mean these are already very cheap.
Without a doubt, this is one of the best places for cheaper fashion stuff.
Naturally, you'll find a decent selection of food, too. And just across the Pratunam Market is the Platinum Mall, where you can continue your shopping adventure.
Opening Hours:
24 hours (*Recommended visit between 11:00 AM and 4:00 PM)
Access:
Ratchathewi BTS Station, Exit 4 > Walk 13 minutes
5. The Indy Platinum Night Market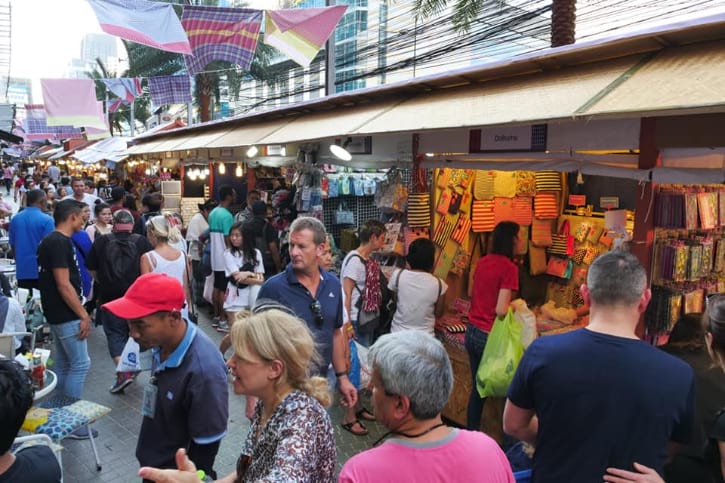 The Indy Platinum Night Market takes over the Pratunam district as soon as the sun goes down.
This popular night market is positioned in front of the Platinum Fashion Mall.
Occupying a long stretch of Bangkok's Phetchaburi Road, the stalls give you tons of choices for a memorable night adventure.
Go over the fashion stalls and pick up some trendy stuff at a very affordable price. You'd be surprised by the endless selection of kids' stuff too!
This night market is also loaded with cheap souvenirs. There are even shops that offer customized mementos.
While wandering around the market, pop by one of the food stalls and dig in some street food delights.
Opening Hours:
7:00 PM – 11:00 PM
Access:
Chit Lom BTS Station, Exit 4 > Walk 12 minutes
6. The Camp Vintage Flea Market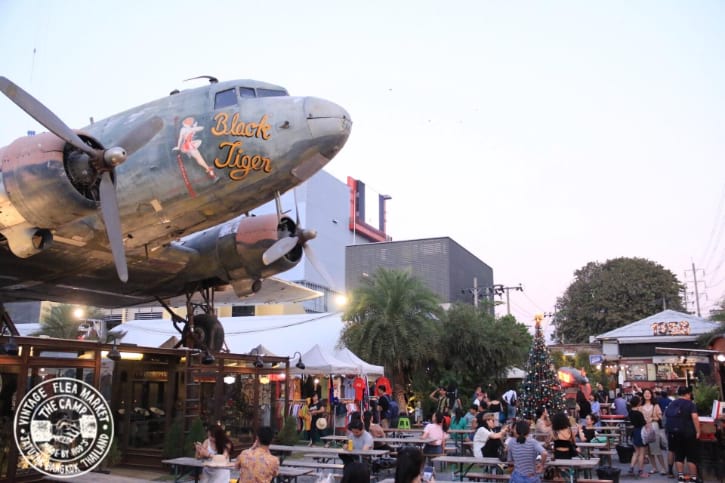 *Permanently Closed 🙁
If you're looking for distinct markets in Bangkok, The Camp Vintage Flea Market is surely part of the collection.
Outlined by old trucks and garage-like shops, this is the best spot for vintage lovers.
While exploring the market, it's hard to ignore the giant bomber plane on one of the stalls.
Continue your exploration and visit the antique shops selling pre-owned items. There are seriously a lot of special collectibles in this area.
Check out some second-hand decors, vinyl records, and even some classic motorcycle displays.
After looking around, you can relax at the outdoor seating area while munching some snacks and enjoying the views.
Opening Hours:
Tuesday to Sunday: 3:00 PM – 12:00 AM (Midnight)
Access:
Kamphaeng Phet MRT Station, Exit 1
7. Chang Chui Bangkok Plane Market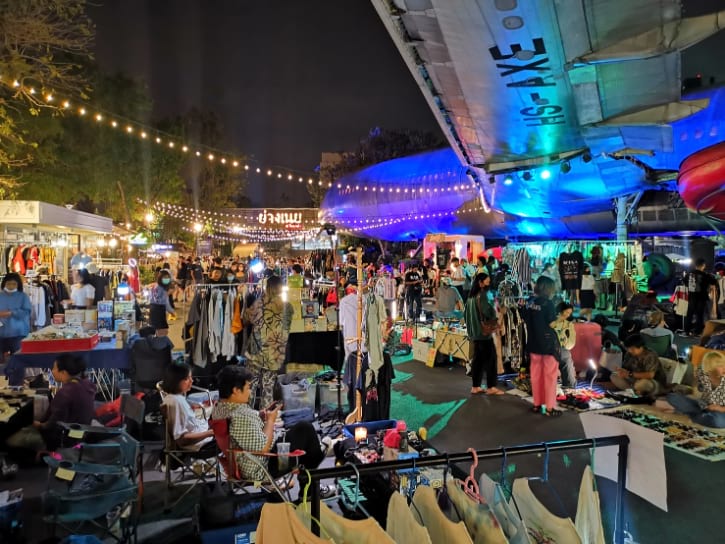 Chang Chui Bangkok Plane Market is another unique-looking market in the city.
One of its highlights is the massive airplane that comes with a restaurant inside. Aside from enjoying the food, this place also features a special collection of stuffed animals.
Likewise, the market scene is filled with upscale shops and colorful decorations.
There are two sections to look forward to―the green zone and the night zone.
The green zone covers all areas that are alcohol-free, from local eats to specially-brewed coffee to exotic treats.
On the other hand, the night zone welcomes you to fun-filled drinking sessions and live music performances.
Opening Hours:
11:00 AM – 11:00 PM (*Closed on Wednesday)
Access:
Victory Monument BTS Station, Exit 3 > Take a taxi or Grab to Chang Chui
8. Train Night Market Srinakarin (Talad Rot Fai Srinakarin)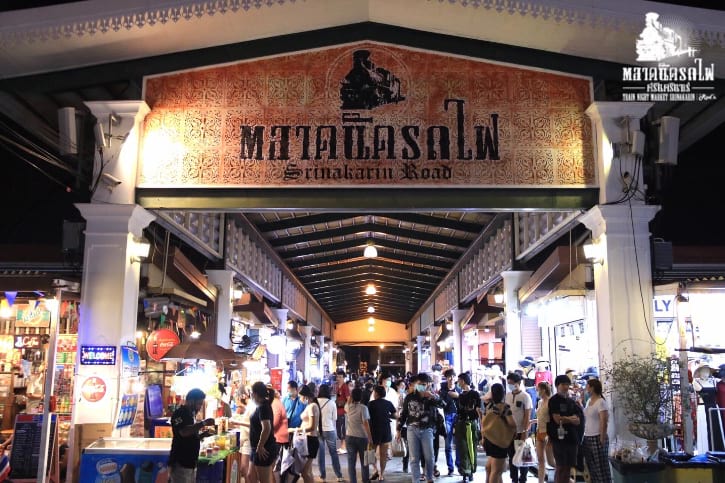 Train Night Market Srinakarin is a fun marketplace in Bangkok that was once a train track.
Now, it has become a popular shopping destination for anyone looking for vintage products.
To help you navigate easily, make sure you know the 3 sections ahead of time.
These are Rod's Antiques, Warehouse Zone, and Market Zone.
The first two zones are the best areas for special collectibles. Take a look at different vintage stuff like cameras, classic cars, motorbikes and even Japanese anime toys.
On contrary, the Market Zone offers a spectacular display of trendy items like fashion clothing and stylish accessories. You'll find plenty of kids' toys and souvenirs too.
While exploring the market, drop by some food stalls and grab a snack.
A fantastic array of delicious local cuisines and seafood choices are also available.
To complete your night out, visit one of the lively bars and enjoy the cheap cocktails.
Opening Hours:
Thursday to Sunday: 5:00 PM – 1:00 AM
Access:
Udom Suk BTS Station, Exit 1 > Take a taxi or Grab to Srinakarin
9. Maeklong Railway Market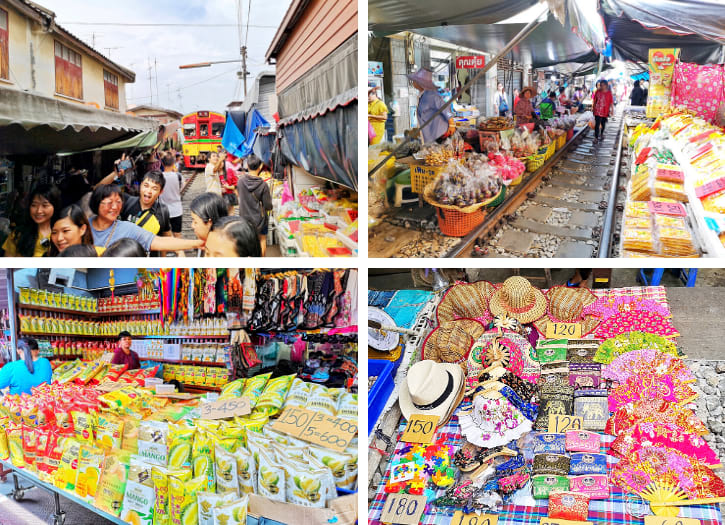 Maeklong Railway Market is certainly among the most unique markets in Bangkok that deserve a visit.
This is highly recommended because of its quite distinctive placement, which is on an actual railway!
Fresh goods and dried snacks are placed beside the rail tracks.
And before the train approaches, the vendors would pull in the umbrellas to give way to the moving vehicle. This kind of selling has been part of the local market scene since 1904.
So, make sure to add this exceptional market to your must-visit list. Before exploring the place, check out this complete Maeklong Railway Market article for better tips.
Opening Hours:
6:20 AM to 5:40 PM
Access:
The best and easiest way to get to the train market is to book the shuttle bus here in advance. The bus takes you directly to the market and the meeting point is at Siam Paragon. Very convenient! 🙂

10. Damnoen Saduak Floating Market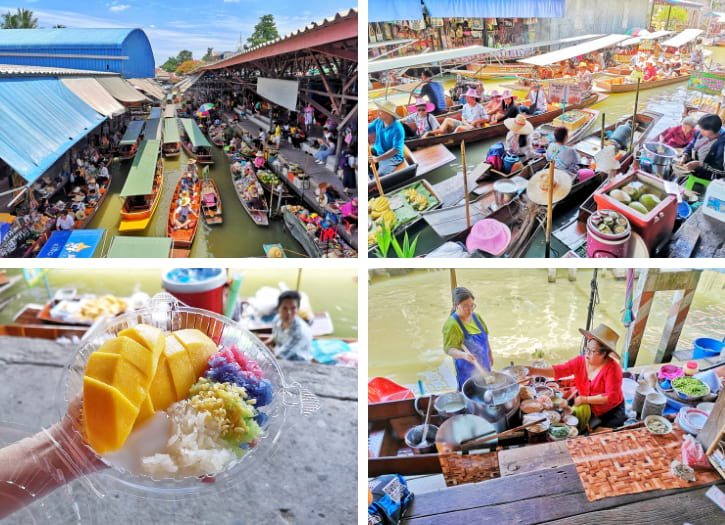 Damnoen Saduak is known as the largest floating market in Thailand with a rich history.
Developed in the 18th century, it has then become a part of Bangkok's cultural heritage.
Hop aboard a small boat and discover the local delicacies from the one of the stationed boats. Feast on some fresh grilled seafood and chomp some fresh fruits in between.
And when walking along the canal, don't forget the famous mango sticky rice and boat noodles. These are some of the best foods to experience Thai culture.
So, if you're staying in Bangkok for several days, make sure to include Damnoen Saduak market in your trip.
Don't forget to read my full guide to getting to Damnoen Saduak Floating Market from Bangkok to make your trip more convenient.
Recommended Transportation: It is highly recommended to go to this website to book a seat on the shuttle bus to Damnoen Saduak Floating Market. You can easily get on board from Siam Paragon in Bangkok. 👍
Opening Hours:
7:00 AM – 5:00 PM
11. Amphawa Floating Market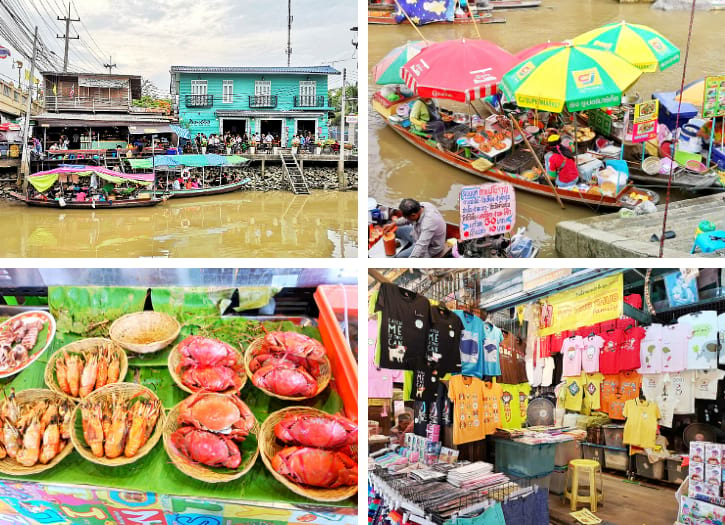 Amphawa is another must-visit floating market on your Bangkok trip.
This may not be as big as the other floating market, but for years it has been part of the locals' daily life. See here for a detailed guide to Amphawa Floating Market.
Ride a wooden boat that takes you on a cultural journey through the canal.
While onboard, capture the scenic water views and colorful stalls. Your experience would never be complete without enjoying the local treats.
Fresh and tasty seafood delicacies are displayed in both sides of the canals.
So, stroll around the market and don't miss the grilled river prawns, fish, and squid.
And, make sure to take home some handmade products and locally-produced snacks.
Opening Hours:
Friday to Sunday: 11:00 AM – 8:00 PM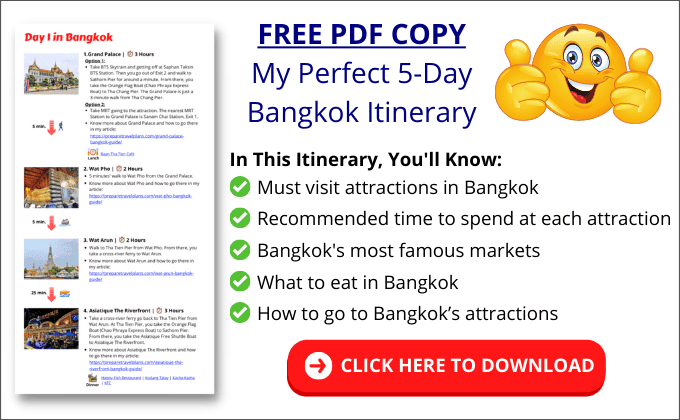 12. Khlong Lat Mayom Floating Market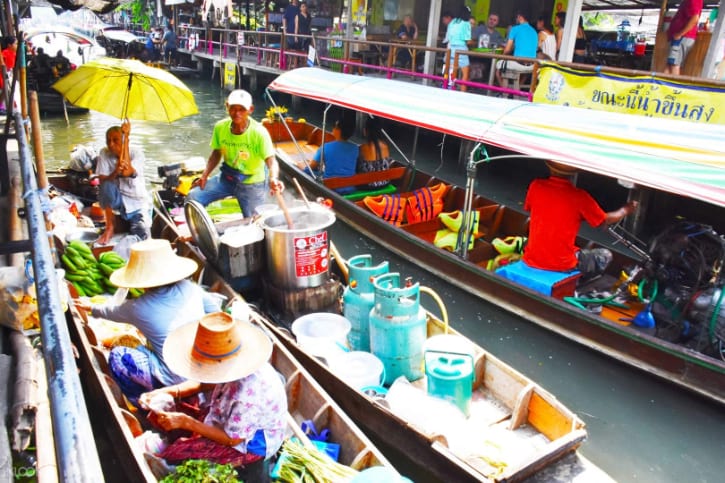 Khlong Lat Mayom takes up another spot of the best floating market in Bangkok.
It's a more traditional market that offers abundant fresh goods. And just like other floating markets, exploring the stalls and trying different foods are the highlight of the tour.
Indulge in as many local delicacies as you can. Some of the best foods to try are the Pad thai, pla pao (Thai salt-crusted fish), and sticky rice in bamboo.
There are also many tropical fruits available such as mangoes, papayas, pomelos, and rose apples.
With the fusion of colors from the surrounding scenery and the local products, this place is very relaxing.
Surely, it's the best way to cap off your floating market adventures.
Opening Hours:
Saturday to Sunday: 8:00 AM – 5:00 PM
Access:
Bang Wa BTS Station, Exit 1 > Take a taxi or Grab to Khlong Lat Mayom/ Take this Khlong Lat Mayom Bus Tour
Related Posts