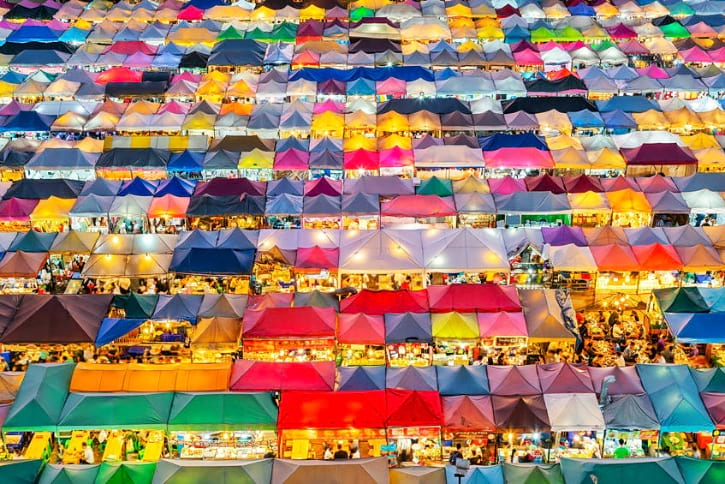 Train Night Market Ratchada is a famous Bangkok tourist destination. It's sometimes called Talad Rot Fai Ratchada by the locals because the phrase "Talad Rot Fai" translates into "Train Night Market".
This night market has almost everything for an enjoyable night out with your loved ones. From great food choices to expansive market options, no wonder this market is always a top choice among food lovers and budget shoppers. To make it easier to shop around the marketplace, Ratchada Night Market separates the food zone from the shopping area.
In this guide, you will know everything about the famous night market, including the things you can do and eat during your trip. Also, to make your trip much easier, I will include a complete guide on how to reach the night market by MRT.
Let's get to know more about the Train Night Market Ratchada in Bangkok.
Why Train Night Market Ratchada Is So Popular in Bangkok
---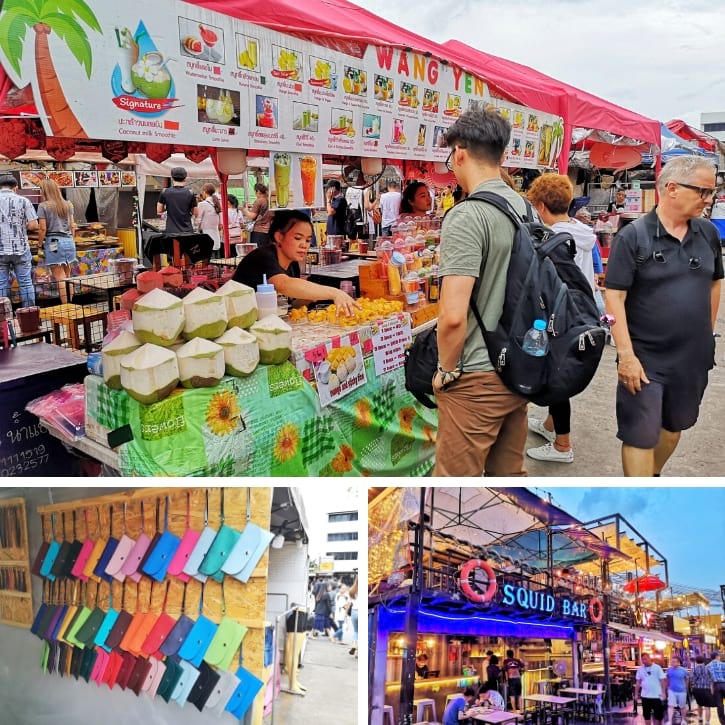 Train Night Market Ratchada is no doubt the best spot in Bangkok for all your food cravings. This popular night market is filled with a multicultural array of dishes, including Japanese, Korean, Western, and of course, Thai and Seafood dishes.
Aside from the tasty and cultural delights, you'll be impressed with the large display of fashion clothing, phone accessories, and souvenir items. So, if you're looking for a place to dine and shop without breaking the bank, Train Night Market Ratchada got you covered.
Here are the 5 reasons why Train Night Market Ratchada is worth the visit.
It has all sorts of food choices that you need, from local cuisines to international dishes.
It is a nice spot to try different Thai seafood and even exotic street food.
It is recommended for travellers looking for cheap treats and souvenirs.
It is very lively and colourful at night.
It is a great destination to chill and enjoy the local culture.
So, are you ready to get to know more about Train Night Market Ratchada? Let me start sharing with you what things you can eat at this popular night market in Bangkok.
Things to Eat at Train Night Market Ratchada
---
Street Foods
---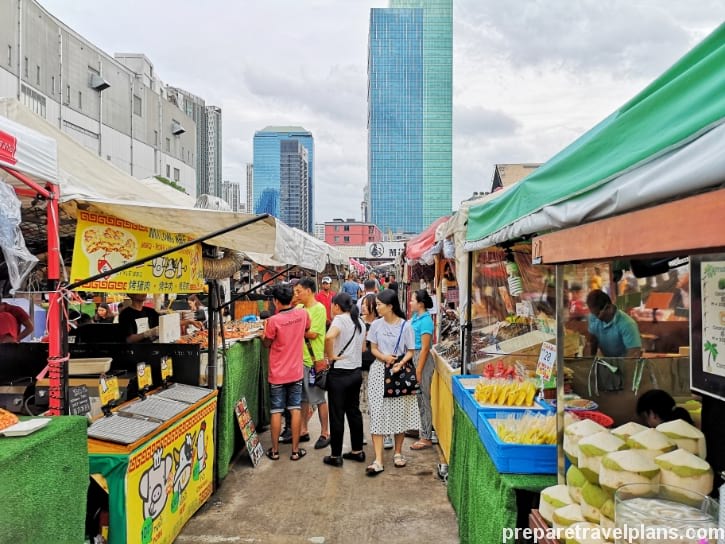 From tasty street food choices to healthy fresh options, Train Night Market Ratchada is truly a food lover's paradise. So, ready your appetite for a day filled with culinary delights and everything under the sun!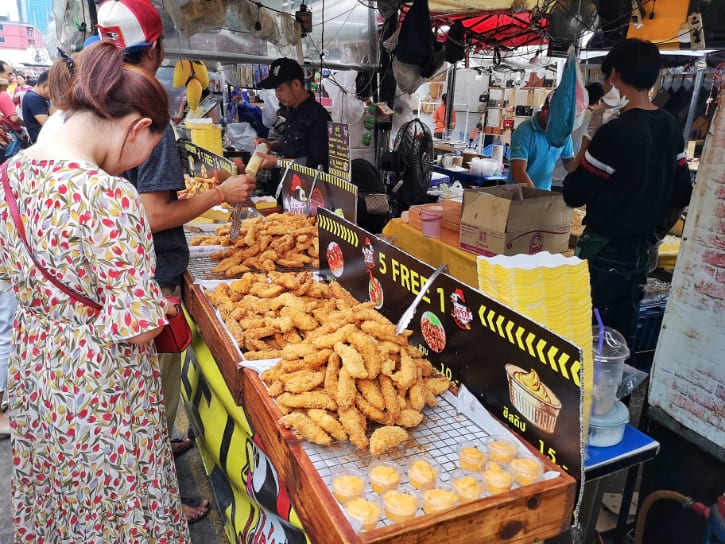 Craving for chicken? An array of crispy fried chicken is waiting for you! Grab a piece and start exploring for more street food choices!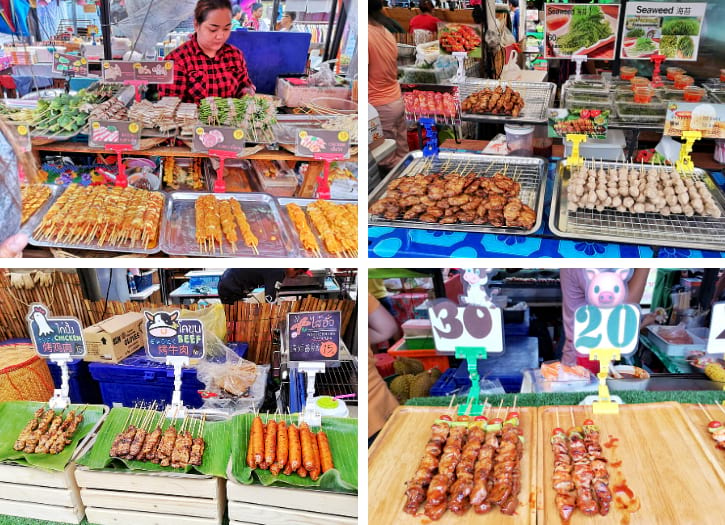 From bacon to vegetables, skewers of all sorts can be found here. Because of the wide variety of skewers in each stall, you might have a hard time picking your bets!
Grilled skewers are everywhere so you won't really go hungry while strolling around the market. There are grilled pork sausages and chicken as well as marinated beef, and the list continues. All of these are reasonably priced!
Extensive Array of Seafoods
---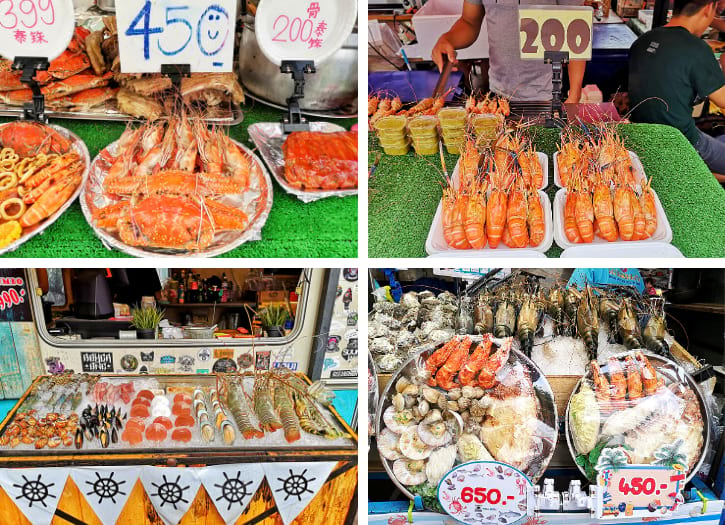 But of course, a Thai night market would not be complete without some seafood goodness! And you won't be disappointed with the options here. Feast your eyes on the extensive display of grilled and fresh crabs and prawns.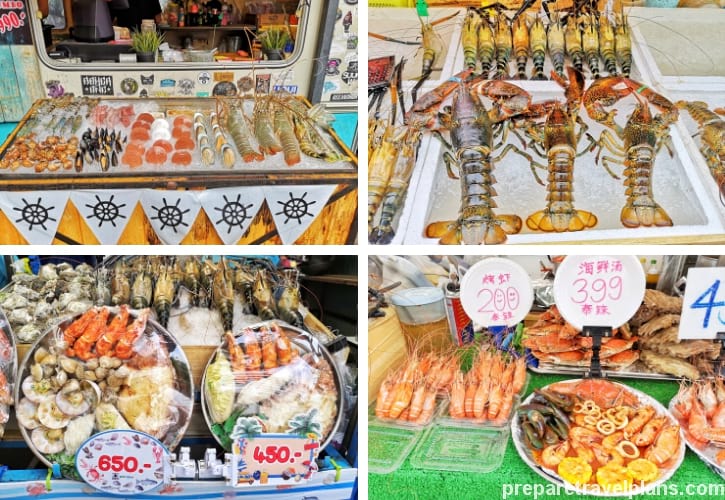 Walk further and you'll find more seafood options, including lobsters, scallops, prawns, squids, and mussels. These can be grilled to your preferences or whatever dish you like.
And if you want an entire seafood platter, don't worry because some stalls offer seafood buckets! These bundles have all seafood you need, from prawns to mussels to squids and more.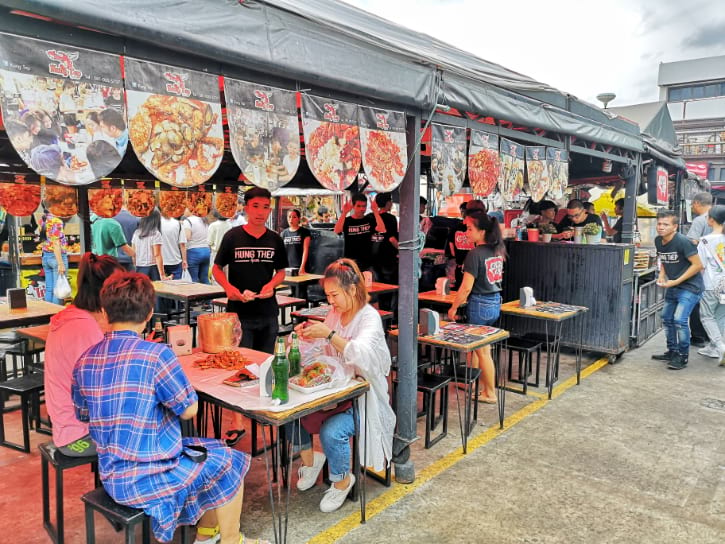 When it comes to the most popular seafood restaurants at Ratchada Night Market, Kung Tep Seafood always tops the list. This famous food spot has an impressive selection of seafood dishes for every type of traveller.
Japanese Dishes and Snacks
---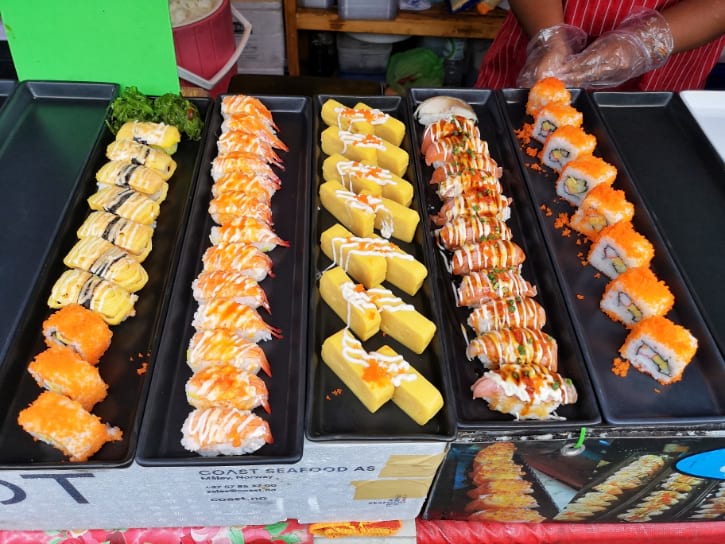 Aside from Thai specialties, the night market also features some Japanese dishes and snacks. Move around and you'll discover food carts showcasing tasty sashimi, takoyaki, and sushi.
Fried Insects and Scorpions
---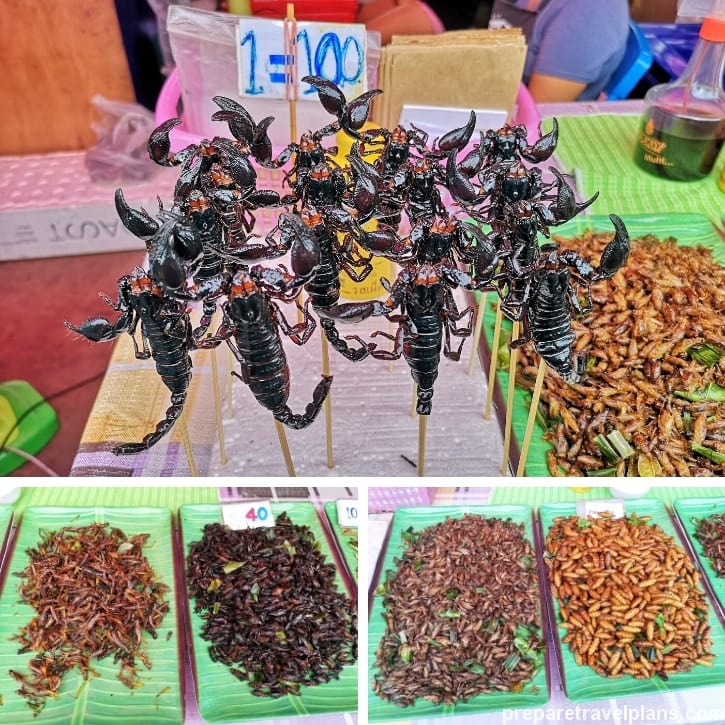 Thai night markets are known for some exotic street food snacks. And if you've got a heart for this kind of food, you'll be overwhelmed with the abundance of fried insects and scorpions in the market.
Thai Desserts
---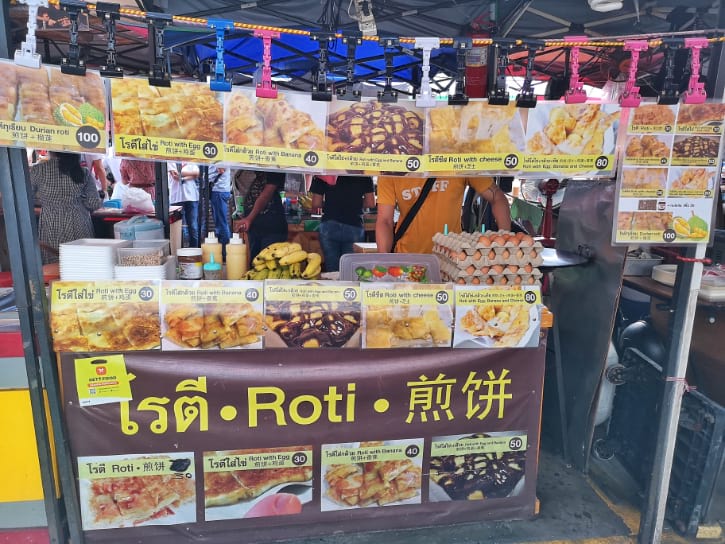 After a mouthful of seafood and other multicultural cuisines, continue your food adventure and go find some delectable desserts! Thai roti is one of the best picks, with lots of flavours to choose from such as egg, chocolate, and durian.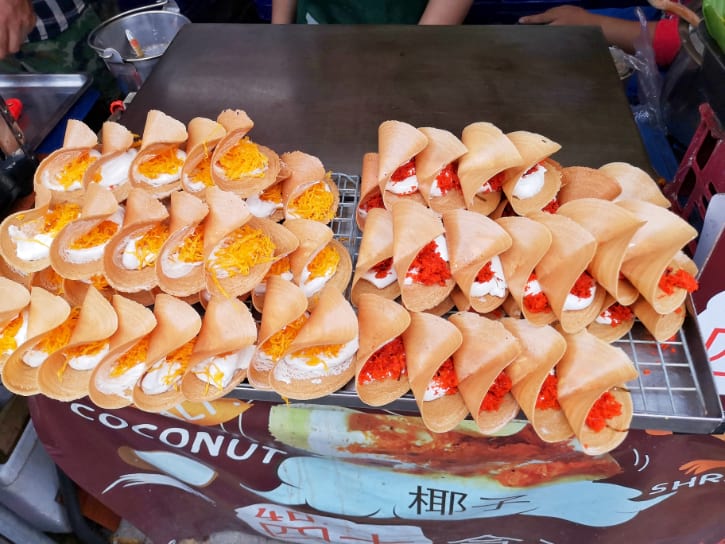 Interesting pancake styles are also up for grabs. Unlike traditional, fluffy pancakes, Thai pancakes are crispy with sugary filling. These are then paired with coconut and topped with sweet shrimp or egg yolk.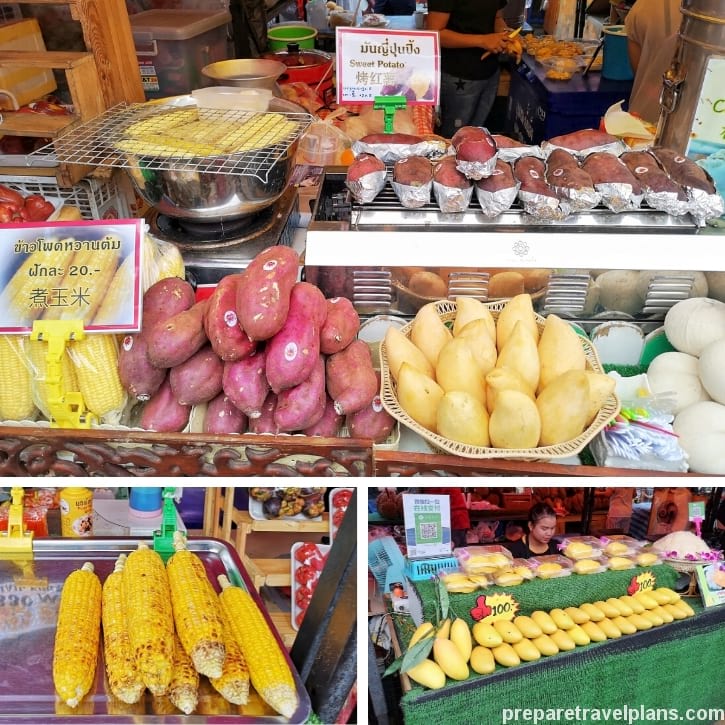 And who would miss the ever-famous mango sticky rice? These tasty Thai desserts are a staple in most night markets in the country. Healthy snacks like grilled sweet corn and potatoes are available in the market too.
Fresh Fruits and Juices
---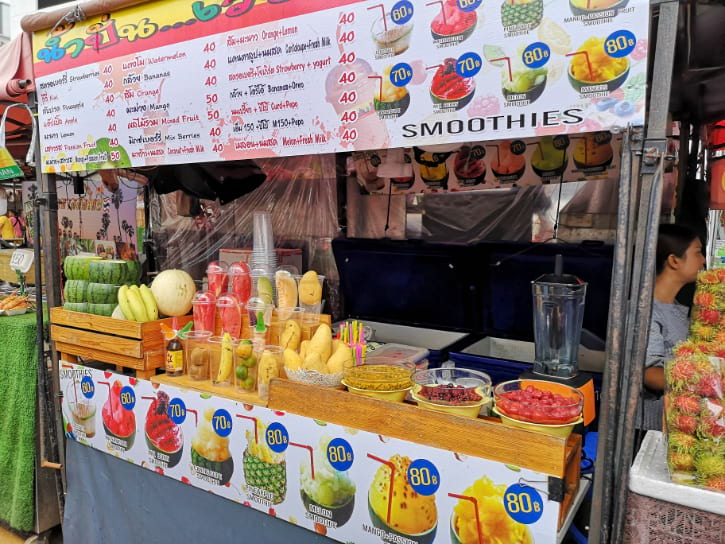 Fruit smoothies, anyone? Pair your favourite seafood snack with a refreshing fruit shake. Pick your own flavour from the display of fruits, including mango, pineapples, banana, watermelon, avocado, and melon.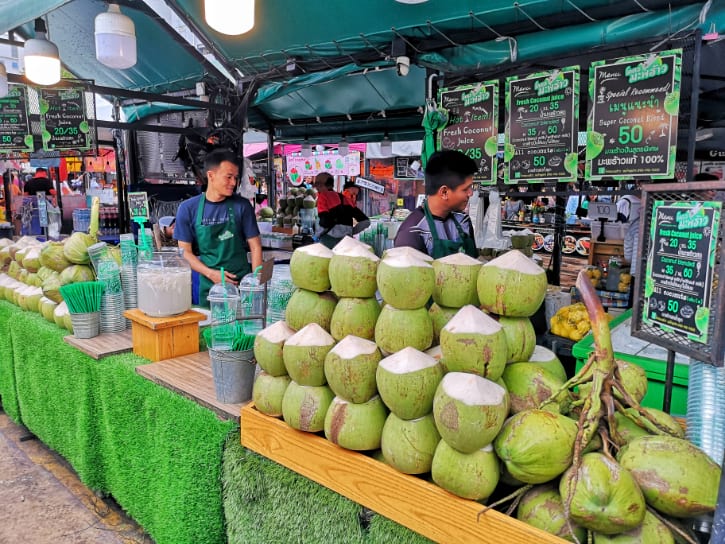 If you want fresh coconut juice, you're lucky enough because you won't run out of choices. There are also coconut shakes if you want variation!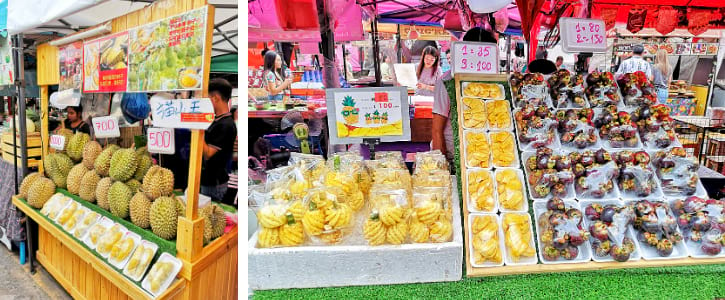 Aside from sweet snacks and cold drinks, the market is filled with fresh fruits, including the strong-smelling durian. Though this fruit is often a miss because of its smell, durian is actually a great immune booster.
Other fruits that are put on display are mangosteens and pineapples. These come in pre-packed options so it's easy to bring.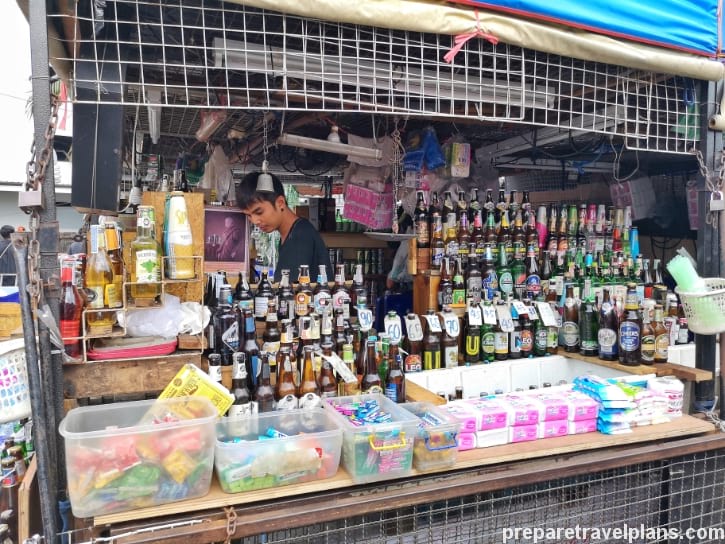 There are a few stalls selling some beers. And these beers come in various flavours to spice up your appetite.
Seafood and Western Restaurants
---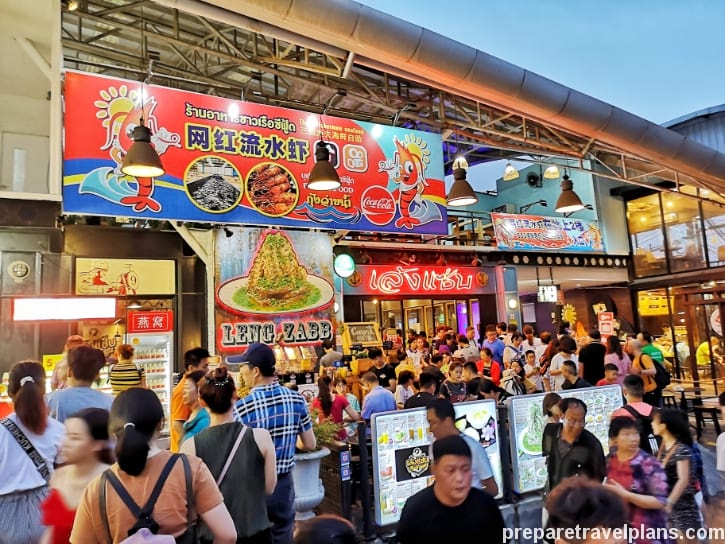 Since seafood is undeniably a top choice among locals and travellers alike, there's a great deal of seafood restaurants in the market. Most of these restaurants serve different seafood menus so you will have lots of choices.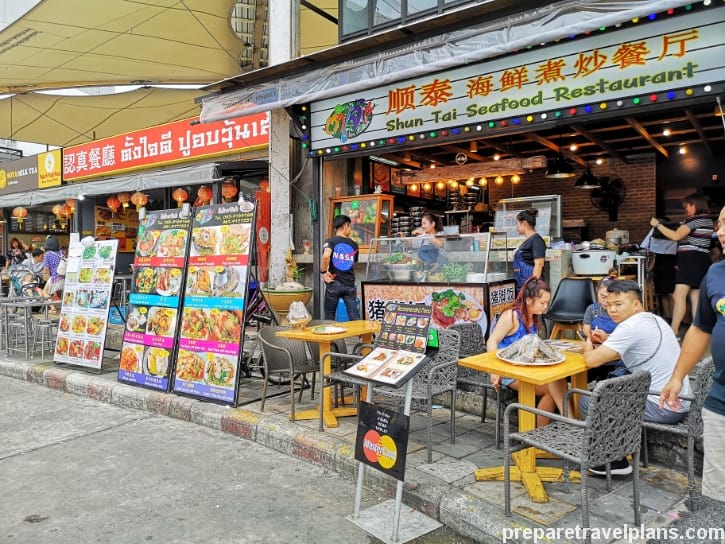 There are also seafood restaurants that give you authentic Thai food experience. Instead of plates, these are served on a bucket, together with paper and plastic gloves.
Another must-try local dish is Pad Thai, a stir-fried rice noodle completed with chicken, shrimp, leafy vegetables, and egg. If you want to enjoy this popular meal conveniently, order from one of the Pad Thai restaurants in the market.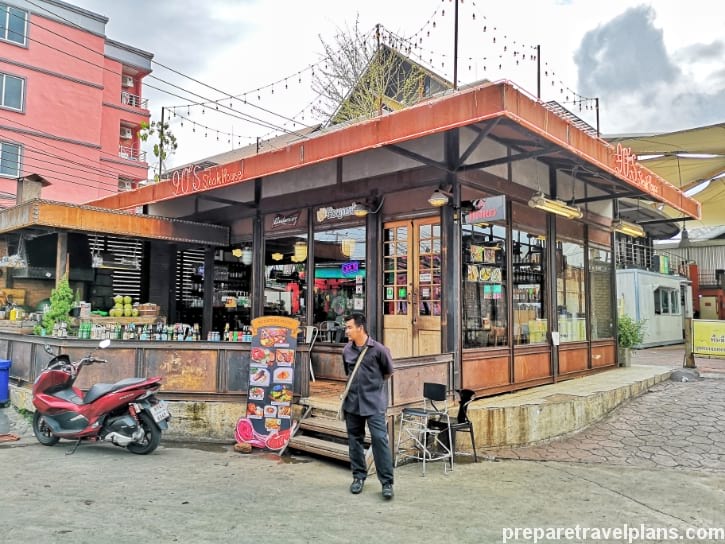 If you don't feel like eating seafood, there's a great alternative to satisfy your stomach. Consume a platter of steak from this cozy steakhouse and enjoy the rest of the appetizing menu.
Shopping at Train Night Market Ratchada
---
Trendy Women's and Men's Clothes
---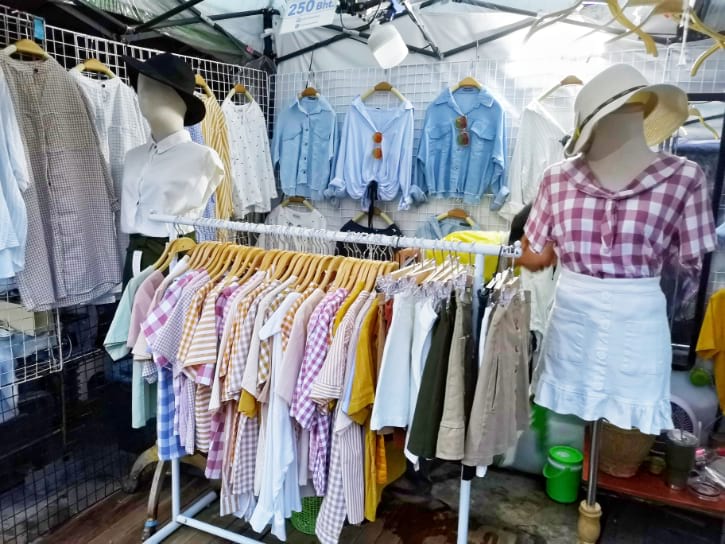 After your food adventure, it's time to go shopping! Train Night Market Ratchada is an exciting destination for fashionistas looking for some trendy clothes and accessories. And the best thing when buying from this market is that you save lots of money!
The broad range of fashion clothing is actually much cheaper compared to buying in malls. So if you want to maximize your money, this is the place to visit.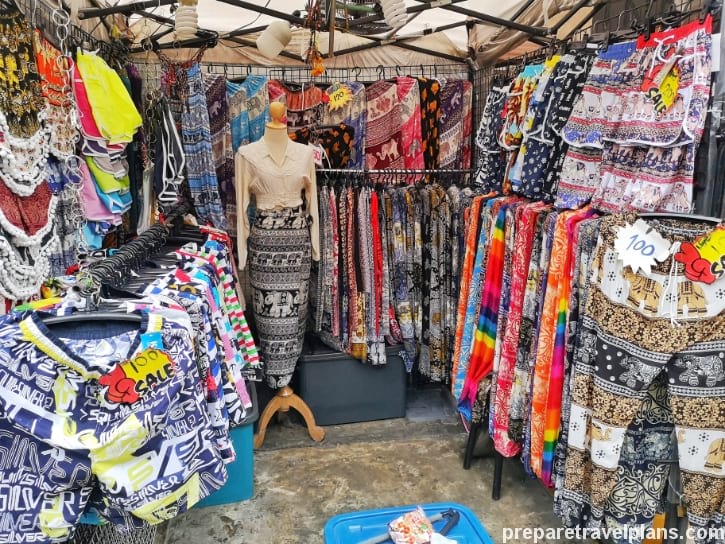 When visiting Bangkok, you just can't miss the top-rated temples like Wat Arun and Wat Pho. Since these are religious sites with strict dress codes, you can purchase a sarong and Thai pants here before going to the temple.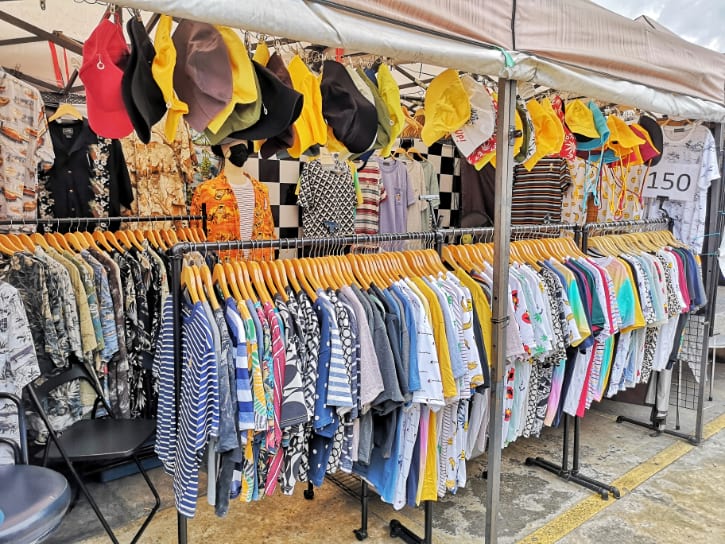 If there are stylish women's clothes and accessories, there are also trendy men's apparel! You can find comfy shirts and shorts, as well as cool caps.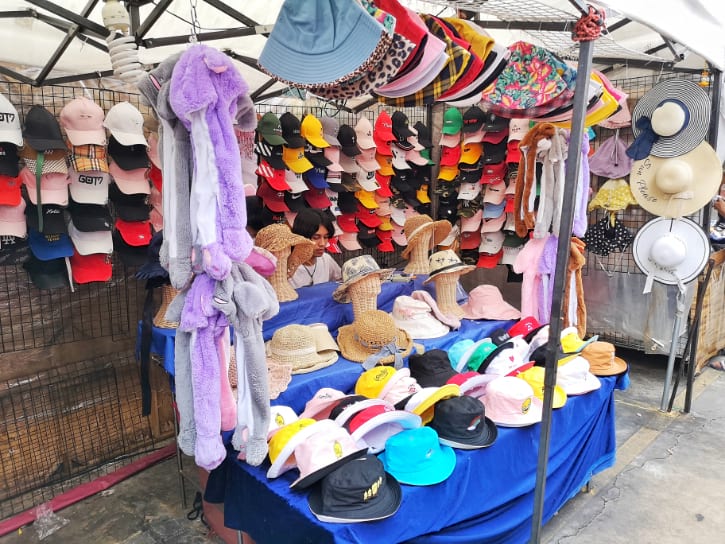 To match your fashion statement or beach attire, stop by some stalls selling fancy hats and cool caps. Don't worry because these items are not too pricey!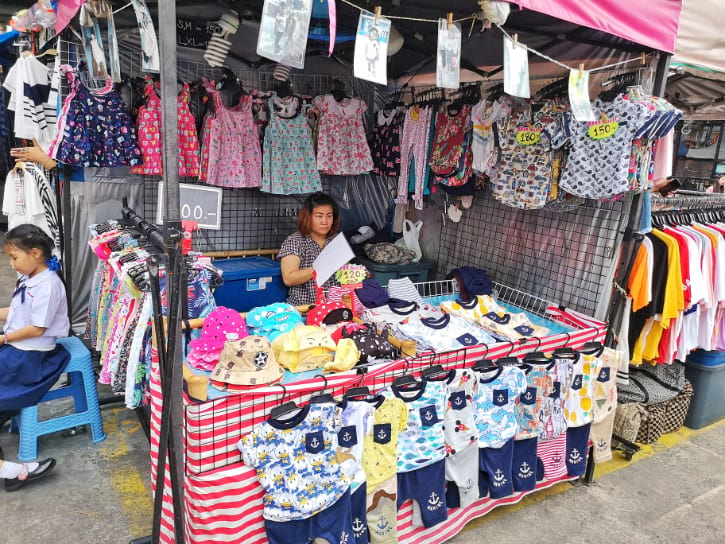 The market is also an incredible place to shop for kids' clothes, ranging from cute dresses for girls and adorable ternos for boys. Don't forget to strike a bargain to save more money!
Bags and Shoes
---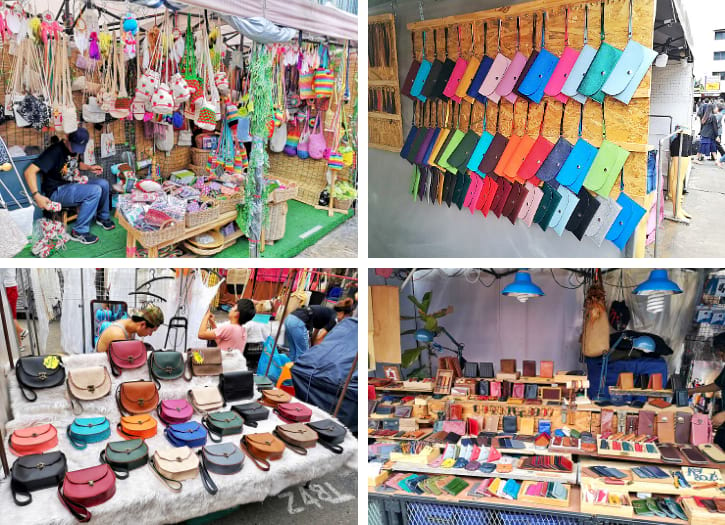 Knit bags are part of the fashion trend, so get yours from this beautiful presentation of knit bags in different sizes and colours.
For those looking for some cute souvenirs for their friends, take a look at these handheld bags in full, bright colours. If you buy more, you may even ask for a discount!
If there are chic bags for women, there are also numerous wallets for men in a variety of colours. Select from the leather-like wallets that are great gift ideas for your friends.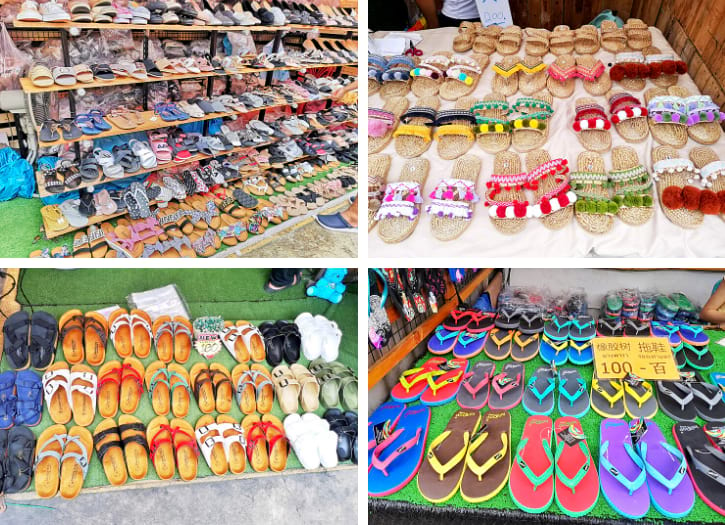 Surround yourself with more sandals that will match all kinds of occasions. There are wooden sandals for beach trips and plastic sandals for everyday use. So, whatever you're looking for, these stalls have everything you need.
If you want more sturdy sandals that will last for a year or so, pick from one of these footbed sandals. These are cheaper alternatives from the branded and high-end Birkenstock. If you're in need of a new pair of slippers, you're in the right place. Just tell them your size and you'll be presented with a fully-loaded collection of flip-flops.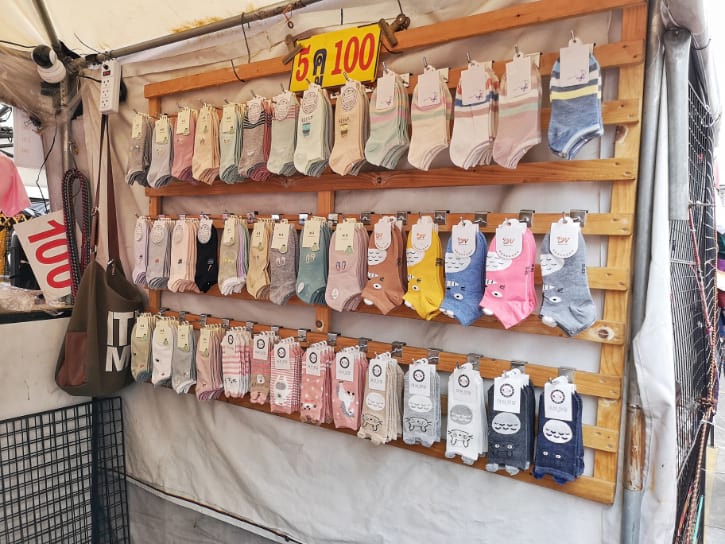 These cute socks are too hard to ignore! From animal patterns to adorable monster designs, it's not enough to own just one pair of socks!
Cosmetic Products and Open-air Nail Salon
---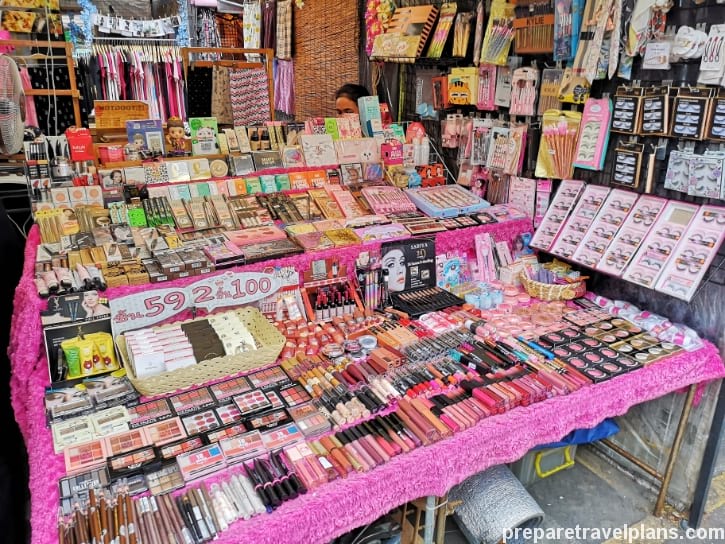 Cosmetic products at a much cheaper price are available in many market booths. You've got all makeup essentials on exhibit, including foundations, lipsticks, eyeshadows, eyebrow pencils, and such.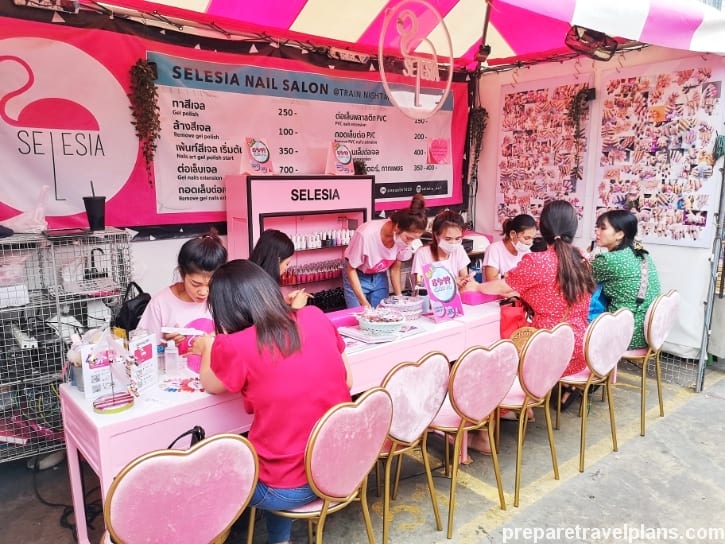 An open-air nail salon? Yes, you can find one at Ratchada Night Market! Pick your choice from the charming nail design's collection and take a break before you continue your shopping.
Other Highlights at the Night Market
---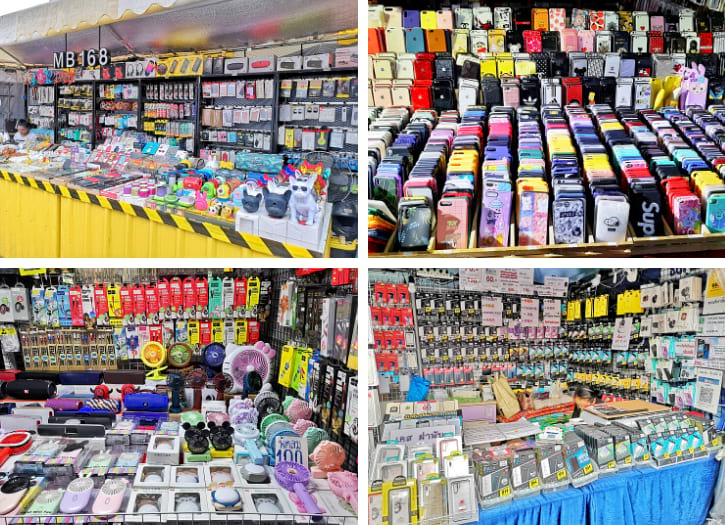 When exploring around, you will also come across all kinds of mobile accessories like phone cases, headset, power banks, phone grips, and more. These items are not just cool and charming but also cheap!
Handheld fans are widely available in this market. And you'll be amazed by the unique styles of these items.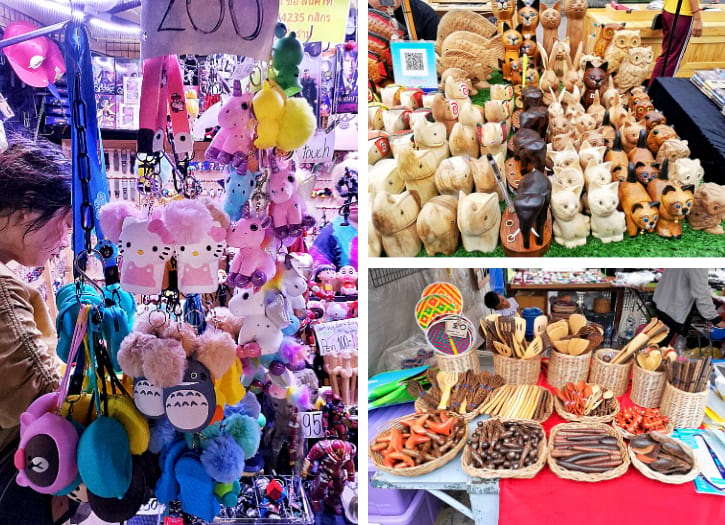 You don't have to spend a lot of money when shopping for souvenirs! You can find a great deal of affordable yet unique items openly displayed in the market. These include some cat and elephant figurines!
Or, if you want to add something interesting to your kitchen, this wooden kitchenware is highly recommended! Lots of homemade products and home decors are available from the market shops and vintage boutiques.
Bars at Train Night Market Ratchada
---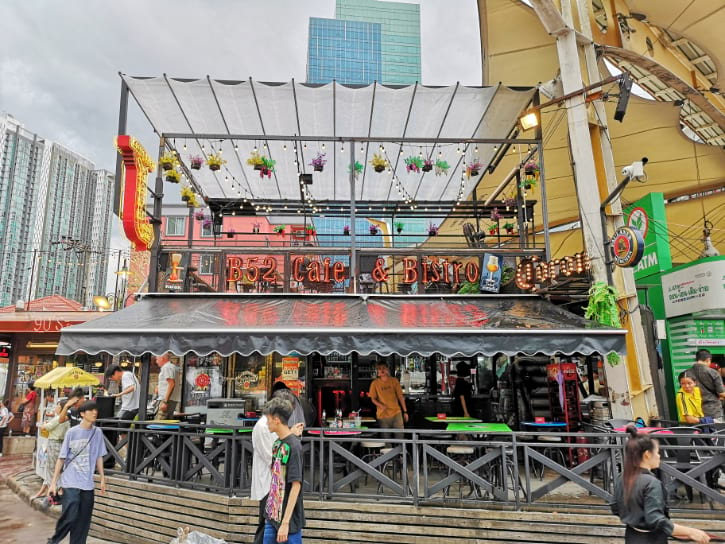 Train Night Market Ratchada is also the home to some of the coolest places for an awesome night out in Bangkok. First on the list is B52 Cafe and Bistro, a cozy venue for some cheap drinks and cocktails. This bar also comes with a relaxing rooftop area to enjoy the colourful market vibes.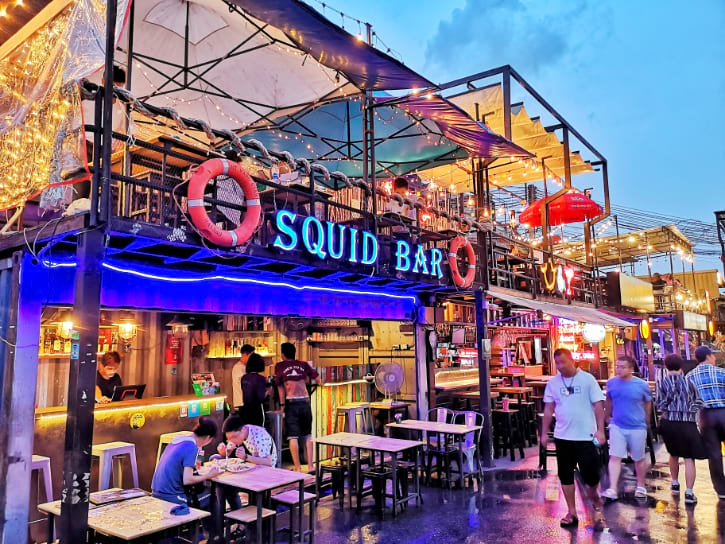 Squid Bar is another top choice for those who are in the mood for chill conversations and cheerful cocktails. The open-air space above is such a perfect way to cap off your busy shopping day.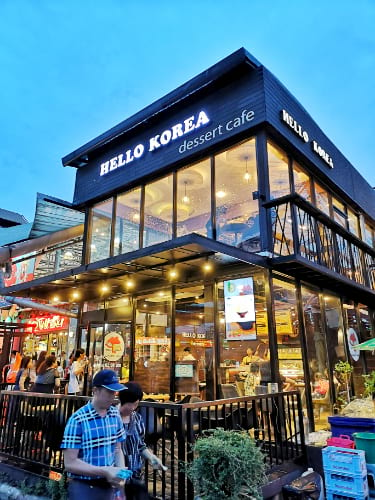 Skip the full-on clubbing and go for something more calming. Treat yourself with some sweet treats from Dessert Cafe. This glass-covered cafe with a stylish aesthetic not just offers tasty desserts but also sophisticated photo backdrops.
Where to Capture the Multi-coloured Rooftops

---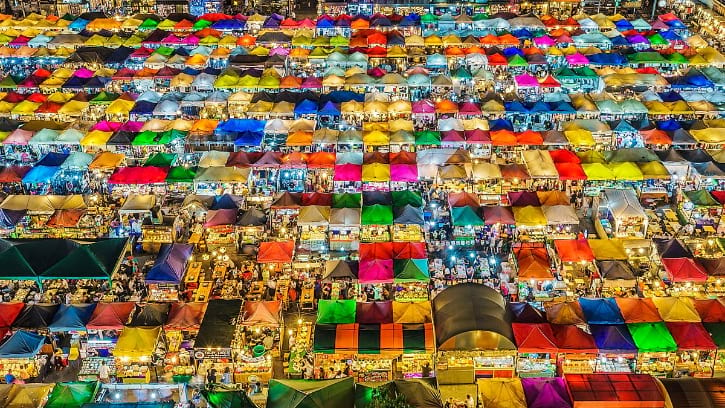 Every time Train Night Market Ratchada (Talad Rot Fai Ratchada) is mentioned, it's always associated with colourful and lively market scene.
And if you want to capture the vibrant atmosphere surrounding the market, head to the car park of Esplanade Mall. This shopping mall is located just beside the night market. And to reach the car park, simply take the lift going to the mall's level 4.
From the car park's ledge area, you can get a panoramic view of the entire Ratchada Night Market. See the brightly-coloured tents filled with busy people from all walks of life. The best time to go to the car park is around sunset or during night-time.
To know the daily schedule of the sunset, check the sunset time here.
4 Tips for Visiting Train Night Market Ratchada
---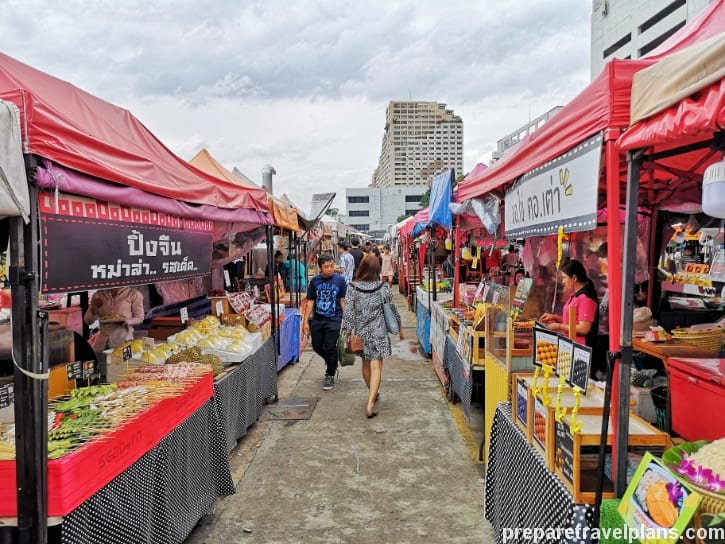 1. Train Night Market Ratchada Opening Hours
Open daily 05:00 pm – 01:00 am
Normally, the night market is open every day, from late afternoon until past midnight. To confirm their opening hours, you can check the schedule here.
2. Visit the market on a weekday
Ratchada Night Market is a famous tourist spot in Bangkok. Thus, it can get crowded, especially on weekends. So, if you want to avoid the jam-packed crowd of locals and tourists, it's recommended to explore the place during weekdays. This way, you have more space to move around the market for you to shop and dine conveniently.
3. Schedule your visit to the market early in the evening, around 6 PM
Most of the stalls will open around 6 PM, particularly the restaurants and food stands. So, if you want to be accommodated before the crowd gets busy, it's best to visit the place during late afternoon.
Also by night time, most of the seats are already fully occupied. Hence, you have to wait for your turn before you can eat. But if you arrive earlier, you have more than enough space to explore and pick your preferred dishes and drinks.
4. Spend at least 2 hours at the night market
Ratchada Night Market is such an exciting place to visit, most especially for first-time travellers. With the wide-ranging selection of food to eat and things to buy, it's suggested to allocate at least 2 hours at the market.
But if you have extra time, you can sightsee for around 3 to 4 hours. With this, you get to try all the tasty street foods as well as fully enjoy the vibrant market atmosphere. Without a doubt, the time spent at this night market is really worth it!
How to Get to Train Night Market Ratchada
---
By MRT
---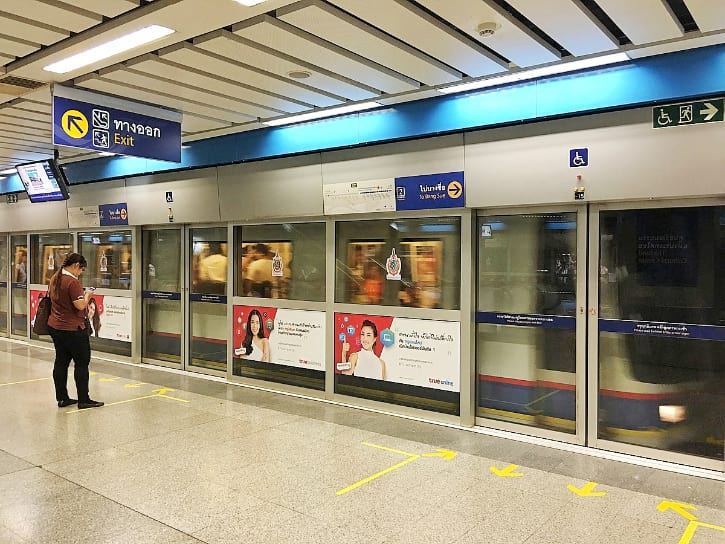 You won't have a hard time finding Train Night Market Ratchada because it is easily accessible via MRT.
If you're staying in areas such as Siam Paragon and Pratunam, you have to take the BTS Skytrain first. Then, you will need to ride the MRT to reach the night market.
The nearest MRT Station to Train Night Market Ratchada is Thailand Cultural Centre MRT Station, Exit 3. This MRT Station is just 2 minutes away from the night market.
If you have alighted from Thailand Cultural Centre MRT Station, Exit 3, you can simply refer to the Google Maps below. This will give you the exact way to reach Train Night Market Ratchada.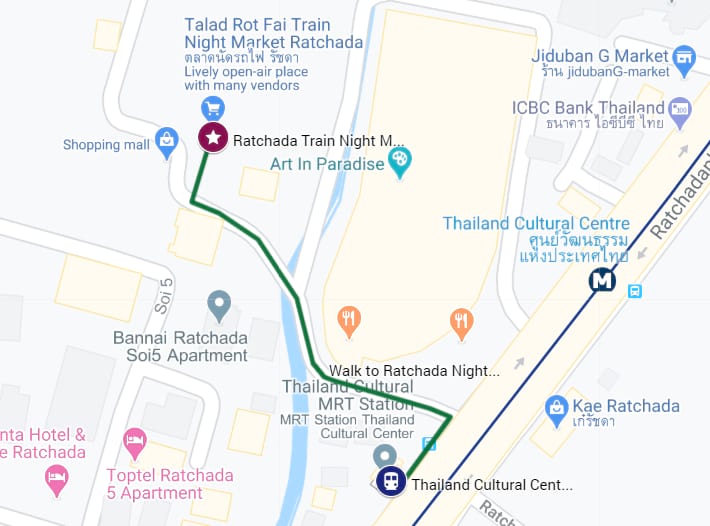 By Taxi
---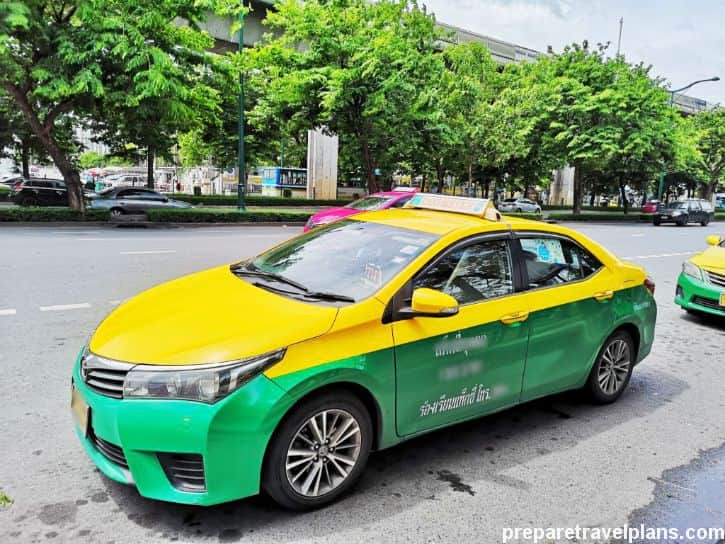 For those who are on a tight schedule and do not have time to deal with public transportation, you can simply take a taxi.
Just inform the taxi driver to drop you off at "Talad Rot Fai Ratchada", which is the local name of Train Night Market Ratchada. There are some taxi drivers who aren't familiar with the English name of the market. So, it's best to mention the Thai name because it's mostly used by the locals.
And before you ride the taxi, don't forget to ask the driver first if the meter is working or not. This is to make sure that you will not be scammed and pay a higher fare.
Conclusion
Train Night Market Ratchada is a must to visit and experience the fun when in Bangkok. This top-rated marketplace is the best destination to shop and dine without breaking the bank!
All the street food snacks, seafood dishes, sweet treats, and tasty refreshments are well-worth your time. And of course, the wide selection of trendy clothes, stylish accessories, electronic items, and cheap souvenirs make this night market a budget traveller's choice!
I sincerely appreciate your time and effort in reading my entire blog. I hope you get a better idea of what to do at Train Night Market Ratchada through this comprehensive guide.
For future reference, you can just bookmark this page and check it once you've decided to visit Bangkok.
If you have friends who are planning to go to the famous night market, don't forget to share this blog to help them. You can send this via social media apps, including Facebook, Twitter, Pinterest, Gmail, and WhatsApp.
Thank you so much and I hope you'll have a great and memorable trip to Train Night Market Ratchada in Bangkok!
Discover Other Famous Attractions in Bangkok