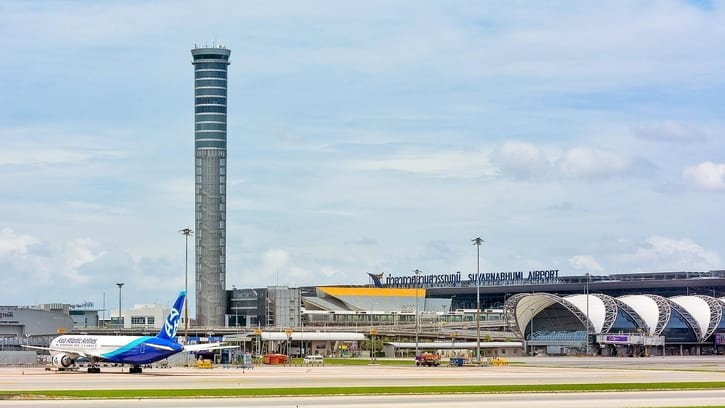 Do you want to know how to get from Bangkok Suvarnabhumi Airport to Pratunam? Actually, you've got 3 transport options that will take you to Pratunam from the airport.
In this blog, I will list down all 3 methods, including the cheapest and fastest as well as the easiest and safest way.
For each method, I will highlight its main advantages and differences for you to easily pick the right transportation option to reach Pratunam.
Without any delay, let's start with the first option. 🙂
1. Suvarnabhumi Airport to Pratunam by Train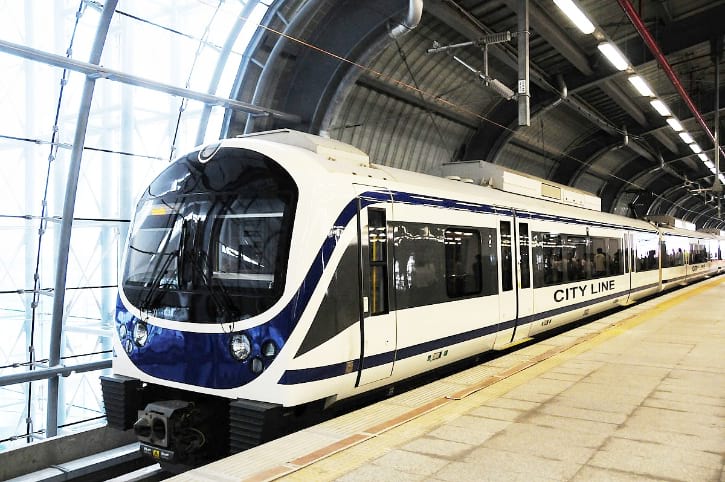 Airport Rail Link Operating Hours
6:00 AM – 12:00 AM
Depart every 10 – 15 minutes from Suvarnabhumi Airport
If you're on a tight budget and don't want to waste time on the road, then this is the best option for you. Just take the airport train, or also called Airport Rail Link to get from Suvarnabhumi Airport to Pratunam.
This transportation is a direct airport train going to Pratunam, which means there will be no transfer required along the way. You will be transported to your destination in no time!
So, for the first step, you have to go the level B of Suvarnabhumi Airport, where you'll find the location of Airport Rail Link station. Once you take the Airport Rail Link, you will alight at the Ratchaprarop Station, which is located in Pratunam.
After arriving at Ratchaprarop Station, you will need to walk for around 5 minutes to reach Pratunam Market and Platinum Fashion Mall. These two are just a walking distance from the Ratchaprarop Station.
For the airport train cost, the single trip fare from Suvarnabhumi Airport to Ratchaprarop Station is 40 Baht per person. And, the train ride from the airport to Pratunam will take about 25 minutes or so.
Though this is the fastest option, you might spend extra time at the ticketing vending machines, especially during peak seasons.
So, do you want to skip the long queues when purchasing your ticket for Airport Rail Link?
Simply book the Airport Rail Link ticket online here and skip the crowded waiting lines at the ticket vending machines. This will not just save you time but also save your effort in lining up.
Because of its convenience, many travellers have taken advantage of booking their airport train ticket online to get to their destination easily. Therefore, if you want to travel to Pratunam with ease, this is a great option.
2. Taxi to Pratunam from Suvarnabhumi Airport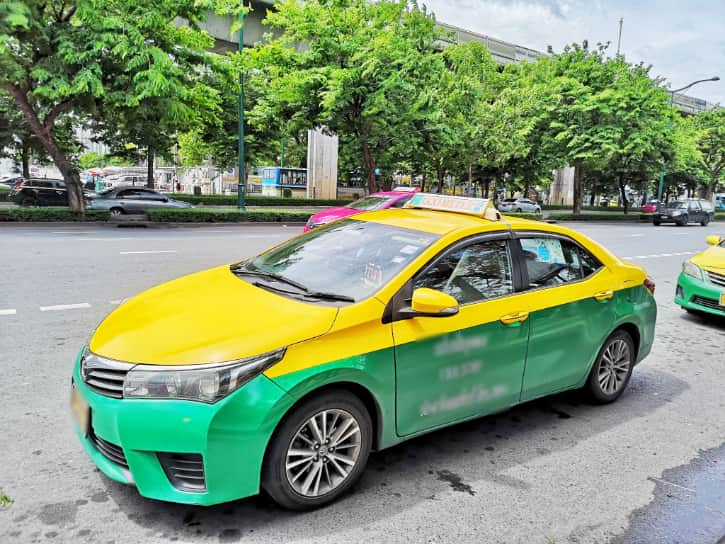 The second option is by taking a taxi to Pratunam. This is highly convenient because you won't have to take a public transportation. However, taking a cab is a bit more expensive compared to option 1.
The distance from the airport to Pratunam is about 32 km. Hence, the travel will take around 45 minutes to reach your destination via taxi.
In general, the taxi fare to Pratunam from Suvarnabhumi Airport is around 280 Baht, excluding the airport surcharge (70 Baht) and the highway tolls. This means you will need to allocate extra budget because the total price is way more costly than taking a direct airport train.
Likewise, taxi scams can happen in Bangkok. So, if ever you have decided to take a taxi, make sure you prepare your budget ahead of time. And, don't forget to ask the driver if the taxi meter is working or not.
If there's a meter but the driver insists on not using it, then don't waste your time and find another cab. This is probably one of the most common taxi scams in the city.
These taxi scams would not use the meter so they can charge you with a fixed but higher rate. Therefore, always be careful when riding a taxi and verify first before you hop inside the vehicle.
3. Private Suvarnabhumi Airport Transfer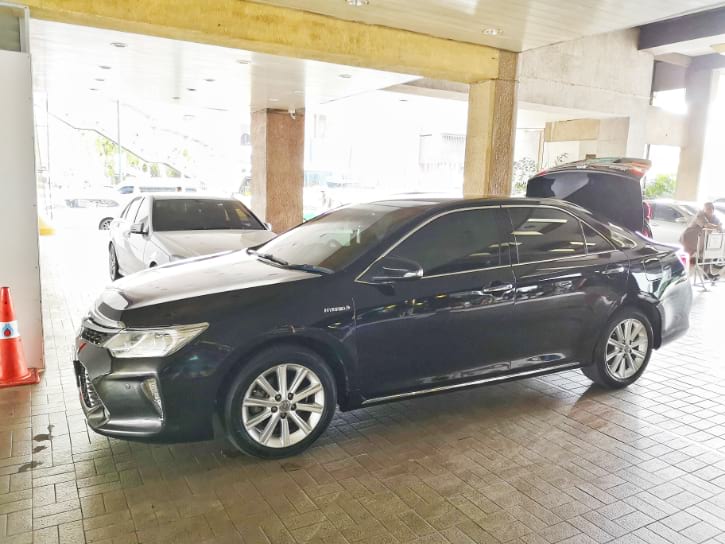 The third and the last option is the private Suvarnabhumi airport transfer. This is definitely the easiest and less stressful way to go to Pratunam without spending lots of money!
It's an affordable transport option that is suitable for all tourists who want a comfy trip from the airport to Pratunam. Apparently, it's like a door to door pickup service from Suvarnabhumi Airport to your chosen hotel in Pratunam.
This option is highly recommended to those who are travelling on a long hour flight, as well as those who are afraid of taxi scams. More so, this option is suitable for families travelling with kids and the elderly or groups who are carrying a lot of luggage.
Before I forget, this transport service is available 24 hours. Thus, you can reach Pratunam whatever time of the day or night! All in all, it's a private transport that will take you to your destination directly and conveniently.
Because of all these amazing features, this private Suvarnabhumi airport transfer is very famous among international tourists and even locals. Plus, the driver can even speak in English so you won't have a hard time conversing and asking questions.
Because of its popularity, many have availed of this private Suvarnabhumi airport transfer. And, you can see the reviews here, which are given by previous travellers who have booked this transport service.
If you are interested in availing this direct private transfer between Suvarnabhumi Airport and Pratunam, you can check the link below. This link will also provide you with the latest prices and other important information about this transport option.
I hope you find this guide useful when choosing the right transport mode from Suvarnabhumi Airport to Pratunam.
Don't forget to bookmark this blog so you can easily use it as a reference when you plan for your future trip to Bangkok.
And to help your friends, you can also share this guide with them online. This can be sent via different social media apps, including Twitter, Facebook, Gmail, Pinterest, and WhatsApp!
Thank you and I wish you and your loved ones a wonderful and unforgettable holiday in Bangkok! 🙂
Related Posts