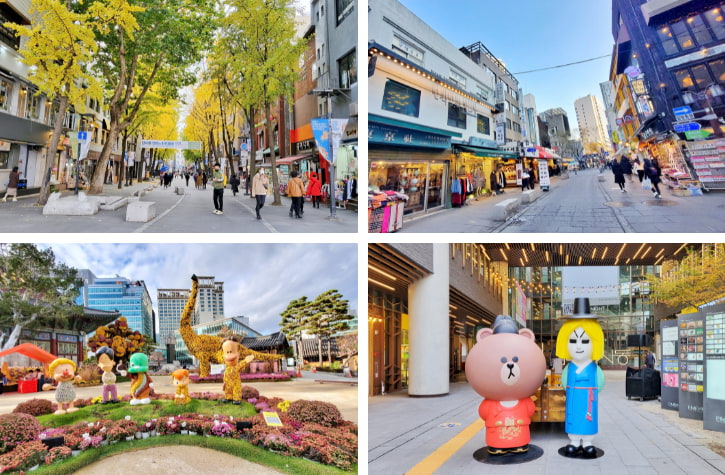 Insadong street is a lively spot in Seoul filled with artsy decorations and historical spots. Wander around this colorful place and enjoy the lively atmosphere, from daytime to nighttime.
In this guide, you'll learn the key details on how to go to Insadong. It will also cover all the best things to do in this dynamic street so you can plan your trip ahead.
One of the reasons why Insadong is famous among travelers is because of the unique combination of attractions. From traditional wonders to modern sights, this area got it all!
And don't forget to take a look at my post on 7-day Seoul itinerary as well. This will give an idea on how to insert this amazing street into your schedule.
So, let me start by introducing the 15 best things to do in Insadong that will surely make your visit more meaningful! 😊
1. Walk around Insadong Street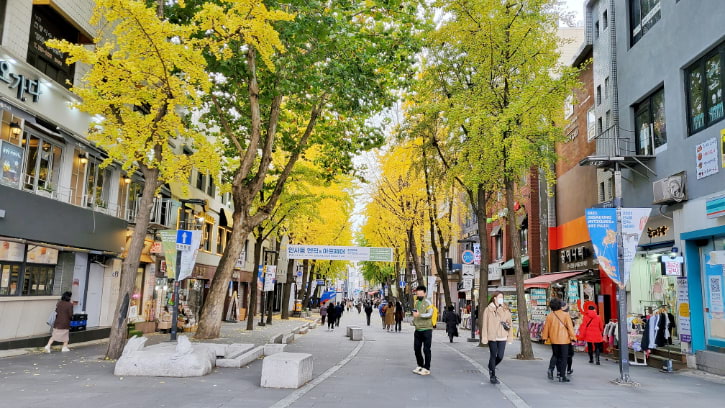 Insadong is a vibrant neighborhood in Seoul that is full of life.
Be one with the crowd and explore the beautiful network of alleyways.
Each passageway comes with a unique attraction that is hard to miss. These include some local shops and family-run restaurants.
And because of the cosy yet bustling atmosphere, it's easy to fall in love with this quaint district.
So, take your time and just enjoy the traditional and modern charms in this famed street.
2. Unwind at Jogyesa Buddhist Temple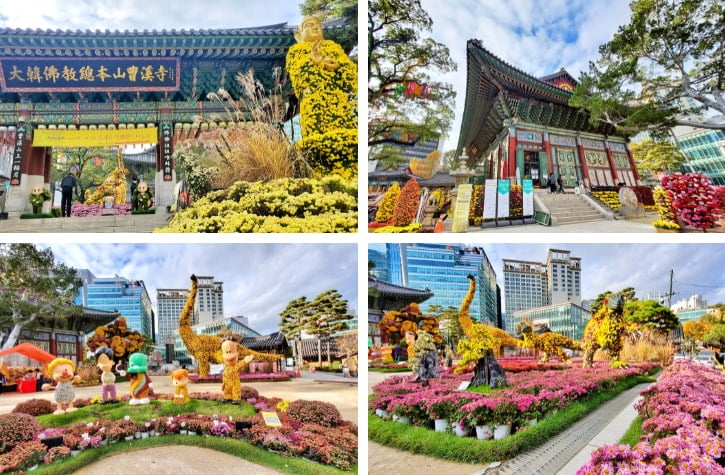 Step into the Jogyesa Buddhist Temple and be amazed by the vibrant views that surround the temple.
The colorful courtyard prepares you for a more historical element inside the main hall. Within the main structure is the famous statue of the seated Buddha.
After your trip inside the temple, don't miss the white pine tree near the entrance. It is considered a natural monument in Korea, being more than 500 years old.
As the key site of Korean Buddhism, this is definitely a must-see temple while visiting the street of Insadong.
3. Play at Alive Museum and Dynamic Maze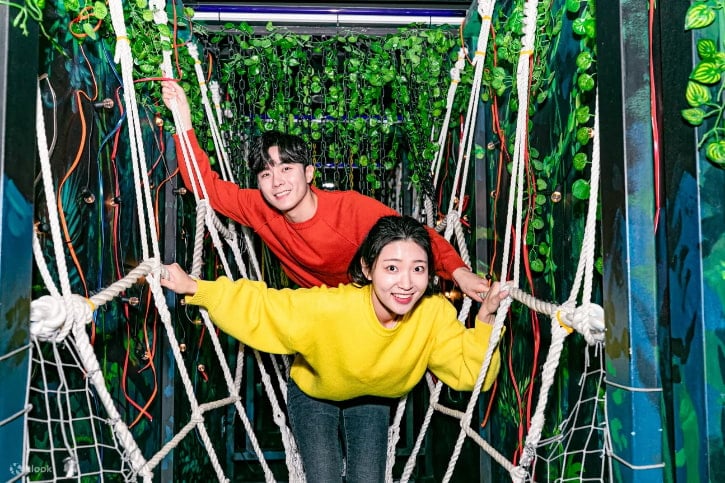 While strolling along the street, don't miss to visit Alive Museum and Dynamic Maze. This is a very popular spot in Insadong, especially for those traveling with families and friends.
Ready yourself for a visual journey full of amazing and interactive artworks.
Strike a pose with the optical illusions and try to complete the Dynamic Maze on your first attempt. For more info about the museum, check out the tickets here and enjoy up to a 20% discount!
4. Meet the Iconic Characters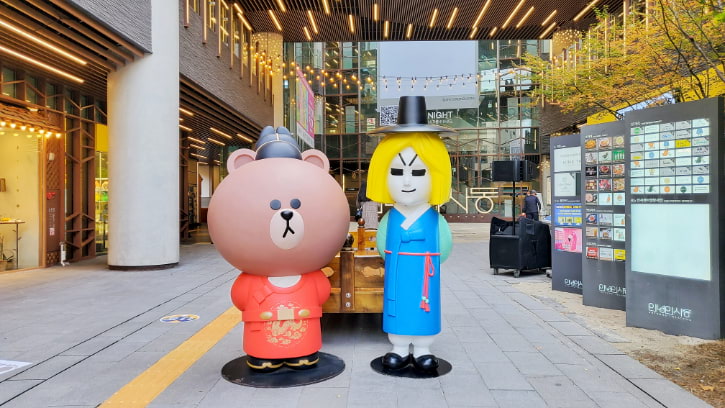 But of course, your trip would not be complete without taking a photo together with these characters.
Catch a glimpse of these adorable figures before the crowd sets in.
These iconic characters are often transferred from one place to another. But generally, you can see them along the street.
5. Go on a spree at Ssamziegil Shopping Complex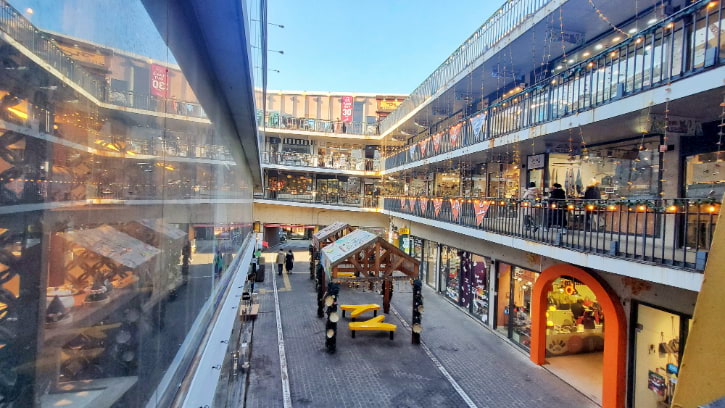 Located along Insadong main street, the Ssamziegil is a shopping complex filled with artistic touches.
Hop from one store to another and be amazed by the beautifully decorated walls and unique shopping items.
This cultural spot offers a wide variety of products.
Some stores sell trendy clothes and customized accessories. There are also a lot of decorative pieces and souvenirs on display.
During your exploration, try one of the cafes or traditional snack stores here. And if you have extra time, go over the art galleries and check out the workshops.
6. Explore the Insadong's Alleys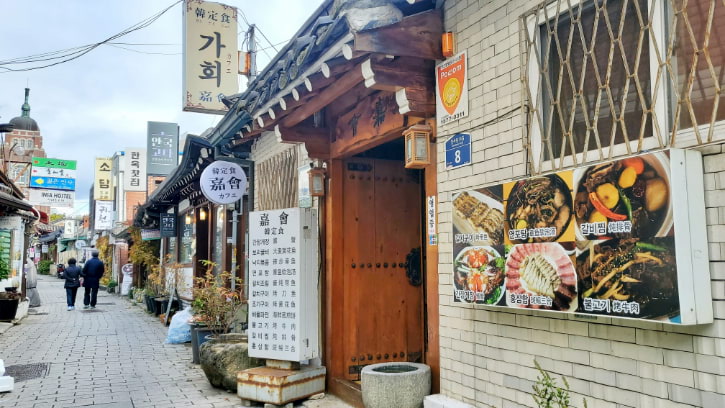 Head to the other section of the main street and discover the Insadong's alleys.
This area offers a more traditional vibe, featuring old-style restaurants and tea shops.
As you dive deeper into the alleys, you'll see more independent shops and makgeolli bistros.
If you want to know more about Korea's culture, it's highly recommended to visit Bukchon Hanok Village, a famous Korean village in Seoul. Located very near to Insadong, you can spend some time at the village after exploring the street.
7. Drop by some Boutique Shops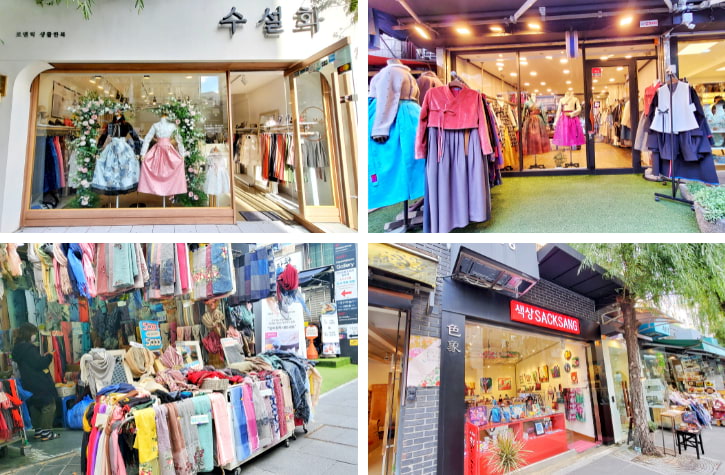 Have a look at the beautiful boutique shops along the main street of Insadong.
Most of the stores have an impressive display of hanboks, from plain designs to vibrant ones. Meanwhile, there are some that sell stylish clothing and accessories.
Aside from the traditional and trendy attires, you'll also find a collection of exquisite scarfs and handkerchiefs. These are practical souvenirs for your loved ones at home.
8. Take a look at this Art Gallery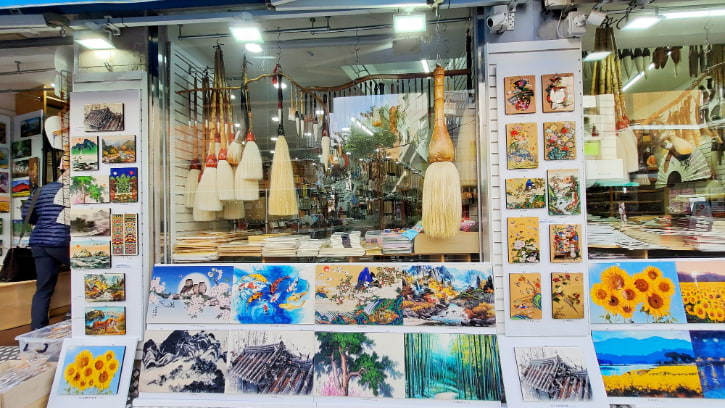 But of course, you can't miss the beautiful art galleries at various shops in the neighborhood.
Immersed yourself with the striking Korean culture given to life by the unique paintings.
These art pieces vary in design and color, which means you have lots of options according to your preferences. So, take your time and enjoy each exhibit.
9. Check out some Traditional Masks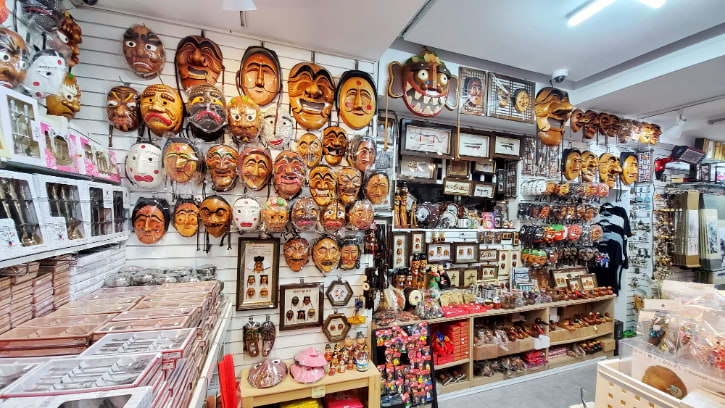 When discovering different art shops, there's a high chance for you to come across some traditional masks.
Look closer into these distinctive pieces and be mesmerized by their stunning characteristics.
Also called tal, the masks represent various things such as social class and individual personality. These were further used when performing ritual dances, plays, ceremonies, and cultural festivals.
10. Relax at the Old Tea House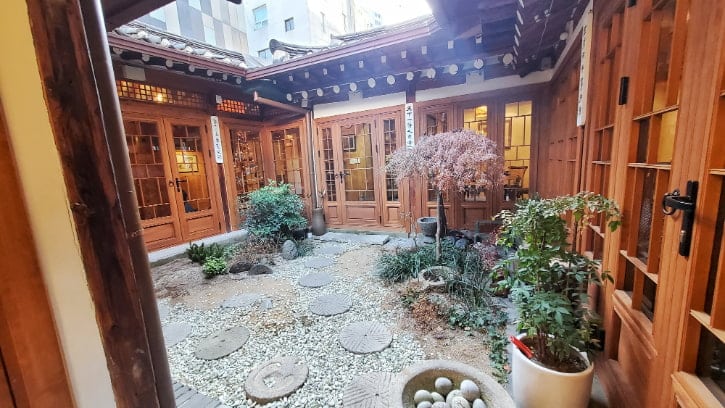 After walking around the street, you can take a good rest at Shin Old Tea House.
This famous tea house in Insadong is known for its rustic charms that add up to its cosy atmosphere.
Sit on one of the stationed pillows and enjoy your cup of tea. They also serve traditional rice cakes that are a perfect complement to your drinks.
11. Buy Souvenirs in Insadong Shopping Street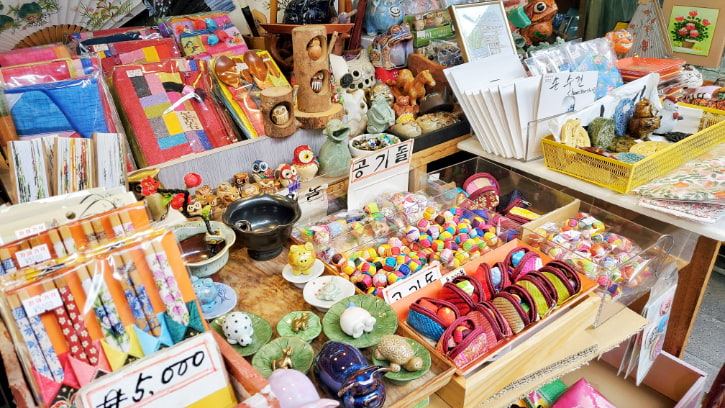 You won't run of souvenirs when you're in Insadong. There are several shops that offer all kinds of souvenirs.
Take a glance at the display of customized pieces that beautifully represent Korea.
Here, you'll find colorful chopsticks, vivid figurines, gorgeous handbags, and a lot more.
Before you buying, make sure you have visited different shops so you can check and compare the prices.
12. Browse Through the Crockery Stores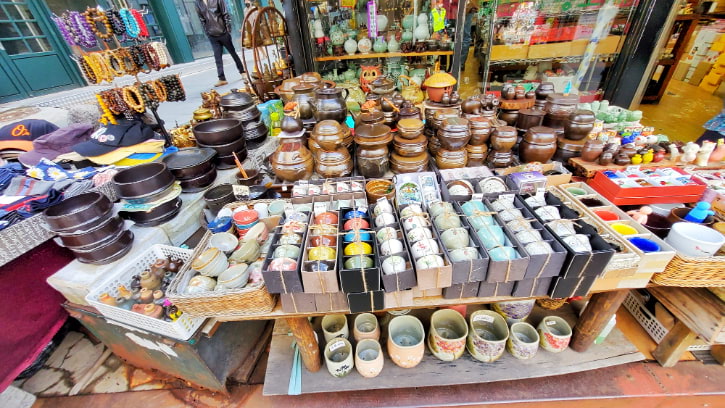 For kitchen lovers, don't forget to hit up some crockery stores during your trip!
Each store comes with a captivating display of utensils, from chopsticks to fruit forks. There is a wide collection of traditional spoons, plates, and cups as well.
And surprisingly, the kitchenware is made from different materials. These include wood, bronze, ceramics, and stainless steel.
13. Catch Sight of Different Antique Stores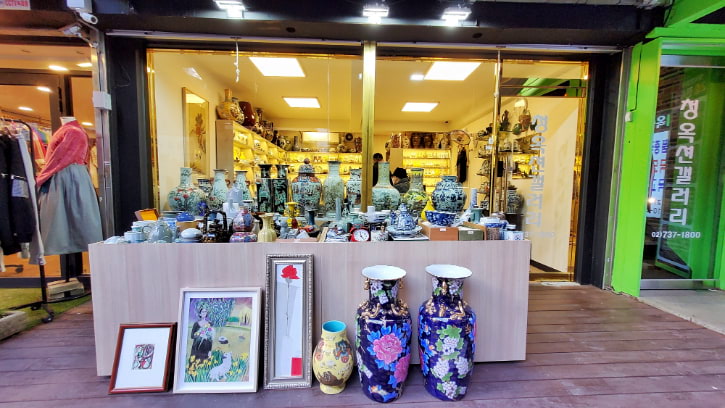 If you're a fan of antique stores, you'll love this place even more! This thriving spot holds a number of shops selling beautifully aged artworks.
Go over the beautiful paintings and sculpted pieces, and choose from the hundreds of options on display.
Many stores also put up a variety of vases and figurines in different styles and colors.
14. Acquire a New Skill at Museum Kimchikan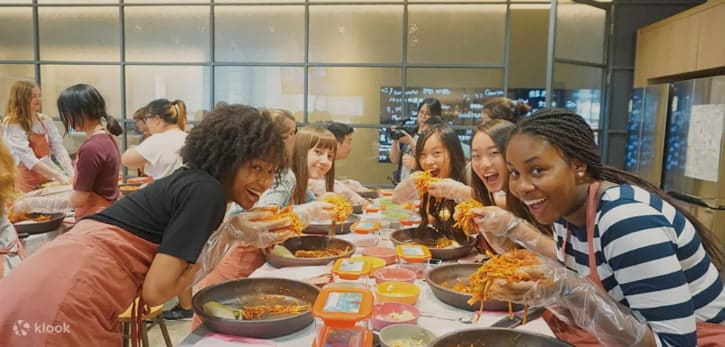 For those who are interested in the process of kimchi-making, make sure to pop by Museum Kimchikan.
Kimchi is such a staple food in Korean dining. So, it's a great experience to be able to create your own!
In this interactive attraction, you get to learn about the history of this well-known fermented dish.
On top of that, you are presented with many kinds of kimchi, from cabbage kimchi to diced radish kimchi.
15. Chill around Tapgol Park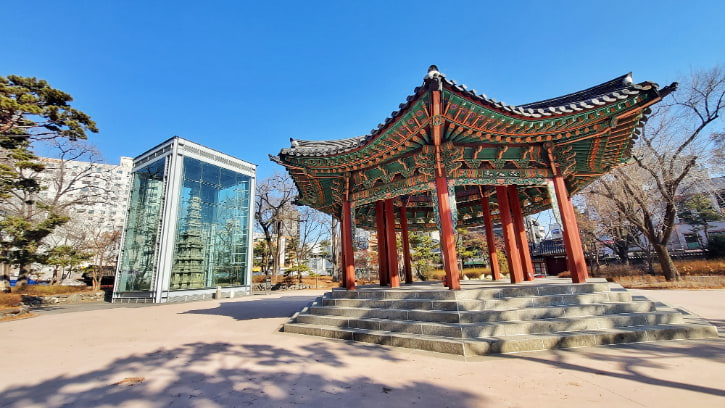 To cap off your adventure, head to Tapgol Park and unwind. This area is actually more than just a scenic spot.
It is the first modern park built in Seoul. Hence, it is considered a historic site.
While chilling around, get a glimpse of the 15-century pagoda. As an important part of the park's history, this 10-storey monument is enclosed in a glass structure.
Map of Things to Do in Insadong Street (Seoul)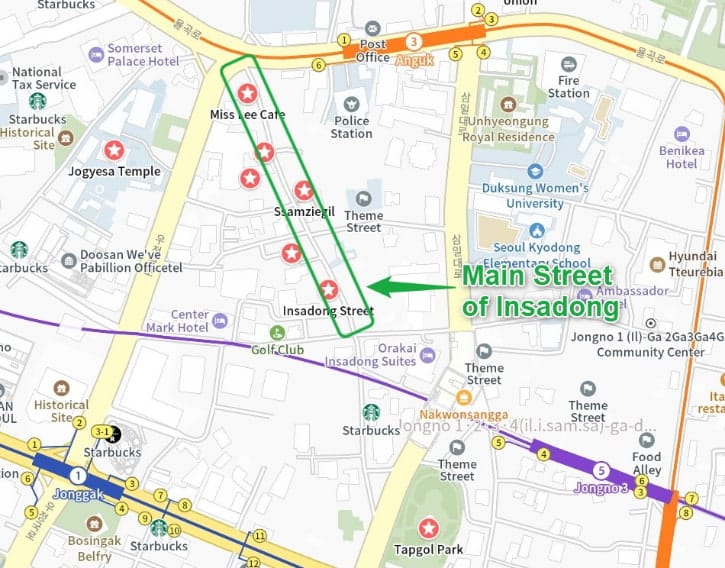 I have plotted the exact locations of the top things to do and see in Insadong in this document. You can download it for easy reference. And, hopefully this can help you tour around the street easily.
Tip: Don't forget to also download the app of KaKaoMap (Android)/ KaKaoMap (iOS) on your phone. This app comes with an English language support function so you can navigate the place easily.
Best Times to Visit Insadong
It's important that you plan your visiting hours during your trip to Insadong in Seoul.
The best time visit Insadong is Saturday (2:00 PM – 10:00 PM) and Sunday (10:00 AM – 10:00 PM).
During these times, parts of the street are closed. This means there's no traffic and vendors are sprawling out everywhere. As a result, the town transforms into a walking street, where you can walk around freely and enjoy the spots comfortably.
How to Get to Insadong in Seoul
1. By Subway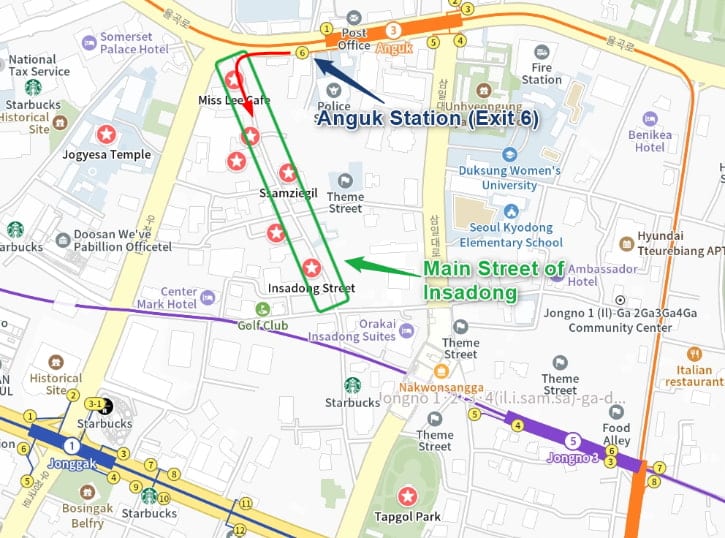 You can take the Seoul Subway Line 3 to reach Anguk Station. From there, go out of Exit 6 and head straight. After a minute of walking, you will see Insadong street on your left.
2. Take a Sightseeing Tour Bus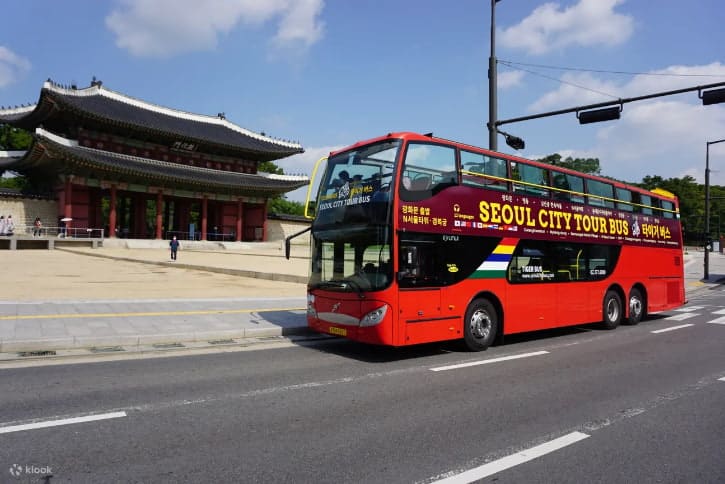 If you're looking for another option to go to Insadong, there's the Seoul Sightseeing Tour Bus. Unlike the first one, the bus has 15 stops. These include Gyeongbokung Palace, Myeongdong, and Namsan Seoul Tower, many more.
You may see the bus route here and learn more about the ticket prices in advance.
3. Book a Private Car Charter Service
The last method for you to visit Insadong is through a private car charter service. This is highly recommended if you are a family with kids and senior parents or a large group of friends.
Aside from making your trip more convenient, this also offers hotel pick-up and drop-off services. It means you won't have to deal with public transport, saving time on commuting.
For more information about the private car services, including the pricing, find out more here.
Related Posts