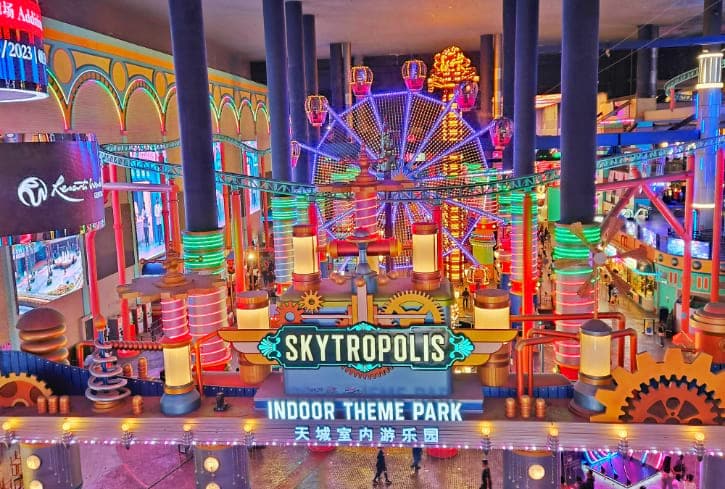 Genting Skytropolis indoor theme park provides many exhilarating rides and immersive attractions. This is definitely a great treat for the entire family or groups of friends.
For a seamless adventure, let me lay out the 17 best rides at Genting Skytropolis indoor theme park. And fascinatingly, there's something for individuals of all ages.
So, whether you're in search of heart-pounding attractions or more family-friendly rides, the park got it all for you. And don't worry because you'd get valuable insights with the help of my guide. 🙂
Top Rides and Popular Attractions You Should Try Out
1. Super Glider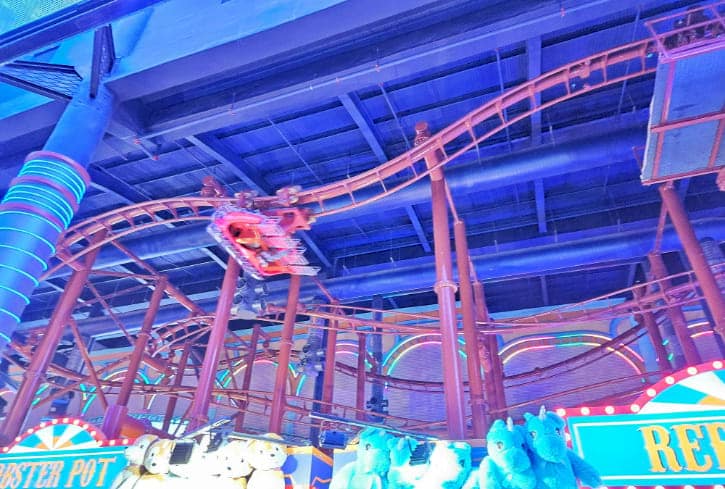 One of the standout rides at Genting Skytropolis is awarded to the Super Glider. This rollercoaster guarantees an unforgettable experience of a lifetime. Rave it up as you go through a series of ups and downs.
Plus, there are two inversions along the way to level up the fun. And of course, the speed is more than enough to keep you immersed all throughout.
2. Power Surge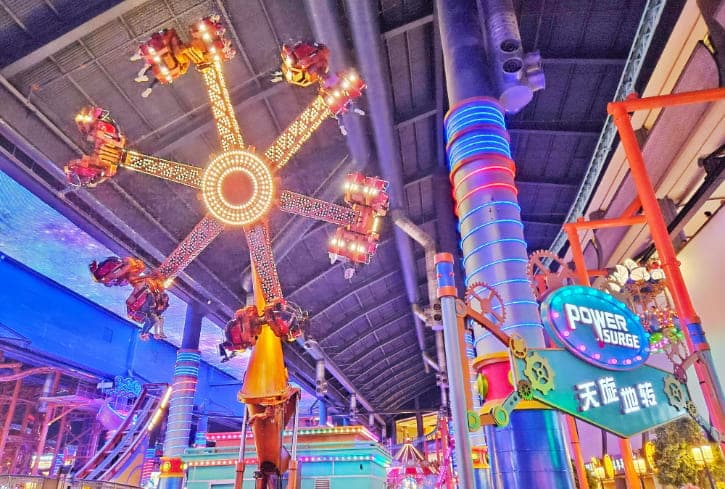 Power Surge is truly a thrilling way to get you energized. While dangling up in the air, your seat would be twisted like there's no tomorrow. And take note, these turns could either be half or full inversions!
Plus, the circular motions intensify further, leaving you breathless. Without a doubt, this ride would leave you dizzy yet highly entertained.
3. Sky Towers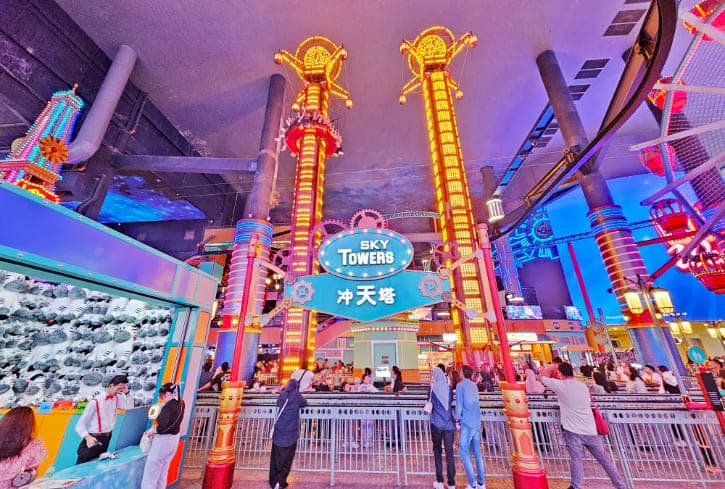 As one of Genting Skytropolis indoor theme park's beloved attractions, Sky Towers never fails to captivate visitors.
This takes you to the top and then teases you down with a drop. But don't be fooled because the drop might come when you least expect it!
In addition to that, these drops follow a gravity-defying pace. This means that aside from the fall, you need to prepare for the exhilarating speed.
4. Disco!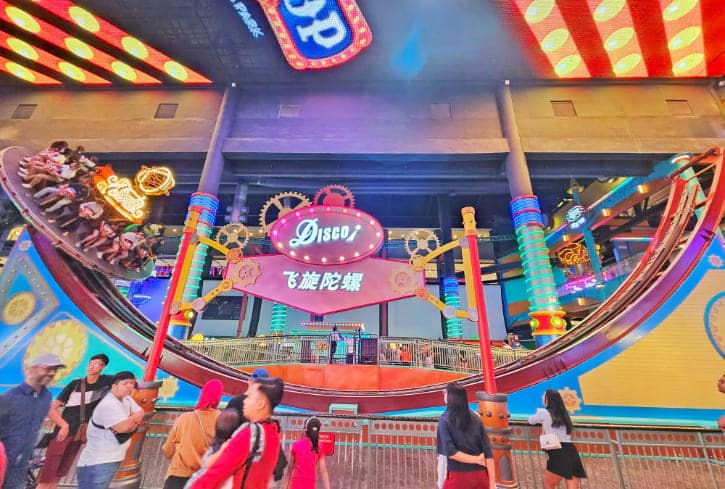 Take your spot at the Disco! This is like an upgrade to the classic Viking ride, where you'd be rocked back and forth. But instead of the usual left and right motion, this actually spins!
So, if you want something to stimulate your senses like no other, board this giant spinning disc. Without a doubt, this is pretty much a stirring entertainment for everyone.
5. Music Express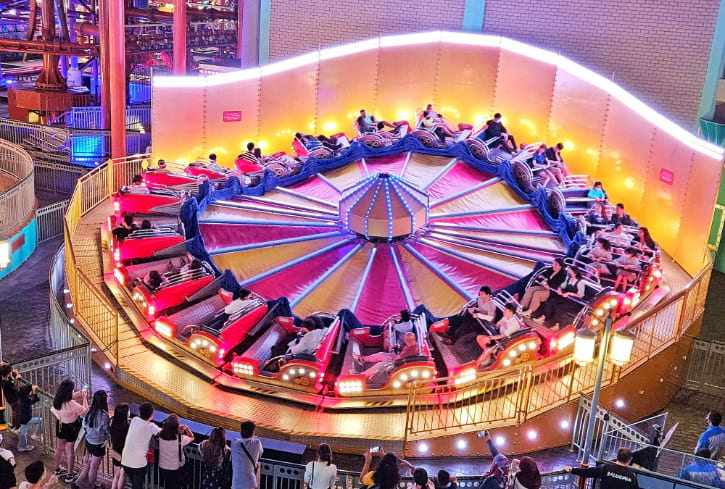 Music Express lets you experience what it's like to be riding a fast-paced carousel. Yet compared to the usual circular motion, this one got some add-ons.
Have a wild time as the structure goes up and down at a very high speed. It even reverses to keep your adrenaline on the top level.
6. Spin Crazy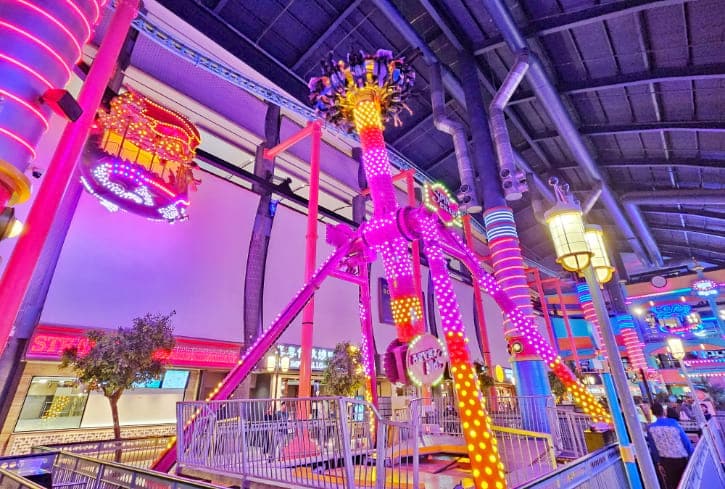 Spin Crazy definitely lives up to its name. This giant pendulum assures a bewildering adventure with its wild rotations.
Here, you can expect some continuous swinging and a couple of 360-degree spinning motions.
And by 360-degree, this means that you'd be dangling from toe to head for a couple of seconds! So, don't miss this remarkable attraction and gather every brave soul in your group!
7. Balloon Race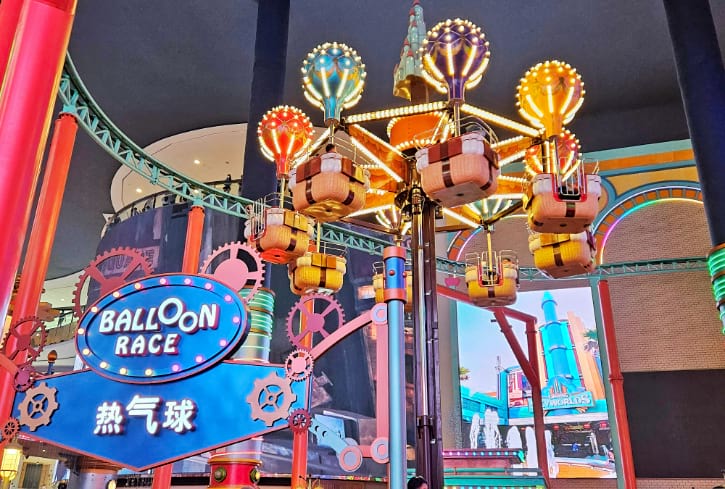 Balloon Race is another top-notch ride, especially for those travelling with kids.
Hence, when visiting Genting Skytropolis, this should be added to your list. The attraction itself is a nice detour to the frightening rollercoasters and dizzying drops.
But of course, there would still be enough excitement while onboard. Enjoy the moderate rotations as well as the dazzling lights that make up the place.
8. Loop de Loop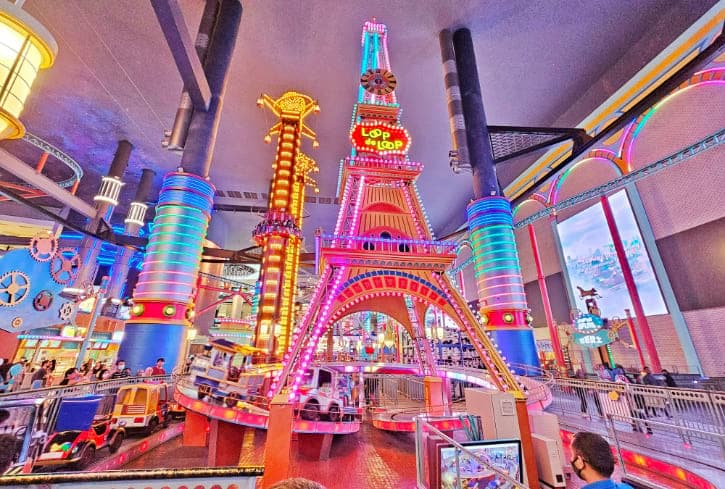 Loop de Loop is one of the best entertainment options for kids. This gives them the opportunity to embark on a ride all by themselves. So, give them the go signal to step into this miniature structure.
Let them enjoy the minimal slopes and curves. Just make sure to watch them closely while they venture into their own path.
9. Bumper Boss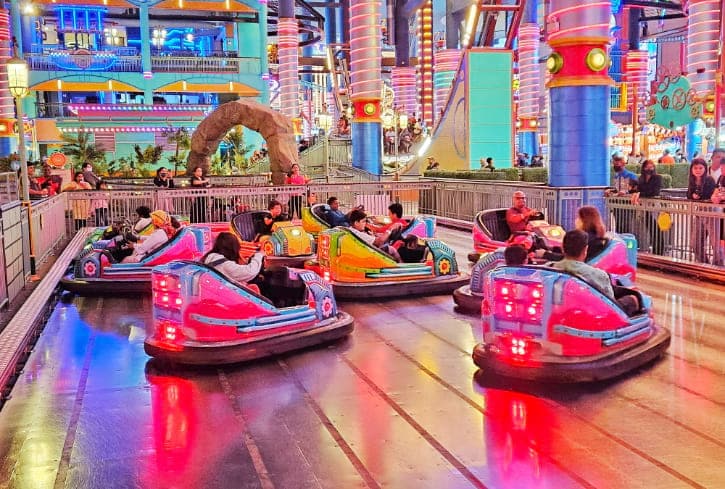 Genting Skytropolis indoor theme park rides highlight a captivating range of experiences. And one attraction that will truly leave an imprint of lasting memories is Bumper Boss.
Climb aboard the miniature car and make your way into the extensive space.
You are given the freedom to maneuver the car on your own. In fact, you can even bump into other vehicles along the way. Just be careful!
10. Royal Carousel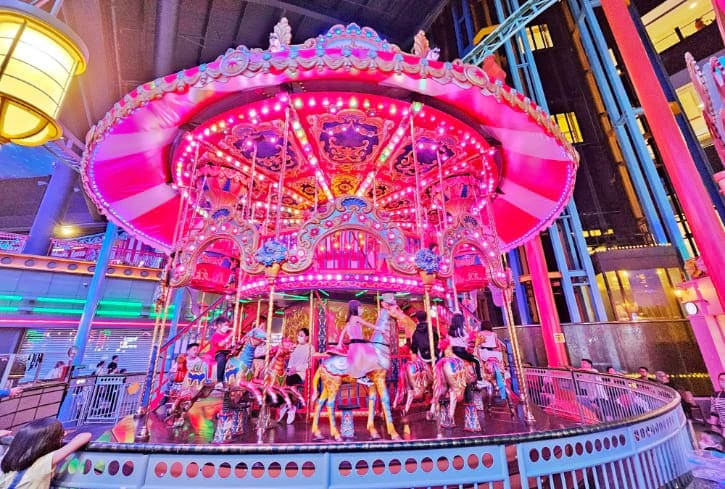 Royal Carousel is brimming with nostalgic vibes from your childhood.
Hop on one of the carved chariots and get carried away with the slow-moving pace. The carousel smoothly goes round and round to the delight of everyone onboard.
Aside from adults, the kids will also love this spot. Let them choose their preferred horse designs and revel in the beauty of the ride.
11. Skyscraper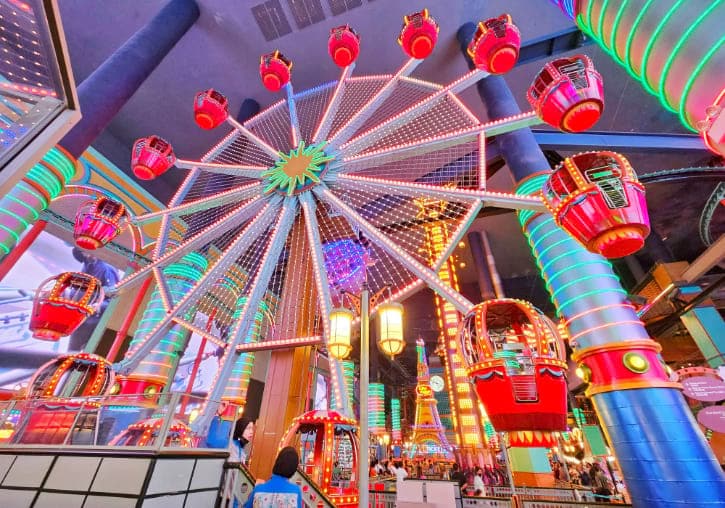 Skyscraper also takes up a spot in the best family-friendly attractions in the Skytropolis theme park. Step into one of the red capsules and relax with your loved ones.
While the Ferris wheel is slowly moving, catch a glimpse at the gorgeous designs around. This is such a nice place to unwind and simply appreciate the lively atmosphere.
12. Tea Cups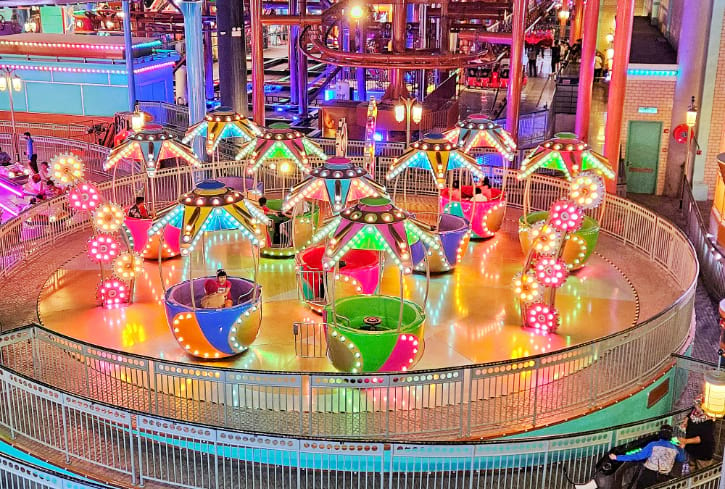 Continue with the adventure as you get swept away by the Tea Cups. The place is normally packed with kids and parents who want a fun ride.
With just the right amount of speed, you can still take delight in the alluring lights and colors. So, invite your children or friends to this amusing ride.
13. Boo Boo Bump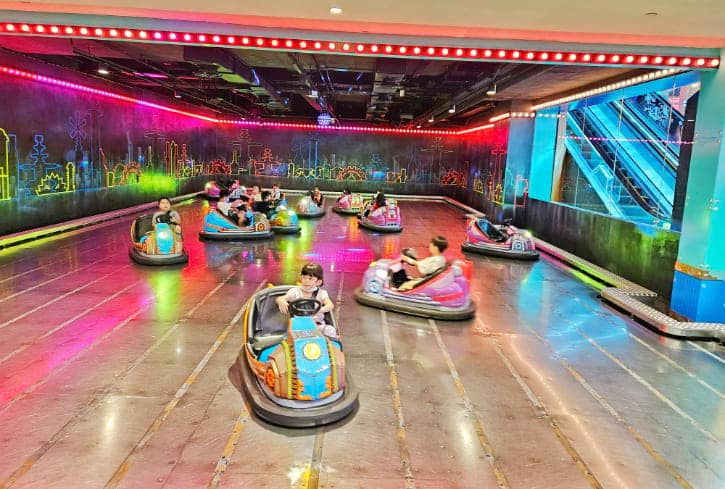 Boo Boo Bump entices kids for another amusing drive. This is specifically designed for children who'd love to maneuver their own car.
Boost your kids' confidence as you watch them glide through the area without any assistance.
Surely, the ride is a great opportunity for them to be independent and knowledgeable about cars even at a young age!
14. Jumping Spurs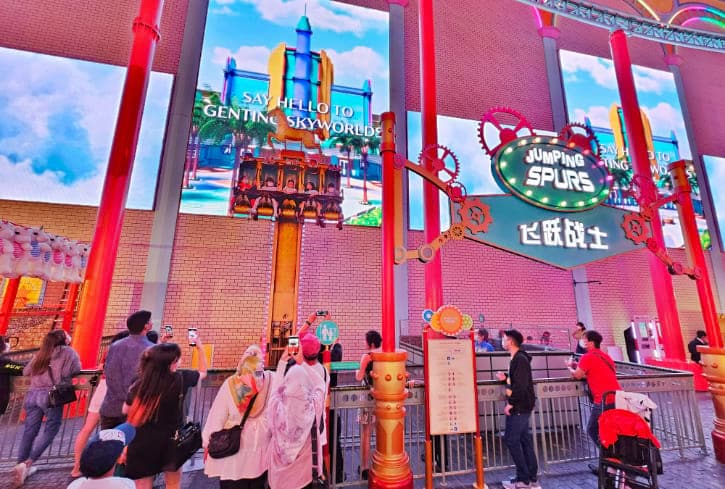 Jumping Spurs is a mini version of the Sky Towers. It's a perfect choice for kids who are brave enough to handle some fast drops.
So, if your child is a fan of thrilling rides, then this is highly recommended. Be proud of them as they conquer some stirring falls and cheer them from the side!
15. Space Cadets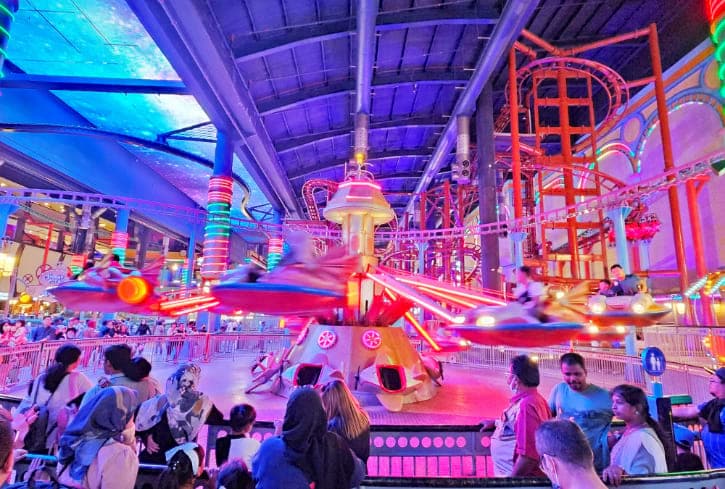 Space Cadets brings you and your kids on a ride in space. With its jet-like seats, this is truly an immersive attraction in the Skytropolis theme park.
So, get a buzz out of the moderate yet still exhilarating journey. And after the expedition, don't miss to capture the futuristic design of the structure.
16. Copper Express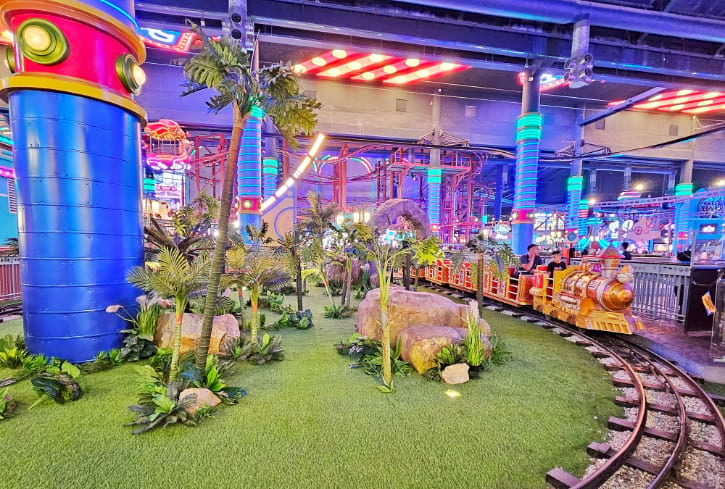 Treat your kids with an escapade to the Copper Express. This is a family-friendly spot that mimics an open-top train.
Here, the train goes through a series of mild curves. And along the way, you'd come across some nature scenes. Truly, this is a nice section to just laze around and fritter time away.
17. Soaring Ships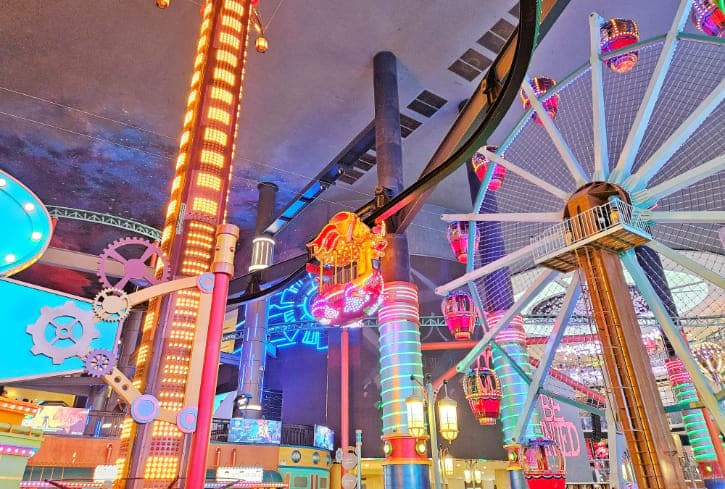 Be dazzled by an aerial view of the park through the Soaring Ships. This coaster takes you on a scenic journey up, giving you breathtaking sights of the entire area.
During the voyage, watch the glimmering lights and vibrant hues that add life to the structures.
How to Save Money on Genting Skytropolis Indoor Theme Park Tickets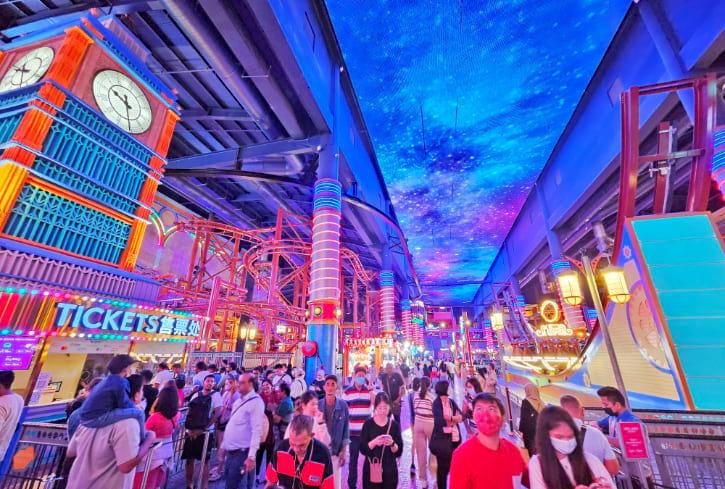 Why spend extra when you can save?
Make sure to book your Genting Skytropolis tickets online in advance and enjoy an extra 11% price reduction!
Remember, you must purchase the tickets at least 1 day ahead through the online platform to avail of this fantastic offer. So, take advantage of this opportunity!
The Best Attractions and Rides at Genting Skytropolis Indoor Theme Park (Summary)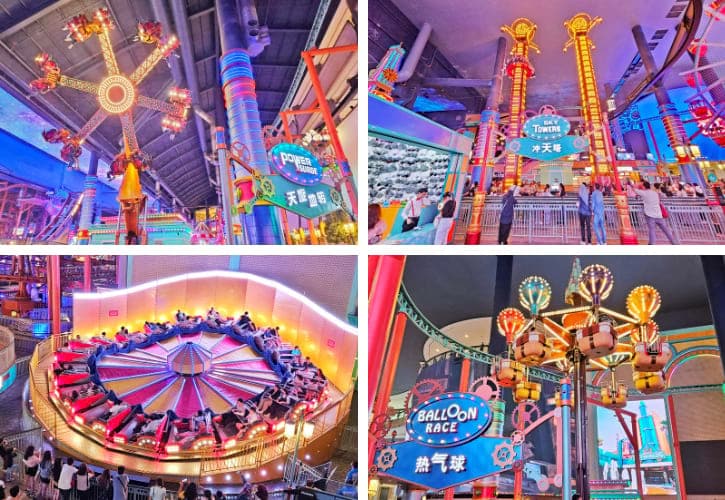 Top Thrill Rides for Adrenaline Junkies: Super Glider [#1], Power Surge [#2], Sky Towers [#3], Disco! [#4], Music Express [#5], Spin Crazy [#6]
Well-Known Joyful Rides for Kids: Balloon Race [#7], Loop de Loop [#8], Bumper Boss [#9], Royal Carousel [#10], Skyscraper [#11], Tea Cups [#12], Boo Boo Bump [#13], Jumping Spurs [#14], Space Cadets [#15], Copper Express [#16], Soaring Ships [#17]
Recommended Reading: Discover Genting SkyWorlds, the exciting outdoor theme park. Check my 20 Best Genting SkyWorlds Rides article for must-visit attractions during your visit!
Meet Joe The Orangutan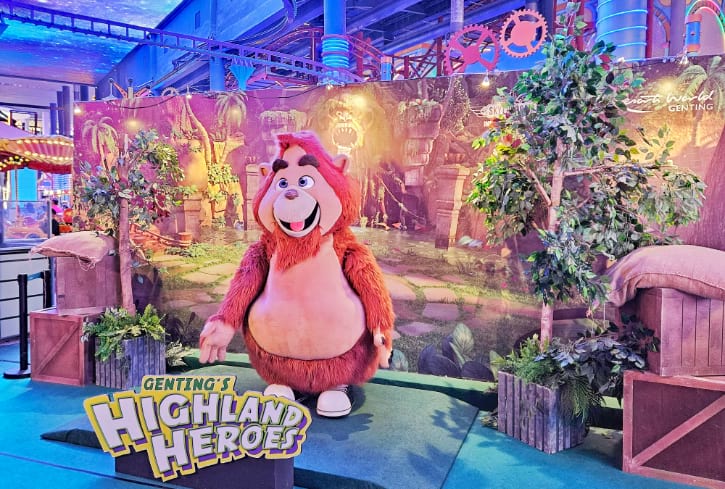 Your visit to the park won't be complete without Genting's Highland Heroes. Meet Joe, the famous orangutan mascot that brightens up the day of every tourist.
Make sure to take a photo of this giant character before continuing the fun.
SkySymphony Show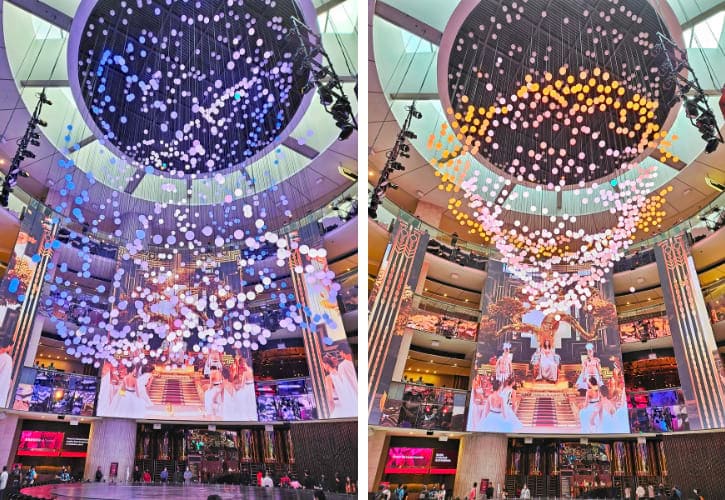 SkySymphony gives you a spectacular performance of a lifetime. Get mesmerized as the atrium lights up with its series of moving winch balls.
The show is very cinematic as it is coupled with dynamic visual effects and sounds.

Genting Skytropolis Indoor Theme Park Map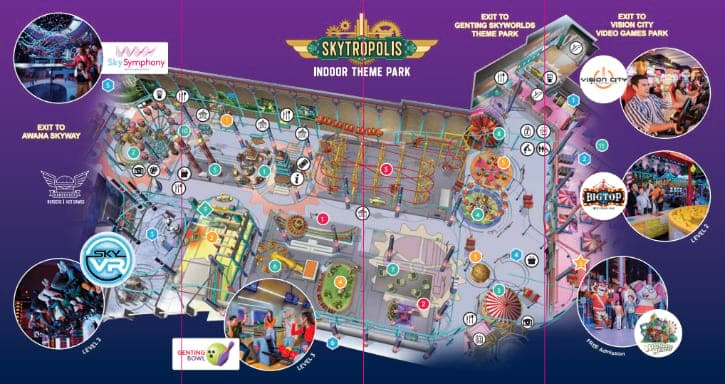 My Top Food Recommendations for Your Lunch and Dinner
1. The Laughing Fish by Harry Ramsden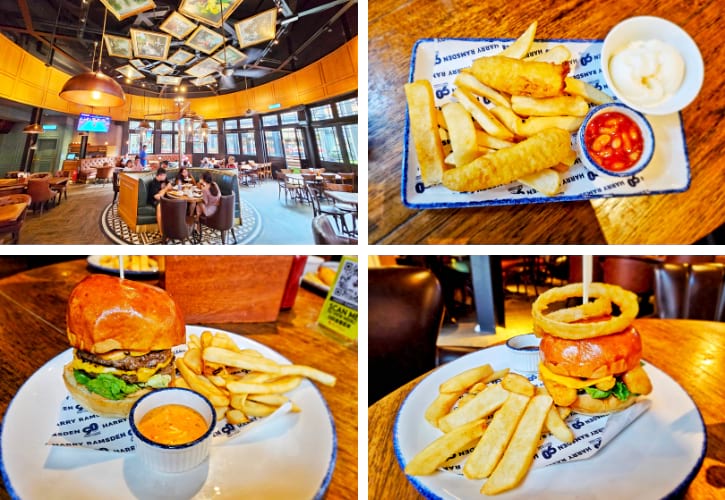 Treat yourself to The Laughing Fish by Harry Ramsden. Make sure to try their fish and chips, which is one of the resto's best-selling foods.
If you want other options, they've got burgers. Their Chicken Burger only costs RM 35 while the Beef Burger is RM 38.
2. Beauty In The Pot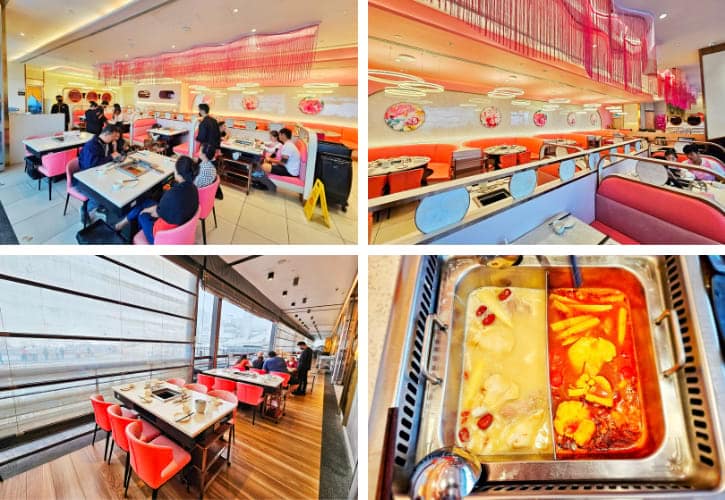 Enjoy a hearty meal at the Beauty In The Pot. Here, you'd get a lot of soup options, including the Beauty Collagen Soup (RM 29.90) and Tomato Soup (RM 28.90).
They also serve Black Pepper Pork Meat (RM 14), Abalone Mushroom (RM 8), and Sliced Pork Collar (RM 35).
Other delicious choices from their menu are the La Mian (RM 11.80), Sliced Toman Fish (RM 20.90), Tiger Prawn (RM 37.90), and Baby Corn (RM 6).
3. Zok Noodle House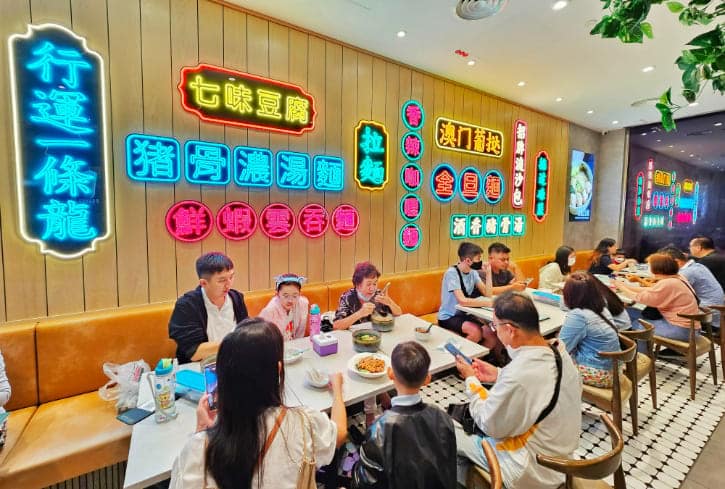 For those craving some noodles, the Zok Noodle House is the answer to your needs.
Go over their tasty selection, which includes Fresh Prawn Wonton Noodles RM (21.50) and Vietnamese Pork Chop Noodles (RM 21.90).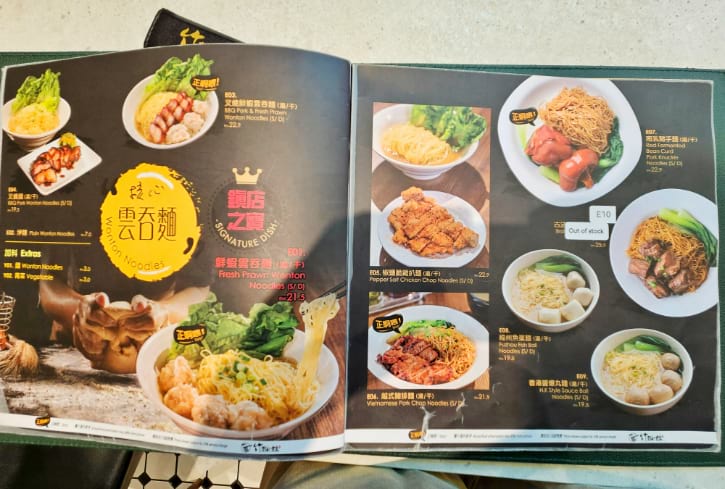 Aside from these, they also have BBQ Pork & Fresh Prawn Wonton Noodles (RM 22.90) and Sliced Pork Belly Spicy Chili Noodles (RM 21.90).
If you want something peppery, go for their Fresh Prawn & Sliced Pork Belly Spicy Chili Noodles (RM 33.90).
4. TaiBae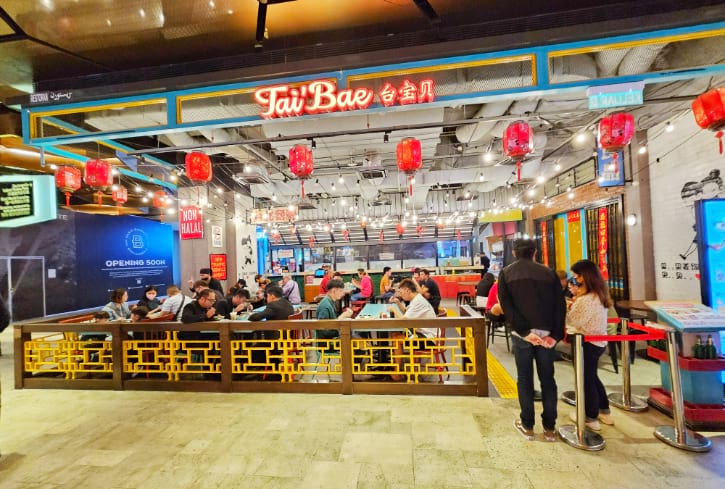 Savor some delectable Taiwanese cuisines from TaiBae. The restaurant is another remarkable option for your lunch or dinner. One of their famous foods is the Lu Rou Fan.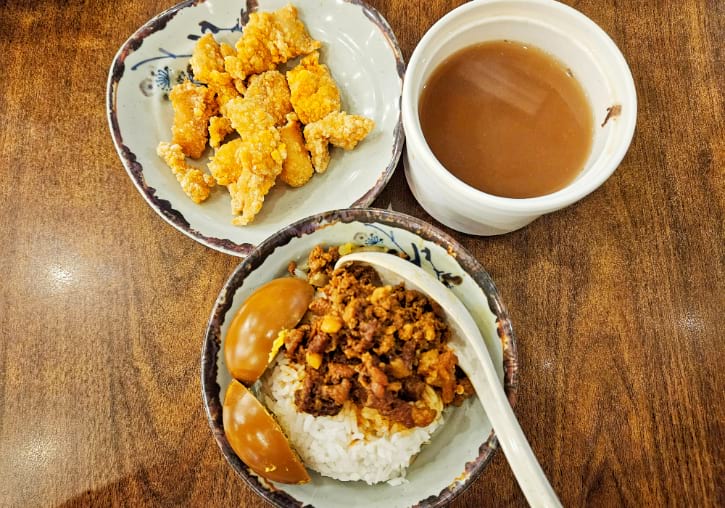 The Lu Rou Fan, Salted Chicken Popcorn, and Soup set costs RM 33.80 while the Lu Rou Fan, Vegetables, and Soup set is RM 28.80.
They also have the Lu Rou Fan, Fried Dumplings, and Soup at RM 31.80 as well as the Lu Rou Fan, Pork Chop, and Soup combo at RM 30.80.
Related Posts