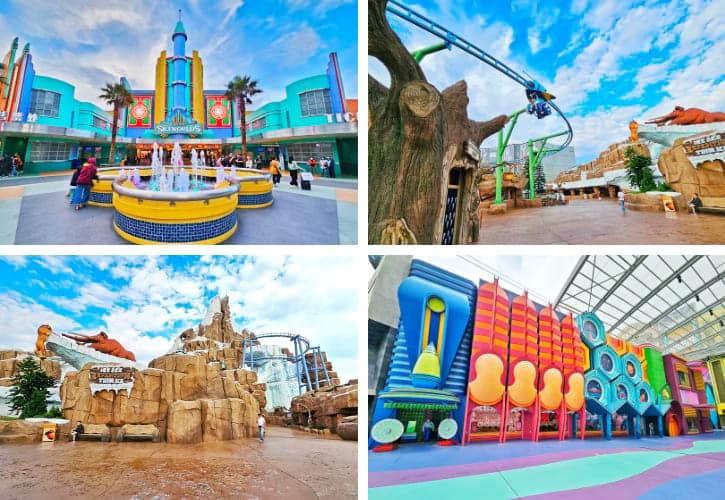 Genting SkyWorlds theme park offers plenty of fantastic rides for all ages. From adrenaline-pumping roller coasters to captivating attractions, this place is definitely one for the books!
So, let me start by sharing the 20 best Genting SkyWorlds rides and attractions for adults and kids. Through this guide, you'd get a hint of the things you need to try during your visit.
On top of that, all the rides that I will introduce below will surely leave you in awe and craving more! 🙂
Top Rides and Exciting Attractions Not to Miss
1. Samba Gliders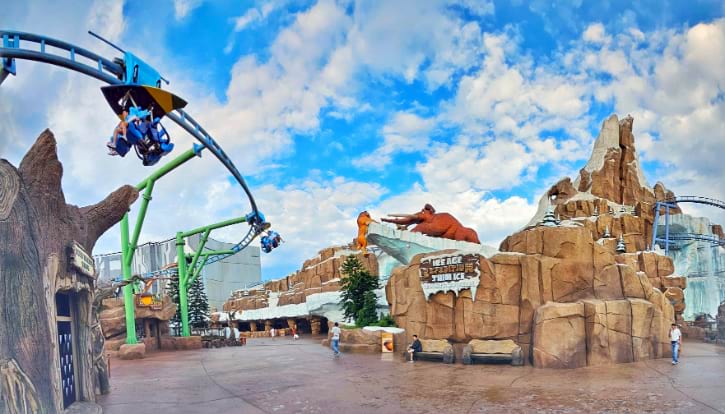 Among the top-rated rides at Genting SkyWorlds theme park is none other than Samba Gliders.
This rollercoaster takes you up to 65 ft high. Plus, there would be lots of rotations and suspensions up in the air.
So, ready yourself for a fast-paced ride that is bound to excite your senses. And, make sure not to miss the scenic views across the park.
2. Acorn Adventure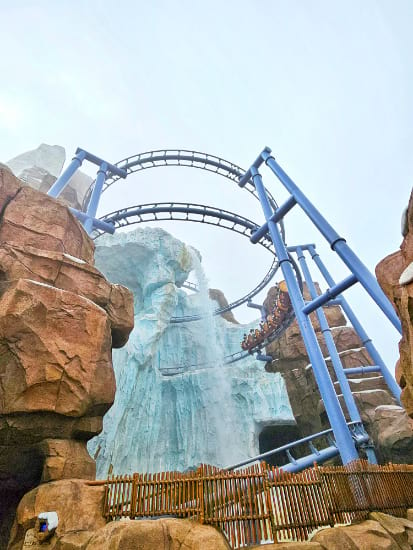 Acorn Adventure is also part of Genting SkyWorlds scariest roller coasters. Hop aboard the acorn-like seat and get energized as you go through an Ice Age-themed journey.
During the ride, catch a glimpse of Scrat, the famous saber-toothed squirrel in the movie. And of course, the accelerated speed is more than enough to keep you entertained.
3. ESD Global Defender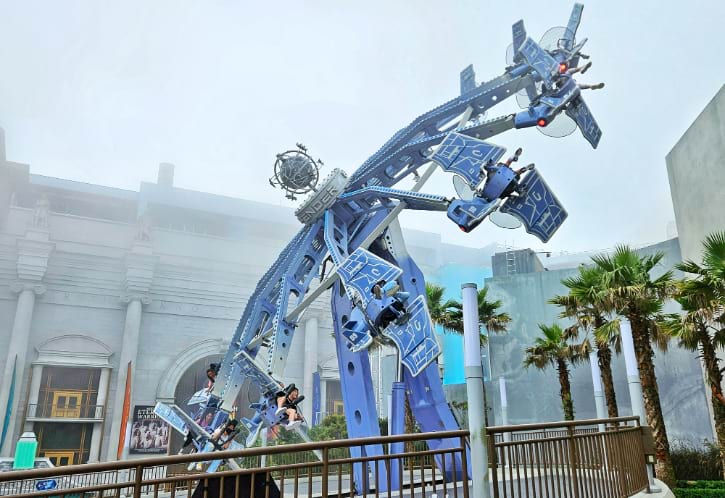 ESD Global Defender welcomes you to a ride filled with adrenaline-inducing twists and turns. Brace yourself as you embark on a blue aerospace fighter jet.
The movement starts slow and then continues to rotate faster. It even flips the wings for an extra thrill! So, if you're on the hunt for something to stimulate your senses, this won't disappoint.
4. Terraform Tower Challenge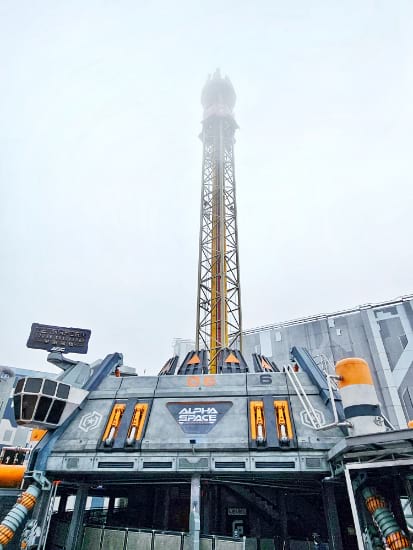 Terraform Tower Challenge in Genting SkyWorlds gives you an exhilarating plunge of a lifetime.
This thrilling tower drop ride shoots you up and down, shaking your sanity to the fullest. So, hold on tight as you soar high and plummet at an accelerated speed.
5. Alpha Fighter Pilots
Alpha Fighter Pilots is another ride for every thrill-seeker. The entire journey up is something that would activate your spirits.
Get electrified with every 360-degree turn and non-stop twirling up in the air. For sure, this guarantees a riveting experience.
6. Independence Day: Defiance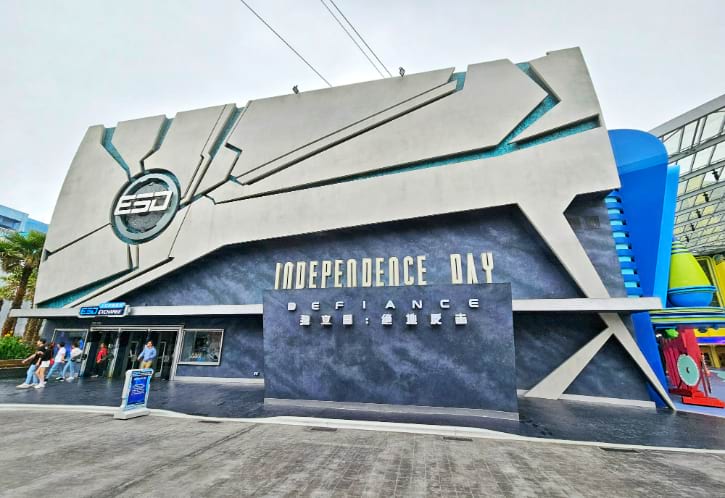 Genting SkyWorlds rides provide a wide array of thrilling experiences. And one must-try attraction is Independence Day: Defiance.
Grab this chance to witness a stimulating space journey through the big screen.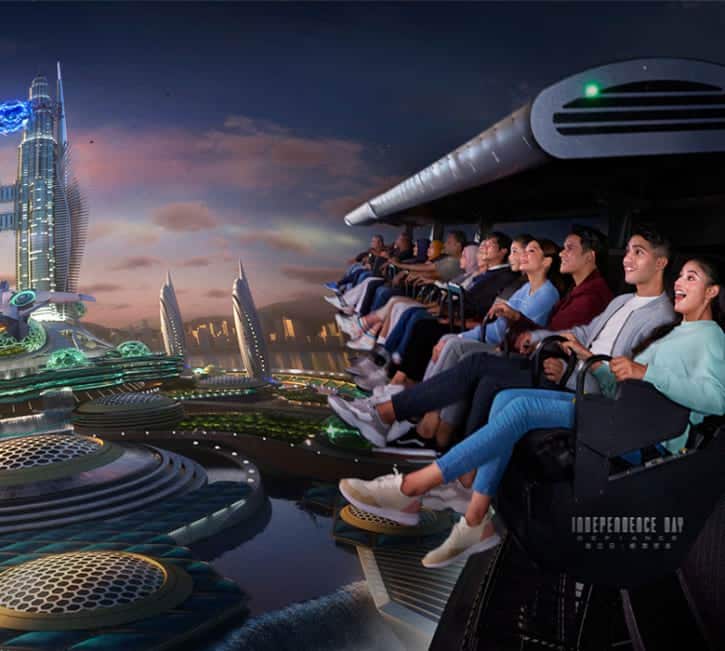 The 4D ride is such a fun experience for everyone. Plus, the sounds and visual illusions are downright impressive. So, buckle up for a memorable space escapade with your family and friends.
7. Invasion of the Planet of the Apes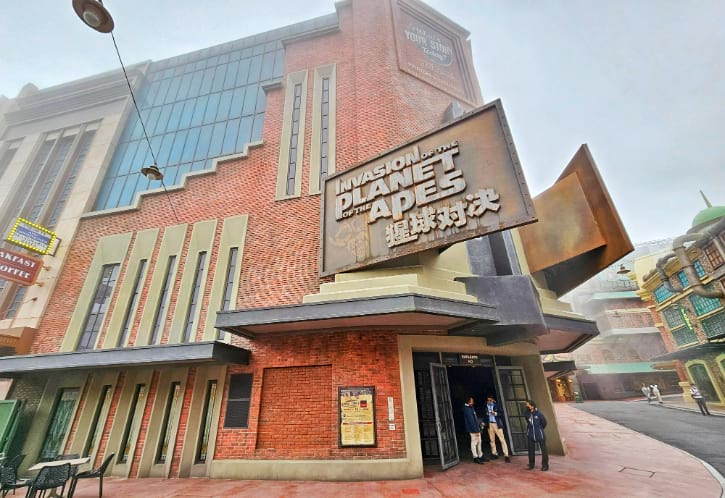 Invasion of the Planet of the Apes takes you on another perfect 3D visual ride.
This action-packed adventure fills you with much excitement and intensity. Here, you'd get to observe a realistic encounter with the giant creatures.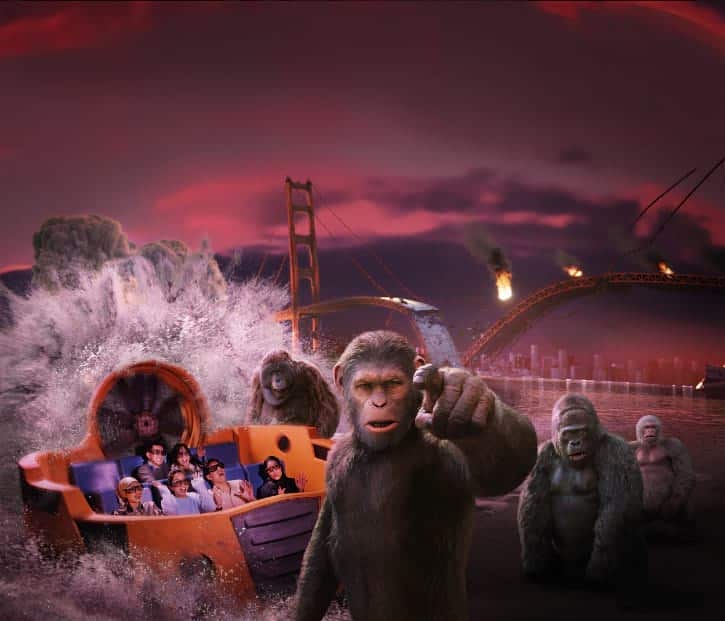 Plus, the visual effects add an extra thrill to the quest. So, make sure not to skip this one. Without a doubt, you'd be dazzled by this gripping adventure.
8. Mad Ramp Peak – Full Throttle Racing (Coming Soon)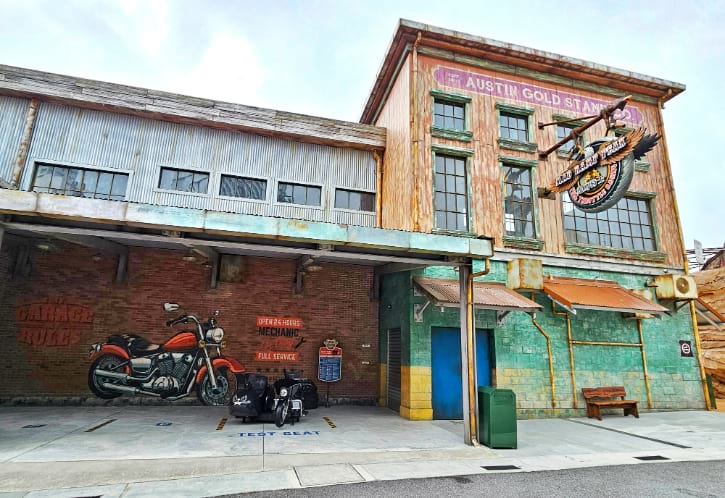 Mad Ramp Peak – Full Throttle Racing is a popular roller coaster bike for adrenaline junkies out there.
Climb on the dual-bike seat and get ready to embark on an electrifying escapade. This takes you through caves and mountainous landscapes at a very fast speed.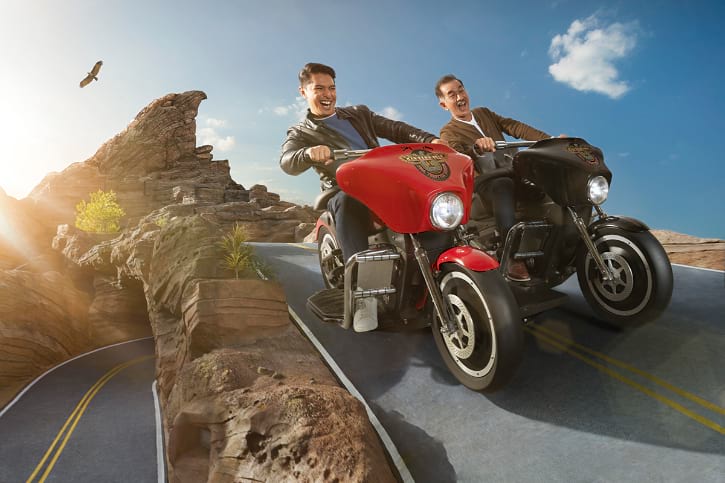 And don't let your guard down because the ride itself is very stimulating. This means you need to brace yourself for the dramatic effect like that of a real big bike!
9. Blue Sky Carousel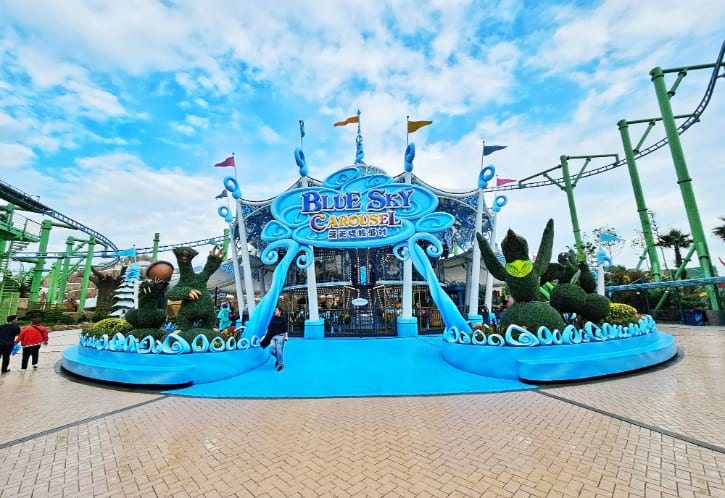 Wind down and head to the Blue Sky Carousel. This is a perfect option for anyone who just wants a slow yet still fun activity. You can simply relax and relish the ride's moderate pace coupled with glittering lights.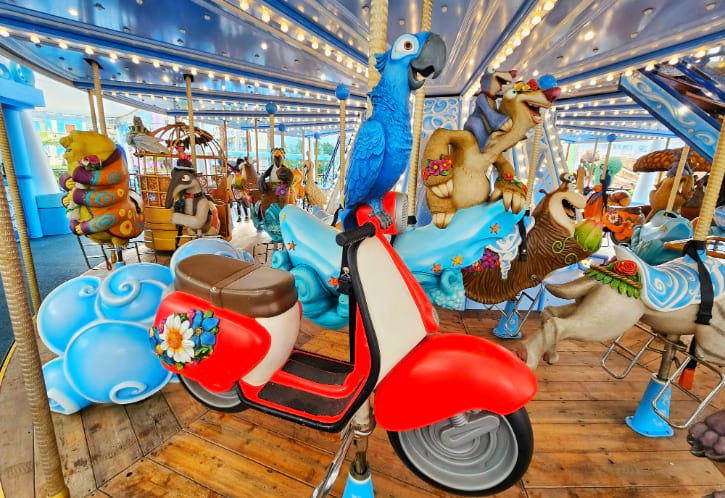 Choose from one of the cute seats, which are characterized by different animals. These include mammoths, tigers, sloths, birds, snails, and many more.
10. Rivet Town Roller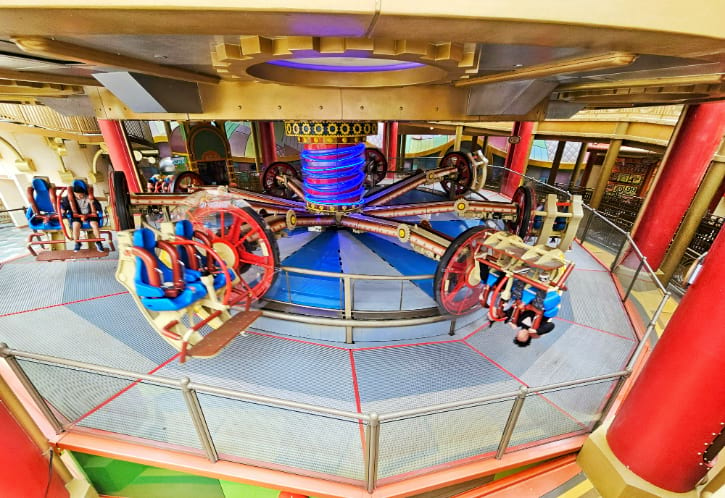 In the Robots Rivet Town zone of Genting SkyWorlds theme park, you'll discover an exciting ride known as the Rivet Town Roller.
And don't be fooled by its structure. This is actually a dizzying ride that would surely stir your senses.
Hop into this roller-like capsule that rotates 360 degrees. Plus, the rotations could either go forward or backward for an extra bang.
11. Bigweld's Zeppelins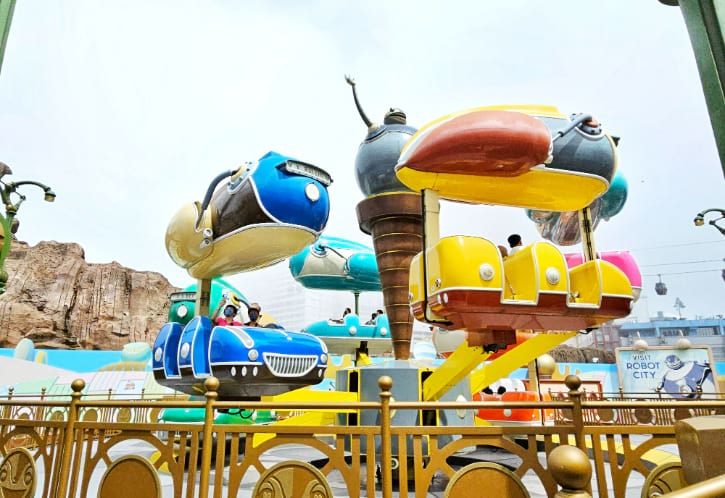 Bigweld's Zeppelins delivers an amusing experience that is ideal for the family. Take joy in this simple journey up in the air.
This is such a great contrast to the nerve-wracking rollercoasters. So, if you want to bask in the moment and enjoy a cozy ride, get on with this family-friendly quest.
12. Ice Age: Expedition Thin Ice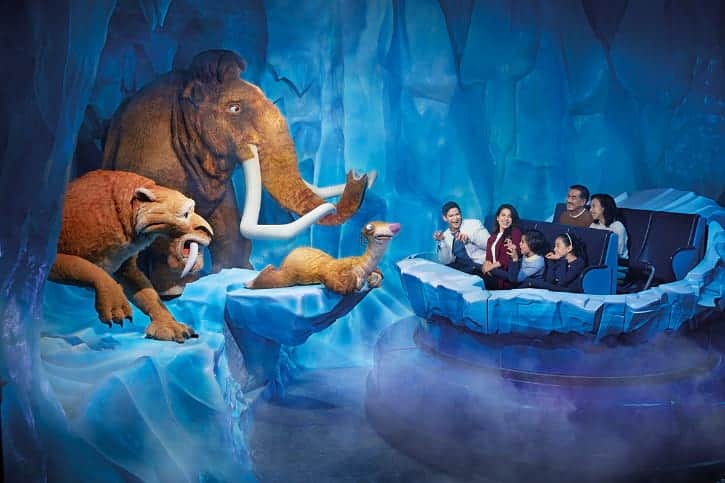 Ice Age: Expedition Thin Ice draws you into the world where prehistoric creatures are still alive. Revel in the ancient set-up and be part of the historical age.
The place is surrounded by figures of extinct animals like mammoths and saber-toothed cats. For sure, you'd have fun with the marvelous animatronics and media all over the place.
13. Night at the Museum: Midnight Mayhem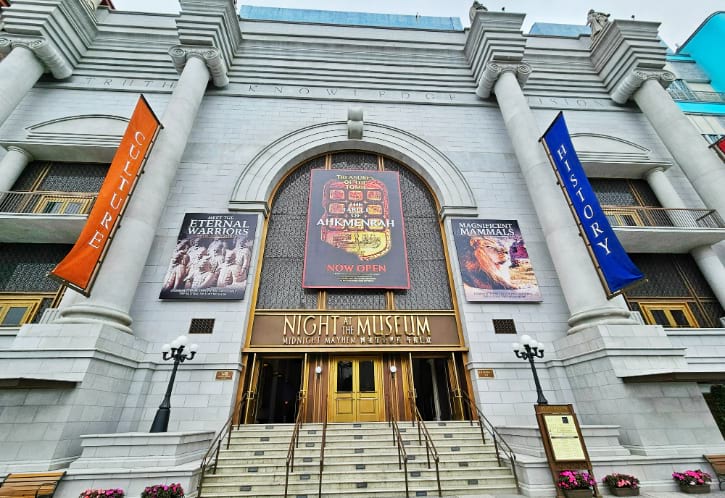 Night at the Museum: Midnight Mayhem is an engaging 3D ride that should be part of your must-visit list.
Here, you'd be wearing 3D glasses to prepare you for interactive shooting activities. You can even compete with other guests for a more memorable experience!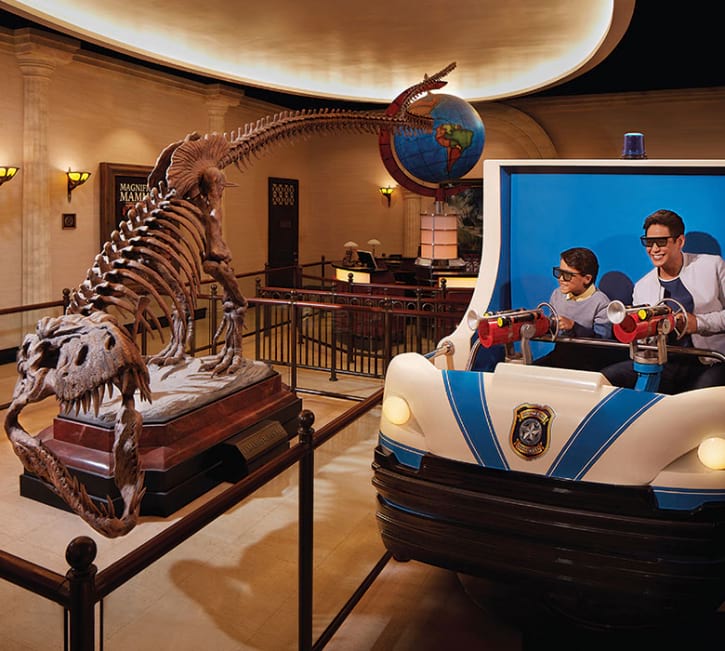 And of course, the design of the place is very artsy and cinematic. So, before you go aboard, take a look at the remarkable exhibits and collections.
14. Epic Hummingbird Flyers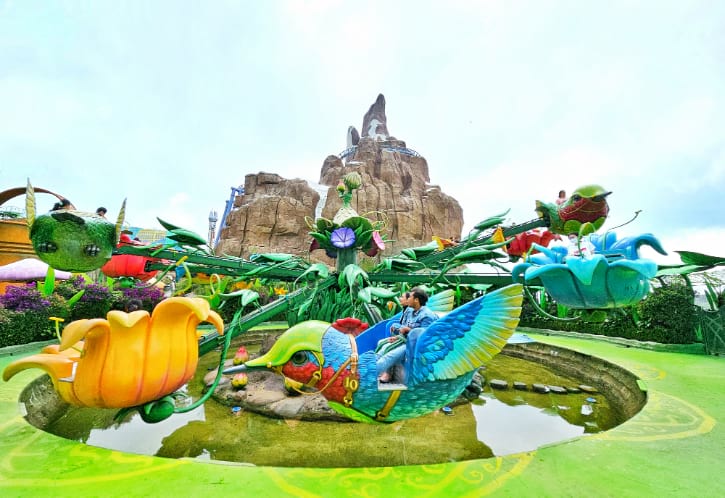 As one of the popular Genting SkyWorlds attractions, Epic Hummingbird Flyers stands out as a favourite among visitors who prefer less adventurous activities.
This is a mild ride that simply goes round and round for a couple of minutes. And unlike other attractions, this one surprises you with some minimal water splashes.
On top of that, you'd love the architectural beauty of the place. Get charmed by the gorgeous designs and colors, and don't forget to capture a lot of photos.
15. Sid's Rock 'N' Slide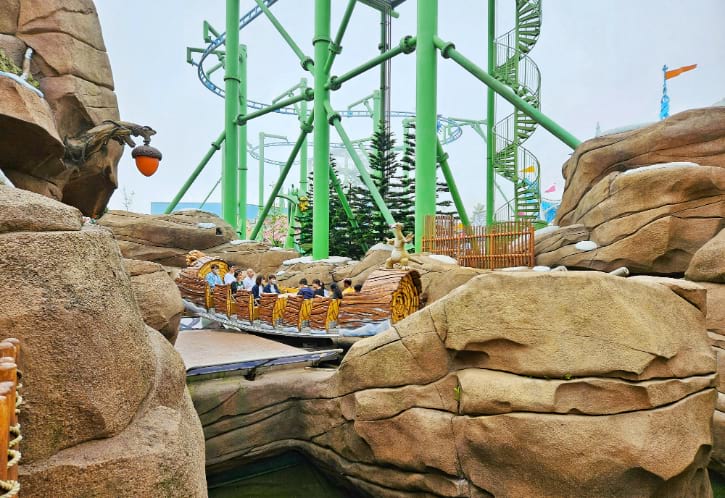 Sid's Rock 'N' Slide guarantees a whimsical ride of a lifetime. Bask in the fun as the log-like seat seamlessly rocks and slides in different directions.
On both ends of the log, you'd find the ever-lovable Ice Age characters, Sid and Diego.
16. Rio Carnaval Chaos!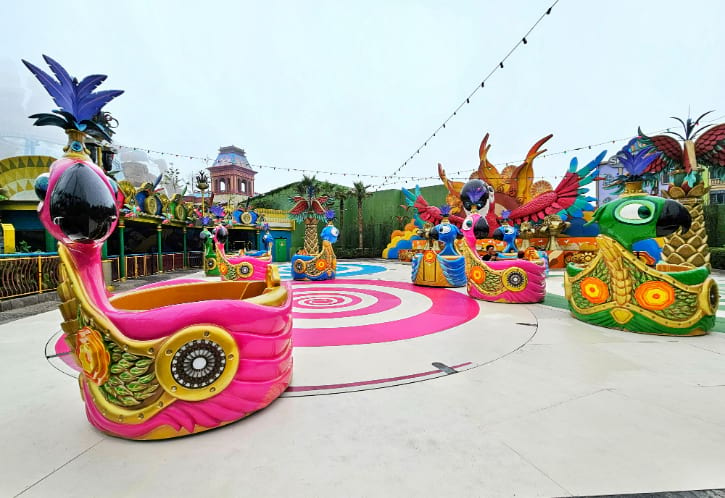 Board the Rio Carnaval Chaos! and enjoy the spinning movements for minutes. The circular motions take you from one section to the other. Surely, this ride is perfect for all ages, from kids to adults.
Aside from the entertaining activity, you'd love the carnival vibes around the area. The place is filled with vibrant hues that perfectly represent the famous Rio Carnival festival.
17. Epic Voyage to Moonhaven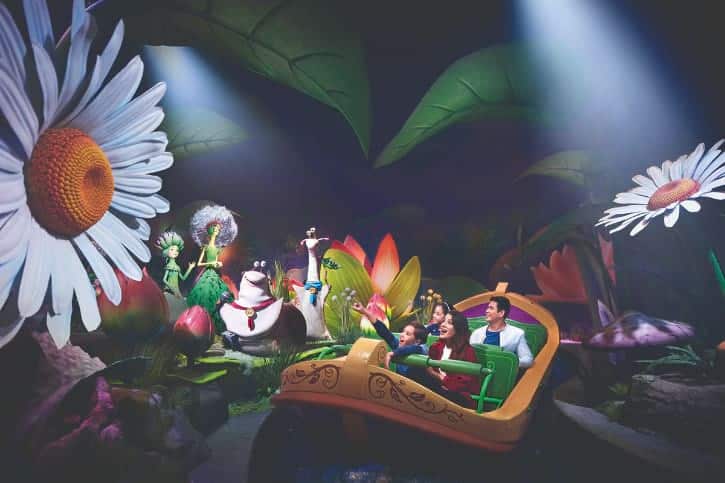 Epic Voyage to Moonhaven ventures you through an animated path bursting with nature scenes. It features the fantasy-action movie called Epic. But whether you're a fan of this movie or not, the ride itself is mesmerizing.
Gear up as you traverse the magical woodland kingdom with your loved ones. And, be on the lookout for some life-size characters during your quest!
18. Mammoth Fun Zone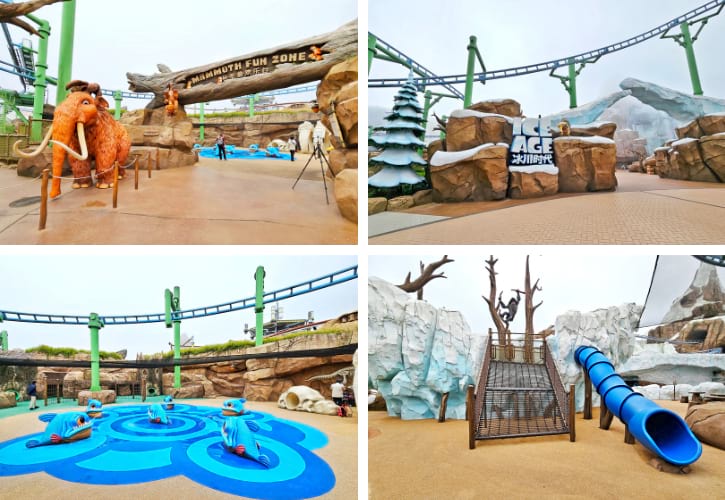 Carry on with the fun as you explore Mammoth Fun Zone. This spot is like a realistic interpretation of how the Ice Age looks.
Walk around the area and discover unique structures where you can play with your kids.
And of course, you can't miss the gentle giants! See the mammoths up close and try to pose beside these towering creatures.
19. Ice Age: Time Warp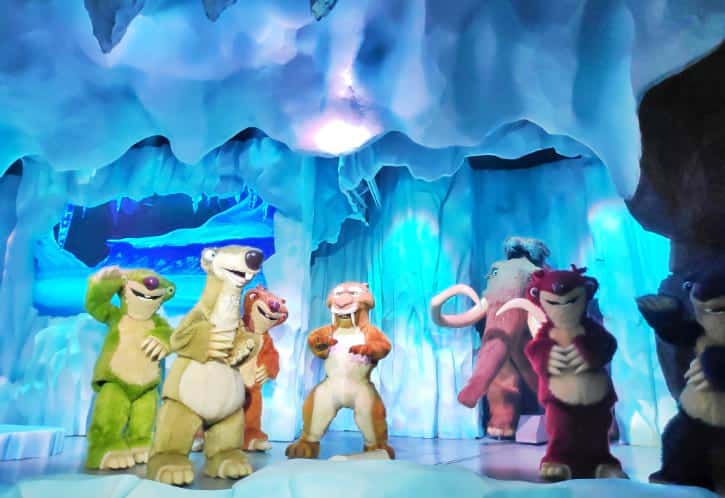 Ice Age: Time Warp brings into life your favorite Ice Age characters. Meet Sid, Diego, and Manny and be entertained with their playful antics.
This live theatrical performance is certainly a great treat for kids and even those young at heart. And, don't forget to take a photo with the characters after the show.
20. Asteroid Arcade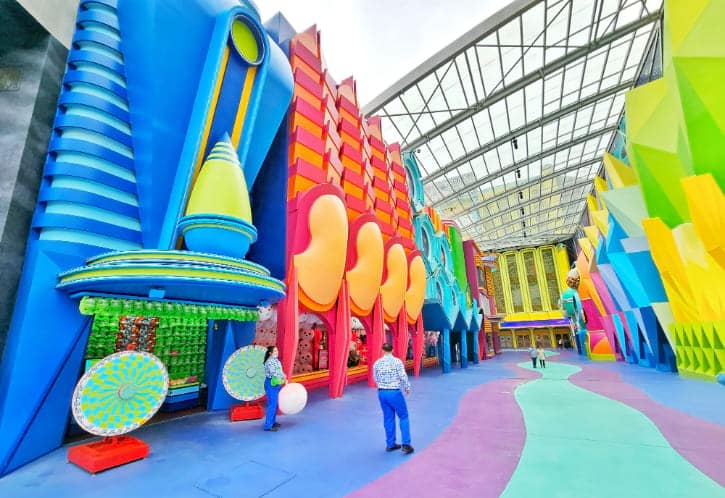 Asteroid Arcade is simply captivating. It is full of vibrant colors and unique styles that are perfect for your backdrops.
So, if you're looking for the best photography spot in Genting SkyWorlds theme park, head to the Central Park zone. Capture as many photos as you want and maximize the colorful scenes to your advantage!
Where to Buy Discounted Tickets to Genting SkyWorlds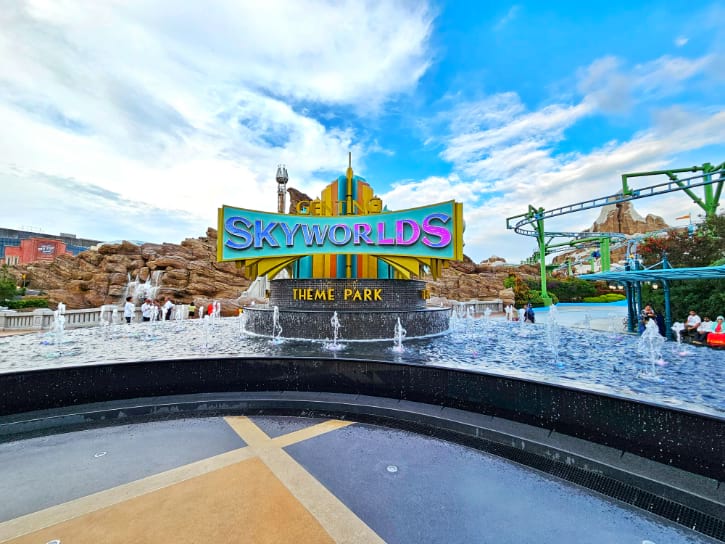 Why pay more when you can pay less?
Be sure to book your Genting SkyWorlds tickets online here in advance to enjoy an additional 20% OFF!
Remember, the tickets must buy at least 1 day in advance through online to enjoy additional discount! So, don't miss this opportunity!
Online tickets offer great convenience as they allow you to enter the park directly with your e-tickets.
The Best Genting SkyWorlds Rides and Attractions (Summary)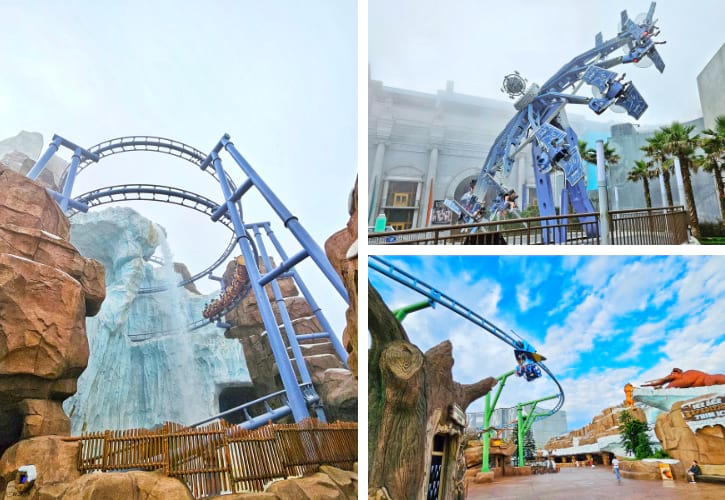 Must-try Rides for Thrill Seekers: Samba Gliders (#1), Acorn Adventure (#2), ESD Global Defender (#3), Terraform Tower Challenge (#4), Alpha Fighter Pilots (#5), Mad Ramp Peak – Full Throttle Racing (#8), Rivet Town Roller (#10)
Top Rides for Families and Non-Thrill Seekers: Independence Day: Defiance (#6), Invasion of the Planet of the Apes (#7), Blue Sky Carousel (#9), Bigweld's Zeppelins (#11), Ice Age: Expedition Thin Ice (#12), Night at the Museum: Midnight Mayhem (#13), Epic Hummingbird Flyers (#14), Sid's Rock 'N' Slide (#15), Rio Carnaval Chaos! (#16), Epic Voyage to Moonhaven (#17), Mammoth Fun Zone (#18)
Best Show: Ice Age: Time Warp (#19)
Best Photography Spot: Asteroid Arcade (#20)
Read also: Make sure to refer to my guide on Genting Skytropolis Indoor Theme Park to discover the must-try rides you shouldn't miss during your visit. To discover how to reach Genting, just read my comprehensive guide on traveling from KL to Genting right here.
Genting SkyWorlds Theme Park Map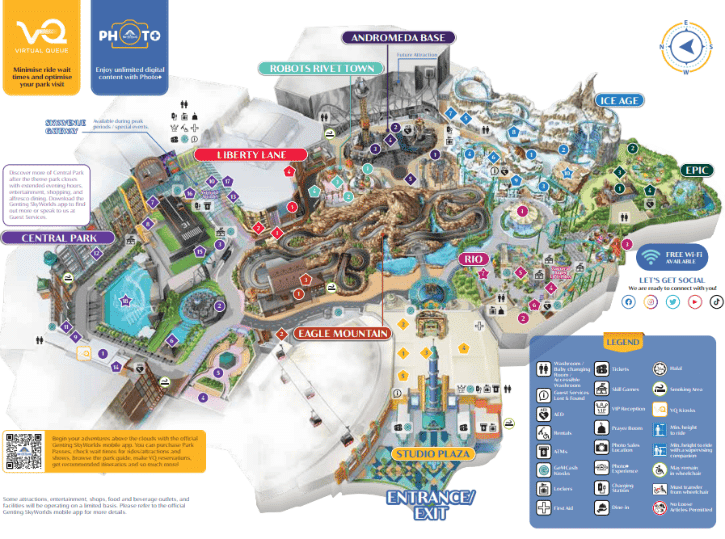 Genting SkyWorlds Overview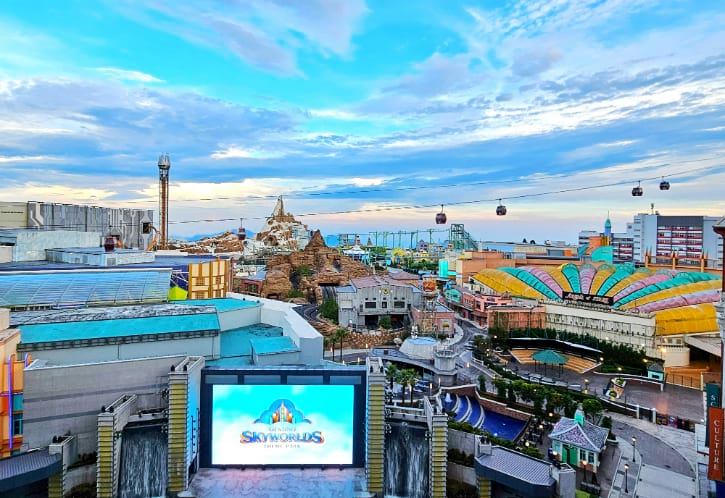 Genting SkyWorlds is no doubt an extraordinary theme park that deserves a visit. Loaded with 9 zones, there's something that surely would catch your attention.
Explore the Studio Plaza, Eagle Mountain, Central Park, Rio, and Andromeda Base. Or you may go around Liberty Lane, Epic, Robots Rivet Town, and Ice Age.
Each zone comes with a wide variety of rides and remarkable attractions, catering to both adults and kids. So, here are some of the activities that you can expect in all 9 zones.
1. Studio Plaza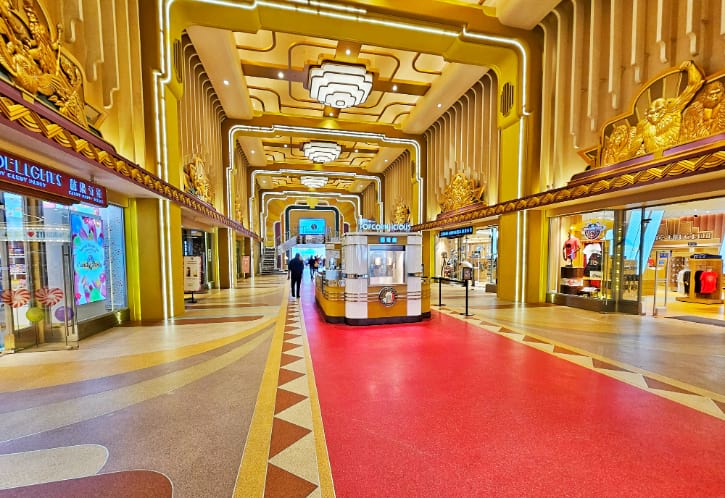 Studio Plaza is where the adventure begins. Wander around the complex bounded by red and golden interiors. While walking, revel in the beautiful architectural charms.
And, make sure to drop by the different entertainment and food sections. The area is loaded with fun shows and food spots to welcome everyone.
2. Eagle Mountain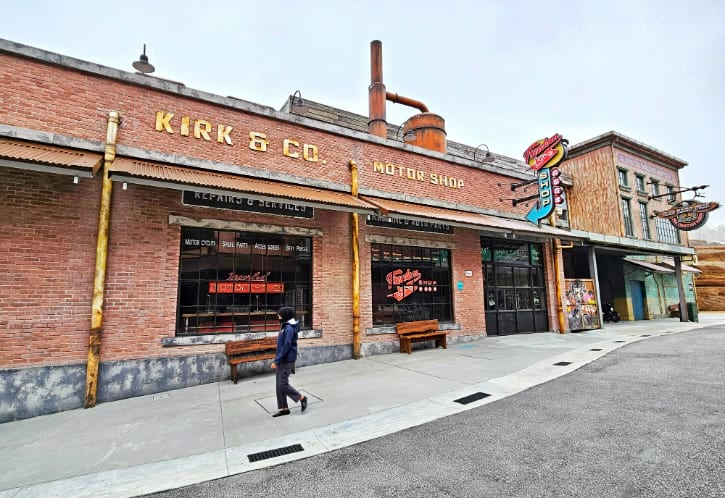 Eagle Mountain is the home to the action-packed Mad Ramp Peak – Full Throttle Racing.
Not only that but this zone also comes with a restaurant and a souvenir shop. So, after the electrifying ride, treat yourself or go shopping for some souvenirs.
3. Central Park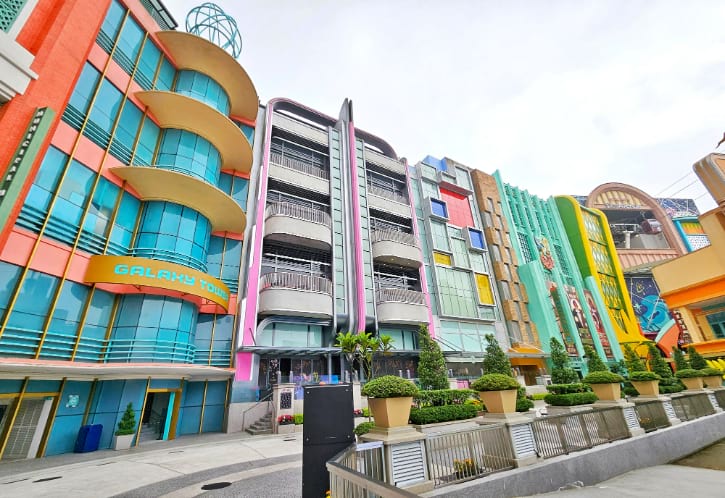 Central Park greets you with its vibrant scenes, from colorful structures to exciting attractions.
Discover the lush gardens and don't miss the indoor rides. And of course, you'd get a lot of restaurants around the zone. So, take your time here and explore the place leisurely.
4. Rio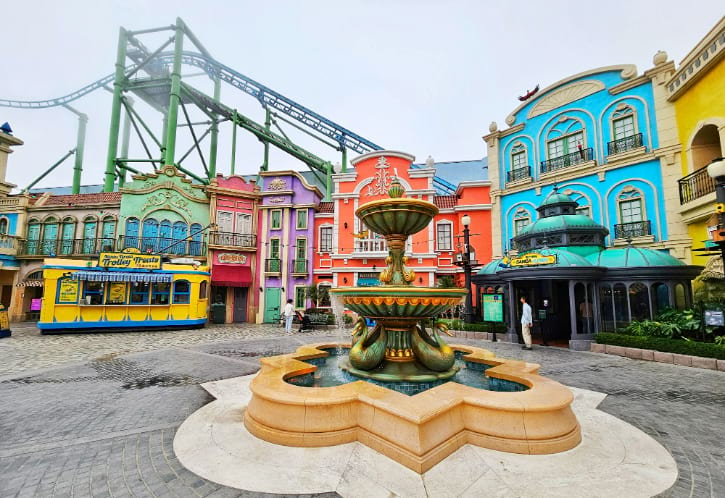 Rio is bound to make your day more fun and memorable. Have a good time with the glitzy performances of Samba Urbana and The Sounds of Rio.
Following the exciting shows, loosen up at one of the mild rides in the zone.
5. Andromeda Base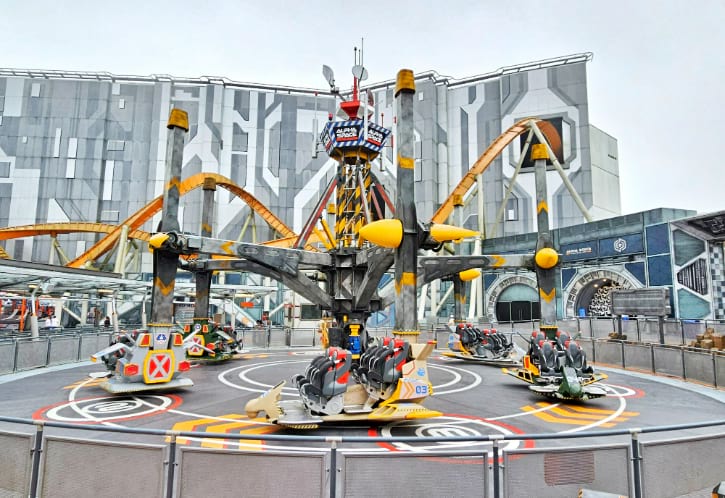 Andromeda Base is the best choice for thrill-seekers. Get a buzz out of the soul-stirring rides like the Alpha Fighter Pilots and Terraform Tower Challenge.
Kids and adults will also love Boot Camp Training. Lastly, dedicate some time to watch the Space Walkers and Space Boys.
6. Liberty Lane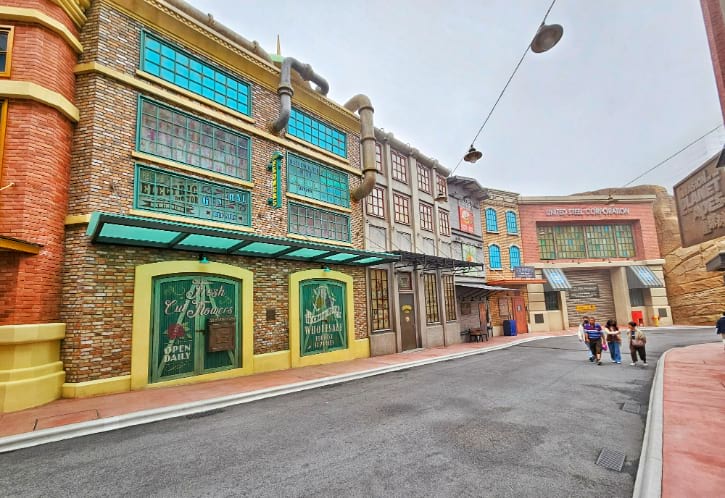 Liberty Lane treats you to a trip to the streets of San Francisco.
Watch the enthralling 3D ride and get entertained by the outdoor street performance. If you're a fan of the Planet of the Apes, there's theme merchandise in the area too!
7. Epic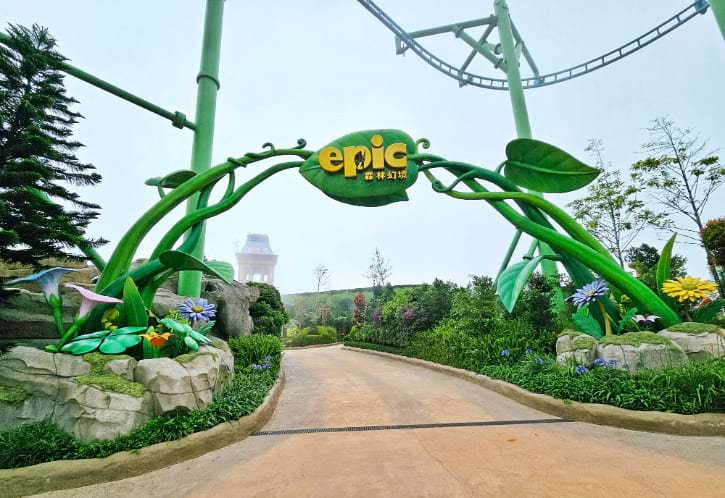 Epic is like a magical kingdom that offers beautiful indoor and outdoor rides.
Get dazzled by the Epic Voyage to Moonhaven as well as the Epic Hummingbird Flyers. Afterward, pick up some memorabilia from Epic Gifts and treat yourself to some waffles from Mub & Grub's BIG Bites.
8. Robots Rivet Town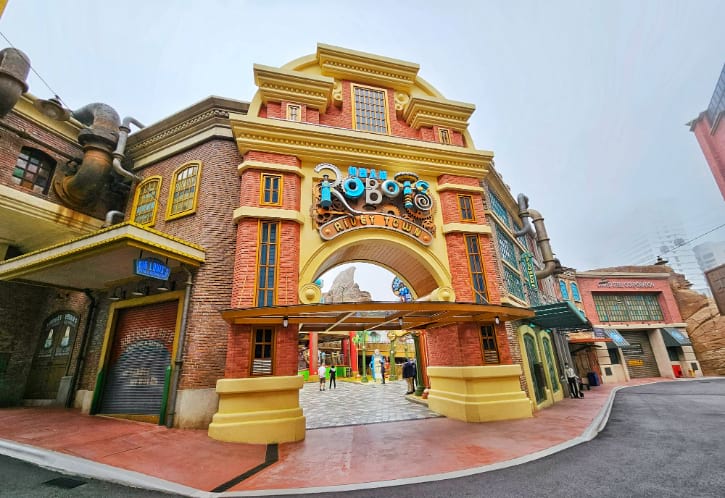 Robots Rivet Town highlights the charms of robots. Jump on to the unique rides and experience an unforgettable adventure.
To energize you once more, there are plenty of sweet treats sold by Aunt Fanny's Confectionery.
9. Ice Age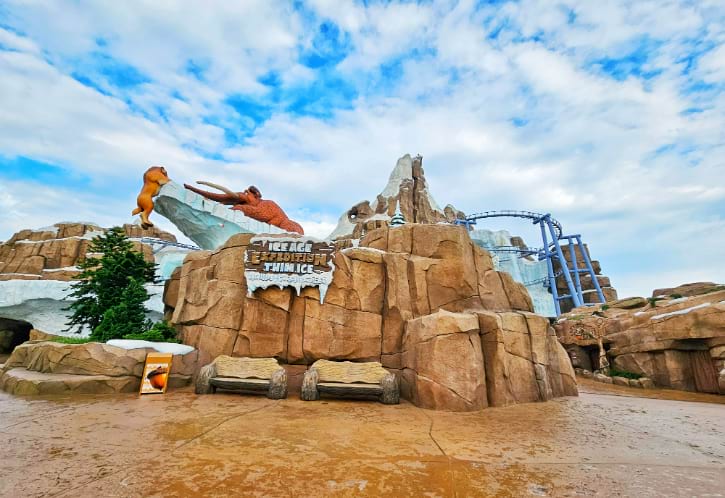 Ice Age is the place to go for certified Ice Age fanatics.
But even if you're not an avid fan, you'd still adore this section. From fast-paced roller coaster to motion-filled ride, everyone would definitely enjoy the attractions.
What to Eat
1. Classic Burgers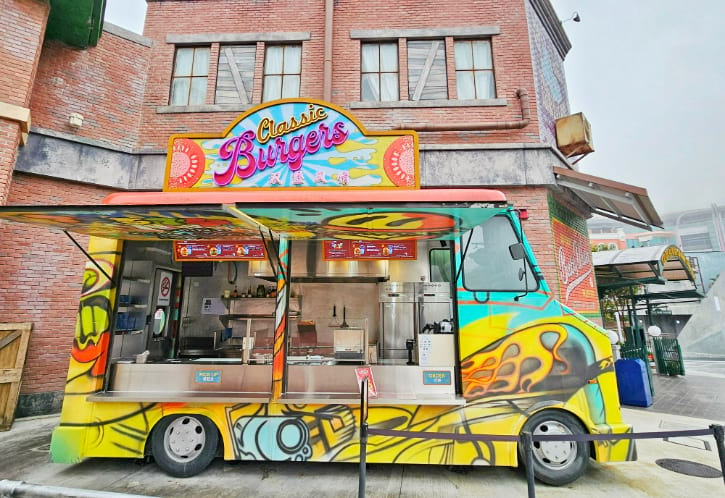 Head to Classic Burgers for some tasty snacks. This food truck got some delectable options, from classic ones to spicy flavors.
These include Classic Chicken Burger, Classic Beef Burger, BBQ Chicken Burger, and Spicy Chicken Burger. Each is priced at RM 24 and it already comes with a drink.
2. Harry Ramsden World Famous Fish & Chips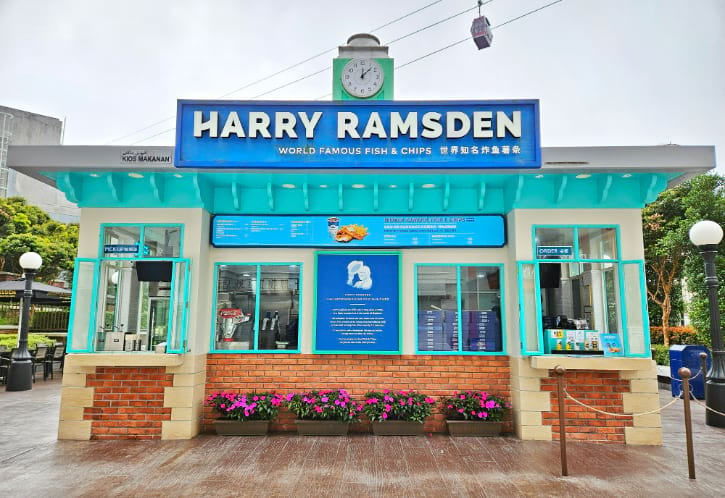 If you're craving some fish and chips, well you're lucky! Check out Harry Ramsden World Famous Fish & Chips and enjoy these delightful treats.
Some of their must-try foods include Cod (RM 62) and Haddock (RM 66). Both includes double-cooked chips and soda.
3. Trattoria IL Lago – Simply Italian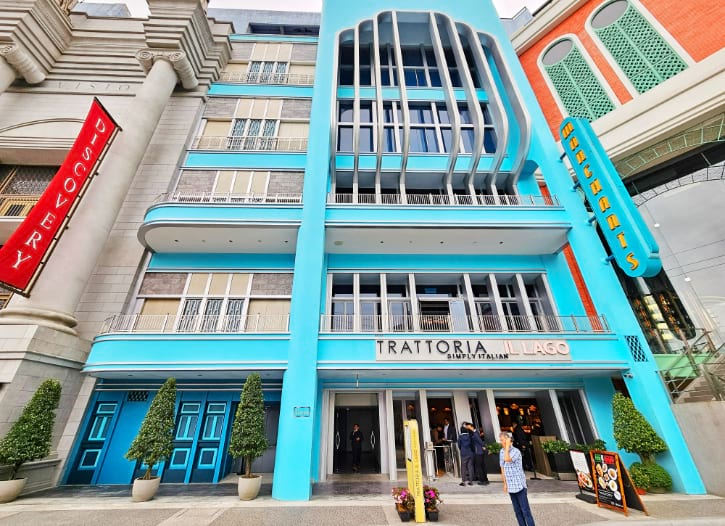 Savor the Italian goodness at Trattoria IL Lago – Simply Italian. One of their best-sellers is the pan-seared chicken breast with homemade chicken sausage, baby spinach, and lentils (RM 32). They also have slow-cooked beef with topped with herbs and spices (RM 32).
If you want other options, try their homemade lamb sausage (RM 45). Or you can also order their pan-seared cod, clams, prawns, mussels, and squid (RM 49).
4. Santa Teresa Trolley Treats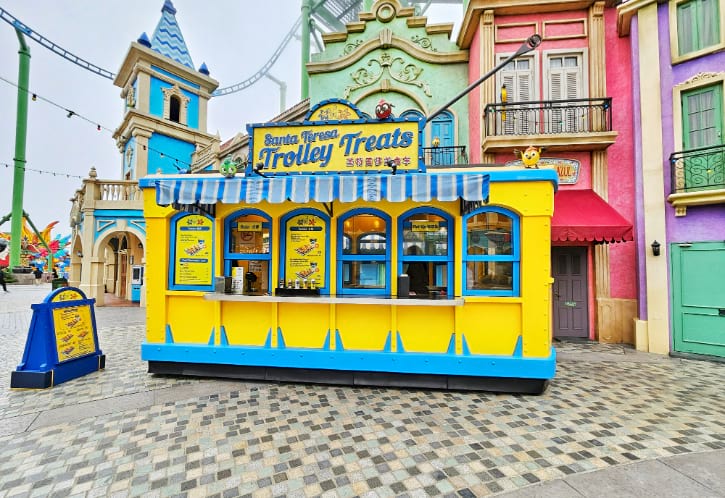 For those looking for some quick snacks, Santa Teresa Trolley Treats is highly recommended.
Have a bite of their famous Roast Beef Tacos and Chicken Tacos with Mango Peach drink. This only costs RM 28 per set, which makes it an affordable treat!
5. Vila Festa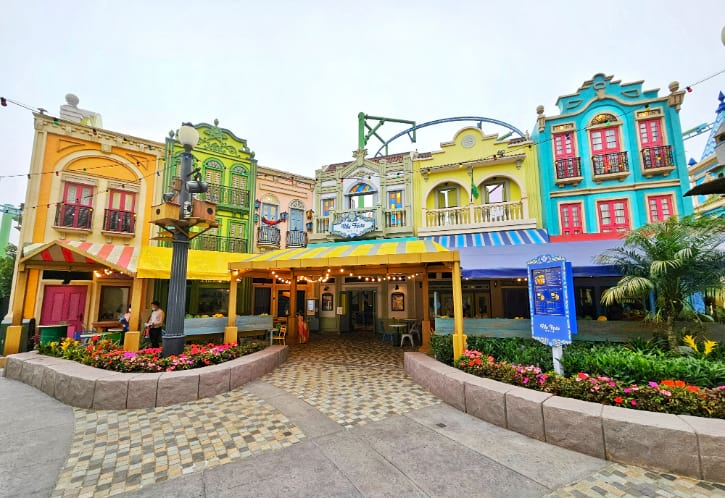 Another food spot in the park is the beautiful Vila Festa. They serve fresh fried chicken for a decent price. For 2 pcs Combo, you'd only pay RM 27.
Meanwhile, 3 pcs Combo is RM 34, 5 pcs Combo is RM 44, and 9 pcs Combo is RM 65. Each combo comes with French fries and carbonated drinks.
6. Golden Gate Garage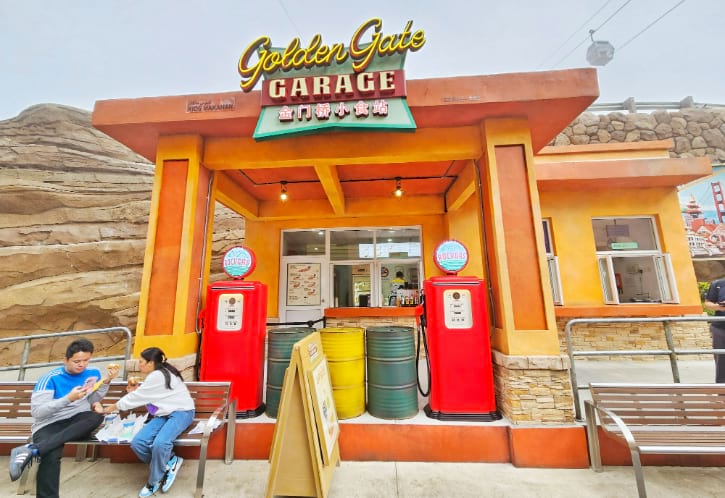 Have a quick snack at the Golden Gate Garage. This food stall offers a variety of sausage options
For only RM 19, you can enjoy either chicken or beef sausage with a drink. If you're still hungry, they have the 18″ Wholesome Chicken Sausage at RM 33.
7. Buck's Café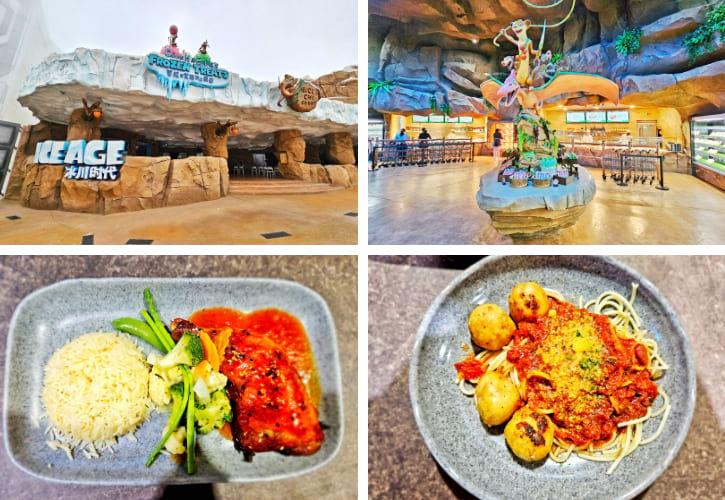 My last recommendation would be Buck's Café. Here, you'd get a series of mouthwatering meals.
You can try their oven-baked salmon with mixed vegetables (RM 45) or their oven-baked marinated whole chicken legs with mixed vegetables (RM 35).
Their spaghetti with homemade Italian meatballs (chicken) in tomato sauce is also commendable. And it's only RM 30.
Souvenir Stores
1. Studio Emporium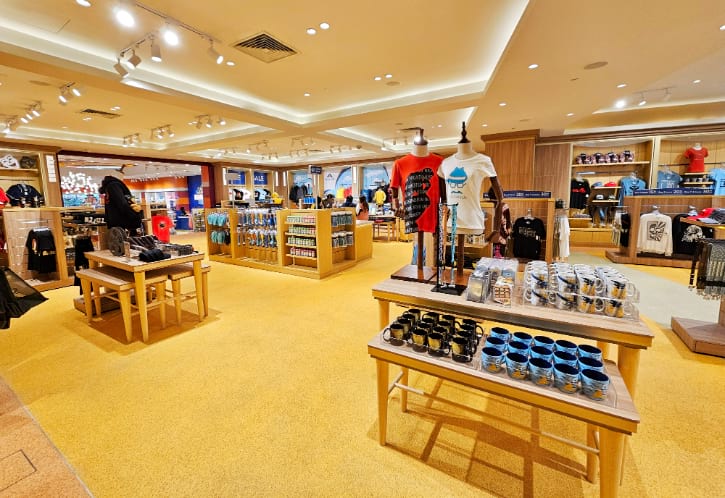 Get started with your shopping spree at Studio Emporium. This store comes with unique items like photo collectibles and themed merchandises.
On top of that, they have a wide collection of apparel, bags, accessories, toys, and others.
2. Sweet Delights presented by Candy Party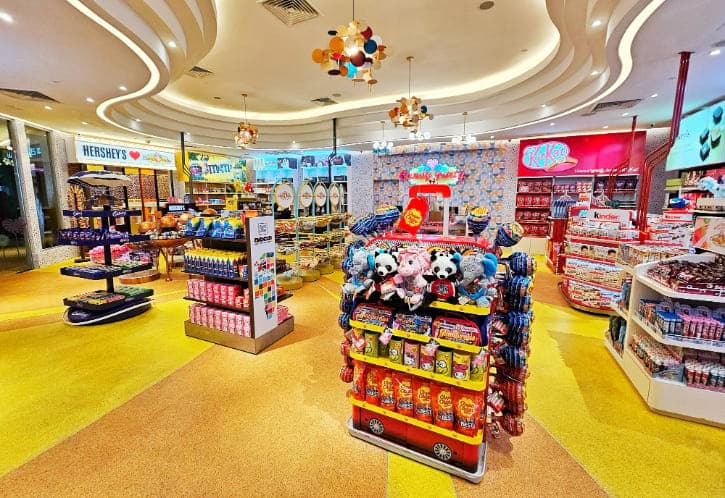 Sweet Delights is a haven for anyone with a sweet tooth. Explore their deep selection of sugary treats, from candies to chocolates.
Aside from sweets, they also have a display of adorable stuffed toys. So, go around the store and fill your basket.
3. Rio Mercado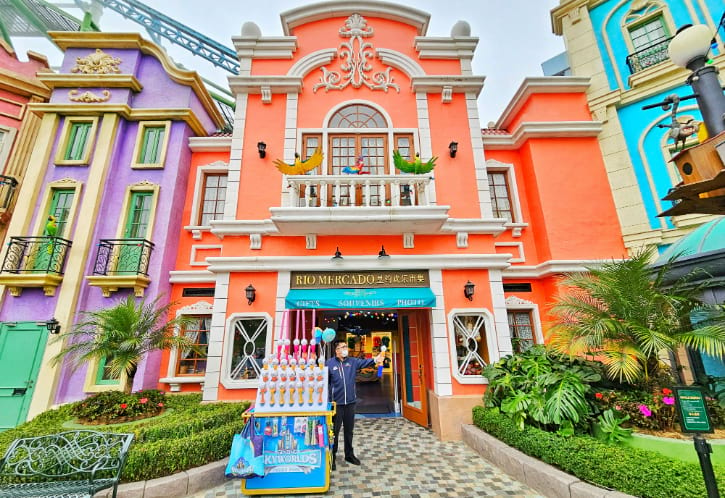 Take home some unique keepsakes from Rio Mercado. This castle-like store welcomes visitors with an impressive collection of items, including apparel, stationery, and home decors.
So, if you're looking for some souvenirs, drop by this shop and enjoy!
4. Cavern Treasures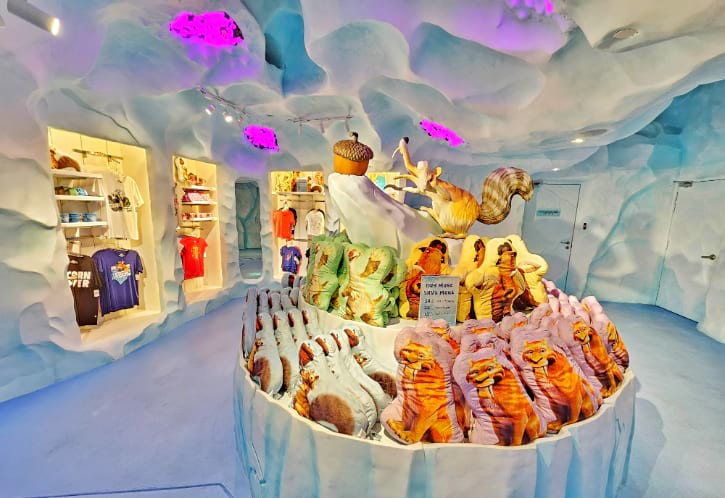 Cavern Treasures is definitely a must-visit spot for avid fans of the Ice Age.
Here, you'd get all sorts of Ice Age merchandise, from plushies to mementos and more. The place itself is also fascinating. It's like entering an area surrounded by ice.
Related Posts
Photo Credit:
https://www.gentingskyworlds.com/