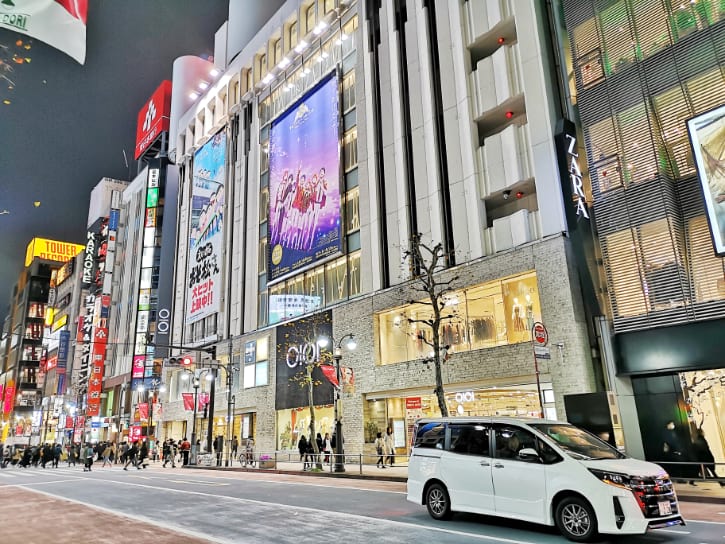 Are you planning to visit Shibuya in Tokyo this year? Don't miss the most interesting things to do in Shibuya for first-time visitors.
Shibuya is a place that truly deserves a visit, especially for the younger generation. Countless shops, restaurants, and entertainment spots all add up to its long-running popularity.
You have lots of shopping choices here, from discount stores to 100-yen shops and more! And without a doubt, Shibuya is the perfect place for shopaholics, make sure you include it in your Tokyo itinerary.
Aside from shopping, this jam-packed district is also a famous destination among foodies. Here, you'll find plenty of restaurants, stalls, bars, and pubs that give you extensive food selection.
So, let me walk you through the 17 best things to do and see in Shibuya, including all the must-visit attractions and must-try restaurants. 🙂
1. Spend time at the Shibuya Scramble Square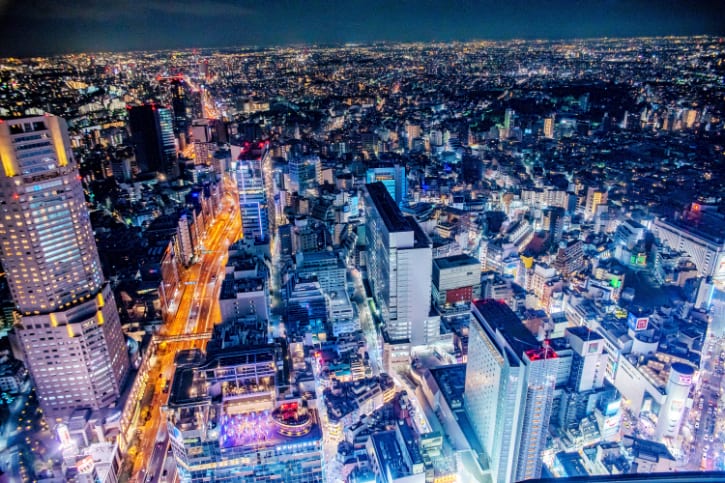 Shibuya Scramble Square is considered the tallest structure in the area.
Aside from that, it is actually an all-in-one destination that's why this should be your priority when visiting Shibuya.
Enjoy shopping, dining, and all sorts of entertainment inside this 230-metre tower.
And course, one of the main attractions is the SHIBUYA SKY, which offers a 360-degree scenery of Tokyo.
Afterward, explore floors B2 to 16 to see some impressive fashion and dining choices.
Tip: To guarantee your entry to SHIBUYA SKY Observation Deck, I highly recommend buying your SHIBUYA SKY tickets here in advance as they sell out quickly.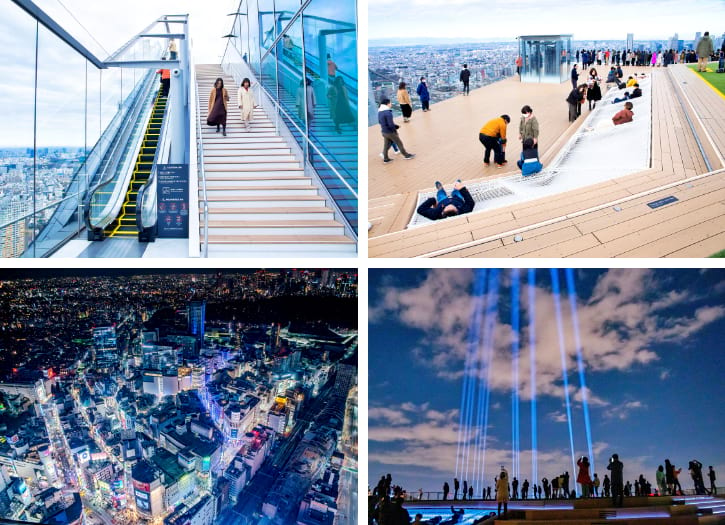 Highlights:
SKY GATE: Start the adventure by buying your tickets at level 14. Then, ride the lift that leads you to level 45. From there, take the escalator going to level 46, where you'll see the famous observation areas―Sky Stage and Sky Gallery.
SKY STAGE: See the soaring buildings of the Shibuya district from this outdoor observation area. Here, you'll also catch a glimpse of top-rated attractions like Shinjuku, Mount Fuji, Tokyo Tower, and more! And from one of the corners, capture the striking Shibuya Scramble Crossing. Watch the mesmerizing scene of heavy crowds crossing from different lanes.
SKY GALLERY: Continue your exploration and visit this famous indoor observation area. This spot provides panoramic views of the city. In addition, you'll enjoy the interactive exhibits that allow you to visualize the current happenings in Shibuya. And lastly, pop by the cafe & bar lounge and simply relax. This is a great location to just unwind while witnessing the stunning cityscape.
2. Catch the Shibuya Crossing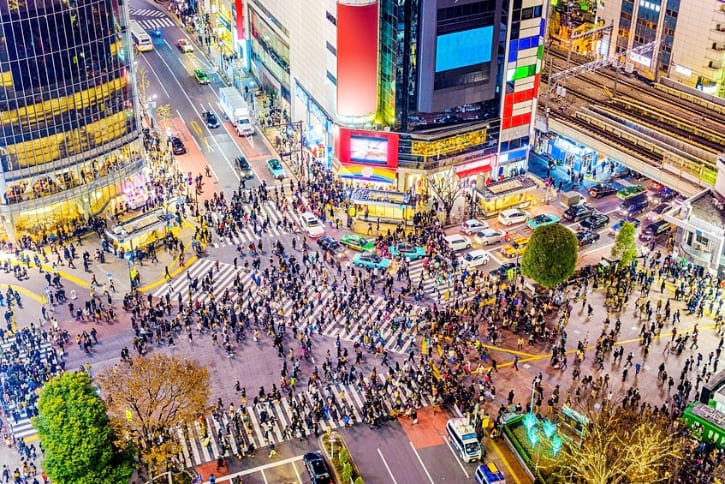 It is impossible to talk about top things to do in Shibuya without mentioning the world-renowned Shibuya Crossing.
This is undeniably a great activity among first-time tourists, so try to join the crowd and have a unique experience in Shibuya.
You can also take a quick snap of the thousands of people moving in all directions. Be mesmerized by how they cross this busy intersection in a fast-paced manner.
Because of its popularity, you can see this famous spot in many Tokyo social media posts.
It has even appeared in many international movies like Resident Evil: Afterlife, Lost in Translation, and The Fast and the Furious: Tokyo Drift.
3. Drop by Disney Store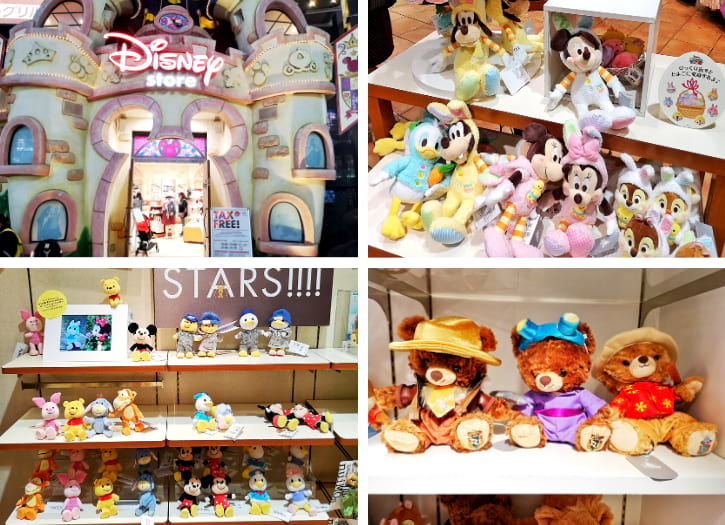 A trip to Shibuya should include visiting the Disney Store. Inside this miniature version of the Tokyo Disneyland castle, you'll see a lot of amazing finds.
Navigate all 3 floors that feature a spiral staircase―like those in fairy-tale movies. Each floor is filled with various Disney-related items.
Check out some adorable Chipmunk, Donald Duck, Mickey Mouse, and Minnie Mouse stuffed toys.
Don't miss the Disney nuiMOs collection and catch Winnie the Pooh and friends, along with Mickey Mouse and his gang.
And if you're a fan of UniBEARsity, this place is a paradise! Enjoy their UniBEARsity collection that is complete with cute costumes.
Tip: Make sure you bring your passport when you visit Disney Store so you can avail of the tax-refund services. This applies to those with a total spending amounting to more than 5,000 yen (before tax).
4. Explore the Shibuya Center-gai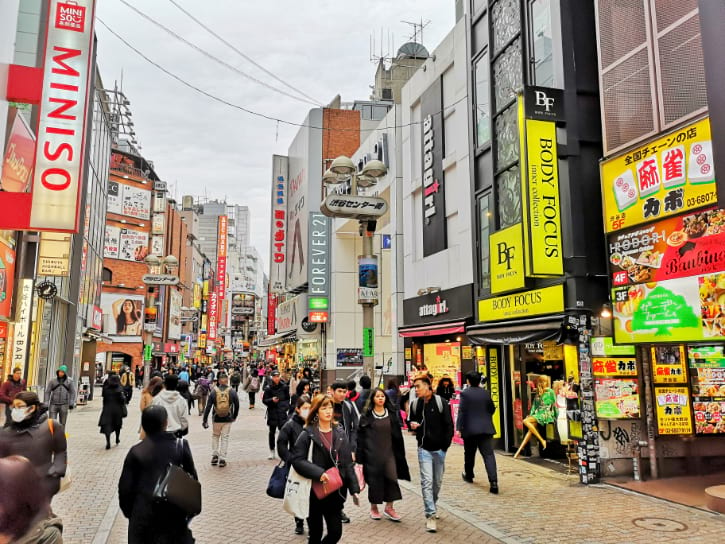 Shibuya Center-gai is the place to go for shopaholics. It's an iconic shopping street bounded by various shops from one corner to another.
This is where you'll find top fashion stores and local clothing stalls.
Here, you can find international brands like ZARA, Forever 21, and Bershka. And of course, top Japanese stores such as Uniqlo, Miniso, and Mega Don Quijote are also present.
Shibuya Center Gai Street is not just a shopping paradise but also a foodie destination.
Hundreds of restaurants are scattered around the area, offering delicious Japanese local cuisines and snacks. They've got sushi, ramen, and even fast-food options along the street.
5. Pay a Visit to Hachiko Statue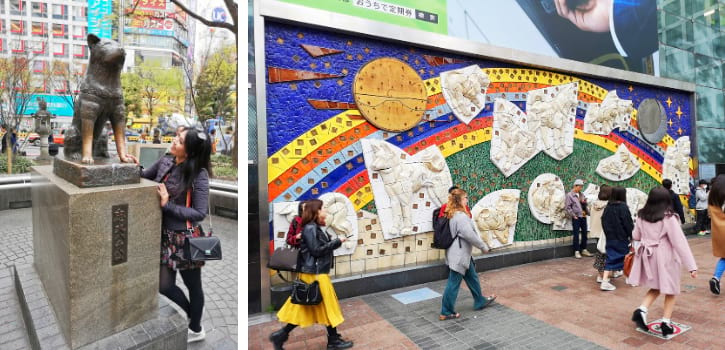 Hachiko Statue has always been part of Japanese culture and history. This Akita breed dog became very popular because of his immense devotion to his owner.
Hachiko would wait for his owner every day at Shibuya Station. And even after his owner died, he continued to wait at the station for 9 years―until he passed away.
See the bronze statue of the world's most faithful dog. And don't forget to take a snap of Hachiko when you visit Shibuya.
Surely, this historical structure is a reminder of the bond shared between a man and a dog.
So, make sure not to miss this rare figure of a dog's love and loyalty.
6. Dine in at Uobei Shibuya Dogenzaka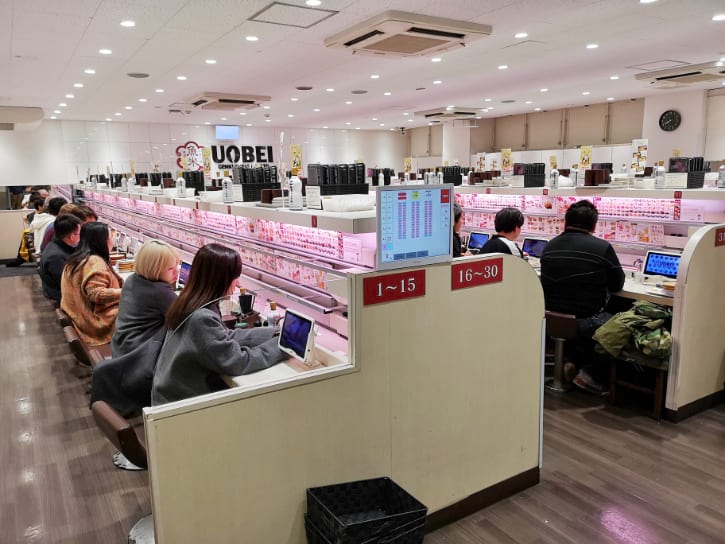 For the best and freshest sushi in Shibuya, go directly to Uobei Shibuya Dogenzaka.
The options here are amazing. And the best part? These are budget-friendly options for every sushi lover. For just 108 yen, you'll enjoy a platter of fresh, appetizing sushi!
This restaurant is a bit high-tech in terms of ordering. They are not your typical order-by-the-counter restaurant or rotating sushi restaurant.
Instead, you will be taken into its digital dining area with a multi-language ordering tablet. Languages available in the tablet are English, Korean, Chinese, and Japanese.
With the built-in tablet in your table, you can easily choose your orders. Once you're done, your order will be delivered conveniently using a high-speed conveyor belt.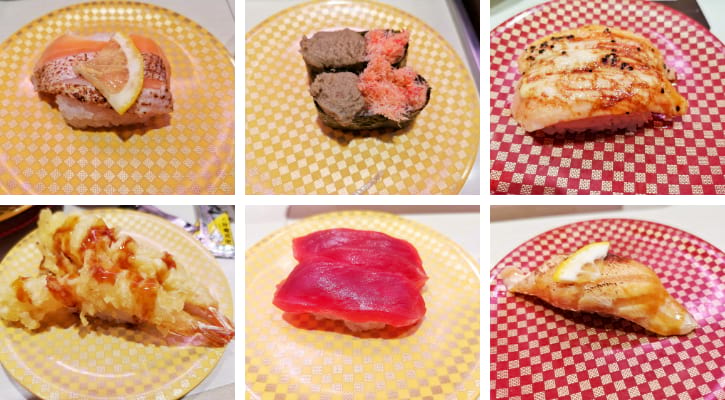 The picture above shows some of the sushi I've tried during my visit to Uobei Shibuya Dogenzaka.
All of them are very delicious but my personal favourites are the salmon sushi and Bluefin tuna sushi. So make sure you try these two when you visit this famous sushi restaurant.
7. Enter the famous Mega Don Quijote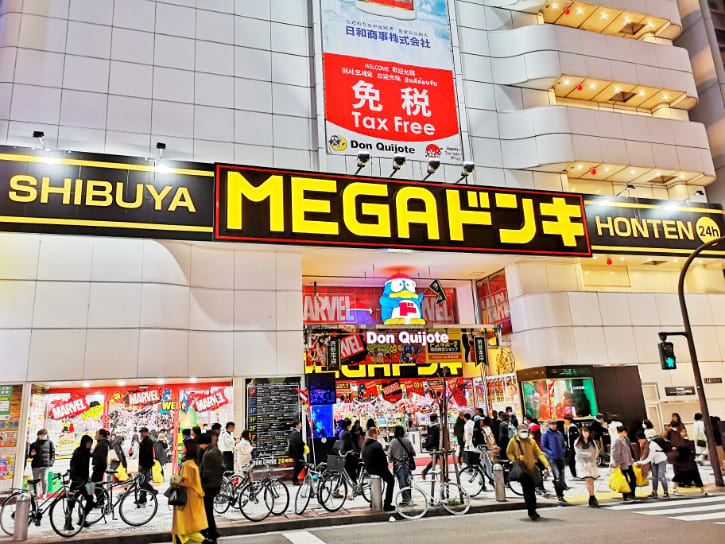 Mega Don Quijote should be on your list of things to do in Shibuya if you want a fulfilling shopping experience.
This is a well-known discount store in Japan among locals and travellers.
Though there are several stores in the country, the one in Shibuya is the biggest of them all.
So, try to plan a visit to this 7-storey building that is open 24 hours!
Be in awe of the store's incredible selection of products and goods. These include Japanese souvenirs, local snacks, beauty products, gadgets, clothes, toys, and a lot more!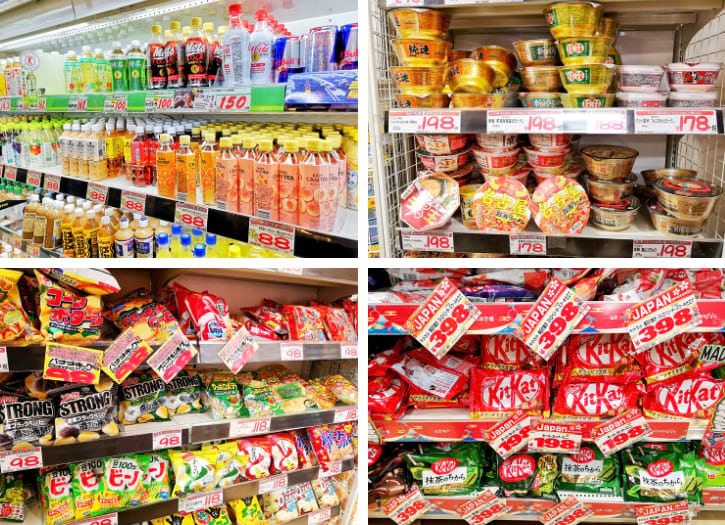 Generally, most travellers visit Mega Don Quijote to buy foods, beverages, and other stuff.
Grab a bite of some of the best Japanese snack foods like Umaibo, which is a famous, puffed cylindrical snack.
You can also try the Sennarido Crispy Wasabi Pistachios, Kit Kat chocolates, and Pocky biscuit sticks.
And of course, don't forget to complement your snacks with some drinks.
Choose from the various kinds of types on offers, including canned juice, tea flavoured beverages, and soft drinks.
So, if you need some essentials, go over their abundant assortment of Japanese instant noodles, local snacks, and drinks.
8. Go Shopping at Shibuya 109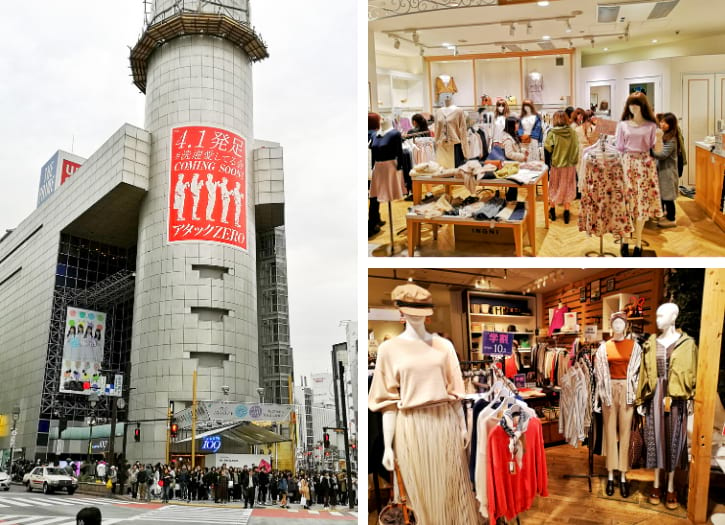 Shibuya 109 is a famous destination for fashionistas and trendsetters eyeing for the latest fashion trends!
There are 10 floors inside this popular Shibuya landmark. Each floor features different trendy options, mostly for ladies' fashion needs and other stuff.
Inside this fashion building, you'll be at awe with the overwhelming stalls filled with captivating fashion essentials.
There are over 120 shops, offering the latest fashion items, including apparel, bags, shoes, accessories, and more!
All these items are reasonably priced so you better prepare your budget ahead so you can buy everything you need!
Just across the Shibuya 109 is another fashion destination―but for men. So, after you shop at Shibuya 109, hop to 109 Men's!
9. Try Some Wagyu at Hakushu Teppanyaki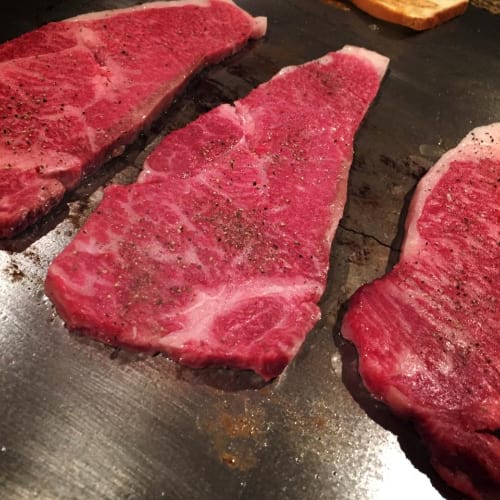 Hakushu Teppanyaki has always been a very famous steak restaurant in Shibuya. So, if you're craving some meaty goodness, this is the place to be.
Their beef teppanyaki is undeniably delicious. And of course, this isn't just any beef.
Here, you can see how the famous Japanese Wagyu is grilled right before your eyes.
Enjoy a platter of these for an authentic Japanese food experience. To top it all, their dishes are reasonably priced!
10. Look into the Matsumoto Kiyoshi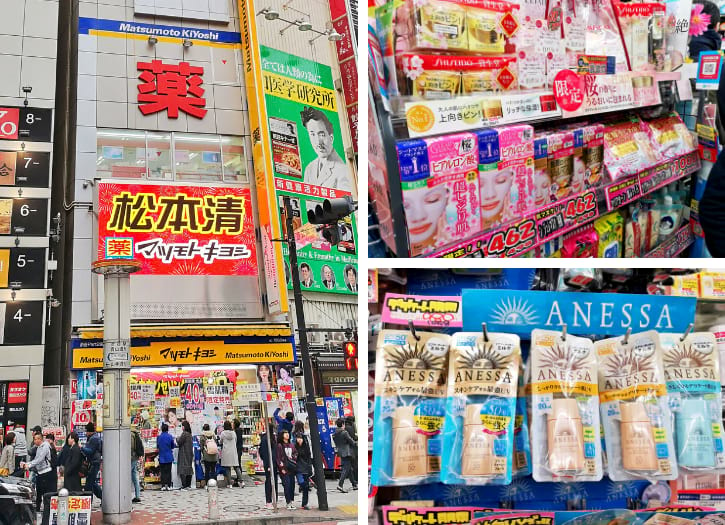 Matsumoto Kiyoshi is no doubt the most popular drug store in Shibuya. In fact, it is visited by thousands of travellers and even locals regularly.
Drop by the shop for some medicinal and beauty items at reasonable prices.
Here, you'll see the array of products, from face masks to body scrubs and more!
For some makeup products, check out their foundations, lipstick, blush-on, eyebrow pencil, and mascara.
They even have various sunscreen brands, including the top-selling Anessa UV. This sunscreen comes in a pre-packed version so you can easily bring it anywhere.
11. Check out the 100 yen-shop Can Do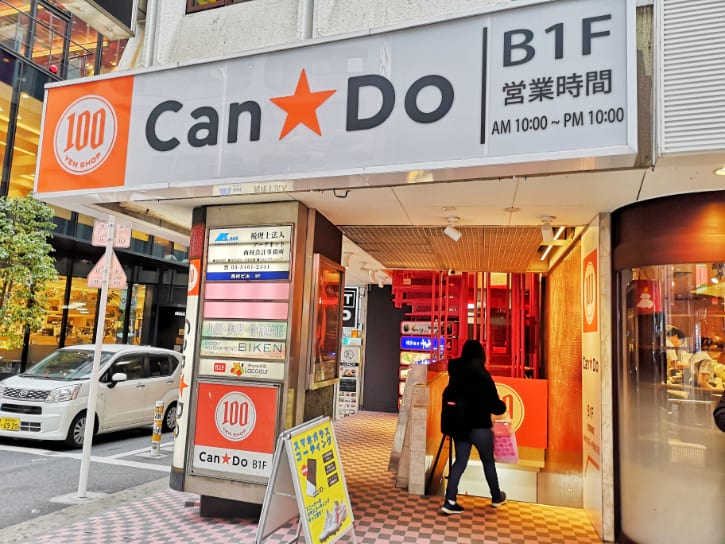 Can Do is a well-known 100-yen shop in Shibuya. This store offers a wide variety of quality products at a reasonable price.
For girly stuff, they have hair ties, hair bands, clips, and curlers, and more.
They also have a wonderful range for nail polishes, nail arts, and all other nail products.
And if you're planning to buy a pair of new socks, there are plenty of plain and colourful choices here.
12. Order a Ramen at Ichiran Shibuya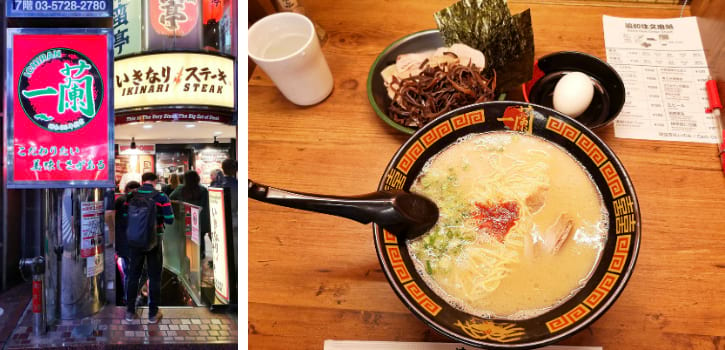 Craving for an authentic ramen experience? Go ahead and visit Ichiran Shibuya, a very famous ramen restaurant in Tokyo.
The ramen sold here is something that you'd certainly remember even after your trip.
Its soup is a fusion of milky, sweet, and spicy flavours. And the smooth, thin noodles perfectly complement the pork toppings and the original red sauce.
Because of their great-tasting ramen, Ichiran Shibuya is no question a top choice among locals and even foreign visitors.
Plus, it's near top Shibuya shopping spots like Shibuya 109, Shibuya Center-gai, Disney Store and Mega Don Quijote.
So, after all the shopping, you can head directly to the ramen restaurant and enjoy a bowl of tasty ramen.
13. Pop by ABC-MART Grand Stage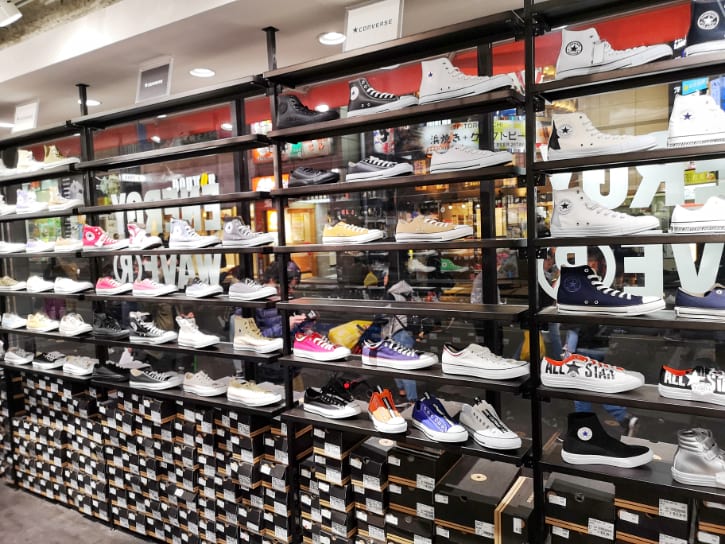 Shoe lovers would definitely fall in love with ABC-MART Grand Stage. It's considered as the shoe paradise in Shibuya, which is conveniently located in Center Gai shopping street.
Look around for your favourites sneakers inside this famous footwear company.
This well-known sneaker chain store gathers all top brands, including Adidas, Nike, Reebok, Converse, New Balance, and a lot more!
And of course, these kicks are priced affordably, making it more attractive to local and international tourists.
14. Shop at Daiso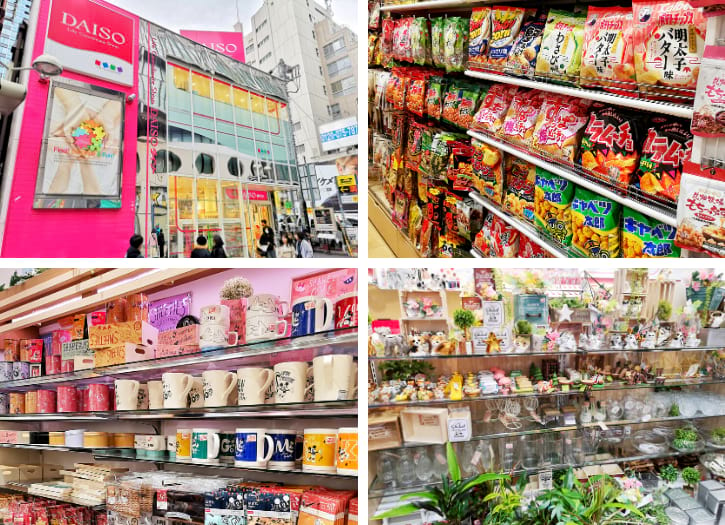 Another spot that is counted in the most recommended things to do in Shibuya is no other than Daiso.
This famous chain store is known for their extensive assortment of products and goodies that are generally sold for just 100 yen.
So, if you want to buy a lot without breaking the bank, go explore this store.
They have travel goods, decorative items, cosmetics, stationery, fashion accessories, and toys.
In addition, they sell snacks and drinks, along with some cheap souvenirs. With that, this made them one of the best places to shop in Shibuya.
15. Explore the Tokyu Hands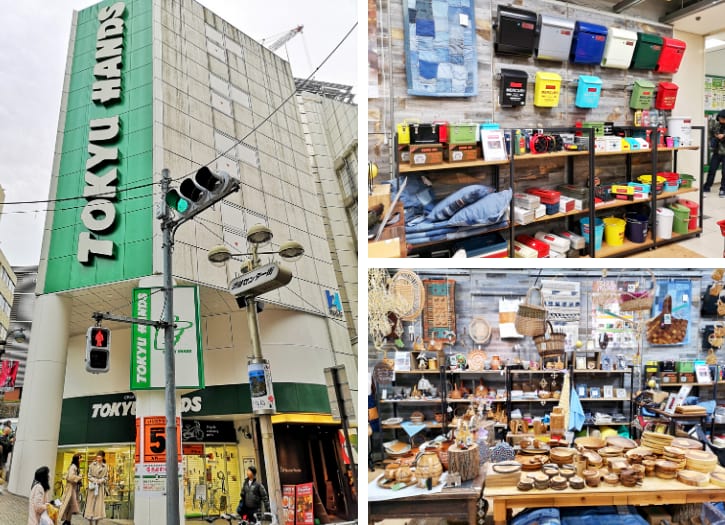 Shibuya's Tokyu Hands is an 8-floor building that features all the things you need for DIY projects.
See their collection of DIY products, from stationery to travel accessories and more!
Not only that but they also have plenty of home improvement stuff.
Discover their extensive variety of gardening tools, sewing equipment, kitchenware, and coffee drippers.
You'll also come across a series of cultural products that are featured in many local and international magazines.
And if you're on the hunt for a new luggage, you have several options here.
16. Get around MUJI Shibuya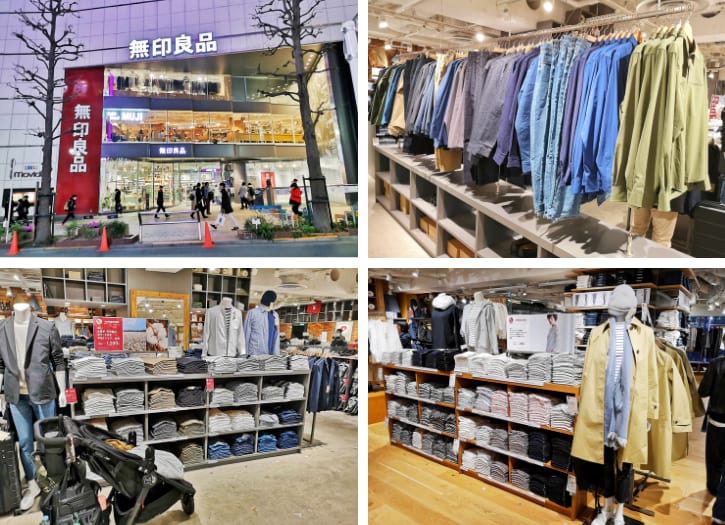 MUJI Shibuya is unlike any other local store in the district.
It targets a specific audience―those who prefer elegant designs and minimalist beauty.
This famous Japanese retailer is the perfect place to visit in Shibuya for those eyeing for authentic Japanese trends.
See the amazing women's fashion collection as well as men's style. There are plenty of choices available, from simple designs to casual ones.
You'll also find a lot of formal attires here. Therefore, if you need to upgrade your wardrobe, this store does not disappoint.
17. Savour a Beef Bowl from Matsuya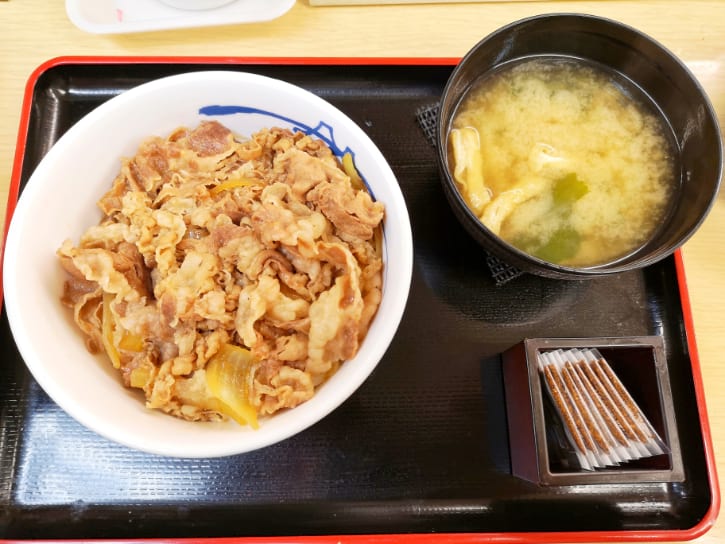 Matsuya in Shibuya is another great place to dine in together with your family and friends. This fast-food chain highlights their tasty rice meals in different flavours.
One of their must-try meals is the premium gyumeshi beef on rice, which is priced at 380 yen.
If you're craving for some chicken goodness, order their grilled chicken with chilli sauce. This flavoursome meal set only costs 620 yen!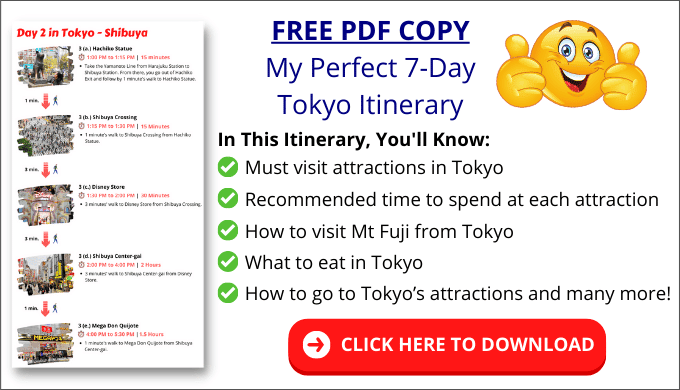 My Suggested Itinerary for Shibuya
To make everything more convenient, I will also provide you some sample itineraries for your Shibuya trip.
I've divided these into 2 sections so you can easily check it out and use it as a reference. These are half-day and full-day itineraries, which highlight all the places you need to visit.
For each itinerary, I also include the estimated time that you should spend at each attraction.
This will surely help you plan out your schedule in advance so you'll save both time and money.
Option 1: Half-Day (7 Hours – Morning to Afternoon)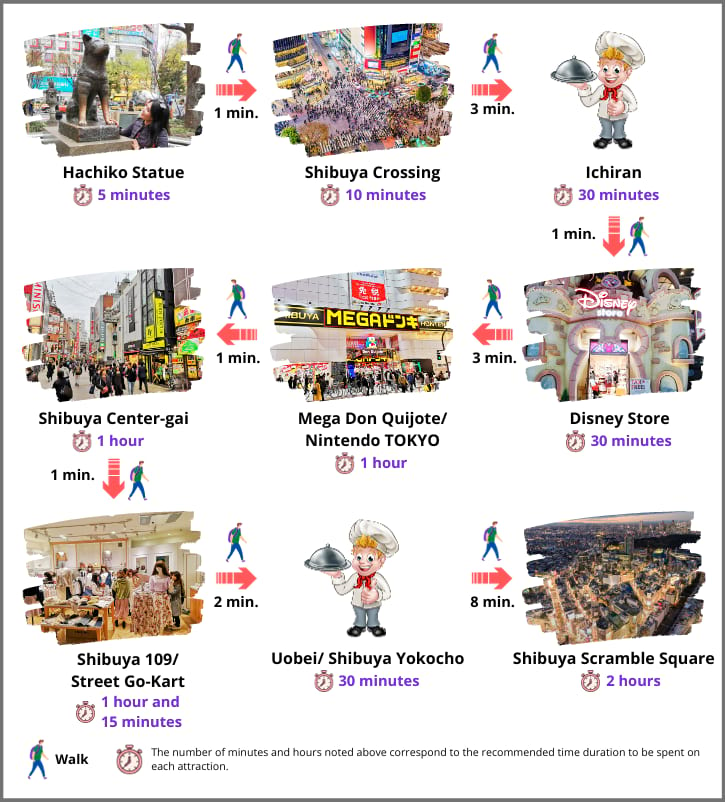 Option 2: Half-Day (7 Hours – Afternoon to Night)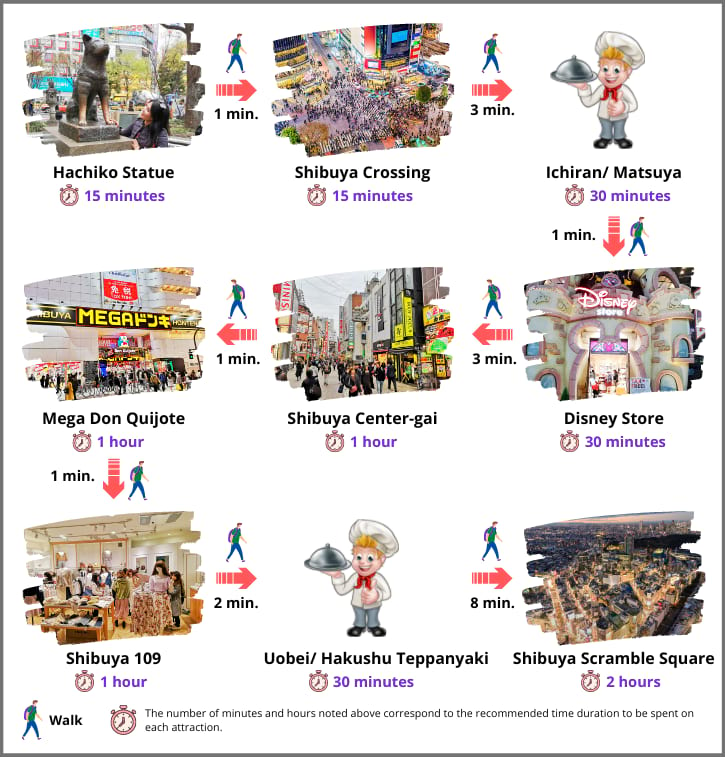 Option 1: Full-Day (11 Hours)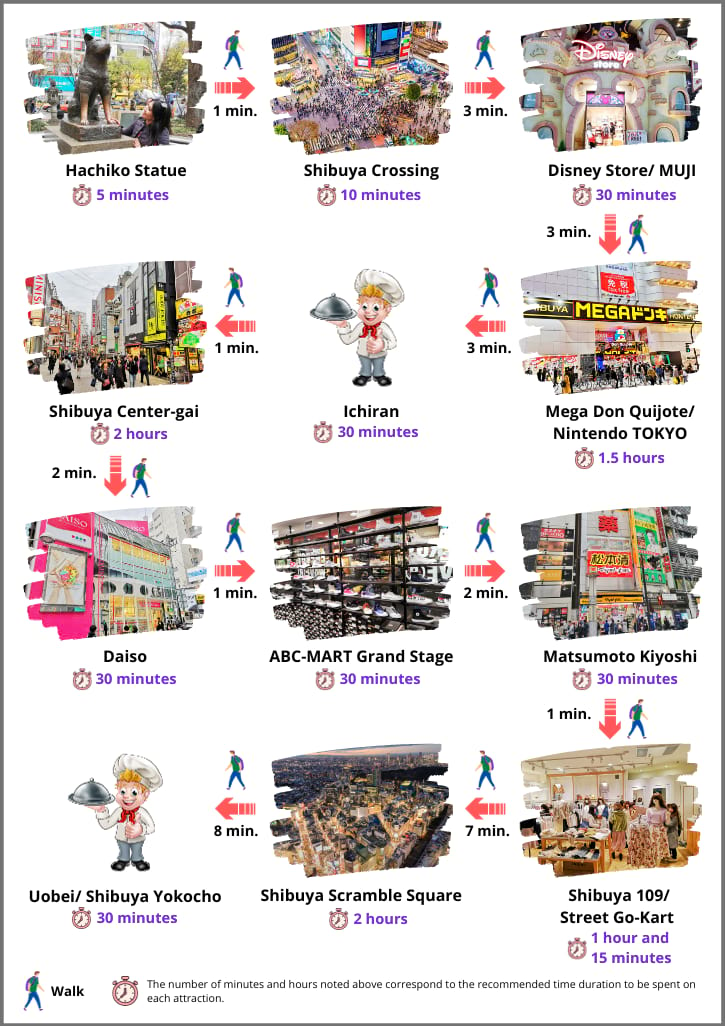 Option 2: Full-Day (11 Hours)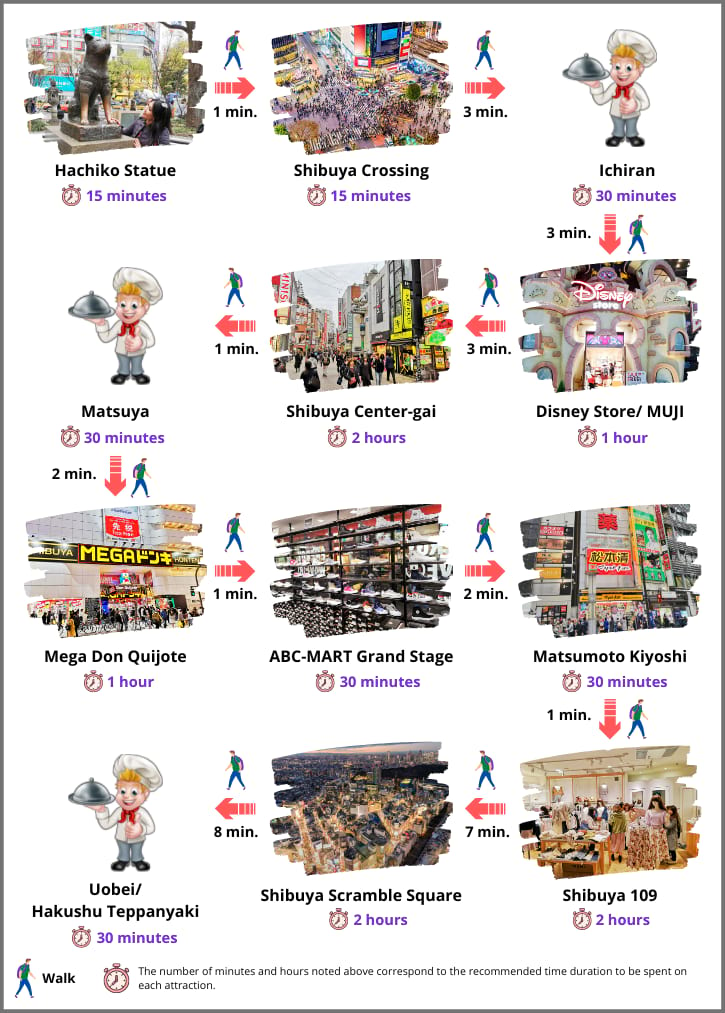 Things to Do in Shibuya, Tokyo (Map)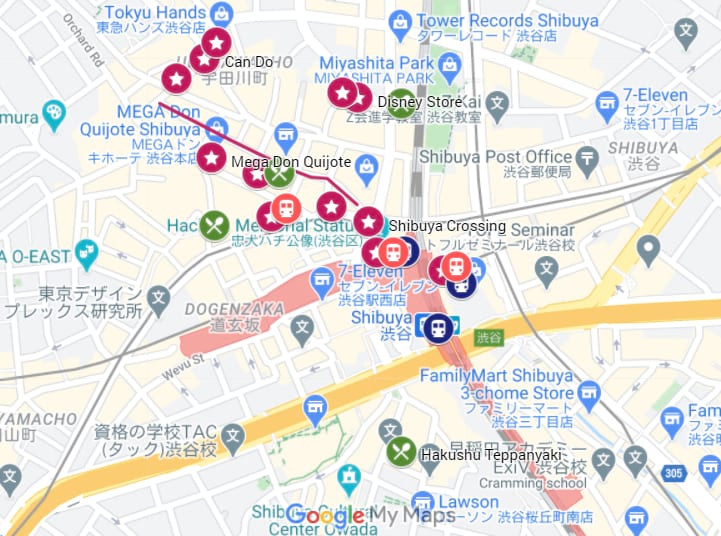 Aside from the suggested half-day and full-day itineraries, I have prepared a customized Shibuya Map.
The personalized Google Map above shows the specific locations of the top attractions, including the best shopping spots and restaurants.
I have also included in the map the nearby train stations of the attractions for easier reference.
Train Station Exits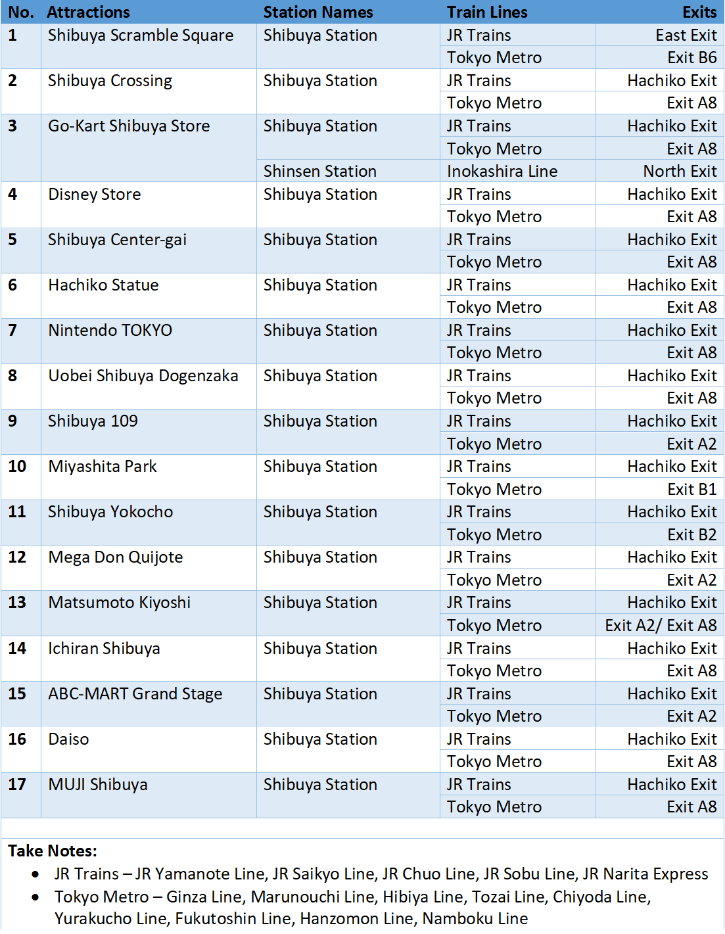 Related Posts