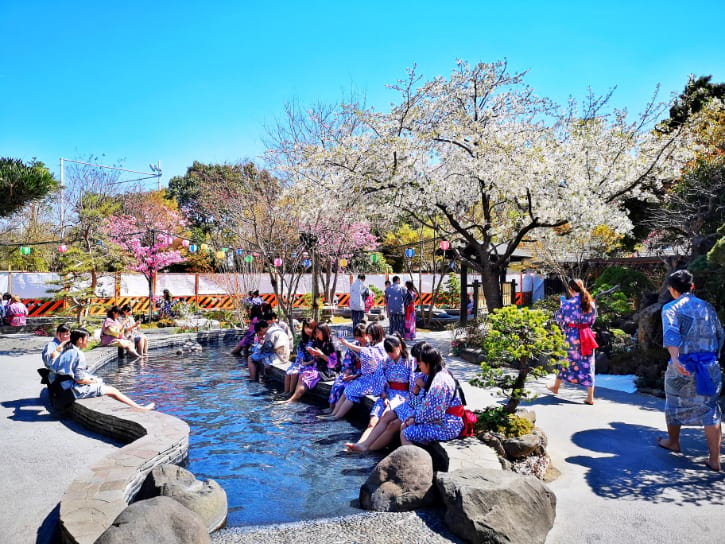 Oedo Onsen Monogatari is a very famous onsen theme park in Odaiba, Tokyo that you shouldn't miss. It is undeniably a perfect destination for a fun and relaxing holiday.
I just visited the hot spring theme park with my wife and we totally had a great experience. We spent around 4 hours exploring the park and enjoying the beautiful surroundings. The atmosphere here is super relaxed, plus the facilities are very remarkable.
Throughout this guide, I will share the attractions you must try at Oedo Onsen Monogatari during your visit. Aside from going to the onsen, there are other sites worth discovering. So, make sure to also read my recommended 12 best things to do in Odaiba here for more information.
Oedo Onsen Monogatari Overview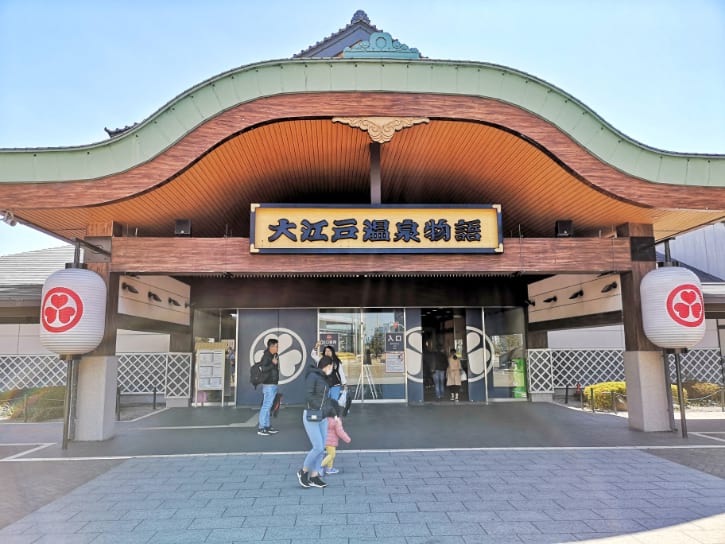 Odaiba Oedo Onsen Monogatari offers a collection of fun-filled activities for everyone. Explore the hot spring baths, food stalls, massage spots, and entertainment booths. All these will surely make your trip more amusing and memorable.
This park also has plenty of picturesque sites for a photo shoot. Because of the variety of things to do, it's always jam-packed with tourists and locals of all ages. So, it's definitely a must that you add this theme park to your Tokyo itinerary and enjoy its amazing attractions.
Now, it's time for me to walk you through the 11 must-do things in the park through the list below.
1. Capture a photo of Watch Tower as your background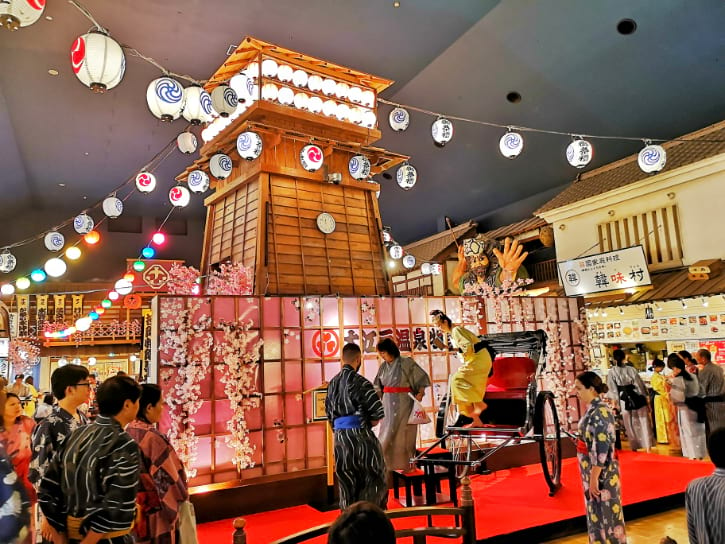 The best way to start your Oedo Onsen Monogatari adventure is by taking a picture of Watch Tower. Drop by this spectacular sight that is surrounded by captivating designs and colors. You can also ride the rickshaw for photo purposes.
2. Give your Sore Feet a Break in the Foot Bath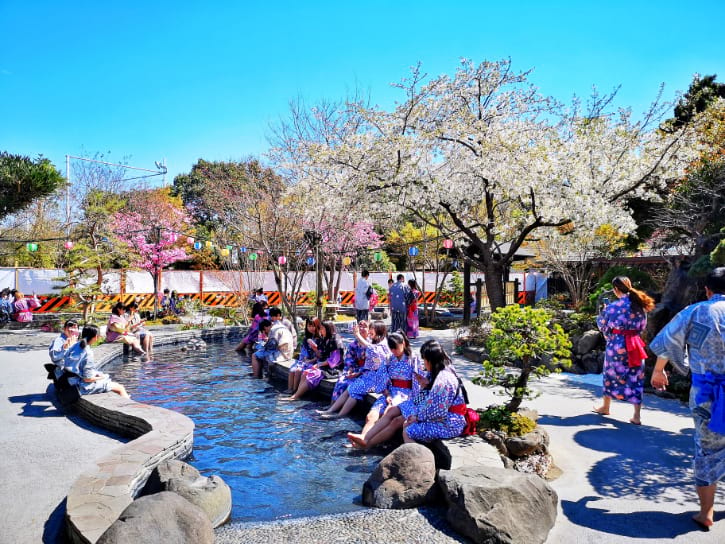 Go out and explore the 700-tsubo Japanese garden featuring a 50-meter-long hot spring road. This hot spring is a perfect treat to calm down your soles and get rid of stress. Not only that but you'll also appreciate the gorgeous nature views.
Get lost in your thoughts while you start your foot bath session. Then, release your pressure as you dip your foot in the open-air foot bath. And because of the large and spacious area, surely there's a place for every visitor!
3. Try the Natural Foot Reflexology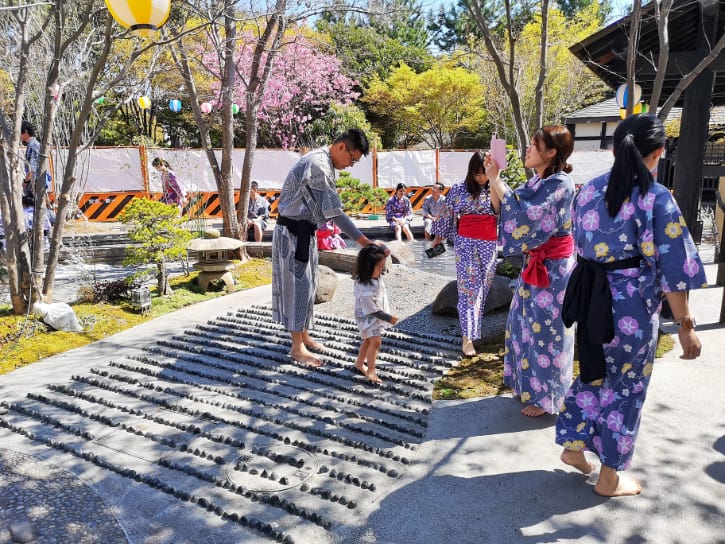 If you want to put pressure on your soles, follow the Natural Foot Reflexology. This is a unique spot in Odaiba Oedo Onsen theme park that helps soothe foot tension. So, gather your family and friends and let them enjoy this one-of-a-kind experience.
4. Drop by the Fish Therapy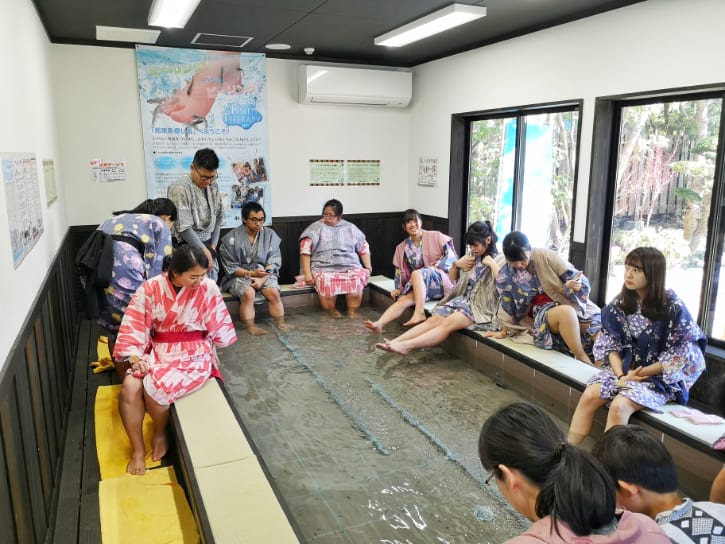 Get rid of dead skin with the help of fishes. This is a natural way to remove and polish your feet while enjoying a low-frequency massage.
With the healing properties of fishes, it's easy to relax and let the fish do their wonders. It might be a bit ticklish but you'll definitely be surprised by the aftereffect.
5. Take a dip into the Open-air Bath
There are 3 outdoor baths in this famous spot of Oedo Onsen Monogatari. Here, you get to experience a very relaxing bath surrounded by gorgeous nature views.
Men Outdoor Bath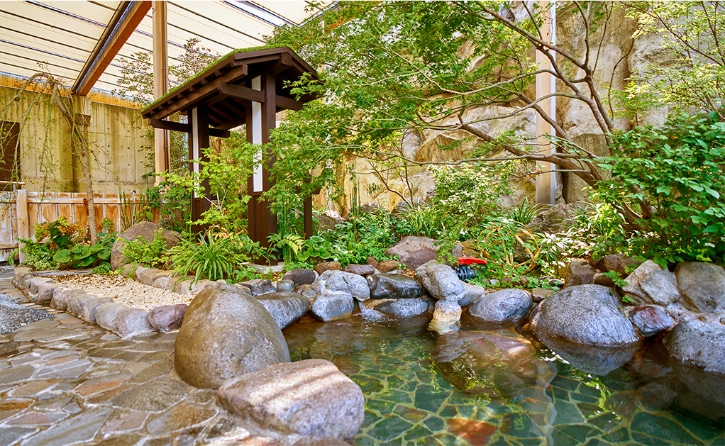 If you're travelling with your male friends, this the perfect place to unwind. Enjoy a calming conversation with your buddies while appreciating the soothing waters. Of course, the spectacular scenery makes this outdoor bath more remarkable.
Women Outdoor Bath
Surrounded by beautiful rock formations, this outdoor bath is such a nice spot to relieve your stress. Get captivated by the nature-like background and relax comfortably while taking your bath.
Open-air Barrel Bath (Women Only)

Another outdoor bath that you shouldn't miss is the open-air barrel bath. From the name itself, this bath area comes with a barrel-like tub for each person. Take a dip into the traditional tub and have a peaceful moment all by yourself.
6. Be amazed by the Grand Indoor Bath
If you prefer to relax inside, there are 4 indoor baths to choose from. Each of these spots has its own unique style that makes it impressive.
Brown Hot Water Bath

You can't miss this picturesque indoor bath because of its panoramic designs. Take a plunge into this large hot water pool and unwind leisurely.
In this indoor bath, you'll catch see a panoramic photo of Mount Fuji. This famous mountain is a very stunning landmark in Japan that is just 2 hours away from Tokyo.
So, if you have more days to spend in Tokyo, I highly suggest that you also visit this place. It's because there are many beautiful attractions to explore there. Don't forget to see my complete article on visiting Mount Fuji from Tokyo to know more about this spot.
Lay-down Bath

If you prefer to lie down while taking a bath, give this area a try. This lets you bathe like you are in your own bathtub. And as you relax in the warm water, you can loosen the litter with a foam jet.
Lukewarm Bath

Try the lukewarm bath and enjoy the not-so-hot and not-so-cold water. This is something to look forward because if you just want to ease the stress of your body.
Silk Hot Water Bath

Get entertained by the ultra-fine bubbles in the Silk Hot Water Bath. This unique feature helps remove pore dirt as well as increase blood circulation. Because of this, it is quite popular among women.
7. Experience a Unique Kind of Stone Sauna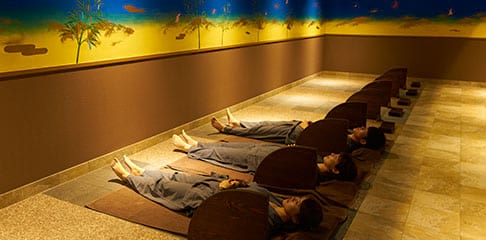 Unlike most saunas, this is quite different. Here, you will lie down on a heated rock to release the negative energy from your body. It's because the Stone Sauna in Odaiba Oedo Onsen features far-infrared rays and negative ions.
As a result, you can relax comfortably and have a stress-free body after. So, try to bring your partner, family, and friends and enjoy this one-of-a-kind experience.
8. Dig in some Authentic Japanese Cuisines and Eat Like a Local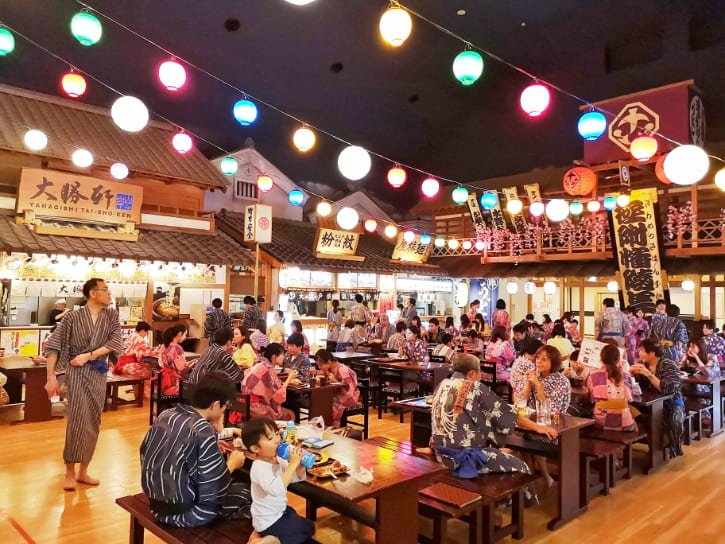 Get mesmerized by the abundant food choices at Odaiba Oedo Onsen Monogatari. This is the best place to fill up your stomach with authentic Japanese meals and snacks. The dining spot itself is surrounded by traditional designs, making it feel like an authentic Japanese village.
Go around and you'll find an array of yakisoba, okonomiyaki, takoyaki, ramen, sushi, and izakaya food. There are also Taishoken, Ramen Hot Plate Komon, and Udon Noodles to choose from.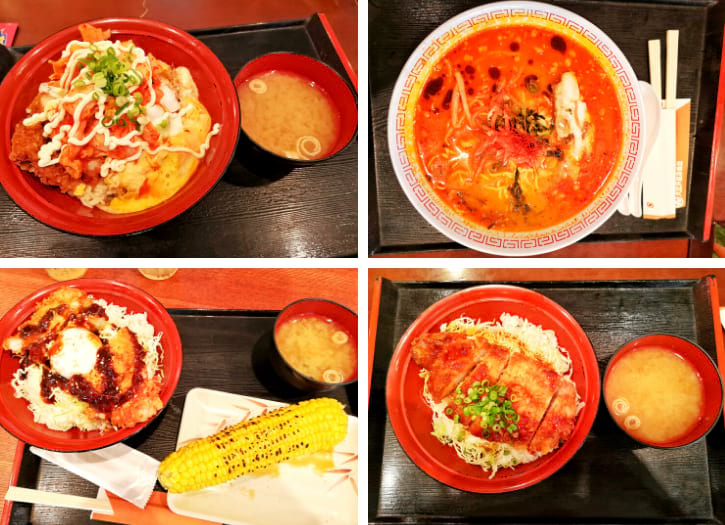 If you want a satisfying meal, try the pork cutlet bowl topped with mayonnaise. And, make sure you also try the ramen noodles with spicy miso-flavored pork broth.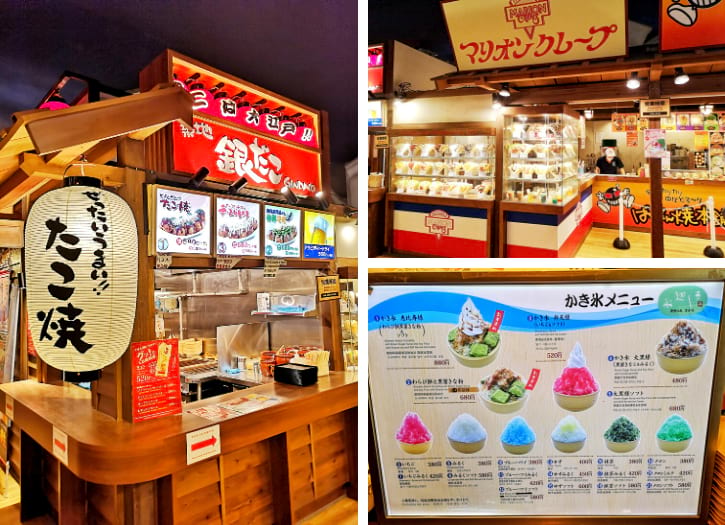 For Takoyaki lovers, buy your fave treat from Gindaco Takoyaki. Their Takoyaki choices are super appetizing, making it a great snack option.
After the main course, it's time for dessert! Enjoy the shaved ice that comes in different flavours such as strawberry, green tea, and more. Continue your food adventure as you take a bite of the famous Marion crepes.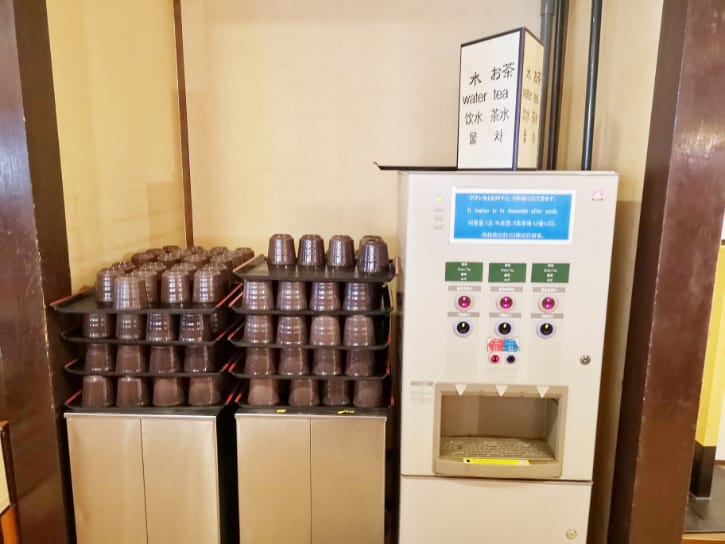 If you want to save money, there's a dispenser area to satisfy your thirst. And take note, the water and green tea are given for free!
9. Have Fun and Try All Games
There's more to Oedo Onsen Monogatari than its famous water baths and hot springs. Revisit your childhood as you play different car racing games and other arcade entertainment.
Game Corner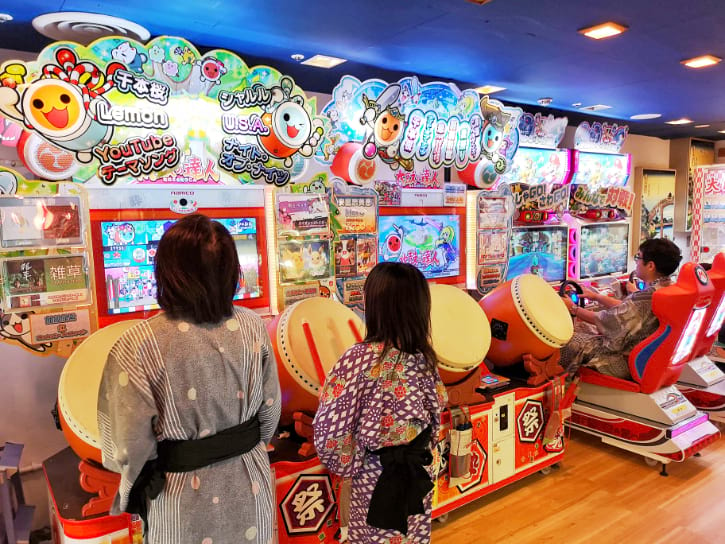 Pump up your senses and ride the different car racing games. If you want to unleash your competitive skills, play some drum games with your friends and compare scores.
Don't forget to bring home some cute plush toys from one of the UFO Catchers. Make sure you focus on this game to earn a reward!
Traditional Japanese Games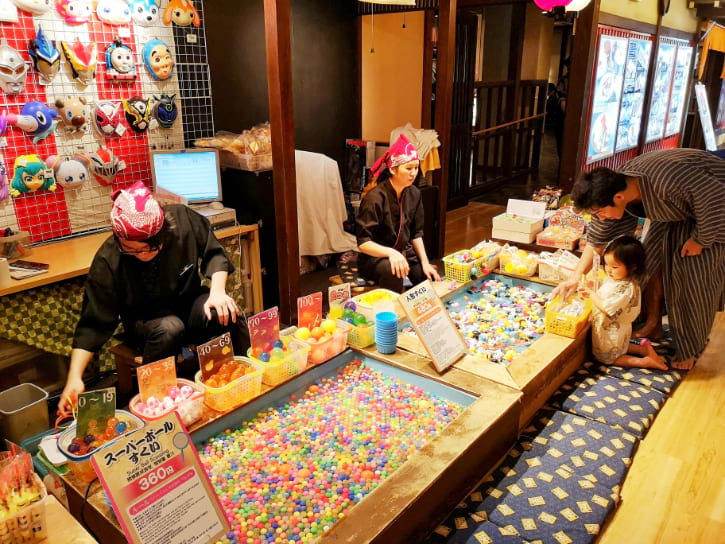 Carry on with your exploration and seek different traditional games for all ages. Experience the ball rolling, ninja arrows, and throwing darts. And of course, you can't miss the scooping games!
Play the super ball scooping or the doll scooping and take home your prize. All these local games will surely bring back your childhood memories.
10. Head to the Relaxing Room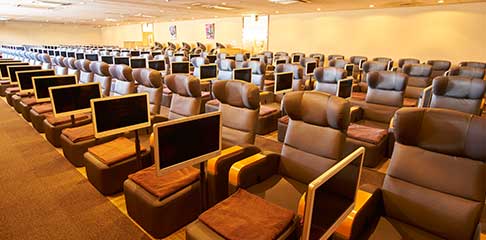 Another must-visit spot in the theme park is the Relaxing Room. This is a great place to unwind and hang out with your friends.
Choose from one of the reclining chairs that come with its own TV monitors. Watch some videos while enjoying the calm ambience.
11. Bring Home Some Great Finds from the Local Stalls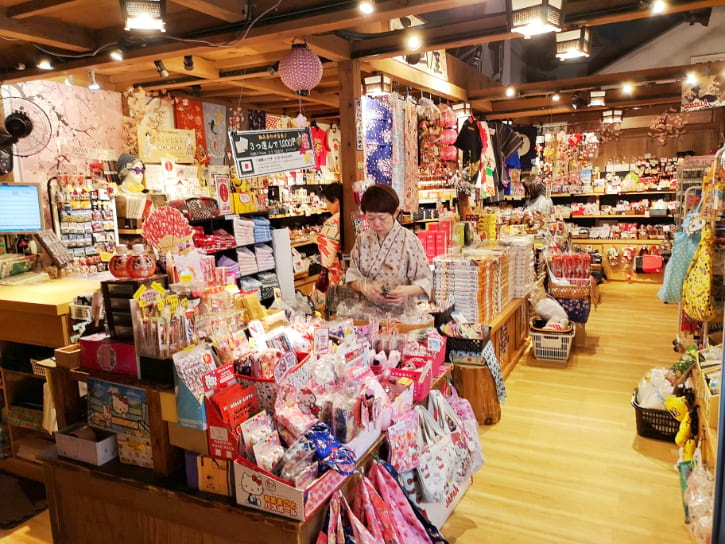 Cap off your day with some souvenir shopping. There are plenty of options here, from unique accessories to colorful art stuff. You'll also find a lot of figurines, key chains, bath salts, T-shirts, and other customized items.
On top of that, there are edible gifts to choose from. So, explore around and pick the perfect treat for your families and friends back home.
Oedo Onsen Monogatari Ticket Prices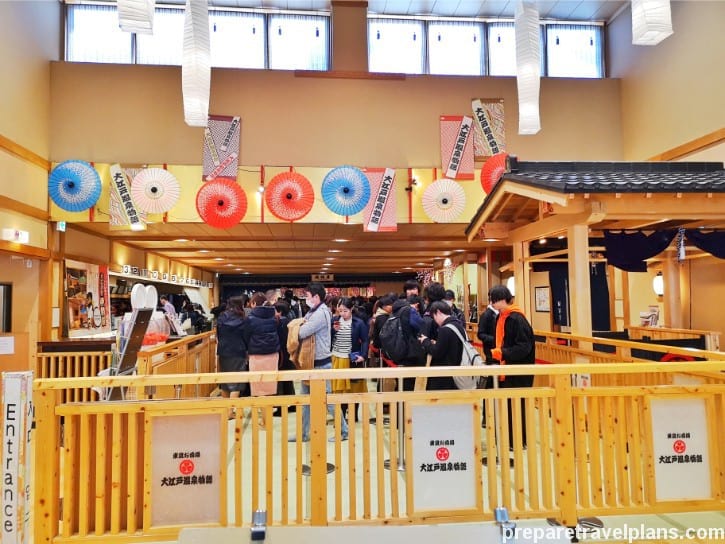 Normal Ticket Prices:
Monday to Friday
Adult (13+): 2,768 yen
Child (4 – 12): 1,078 yen
Child (Below 4): Free
Saturday to Sunday
Adult (13+): 2,988 yen
Child (4 – 12): 1,078 yen
Child (Below 4): Free
Money Saving Tip:
When visiting this popular attraction, did you know that you'll actually save more money if you book your tickets online?
Compared to buying your tickets on-site, booking online offers you an extra 20% discount. Check out here for buying the admission tickets online!
Opening Hours:
11:00 AM – 8:00 AM (Next day)
Official Website:
https://daiba.ooedoonsen.jp/en/
Guide Map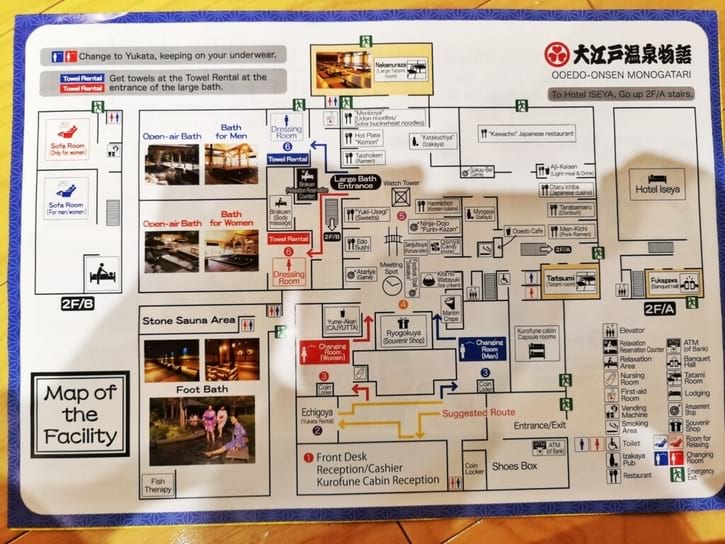 Here's an Oedo Onsen Monogatari guide map you can use as a reference while inside the park. Check out this map ahead so you won't have a hard time navigating the park. This will definitely make your visit more convenient and time-efficient.
Staying in Tokyo for a few days? Make sure to check out these 35 things to do in Tokyo for more exciting trip!
How to Use Odaiba Oedo Onsen Monogatari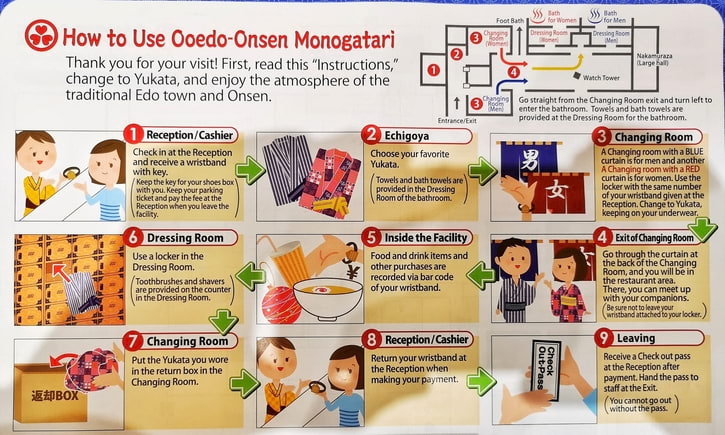 With a lot of exciting facilities waiting for you, here's a detailed guide you can follow. I hope that this thorough list of steps will help you get familiar with the theme park in advance.
Step 1. Check-in at the Front Desk Reception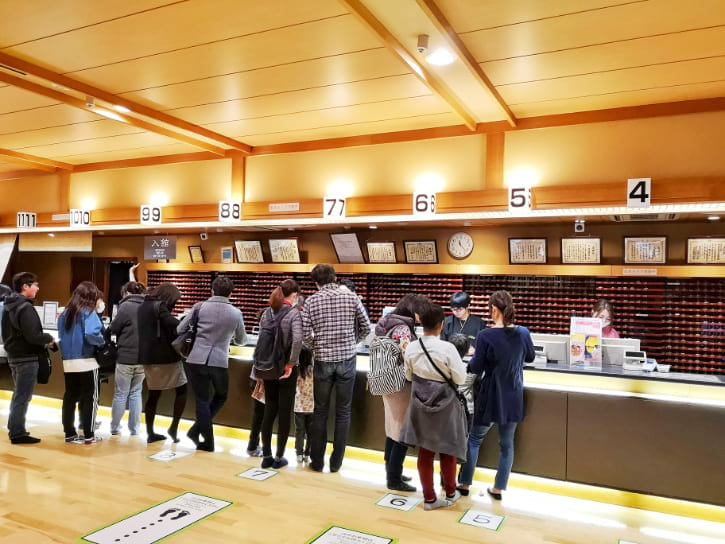 Upon arrival, take off your shoes and keep them in a locker. Head straight to the front desk area, where you will be given a wristband with a key. This key is for the locker inside the changing room.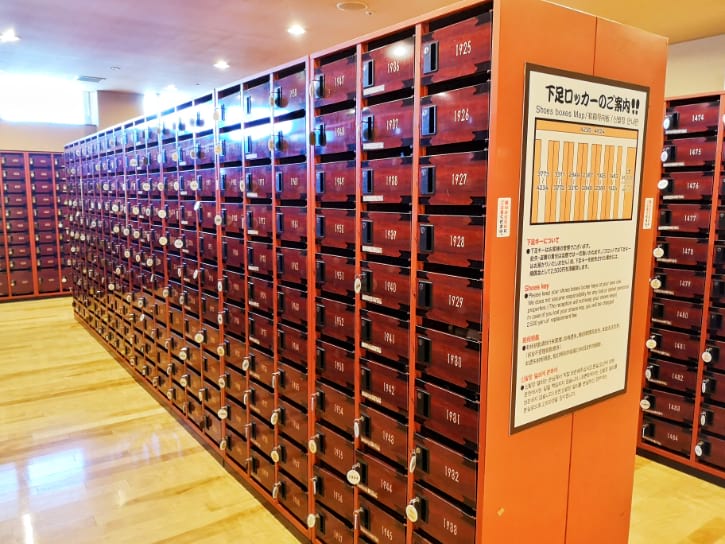 You can find the shoe locker area on the left side of the main entrance.
Step 2. Head to Echigoya (Yukata Rental Area)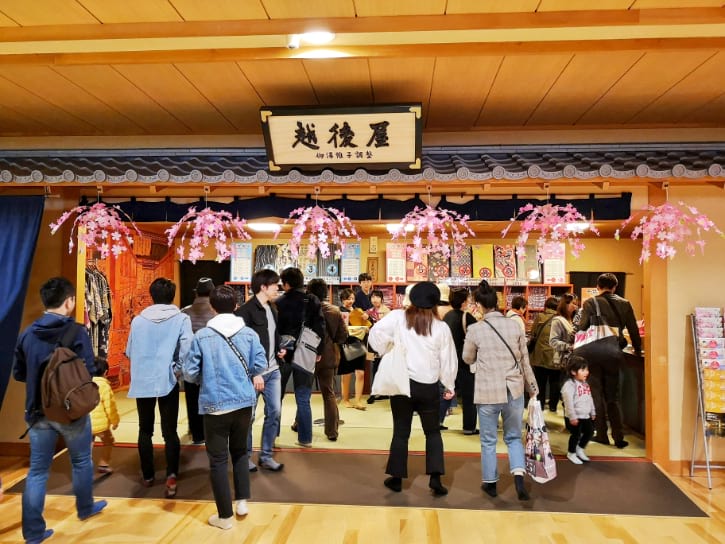 Right beside the front desk is the Echigoya, which is a Yukata rental area. Yukata is the Japanese traditional costume you will wear while inside the park. Aside from a Yukata, you will need an Obi (belt) to complete your attire.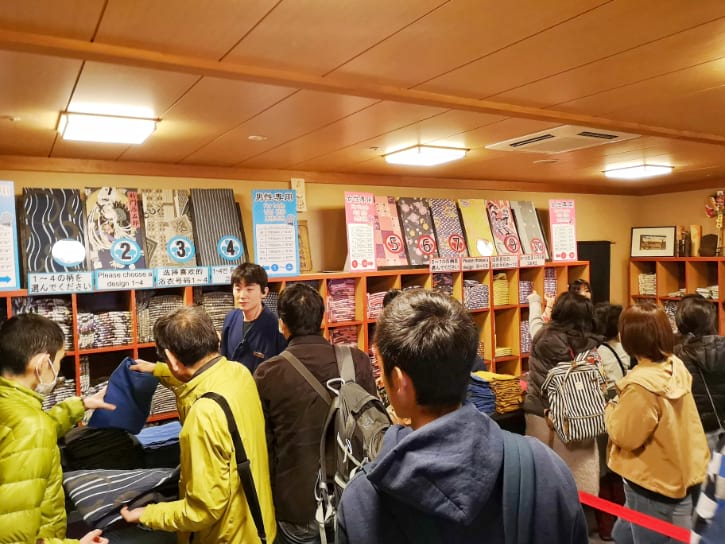 There are several Yukata options to choose from―4 types for men and 5 types for women.
Yukatas come in all sorts of colours and different sizes, from S to 3XL. They provide a size guide to help you pick the right piece for your height.
Towels are also provided in the dressing room of the bathroom. You can find these once you go to the hot-spring bath.
Step 3. Go straight to the changing room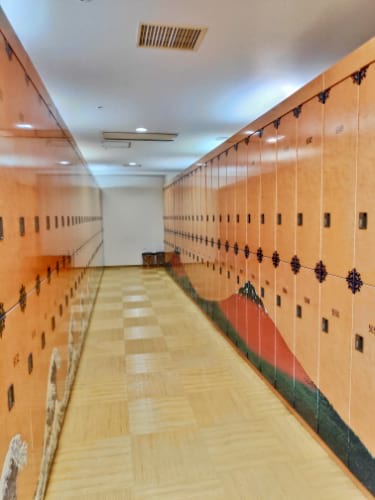 Once you have your Yukata and Obi, you can now head to the changing room. There are separate rooms for men and women. The one with Blue curtain is for men while the Red curtain is for women. When you change your Yukata, keep your inner wear.
Refer to the number noted in your wristband for your specific locker area. Then, use the key from your wristband to open up the locker and store your clothes and other belongings.
Step 4. Take the Exit of Changing Room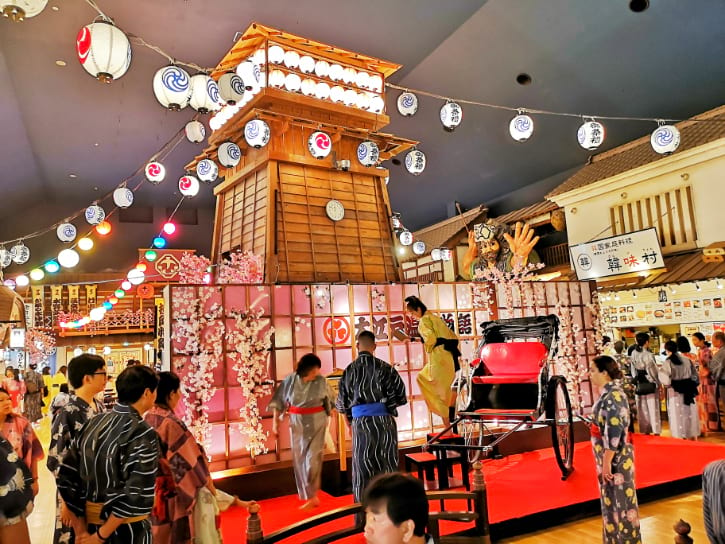 After you finished changing into your Yukata, go to the back area of the changing room. You will pass through the curtain and will reach the old streets of Edo.
At the main hall of the theme park, you can do some picture-taking while waiting for your partner. Explore around and see the watchtower decorated with beautiful Edo architectural charms.
Step 5. Facilities Inside the Theme Park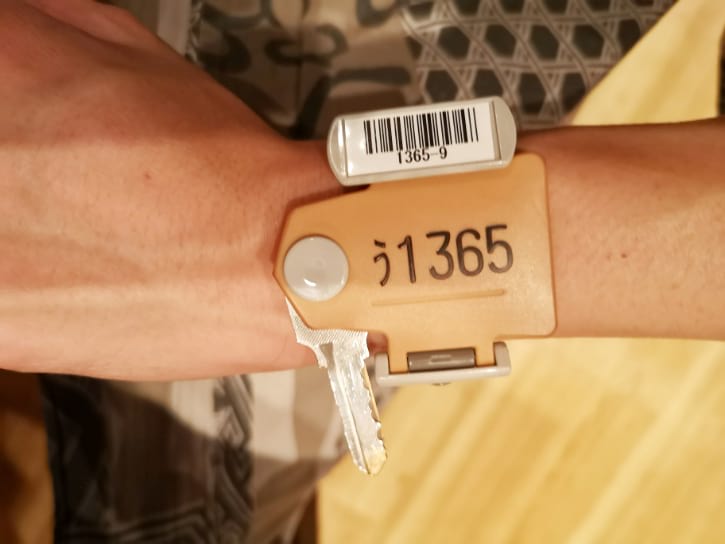 Making your adventure inside the theme park more convenient is the wristband with a key and barcode. The barcode is all you need to pay anything in the park, including food, drinks, games, and shopping items. Yep, there's no need for any cash while inside.
Simply present the wristband and enjoy all the attractions with ease! You will be paying everything once you check out from the place.
Step 6. Keep your Yukata securely in the Dressing Room
You can use the locker in the Dressing Room to keep your Yukata while you go for the hot-spring bath. There is also a towel provided for your convenience.
Step 7. Don't forget to Return Yukata in the Changing Room
Once you're done with all the attractions, put your rented Yukata in the return box located in the Changing Room.
Step 8. Check out at the Front Desk Reception
After your relaxing experience in the theme park, return the wristband with the key at the reception desk. Pay your outstanding dues for you to gain the Check-out pass to leave the place.
Step 9. Say goodbye to Oedo Onsen Monogatari
Take off your shoes and hand the Check-out pass to the assigned staff at the Exit. Take note that you cannot leave the park without the pass.
Friendly staff members at the hot-spring theme park
If it's your first time in the theme park, you won't have a hard time in using their facilities. There are stationed staff that will help you in giving clear instructions upon arrival.
Plus, the staff can speak decent English, making it easy for international travellers. Freely ask questions and directions from them in case you have some clarifications.
Take Note
When visiting this particular onsen, there are certain rules that you need to follow. These include the non-entrance of travellers with tattoos so as not to offend other tourists. Therefore, whether you have small or big tattoo, unfortunately, this place isn't for you.
How to Wear Yukata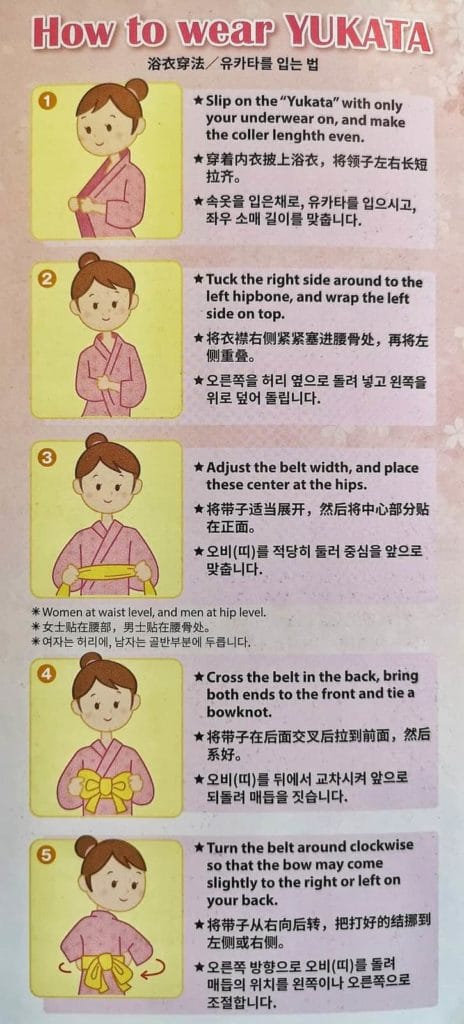 As one of the traditional costumes in Japan, it's important to know how to wear Yukata. See the picture above to properly wear such attire. The method of wearing the Yukata is pretty much the same for men and women.
How to Get to Oedo Onsen Monogatari by Train
The nearest train station to Odaiba Oedo Onsen Monogatari is Telecom Center Station. When you reach the station, you should head for the south exit. From there, just walk for about 2 minutes, and then you'll see the onsen theme park on your left.
Get a Japan SIM Card or Pocket WiFi
Do you know why you should use a Japan SIM Card or Pocket WiFi on your Tokyo trip? Here are the answers.
Having one of these 2 items can help you connect the internet anytime you want. That's mean you can instantly search for different train routes and visit the attractions with ease by using Google Maps.
If you're not sure what to choose between the two, don't worry, simply refer this guide: Japan SIM Card vs Pocket WiFi review.
Conclusion
Oedo Onsen Monogatari is the perfect place to unwind from the crowded and hectic city life. This soothing getaway is dreamily positioned right within the busy capital.
Here, you can take a break and release your stress with different water baths and hot springs. Not only that, the place is loaded with food stalls, gaming booths, and souvenir shops for a more fun-filled experience.
Related Posts