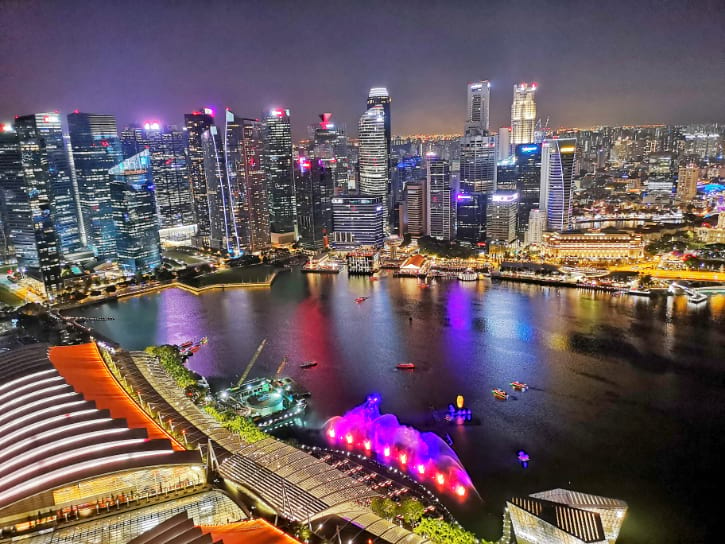 Discover and make the most out of the popular nightlife in Singapore. There are plenty of after-hour activities offered around and beyond the city centre. All these add to the already alive and fascinating atmosphere.
From shopping spots to fancy clubs to scenic beaches, the country is definitely vibrant from daytime to nighttime. You can hop from one bar to another, enjoy local cuisines, have fun at the beach, watch different light shows, and a lot more!
With the abundant choices, exploring different attractions at night is no doubt one of the best things to do in Singapore.
And to give you a more memorable experience, here are Singapore's top nightlife spots. The list of nightlife destinations below will surely help you plan out your visit ahead.
1. Clarke Quay – A favourite night destination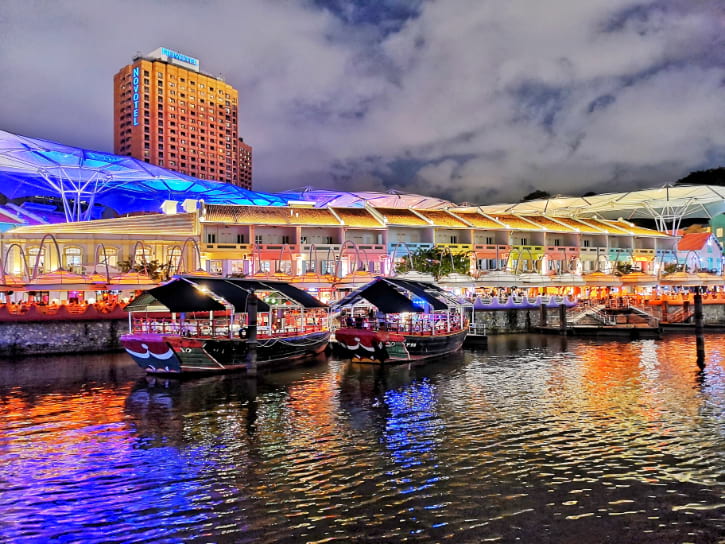 When it comes to nightlife activities, Clarke Quay is truly the best party destination in the country. Some of the things to do in Clarke Quay is exploring different funky nightclubs, stylish pubs, and cocktail bars.
You have lots of options here, including Canvas Nightclub, Attica Nightclub, Shuffle Bistro Bar, Crazy Elephant, and Le Noir Clarke Quay. You can also get your adrenaline pumping with the thrill rides from G-Max Reverse Bungy and GX-5 Extreme Swing. If you're the type who prefers a calming night out, you can hop aboard the Singapore River Cruise.
And of course, you'll be impressed with the abundant variety of restaurants and food stalls offering cosy and scenic alfresco dining. Revel in the impeccable choices of local dishes and international cuisines.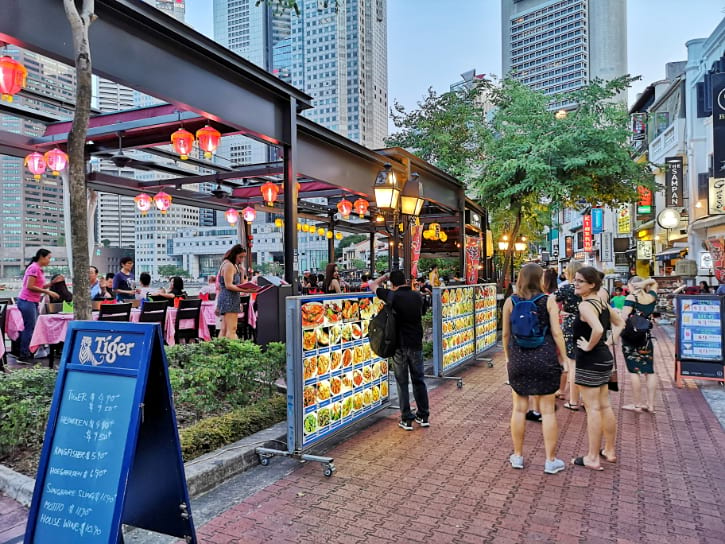 Boat Quay is quite the opposite of Clarke Quay. Instead of a flashy atmosphere, this area provides a cosier vibe. It's suitable for those looking for a serene yet still vibrant night out.
Here, you'll discover a couple of sheltered pubs and music bars such as Molly Malone's Irish Pub, RedDot BrewHouse, and Skinny's Lounge. There are also plenty eateries serving tasty local dishes and restaurants offering Korean, Japanese, Indian, and Western cuisines.
So, if you want an unforgettable visit, this place is no doubt one of the best places to experience nightlife in Singapore.
2. Marina Bay Sands – A top spot for after-hour activities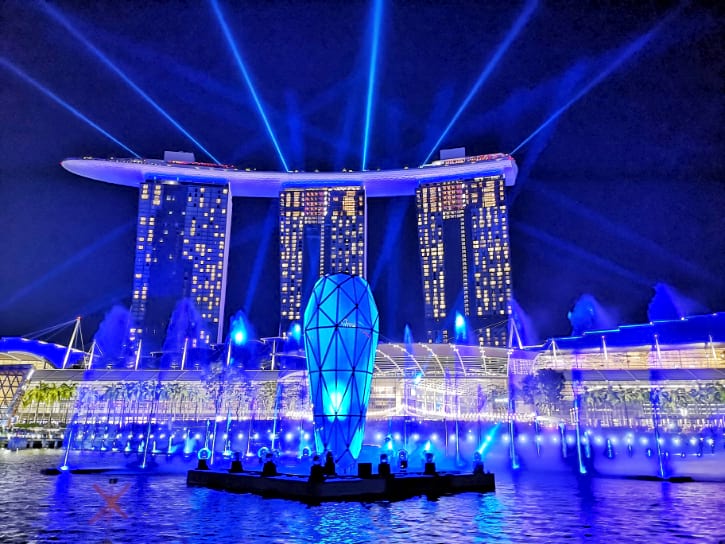 Enveloped by picturesque water views, this bustling, upscale area is surely one of the most famous nightlife destinations in Singapore. There are so many things to do in Marina Bay Sands for nonstop entertainment.
First on the list is to catch one of the most beautiful light shows in Singapore―Spectra. This outdoor presentation showcases an incredible display of colors, music, and visual effects.
If you're eyeing for luxury shopping, there's the Shoppes, which features an impressive selection of high-end brands and international items.
And of course, Marina Bay Sands wouldn't be complete without their food selection. There are several dining options around, from scenic restaurants to cocktail bars.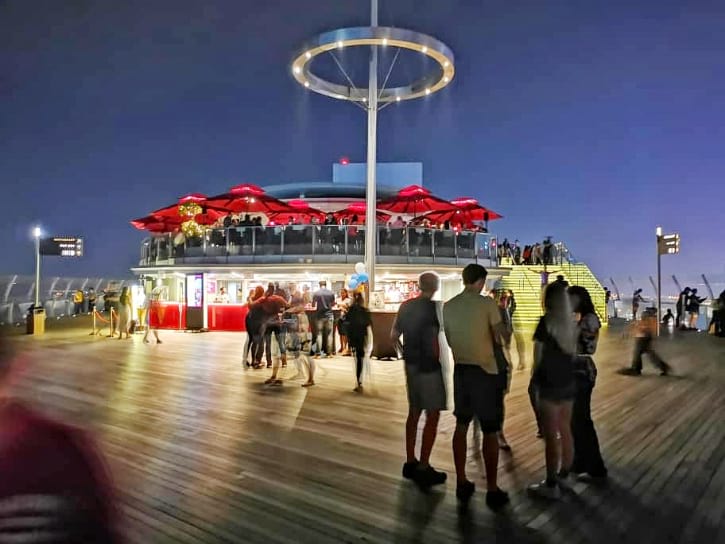 Make the most out of your night and go to Sands Skypark Observation Deck. This is a perfect spot to see the breath-taking cityscape. After the scenic viewing, finish your escapade with a visit to CE LA VI bar. Here, you can hang out with your friends, enjoy some drinks, and party like there's no tomorrow.
So, whether you want a stimulating night or a chill one, Marina Bay Sands got you covered.
3. Orchard Road – A haven for shopping spots and cocktail bars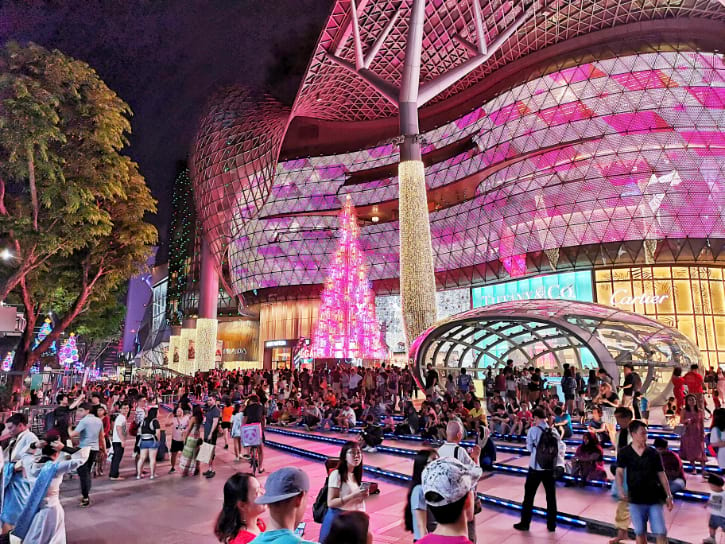 When it comes to upscale stores and bargain shops, Orchard Road is simply the best shopping destination in Singapore. This animated district is packed with sorts of shopping choices, from luxury brands to fashion items to trendy electronics. More than its famous shops and stalls, this famous attraction is also a great destination in terms of cosy bars and glitzy clubs.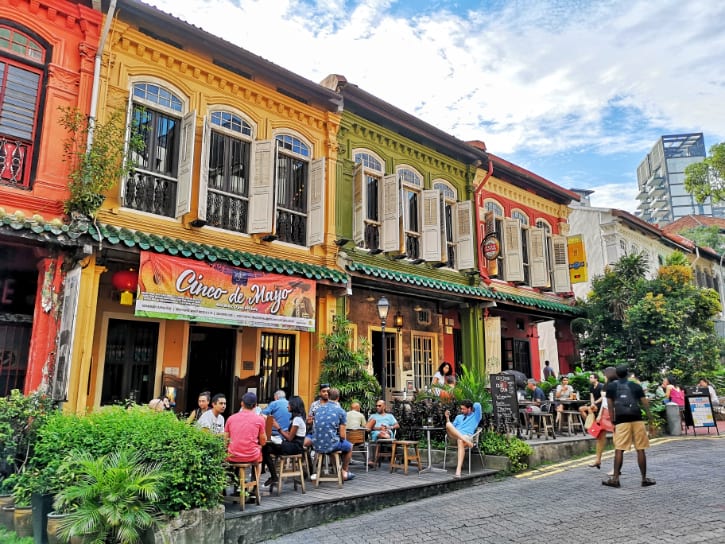 Emerald Hill is undeniably one of the most famous attractions in Orchard Road. This lovely, little neighborhood features a line-up of pastel-colored buildings and quaint shops. During your visit, make sure you try one of their refreshing beers and cocktails.
Another must-visit place is the Alley Bar Singapore, a sophisticated bar with a curated menu and spectacular architectural style. Lastly, there's the Hard Rock Cafe, which is a top destination among music lovers or those who simply want to enjoy a snug night session.
Therefore, if you're looking for elegant bars, cosy spots, party lounges, and shopping malls, Orchard Road might be difficult to compete in.
4. Sentosa Beaches – A scenic and festive night destination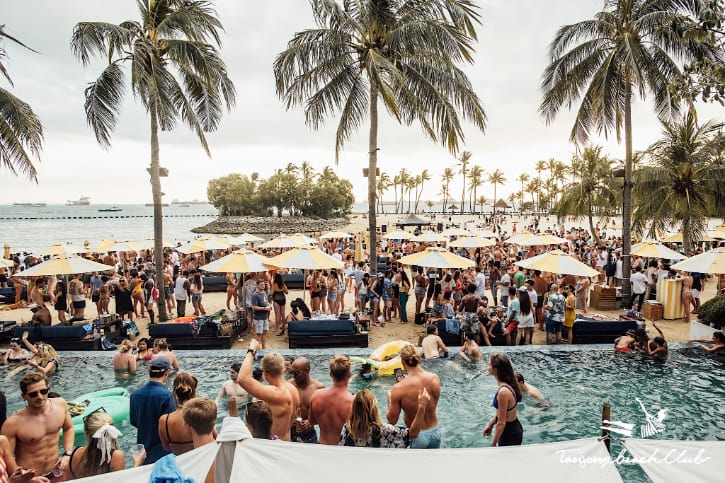 What about a picturesque ambience with a hint of electric vibes? Well, you'd never be disappointed with Singapore's top beaches. If these places filled your day with fun and happiness, then there's so much to look forward to during nighttime.
Sentosa is a famous island in Singapore that is framed by beautiful beaches and funky nightlife. For more ideas, see my list of exciting outdoor activities to do in Sentosa to help you make the most out of your visit.
Tanjong Beach Club, in particular, is the place to go if you're looking for stirring parties and full-moon celebrations. This party-goer destination is often jam-packed, especially during the weekend. Also, a crowd favourite is Siloso beach, where you'll enjoy a variety of chill out sessions and disco series.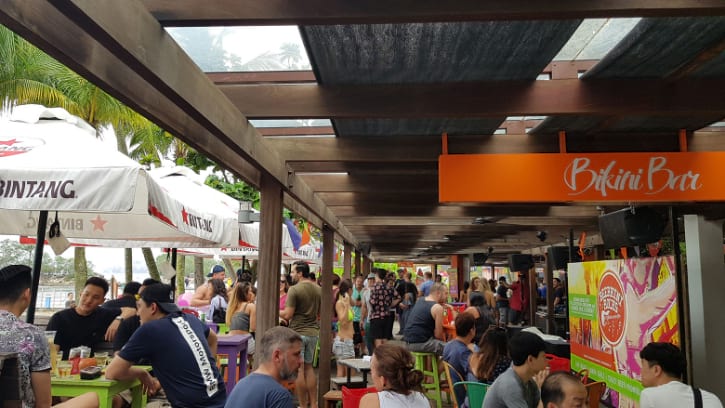 But of course, you can't miss the cosy Bikini Bar. This is such a nice spot to enjoy a couple of ice-cold beers and listen to a live band. Singapore's Hard Rock Cafe is another great nightlife spot if you prefer a rock 'n' roll kind of setup with a menu of American classics and Singapore flavors.
5. Club Street in Chinatown – Cosy place with impressive food choices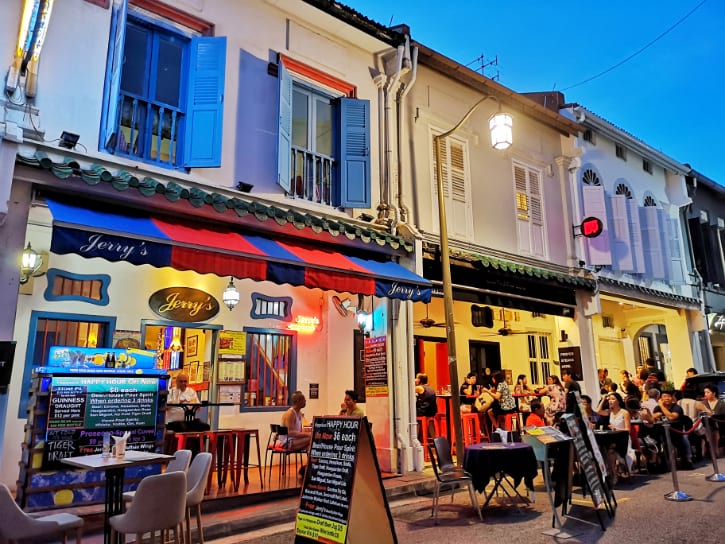 For incredible dining options, you'd better head to Club Street in Chinatown, a prominent spot for foodies and nightlife enthusiasts. You'll be impressed with the wide variety of culinary delights and bustling bars.
And surprisingly, this place caters to all kinds of budgets, whether you're up for a cheap chill out session or a posh fine dining. And of course, you can go bar hopping, try different kinds of cocktails, and get entertained with music.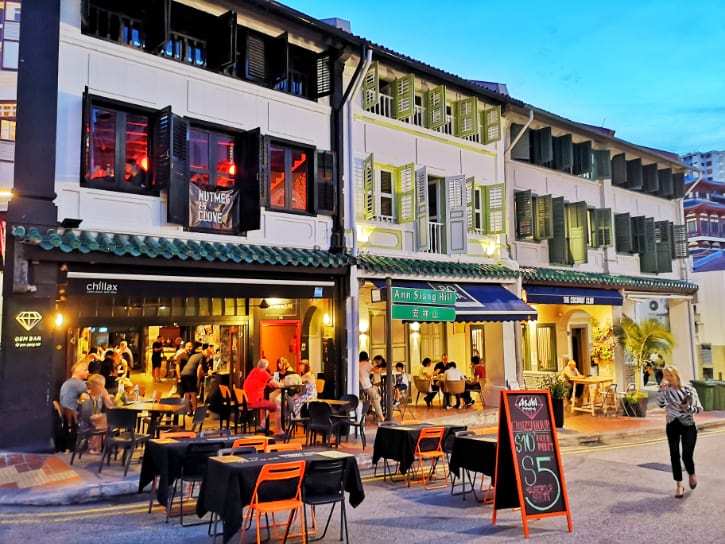 Swing by one of the casual bars surrounding the jam-packed Ann Siang Hill and Cross Street. For a livelier atmosphere, opt for Gem Bar & Lounge that features a rather unique Victorian-theme architecture and an awesome line-up of food and music.
There's also the Screening Room, a rooftop bar that lets you watch your favourite classic flicks comfortably from one of their four entertainment venues. Likewise, this well-loved nightspot also offers you gorgeous city views.
So, if you want to have a fun night out or just want a good conversation with your friends, Club Street is a nice choice. It's definitely the best-kept party destination in Singapore.
6. Zouk Night Club – An award-winning party venue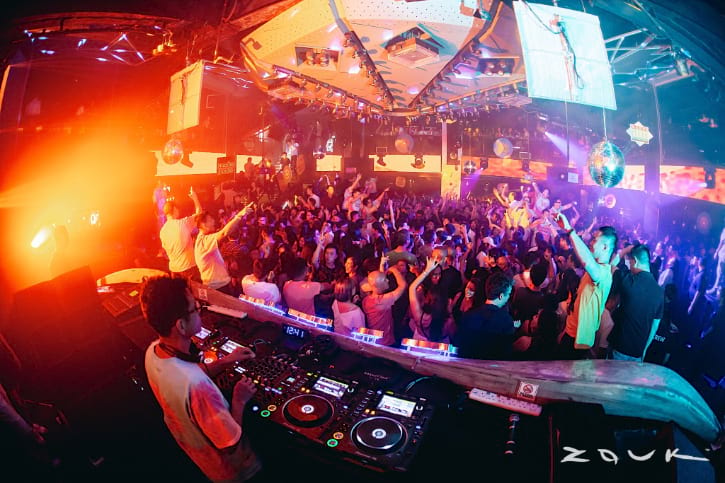 Zouk Night Club is the ultimate place for party-goers and music lovers. As an OG in the nightlife arena, this famous club has been recognized worldwide. Avicci, David Guetta, Hardwell, Tiesto, and Gilles Peterson are just some of the international DJs who have graced the place.
Thus, if you are in need of some party time, Zouk Night Club got some incredible music to hype you up. The nonstop tracks from every era are more than enough to make you groove. For extra fun, go visit other Zouk-associated spaces including Velvet Underground, Zouk Wine Bar, and Phuture.
7. 1-Altitude – An overlooking entertainment spot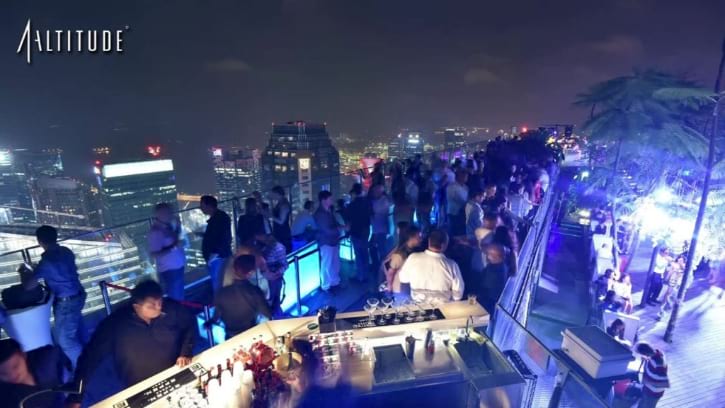 Nestled atop of One Raffles Place on the 63rd floor, 1-Altitude Rooftop Gallery & Bar is dubbed as the world's highest alfresco bar. With its international recognition, this soaring attraction is always teeming with visitors who want to party the night away or listen to international tracks. Likewise, it's a perfect spot to catch the stunning sunset.
The place is divided into three areas―bar, cafe, and gallery. To give you an overview, the entrance fee is around SGD 35, which already includes two complimentary drinks.
So, don't forget to treat yourself with a cocktail of your choice! And as a high-end bar, you'd be required to follow the smart casual dress code. Also, the use of tripods is not allowed while inside.
8. Holland Village – An old-world charm with modern vibes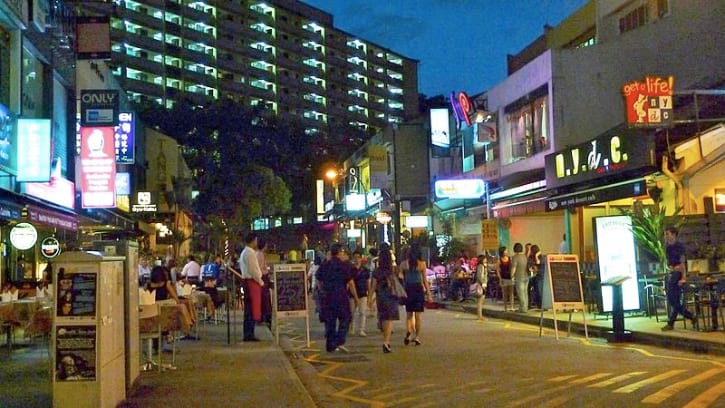 Holland Village offers an unrivaled old-world beauty with a hint of electric aura, making it popular among the oldies and even the youngsters. This hip neighborhood is loaded with all sorts of entertainment.
There are plenty of restaurants sprinkled around the place, along with multiple pubs and nightclubs. Some of the must-try dining spots include The White Rabbit, Two Men Bagel House, Sanpoutei Ramen, and Black Marble.
For a chill evening with live band performances, don't miss Wala Wala Cafe Bar―an iconic bar with a great selection of music, cocktails, and cuisines. Or, you can pop by the Pit Restaurant & Bar for laid-back night sessions with a bucket of craft beers and booze. And for your shopping needs, you can head to Dempsey Hill, which is just located nearby.
So, if you want to casually dine in, listen to your favourite tracks, or go shopping, Holland Village is a remarkable option.
9. Night Safari Singapore – A special encounter with wild animals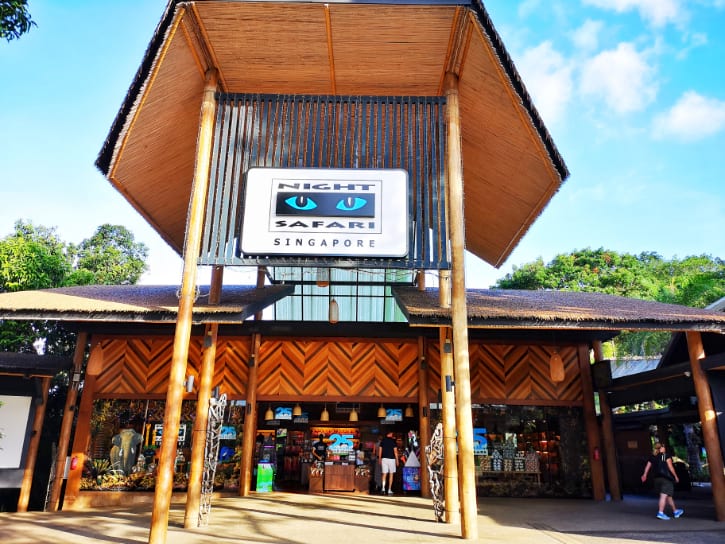 Night Safari Singapore is not your typical zoo. Instead of the usual daytime tour, it offers visitors a special meeting with wild animals at night. Plus, there are two amazing options on offer―tram ride experience and the trail walk.
Upon entry, you'll be greeted by the remarkable pyro dance called the Thumbuakar Performance. Another fantastic attraction that you should watch is the Creatures of the Night Show. This outdoor presentation highlights the incredible skills of otters, civets, owls, Fennec foxes, and more.
To know more about this famous attraction, you can check out my full review of the Night Safari Singapore article here. This also includes how to reach the place via MRT and Bus.
10. Gardens by the Bay – A spectacular light presentation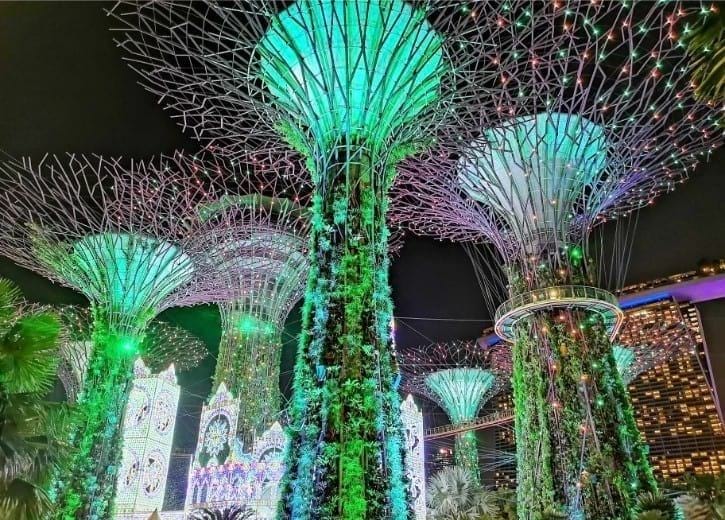 Gardens by the Bay is undeniably a top-rated attraction that deserves a mention. Whilst it's popular for daytime explorations, this place is also a coveted spot when it comes to nightlife activities in Singapore.
At night, this futuristic park even becomes more vibrant. It's because of the towering Supertree Grove that lit up the place with their colourful and dancing lights. And the best part? You can watch this awe-inspiring presentation for free!
You can see my detailed guide to Gardens by the Bay to know more about other must-visit attractions. This will also provide you with comprehensive information on how to get to the place via MRT.
Where to Stay in Singapore
If you want an incredible variety of nightlife activities in Singapore, the most recommended areas to stay are Clarke Quay, Marina Bay, and Orchard. These places are filled with an endless selection of dining spots, shopping malls, hip bars, and of course hotels.
But if you want a more vibrant interaction and animated atmosphere, the best choice is Clarke Quay.  This spot offers a wide selection of nightlife entertainment, from pubs to dancing clubs and more!
To know more about these areas, you can read my article on the best places to stay in Singapore. This lists down the pros and cons of staying in each area so you can easily choose the right one for your needs.
Furthermore, the article includes other relevant information for you to assess beforehand if the specific area fits your preferences and budget. And through the detailed guide, you will have an idea of my highly recommended hotels in each area. These options are categorized accordingly, from budget to mid-range to luxury.
Related Posts