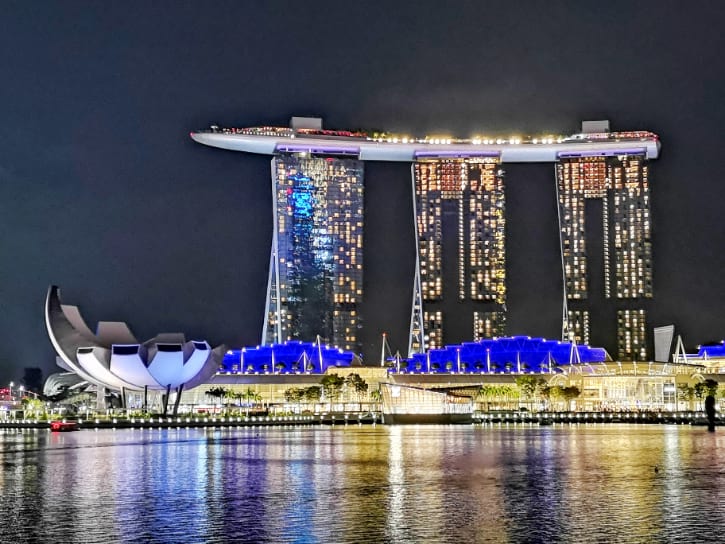 Looking on where to stay in Singapore?
Check the most complete guide here to know where is the best and convenient place to stay in Singapore for you.
In Singapore, 7 of the best areas to stay are in Orchard, Clarke Quay, Marina Bay, Bugis & Kampong Glam, Chinatown, Little India and Sentosa Island.
And each of these beautiful areas has plenty of hotel options for everyone―luxury, midrange, and budget accommodations.
To further help you in your hotel picking, I will provide you the list of advantages and disadvantages in each area based on my personal experiences staying in Singapore.
So, without any delay, read on and know where you can stay in Singapore.
1. Orchard
---

All You Need to Know About Orchard Road
Prepare for a memorable retail therapy experience along the expansive boulevard bounded with shopping stalls, upscale boutiques, discount outlets, and more!
Orchard Road has always been tagged as one of the best shopping destinations in Singapore.
Being Singapore's retail heart, mid-range hotels, luxury hotels, top-rated restaurants, and chic bars are on full presentation.
What Things to Do in Orchard Road for Tourists?
1. Orchard Road – Christmas Light-Up
Feel the spirit of Christmas as early as the month of November along Orchard Road!
Adorning the street road are captivating themed-decors, arches, and hanging street lights that animate the entire route!
2. 313 @ Somerset Mall
Spend your breakfast, lunch, and dinner at 313 @ Somerset Mall – Food Republic and relish all delicious meals offered at decent prices. The food court is located at Level 5.
Other than this, you will find many fashion cloth and shoe brands at here like ZARA, Cotton On, Forever 21, Muji, Mango, ALDO, Charles & Keith and more!
3. ION Orchard Mall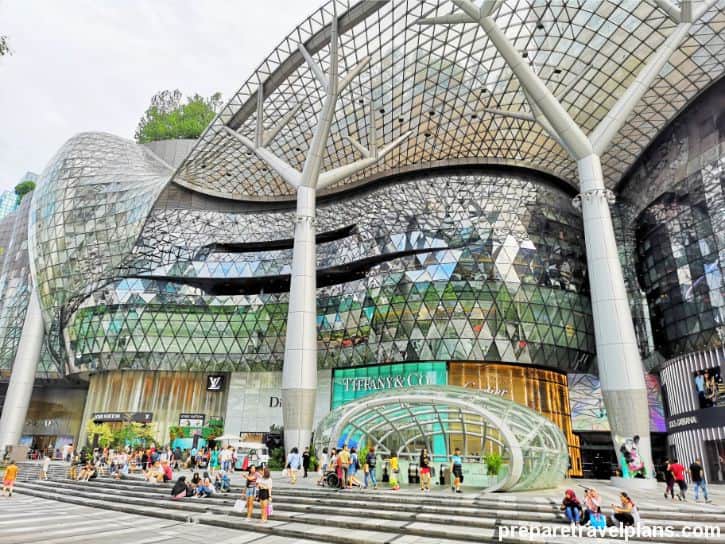 Stopping by at this high-rise ION Orchard Mall will keep you entangled at each boutique shop encircling the building.
In here, you will spot many luxury brands like Louis Vuitton, Coach, Dior, Bvlgari, Hermes, Chanel, Prada, Armani and others.
4. Emerald Hill Road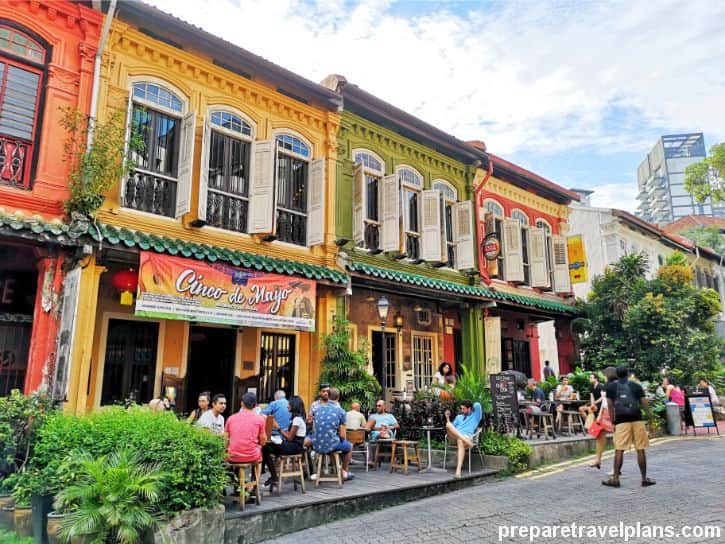 Say hello to the colourful street of Emerald Hill! This neighbourhood packed with vivid houses also serves as a cool spot for a relaxing cocktail and meal stop.
5. Takashimaya Department Store
Takashimaya Food Village presents a mixture of Asian cookery that is worth the penny―from Japanese classics to Korean cuisine.
Find your way at the heart of the Takashimaya Department Store and treat your taste buds right!
The Takashimaya Food Village is located at basement 2.
6. Tangs
Tangs is among the best shopping hubs you can stop off while deciding where to go next at Orchard Road.
This department store never runs out of top-notch brands for you to uncover.
7. Paragon Shopping Centre
Paragon Shopping Centre shares your love for luxury items.
This mall hosts a lavish number of eatery shops, fashion shops, and many other luxury brand stores you can pop in anytime like Gucci, Burberry, Miu Miu and Jimmy Choo.
Pros and Cons – Stay in Orchard Road
Pros
Cons
A distinguished shopper's paradise, Orchard Road lures most mid-range to luxury travellers because of its strategic location, which is near to major attractions.
This beautiful boulevard is ideal for those who love luxury shopping and finding great fashion finds.
During Christmas season, the Orchard Road lights up in sophistication.
Highly Recommended Hotels to Stay in Orchard
1. Mandarin Orchard Singapore
Hotel Star Rating: ⭐⭐⭐⭐⭐
Be spoilt with upscale rooms and exciting amenities by this 5-star hotel in Orchard Road.
Mandarin Orchard Singapore is one of the top choices when it comes to modern, deluxe lodging in this bustling district.
2. Hotel Jen Orchardgateway Singapore
Hotel Star Rating: ⭐⭐⭐⭐
A contemporary 4-star accommodation, Hotel Jen Orchardgateway Singapore is a vibrant place offering breath-taking rooms, all with scenic views.
This modern hotel highlights its press reader that features over 7000 publications from different countries.
3. Grand Park Orchard
Hotel Star Rating: ⭐⭐⭐⭐⭐
Another popular choice for luxury travellers, Grand Park Orchard spells out sophistication and style.
Recognized for its striking glass façade, this 5-star hotel is one of the trendiest destinations in Orchard Road.
4. Holiday Inn Express Singapore Orchard Road
Hotel Star Rating: ⭐⭐⭐
The last recommended hotel is the Holiday Inn Express Singapore Orchard Road, which is a 3-star hotel for smart travellers.
This mid-range accommodation is a practical choice for those looking for the best location at a great value.

2. Clarke Quay
---

All You Need to Know About Clarke Quay
A rather popular night-time spot in Singapore, Clarke Quay is amazing in so many ways.
From its scenic riverside views to its extensive selection of bars and pubs, this vibrant nightlife destination is downright captivating.
The nonstop entertainment continues to light up this dazzling district even until the wee hours of the morning.
What Things to Do in Clarke Quay for Tourists?
1. Clarke Quay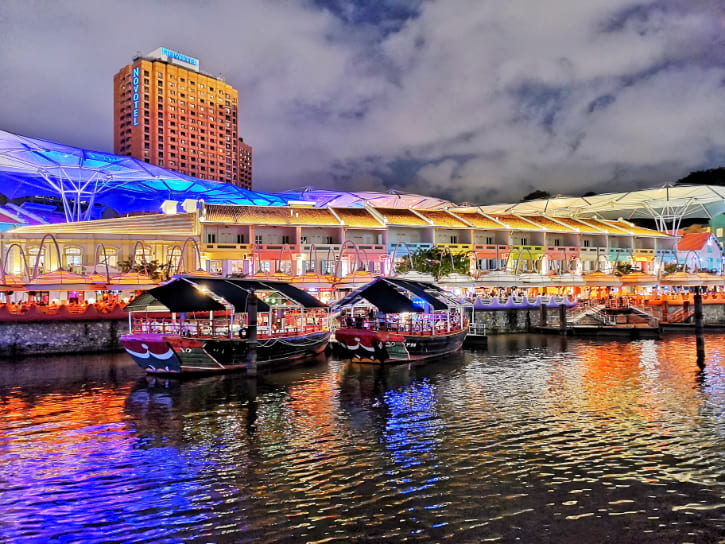 Every night, Clarke Quay overflows with a vibrancy that keeps attracting party-goers.
The entire area is bounded with heaps of bars, pubs and nightclubs as well as popular restaurants and food stalls.
2. Singapore River Cruise
Go on a relaxing trip as you hop aboard the Singapore River Cruise.
The cruise takes you to a scenic water trip that gives sight to top attractions like the Merlion statue, the Esplanade Theatre, ArtScience Museum, Marina Bay Sands and more.
3. Boat Quay
The perfect destination to satisfy your taste buds in a picturesque way, Boat Quay has a great selection of international restaurants and local food stalls.
4. Fort Canning Park
There's more to Fort Canning Park than its lush landscapes.
In this historical area lie some remarkable spots like the Spiral Staircase and the Battlebox.
5. Old Hill Street Police Station
The Old Hill Street Police Station is known for its rainbow-painted architecture.
Back in time, this colourful structure was the home of police officers and their families.
6. Central Fire Station & Civil Defence Heritage Gallery
Both Civil Defence Heritage Gallery and Central Fire Station are historical attractions constructed during the 19th century.
These notable sites remain to be part of Singapore's significant past.
Pros and Cons – Stay in Clarke Quay
Pros
Cons
For an epic nightlife, head straight to Clarke Quay and enjoy the night away.
Loaded with lots of bars, pubs and nightclubs this gleaming destination is favourable for mid-range and luxury travellers.
This is also a great spot for those craving for seafood dishes, though the prices can be pricier.
Highly Recommended Hotels to Stay in Clarke Quay
1. Park Hotel Clarke Quay
Hotel Star Rating: ⭐⭐⭐⭐
Set within the central district, Park Hotel Clarke Quay is a 4-star hotel that is well-known for its sophisticated exterior and interior.
The rooms are bounded with breath-taking city views and river sights.
2. Novotel Singapore Clarke Quay Hotel
Hotel Star Rating: ⭐⭐⭐⭐
Another popular 4-star hotel along the Riverside, Novotel Singapore Clarke Quay Hotel combines both luxury and history in their modern and beautifully-furnished rooms.
This family-friendly hotel is ideal for any family gathering, couple getaway, or even corporate trip.
3. Holiday Inn Express Singapore Clarke Quay
Hotel Star Rating: ⭐⭐⭐
This 3-star hotel is simply amazing in terms of location and unique architectural design.
Holiday Inn Express Singapore Clarke Quay is located next to most tourist spots and shopping areas.
A chic, urban hotel, it is suitable for savvy travellers wanting to stay within the business district.
3. Marina Bay
---

All You Need to Know About Marina Bay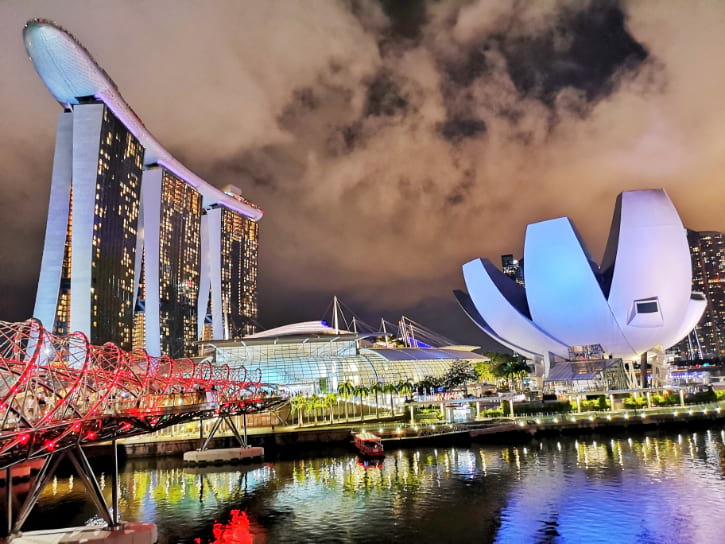 Marina Bay, of course, is the most decorated tourist attraction in Singapore.
This beautiful area gathers a collection of beautiful attractions and amazing outdoor exhibitions.
Along the scenic Marina Bay is the world-renowned Marina Bay Sands, an iconic, integrated resort that houses all sorts of dining and entertainment treats.
What Things to Do in Marina Bay for Tourists?
1. Gardens by the Bay
A fusion of natural beauty and man-made ability, this breath-taking attraction is a sprawling habitat for thousands of plant species.
This indoor forest consists of world's tallest man-made waterfall and colourful flowers.
At night, you will see the Supertrees light and dancing show. The show is very impressive and attractive.
2. Sands SkyPark Observation Deck
Perched on the 57th floor of the Marina Bay Sands, this viewing station comes with wooden decks for you to relax on.
From the observation deck, see the entire cityscape dotted with skyscraper buildings.
3. Spectra Light and Water Show
A famous open-air display, Spectra Light and Water Show is conducted every evening, at different times of the night.
This spectacular, outdoor exhibition of lights, water, and music is open to the public.
4. ArtScience Museum
For some futuristic kind of adventure, go straight to ArtScience Museum and get tangled up by the collection of digital art installations and striking art pieces.
5. The Shoppes at Marina Bay Sands
Go on a shopping spree at the famous Shoppes at Marina Bay Sands.
Filled with all kinds of luxury brands and high-end retail stalls, this is the flagship store in terms of luxury shopping in Singapore.
6. Marina Bay Waterfront Promenade
Spend your night at Marina Bay Waterfront Promenade, either basking under the moonlight or stretching your muscles.
This lush recreational area gives you a close-up view of the relaxing waterscape.
7. Helix Bridge
Its commanding architectural design makes Helix Bridge a head-turner attraction.
Walk your way into this spectacular pedestrian bridge that connects both Marina Centre and Marina South.
Pros and Cons – Stay in Marina Bay
Pros
Cons
Marina Bay is known to be on the luxury side of Singapore.
Hence, it's fitting for those who want to experience sophisticated living―from dining to shopping.
There are many award-winning restaurants and high-end brands in this ultra-luxury district.
At night, Marina Bay becomes a dazzling destination because of its evening entertainment.
Highly Recommended Hotels to Stay in Marina Bay
1. Marina Bay Sands Hotel
Hotel Star Rating: ⭐⭐⭐⭐⭐
Book a night at Marina Bay Sands and laze in your luxurious room like a royalty.
This world-acclaimed 5-star hotel in Singapore lets you live your luxury dreams.
As an all-in-one destination for travellers, a night in Marina Bay Sands is truly one for the books.
4. Bugis and Kampong Glam
---

All You Need to Know About Bugis and Kampong Glam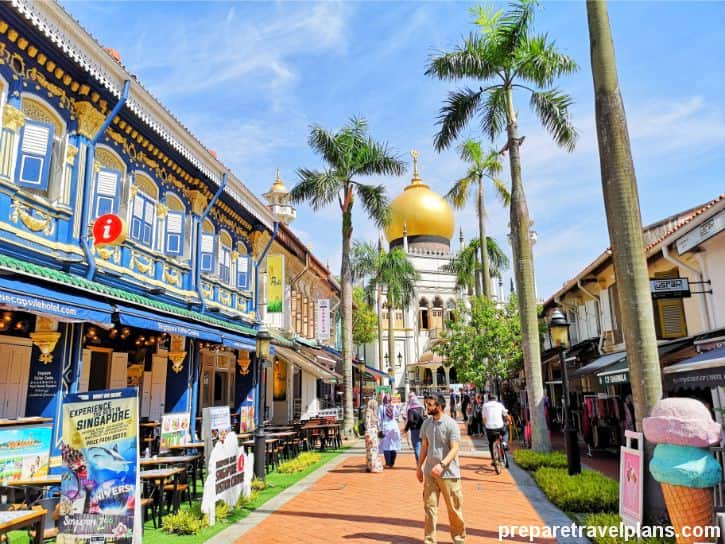 Bugis and Kampong Glam are two vibrant districts in Singapore that gather both history and culture into one.
These colourful neighbourhoods are loaded with cheap dining and shopping options, alongside fancy and bright murals.
Apparently, these make Bugis and Kampong Glam a touristy spot for shoppers, foodies, and even Instagrammers!
What Things to Do in Bugis and Kampong Glam for Tourists?
1. Kwan Im Thong Hood Cho Temple
When you speak of Chinese heritage in Singapore, Kwan Im Thong Hood Cho temple is often first in the list.
This is a Buddhist temple built in honor of Guan Yin, the goddess of mercy.
2. Bugis Street Market
Bugis Street Market is a people-magnet shopping district.
As a well-visited retail destination, locals and visitors flock here to purchase all sorts of fashion goods.
3. Bugis Junction Shopping Mall
A must-visit shopping mall in Singapore is Bugis Junction, where shopaholics and trendsetters come together.
The mall is most famous for its open-air and glass roof architecture.
In addition, you will find plenty of food selections at the basement 2 of the shopping mall.
4. Bugis+
Not to miss within the Bugis district is the noteworthy Bugis+, a luxurious shopping mall designed to give you retail therapy and entertainment.
Here, you can treat yourself with comfort foods and branded items.
5. Albert Centre Market & Food Centre
Once you arrive at the MRT station, head straight to Albert Centre Market & Food Centre and fill your hunger!
Found in this local food centre are a variety of tasty and totally inexpensive foods and drinks.
6. Sultan Mosque
Sultan Mosque is a place of worship renowned for its complex and impressive architectural style.
As a beaming historical attraction and Islamic religious building, it can cater up to 5,000 people.
7. Haji Lane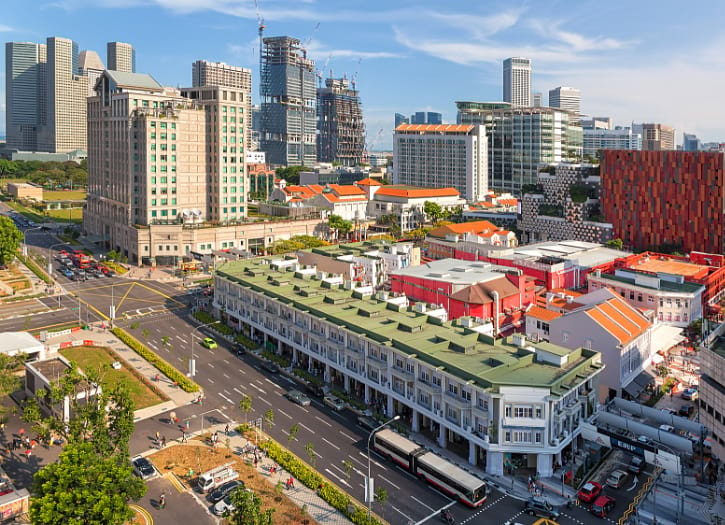 How about a lane full of cafes, fashion boutiques, bars, and stores that all dressed in charming colours?
Well, the glowing Haji Lane has it all prepped for you!
8. Arab Street
You won't find any other destination in the country as calm and as energetic as the Arab street.
From Indonesian batiks to Persian carpets—this is home to the most creative and vintage-looking textiles and boutique shops.
9. Bussorah Street
Bussorah Street is a historic street that attracts many tourists because of its vibrant aura and multi-coloured shop houses and restaurants.
Furthermore, it's one of the best Instagram spots in Singapore.
10. Malay Heritage Centre Museum
Enjoy and learn about the rich heritage of the Malay community in Singapore by coming over the Malay Heritage Centre Museum.
This spot calls visitors for a cultural and historical exploration worth the stroll!
Pros and Cons – Stay in Bugis and Kampong Glam
Pros
Cons
The best destination for certified shopaholics and foodies eyeing for cheaper rates, Bugis and Kampong Glam has everything in store for you.
There are plenty of food choices as well as shopping treats that are worth bargaining for!
So, if you want affordable shopping and dining, these two vibrant districts are the places to go!
Highly Recommended Hotels to Stay in Bugis and Kampong Glam
1. Fragrance Hotel
Hotel Star Rating: ⭐⭐
Another Fragrance Hotel branch is situated along the Middle Road of Bugis.
This 2-star hotel is designed for those looking for cosy guestrooms at reasonable prices.
All rooms are furnished with standard facilities for a nice and comfortable space.
2. Ibis Singapore on Bencoolen Hotel
Hotel Star Rating: ⭐⭐⭐
A home away from home, Ibis Singapore on Bencoolen Hotel is unlike most hotels in Singapore.
This 3-star hotel is a disability-friendly accommodation positioned within the business and cultural district.
And within the hotel premise is a bar and restaurant.
3. Hotel G Singapore
Hotel Star Rating: ⭐⭐⭐⭐
Hotel G Singapore is another highly-appreciated 4-star hotel because of its steel-and-glass exterior and chic, vintage-like interior.
To ensure their so-called 'G-life', they provide hydration station, fitness centre, and communal spaces to all guests.
4. Hotel NuVe
Hotel Star Rating: ⭐⭐⭐
Relive time as you book a room in Hotel Nuve, a 3-star hotel housed in pre-war shophouses near to Arab Street.
Inside this traditional-style accommodation are streamlined rooms with all the essentials you need for a cheap and snug stay.

5. Chinatown
---

All You Need to Know About Chinatown
Chinatown is a beautiful distinction to Singapore's busy metropolitan.
In this historical area, catch a glimpse of notable temples, heritage centres, and colourful murals.
Along these top-rated attractions are bustling street markets and food spots that make Chinatown more attractive among first-time visitors and even locals.
What Things to Do in Chinatown for Tourists?
1. Buddha Tooth Relic Temple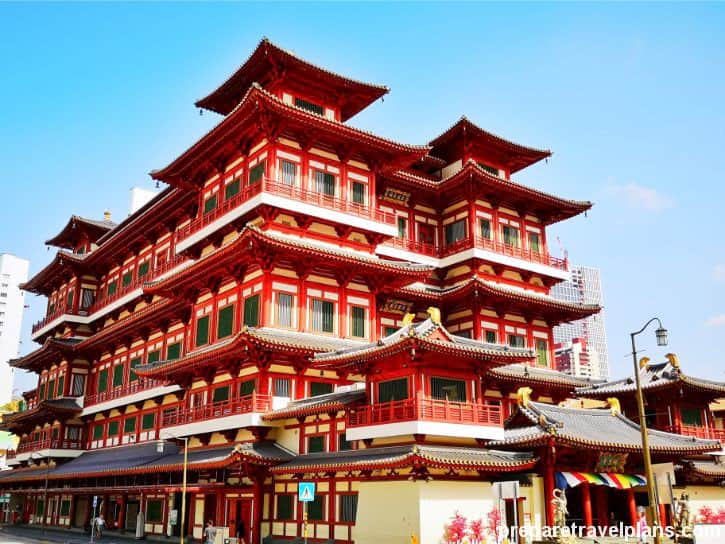 Plunge into the wisdom of Buddhism right inside the Buddha Tooth Relic Temple.
This is a five-storey temple that features various Buddhist relics, a teahouse, and a theatre—all under one roof.
2. Chinatown Heritage Centre
Chinatown Heritage Centre unveils the early days of Chinatown residents through its nostalgic collection of objects and captivating exhibits.
Travel back in the 1950s as you come across its six galleries and story-telling sessions.
3. Chinatown Street Markets
Cherry-pick the finest silk robes and have a taste of the mouth-watering street foods sold at Chinatown Street Markets.
In here are a hundred rows of stalls, fringed together with the iconic red lanterns.
4. Sri Mariamman Temple
Pay homage to the Sri Mariamman Temple and retrace the heritage of Hinduism and Indian pioneers in the country.
Aside from its remarkable architecture, the temple is also known as the oldest in Singapore.
5. Mural on Mohamed Ali Lane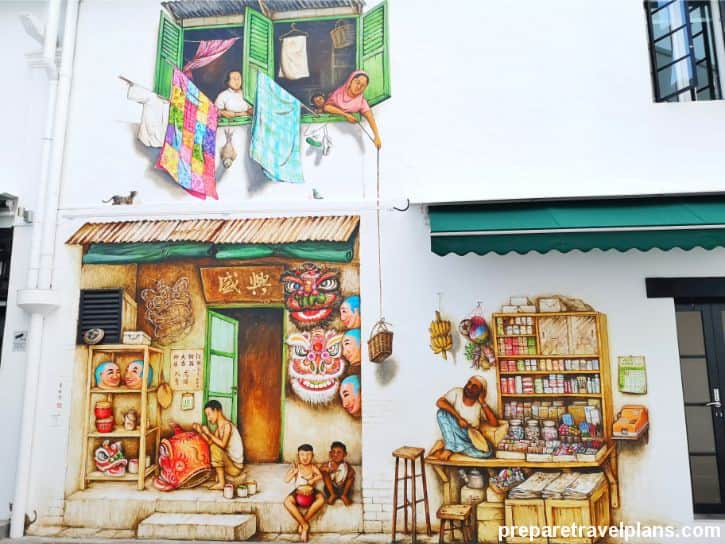 Take a selfie of the mural made by the artist Yip Yew Chong along Mohamed Ali Lane.
Painted in vibrant colors, the mural perfectly illustrates the daily livelihoods of the street vendors of the olden days.
6. Chinatown Food Street
Feast into the local foods flooding in Chinatown Food Street.
The broad array of budget-friendly Asian cuisines is offered in numerous stalls and shophouses.
7. Ann Siang Road and Club Street
Ann Siang Road and Club Street is easily one of the perfect places for foodies to spend the night dining and chilling.
Go through its deluxe of bars, boutiques, and restaurants like a pro.
8. Thian Hock Keng Mural

The mural painted by Yip Yew Chong on the wall of the Thian Hock Keng Temple continues to draws both locals and visitors.
This is a beautiful portrayal of the life story of the early Hokkiens.
9. Thian Hock Keng Temple

There's a lot to marvel at the famous Thian Hock Kang Temple.
It is known as the oldest Buddhist temple in Singapore―a national monument of historical, architectural, and cultural significance.
10. Keong Saik Road
A day spent at Keong Saik Road will leave you with the bustling yet calming energy of the shophouses, which are built as hip bars, hotels, creative hubs, and restaurants.
Pros and Cons – Stay in Chinatown
Pros
Cons
There's more to Chinatown than its famed religious structures and traditional shophouses.
Also surrounded by cheap hawker foods, bars, and pubs, Chinatown is fitting for those who want to experience both historical and modern vibes.
Ideally, it caters to budget and mid-range travellers.
Highly Recommended Hotels to Stay in Chinatown
1. Porcelain Hotel
Hotel Star Rating: ⭐⭐⭐
Porcelain Hotel is a stylish, 3-star accommodation positioned close to the MRT Station.
This chic boutique hotel surprises travellers with its range of vibrant and white-washed rooms.
2. Wink Capsule Hostel
Hotel Star Rating: ⭐⭐⭐
Another 3-Star hotel in Chinatown is Wink Capsule Hostel, a great choice for budget backpackers.
Offering economical prices, this trendy hostel is set along the busy streets of Chinatown, which is close to most tourist attractions.
3. Bliss Hotel Singapore
Hotel Star Rating: ⭐⭐⭐
Bliss Hotel Singapore deserves a mention because of its sophisticated styling and amazing amenities.
A chic and cosy 3-star hotel in Chinatown, this Chinese-theme hotel is at the opposite of Chinatown MRT station.
4. The Southbridge Hotel
Hotel Star Rating: ⭐⭐⭐⭐
Southbridge Hotel is a beautiful accommodation for those who love some traditional and modern ambience.
This 4-star hotel is popular among business tourists and even recreational travellers because of its location and luxury style.
6. Little India
---

All You Need to Know About Little India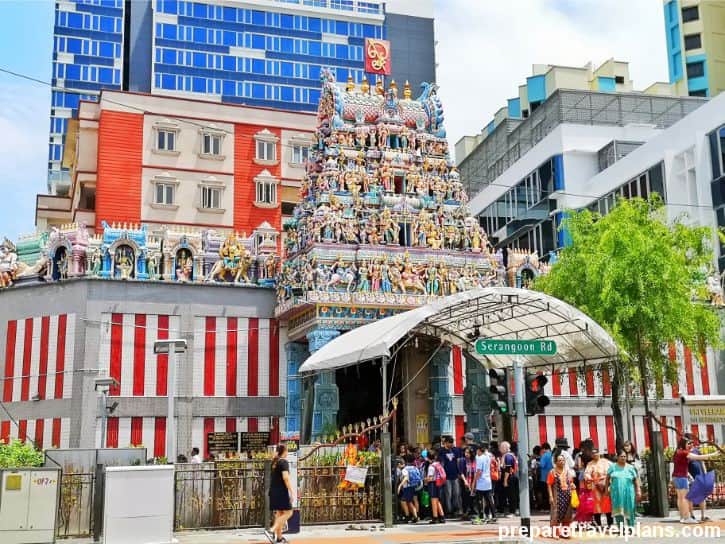 Little India is widely appreciated because of its colourful vibes and historical significance.
Nestled along the Singapore River bank, this vibrant spot is no doubt a sought-after destination for those who'd want to experience India in Singapore.
See the impressive array of religious sites, heritage centres, shopping spots, and local food stalls.
What Things to Do in Little India for Tourists?
1. Sri Veeramakaliamman Temple
Come inside one of Singapore's most striking and oldest temples and bid respect to the goddess Veeramakaliamman.
A beautiful remembrance of the past, Sri Veeramakaliamman Temple settles at the centre of Little India.
2. Indian Heritage Centre
Indian Heritage Centre offers a four-storey learning experience of the culture and history of the Indian community to Singapore.
Get a historical ride to the diverse Indian heritage as you stroll along the exhibits!
3. Tan Teng Niah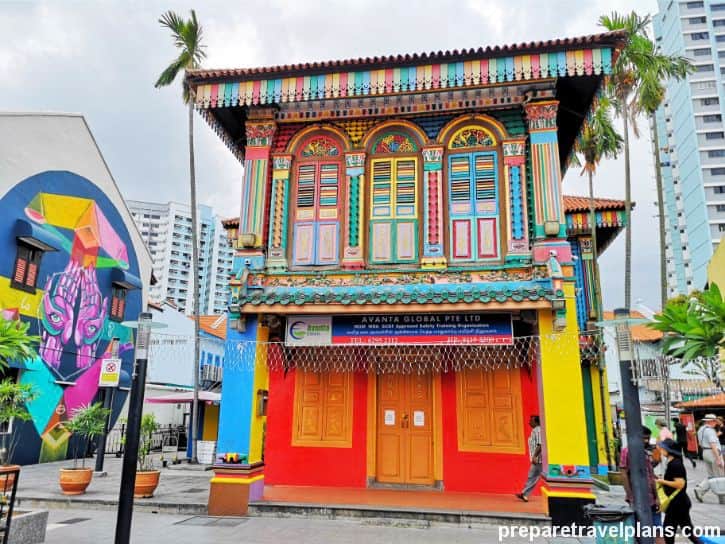 It's not hard to appreciate the patterned colours displayed in the highly-intricate Tan Teng Niah.
This house is one of Little India's remaining Chinese villas built at Kerbau road.
4. Serangoon Road (Little India's Main Street)
Little India is not what it is without the popular and historical Serangoon Road.
It introduces a fine line-up of shophouses and well-known landmarks of restaurants and hotels.
5. Little India Arcade
All the shophouses are as pleasant-looking as the colors wrapping the building of the Little India Arcade.
These traditional creations function as bookshops, eateries and Indian souvenirs, which you can visit any time of the day!
6. Mustafa Centre
Spoil yourself with sought-after goods inside Singapore's huge and restless shopping complex.
At Mustafa Centre, you will be swept away by its wide range of products, from textiles to Asian merchandises.
7. Tekka Centre
A walk away from the MRT at Little India, the charming facade of Tekka Centre will welcome you.
Inside this well-known dining spot are loads of dining options, mostly Indian dishes at cheap prices.
8. Abdul Gaffoor Mosque
Marvel at the architectural beauty of the Abdul Gaffoor Mosque and take in the serenity that this place brings not just among Muslim worshippers but also to non-Muslim visitors.
9. Sri Srinivasa Perumal Temple
As always, it's easy to spot the towering entrance of Sri Srinivasa Perumal Temple.
The unique gopuram is filled with figures of the iconic gods and goddesses.
10. Sakya Muni Buddha Gaya Temple
Offer your prayers inside Sakya Muni Buddha Gaya Temple as you come face to face with the 15-m tall Buddha that rests peacefully inside.
This is a beautiful Buddhist temple founded by a Thai monk.
Pros and Cons – Stay in Little India
Pros
Cons
For those on a budget, Little India is truly a remarkable choice.
Along this highly-animated district are budget and mid-range hotels that attract travellers who do not want to dig deep into their pockets.
Armed with affordable food stalls and colourful shophouses, this historic neighbourhood is such a great option for backpackers and budget families.
Highly Recommended Hotels to Stay in Little India
1. City Inn Mackenzie
Hotel Star Rating: ⭐⭐⭐
For budget accommodation in Little India, you may want to try this 3-star hotel set among the low-rises in Mackenzie road.
This modest inn offers cheaper yet comfortable rooms that come with the basic facilities.
2. Fragrance Hotel – Selegie
Hotel Star Rating: ⭐⭐⭐
One of the many Fragrance Hotels in Singapore, the Selegie branch is a cosy, 3-star hotel that offers economical stay for families and friends.
Within the hotel's bright façade are simply-styled rooms and standard amenities like a restaurant, pool, parking, and laundry service.
3. Parc Sovereign Hotel – Albert St
Hotel Star Rating: ⭐⭐⭐⭐
A 4-star hotel, the Parc Sovereign Hotel – Albert St is another top choice in Little India because of its stylish accommodation and convenient location.
Geared with 172 modern rooms, they are designed to cater to the needs of both business and leisure travellers.
4. Village Hotel Albert Court by Far East Hospitality
Hotel Star Rating: ⭐⭐⭐⭐
Village Hotel Albert Court by Far East Hospitality is a renowned 4-star hotel in the place because of its traditional roots and modern luxury design.
Discover culture and heritage in this village-like hotel featuring restored-pre-war shophouses and intricate wood carvings.
7. Sentosa Island
---

All You Need to Know About Sentosa Island
Sentosa Island is the place to go for travellers who would want to take a break from the hustle and bustle of city life.
This relaxing yet exciting destination has a wide variety of attractions, from lush landscapes to beaches to theme parks and more!
What Things to Do in Sentosa Island for Tourists?
1. Universal Studios Singapore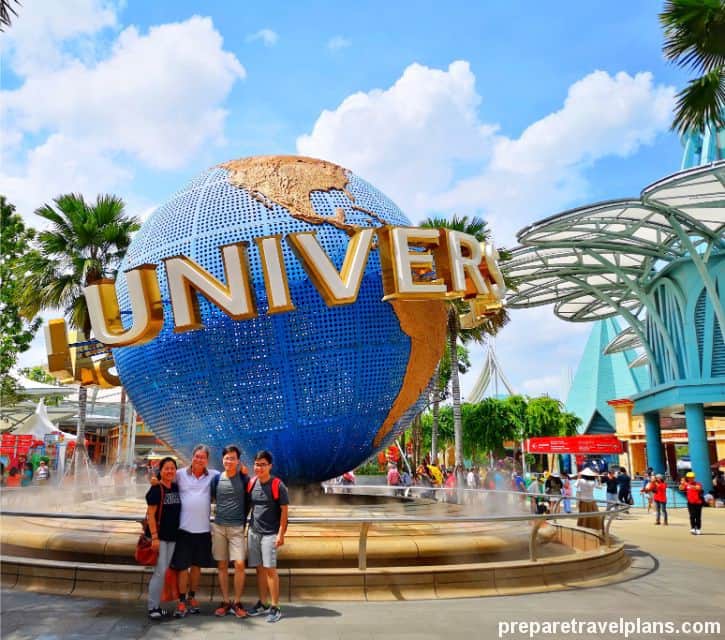 The most famous choice for adults and kids at heart, Universal Studios Singapore is the home to thrilling rides and amazing theme park.
2. SEA Aquarium Singapore
For a one of a kind underwater experience, plan your visit to SEA Aquarium Singapore.
This is the perfect place for marine lovers to witness up-close different fish species and the vibrant marine life.
3. Madame Tussauds Singapore
See your favorite stars and iconic superheroes in Madame Tussauds Singapore.
This top-rated attraction shelters a collection of life-like wax figures that are worth the second stare.
4. Skyline Luge & Skyride
One great way to enjoy the stunning Sentosa landscape is to take on one of Skyline Luge's epic trails.
If you want a more breath-taking ride, then there's the Skyride!
5. Wings of Time
At night, families and friends flock to the Sentosa to witness a spectacular outdoor show―the Wings of Time.
With the open sea as the backdrop, be prepared for an awesome water presentation.
6. Sentosa Merlion
The iconic Sentosa Merlion is never miss while in Singapore.
Get to know more about this famous mythical creature through its exhibition gallery right inside the mouth of this towering monument.
7. Adventure Cove Waterpark
If you want family adventure at its finest, then Adventure Cove Waterpark is definitely your go-to destination.
8. Sentosa Beaches
Awaken your senses as you stroll around the gorgeous Sentosa beaches― Palawan Beach, Siloso Beach, and Tanjong beach.
Pros and Cons – Stay in Sentosa Island
Pros
Cons
For those planning to spend more time in Sentosa Island, it is only fitting to book your stay here, especially that it's a bit far from mainland Singapore.
Sentosa Island is suitable for mid-range to luxury travellers who want to experience both laid-back and exciting trip.
Highly Recommended Hotels to Stay in Sentosa Island
1. Resorts World Sentosa – Festive Hotel
Hotel Star Rating: ⭐⭐⭐⭐⭐
For a family-friendly stay, there's the 5-star Festive Hotel in Resorts World Sentosa.
Set in a strategic location, this vibrant hotel has all fun and functional amenities you need for a nice, comfy stay.
2. Resorts World Sentosa – Hotel Michael
Hotel Star Rating: ⭐⭐⭐⭐⭐
Hotel Michael Resorts World Sentosa is an ultra-elegant hotel that highlights its luxury architectural style and deluxe room facilities.
This 5-star hotel offers that artsy vibes to its guest and has a covered walkaway that connects to the monorail.
3. Resorts World Sentosa – Hard Rock Hotel
Hotel Star Rating: ⭐⭐⭐⭐⭐
Resorts World Sentosa is a top-rated choice when it comes to families and friends visiting Sentosa Island.
Screaming that rock-and-roll vibes, this 5-star hotel has everything you need, from pool to business centre to fitness area.
Singapore Map
---
Spend more time on exploring Singapore with a trusty virtual map you can bring everywhere.
Here's an embed Google map for you to utilize during your stay in Singapore.
My Final Thoughts
After all the detailed overview of each major tourist spot, with its corresponding attractions and recommended hotels, let's wrap everything around.
Thanks a lot for taking your time to read my travel blog.
I hope this guide can help you plan and make your Singapore trip more memorable than ever.
Don't forget to bookmark this page for future reference and share this to your travel buddy via Facebook, Twitter, and Pinterest.
Wish you have a great vocation in Singapore! 🙂
Discover Other Famous Attractions in Singapore